Indian weddings are a grand affair, with a lot of effort and time devoted to making the bride and groom look their best for the special occasion. For Indian grooms, picking the right jewelry and wedding accessories is of utmost importance. As it holds significant value in Indian culture and is considered to be a vital part of the wedding look. If you think an Indian groom's look is only defined by his wedding outfit, then it's time to think again. A professional photographer in Kolkata for wedding loves to capture classy grooms' pictures. Indian grooms have a wide variety of options when it comes to complementing their wedding outfits. The choice of the groom's accessories should be done keeping in mind the color of his outfit.
That being said, the groom's attire heavily influences the couple's overall look and feel. So, if you want to get some eye-catchy couple portraits, make sure to pick the right groom wedding accessories. Continue reading the blog to find out the best wedding accessories for your designer outfit.
Recommended: Bookmark These Auspicious Bengali Marrriage Dates In 2023
1. Safa
From subtle to bold, the groom safa is the most essential wedding accessories for groom. It enhances the look of a royal wedding sherwani and makes you look more classy. You can choose between a monotone safa, pastel safa, floral safa, and many more. It can help you make a chic fashion statement in your candid Bengali wedding photography.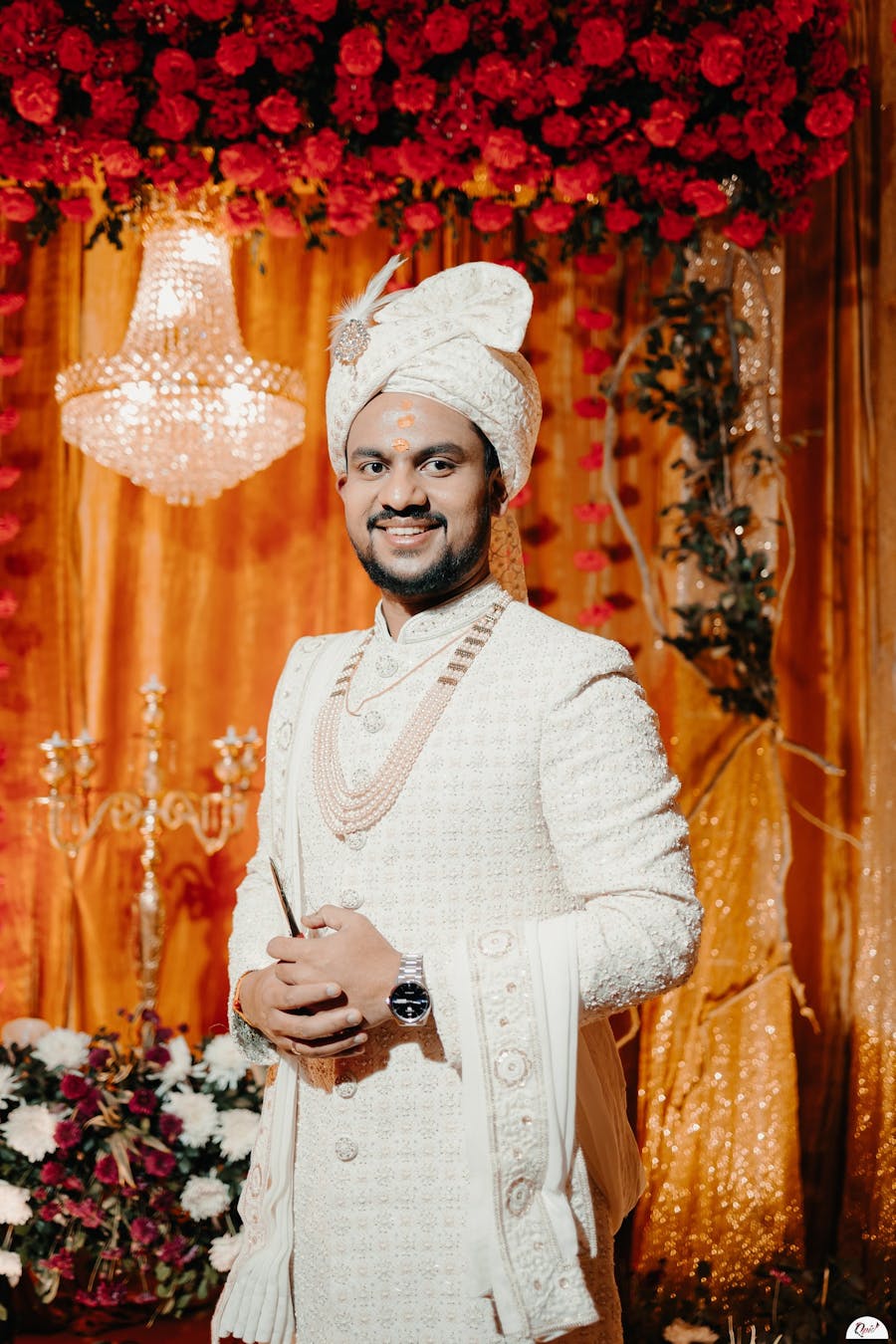 Must Read: 15+ Dashing Groom Dress Ideas For Engagement Ceremony
2. Kalgi
A light-weighted kalgi is the most traditional marriage accessories for groom. These elegant kalgis are crafted with semi-precious stones and feathers. It adds a touch of grandeur to your wedding look. Today, you can see many latest kalgi designs to complement your wedding outfit. But a feather kalgi is still the most popular option among Indian grooms.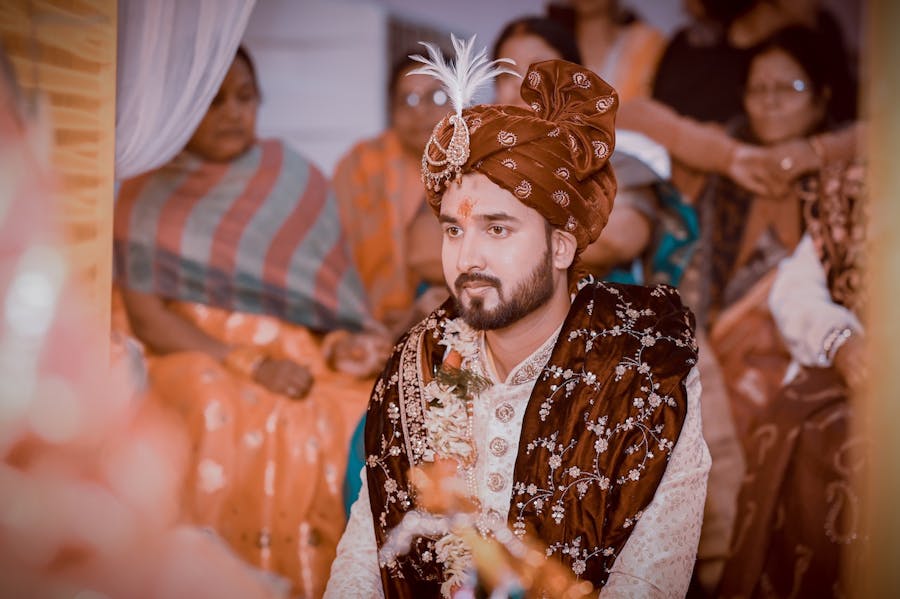 See More: 16 Best Places for your Wedding Shopping in Kolkata
3. Sehra
Sehra is a traditional groom accessories for wedding worn by grooms to ward off the evil eye. This elegant wedding accessory has gone through a tremendous change in its design throughout the years. You can opt for a maharaja-style sehra design for a royal sherwani. A groom sehra made of flowers and pearls is the most elegant option for a pastel-hued or floral sherwani.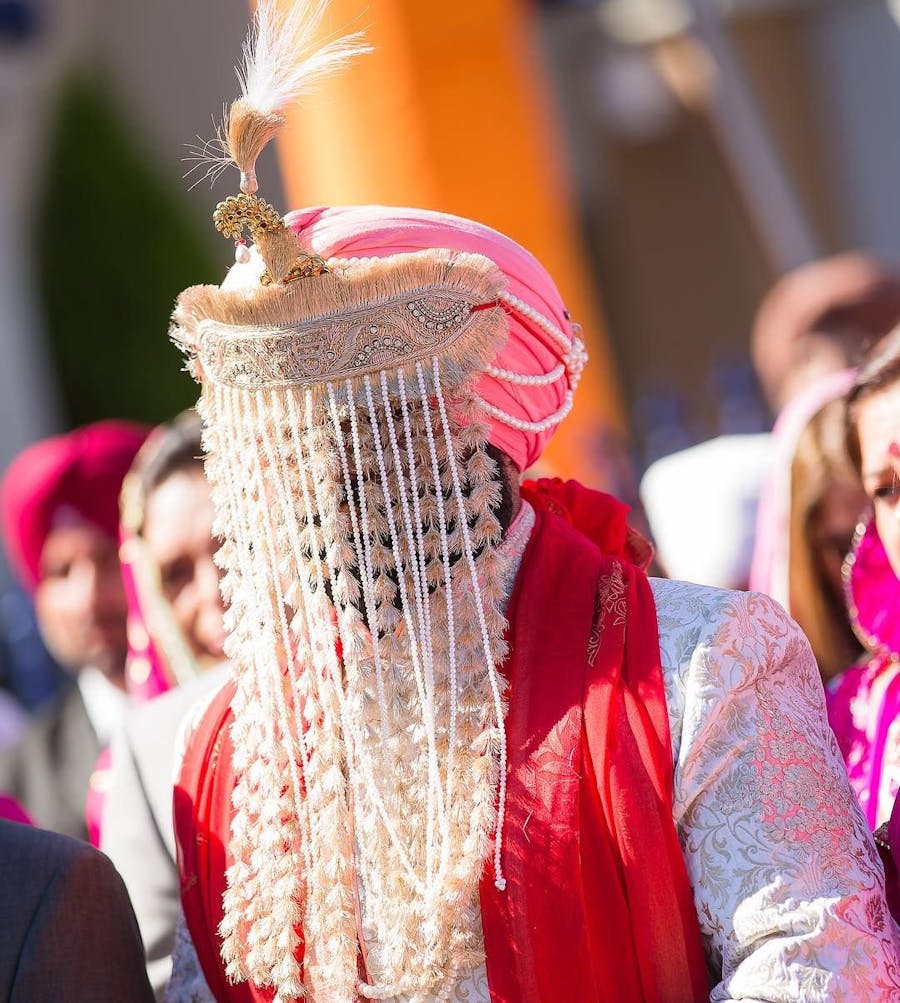 4. Beaded Chain
Next on this groom accessories list is classy jewelry for a groom. A multi-layered beaded chain adds a dose of glamour to wedding photography Bengali. A contrasting necklace with gemstone is the
perfect piece of jewelry for a royal groom look. Just imagine the combination of such an exquisite groom necklace with matching sherwani and stole. A match made in heaven!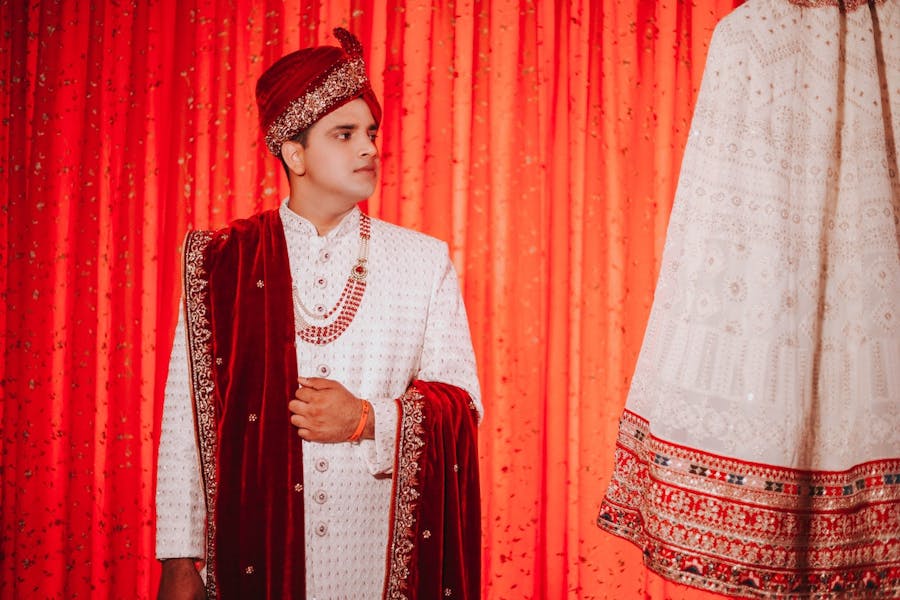 5. Stole
Who says dupattas are just for the brides? Wearing a contrasting stole with a wedding outfit is not only the latest fashion, but it's also an age-old tradition. We all know that a designer sherwani is the best Indian wedding outfit for groom. But when it comes to adding grandeur to this royal outfit, nothing can match the elegance of a velvet stole. It can be the perfect option for winter weddings.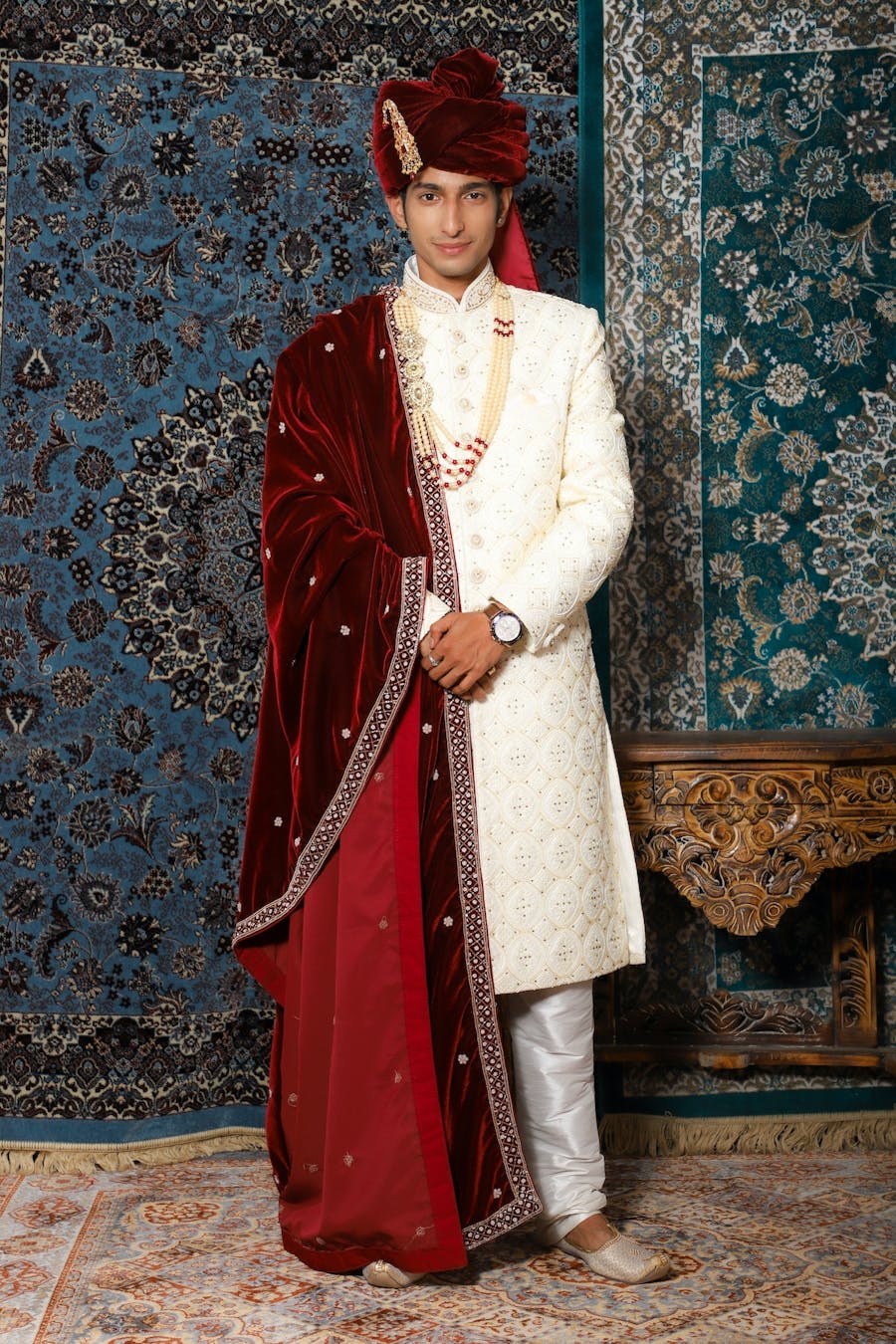 6. Brooch
An Indian brooch not only amplifies the look but leaves your entire wedding outfit look unparalleled. Jodhpuri suits are considered one of the best suits for wedding groom. Adding a brooch to this classy suit can make you look more attractive. A gold-plated brooch can give your outfit a lavish touch.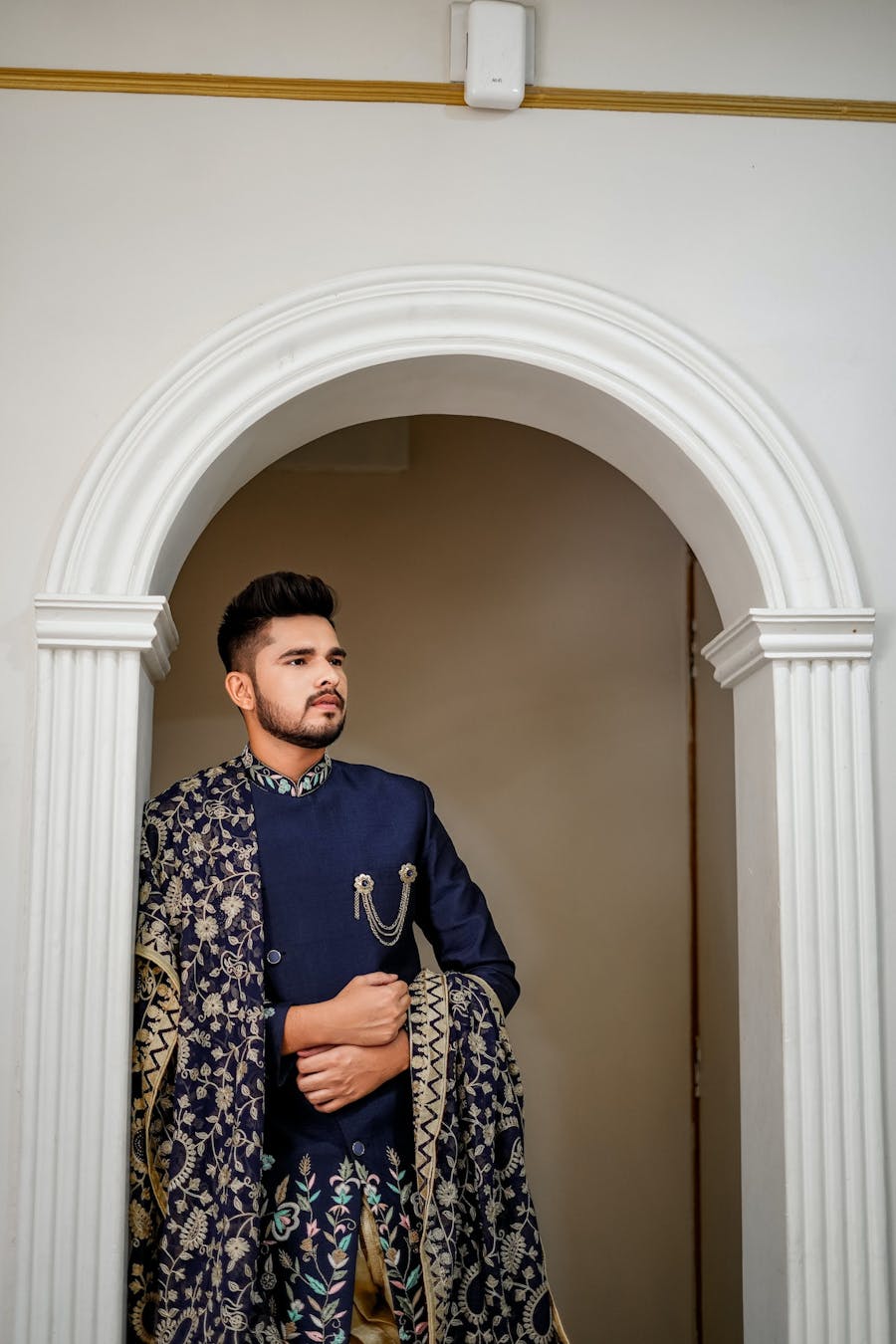 7. Kundan Necklace
Kundan jewelry is considered the most luxurious wedding jewelry for groom. The grace and shine of a Kundan necklace complement your royal wedding look. We have spotted many dashing grooms wearing this exquisite jewelry on pre-wedding events. Be a trendsetter groom by choosing this jaw-dropping necklace.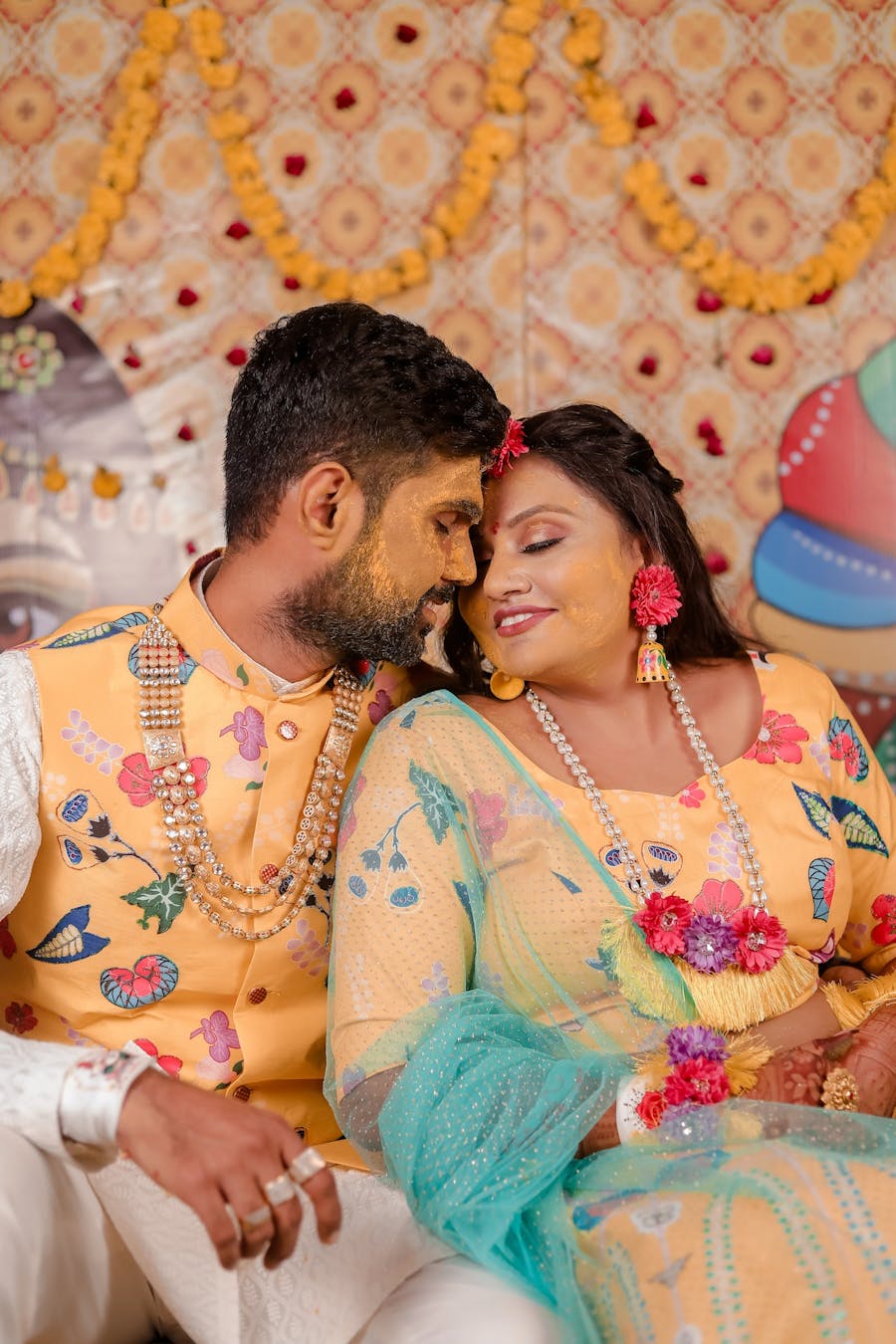 8. Pocket Square
Wondering how to make your stylish Nehru jacket appear more attractive? Pick a contrasting pocket square to raise the bar high. A colorful pocket square with your wedding day ensemble looks spectacular. This is one of the most important wedding groom accessories to style your classy suits and get an iconic groom look.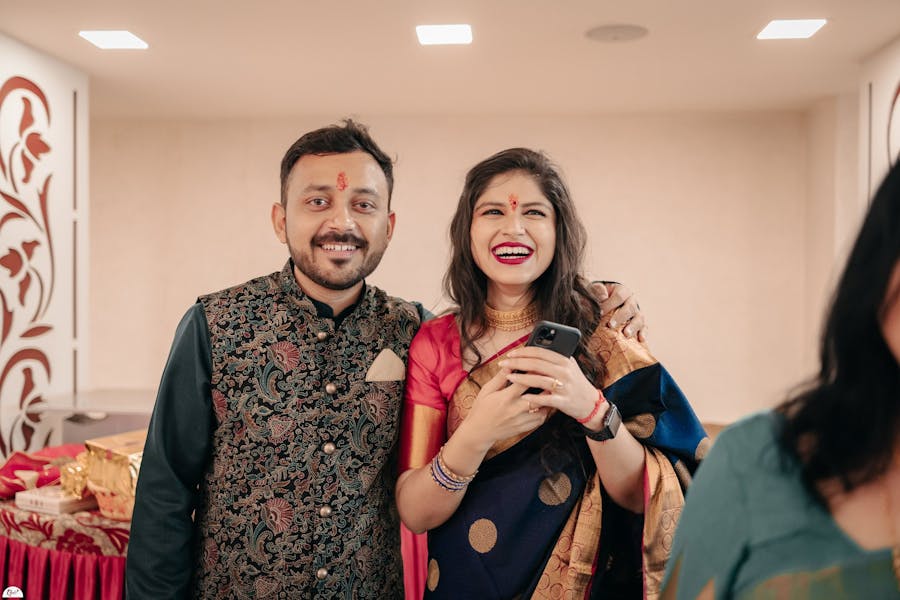 9. Waist Belt
Now this one is a kingly addition to your wedding accessories collection. A waist belt worn over a sherwani can help you make a style statement. Additionally, this wedding accessory helps to keep the sword of the groom in the proper place. There are various designs available in the market, starting from fabric waist belts to the ornamental style. You can pick the design that goes well with your sherwani.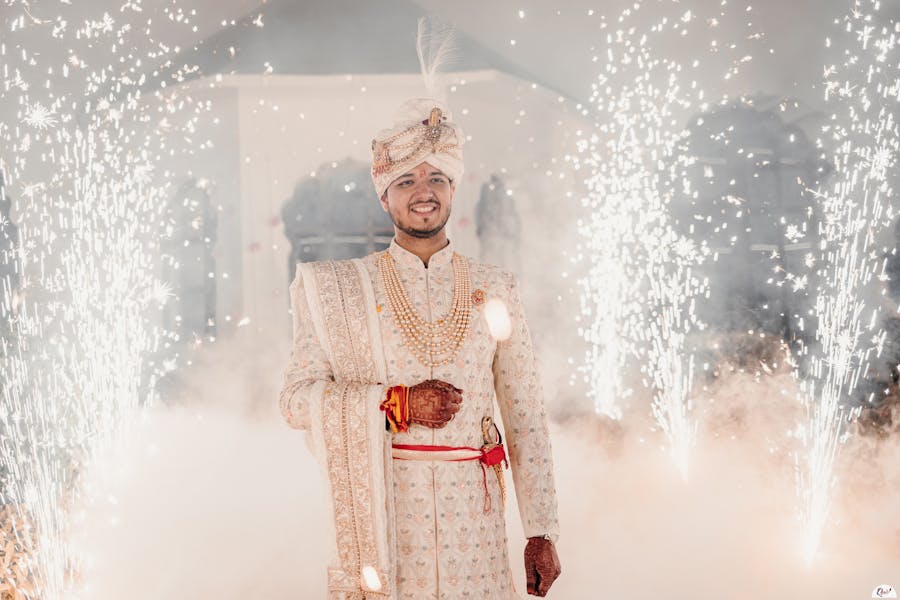 10. Sword
North-Indian grooms carry a wedding sword with them as per the wedding rituals. This is an age-old tradition performed by the kings to represent their royal status. Nowadays, it has become a fashion to define majestic styles and choices. You can opt for classy red, stunning silver, or golden swords to complement your royal outfits.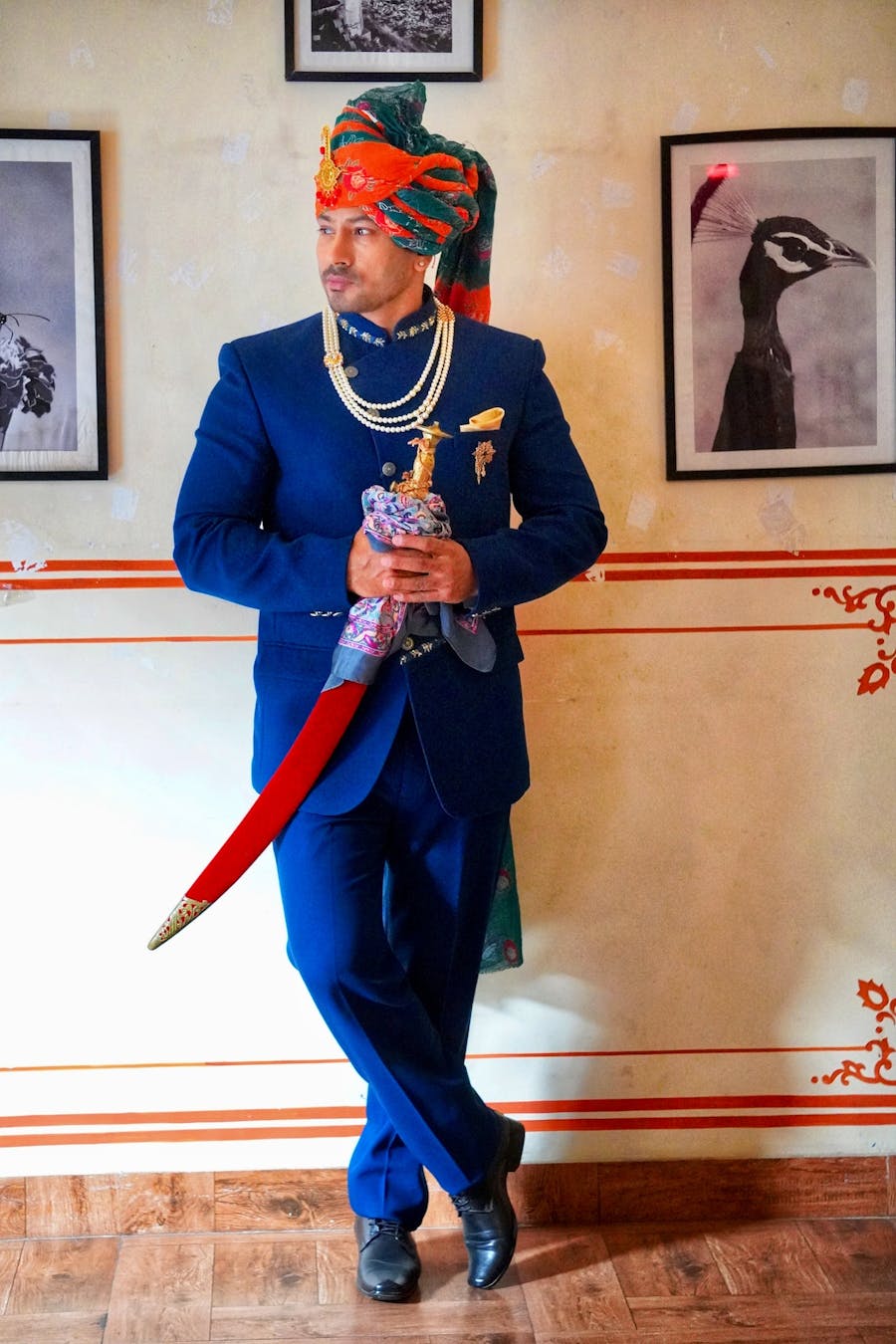 11. Shoes
Shoes are the most essential accessories for groom to complete their dapper groom look. The right pair of shoes can make you feel confident and super stylish. Embroidered jutis are considered the perfect match for kurtas and sherwani. While leather shoes are a perfect fit for western suits. Make sure to buy a wedding shoe that can help you walk comfortably on your D-day.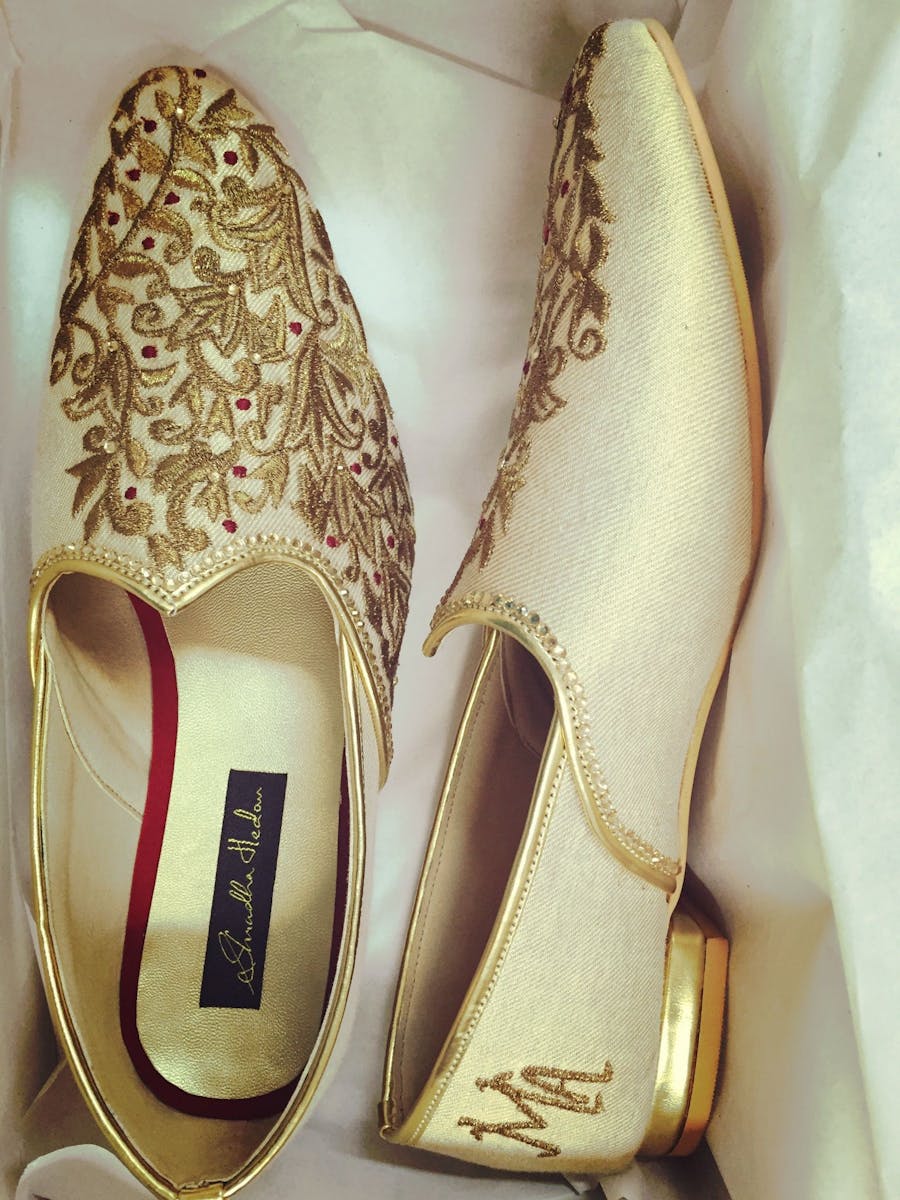 12. Watch
A groom should look confident and stylish enough to complement his beautiful bride. For this reason, he needs to pick up all those accessories that can reflect his personality. Watch is such an outstanding wedding accessory that makes him appear presentable. There are various brands of watches from inexpensive to expensive ones that make you look more attractive.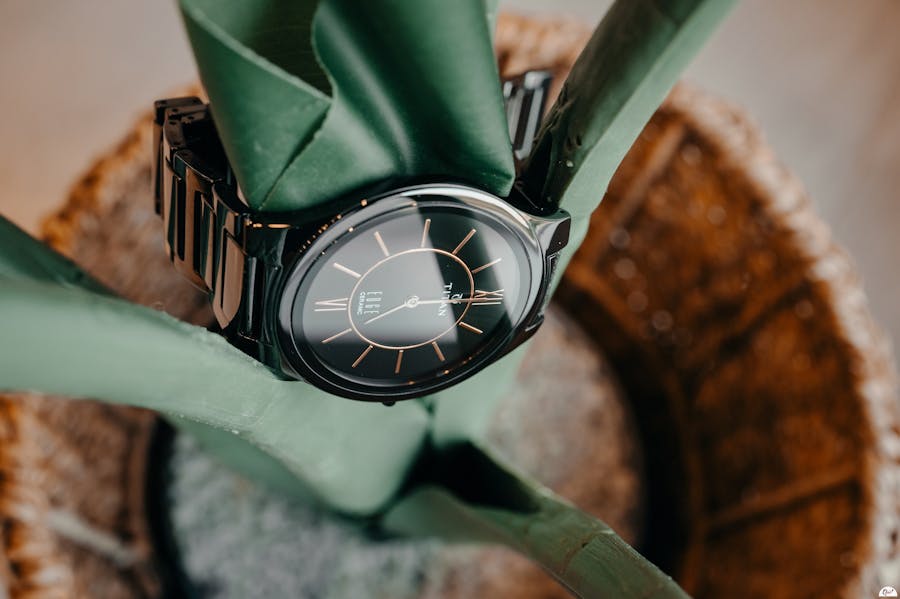 13. Bow Tie
If you have decided to wear a formal suit or tuxedo at your wedding reception, then a bow tie is a must. A bow tie makes you appear elegant and classy. A satin bow tie is mostly preferred for stylish tuxedos. There are different colors, and designs available in bow ties that you can choose according to your wedding ensemble.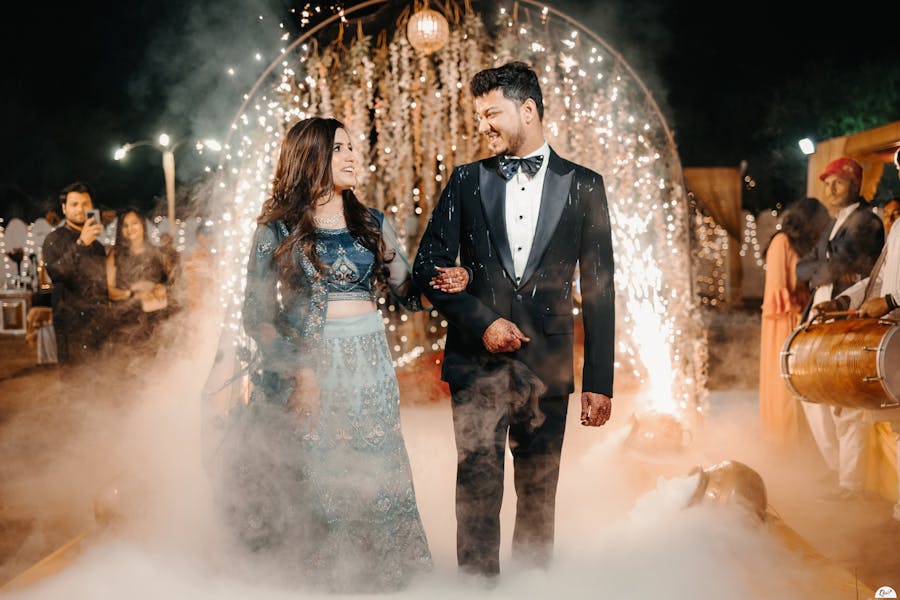 14. Engagement Ring
Ending this list with the most beautiful wedding jewelry for the groom! Wedding rings add an elegant vibe to your wedding look. Whether you choose to wear a diamond ring or a gold ring, every ring design has a special charm that grabs the attention of everyone. You can wear it with a formal as well as ethnic groom outfit.