If modern brides want to get a princess-like look, then our dashing grooms also deserve to be prince charming. Don't you think so? Modern grooms wear engagement dresses to signify their excitement of the moment. As g groom-to-be, you would like to look your best at your ring ceremony. You must make a clear idea of what you want for your engagement look.
A stunning outfit can make or break your first impression. So, it is important to pay serious attention to your engagement wardrobe. After all, your engagement ceremony will mark the first step towards a happy married life. This is why you must choose an outfit that can add grandeur to your dapper groom look. Here we have short-listed 15+ most attractive images of engagement outfits for men. Keep scrolling through these images shared by the best wedding photographer in kolkata to find your dream outfit.
1. Black Jodhpuri Suit
Black Jodhpuri suits have become quite a popular option in the groom's outfit. The edge that this engagement suit adds to a groom's look is laudable. The royal charm of this Indo-ethnic wear is bound to highlight the imperial side of your look. You can pair this black Jodhpuri suit with semi-formal pants and a pair of suede boots for a chic look.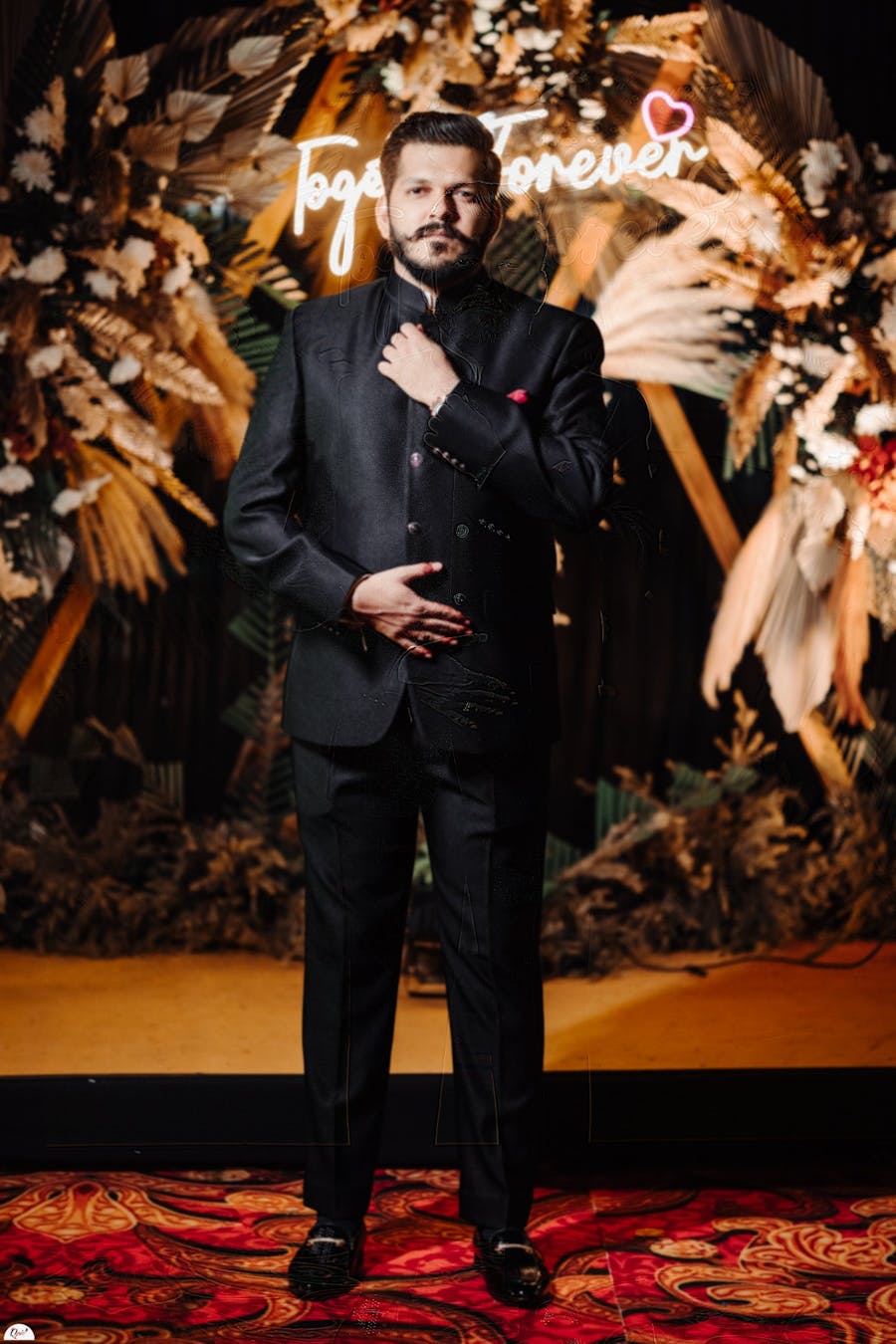 Recommended: Top 13 Stylish Mehendi Dresses For Grooms – Qpidindia
2. Off White Floral Sherwani
We can't take our eyes off this subtle shaded floral sherwani! Did you ever imagine a floral sherwani in a subtle hue can look this good? A few years ago grooms could only be seen in solid color outfits. But with the advent of a floral sherwani things have completely changed. This rich fabric is providing the groom with a romantic dream-like appearance.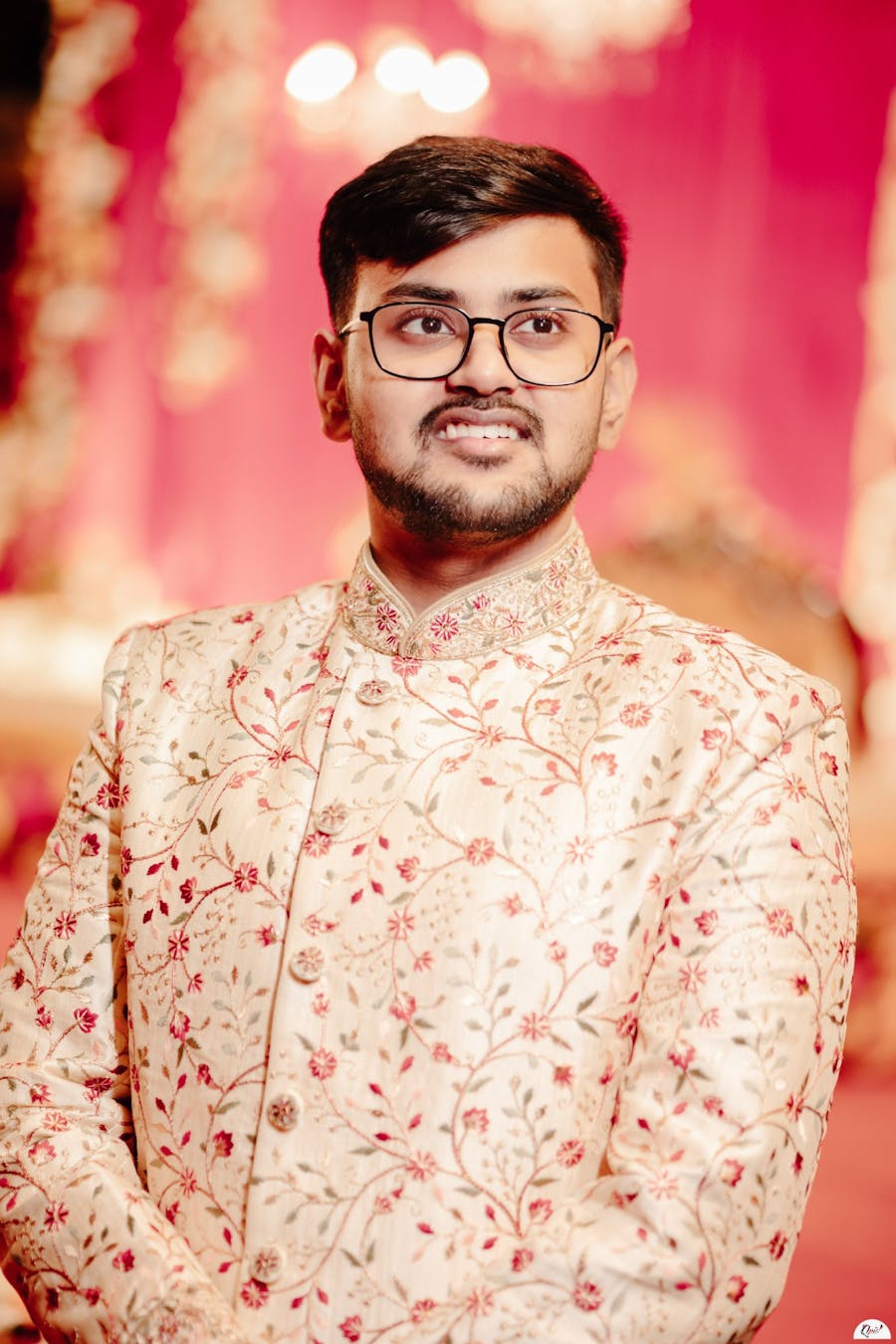 See More: Trending Pre Wedding Shoot Dresses For Couples In 2021
3. Grey Tuxedo And Pant
A charming groom in a grey tuxedo is the star of bengali wedding photography. A grey color tuxedo with formal pants is a remarkable choice for men who wish to add a little more zest to their look. We are crushing big time over this stylish groom's engagement look.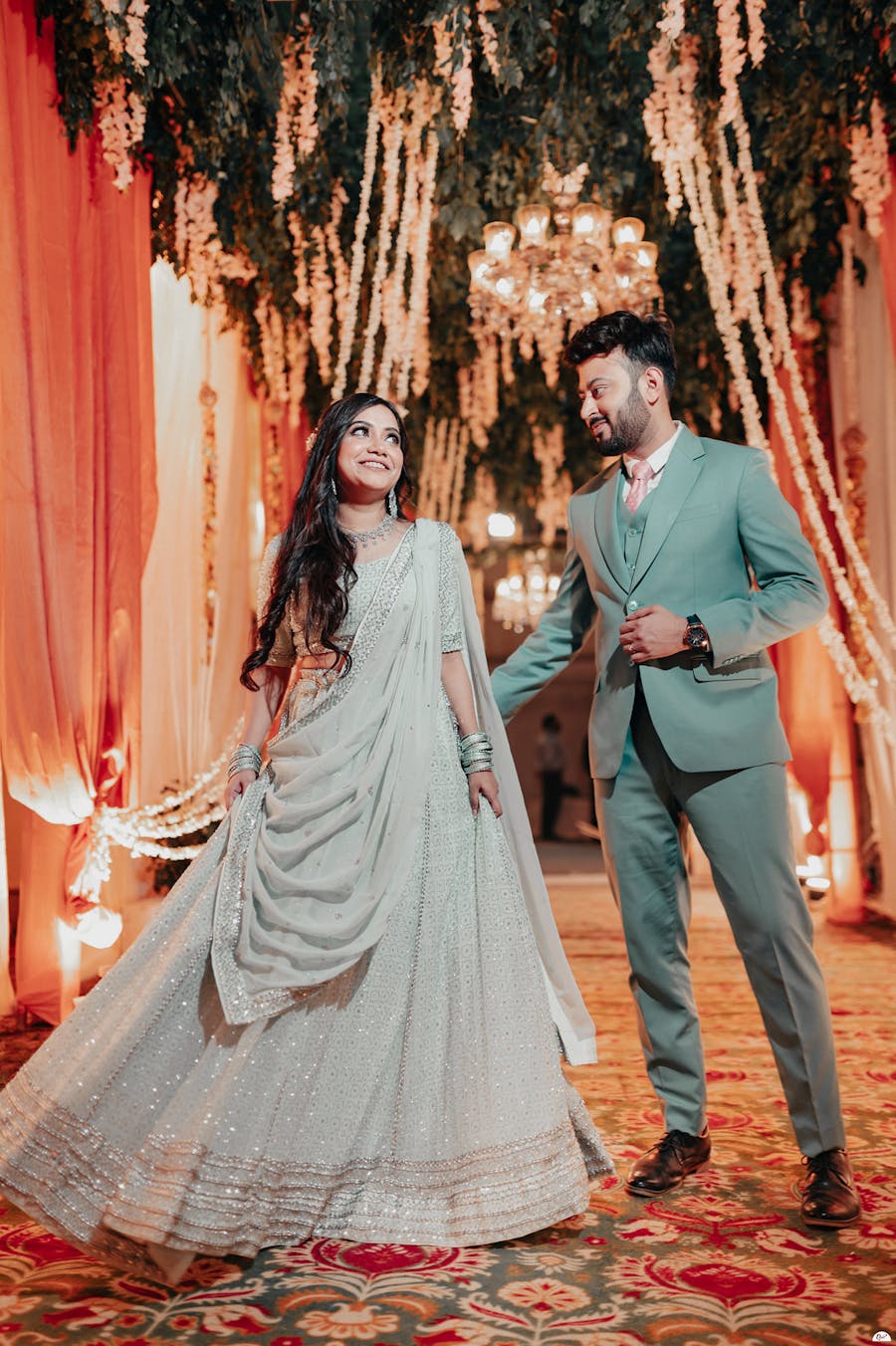 Also Check: 9 Amazing Reception Look Ideas For Bengali Groom
4. Black Three Piece Suit
If you want a fierce look at engagement, then you can choose a three-piece suit in black. A black groom suit for engagement paired with statement pants and boots gives a starry appearance to the groom. This Bengali groom knows well how to slay in a statement outfit.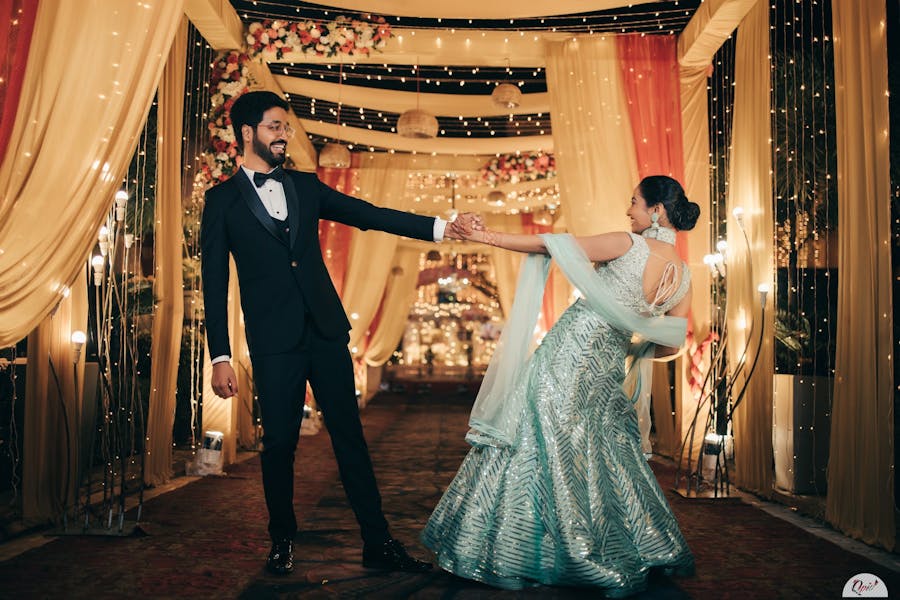 5. Rosy Red Patterned Sherwani
A rosy red sherwani with a maroon churidar makes an attractive combination. You can never go wrong with this traditional engagement dress for groom. This criss-cross patterned sherwani is giving some major dulhe raja feels. Pair this classy outfit with a statement brooch to add a dash of luster to your engagement look.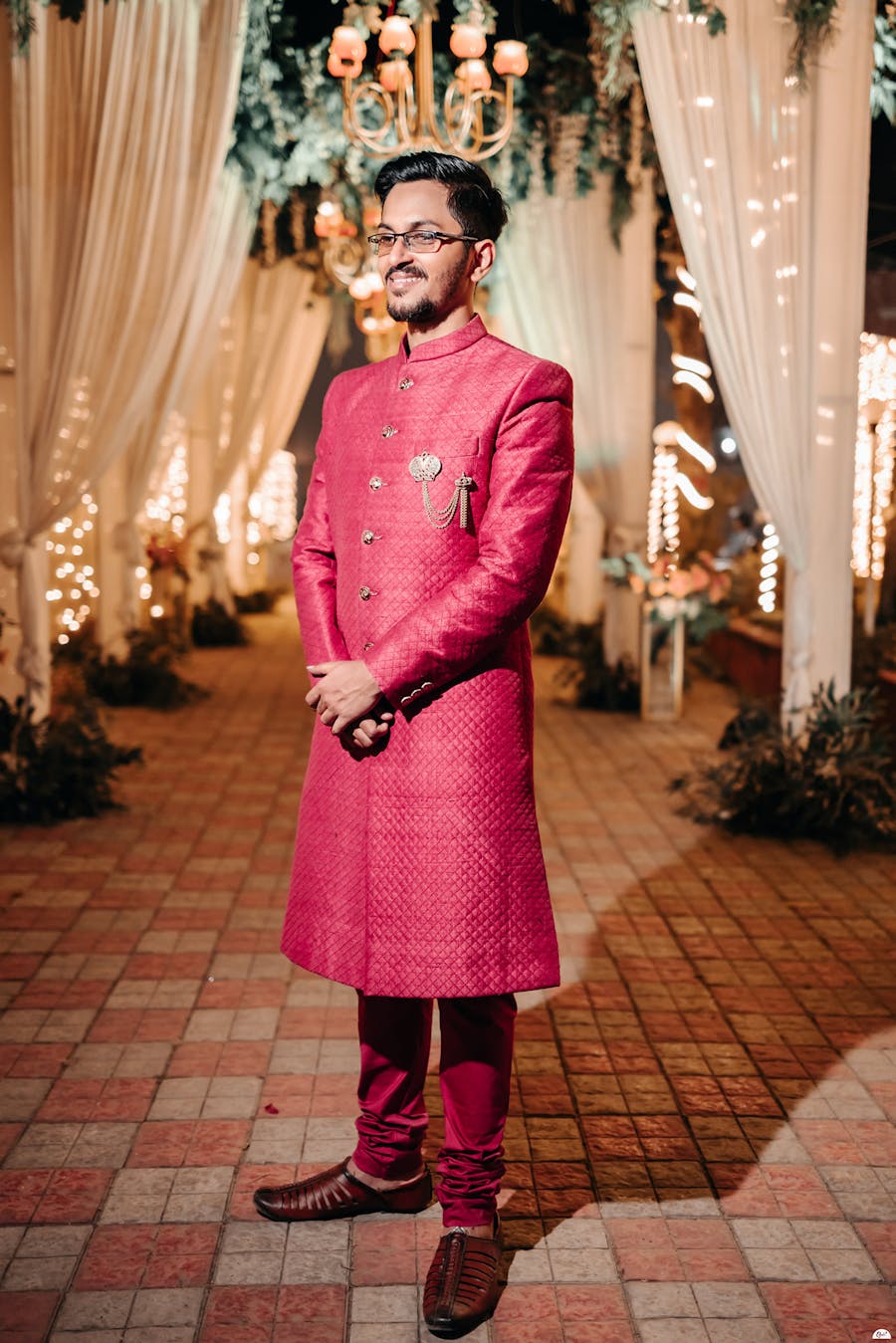 6. Off White Kurta And Black Nehru Jacket
What's a Bengali groom's look without an iconic Punjabi outfit! This traditional groom has caught our attention at first sight. He has chosen to wear a Punjabi kurta in a cream shade. He has further accentuated the charm of this ethnic wear by pairing it with a black Nehru jacket.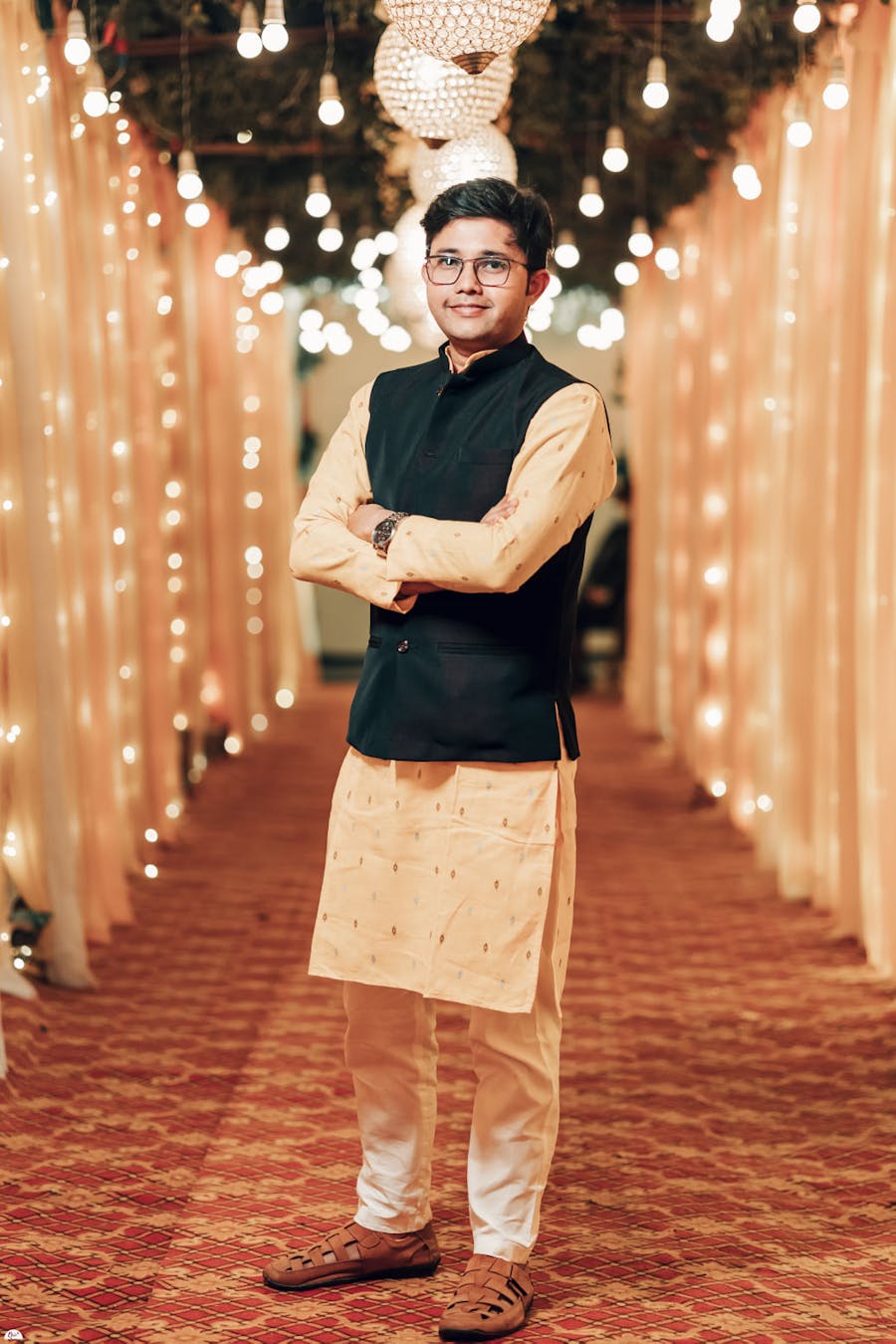 7. Pastel Sherwani And White Stole
If matching the color of your engagement dress with your bride's dress is your wish, then this is the right choice. This dapper groom broke all the stereotypes by wearing a pastel sherwani. This sky blue sherwani is the best engagement party outfit for groom. You can pair such a beautiful outfit with an embroidered stole and contrasting mojri.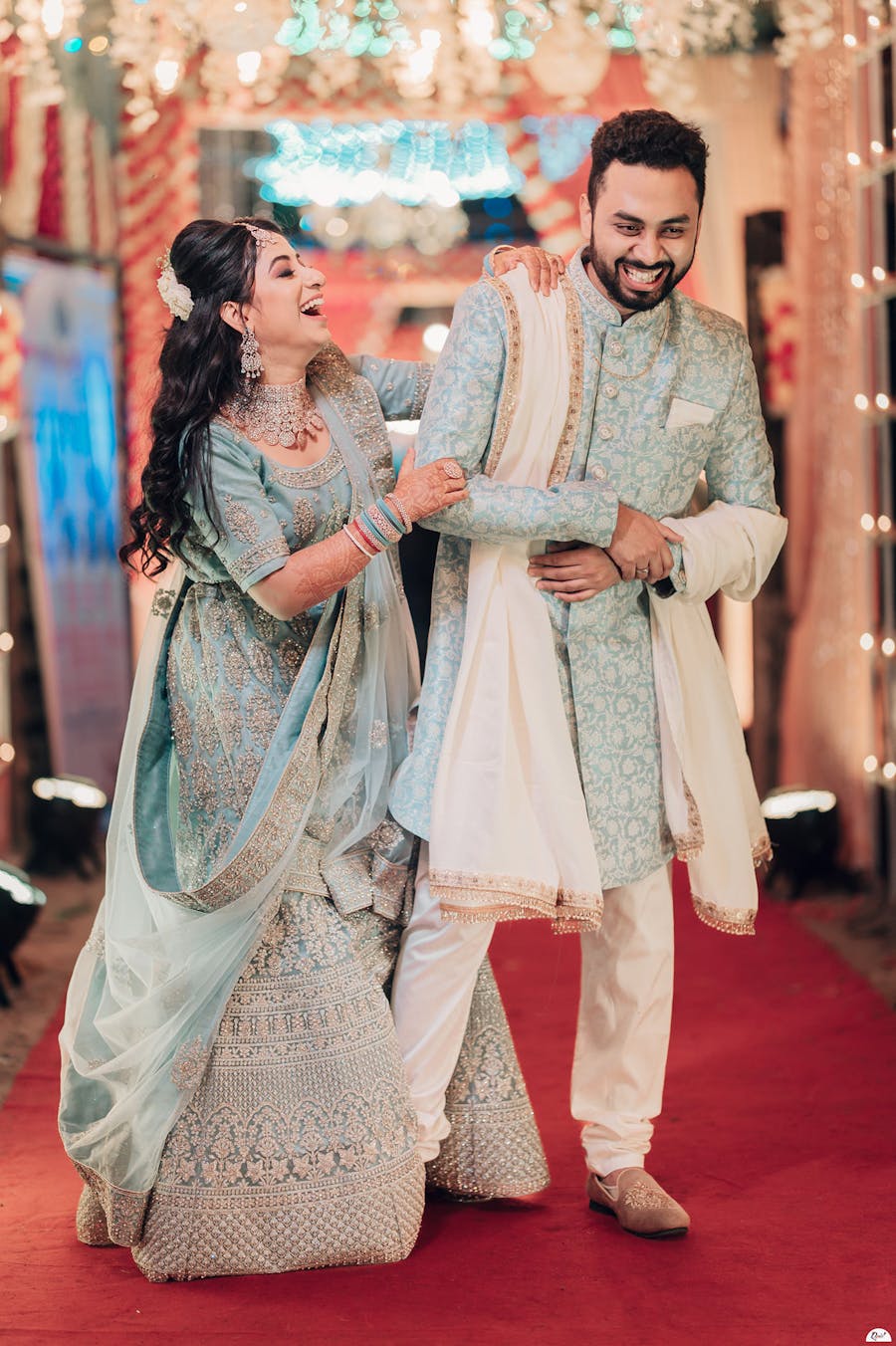 8. Ivory Sherwani - Best Engagement Dress For Groom
How mesmerizing does this groom look in his textured ivory sherwani! Ethereal ivories engagement kurta for groom brings out royalty in an elegant manner. This charming groom has color coordinated his sherwani with his bride's gorgeous lehenga. You can also opt for this striking color outfit to rock your engagement look.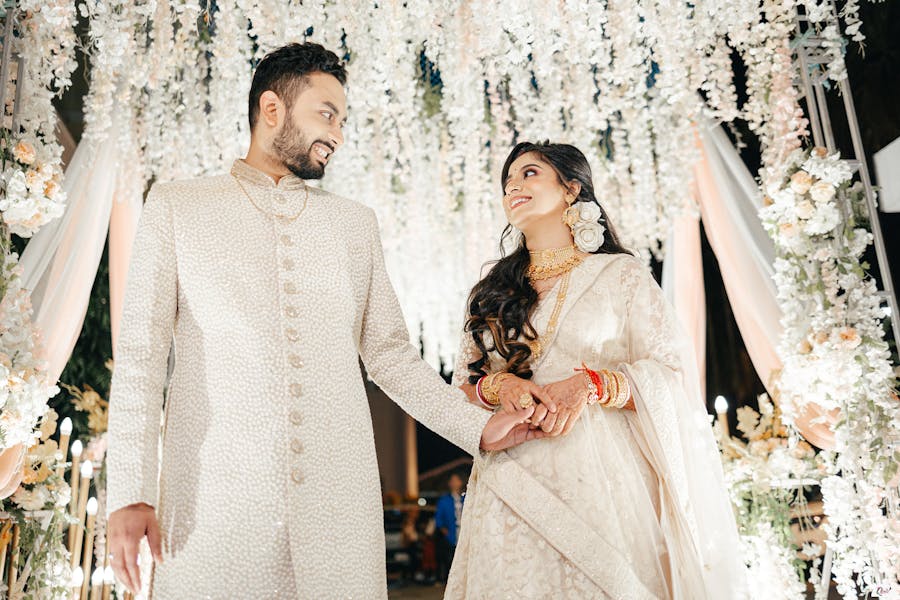 9. Black Sherwani & Golden Stole
This black sherwani with booti work has a huge fan following. The golden embroidery of this ethnic wear enhances the opulence of the attire furthermore. Our dapper groom has taken a golden stole with this remarkable sherwani to add a touch of elegance to his engagement look.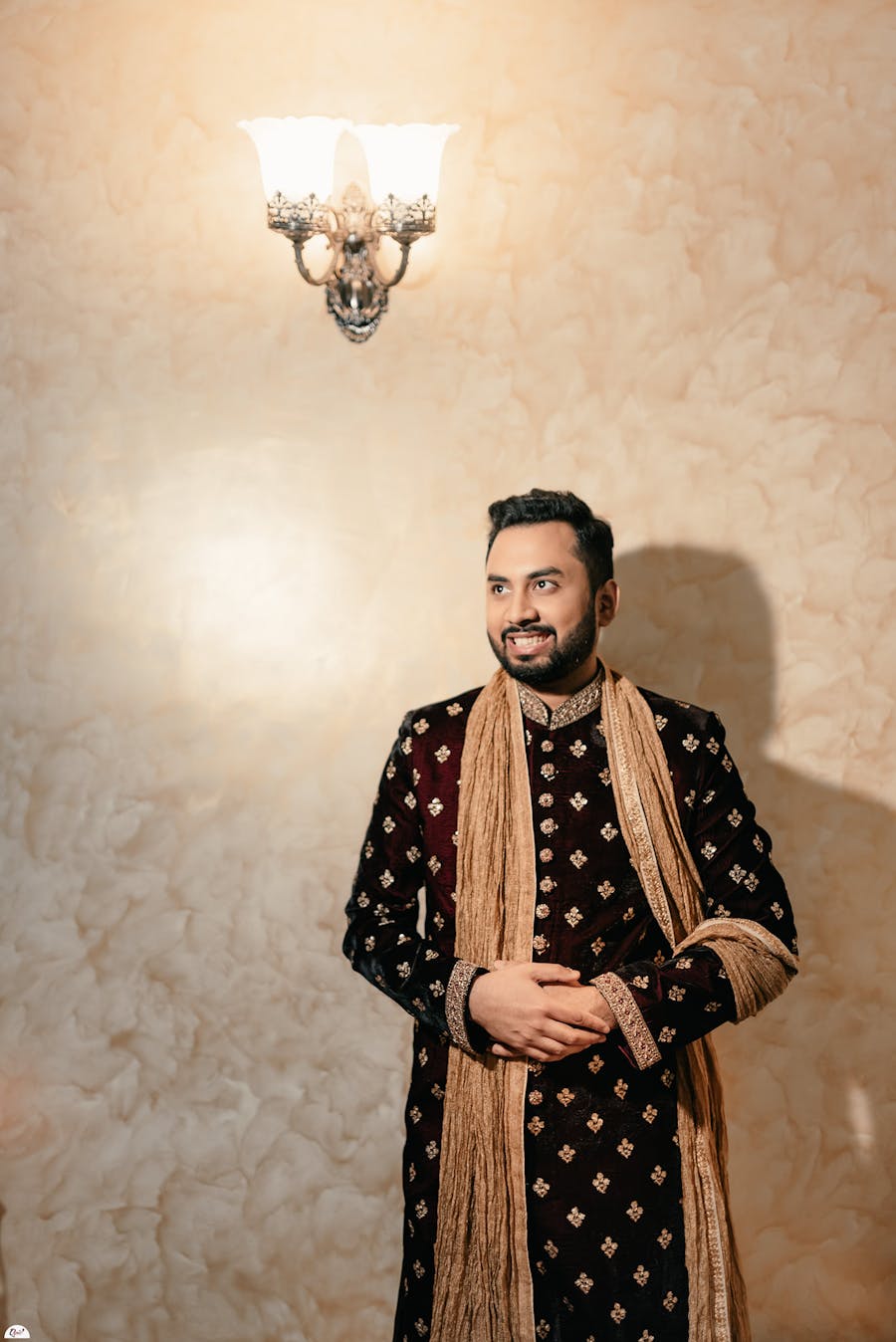 10. Zardosi Sherwani
If you want an engagement outfit that looks elegant as well as royal then you must opt for a zardosi sherwani. This is one of the best designer engagement dress for groom. A unique black sherwani with champagne pink embroidery will look exceptional.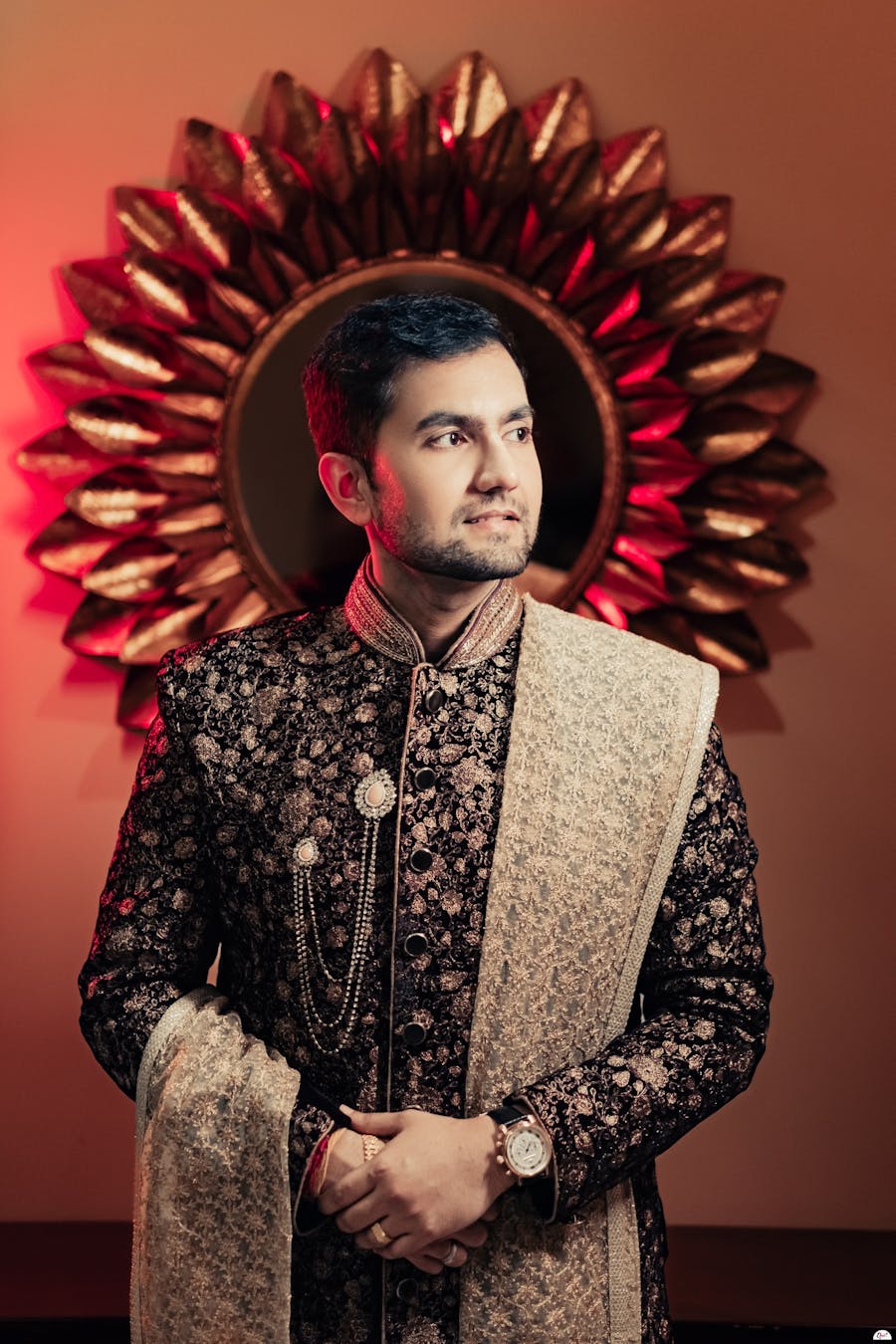 11. Royal Blue Jodhpuri Suit
A Jodhpuri suit in the blue shade is the perfect outfit for a magnificent celebration. This princely outfit with modish designs gives you an impressive look. A blue jodhpuri suit with formal pants is a bold and fashionable pick for men. This Indo-Western outfit can give you a classy appeal.
12. Maroon Silk Kurta
A silk kurta is one of the most classic and best groom dress for engagement ceremony. You can make a sharp style statement with a maroon silk kurta and off-white pajama. This evergreen ethnic wear with intricate embroidery will shine in a daytime event.
13. Blush Pink Suit & Pant
How about wearing a pastel hued three piece suit on your engagement day? Pink suits are the latest groom dress for engagement that can make you the most handsome groom. A blush pink suit and pant are sure to leave a lasting impression on people's mind. Stun your leady by choosing a pastel outfit for your special event.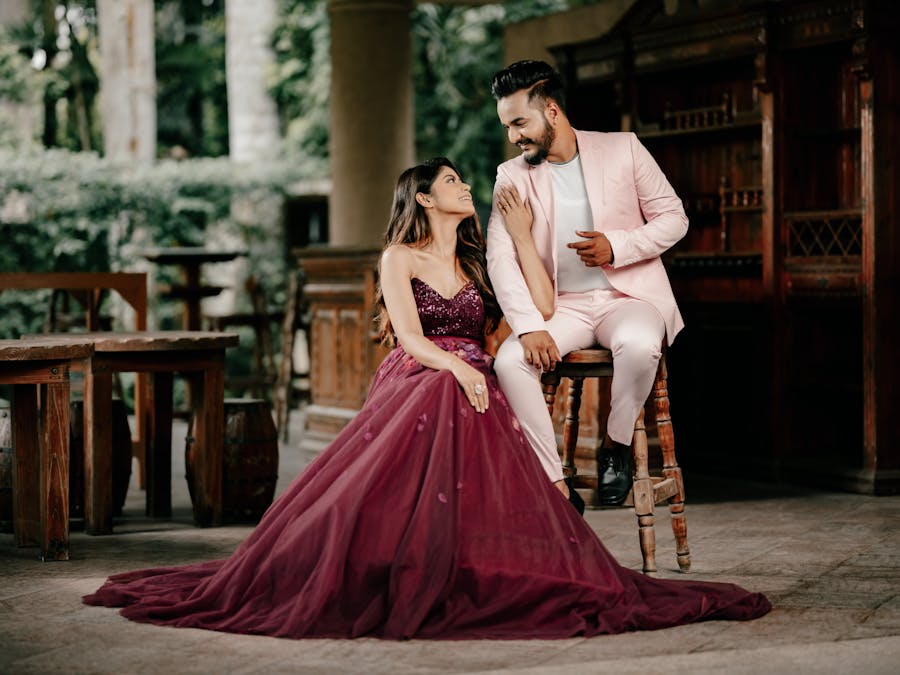 14. Royal Blue Achkan With Beige Dhoti
Are planning to have an extravagant engagement ceremony? Then nothing would be more suitable than an asymmetrical achkan with an ethnic dhoti. Achkan is a stylish outfit that comes in various colors and designs. This dashing groom has worn a royal blue achkan with beige dhoti on his engagement day.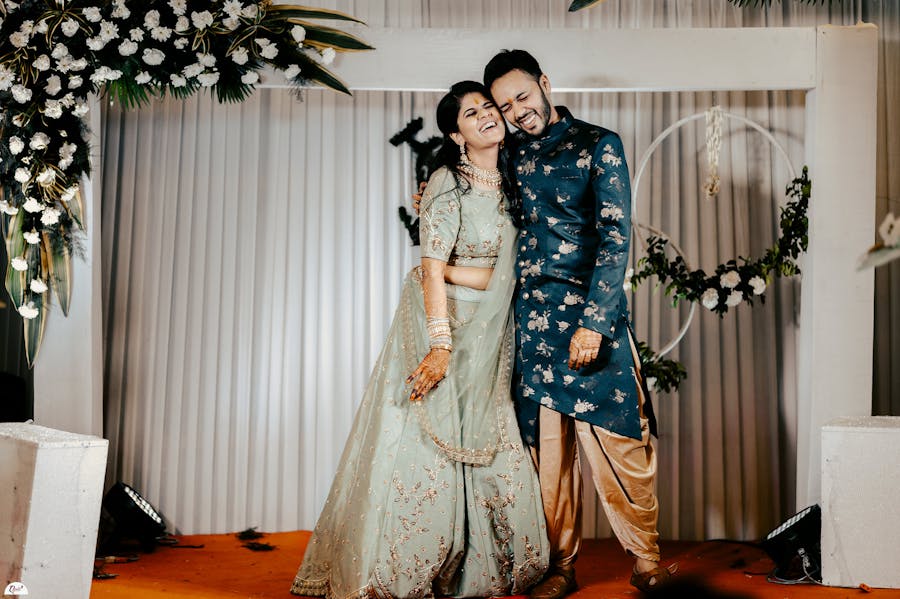 15. Metallic Black Bandhgala
You can also choose a metallic bandh gala to complement your bride in her beautiful metallic lehenga. Take inspiration from this royal groom who has worn a metallic black bandh gala. His metallic black suit paired with statement jewelry is providing him a classy look.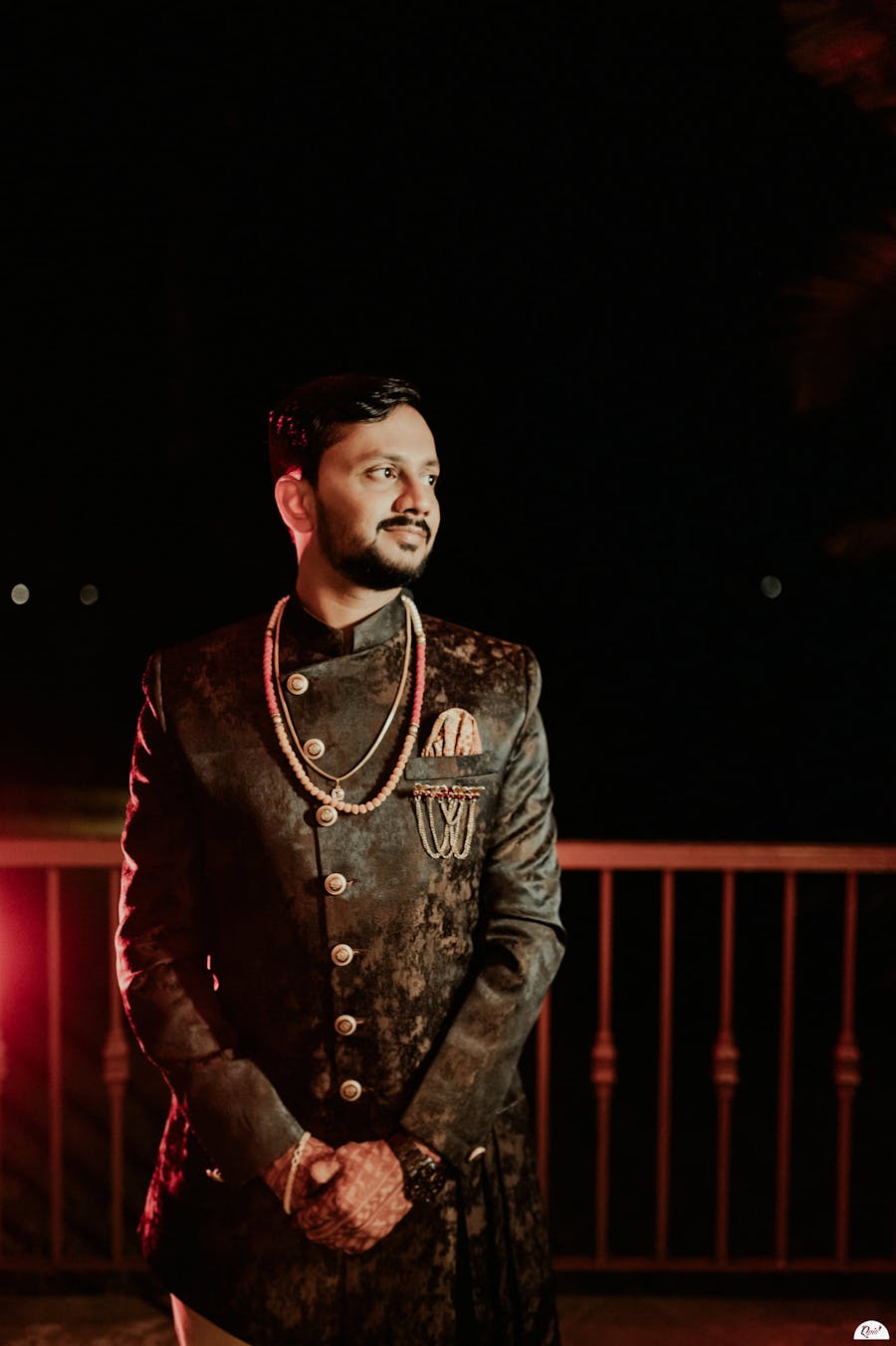 16. Printed Silver Jacket With Black Pant
Here's come another fashionable outfit for our handsome grooms-to-be. A printed suit in the silver shade with remarkable embroidery is an off-beat engagement outfit for men. It can make you standout amongst the rest.