Bengali weddings are always famous for the rituals, wedding attire, and candid Bengali wedding photography which makes the grand occasion of the wedding more beautiful and spectacular. 
Just like a bride, a groom can also impress everyone with his charm. In recent years grooms are gaining a lot of attention and tons of complement for their remarkable wedding look. Designers are also experimenting with new designs in groom outfits. Sherwani is a traditional outfit worn by Indian grooms on the day of the wedding or other festive occasions. This ethnic wear has been a part of our Indian tradition for many years. This exquisite sherwani elevates your wedding look and provides you with a royal and classy feel. Wearing a designer sherwani at the wedding has become the latest trend. So, if you also love to follow the trend and find perfect wedding attire then keep reading this article based on trending sherwani for the groom.
1. Graceful Gold & Maroon Sherwani
This is a classic color combination that flaunts your masculine zeal. A golden beige sherwani with a maroon plated stole is a perfect choice to bring the vibes of a grand wedding. Pairing this royal outfit with maroon headgear and churidar pants adds charm to your personality.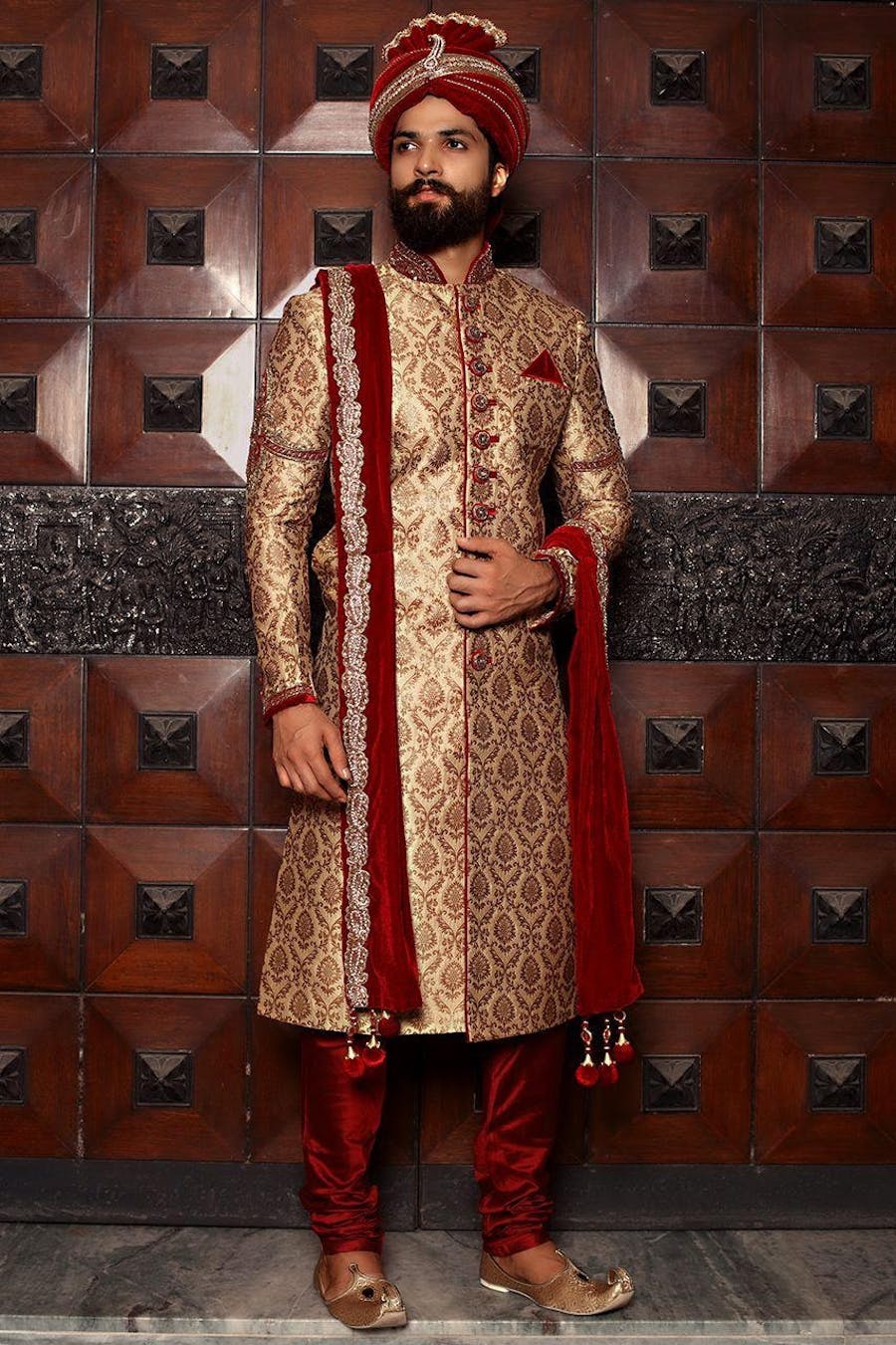 Recommended: Top 8 Wedding Sherwani Shops In Kolkata
2. Floral Sherwani-Summer Wedding Outfit
The floral sherwani is a show stealer outfit. This sherwani is a unique addition to the largest groom outfit. It makes you stand out and looks most stylish groom. The ivory color floral sherwani is a nice pick for a subtle and lavish look. This light-hued sherwani is best for those who are not interested in loud colors.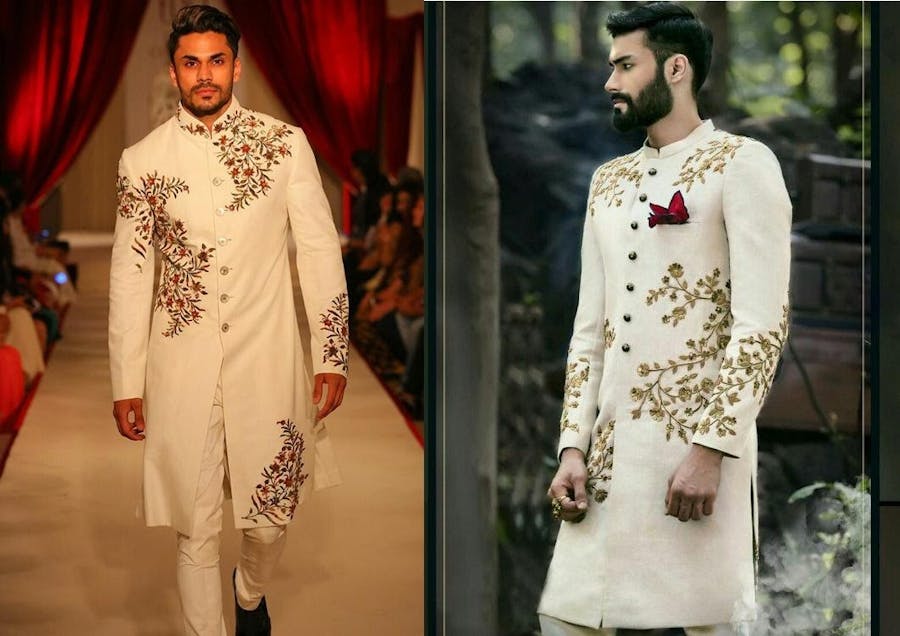 Must Read: Traditional Bengali Groom Dress Ideas For Reception
3. Patterned Shades Of Blue
The patterned sherwani in peacock blue is going to make everyone a fan of your extraordinary look. The hand-embroidered bandhgala sherwani with a matching churidar is a killer combination. This silk sherwani provides you with a sophisticated look. The immense popularity of this simple outfit makes it a perfect sherwani for a groom.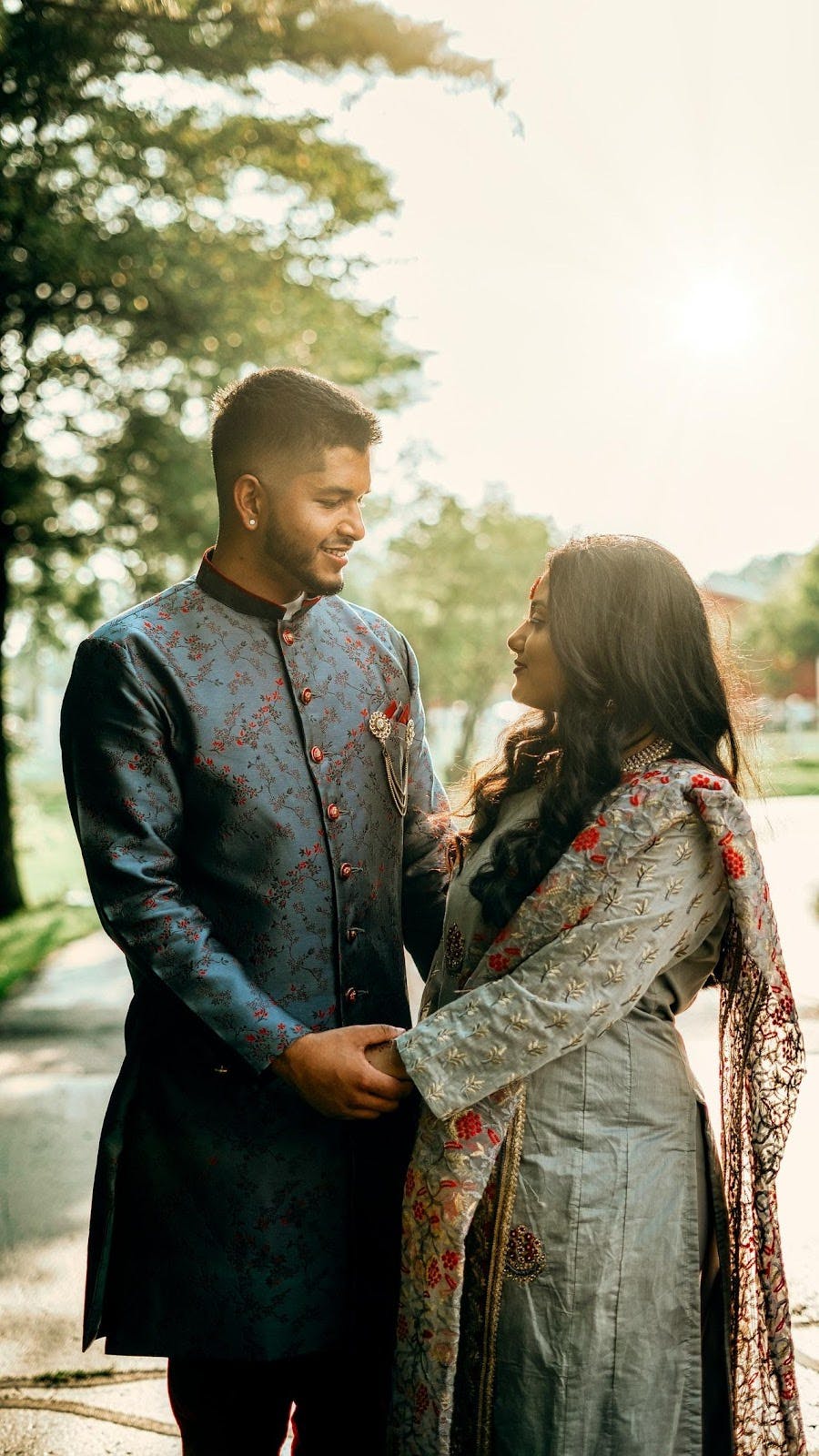 4. Elegant Lavender Sherwani
We love the way the grooms are dressing in an exceptional and stylish pastel-colored sherwani. One such outstanding example is lavender or purple color sherwani. Choosing this bright and subtle color as a groom's outfit is truly admirable. These beautiful outfits create the perfect ambiance for a wedding. Pair up this stylish dress with matching headgear, stole, and a pearl necklace that will enhance the elegance of your outfit.
5. Bold Black Sherwani With A Touch Of Maroon
A black sherwani is the most stylish sherwani for a groom. Celebrities like Ranveer Singh and many grooms prefer this classic color to wear on their special day. If you want to achieve a unique and royal look then this luxurious outfit is the best option along with that, you can pair it with a stylish safa and silk dupatta with a matching mala to provide a dramatic resemblance to your wedding outfit.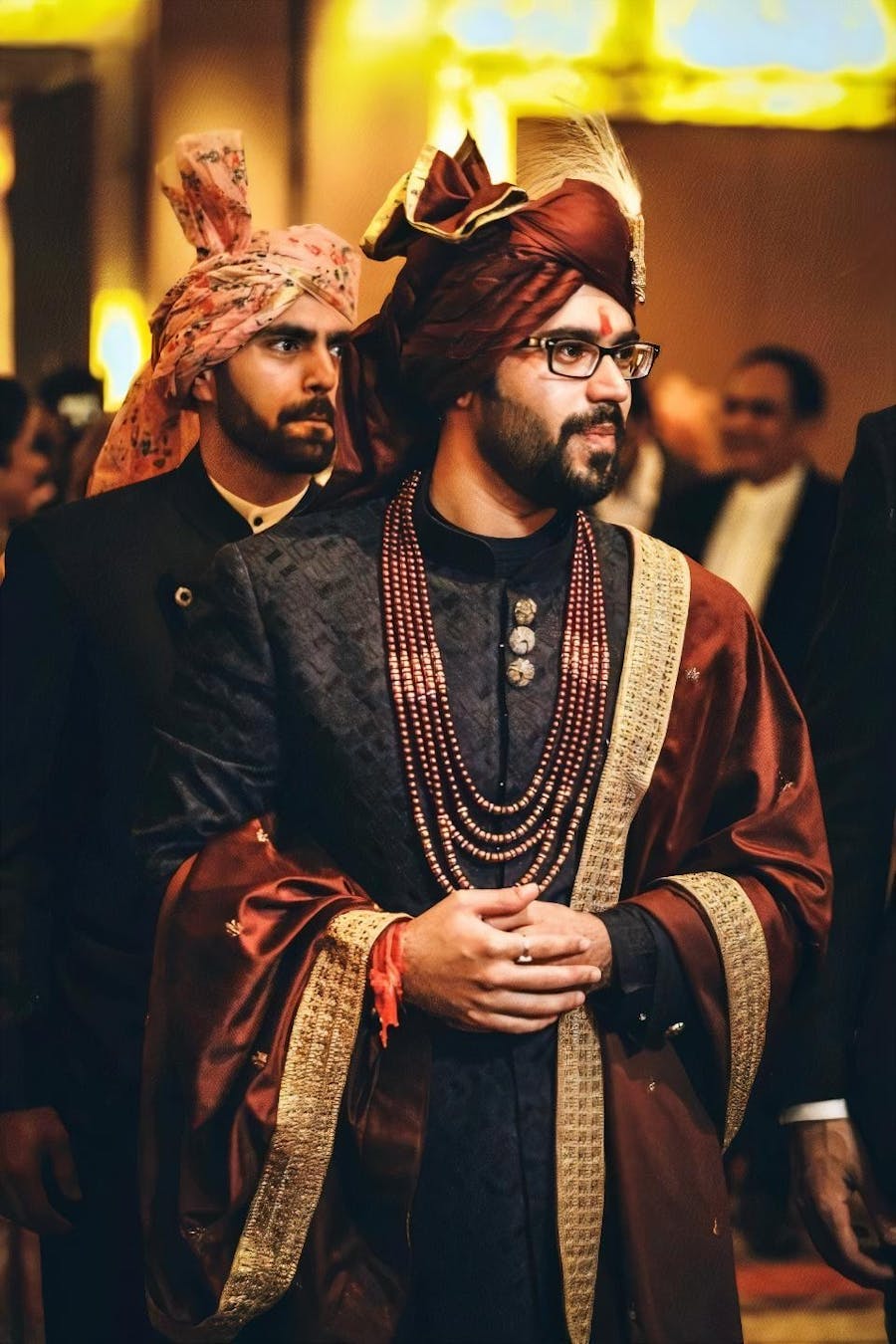 6. Trendy Velvet Sherwani
Velvet sherwani for groom wedding is a marvelous outfit idea. These inspirational picks can earn you back tons of compliments. A round-neck sherwani in royal blue is a perfect choice for modern grooms. The charming groom's look can be completed with a silk dhoti to seal the deal in absolute style.
7. Heavily Embroidered Sherwani
 Sherwani embroidery designs complement the stylish look of the groom. Metallic colors like copper and gold are truly a style statement that flaunts your wedding look. This embroidered sherwani looks perfect with a stone-studded brooch and a contrasting churidar.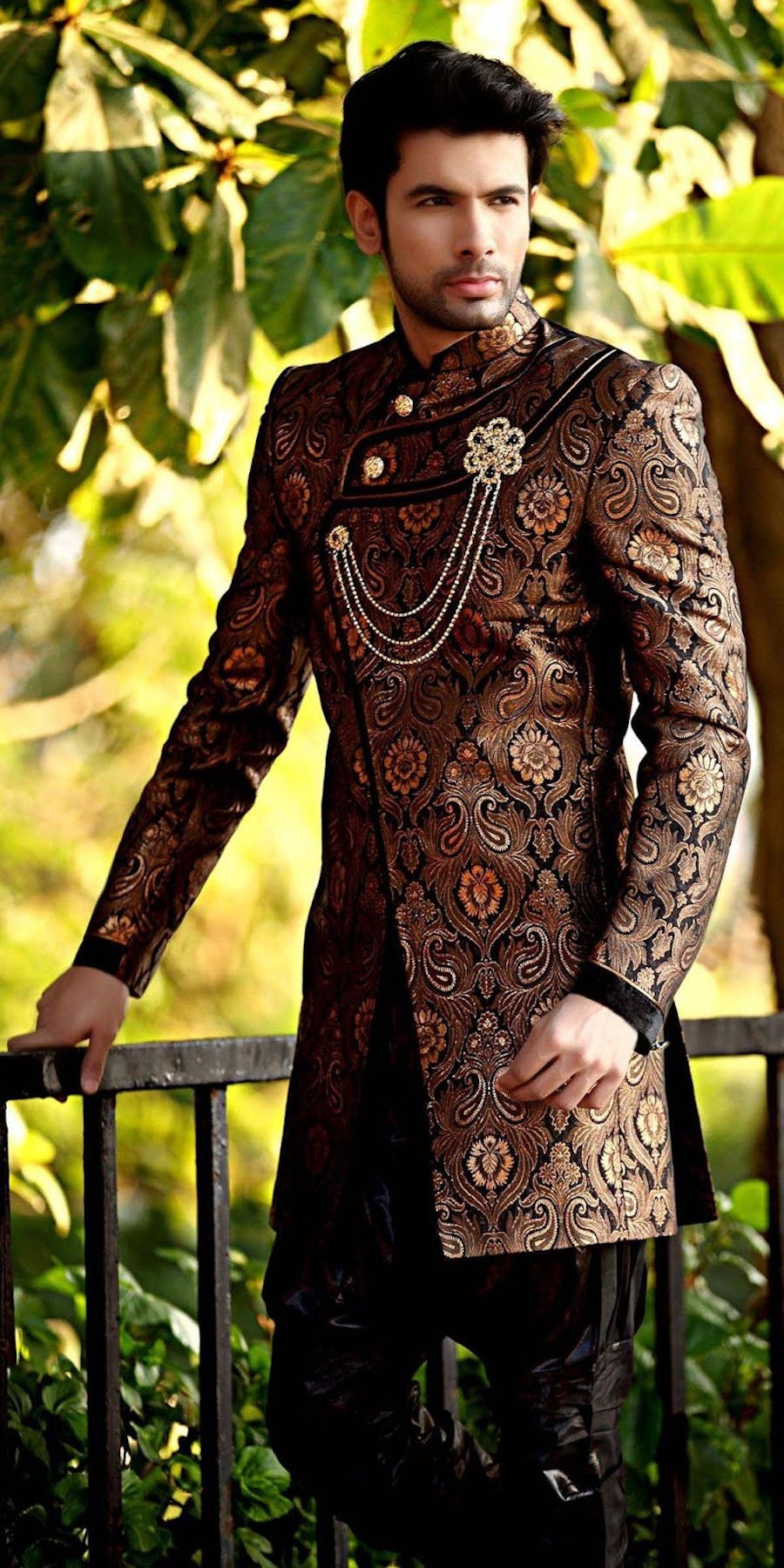 8. Versatile Patiala Salwar Sherwani
The combination of turquoise and gold-shaded sherwani provides a captivating look to a groom. This latest range of sherwani is rocking the internet. The minimalistic embroidery on the fabric and combination of a golden Patiala salwar makes it a unique outfit. This is the best sherwani design for traditional weddings.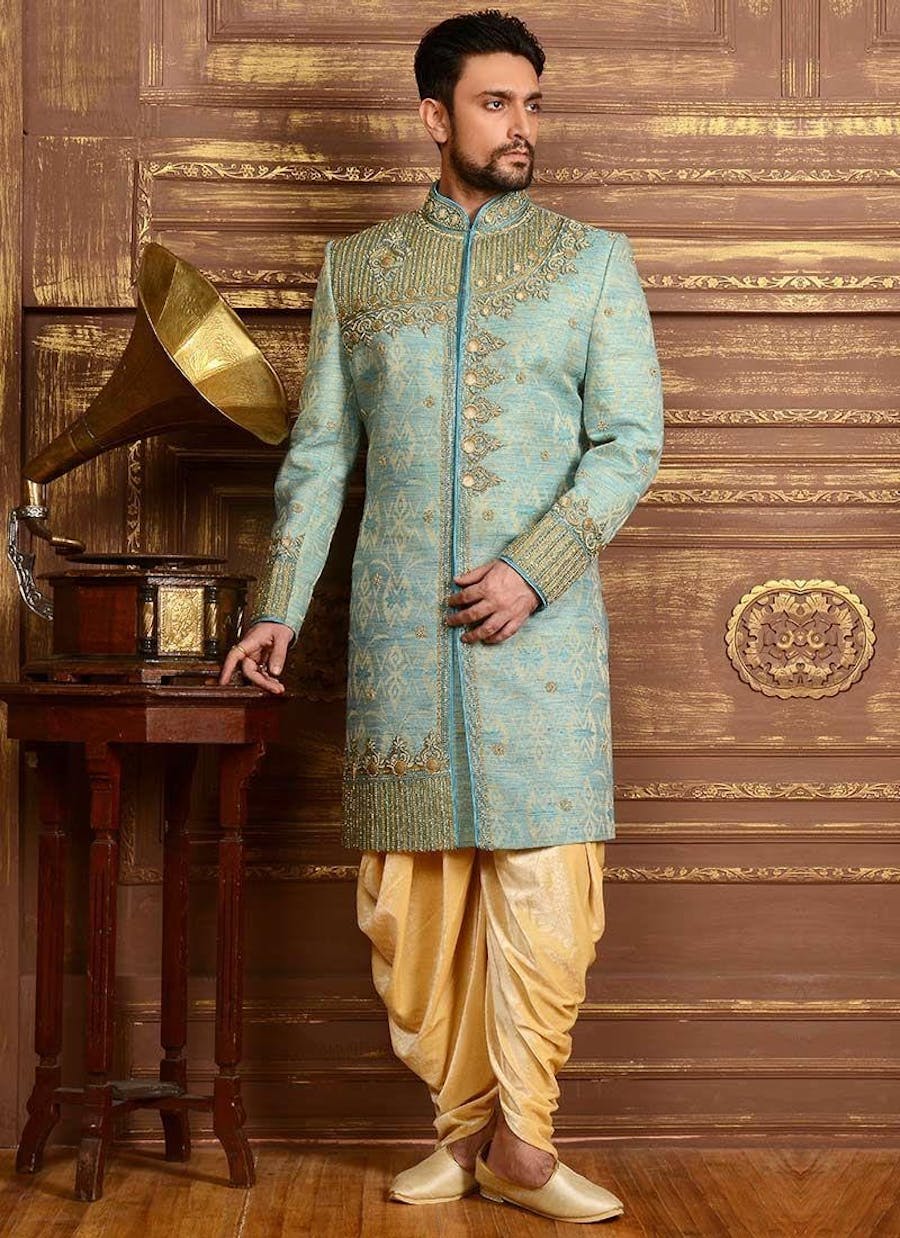 9. Royal And Classy Ivory Sherwani
This stunning sherwani is a fusion between traditional and contemporary. Wearing this ethnic outfit can provide you, Maharaja, with a feeling. The fully embroidered ivory sherwani looks dramatic with a white churidar or dhoti. This royal sherwani design is something you should totally go for.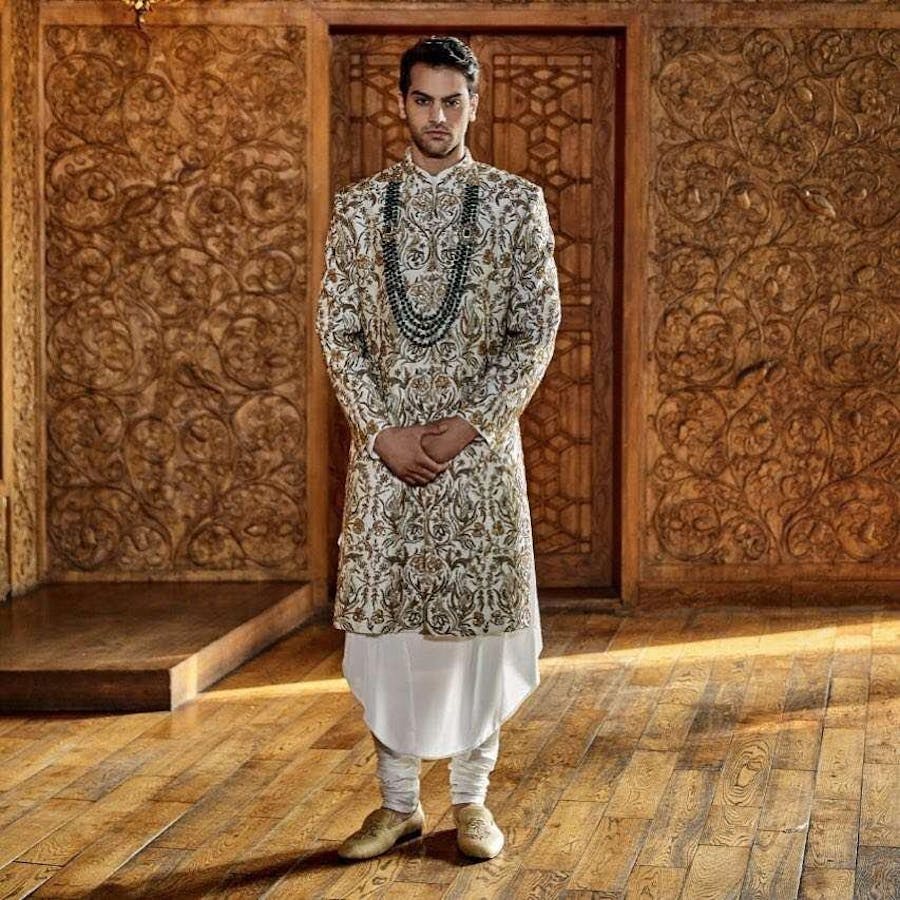 10. Stylish Look Of Printed Manarkalis
We all know about women's love for the popular drape "Anarkali". But manarkali is the latest and trending groom sherwani design which is extremely stylish. From floral motifs to block colors, there are so many designs of this unique outfit that a groom can experiment with. Remember this peach color printed manarkali that Ranveer Singh wore at his Mehendi ceremony? The classic combination of this fashionable outfit with cream-colored turban and churidar will surely score some fashion points.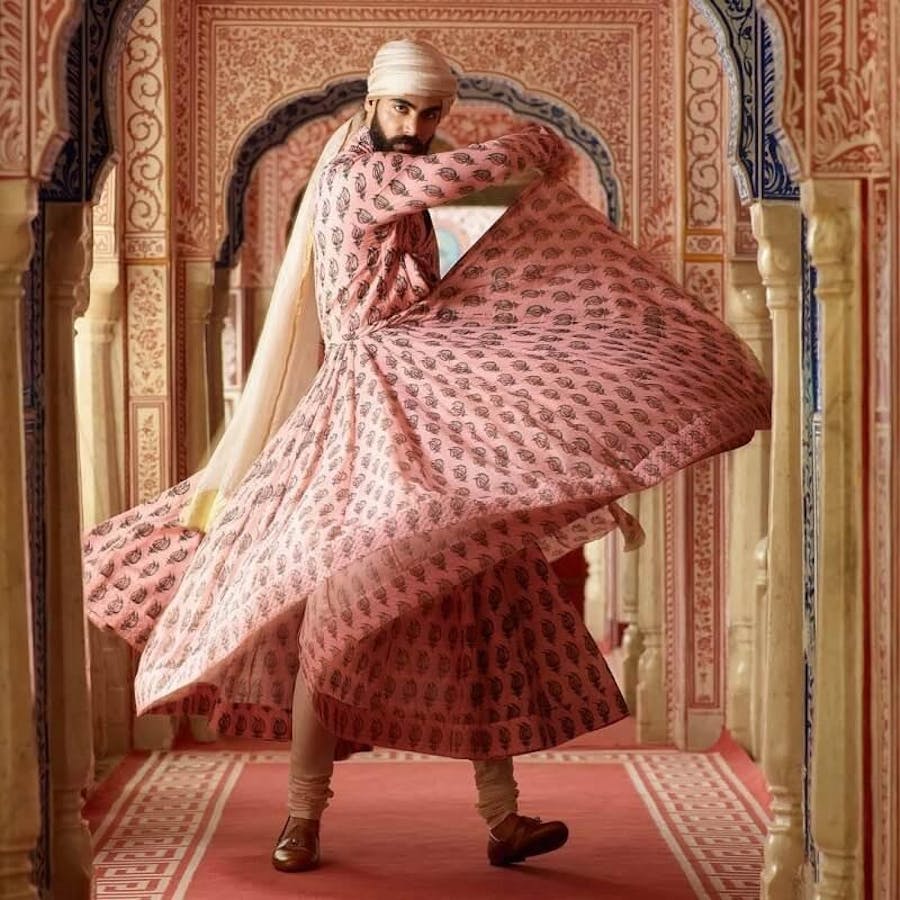 11. Richness Of Red Sherwani
Who says that red color suits on brides only? The excellent combination of white embroidery on the red color sherwani makes it a top sherwani design. This stunning outfit when paired with a peach dupatta looks elegant and versatile. This remarkable outfit is the best designer sherwani for groom looking for a minimalistic wedding look.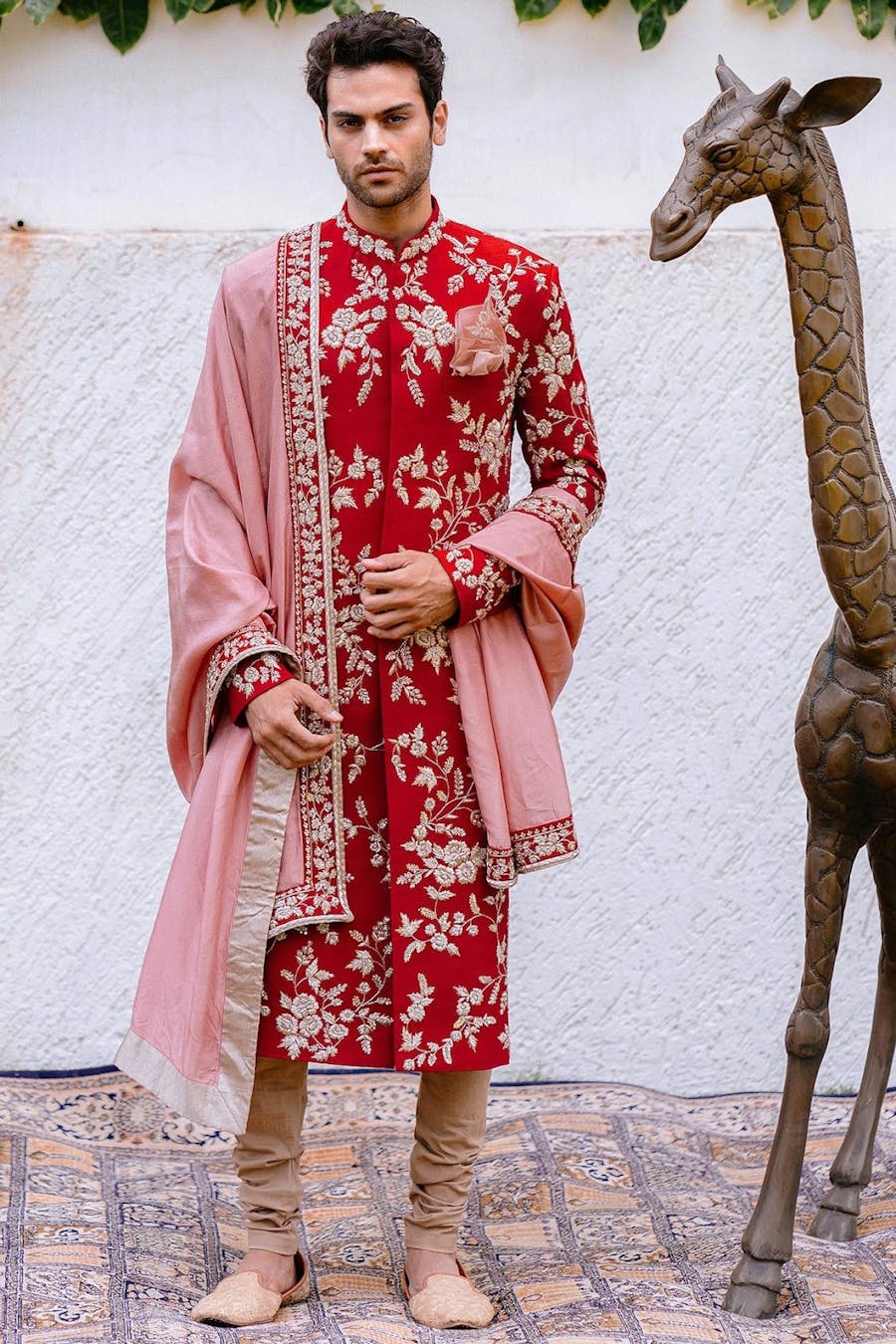 Hope this guide on the best sherwani design for groom would help you to pick the perfect wedding attire. We always recommend choosing the outfit according to the wedding season. Because the color and designs of your outfit decide the way you look in your wedding albums. We at Qpid India focus on delivering creative and high-quality photos in a stunning album for you to adore. We are a wonderful team of experienced and trustworthy wedding photographers in Kolkata. Our team of professional photographers covers each of your nuptials ceremonies in the best way and makes your wedding album the most beautiful and happy memories to cherish.