Indian Weddings are special in every aspect and so is dramatic bridal photography. Your stunning bridal look deserves to be in the wedding album. These beautiful memories will stay with you forever and this is where the role of a best wedding photographer in kolkata comes into play. Each wedding affair offers lots of splendid poses of the Indian Bride. It is important to think about bridal photography pose. Because it is an incredible way to preserve memories. Adding a little bit of creativity to your bridal poses can give you the most captivating wedding pictures.
And what can be a better option than your beautiful dramatic veil for a creative shot! These unique bridal pictures would later remind you of those lovely moments. The bride's dupatta is an important element of her bridal look. It adds beauty to your wedding look and also offers you the most stunning bridal shots. In this blog, we will cover some creative bridal poses with dupatta that deserve a special place in your wedding album.
1. Dramatic Flow Of Dupatta
You can use your bridal veil as a wonderful prop to make your bridal pictures eye pleasing. Let your bridal dupatta flow backward to capture some dramatic bridal poses. Take inspiration from this Bengali bride who has posed with her marvelous veil.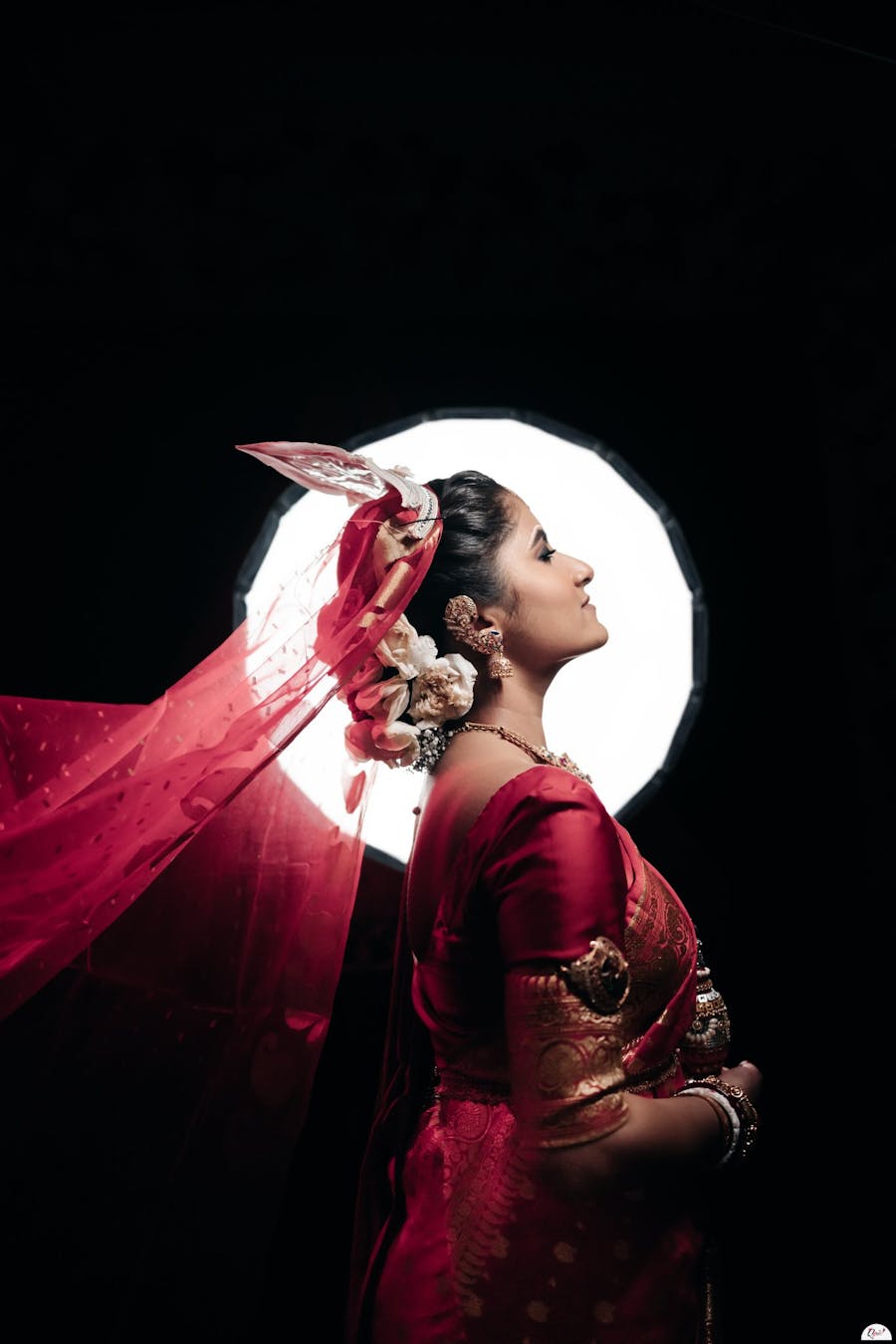 Recommended: Simple Bengali Bridal Makeup Tips To Look Gorgeous
2. Fascinating Princess Twirl With Dupatta
What is the use of a fancy lehenga without a dramatic twirl! Bookmark this twirling pose to flaunt your wedding attire in pictures. Bridal twirling shots look stunning with the free-flowing dupatta. This pretty bride has aced the style game by twirling in her beautiful wedding lehenga.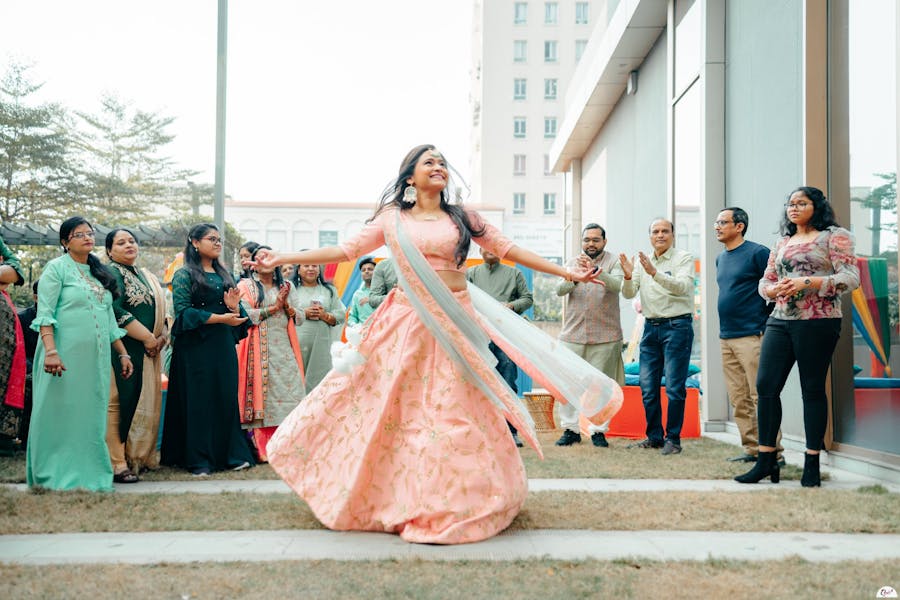 Also Check: 17 Unique Dupatta Draping Styles For Your Lehenga
3. Bridal Poses With Long Veil
We love this gorgeous bride looking divine in her red Banarasi saree. This long-way shot looks super astonishing and inspiring. You can also ask your family member or bridesmaids to hold your bridal dupatta. These bridal poses for wedding with elegance and creativity have stolen our hearts.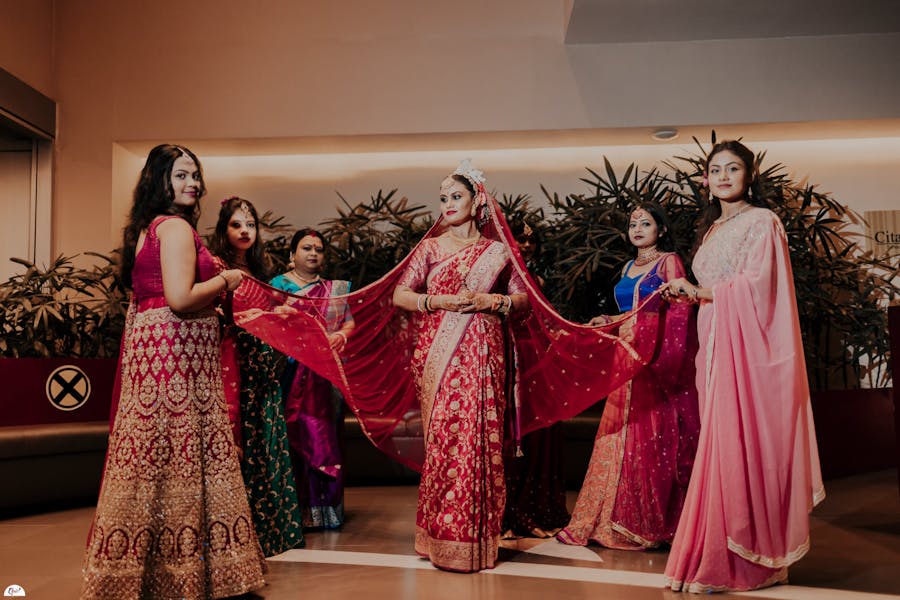 4. Candid Bridal Poses With Dupatta
This bride made heads turn with her fascinating bridal pose. Her bridal portrait with stunning dupatta draping is worth a million bucks. These beautiful bridal poses are the main reason behind the success of candid bengali wedding photography. Her hearty laughter and the wonderful veil is the main highlight of this picture.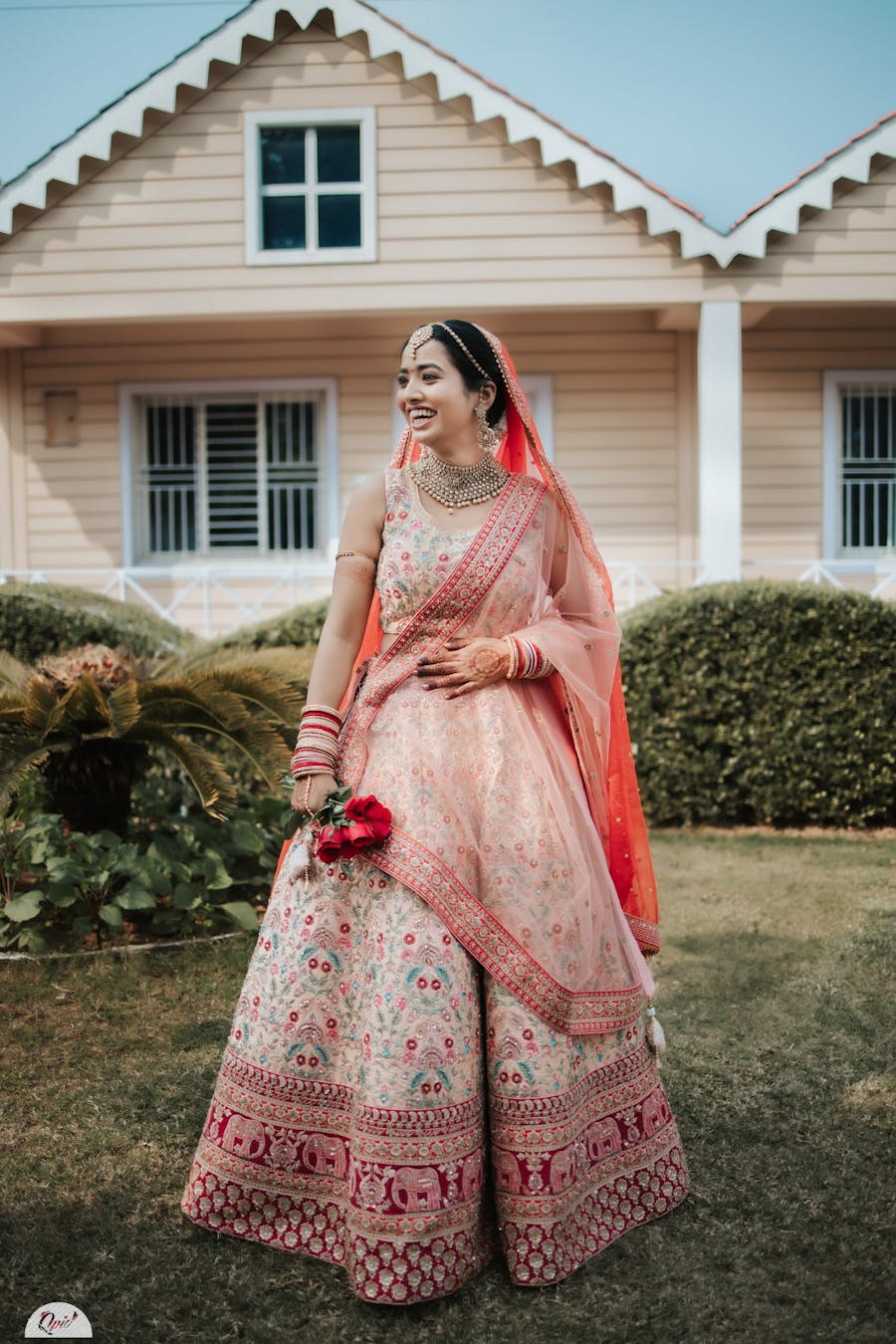 5. Holding The Bridal Dupatta Pose
Don't you think that this bride has slayed everyone around with her killer looks and stunning poses? The way she walks holding her beautiful veil on the pathway makes this bridal photo more surreal. This elegant bride is looking like a royal princess in her beautiful costume.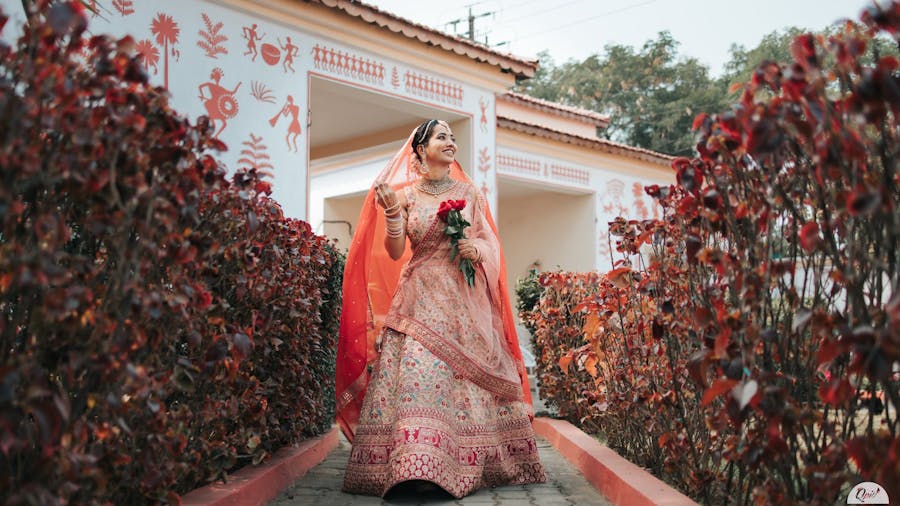 6. Coy Bride Pose
This is one of the best bridal portrait poses that aim to capture all the elegance and grandeur in a single frame. This wonderful bridal picture looks straight out of a fairy tale. Her elegant net dupatta in pastel shade is adding more beauty to her coy bride pose. This one with a dupatta on the shoulder deserves all the attention.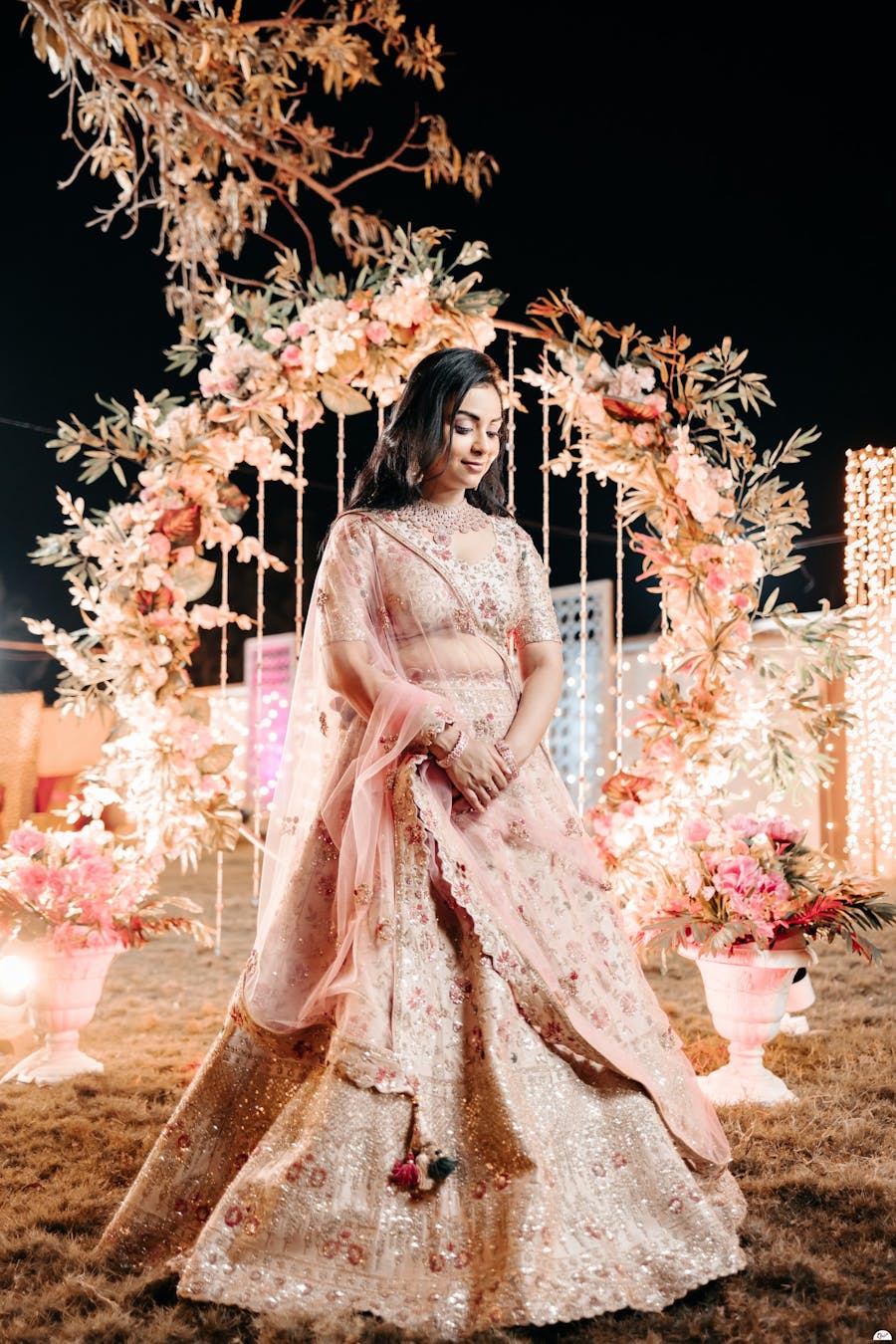 7. Gazing The Romantic Sky With A Dreamy Dupatta Drape
Let your dupatta draping style steal the focus in a few shots. There are many bridal poses with dupatta that you can choose for your big day. But certain poses always grab your attention while you flip the pages of your wedding album. This dreamy bridal pose is one such example. It seems like she has completely lost herself in the blissful moment of her wedding.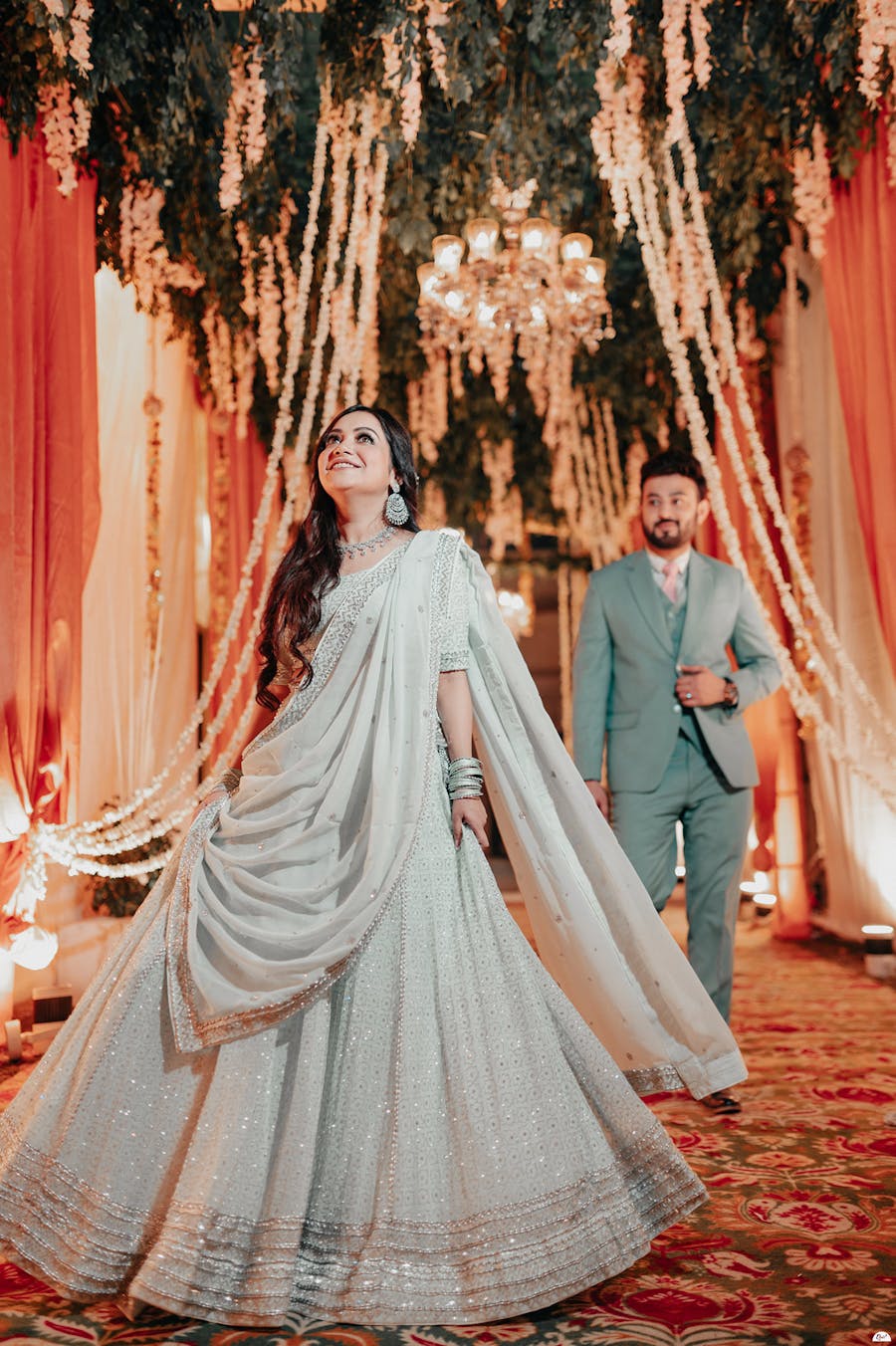 8. Beauty In Veil
How about this eye catchy bridal veil portrait? If you wish to get a creative shot of your bridal veil then you can take inspiration from this lovely bride. The red and golden bridal dupatta over her head is looking beautiful in every aspect. This bride gets clicked while adjusting her statement gold jewelry. This bridal pose is adding a modern approach to this classic bridal pose.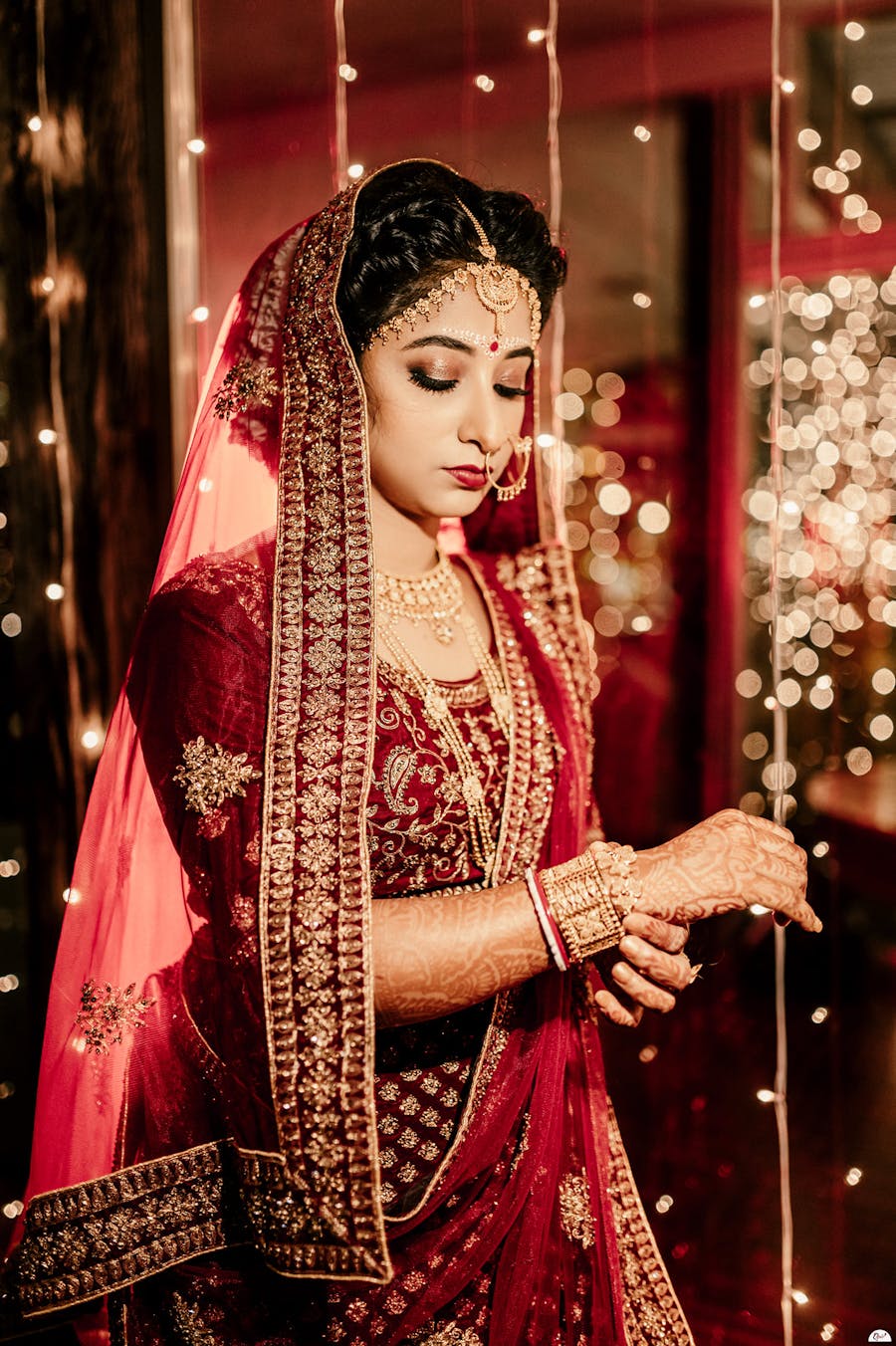 9. A Bridal Dupatta With Regal Touch
Every bride waits for this special moment when she can finally meet her groom after a regal wedding. This bridal shot is depicting the wait in a regal style. Her one-sided dupatta on the shoulder is speaking about her confident personality. The groom seems to admire her eternal beauty and regal glamour.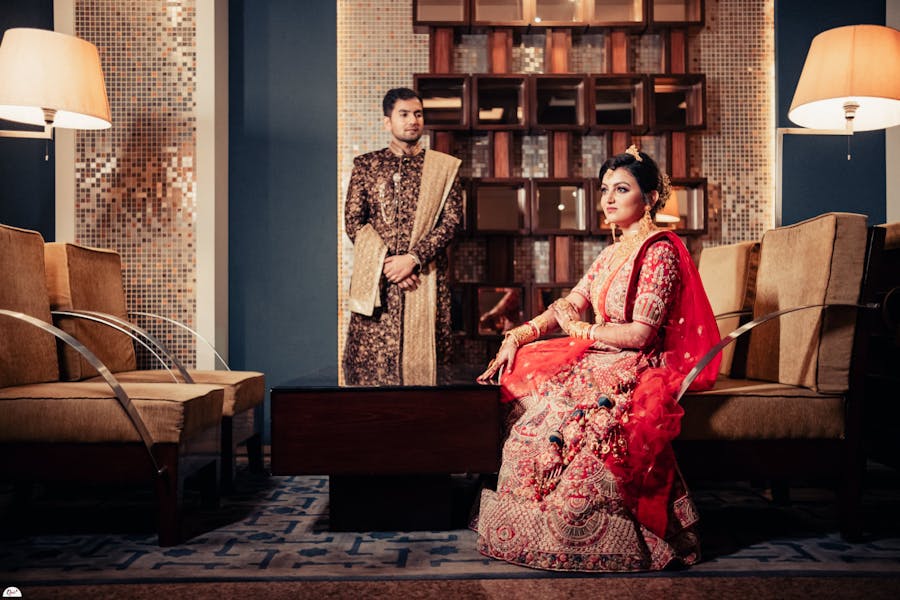 10. Dramatic Veil Shot
Bengali brides know very well how to turn heads and grab all the attention. This bong beauty is nailing the art of bridal photography with her dramatic pose. Her dramatic veil spreading on the stairs is looking eye-pleasing. Her beautiful smile thinking pose and lavish wedding look are looking splendid in the frame.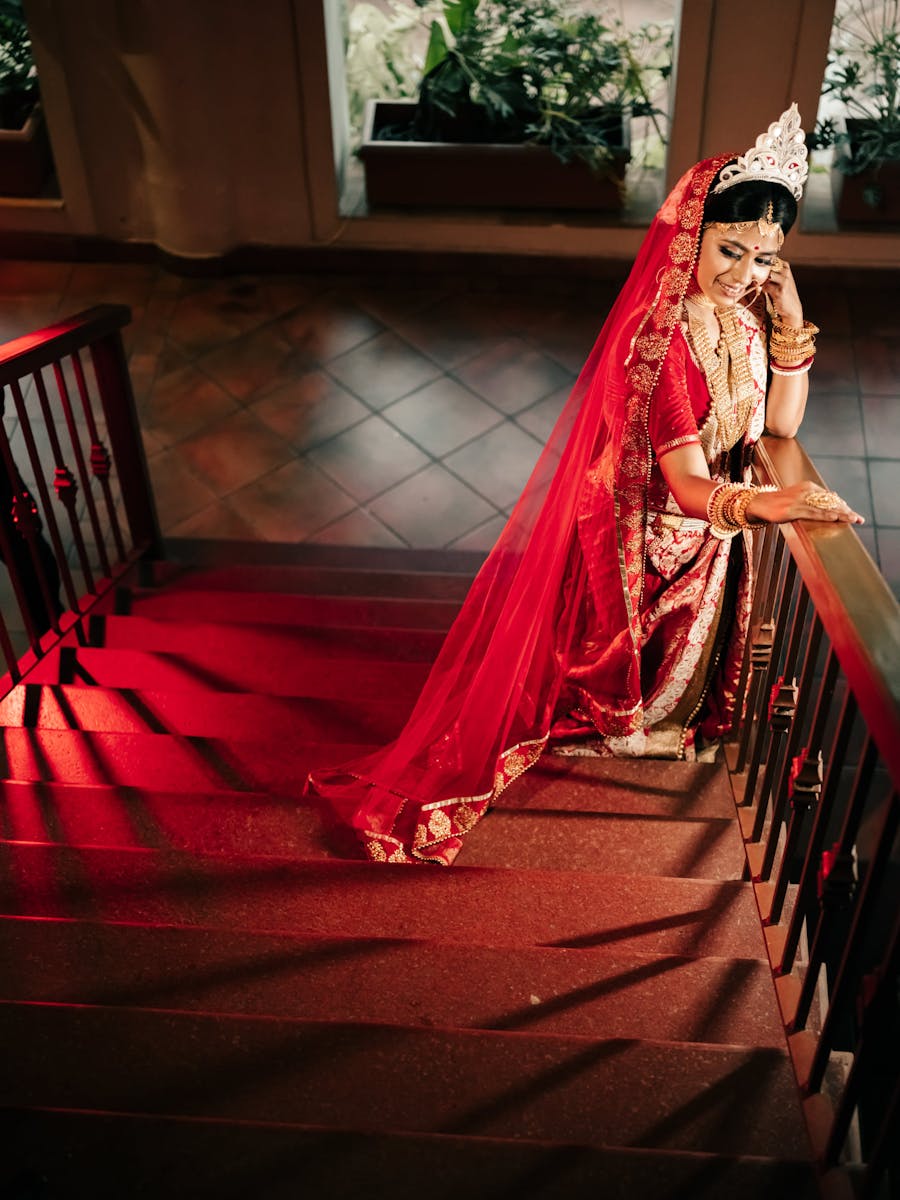 11. Dreamy Flow Of Dupatta Clicked With Bridesmaids
Let your wedding happiness reflect your bridal poses to get an admirable shot. We cannot get over this mehndi photoshoot. The absolute perfection of her forest dream lehenga and free-flowing dupatta is adorable. This twirling dupatta shot with a scenic background is adding fresh vibes to this shot.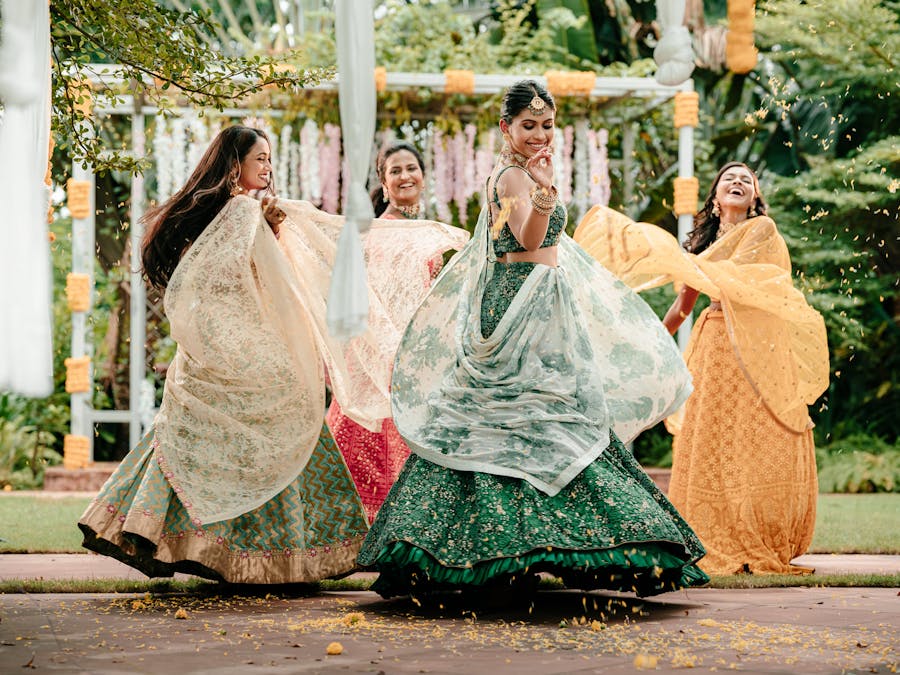 12. An Alluring Bridal Dupatta All Around
This gorgeous long veil bridal shot is leaving us spellbound with its charm. A cinematic view of a bride standing straight with her bridal veil gives us major romantic vibes. You can also try selfie poses with dupatta on head to add uniqueness to your bridal photography.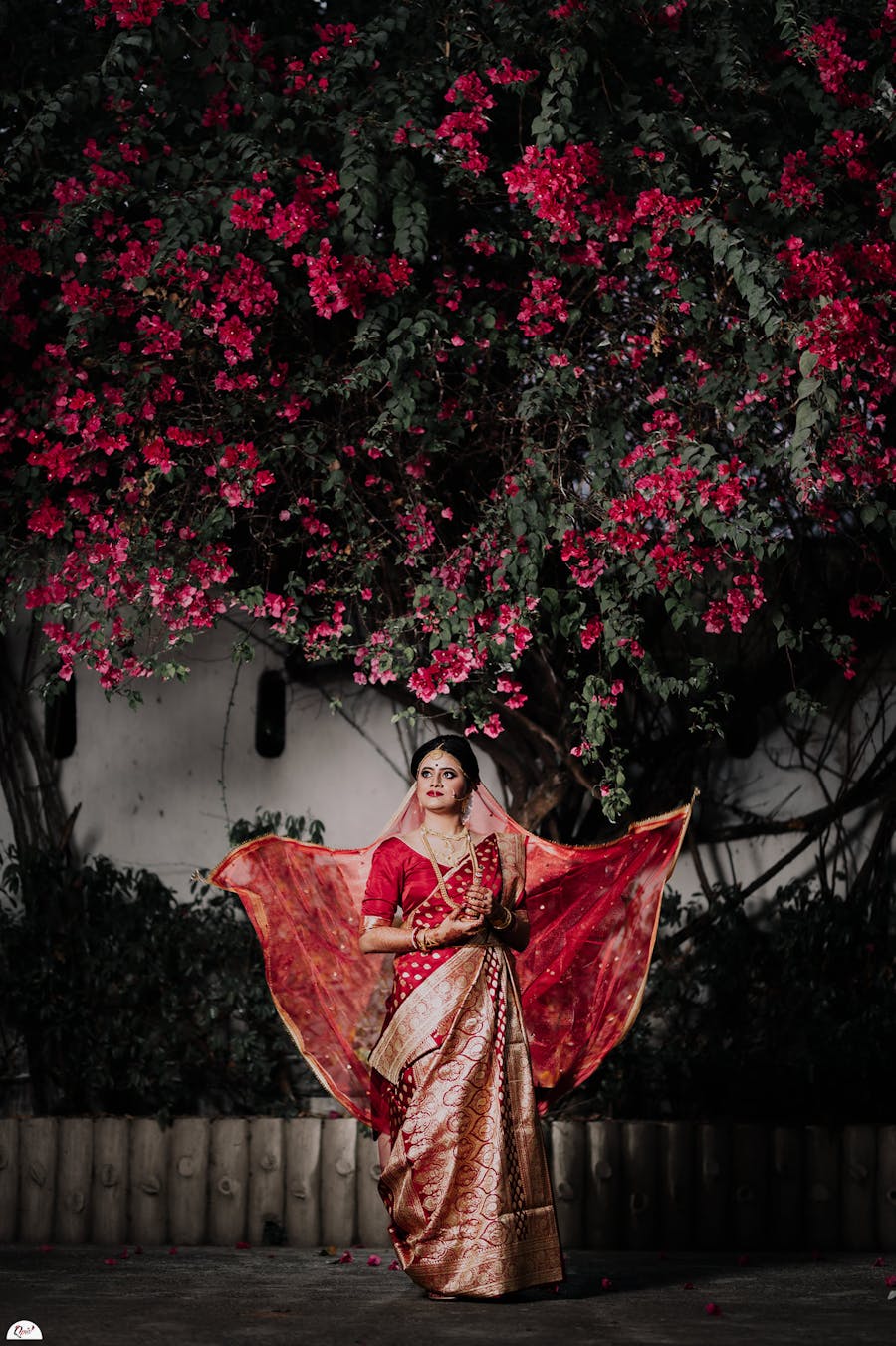 13. Classic Veil Shot
Isn't she looking too pretty in her elegant sitting posture? This bride's shimmery eyes, statement jewelry, and designer lehenga are perfect for this classic pose. Her coyness and elegance are making her the epitome of beauty. The double dupatta style for bride is getting more popularity for its grandeur and undying charm.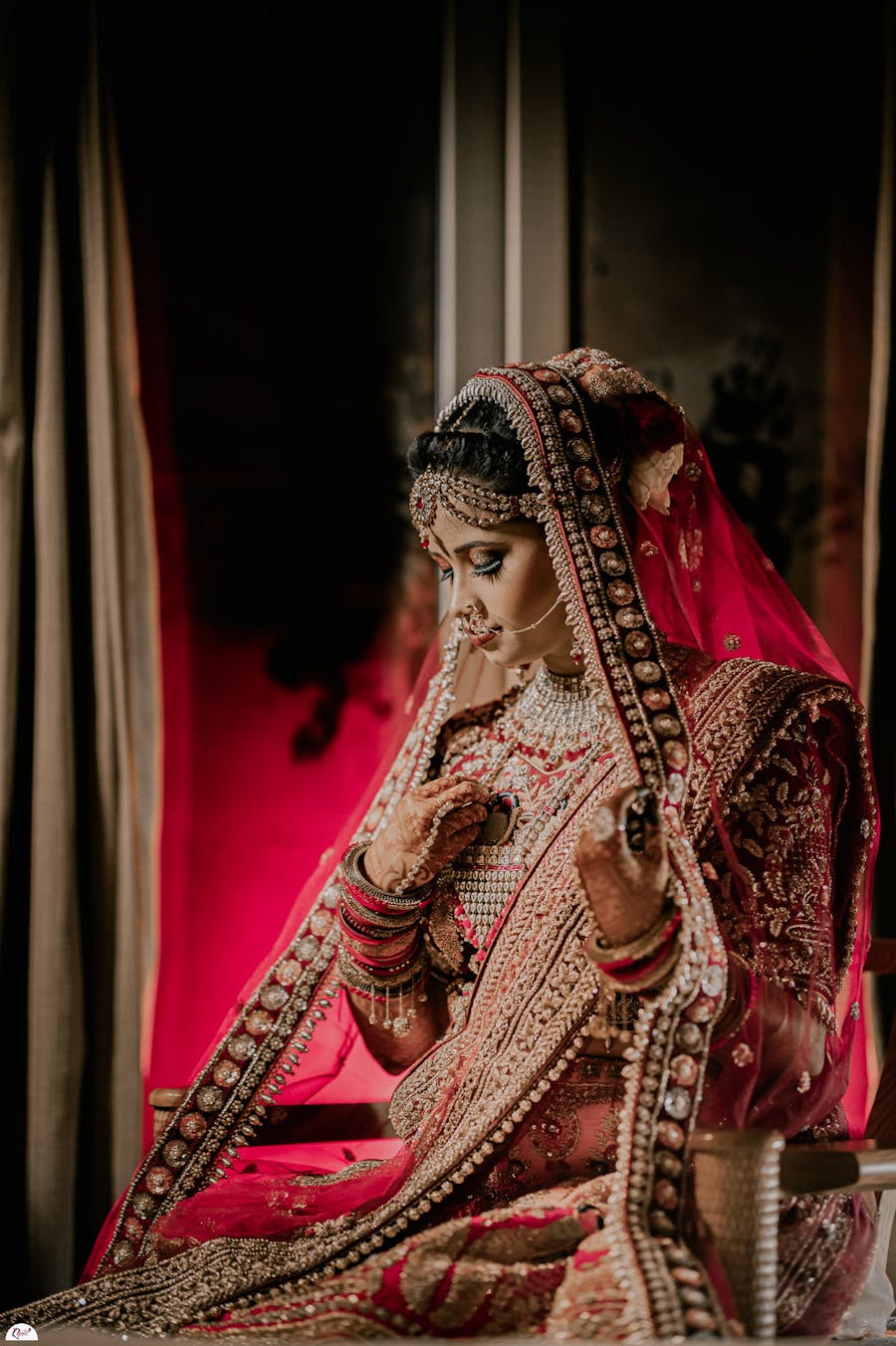 14. Getting Ready Bridal Pose With Dupatta
Another beautiful shot clicked by a professional wedding photographer. This is one of the most popular ways to get yourself clicked. Posing while getting ready for the most awaited moment of your life work wonders. It's a creative pose that speaks of endless emotions running in the bride's mind.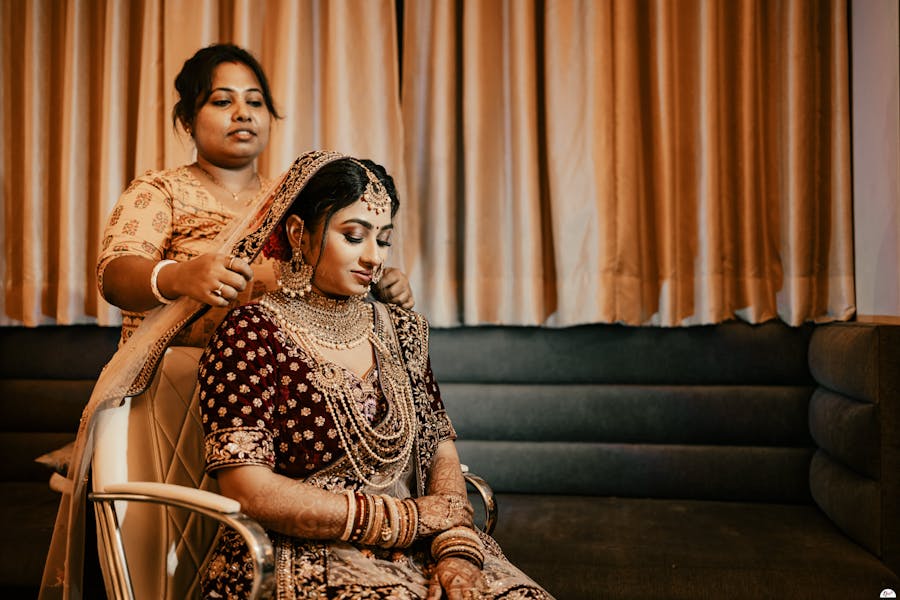 15. Grand Bridal Entry Pose
At last, we find this bridal beauty under the veil and an inspiring pose for all the brides-to-be out there. This is one of the most dreamy bridal entries straight out of a fairy tale. Love how this bride has flaunted her gorgeous veil in front of the camera.