Indian dupatta adds an extra charm to an ethnic outfit like lehengas and salwar. It is an essential part of an Indian bridal outfit, be it a gorgeous designer lehenga or a graceful banarasi saree.
Mostly, Indian brides look for how to provide their bridal lehengas more fabulous look. Don't worry, our diverse culture always helps in picking up captivating ethnic wear out of innumerable fashion styles. Girls, wedding season is already here and you should look at these new ways to drape your bridal dupatta in the most stylish way. Here we, the best wedding photographer in Kolkata have jotted down the 17 most stylish lehenga dupatta draping styles to look like a complete dive.
1. Stunning Saree Drape
If you want to achieve the look of a sophisticated saree in your bridal lehenga avatar, then the saree pallu style dupatta draping for lehenga is an ideal choice. This classic dupatta draping style is much easy to carry start draping from your left arm and take it over your right shoulder to recreate a saree look.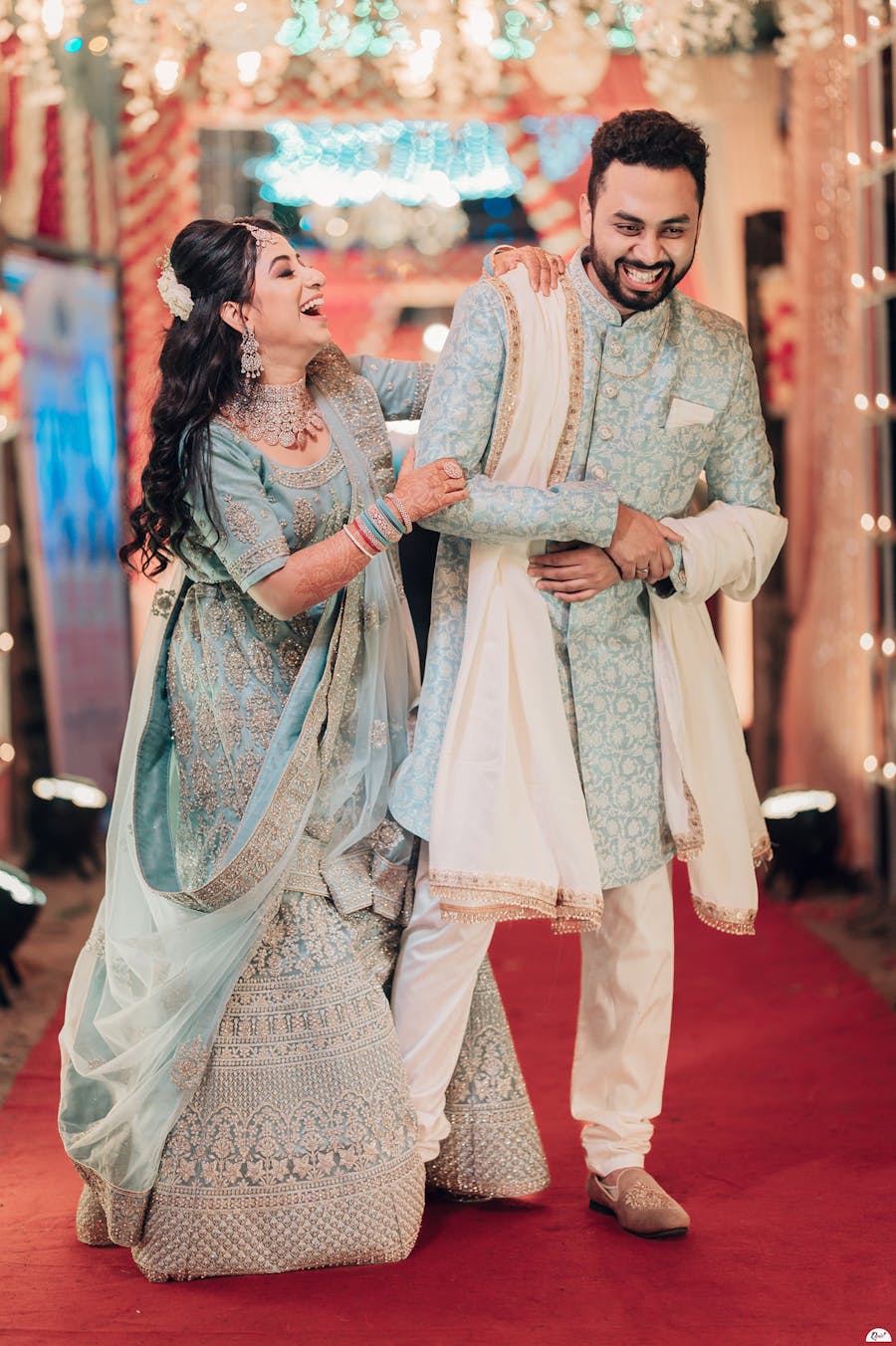 Recommended: Trending Bengali Bridal Lehenga Design 2021
2. Double Dupatta Draping Style
Another eye-catchy lehenga dupatta style that is the latest trend in an Indian wedding is the double dupatta draping. Started by Sabyasachi Mukherjee, this draping style offers you a jaw-dropping bridal look. Use one dupatta to cover your head and the other one must be just like a saree draping style.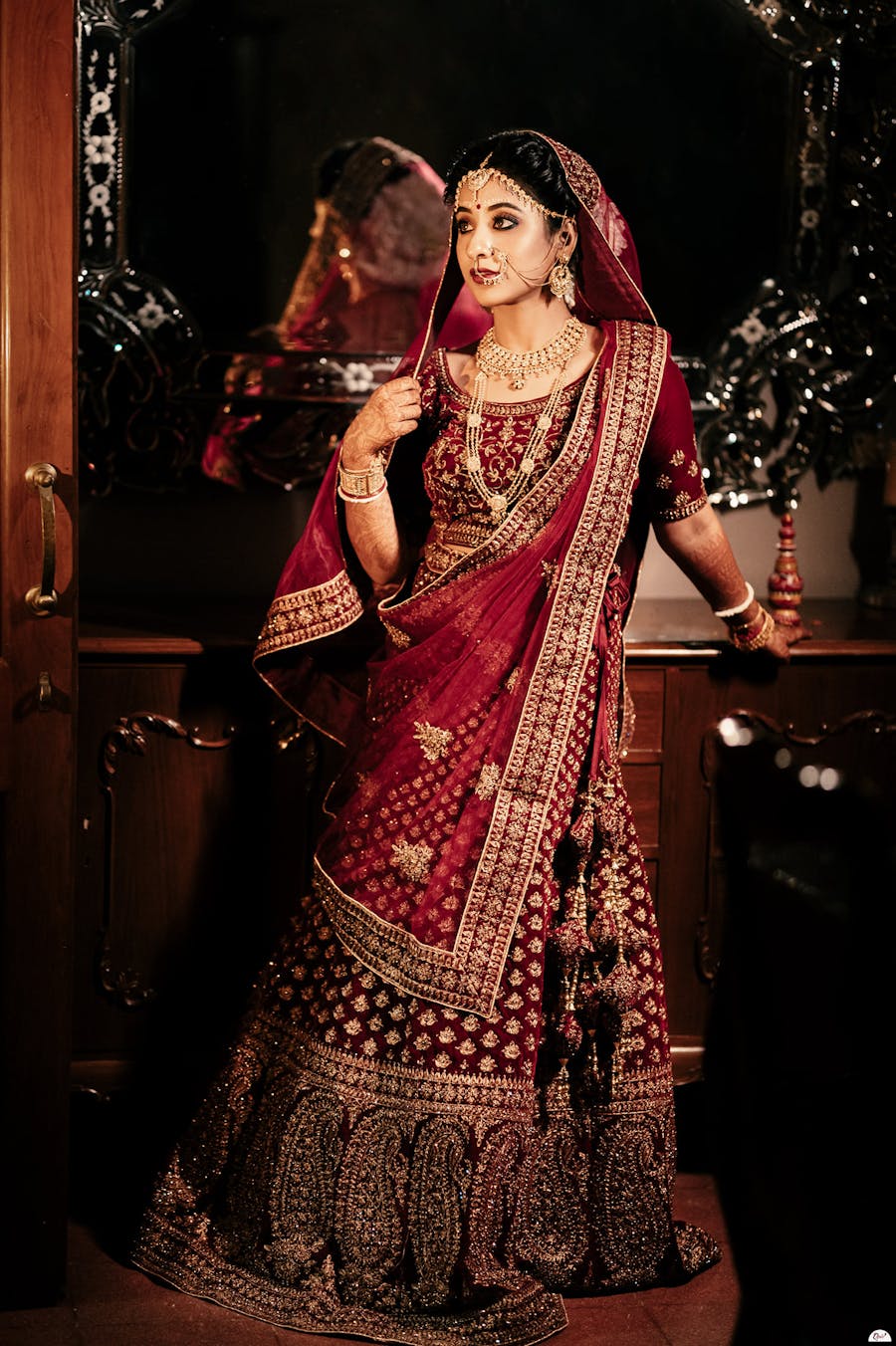 Must Read: 12 Best Bridal Lehenga Shops In Kolkata
3. One-Sided Pinned Dupatta
This simple pinned-up dupatta is an ideal choice for pre-wedding ceremonies. Gather the pleats of your bridal dupatta and pin them on one side of your shoulder. This simple draping style can create a magical pose for wedding photography.
4. Kamarbandh Style Dupatta Draping
A bridal dupatta tucked at the waist with a waistband is another popular dupatta style. You can wear a nicely plated dupatta on your shoulder and add a contrasting waist belt over your waist to rock your ethnic look.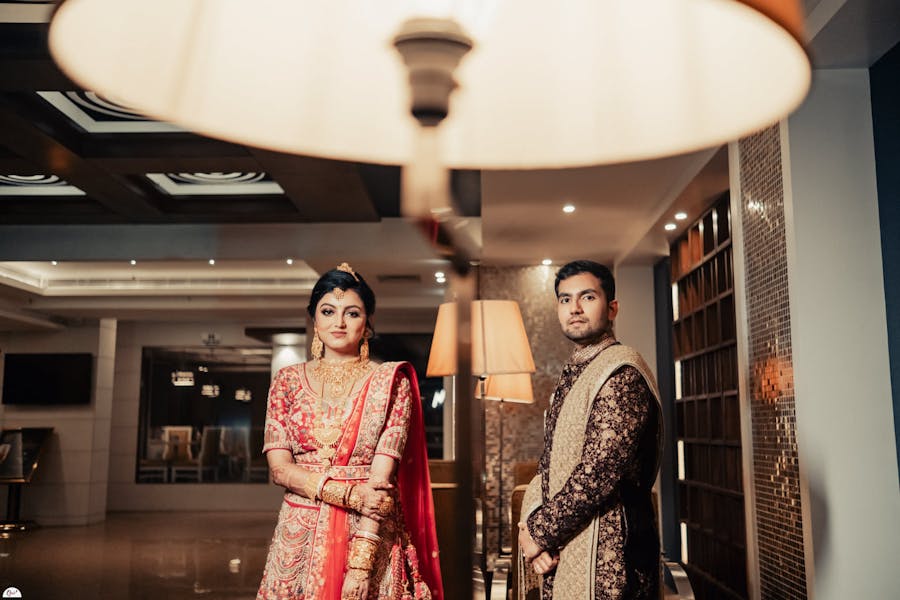 5. Over The Head Dupatta
Some brides prefer to go the traditional way by opting for placing a dupatta on their heads. The single free-flying dupatta adds a magical look that is clearly evident in this stunning bridal shoot. We would highly recommend this dupatta style on head for a stunning twirling pose.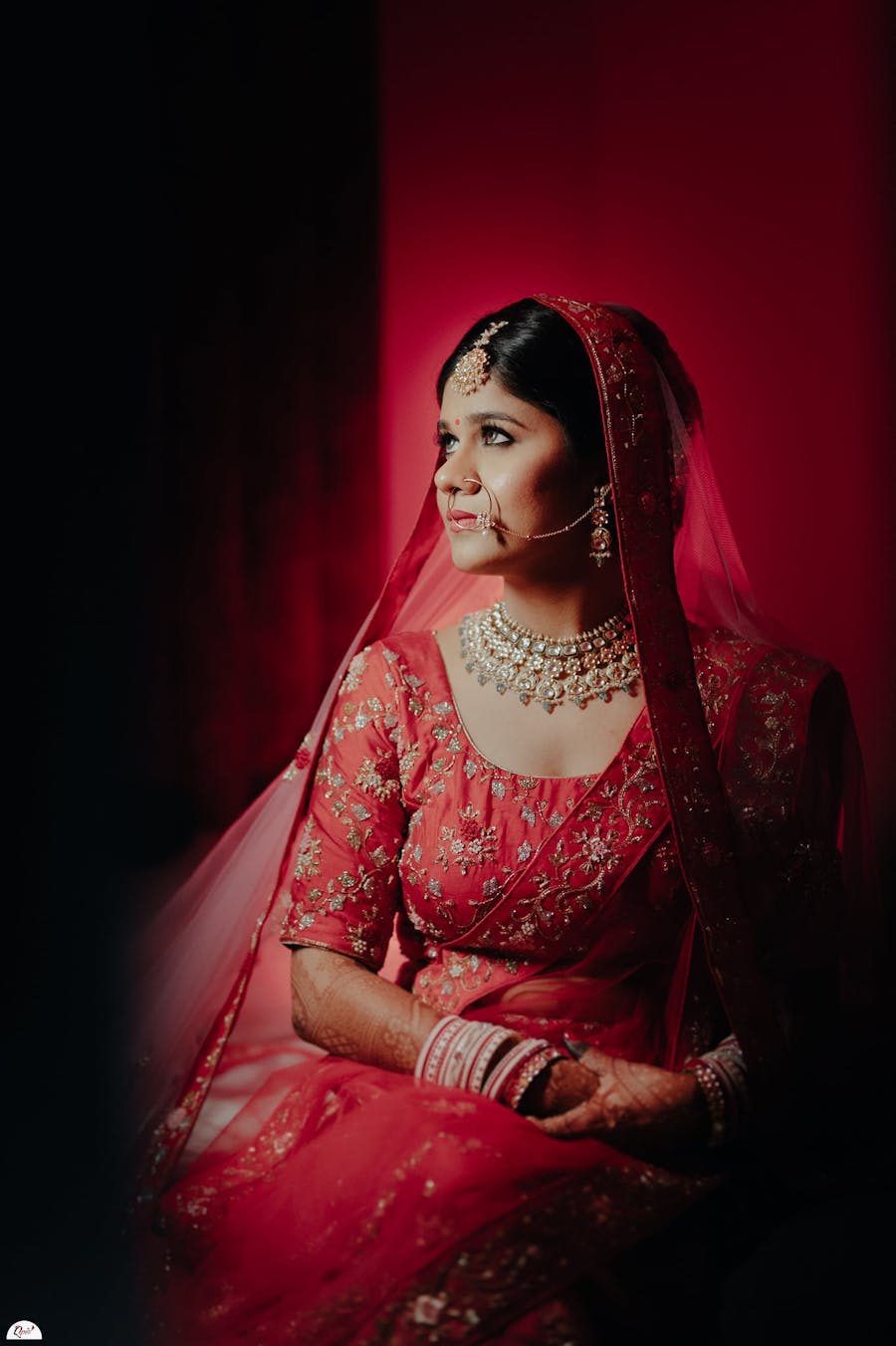 6. Diagonally Back "U" Dupatta Draping Style
This dupatta style works beautifully on heavily embroidered bridal dupatta. It gives you a chance to flaunt the exquisite design of the bridal lehenga. You can arrange all the plats neatly and then pin the pleats together on your left shoulder. Take the other end of your dupatta and tuck it on the front right side of your waist.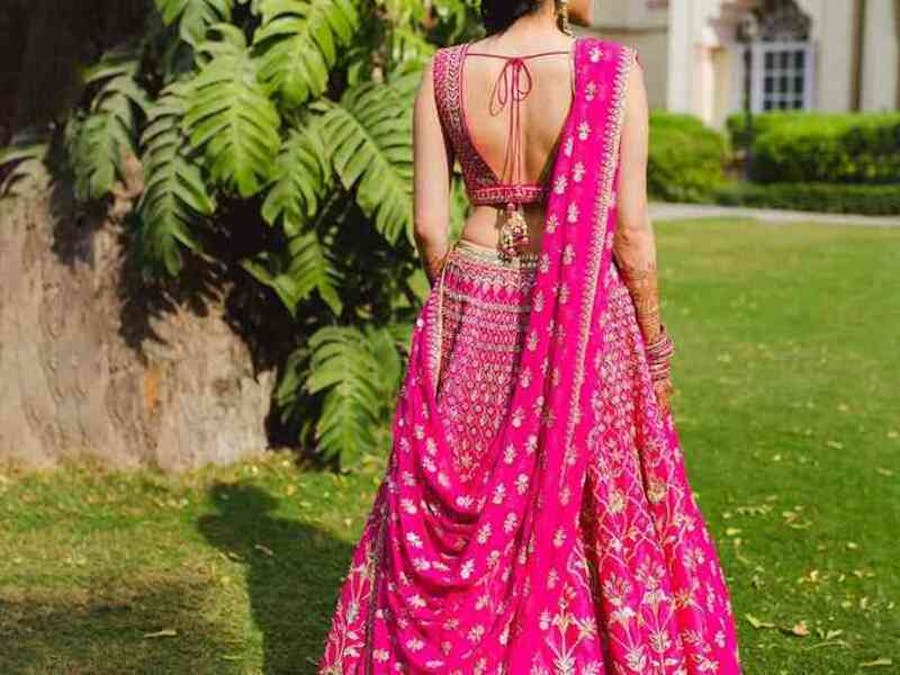 7. One Side Fully Open Dupatta
This lehenga dupatta-wearing style is probably the simplest way to enhance the beauty of your ethnic bridal wear. Pin the dupatta border at your shoulder and let the dupatta flow freely to showcase your lehenga's intricate embroidery.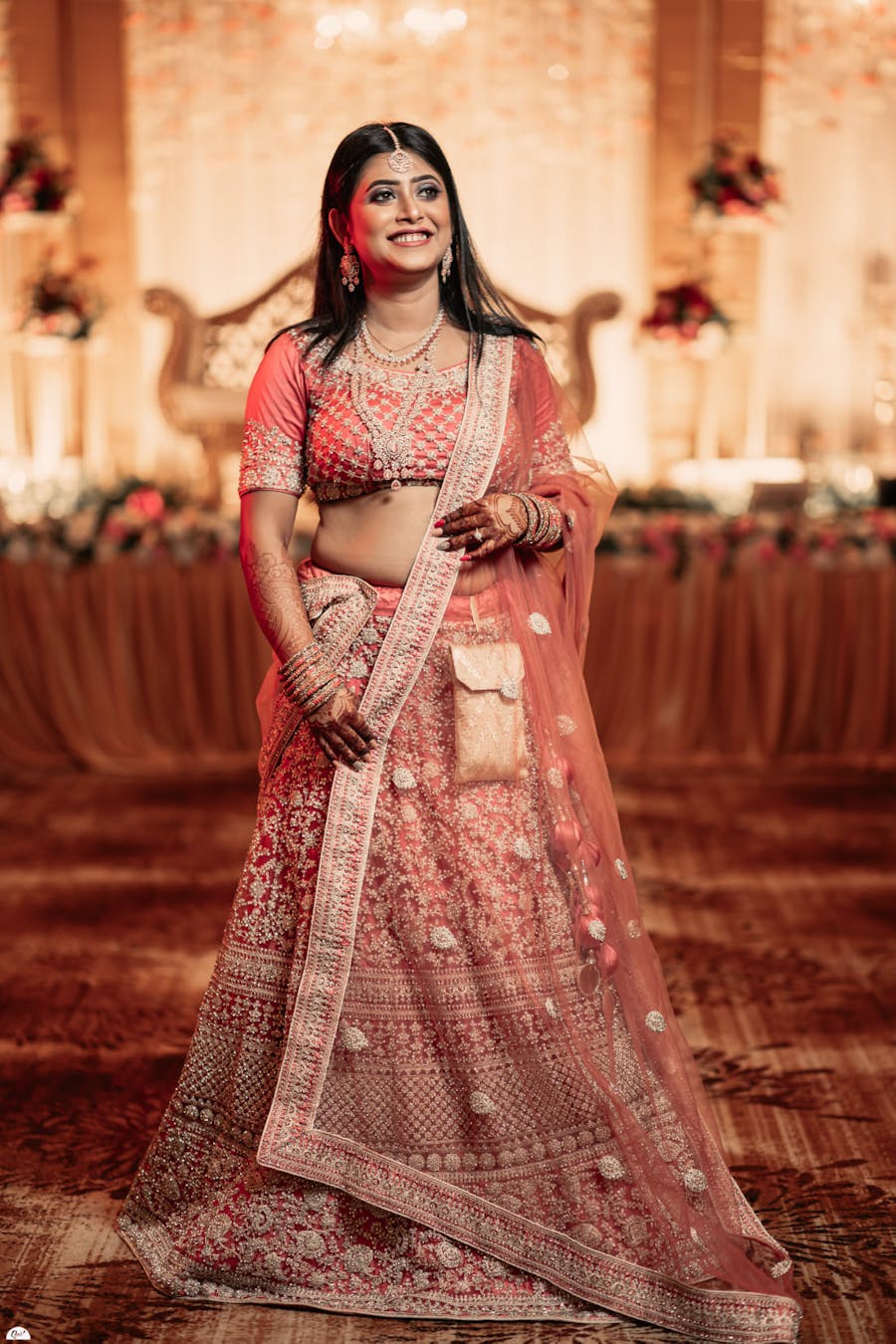 8. Taken Over Both Forearms
Want to look like a dive walking on the red carpets? Then pick up this style of dupatta drape. Take both the ends of the dupatta on your forearms and the center of the dupatta will be at your backside.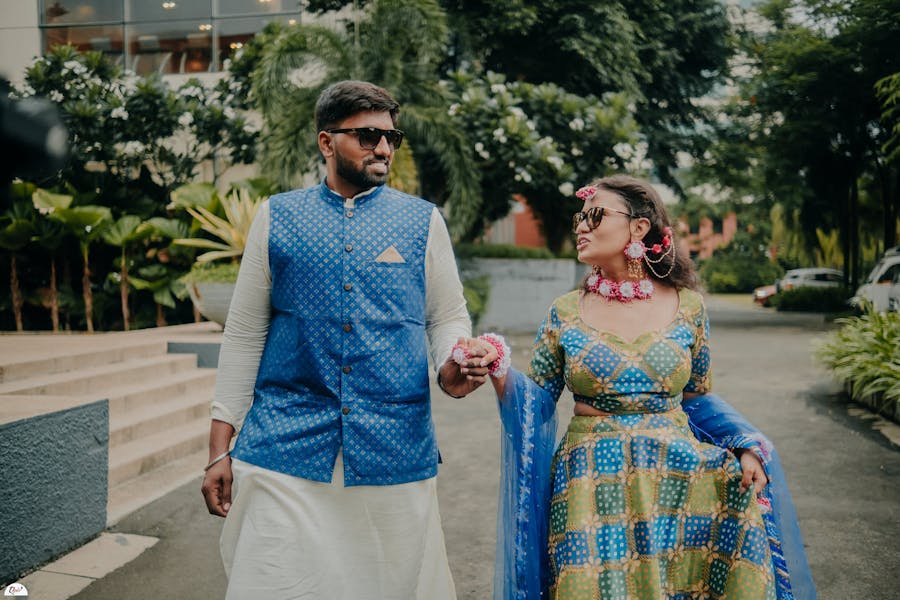 9. Royal Style Dupatta Draping
You might have seen many different styles of draping a lehenga dupatta. But this is the most elegant style dupatta draping. Also known as cowl style, this unique lehenga dressing style is sure to bring out the royalty in you. The bridal dupatta is placed over the head with one end placed on the left side shoulder and the other one flows freely.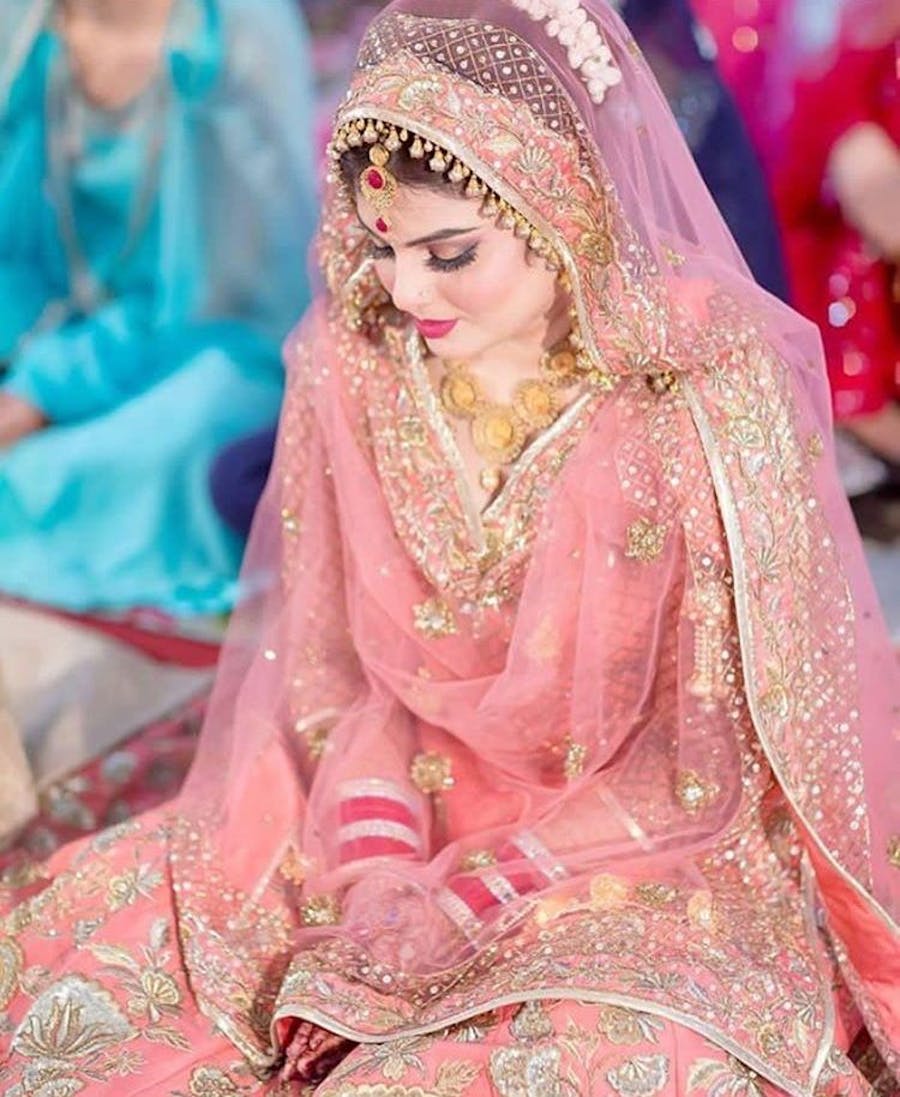 10. Traditional Dupatta Draping Of Gujrat
This raj rani style bridal dupatta represents our rich culture & heritage. This traditional drape from Gujrati bridal outfit is another interesting way to two use two dupattas on one lehenga. Take one side of the pleated dupatta at the front and the remaining end on the backside. Finally, tuck it to the side of your waistband and place a contrasting net dupatta over your head.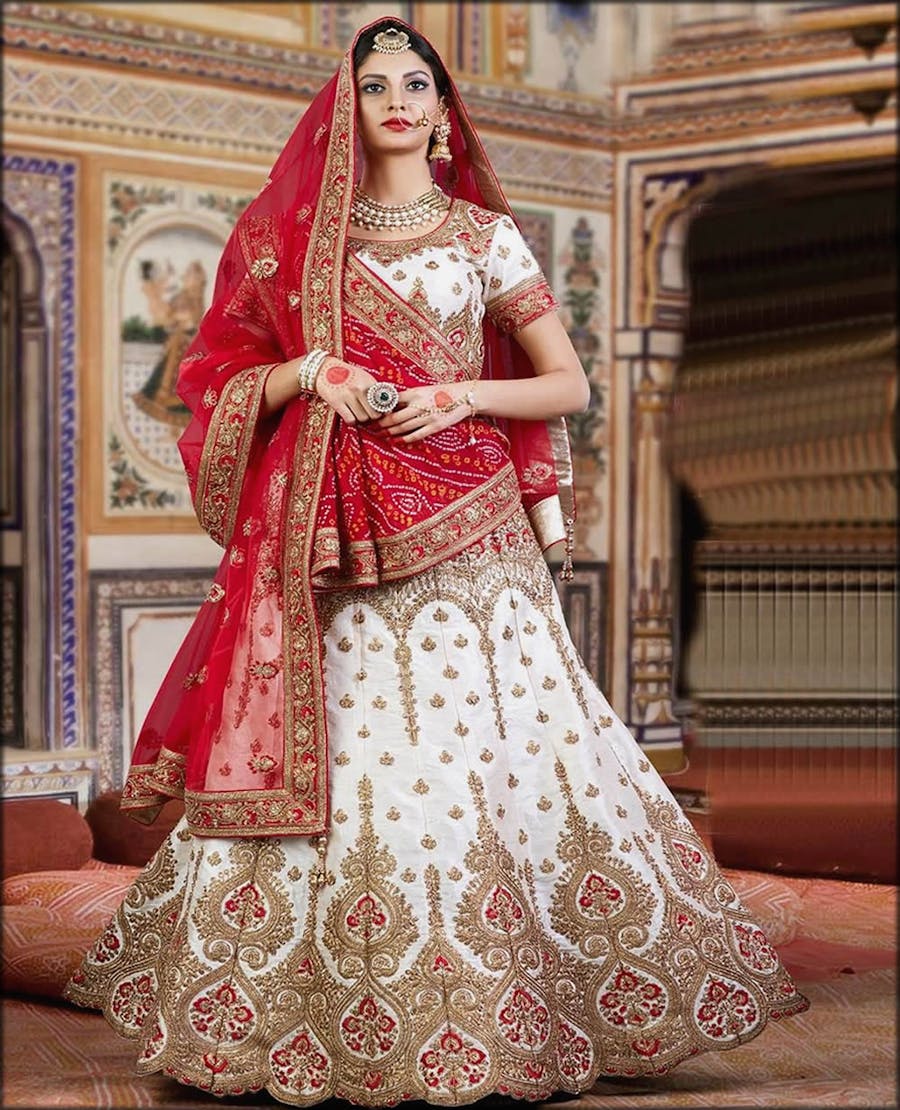 11. One On Shoulder & Other On Elbow
This dupatta draping style is considered a fashion style statement in post-wedding ceremonies. If you want to go with two dupatta draping on lehenga, then place the heavy one on your shoulder and the sheer one on your forearms or elbow.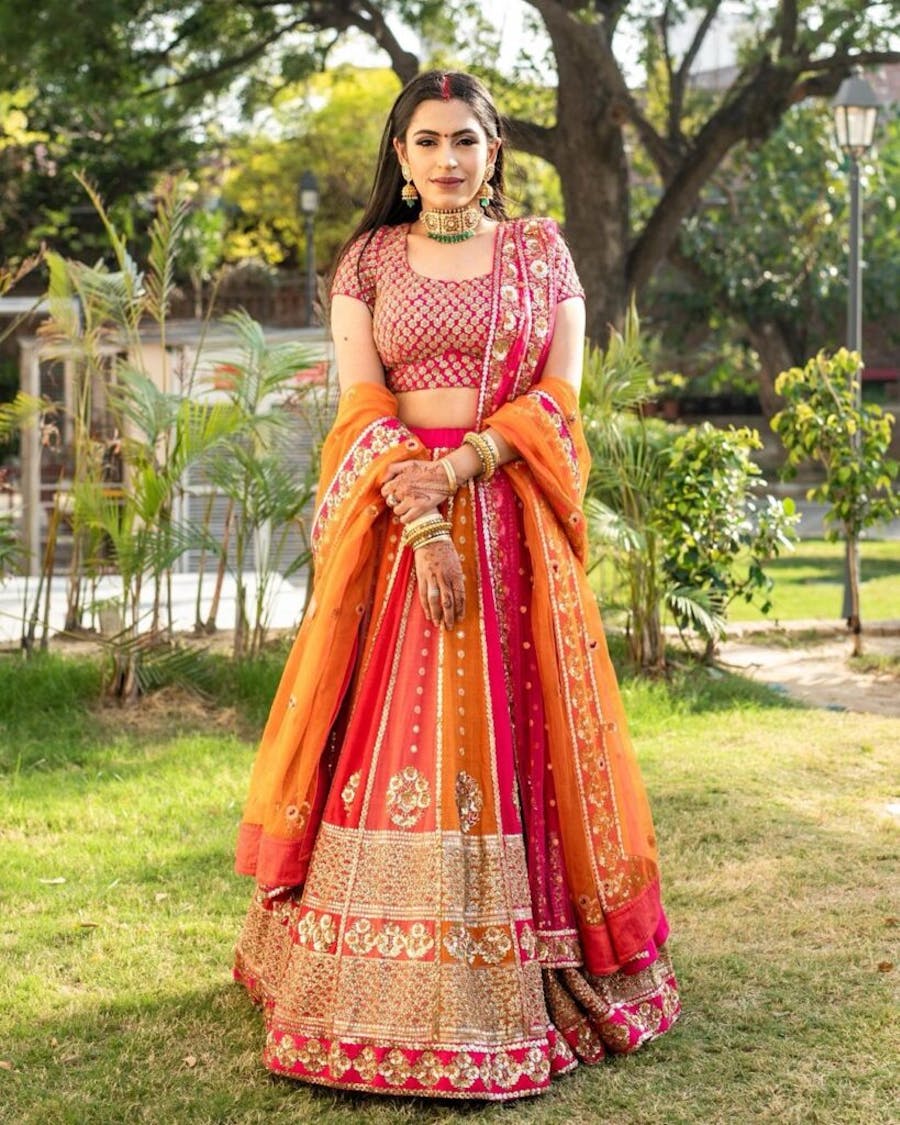 12. South-Indian Style Pleated Dupatta
Drape your dupatta like a pleated saree pallu to get the most stylish drape. First, arrange your dupatta's pleats neatly and then drape it diagonally on one shoulder in the front and pin the remaining plates to the backside of your lehenga to provide an extremely graceful look.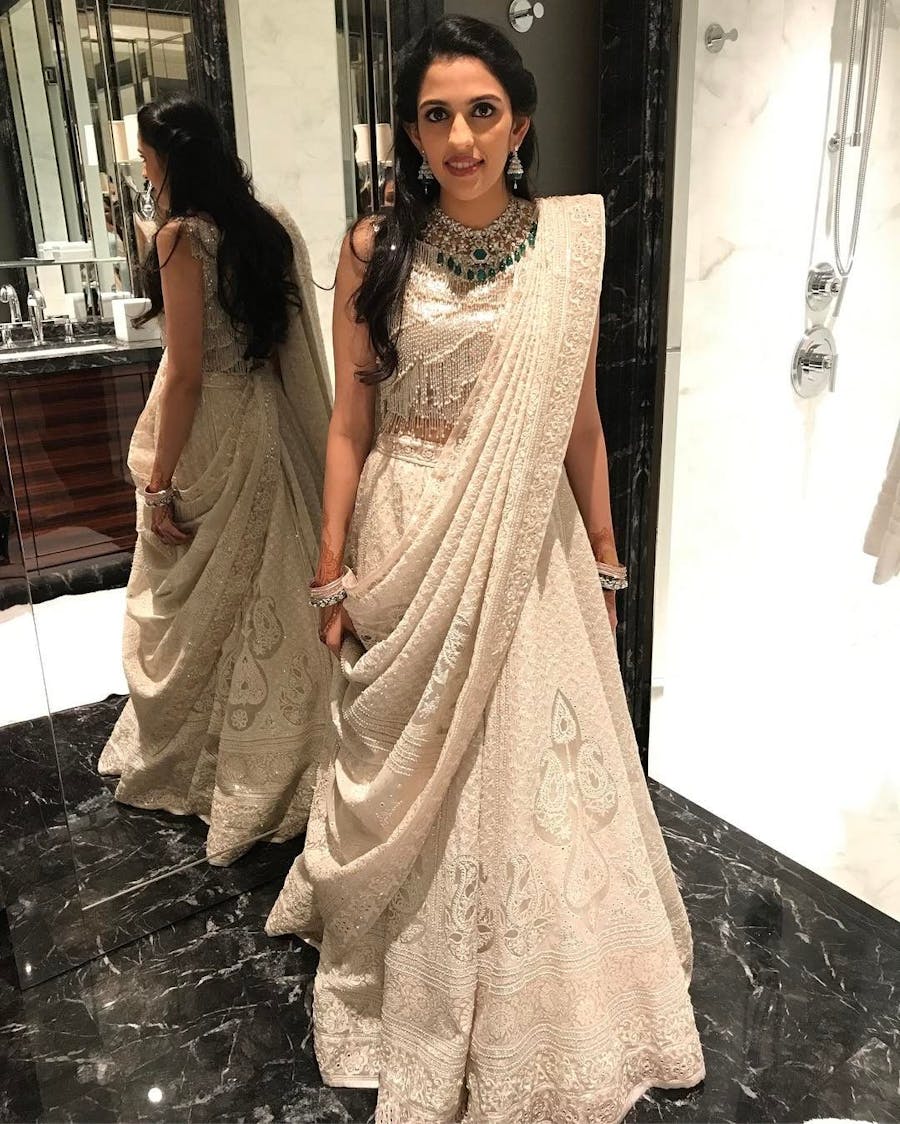 13. Dupatta Draped In Cape Style
Another voguish dupatta draping style is the trending cape style. Taking your bridal dupatta over your shoulders from this backside will offer you a dazzling look, perfect for your reception ceremony.
14. Veils Inspired Dupatta Draping
Bridal veils were, once an important part of Indian traditional weddings. But now this unique and regal lehenga draping styles for brides has become the biggest trend in Indian weddings. Simply put a light-shaded net veil to cover your face. This charming dupatta draping style can never go wrong.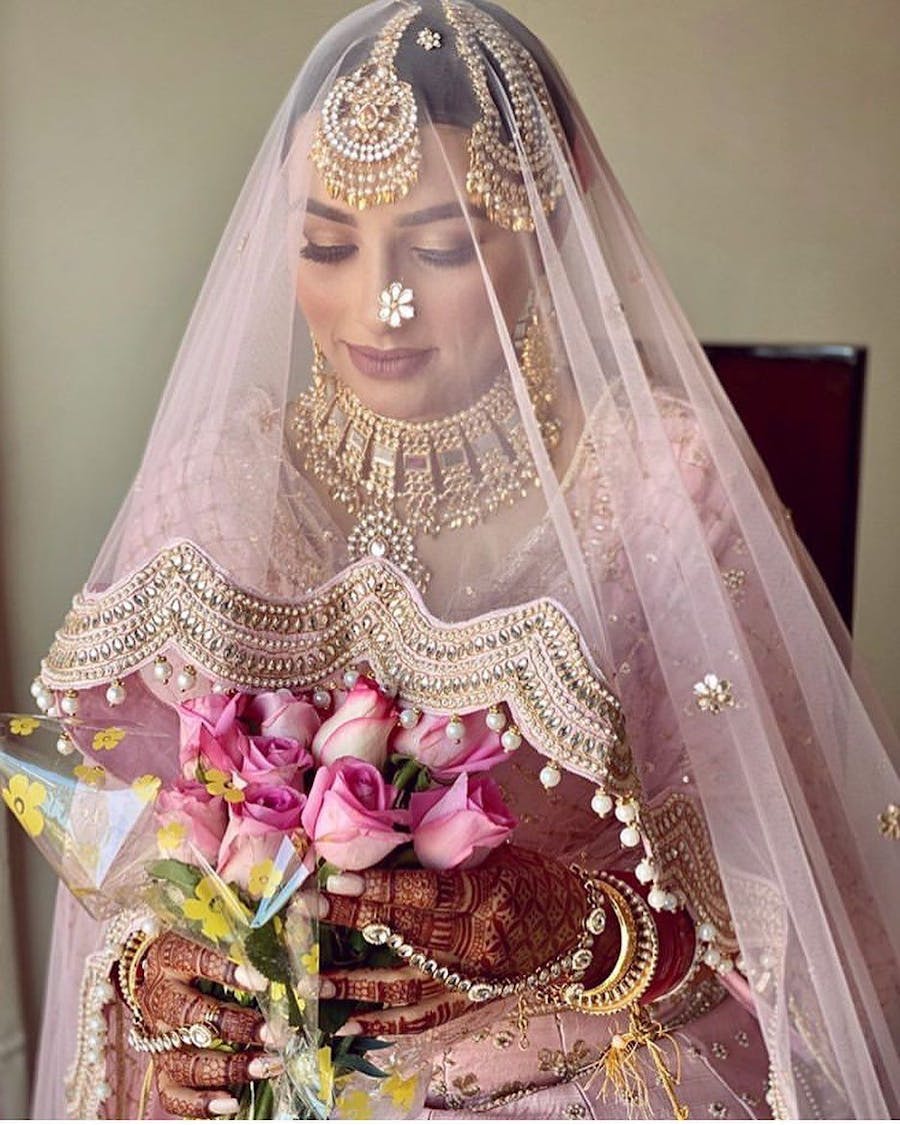 15. Front Open Dupatta Drape
Go for a normal dupatta style if your dupatta is a lighter one to carry and has lots of zari work. Place it on your neck and let it fall freely on both sides and the front. This transparent dupatta style will definitely provide you with a fascinating look
16. Tie The Dupatta To Your Wrist
This dupatta draping looks heavenly pretty on modern brides. Pin contrasting dupatta on your bun and tie one end to your wrist and leave the other end as it is.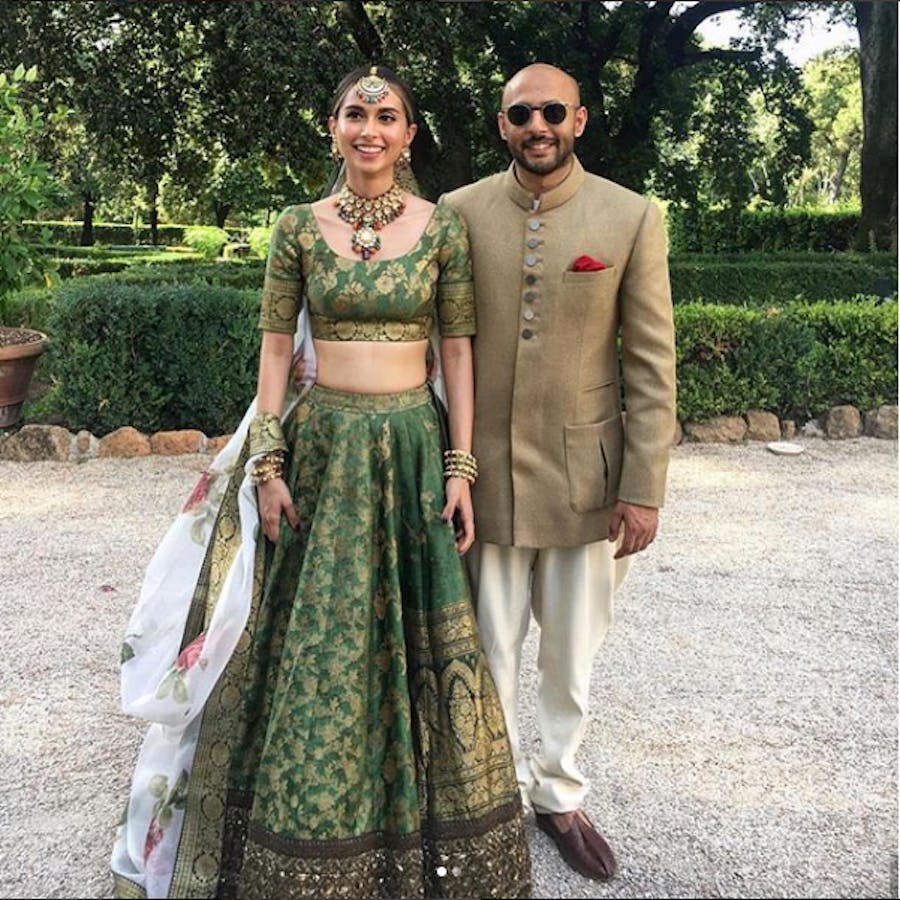 17. Triangular Shape Dupatta Draping
The last one on this list is the easiest drape to handle. Achieve this alluring dupatta shape by managing plates and pinning it on one side of your shoulder and leaving the other one flowing freely.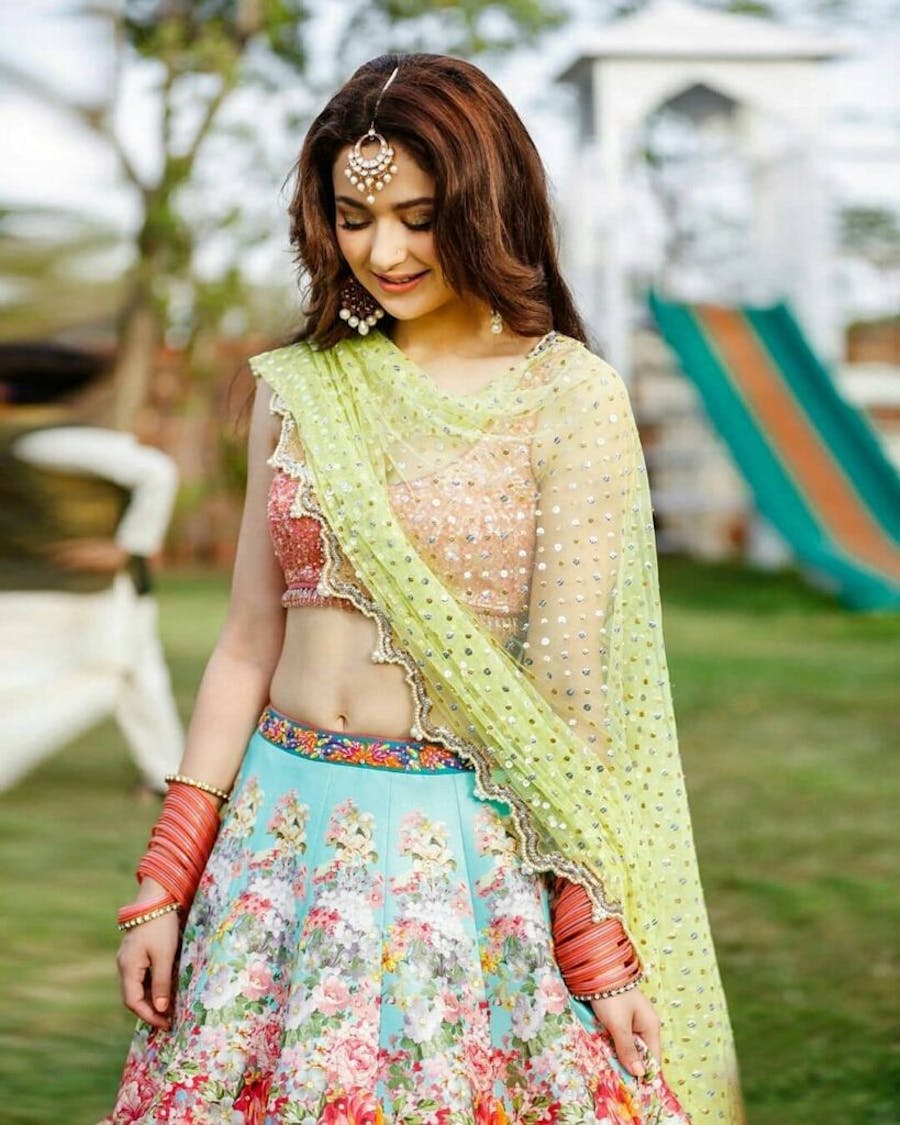 Hopefully, you will find an ideal Lehenga Dupatta draping style in this bridal fashion guide. No matter how beautiful you look on your D-day, if you haven't hired a professional wedding photographer in Kolkata, then you will miss all the special moments and your graceful dive look forever. Talk to "Qpid India", a passionate Bengali wedding photographer having years of experience in creating cherishable wedding moments.