All about traditional bengali jewellery
In many cases, the bengali wedding jewellery set gets passed on from generation to generation, by grandmothers and mothers. Hence, apart from its gilded existence, bengali wedding jewellery has deep roots of customary importance. Even today, the wedding gold jewellery market holds a special place for the Khandani goldsmiths who have successfully kept their family legacy alive. Have a look at some of these stunning pieces, and understand the significance of traditional bengali jewellery.
But before checking the list have you selected best wedding photographer in kolkata for your amazing wedding?
I hope so 🙂. Now let's get started with the head wears of a typical bengali bridal gold jewellery set.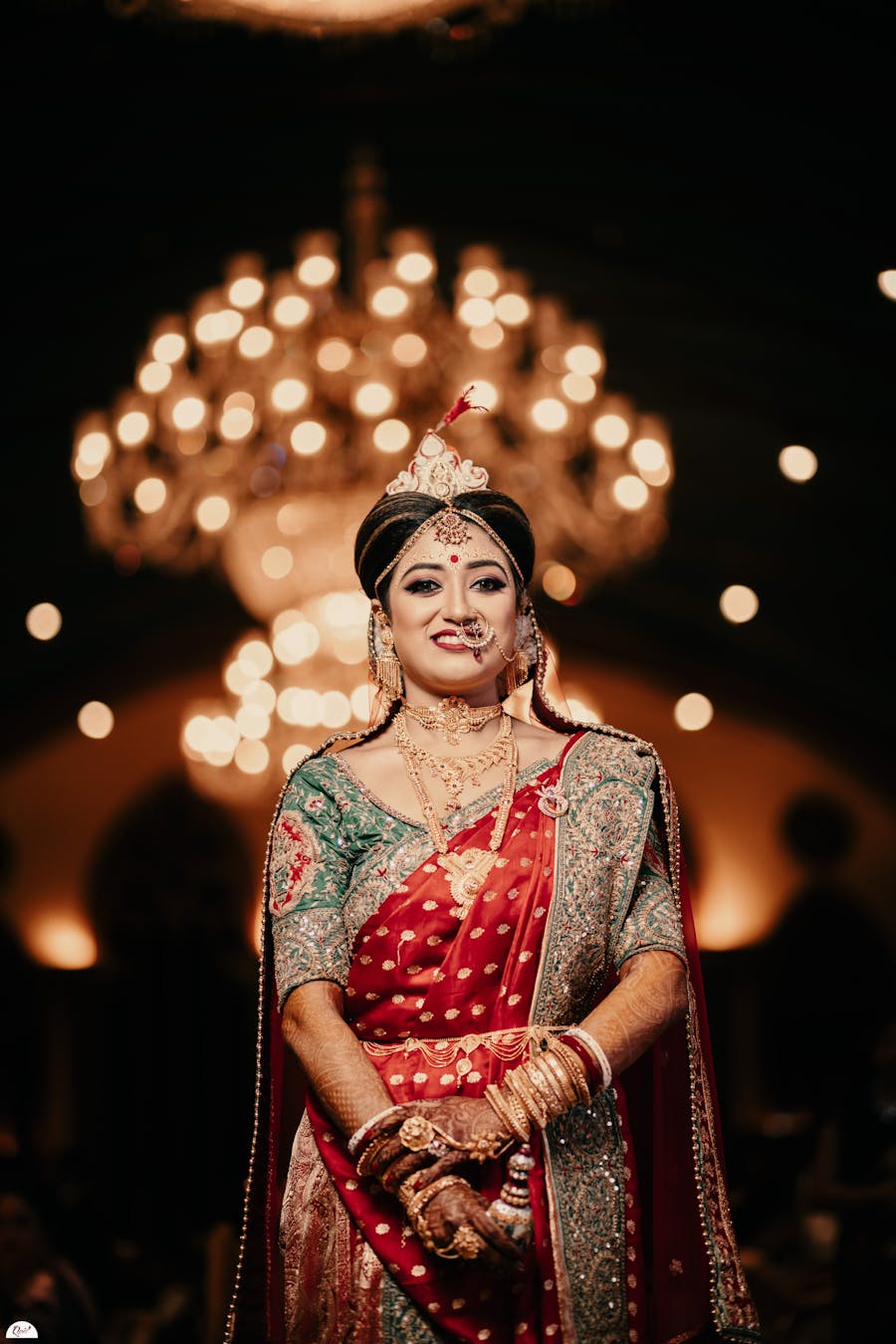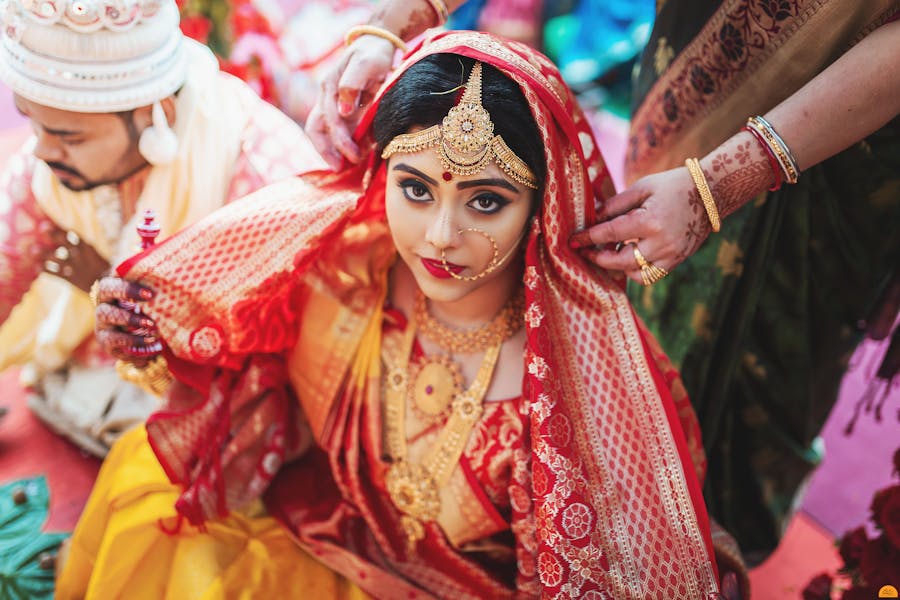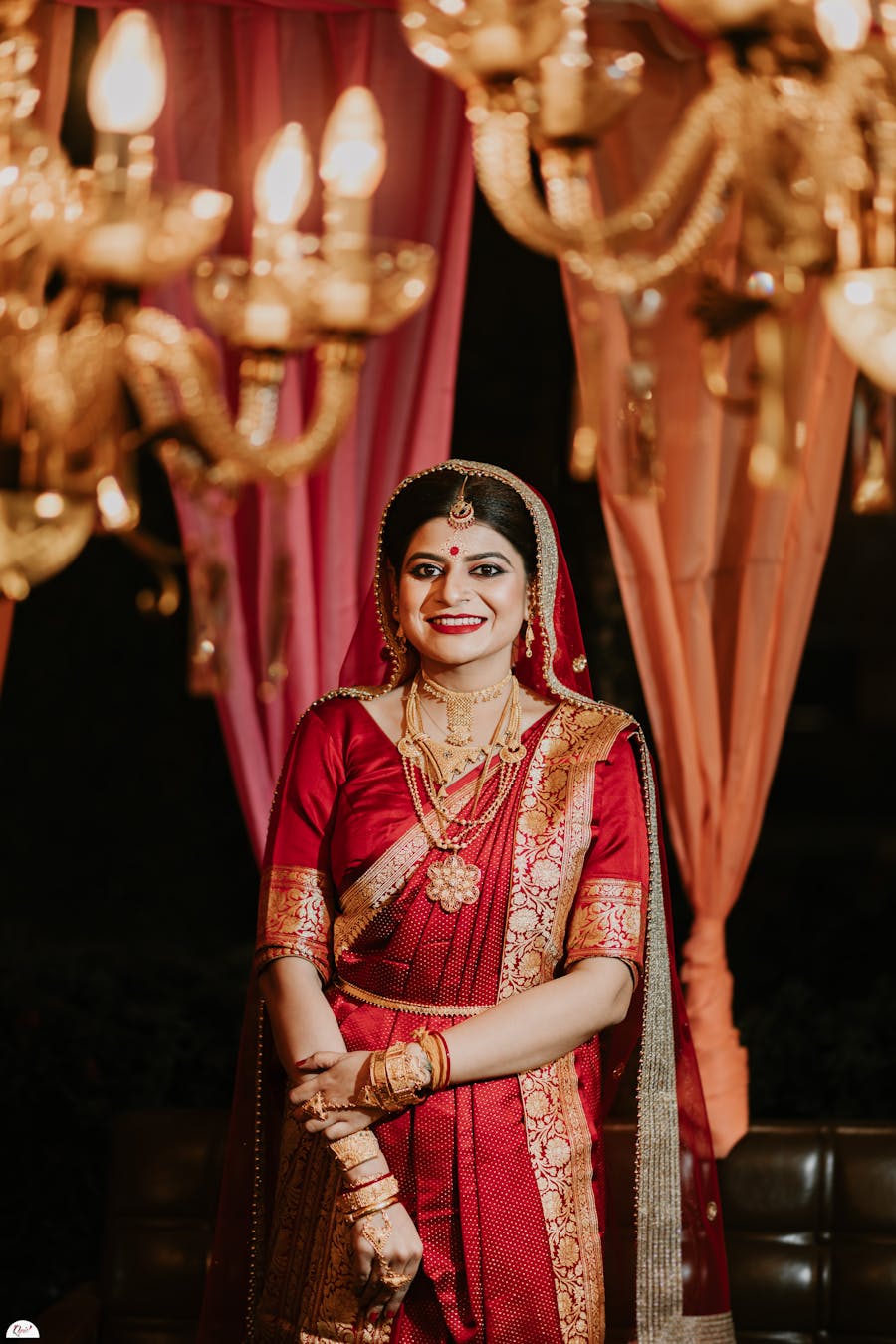 'Sonar Mukut' - wedding jewellery for bride
As the name suggests, it is he bengali version of a golden crown, that adorns the beautiful hairstyle of the bride on their special day. However, the mukut, modern bengali brides wear is necessarily not of gold.
👉 Recommended: 15 Best Places for your Wedding Shopping in Kolkata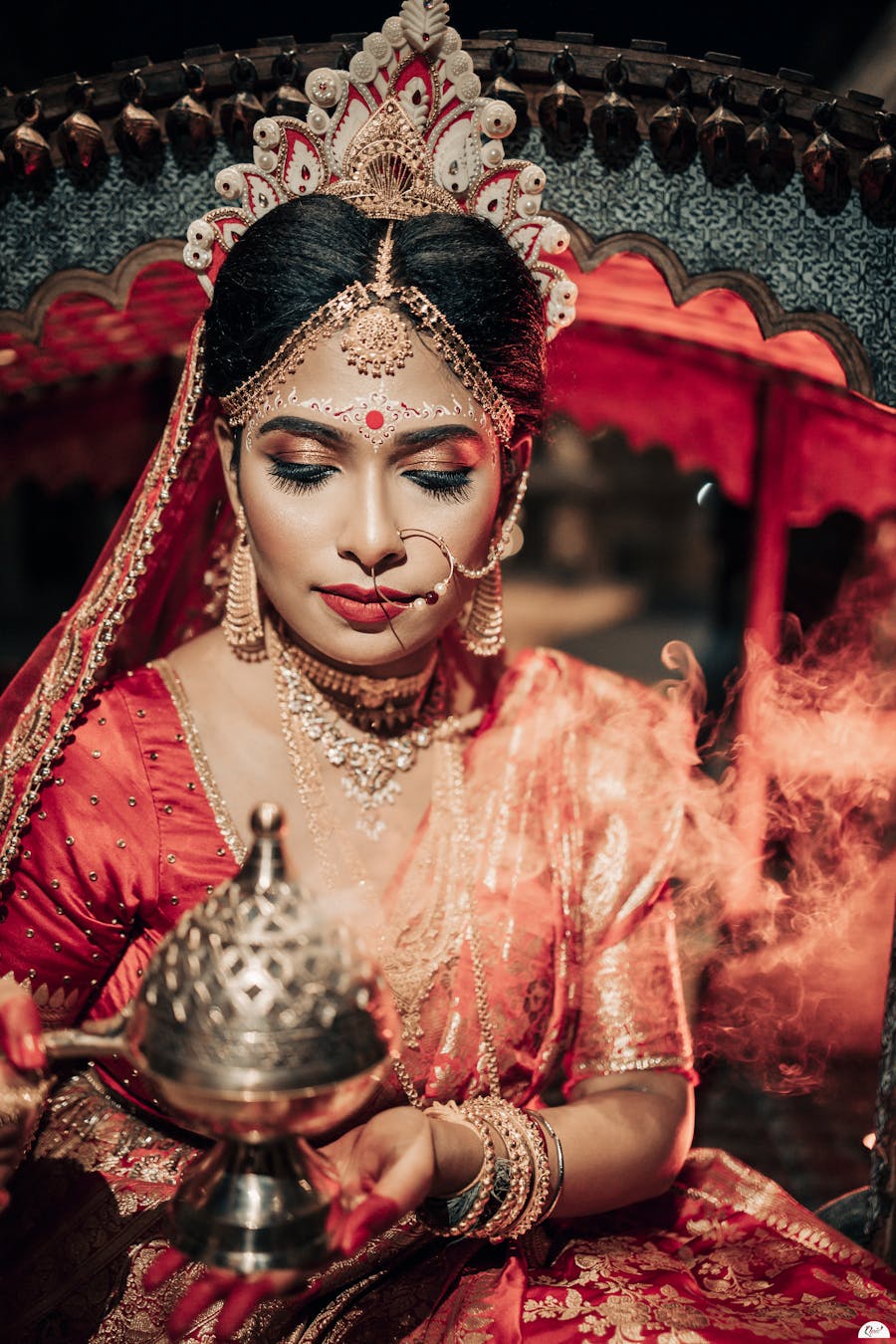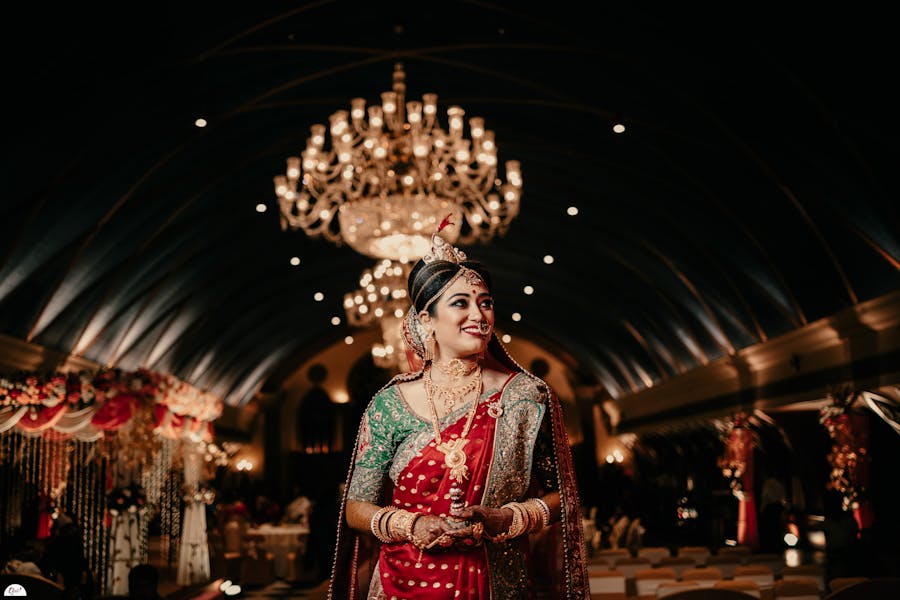 Tayra Tikli for that perfect hair partition
The traditional Tayra & Tikli are Bengal`s version of what is known in the other parts of the country as Matha patti and Maang tikka. They are worn to line, or highlight the perfect horizontal partition of the hairs, known as Sithi.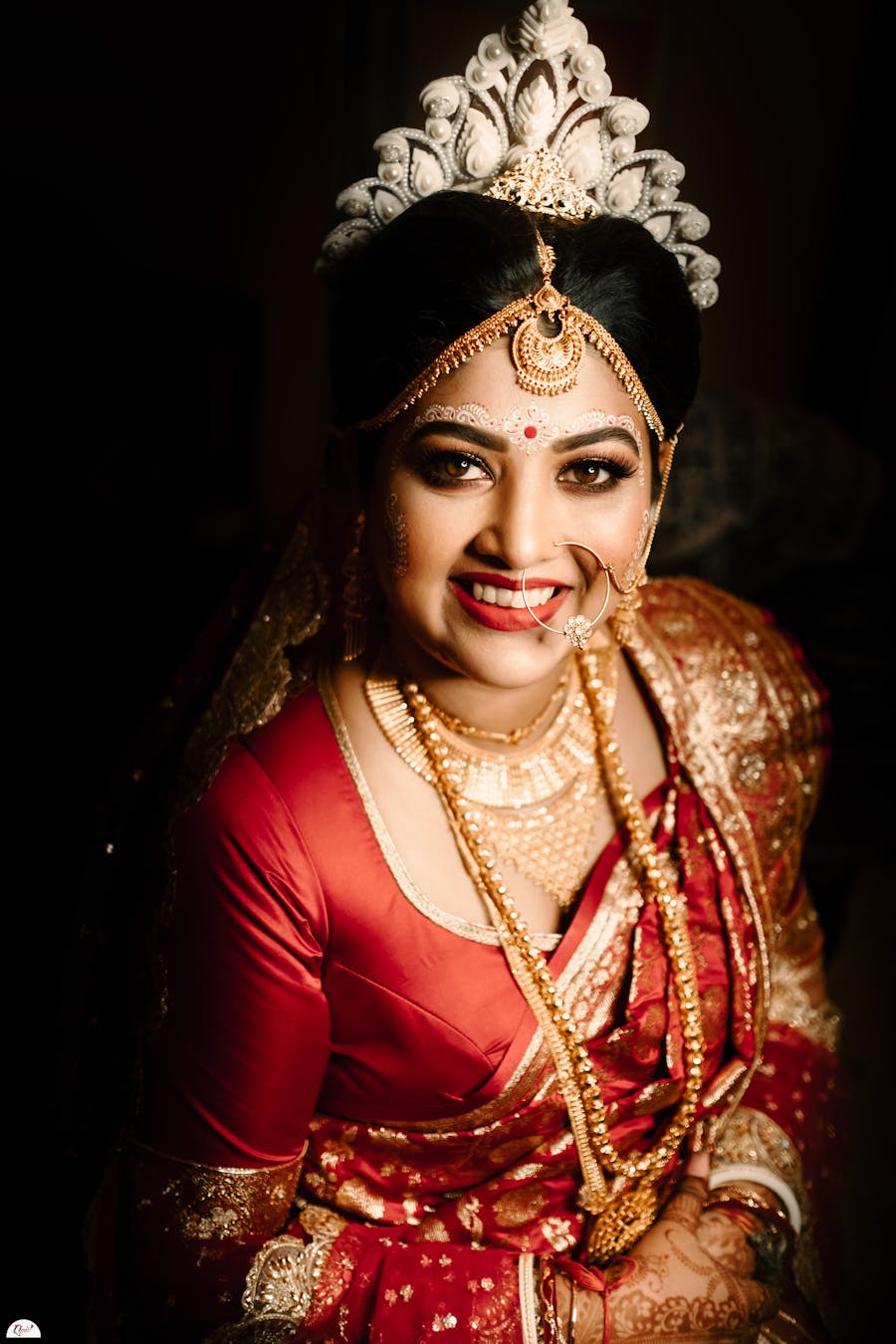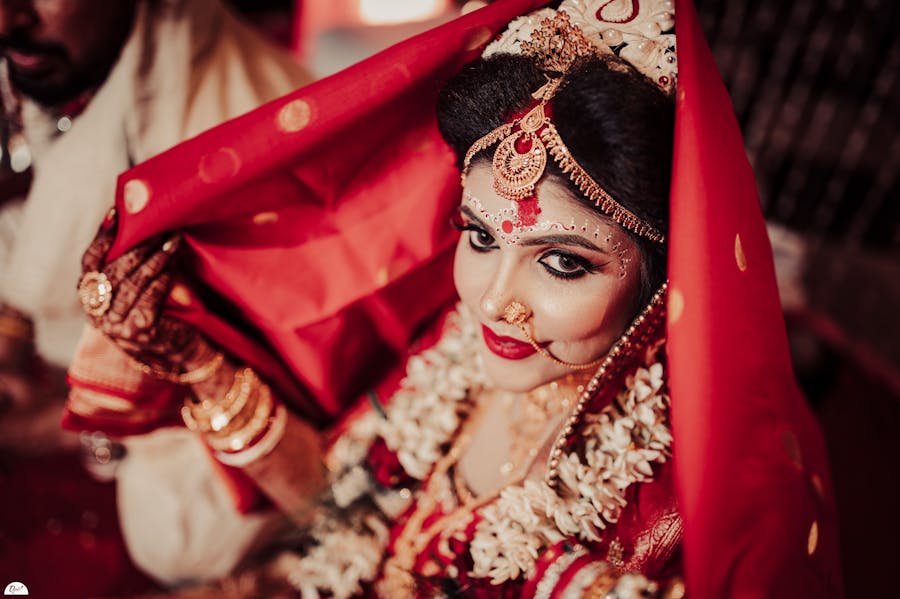 Hair brooch - traditional bengali bridal jewellery.
Bengali women have been known to be obsessed with having the perfect hair bun, in history. This is where the usage of a hair brooch for decorating their 'Khopa' comes from.
This is pretty much all about the head jewelleries. However, bengali bridal jewellery has been known for some stunning variations in ear, nose and neck pieces.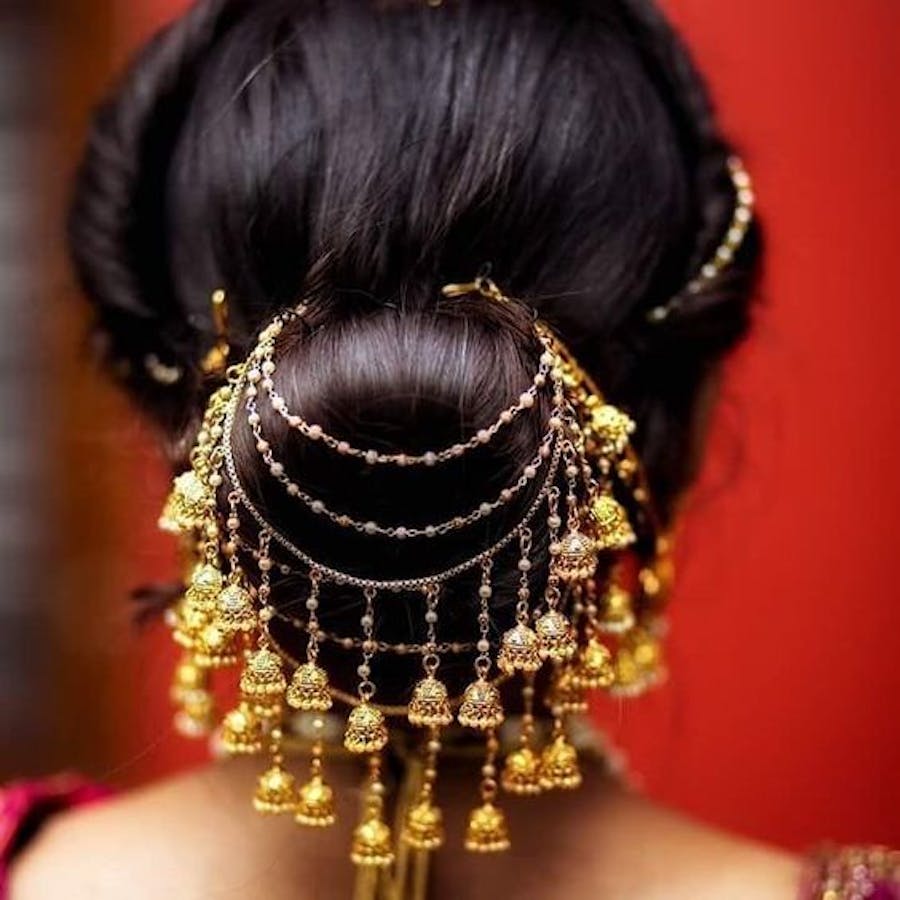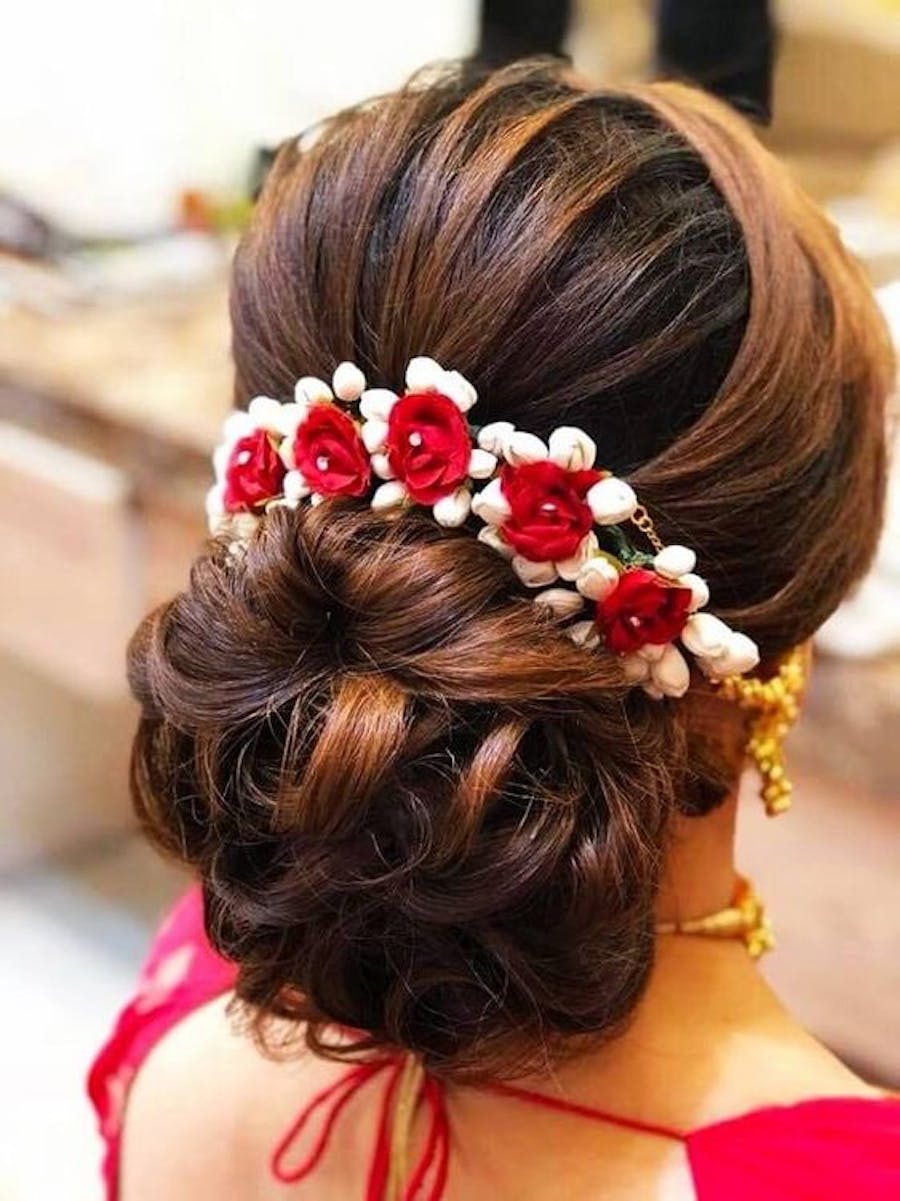 Nath and nolok for the nose
Nath and nolok are two variations of nose rings in traditional bengali jewellery. The nolok is usually worn in the piercings of the mid nose while nath is worn on the left side nose piercings. However, nath is more of a wedding gold jewellery, in bengali tradition.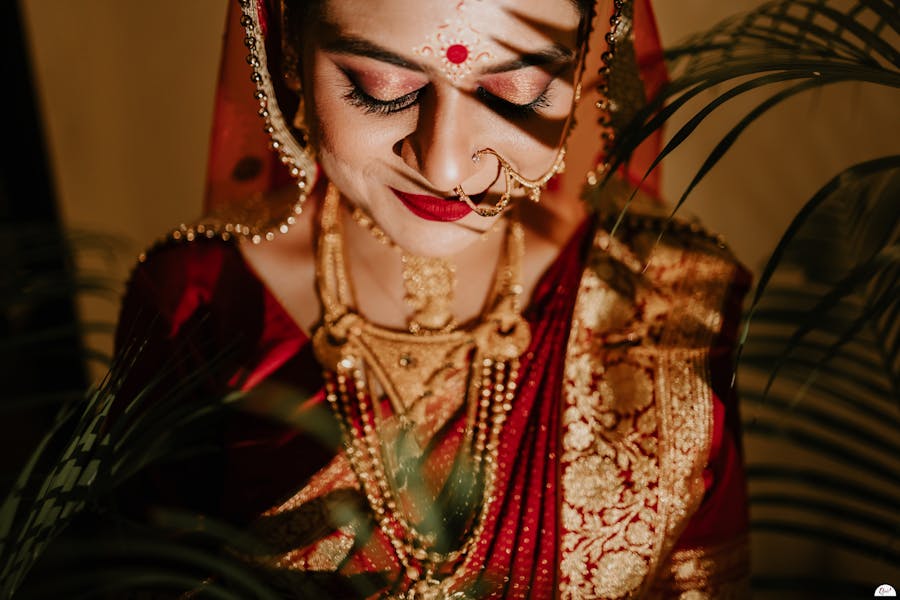 Earrings from bengali wedding jewellery set
If you are a bengali girl, there is a high probability that you have gotten your ears pierced, maybe when you were 2 or 3.
Dul and jhumko
A majority of bengali brides wear simple kaner dul or jhumko sets for the wedding rituals. They come in a variety of simple to heavy designs.

Kaanbala
Kaanbala refers to the golden leaf-like designs that cover the entire ear. They are one of the most indegineous pieces to traditional bengali jewellery.

Kaanpasha
The word pasha is derived from bengali word 'poisha' meaning coins. So the kaanpsaha is a coin-like design of bengali earrings.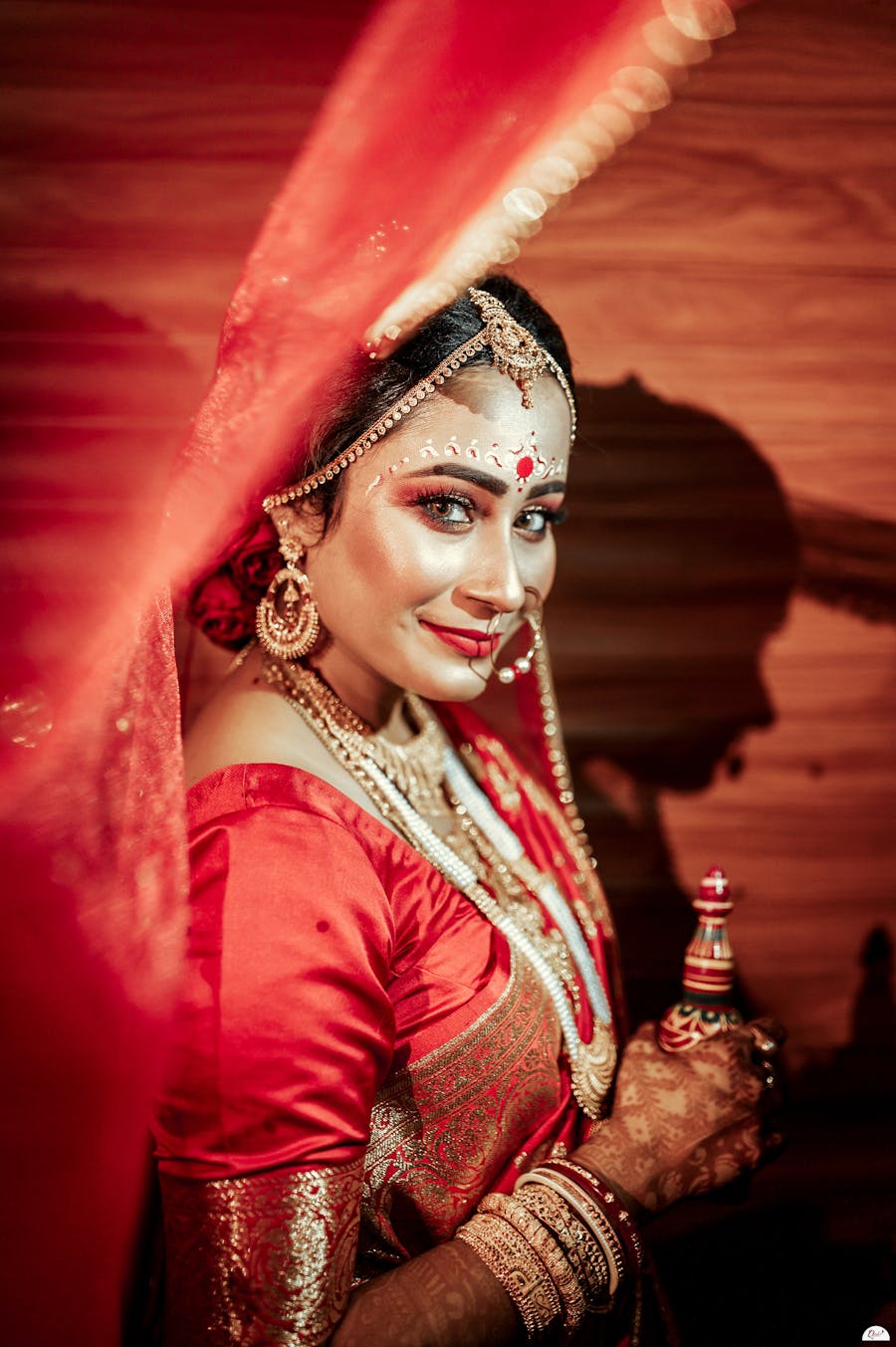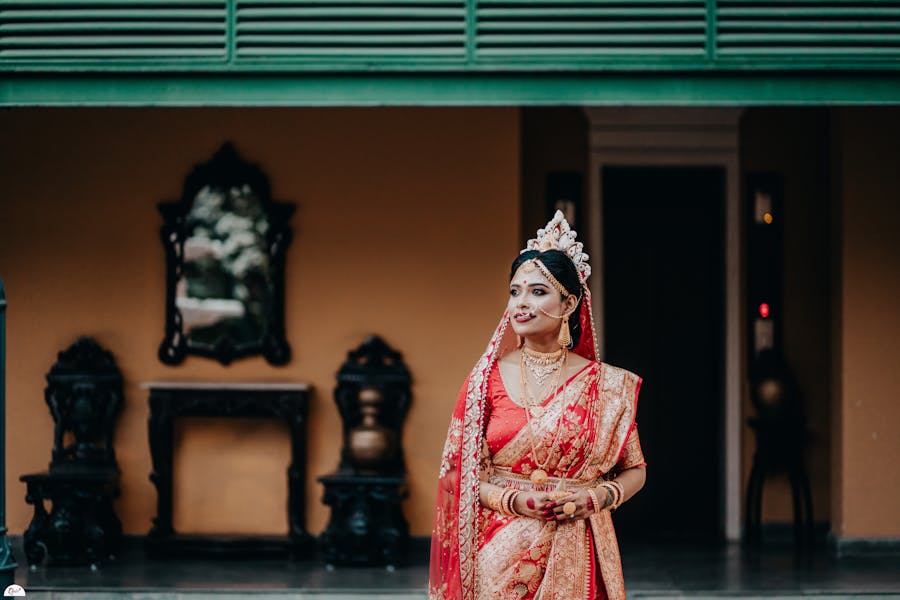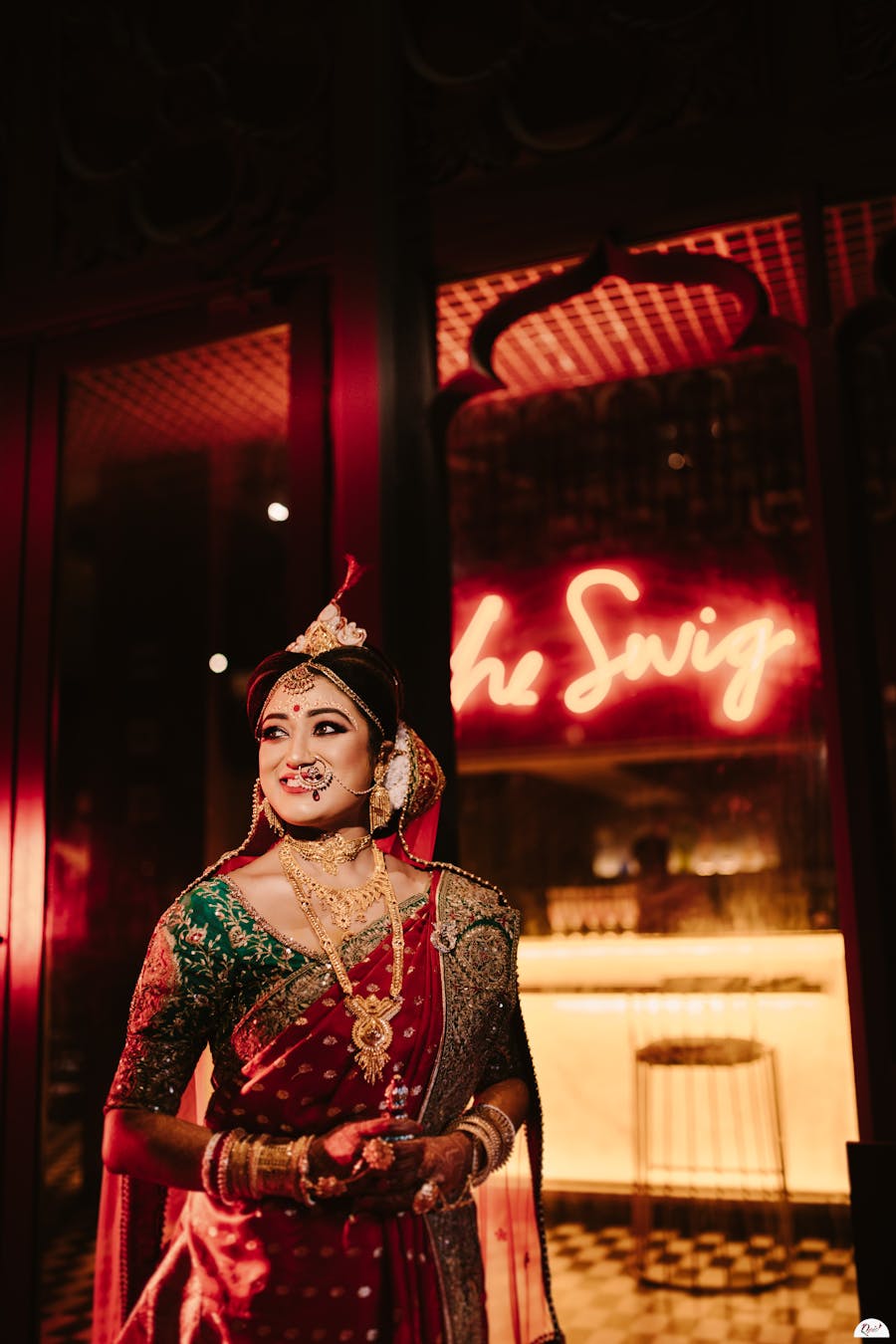 Neckpieces of traditional bengali jewellery.
Chic
The 'chic' is a choker-like ornament that normally sits on the bride's neck and should not reach the collar bone. It is an important part of bengali wedding gold jewellery.

Noli haar
They are the layered design of bengali necklaces. Usually 7 or 5 layers of chain, they are called saat (7) noli haar or paanch(5) noli haar. Traditionally they were made o0f solid gold. However, owing to the hike in gold price, they are modified with white beaded chains as a cheaper alternative to the solid gold ones.

Haar
They are usually the pieces that are worn on the collar bone area. They are usually the most common and affordable among all the other variations.

Tassel Locket
This is a modern design which has gained huge popularity among bengali women. Usually an affordable gifting option among all gold jewelleries. It owes its inspiration from mangalsutras.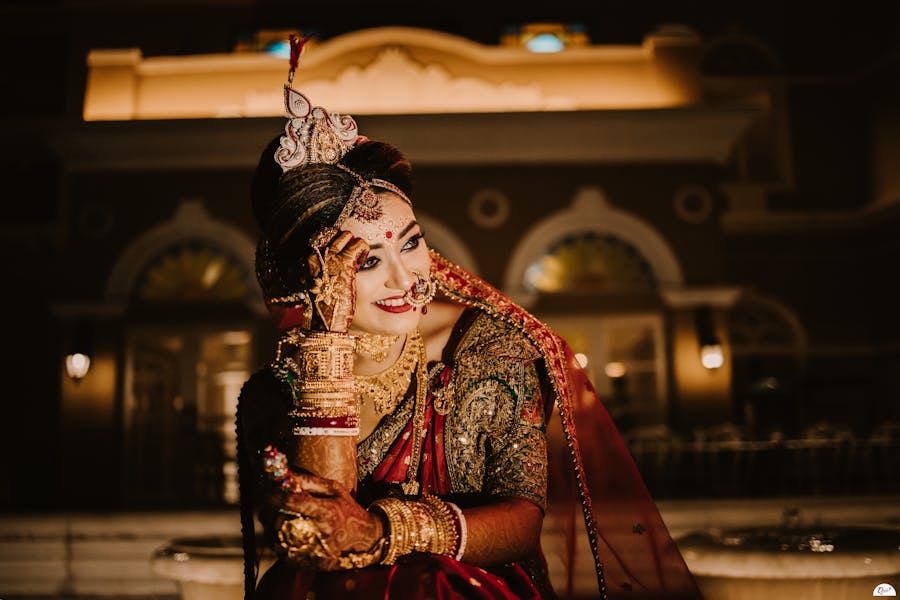 Rings, wristlets and armlets in bengali bridal jewellery
The jewelleries for hands include a variety of wristlets and armlets. We have talked about some in the following section.
Ratanchur
The back of the palm obviously needs to be adorned. So Bengali brides wear a ratanchur for the purpose.

Mantasha
They are lightweight adjustable wristlets. They are made with gold chains and a solid chunk of art. Almost a must have among all wedding gold jewellery.

Bala
Also known as pipe kada is usually solid bangles filled with gala or lac. This too is a must have for a bengali wedding jewellery set.

Chur
They are intricately designed bangles, slightly broader in width. They almost cover the entire wrists and usually come in screw fittings.

Noya badhano
Noya is a black iron bangle, worn by bengali women as a sign of their marriage. However, they prefer wearing the gilded iron bangles for a more beautified look.

Sankha pola bandhano
Like noya, bengali married women also wear sankha and pola, which are bangle pairs made of conch shell and red lac. They are framed in gold as sankha and pola badhano to make them look more beautiful.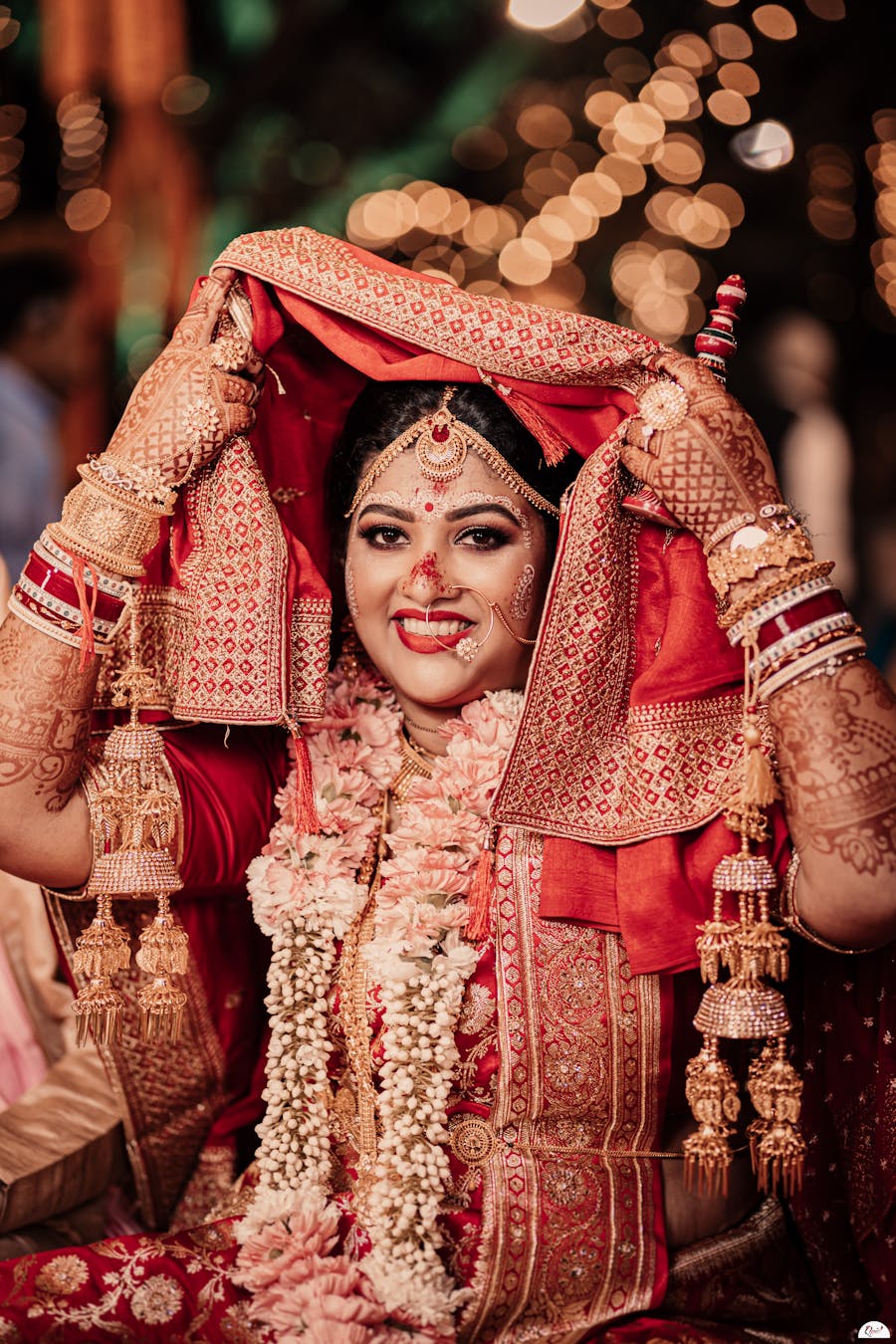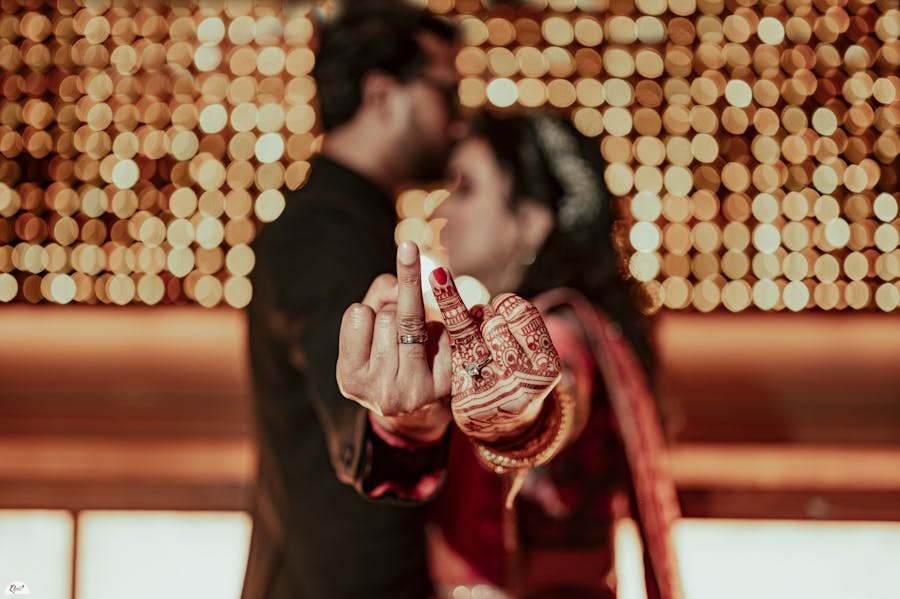 Nupur - a bengali bridal jewellery for feet
Gold is considered to be 'Lakshmi' the goddess of prosperity in bengali culture. So to adorn their feet, they wear beautiful silver anklets called nupur.
In this blog, we could mention just some of the amazing gold crafts of bengal. With kankon, sitahar and many more varieties, the list of traditional bengali jewellery seems to be endless.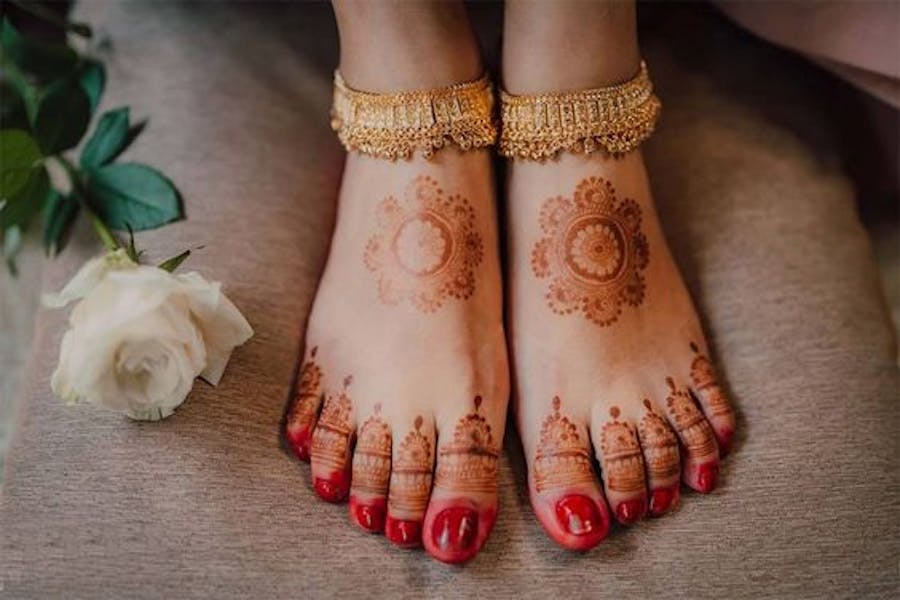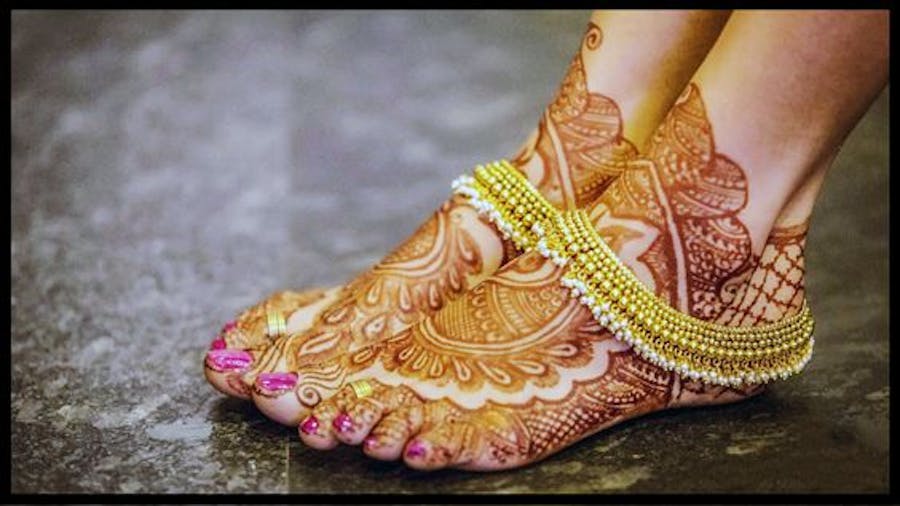 The endless bengali jewellery collection!
In this blog, we could mention just some of the amazing gold crafts of bengal. With kankon, sitahar and many more varieties, the list of traditional bengali jewellery seems to be endless.