In this diverse country, we get to see many types of marriages. Every region's marriage has its own way of celebrating this joyful event. The most adorable element in weddings is the look of Indian brides. One such utterly charming and mesmerizing look is that of a Bengali bride dressed in Banarasi fabrics. If you are a big fan of Indian cinemas, then you must have seen the character of Paro, the most charming Bengali bride, played by Aishwarya Rai. Such eternal beauty is commendable. Not only Aishwarya Rai many popular celebrities like Priyanka Chopra, and Yami Goutam have tried to achieve this glamorous Bong Sundari bridal look in movies. The golden ornaments, bold red bindi, bright red lipstick, and shimmery eyes can turn any girl into a glamorous diva.
Known as the best Bengali wedding photographer in the city of joy, we have captured many enthralling Bengali bridal looks in our lenses. Some of these amazing bridal looks have truly won our hearts. Their signature saree, beautiful eye makeup, and sparkling glamour are speaking a million words about their divine look.
Hence, if you are a bride-to-be who is looking for timeless beauty and dazzling makeup of Bengali brides then read this amazing blog on Bengali bridal makeup tips which will turn you into an epitome of beauty and elegance.
1. Artistic Pattern Of Red And White Kalka
We can't stop admiring the beauty of this cheerful bride. The most beautiful element of Bengali wedding makeup looks is these red and white miniature Kalka designs. Decorating the bride's forehead with red Alta and sandalwood's bindi is an age-old tradition that has been enhancing the charming look of a Bengali bride for centuries. This beautiful fusion of red and white Kalka designs not only provides a dramatic effect to the bridal look but also provides a cooling effect. The cooling nature of Chandan reduces brides' stress and makes them calm. It also complements the Alta-laden hands and gold jewellery of a bride.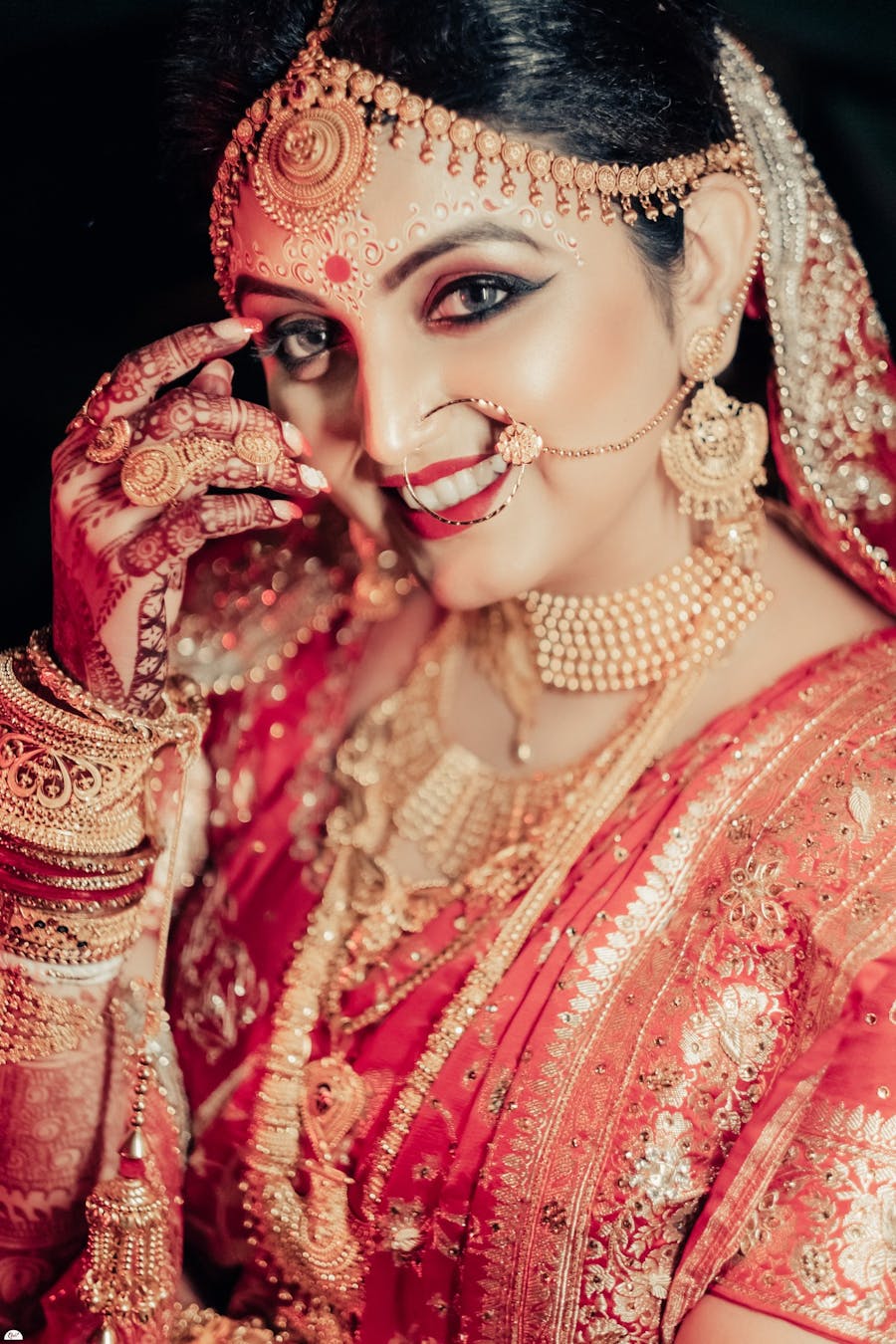 Must Read: 6 Stunning Bengali Bride Hairstyle Ideas
2. Glittery And Dramatic Eyes
We are crushing over this beauteous bride's eye-makeup. Big and expressive eyes depict the beauty of her divine beauty. These dramatic eye poses are the most popular clicks of wedding photography in Kolkata. Bengali brides have mastered the art of flaunting their sharp features. You can use a primer and concealer around the eyes to hide the dark patches. The kohl eye makeup of the Bengali bride is the main secret behind their dramatic eyes. Create a thick wing in an artistic pattern with your eyeliner and choose a vibrant shade of eye shadows like red, champagne pink, or gold to lift the look of your eyes. Apply a thick line of smudge-proof kajal and must use thick and long eyelashes to accentuate your eye makeup. To give a final touch you can apply a double coat of your eye mascara. These glittery eyes will surely enhance your overall look.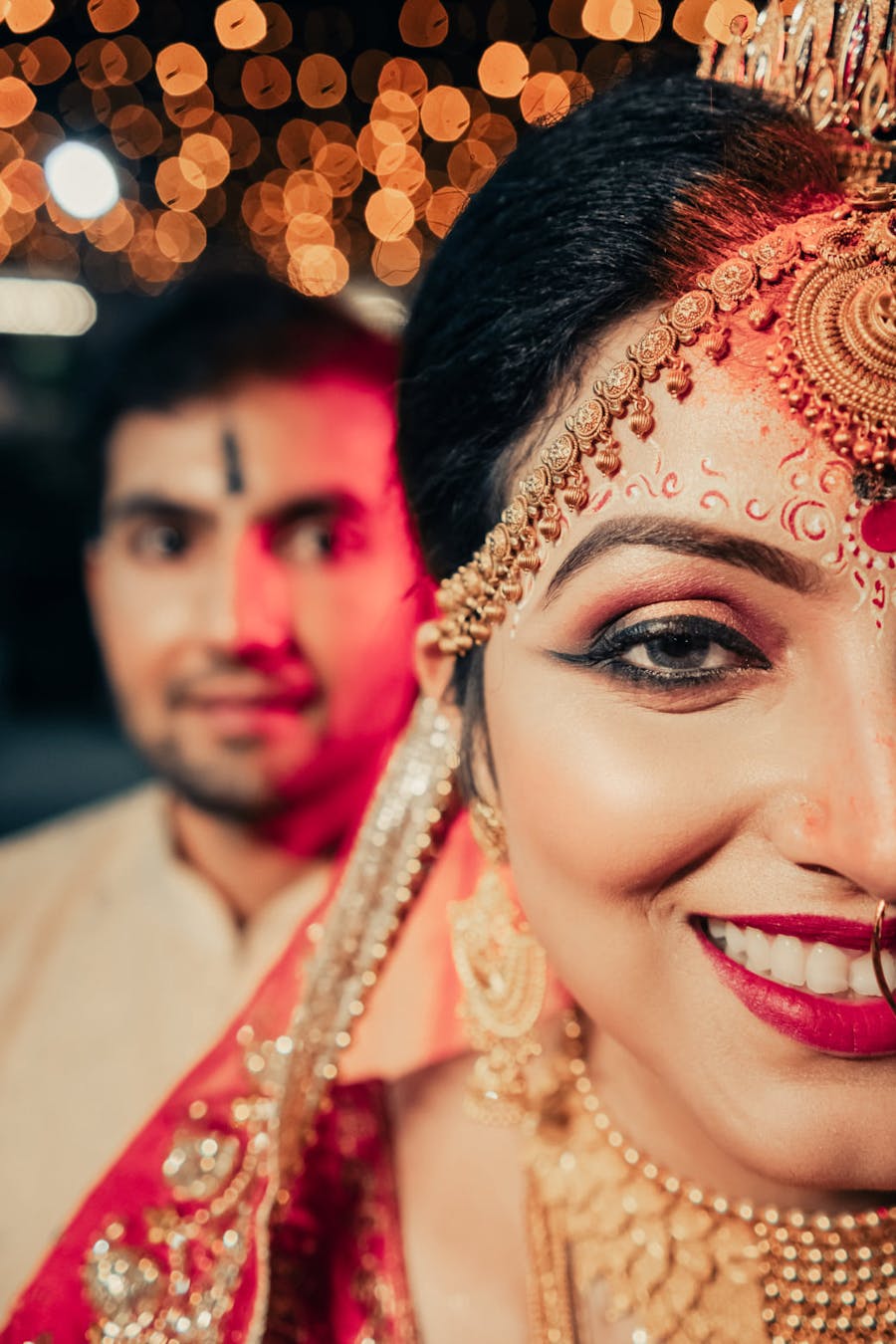 3. Contoured Cheeks
Look at this drop-dead gorgeous bride. This classic bride is giving us the right kinda Indian bridal makeup goals. Her chiseled cheeks are enhancing her aesthetic looks. A golden highlighter with minimum contouring can add a sparkling effect. It will accentuate your bridal glow and make you look like a real apsara. This stunning bride's contoured cheeks and pretty smile continue to glorify her goddess-like bridal mukut.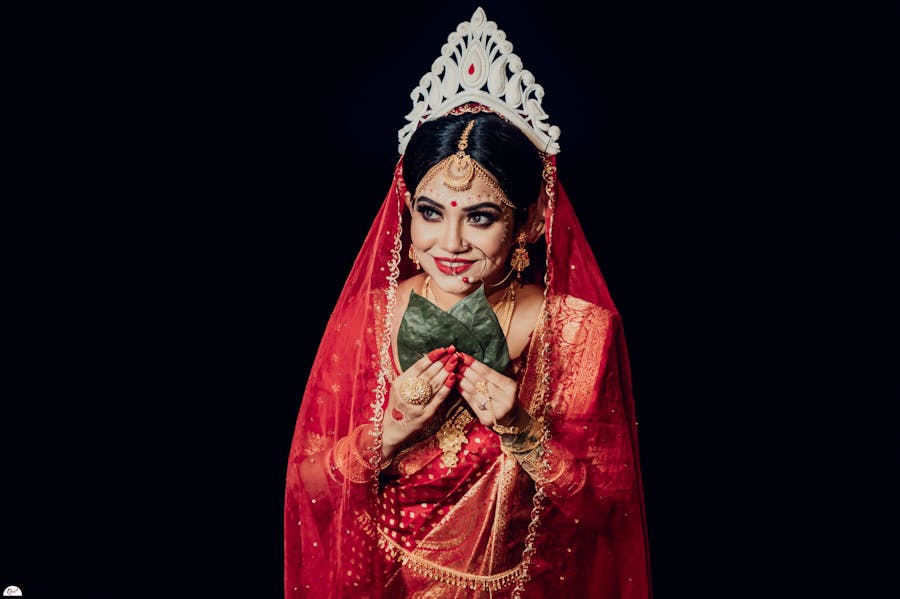 Recommended: Top 10 Stunning Bengali Bride Reception Look Ideas That Stole Our Heart
4. Rosy Red Lips
Red is considered one of the best bridal lipstick shades. A Bengali bridal look will stay incomplete without this deep color lipstick. Moreover, it also complements your white and red Kalka design, white mukut, and bridal silk sarees. This bong bride's ravishing red hot lips are making her more glamorous. You can use red lip gloss and lip liner to achieve the tone of these bold and glossy lips.
5. The Signature Red Bindi
A traditional Bengali bride wearing a big red kumkum bindi leaves everyone awestruck with her stunning beauty. A red bindi in the center of the forehead is an important part of Solah Shringar and beautiful bridal makeup. This red bindi surrounded with red and white motifs is the signature style of a traditional Bengali bride. This show-stealer bridal bindi goes well with a golden or silver red Banarasi saree.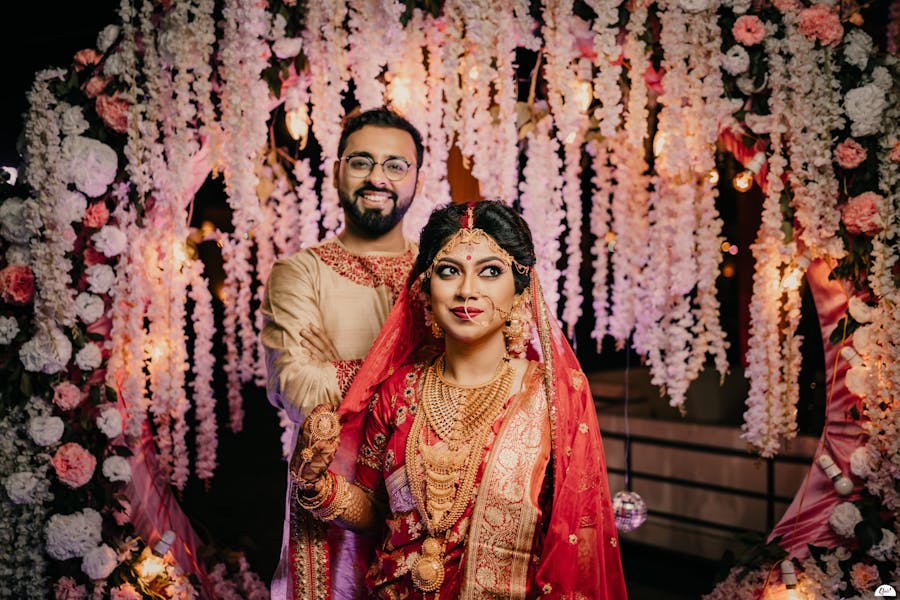 6. Simplistic Charm
Do you know what makes Bengali brides most beautiful? Their simple appealing look. A simple makeup for wedding can make you a quintessential bride. Ditch the heavy makeup and keep your skin tone naturally. Always choose a makeup base that blends with your skin tone. It will provide you with a smooth and finished touch.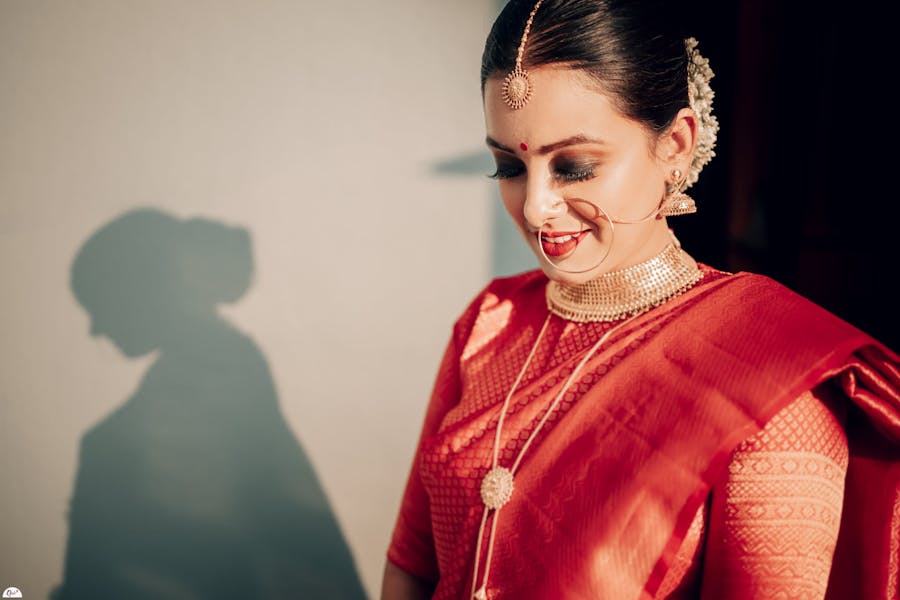 Some Important Bengali Bridal Makeup Tips:
Apply a primer that blends perfectly with your skin tone.
Make sure to cover your dark circles with a branded concealer to get a radiant glow.
To draw dramatic eyes use waterproof and smudge-proof eyeliner.
Enhance your smokey eye makeup with false lashes.
Go for natural skincare treatment a week before the wedding.
Always use branded makeup products to avoid any skin irritation.
And one last thing to remember - keep smiling to look beautiful.
Let your mesmerizing bridal look create a wonderful story in your wedding photographs. These Bengali wedding makeup looks will surely make you stand out on your special day. Save the date to create memories with striking wedding poses.