Have you seen a Punjabi bride wearing a gorgeous ornamental piece of jewelry dangling from her wrist? These glimmering tassels are known as kaleeras. The long gold tassel is traditional jewellery of North-Indian brides. These bridal kalire has special importance in the bride's life. 
Just like a Bengali Bride enhances the elegance of Bengali wedding photography by wearing traditional conch shell bangles on her wedding day. Similarly, a North-Indian bride also aces up her bridal look with these glimmery and gorgeous kaleeras.                                                                                                                  
Kaleeras Were Used To Be Edible
What will you do if you feel hungry during long hours and tiresome wedding rituals? You will surely grab a piece of snack. But in the olden days, a bride used to travel a long distance from her parental home to her-in-laws. During this long journey, she was unable to have any food.
So, the basic purpose of bridal kaleera was to hold snacks for her in case she got hungry on the way. These kaleera contained dry fruits, snacks, and coconut tied to a bride's wrist.
Later this bridal kaleera was turned into beautiful ornamental jewelry. Kalire is considered auspicious for a Punjabi bride. The umbrella shape ornamental hangings are not only served as a tasty snack for a bride but are also treated as a lucky charm for a new bride. They are symbolic of wealth and prosperity. Thus, kalire is believed to bring good fortune and happiness with the arrival of the new bride.
Kaleere Drop Ceremony – A Funfilled & Beautiful Ritual
Being a team of talented and energetic wedding photographer in Kolkata, we never miss a chance to capture the magical moments of Indian weddings. And that's why we are enough fortunate to see this beautiful ritual. According to this age-old ritual, the bridesmaid assembles in a line and sits close to each other, after which the bride shakes her kalire-laden hands over her bridesmaid head. During this ritual, if a portion of kalire falls upon their head, then she gets married soon.
What a lovely tradition! We literally became a huge fan of this lively ceremony and breathtaking bridal kalire. So, without further delay let's explore some trending and best kalire designs for your special day.
1. Adorable Mini Kalire For Minimalist Bride
Generally, a bridal kalire is a strong and long piece of dangling hand jewelry. But small bridal kalire is the latest trend among modern-day brides. These miniature bridal kalire design are both adorable and stunning hand jewelry of a new bride. These single-tier, small bridal tassels are perfect for a fuss-free look. The classy gold kalire or silver kalire provides a stunning effect to your hand-painted mehndi designs.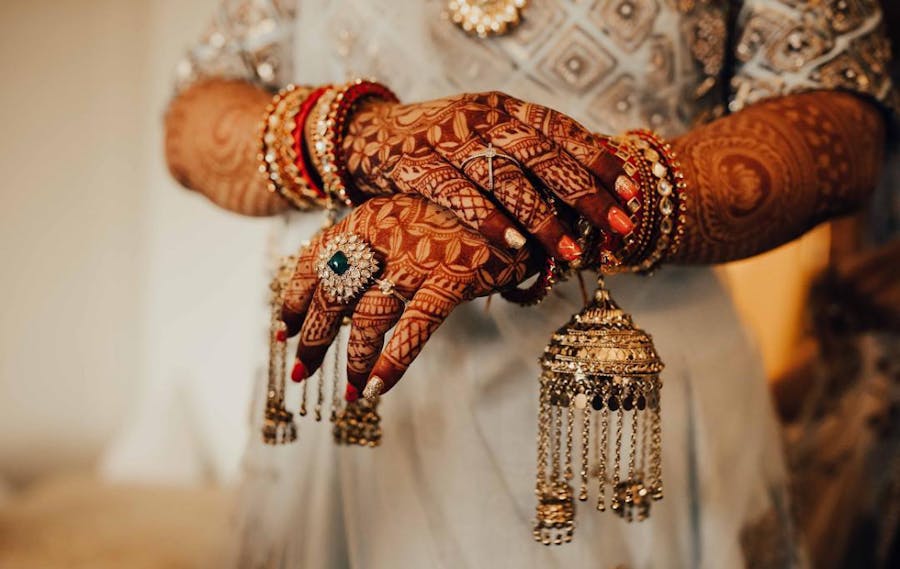 Recommended: Top 12 Bengali Style Bridal Mehndi Design Ideas
2. Glimmery Gold Kalire For Traditional Brides
Gold symbolizes wealth and prosperity. This auspicious metal plays a very significant role in every Indian wedding. A golden kalire grabs all the attention in your wedding event and offers you a graceful look. One can easily be captivated by the beauty of this delicate and shining piece of gold tassels adorned with precious pearls and tiny ghungroos. This traditional bridal kalire is one of the most eye-catchy ornaments of a brand Punjabi wedding.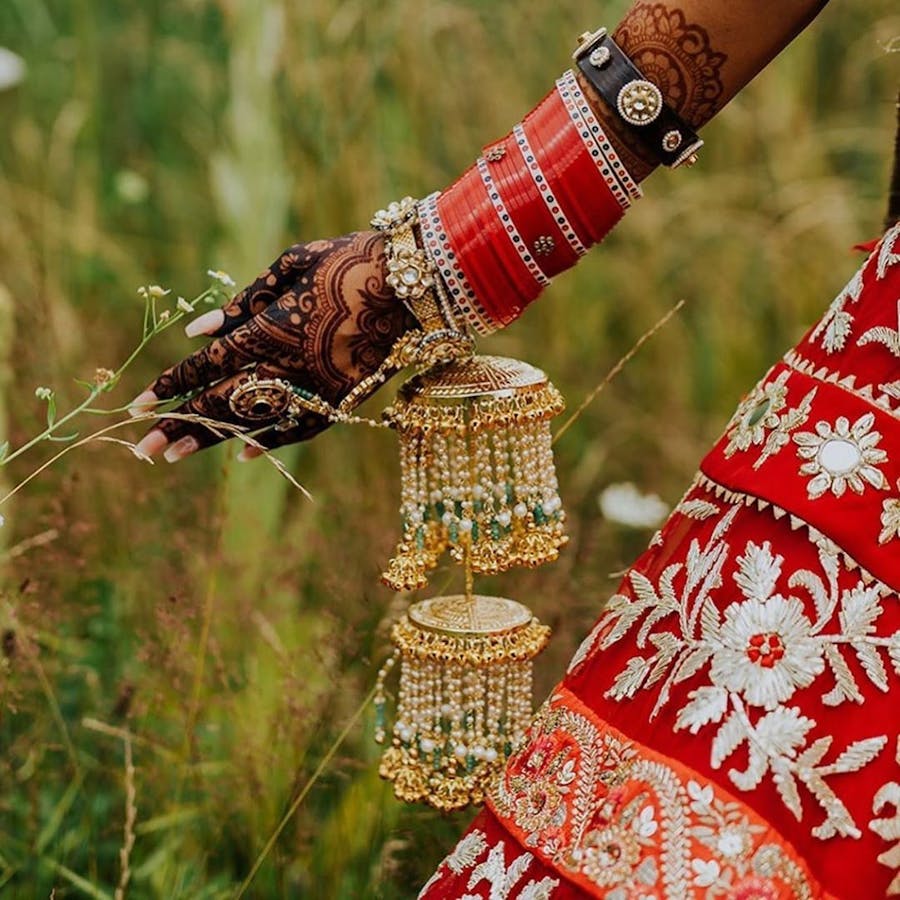 3. Captivating Floral Kalire For Chirpy Brides
Bridal kalire has gone through a lot of transformation in the past few years. Among all those designs, floral kalire is considered one of the best kalire design. Bridal kalire embedded with beautiful flowers, like rose blooms, orchids looks mesmerizing on a bride's hand. Two contrasting flower colors with a contemporary bridal lehenga offer an elegant look. This pretty pastel color kalire looks beautiful with light color bridal lehenga. Isn't it seems like a princess in pink?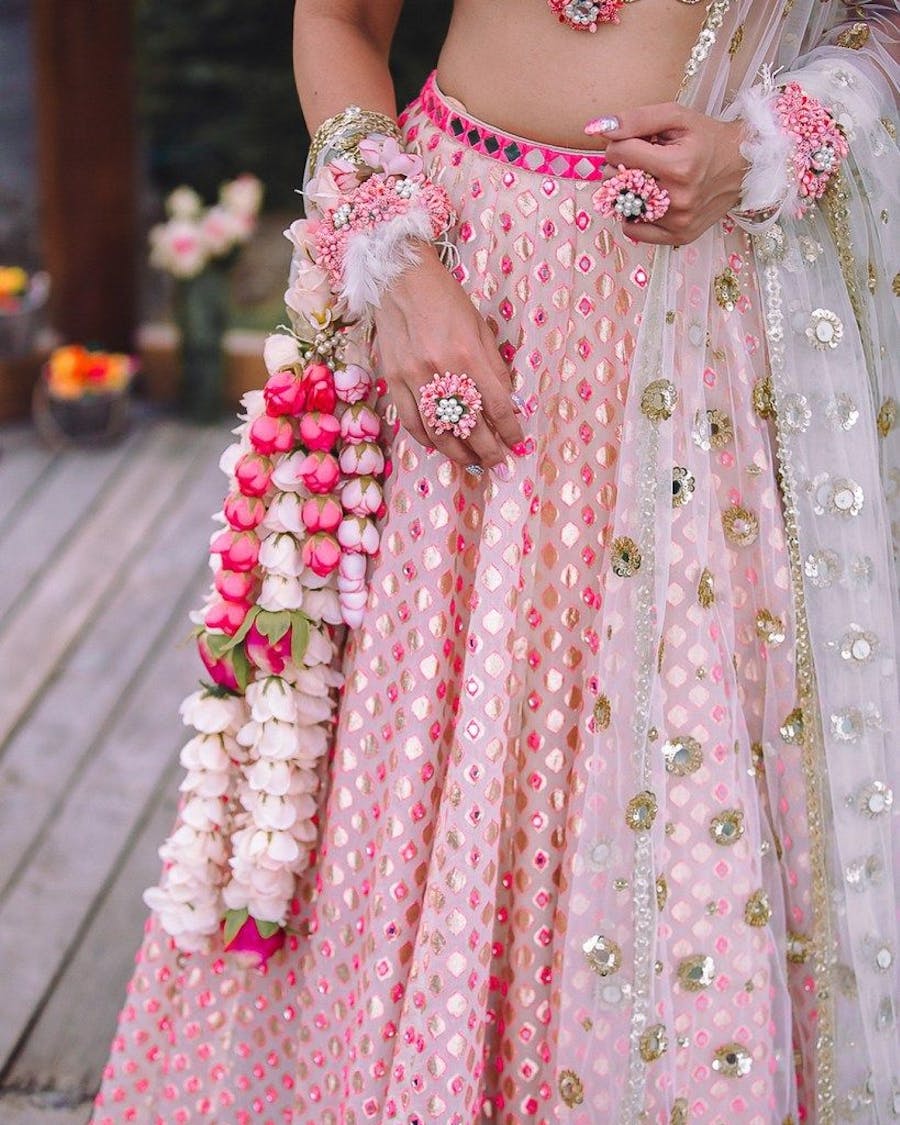 Also Read: 6 Stunning Bengali Bride Hairstyle Ideas
4. Stunning Bridal Kalire For Gorgeous Brides
This three-tiered sea shells kalire for bride is a great showcase of craftsmanship. This amazing piece of jewelry is extremely graceful and a great show stealer. We loved how this gorgeous bride has chosen sea shell kalire which is perfectly contrasted with her ivory-hued lehenga. This conch shell kalire is also a great choice for a beautiful beach wedding. This fashionable hand jewelry is light weighted and gives a unique touch to your bridal look.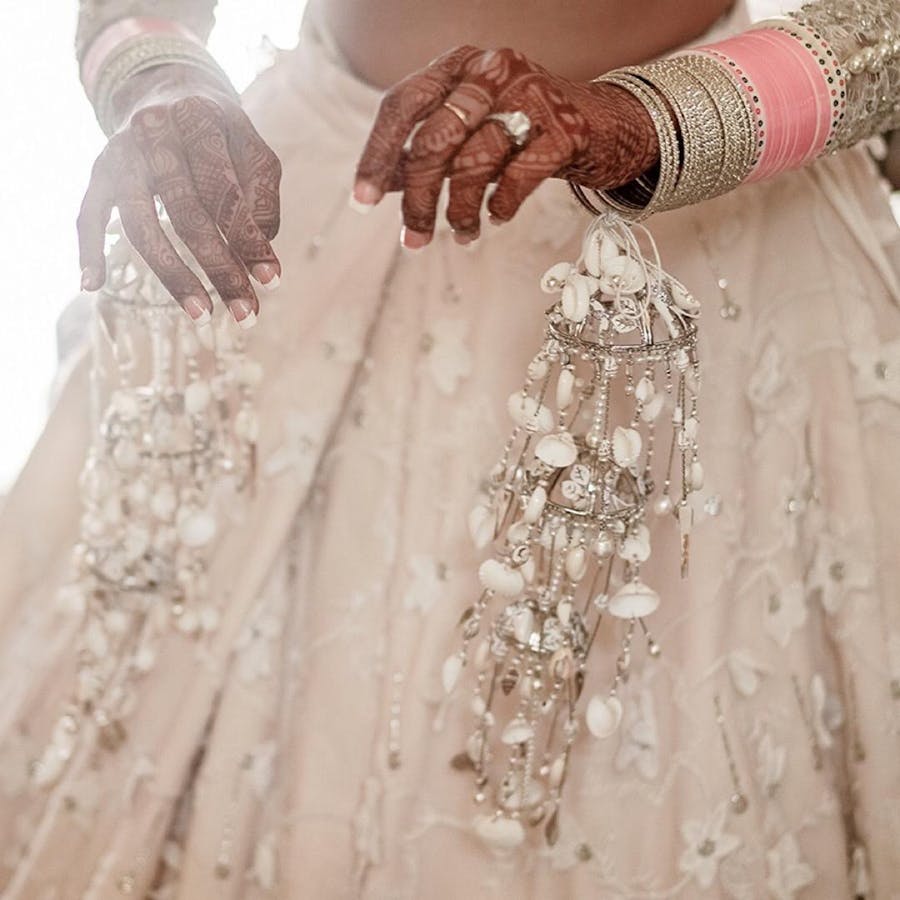 5. Classy Pearl Kalire For Elegant Brides
Pearls are considered the most elegant and sophisticated pieces of bridal jewelry. Hence a pearl wedding kalire design is a classic choice for an elegant bridal look. A designer kalire embedded with hanging pearls is so strikingly beautiful that no one can take eyes off it. We are crushing over this single-string pearl kalire which is making a fashion statement in her bridal look. In case you are looking for contrasting jewelry for your white or silver embroidery bridal lehenga then this can be a perfect choice for you.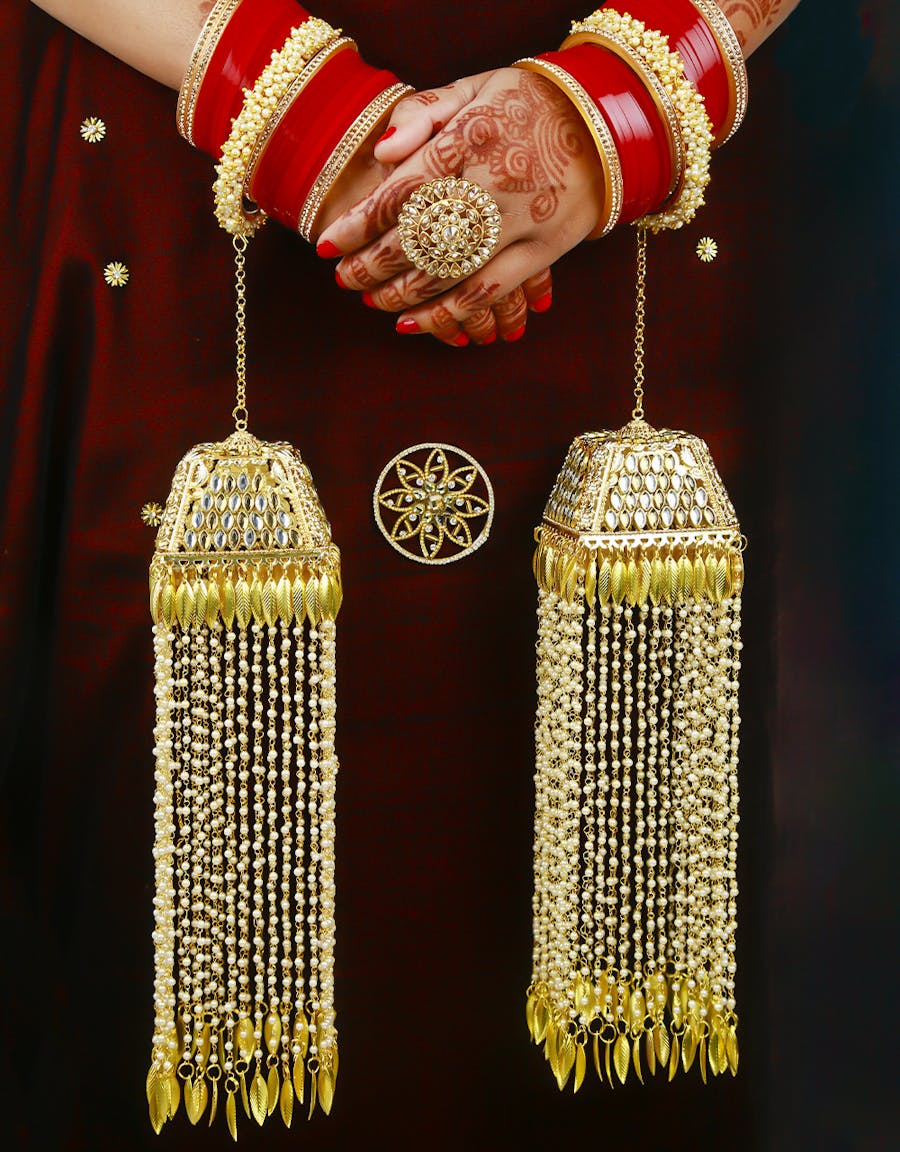 6. Trending Personalize Kalire For Quint Essential Brides
If you are looking for a unique bridal kalire to make a style statement on your wedding then you must try the latest and trendy personalized kalire. This can be a most beautiful way of expressing your love for your life partner. Letters of your grooms' name embedded in pretty tassels with colorful beads can add an amazing twist to your wedding. You can also add a couple of images in your kalire to increase the charm of your bridal look.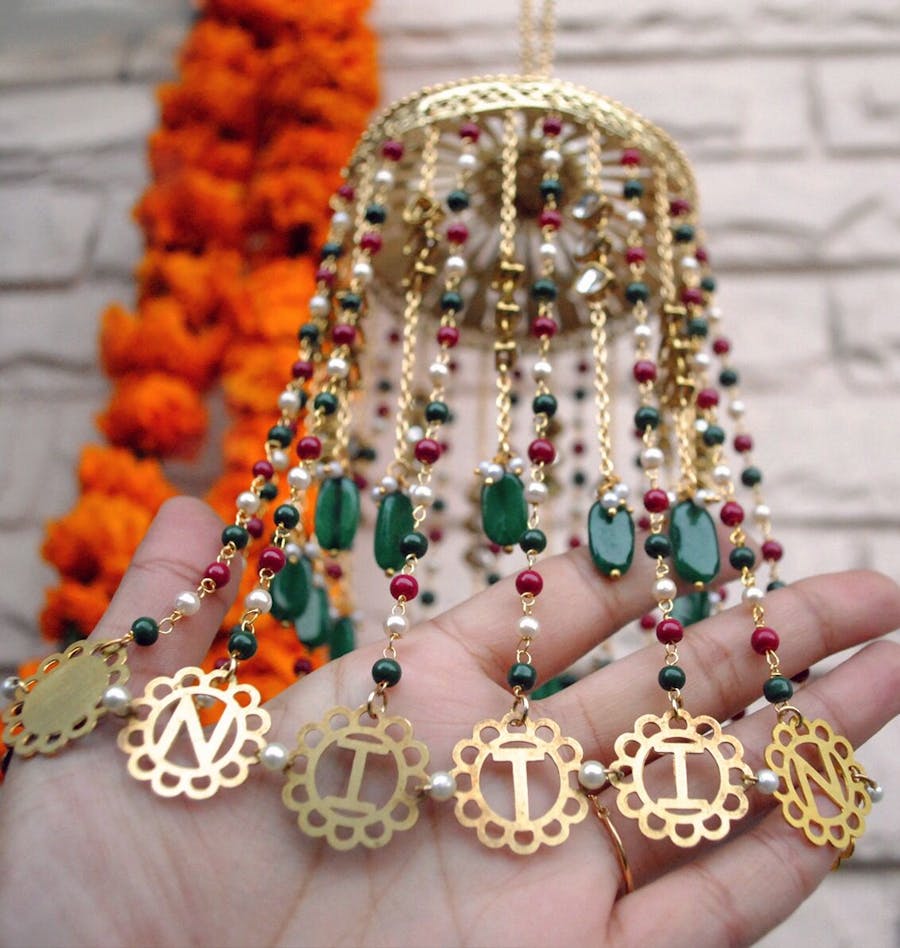 7. Artistic Kaliras For An Art Lover
These crafty dolls embedded in golden tassels look extremely beautiful and are one of the most creative and unique bridal accessories for weddings. These colorful dolls are eye-catchy and wonderful. It will make you the center of attraction at your wedding. If you love to reveal your fun side then what can be a more beautiful option than these colorful tiny puppets.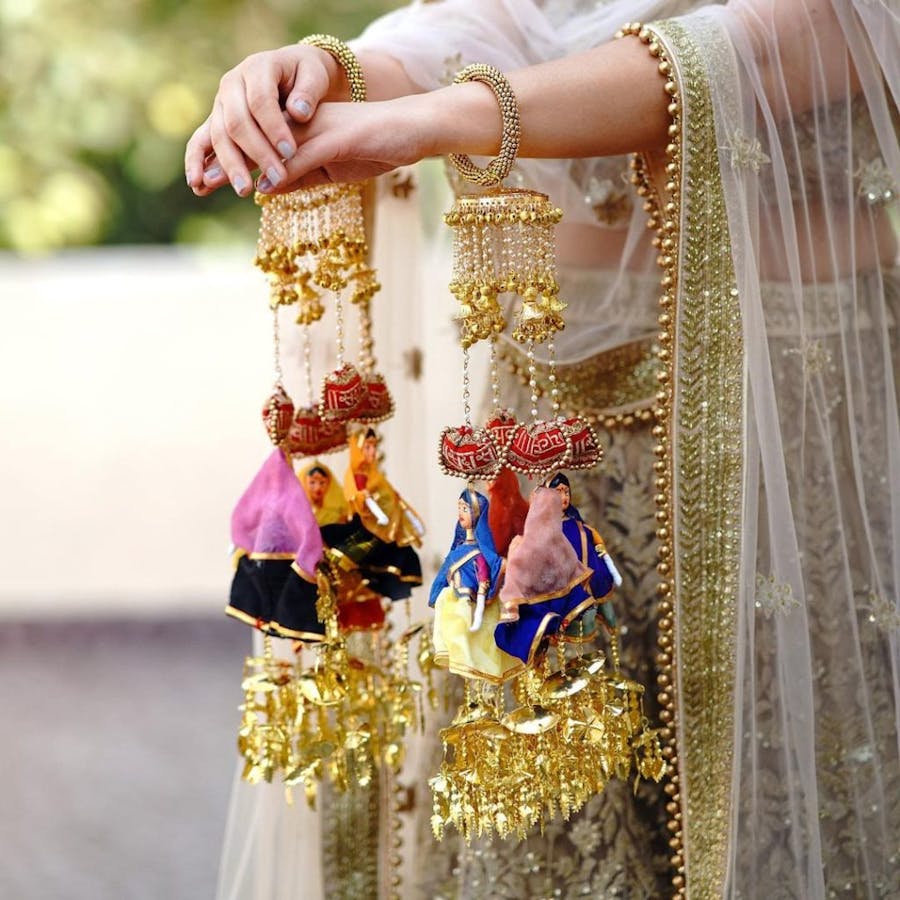 Whether you want to live your childhood dream with doll kaliras or want to opt for something more exceptional like sea shell kalira, make sure to pick the best kalire design that creates a dramatic effect in your memorable wedding story. Do tell us your favorite kalire in the comments section below.