Latest Bengali Bridal Lehenga Design
That one thing almost every bride is obsessed with is their wedding OOTD. Be it her saree, gown or LEHENGA, this tops her priority list (maybe over the Groom as well...😜). And bong brides today not just do only the nine yards of Banarasi elegance, but also love wearing the beautiful latest bridal lehenga designs. Choosing your Bengali Bridal Lehenga Design is almost like making a life choice. Your Bengali wedding photographer shall be clicking your wedding pics, in the lehenga, that you shall have forever! So here are some of the beautiful lehenga looks that our clients posed in for their wedding photography Bengali.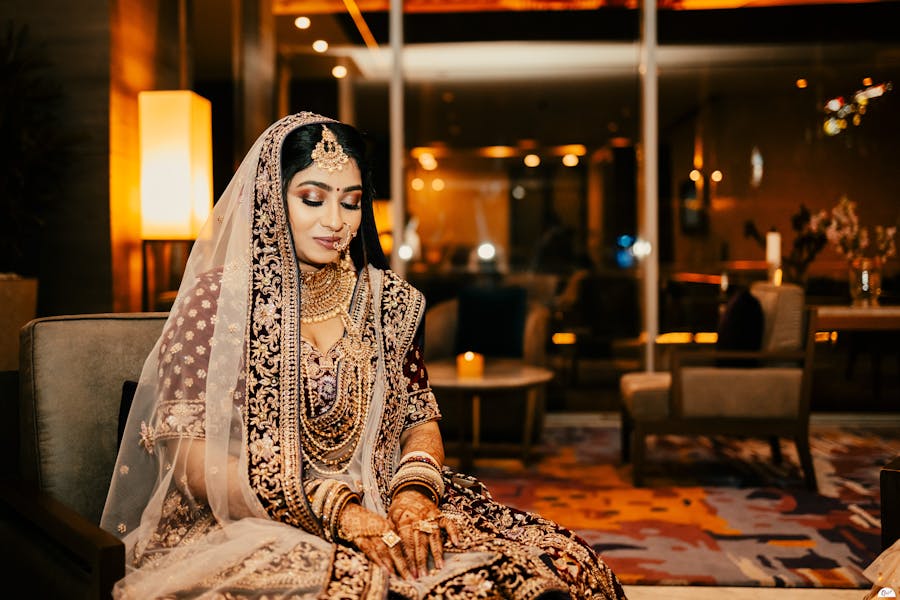 1. Indulged Into The Sombreness Of This Pastel Benarasi Lehenga!
A scintillating look in this powder pink banarasi lehenga. The intricate zari work is giving that perfect bling to the look!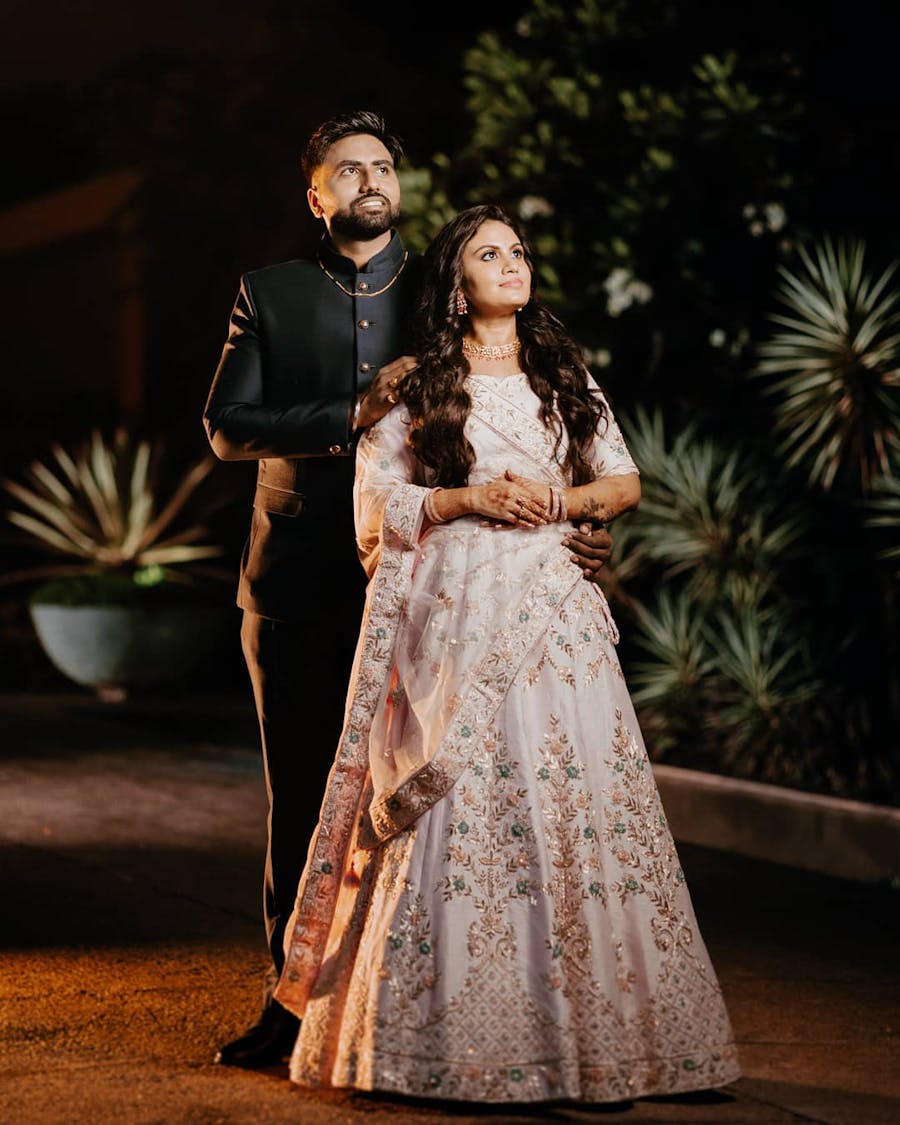 2. A Spicy-sweet Look In This Bengali Bridal Lehenga Design
Isn't she looking like a diva in her Coral Zardosi lehenga look? The silver smokey eyes and the minimalist makeup are killing the look!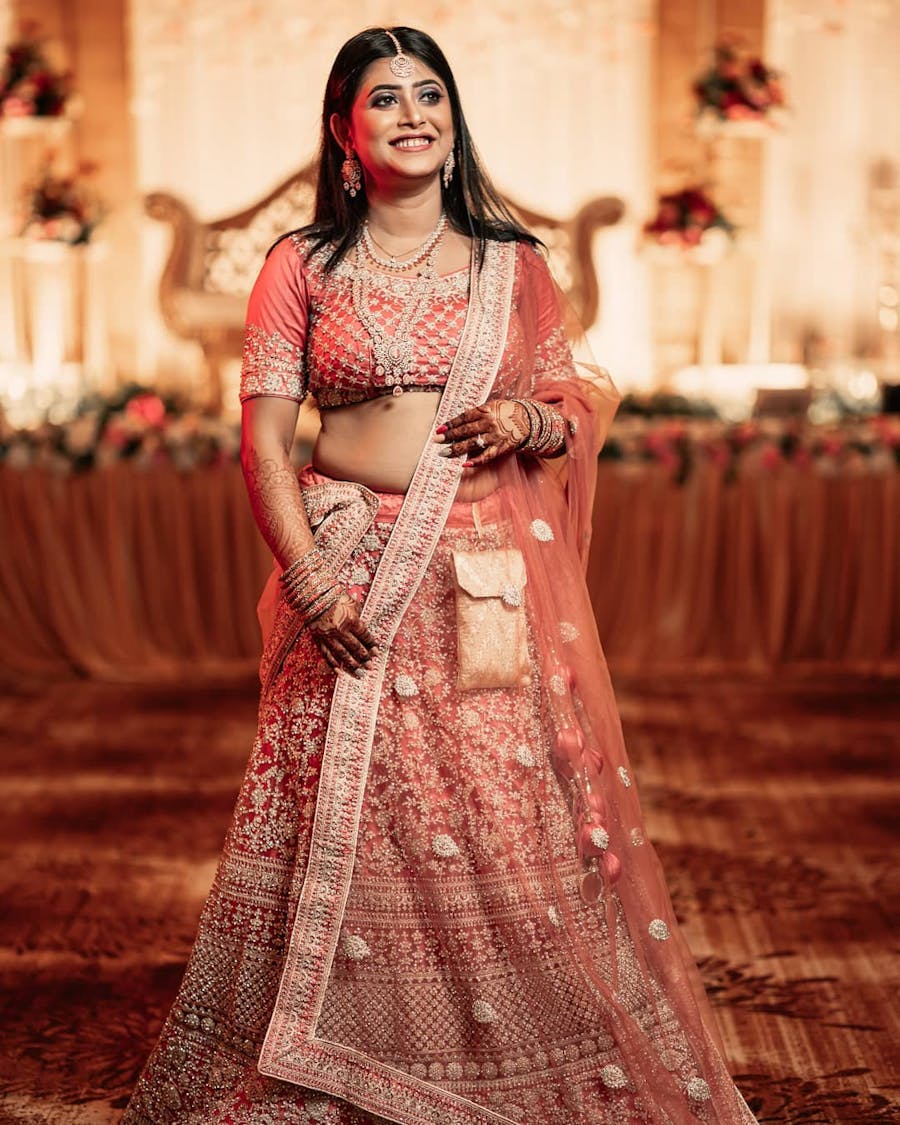 3. Our Swagger Dulhaniya In This Beautiful Zardosi Lehenga!
How about the rich maroon velvet lehenga that our boss-bride is carrying? Aren't the peacock and floral motifs regal!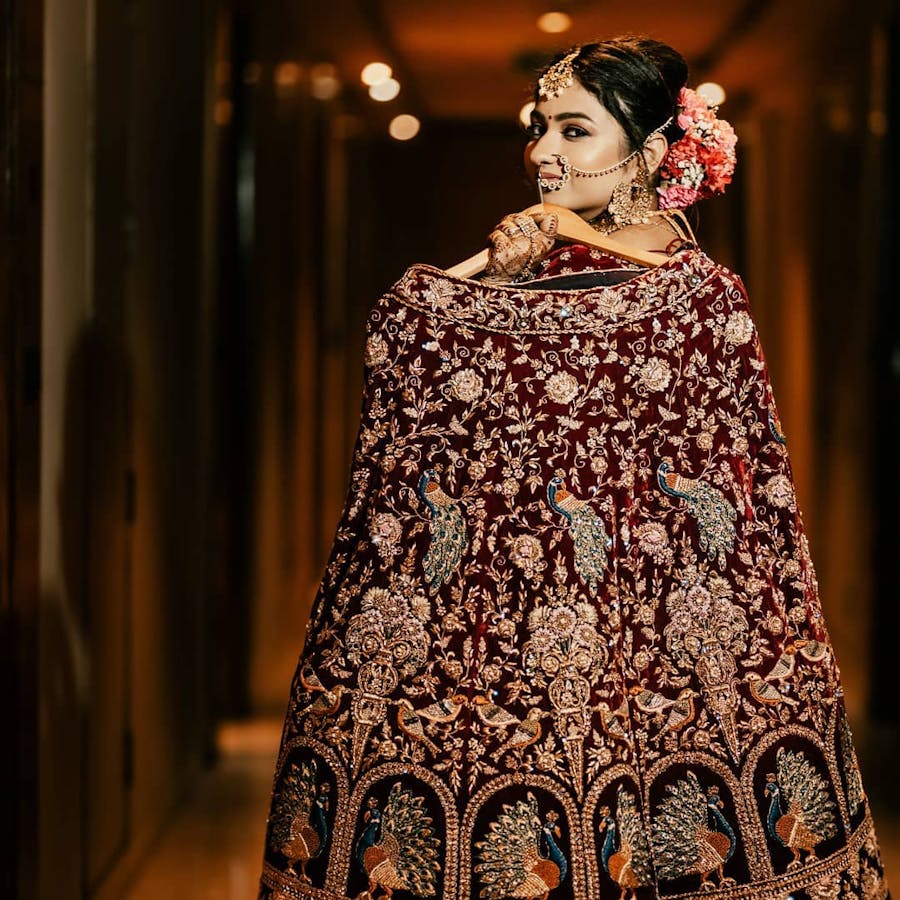 4. A Cute And Boozy Supernet Bengali Bridal Lehenga Design
Our boozy bride in her super net zardosi lehenga in a subtle baby pink shade is certainly going to ace the event!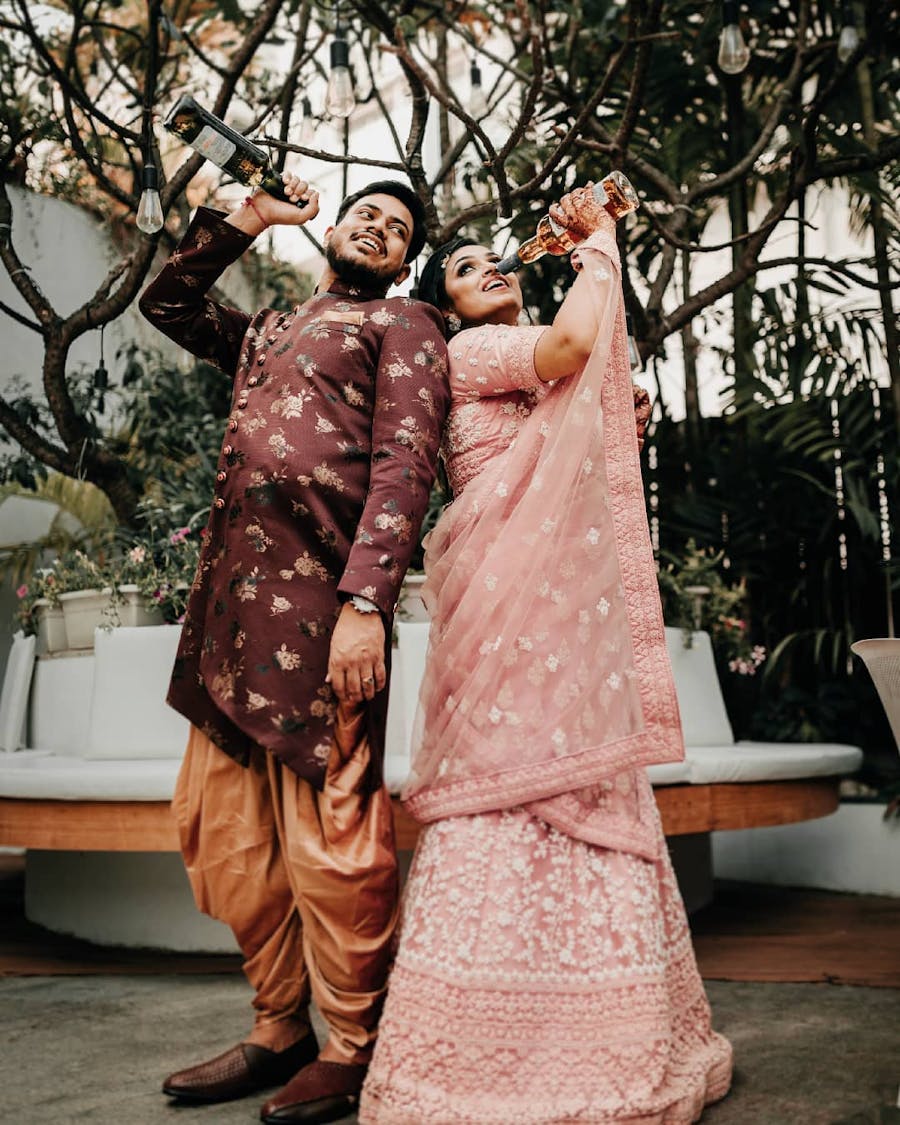 5. A Simple Yellow Chikankari Lehenga!
Our NRI bride has just aced her desi look in this beautiful canary yellow lehenga in beautiful chikankari work.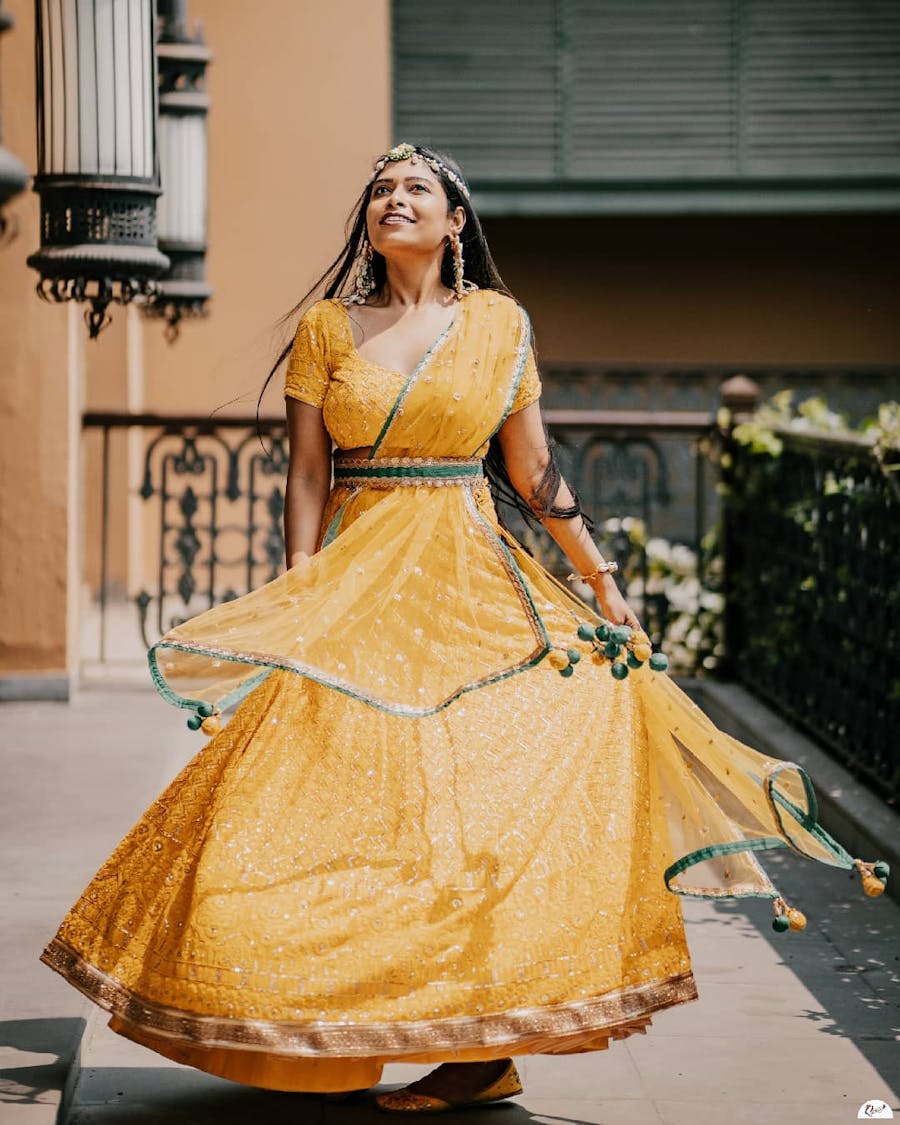 6. Mummy Ki Laadli In Her Yellow Haldi Ootd
We can't stop awe-ing at how cute and nostalgic this pic looks. The pretty yellow Bengali bride in lehenga was indeed a perfect pic for this bride!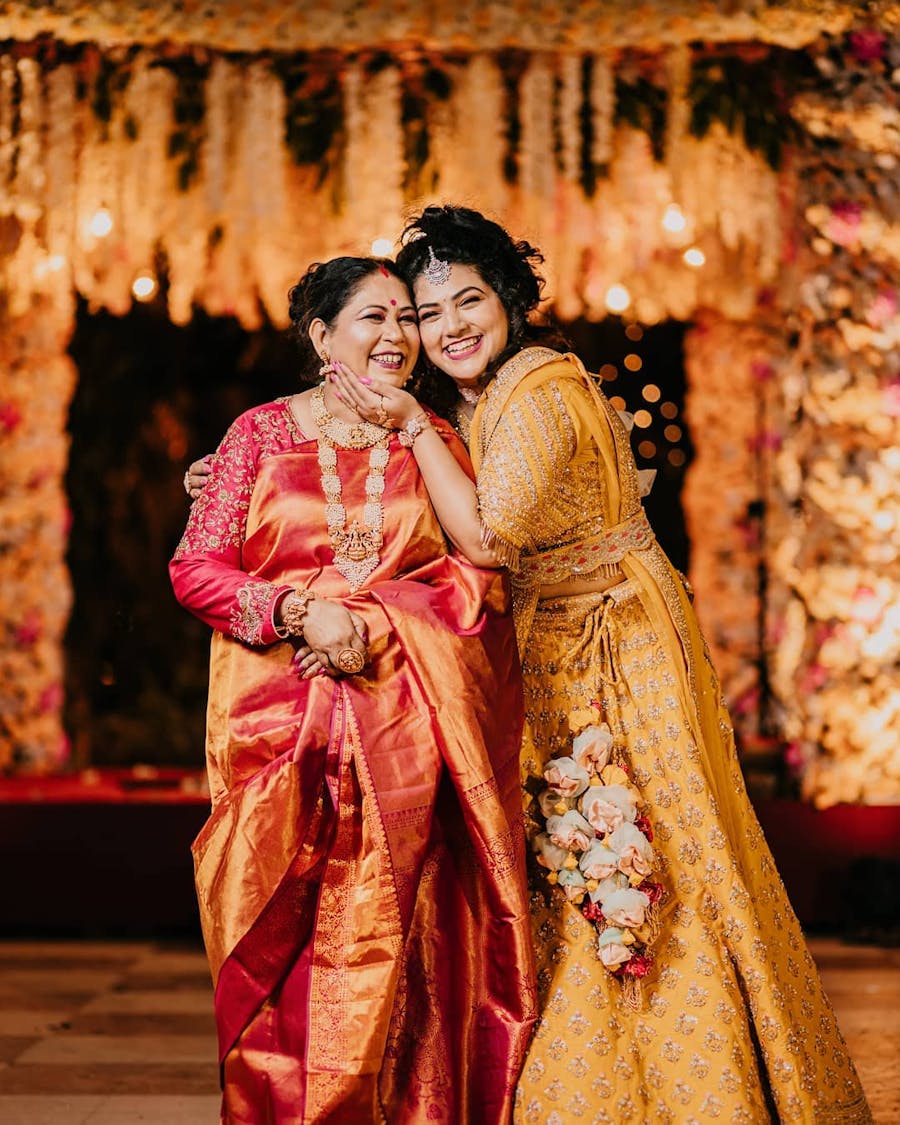 7. Cool Dulhaniya In Her Blingy Haldi Bengali Bridal Lehenga Design
This beautiful modern Bengali bridal lehenga design look is indeed a perfect pick for a reception as well!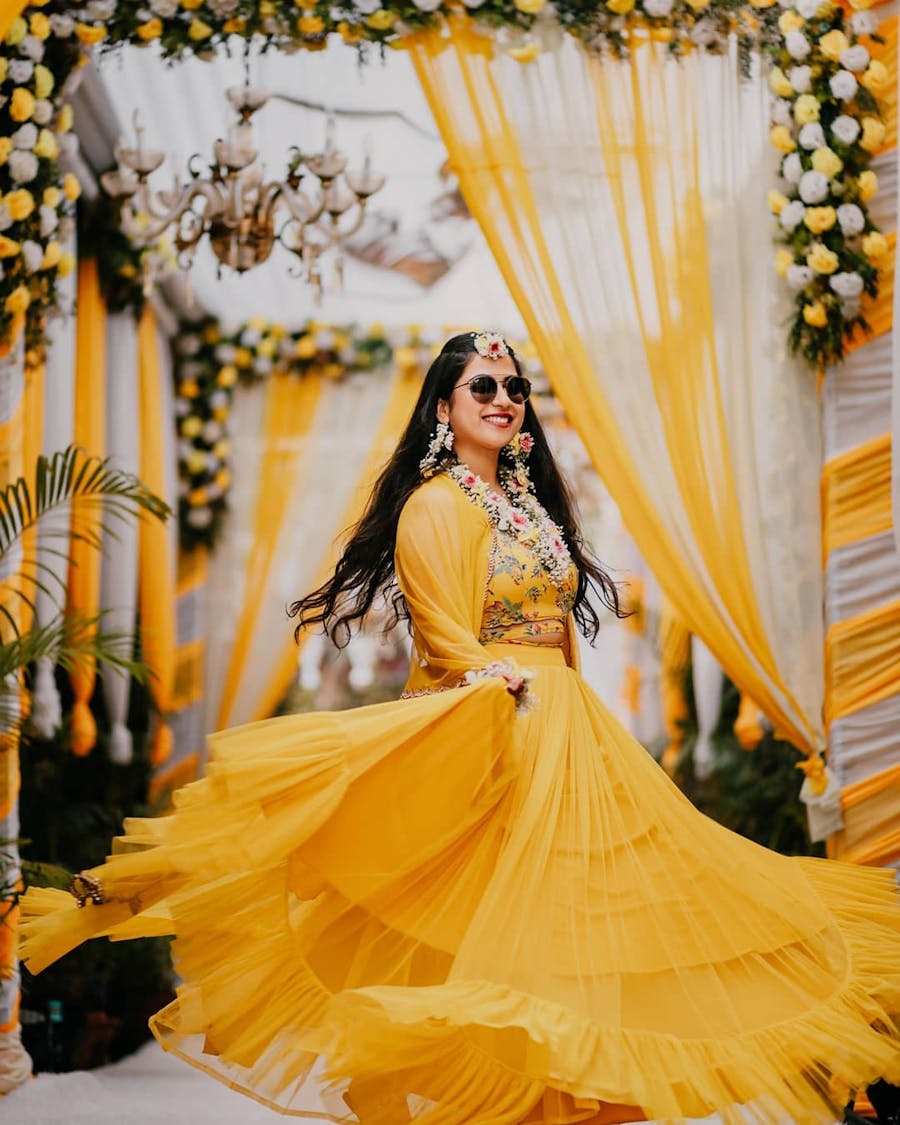 8. Our Simplistic Bride In Her Zari Silk Ootd
We were totally mesmerized by the elegance this simplistic Bengali style lehenga look radiated!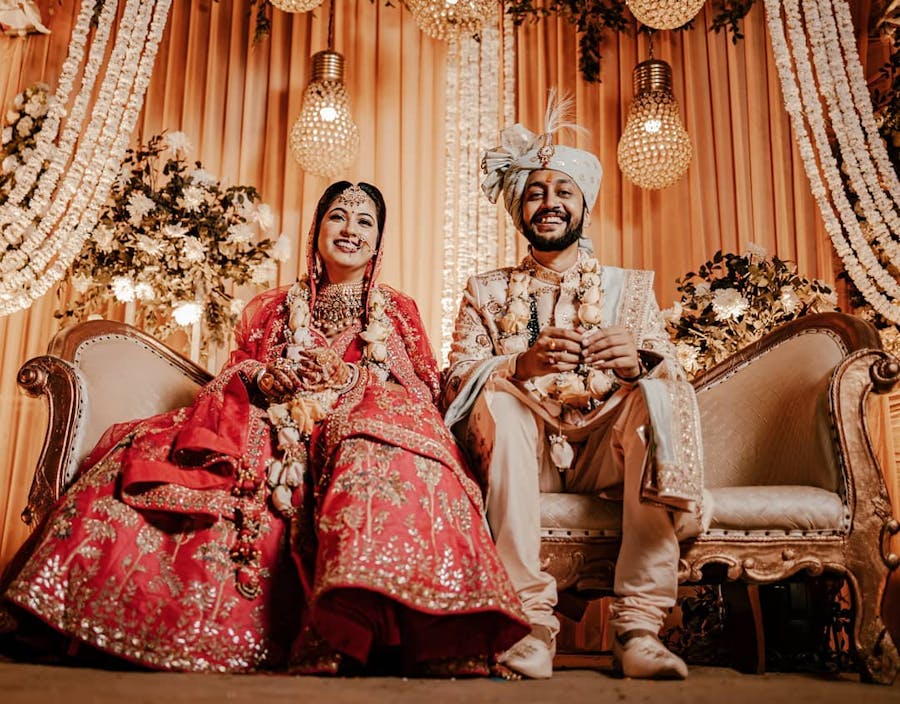 9. Engross In The Simplistic Beauty Of This Kashmiri Embroidered Lehenga
Be it a haldi, or the reception evening. This beautiful Kashmiri embroidery lehenga shall be the perfect Bengali bridal lehenga design.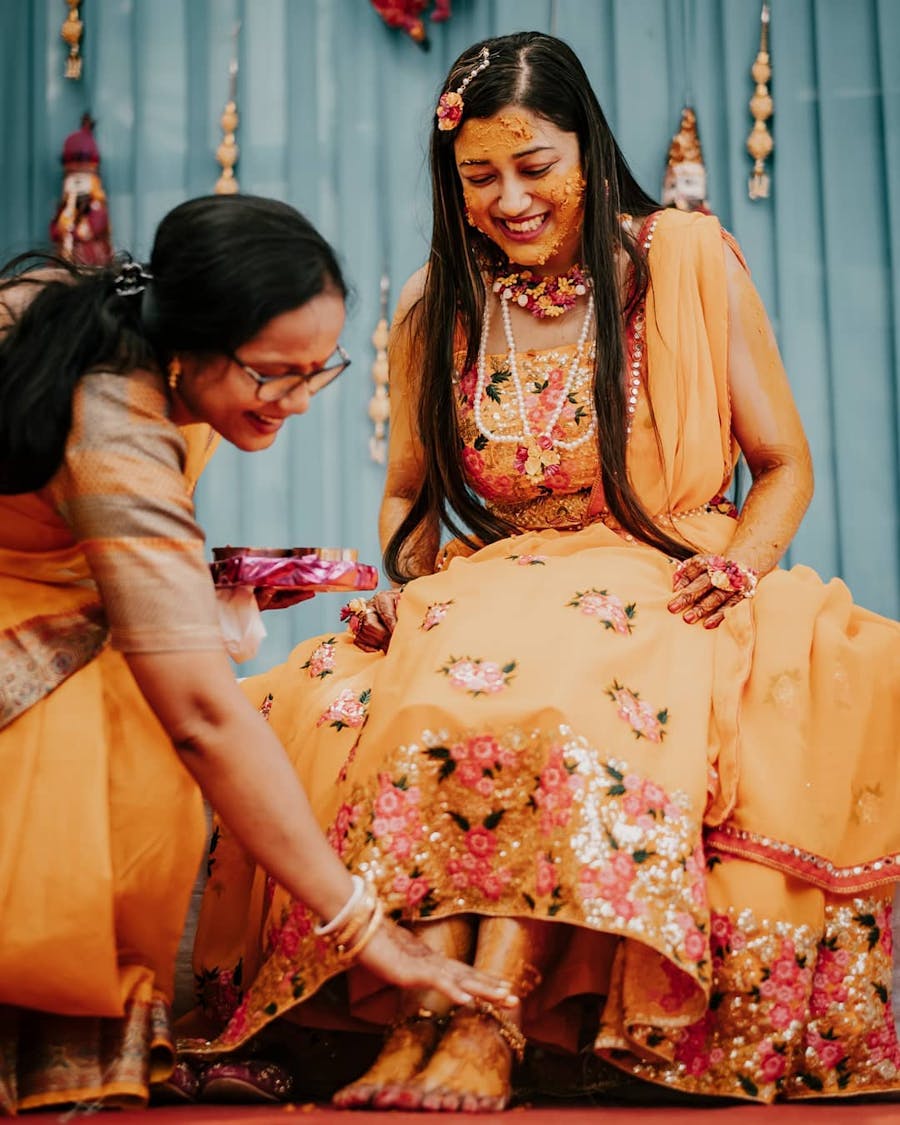 10. A Pretty Gotta Patti Border Bengali Bridal Lehenga Design
This carnation red lehenga is indeed one of the most beautiful things we have come across so far! The beautiful double border of gotta patti work and floral zardosi work below is indeed awestruck.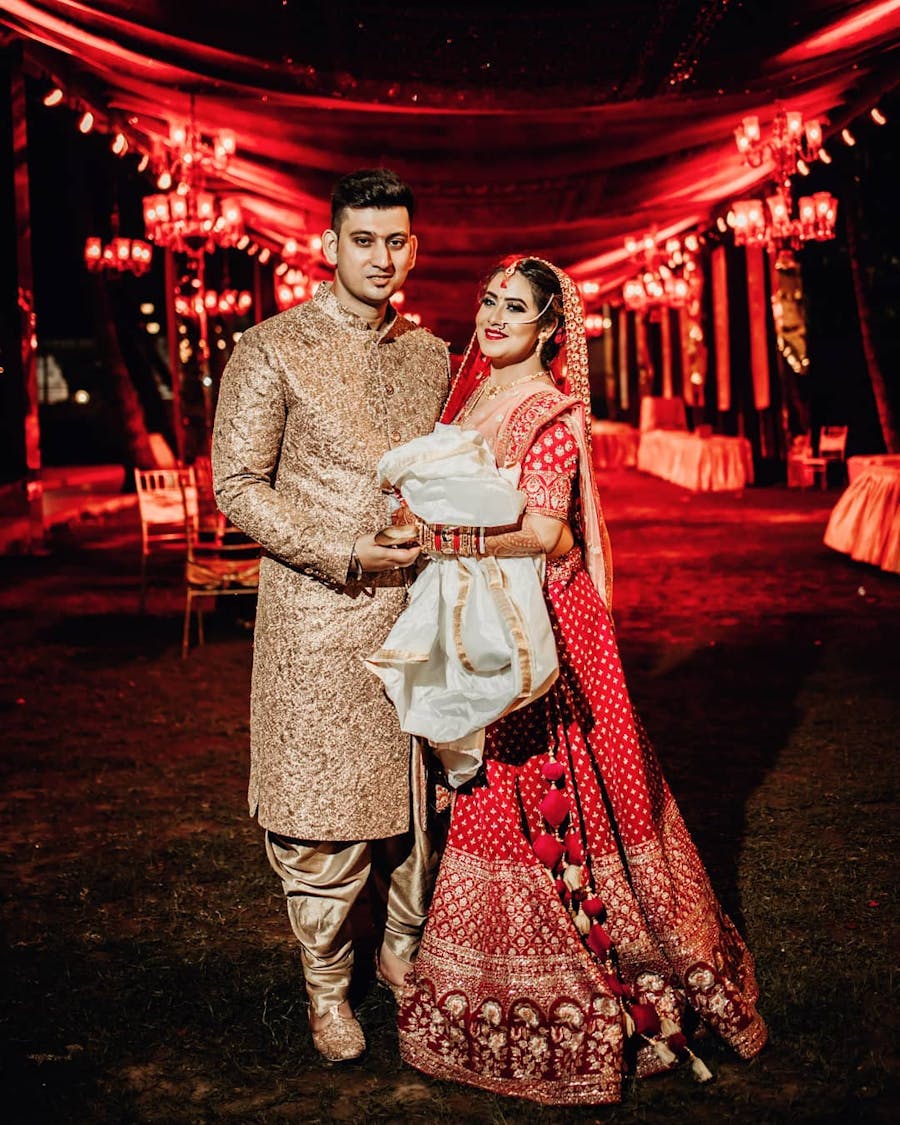 11. An Elegant Off White Embroidered Lehenga
This off-white embroidered lehenga look is indeed a perfect example of simplistic elegance.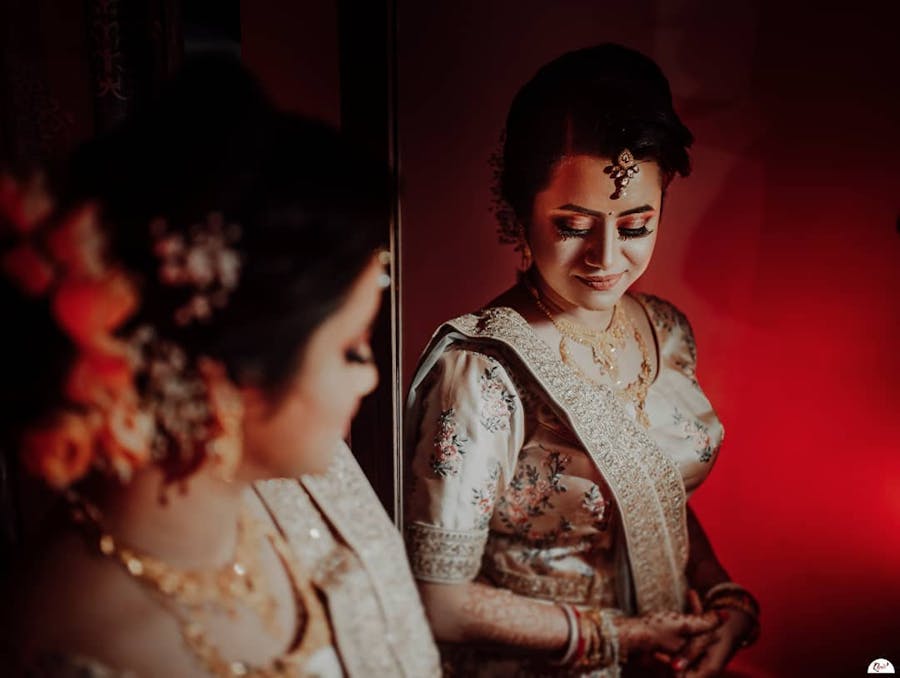 12. The Queen Of His Eyes, In A Banarasi Multicoloured Bengali Bridal Lehenga Design
This beautiful multi-coloured Banarasi lehenga look is certainly a very majestic look one can carry for their wedding or reception look!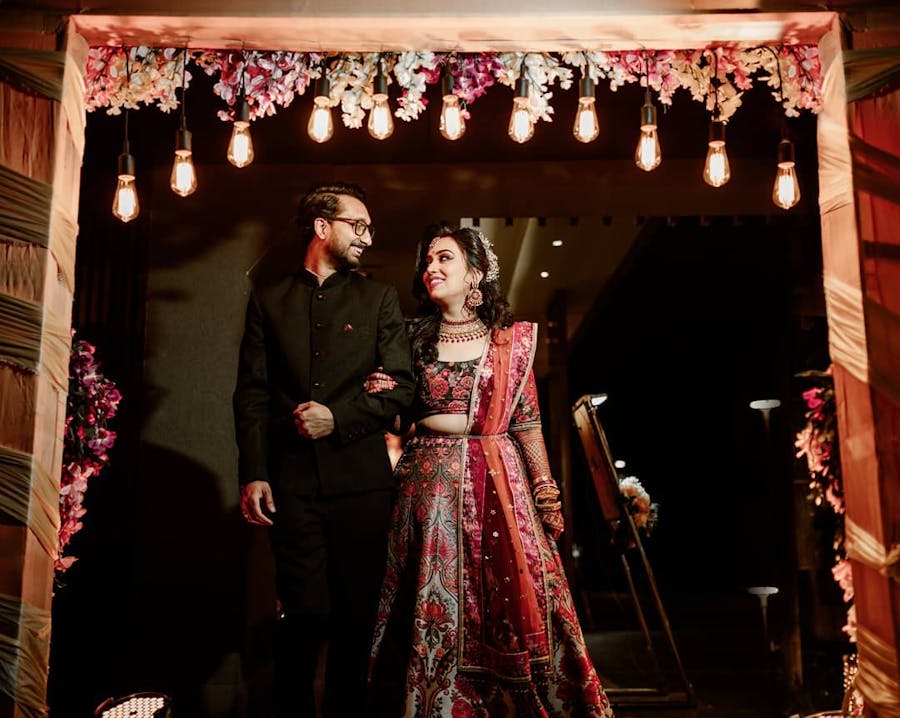 13. Fusion Bride In Bengali Bridal Lehenga Design
This beautiful bride here has chosen a fusion look with her Bengali wedding lehenga. The rich rhombus-like zari motif all over the lehenga with an intricate border is certainly eye-catching!
14. The Banarasi Bride In Simplistic Gotta Print Lehenga
This minimalist look in a printed red lehenga is indeed perfect for a small intimate reception.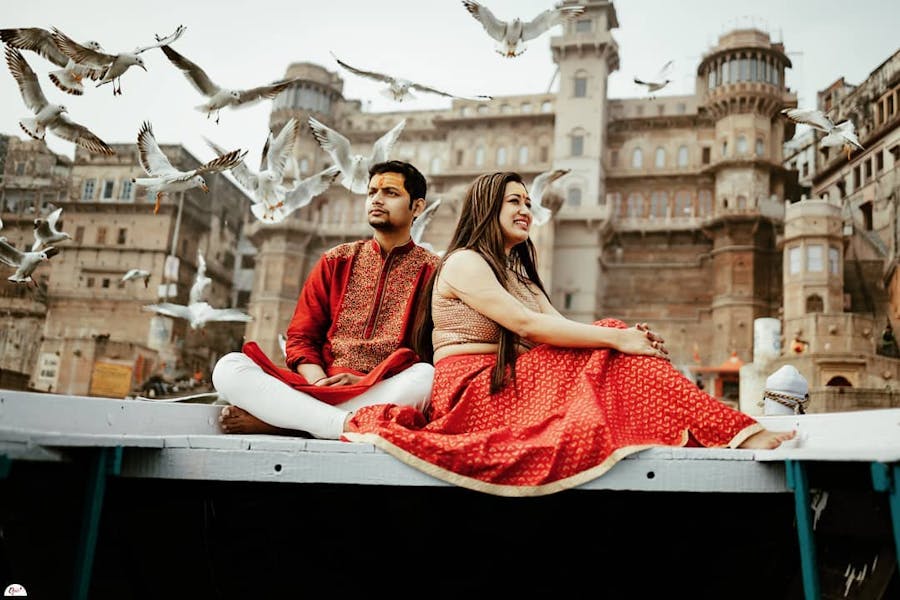 15. A Classic Bengali Bridal Lehenga Design In Magenta
This classic magenta zardosi lehenga is indeed a very regal and plush Bengali bridal lehenga design.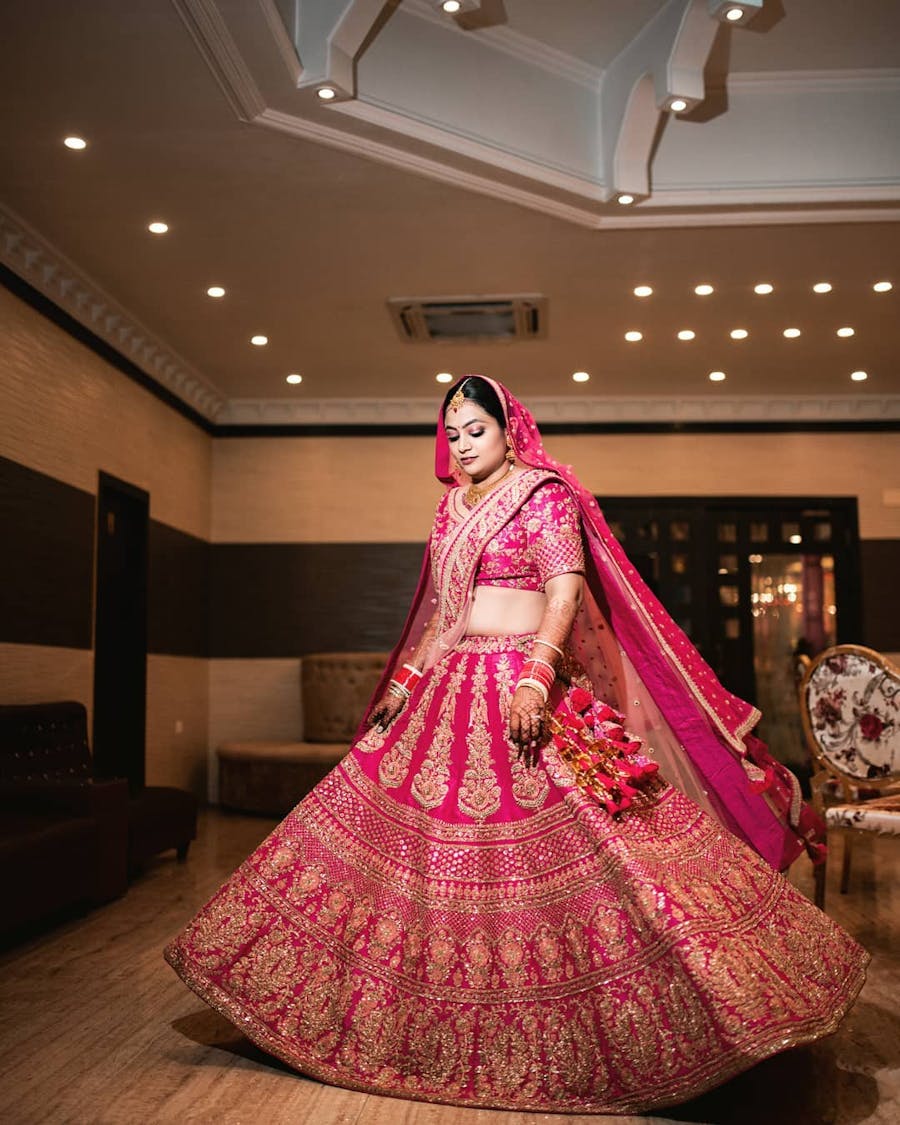 16. Twirl Those Quirky Printed Flares
Our beautiful Bengali bride in lehenga is simply acing those twirls in a mint green lehenga and lemon yellow choli look!
17. A Bouquet Of Flowers Or Our Senorita?
Isn't this beautiful floral embroidery design all over this Bengali bridal lehenga design making it difficult to look away?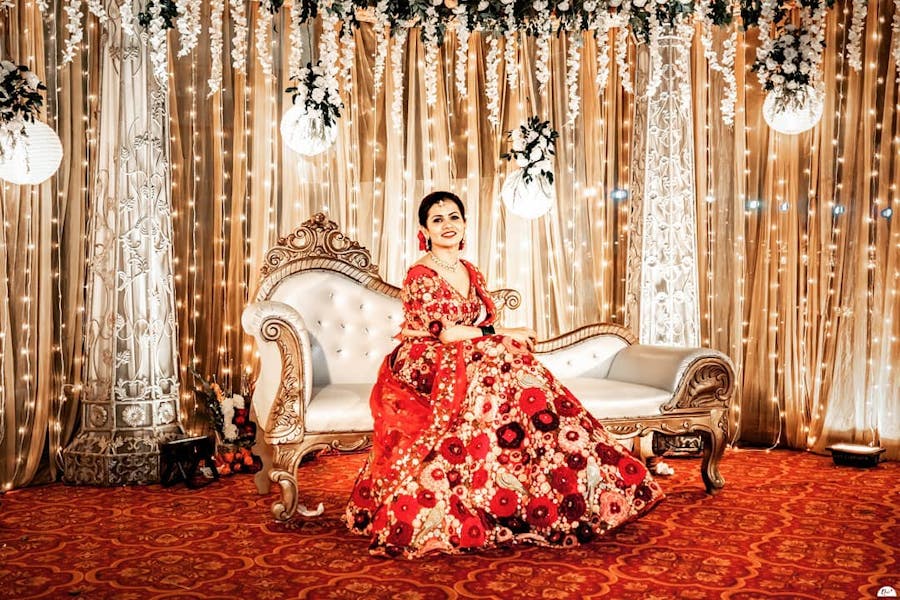 18. A Beautiful Bengali Bridal Lehenga Look For The Beau Belle!
How about this rosy look in an all scarlet red net chikankari lehenga OOTD?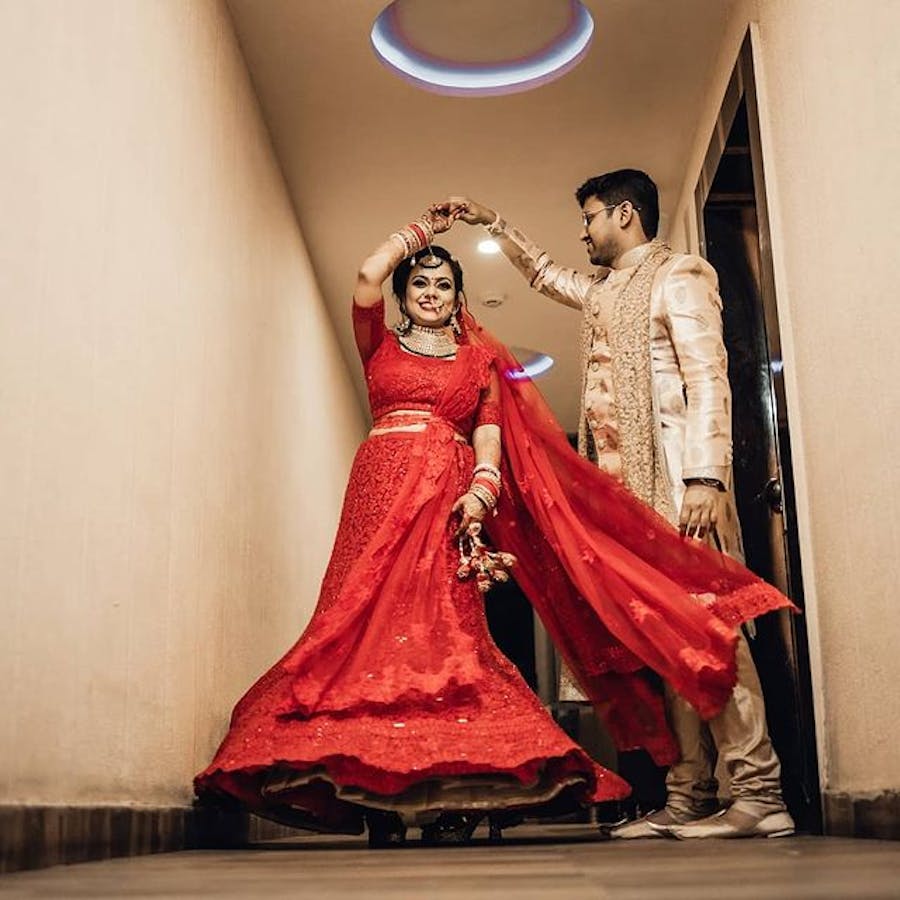 19. A Sombre Ivory Anarkali Bengali Bridal Lehenga Design
This rich ivory Anarkali lehenga look is indeed a perfect look to put up for your reception evening!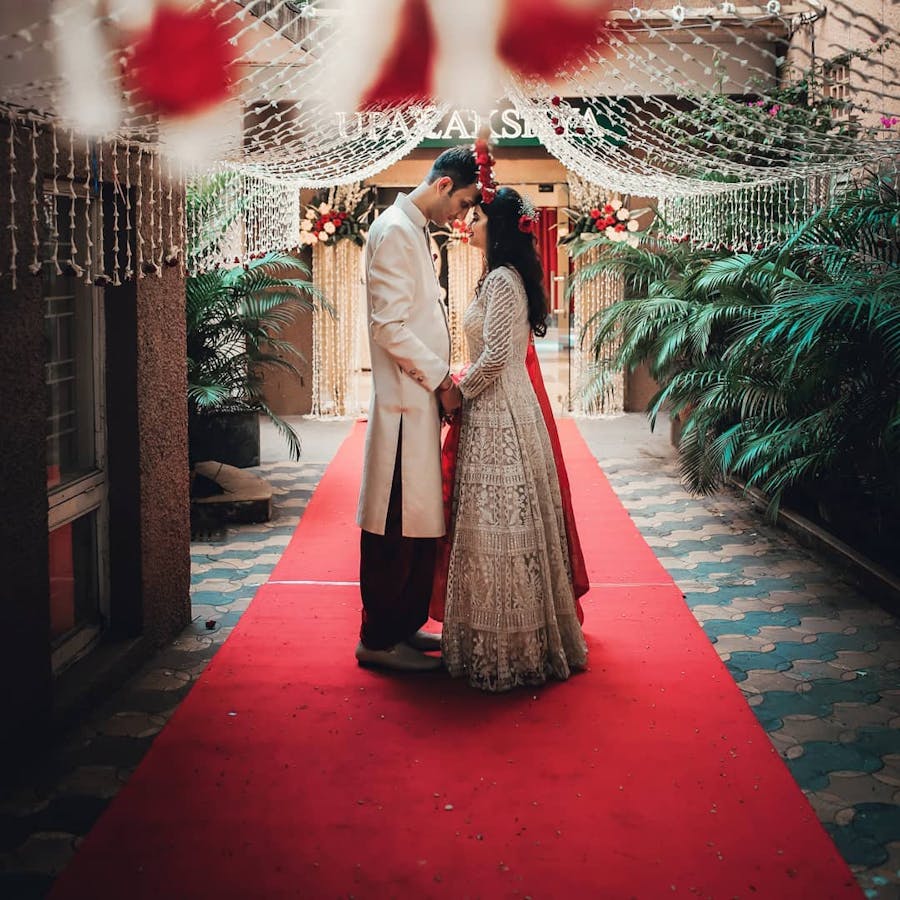 20. Bong Queen In A Bengali Style Lehenga
This beautiful off-white zardosi lehenga looks an absolute bong choice with its red border!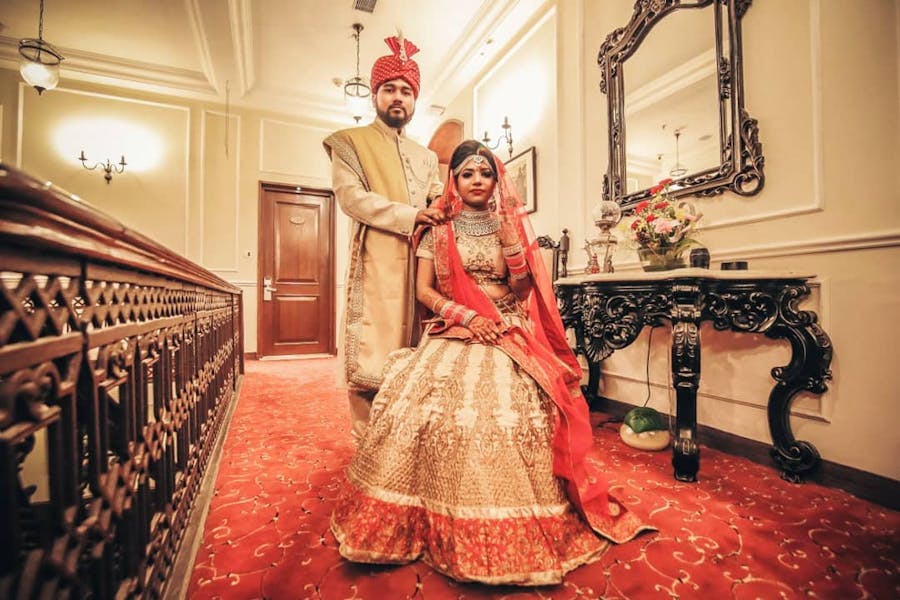 21. Reception Look In A Meenakari Benarasi Lehenga Look!
This Magenta benarasi Bengali bridal lehenga design, with meenakari work, all over is perfectly going with the contrasting purple choli.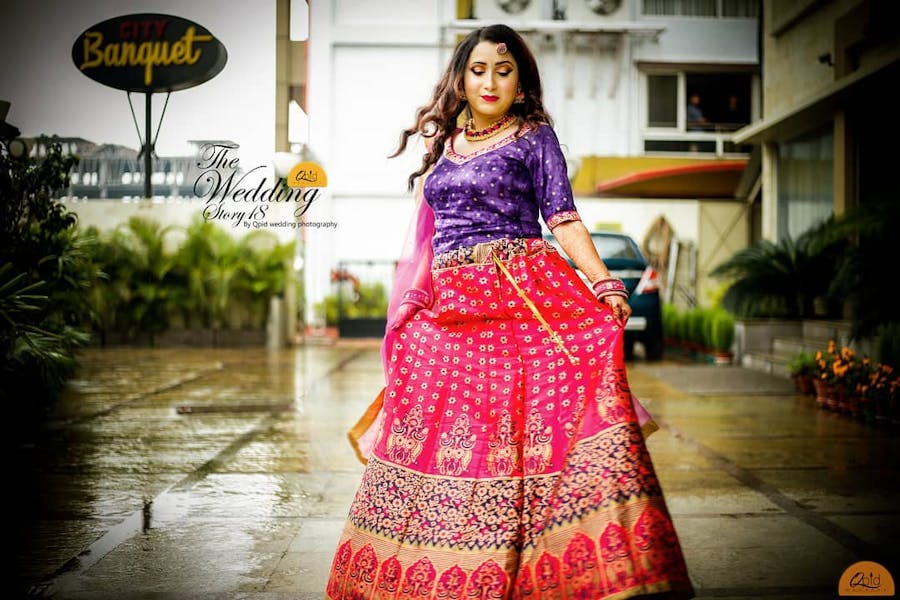 22. Sassy Dulhaniya In Her Quirky Ootd
This bride here is spilling the sass with her quirky OOTD.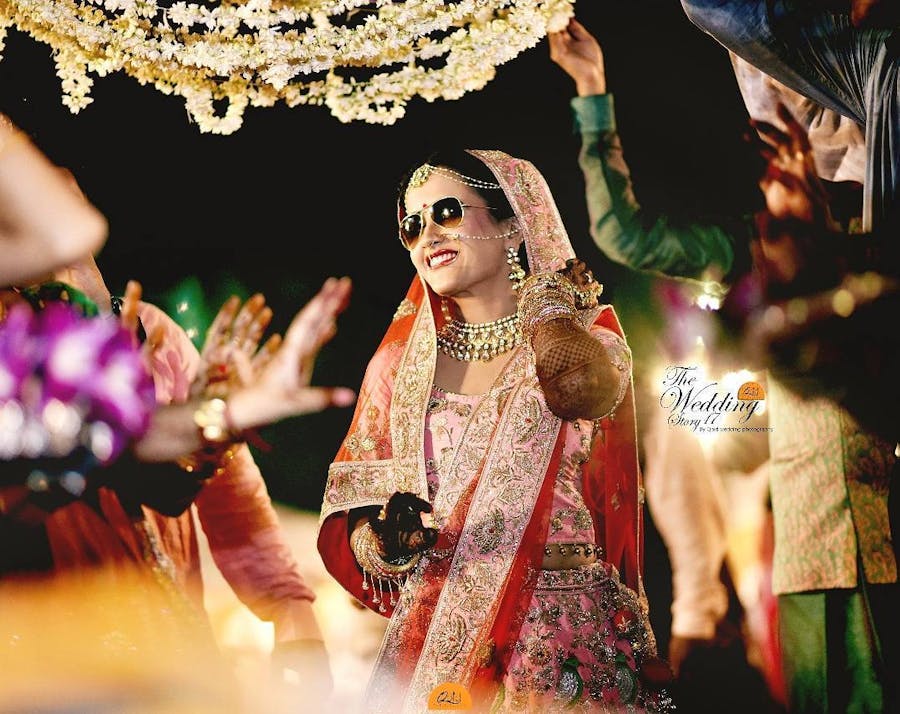 23. Perky Bandhani Prink Silk Bengali Bridal Lehenga Design
Out queen is simply acing her sangeet look in this Bandhani print lehenga!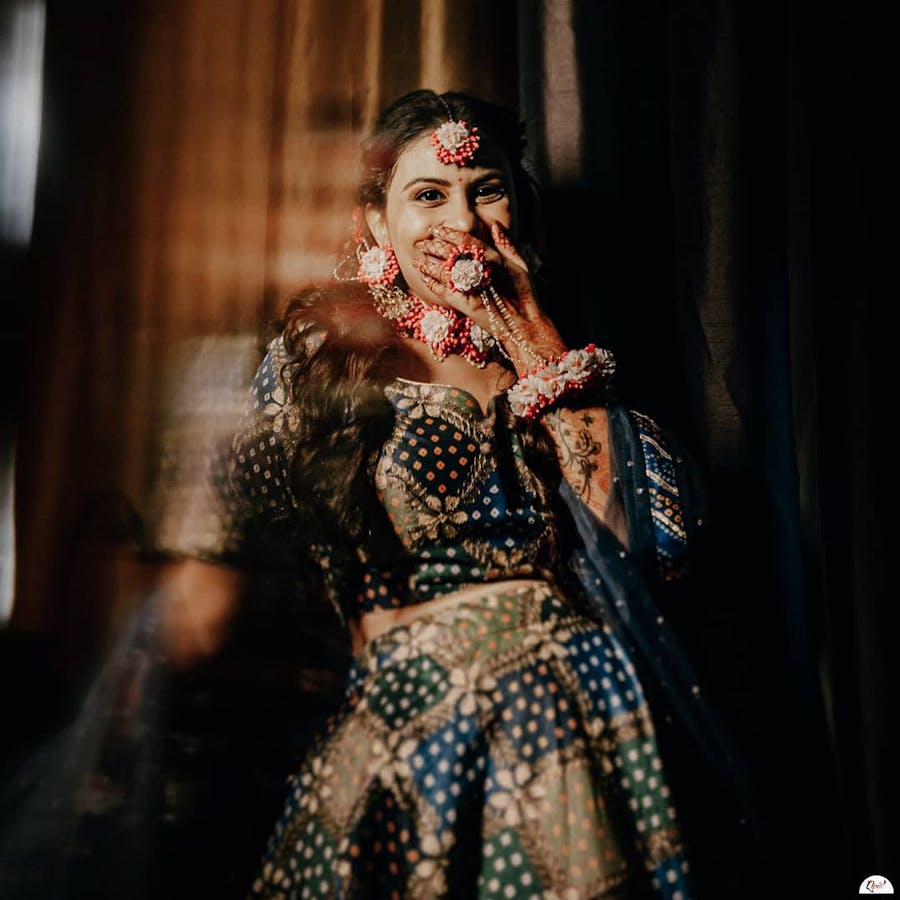 24. An Offbeat Grey One Peice Bridal Lehenga Look!
How about a gown look instead of a lehenga?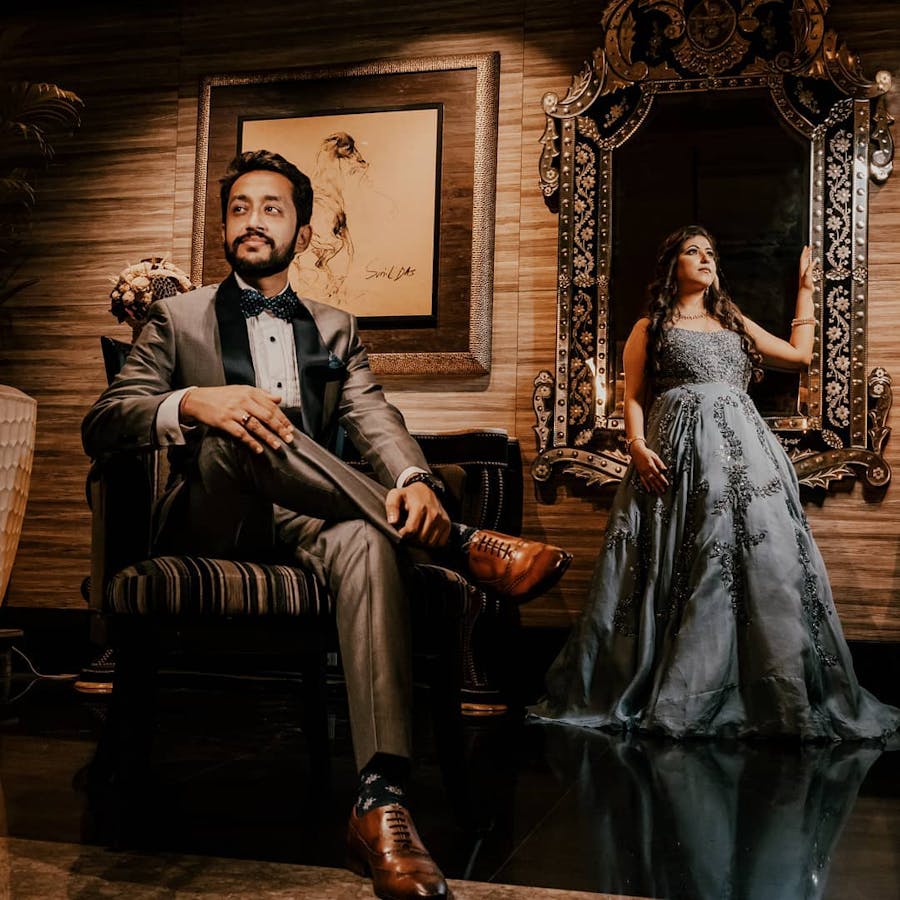 25. Our Shimmer Bride In A Pastel Sequinned Bengali Bridal Lehenga Design
This bride in her pastel sequined Anarkali lehenga look is beyond happiness!