Who doesn't want to decorate their hands with elaborate mehndi patterns to glam up their wedding look? Mehendi ceremony marks the beginning of the Indian wedding. This fun-filled ritual is made beautiful by adorning the bride's hands and feet with beautiful henna designs. Modern brides always want to experiment with their bridal look. Thus, as a result, these kinds of experimental bridal fashion gain popularity and becomes the latest trend in every wedding. Do you also want to go with the flow and adorn your beautiful hands and fingers with the most trendy mehndi patterns? Then, have a look at these most stylish and creative finger mehndi designs to achieve the best bridal look.
1. Enchanting Jaal Patterns For Fingers
According to some popular bengali wedding photographer, this is a very common and beautiful mehndi finger design that looks elegant on long fingers. The net patterns add an amazing twist to your hands. These intricate jaal patterns will surely impress others and fetch you great compliments.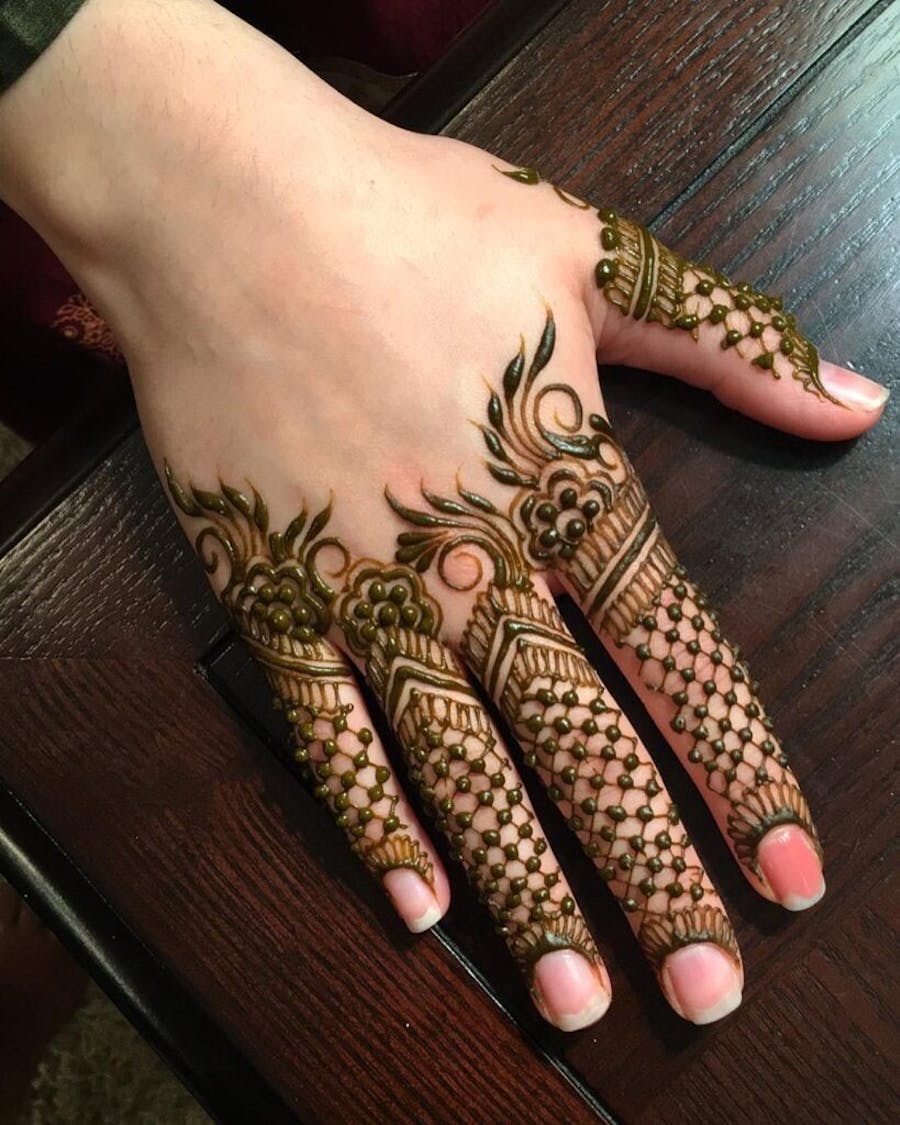 Recommended: 13+ Gorgeous Mehendi Outfits For Brides
2. Simple Finger Mehndi Design
         The single-finger mehendi design for the hand is a great idea to get a modern and elegant look. Floral vines designed with easy curves and spirals make a style statement. It looks exceptionally beautiful with its remarkable swirls. Make this bengali mehndi design more eye-catchy with dazzling nail paint.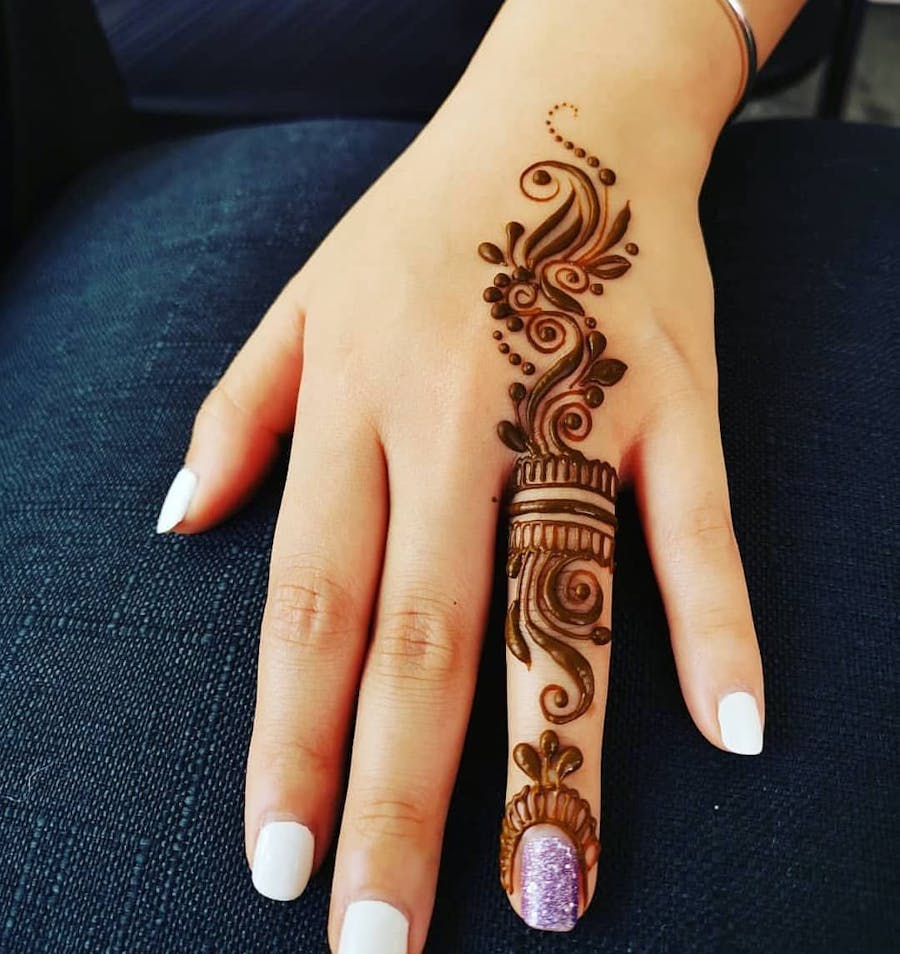 Must Read: Top 13 Trending Foot Mehndi Design Ideas
3. Stylish Leafy Finger Mehndi Design
         Highlight your fingers and hands with this simple mehndi design ideas. This leafy mehndi pattern is worth a try for your mehndi ceremony. This design involves the use of all your fingers and the wrist area. The beauty and simplicity of this design can be assumed by the fact that all fingers have different and unique patterns providing it a creative look.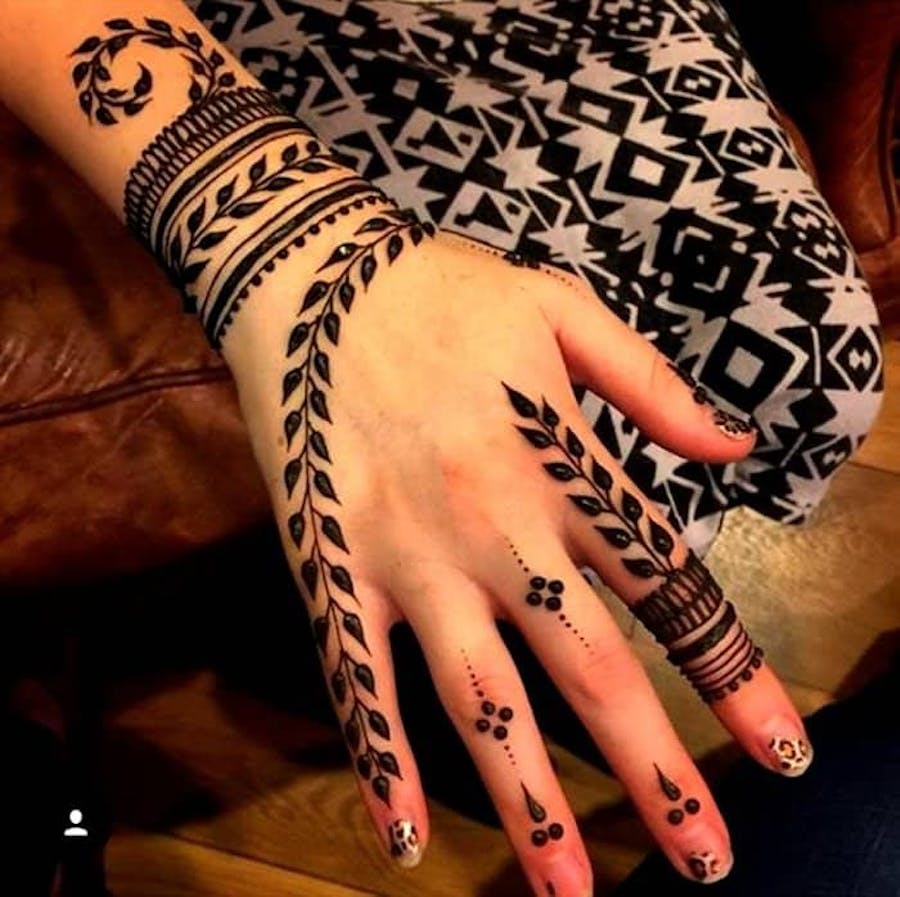 4. Fusion Of Mandala And Mesh Finger Mehndi Design
         Here comes a unique design that is a little bit more complicated but if designed carefully can draw everyone's attention to your hands. The amazing fusion of two classic mehndi patterns – Mandala and Meshwork is going to provide stunning beauty to your hands. This highly creative mehndi design in finger appeals to the eye in the prettiest way.
5. Jewellery Mehendi Design For Minimal Brides
         This mehndi design is the best alternative for hand jewelry. You can draw jewelry patterns like rings or traditional jewelry Ratanchur to make it look like a piece of real jewelry. The curves and dots of this appealing design make it more pretty. You must definitely try this finger mehndi design simple look to jazz up your bridal outfit.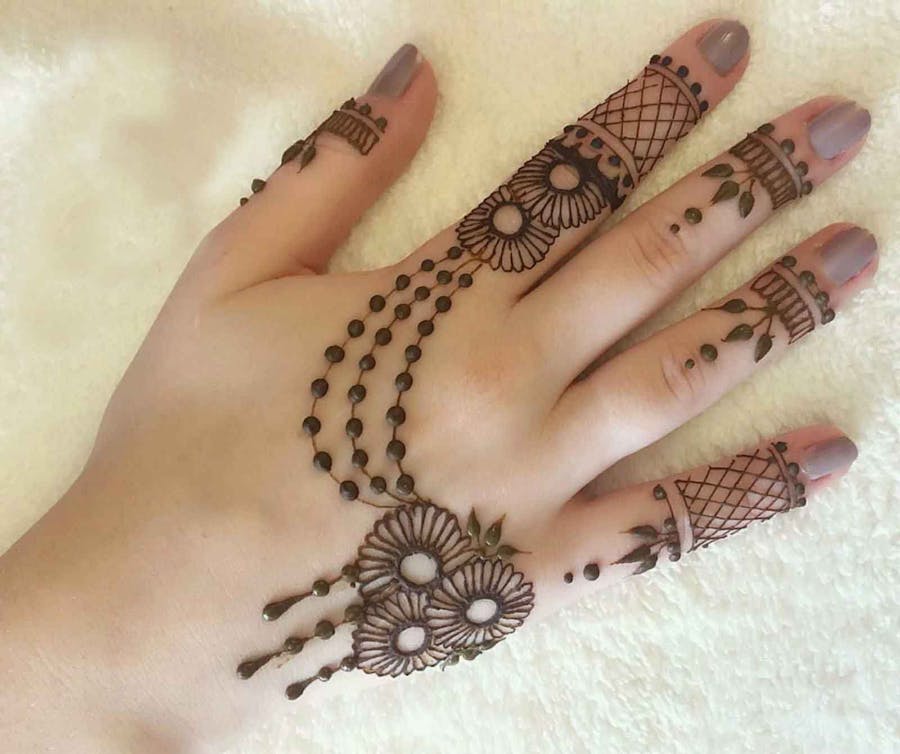 6. Linear Finger Mehndi Design
         The linear mehndi design for fingers is well known for its sheer beauty and simplicity. This unique henna design provides your fingers with a dazzling look. Instead of designing complex patterns, you can try a new pattern like finger rings designed with lines and dots.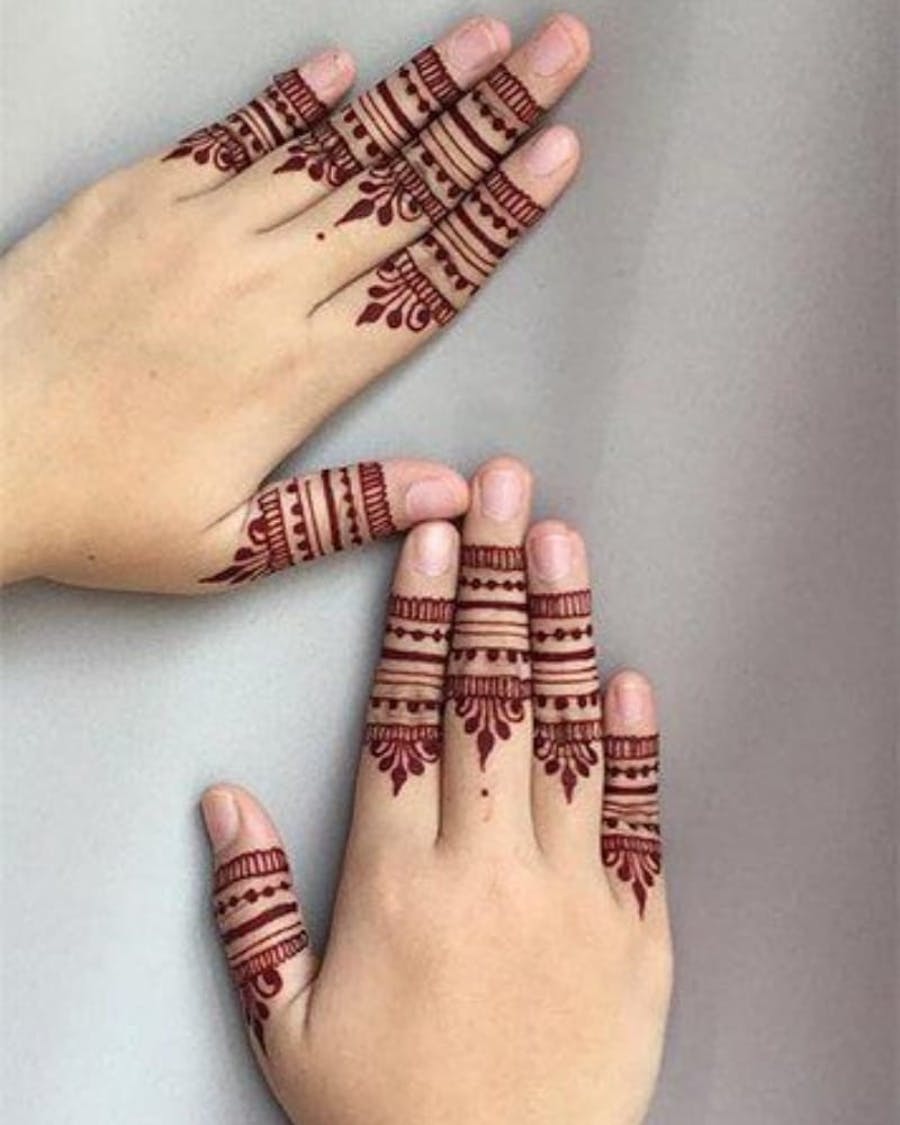 7. Embellished Back Hand Mehndi Design
Embellished mehndi design provides a very sophisticated look to the bride's hand and fingers. A traditional mehndi pattern like the peacock looks exceptional entrancing. The beautiful curves and small dots compliment your palms and also show your artistic side. You can spread this remarkable design from your wrist to fingers and also add some spirals and flowers t make it more fascinating.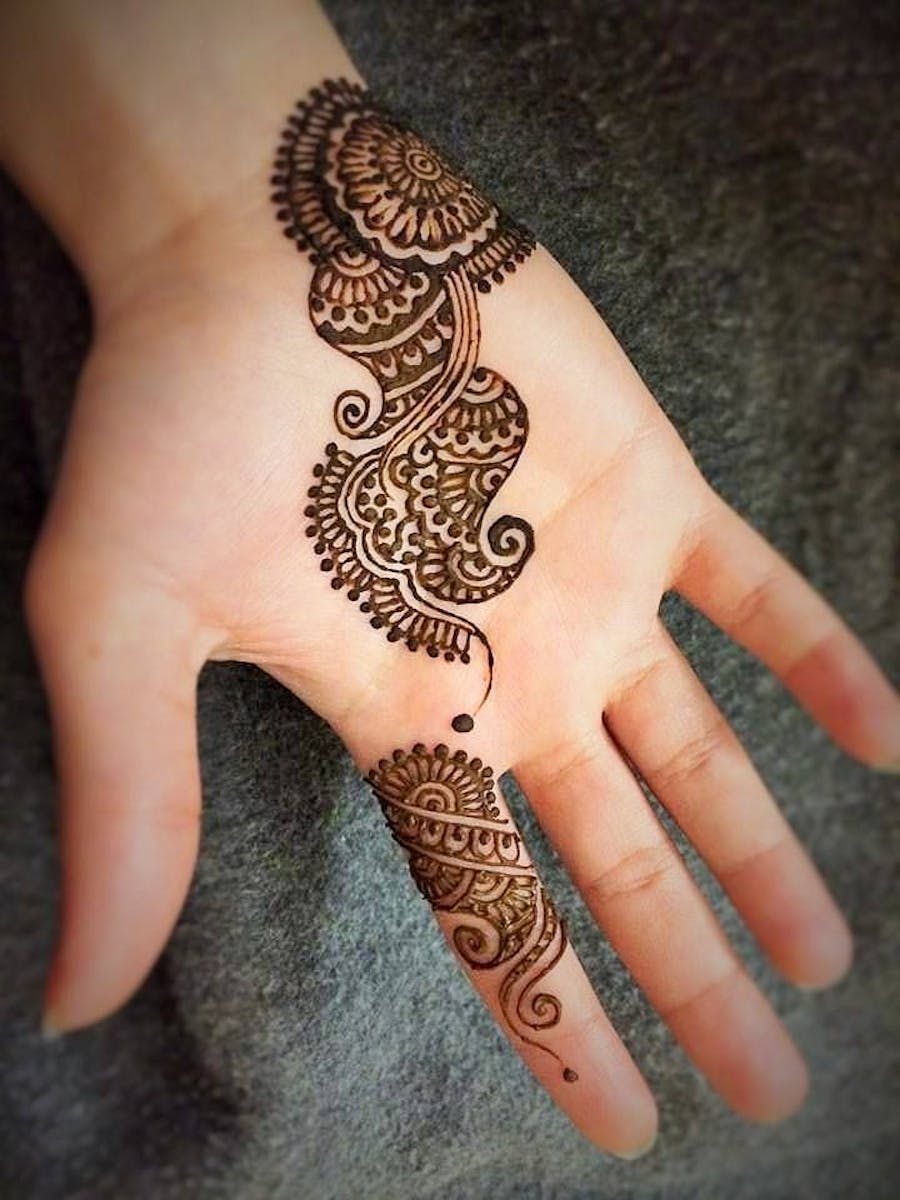 8. Modern And Trendy Heart Shape Finger Mehndi Design
Most of the women have a deep affection towards heart shape mehndi design. This unique and adorable design for fingers will give a fashionable look to your hands. The beautiful combination of meshwork and small heart is a good choice for your mehndi ceremony. Although, you need to design tiny heart symbols in the middle of intricate patterns carefully. Once finished this finger mehndi design easy and beautiful in appearance will surely attract everyone.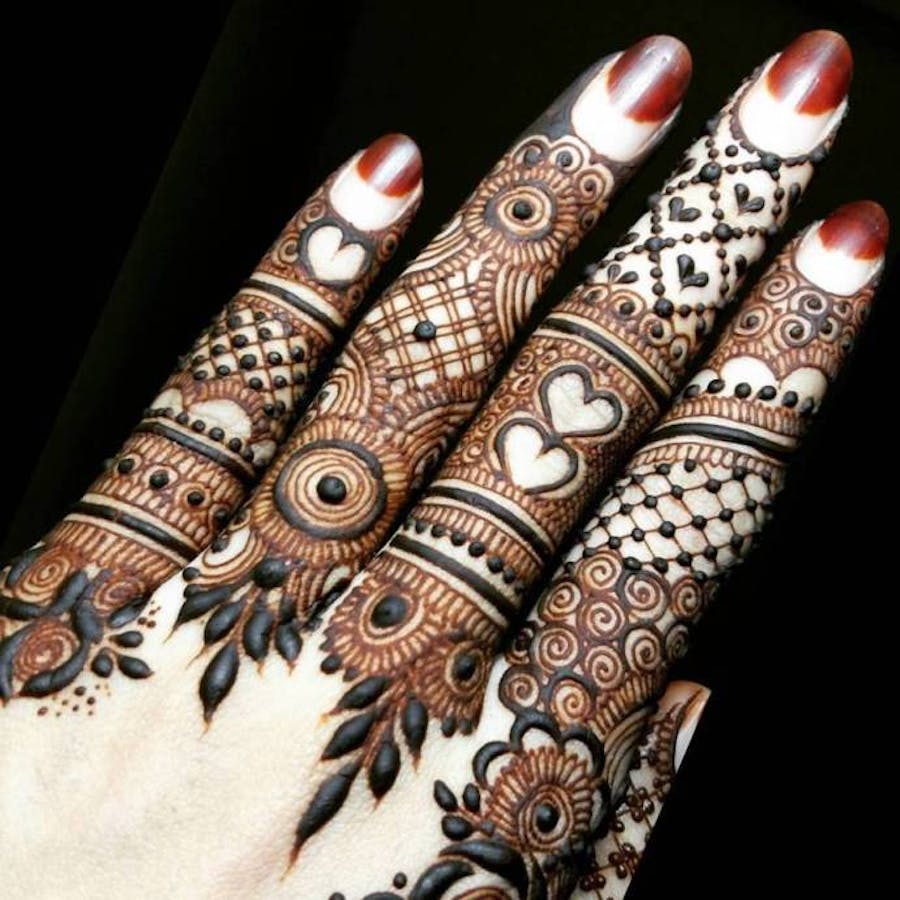 9. Traditional Finger Mehndi Designs
When talking about a traditional mehndi design, the first thing that comes to mind is the most beautiful peacock mehndi. Look at this mehndi design which shows the creative mind of a mehndi designer. Here, the artist has carved out a beautiful peacock on fingers and hand which is a great masterpiece in itself.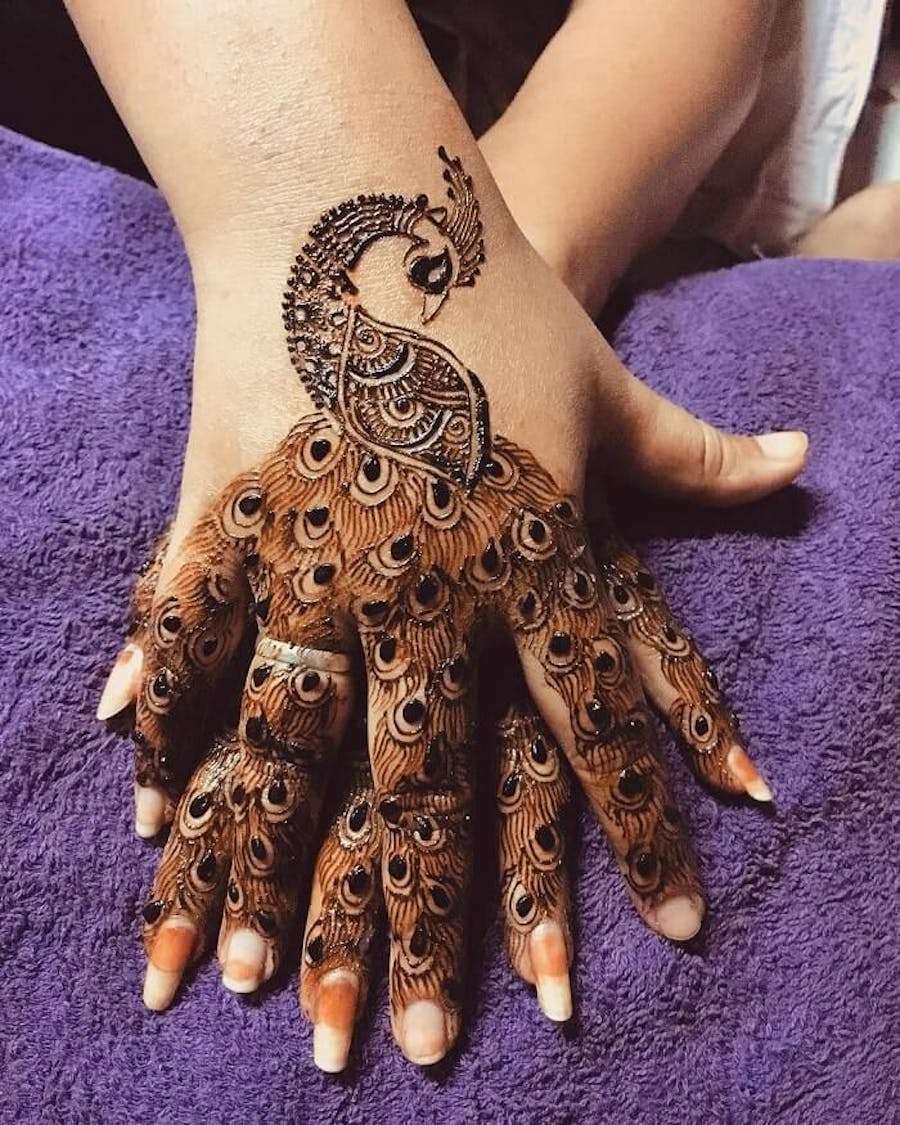 10. Easy Arabic Finger Mehndi Design
The ethereal beauty of nature is represented in this Arabic mehndi pattern. Exotic designs made with leafy and spiral patterns are complimenting the spring blossoms' nail paint very well. This classic design will add a natural charm to your ethnic wear.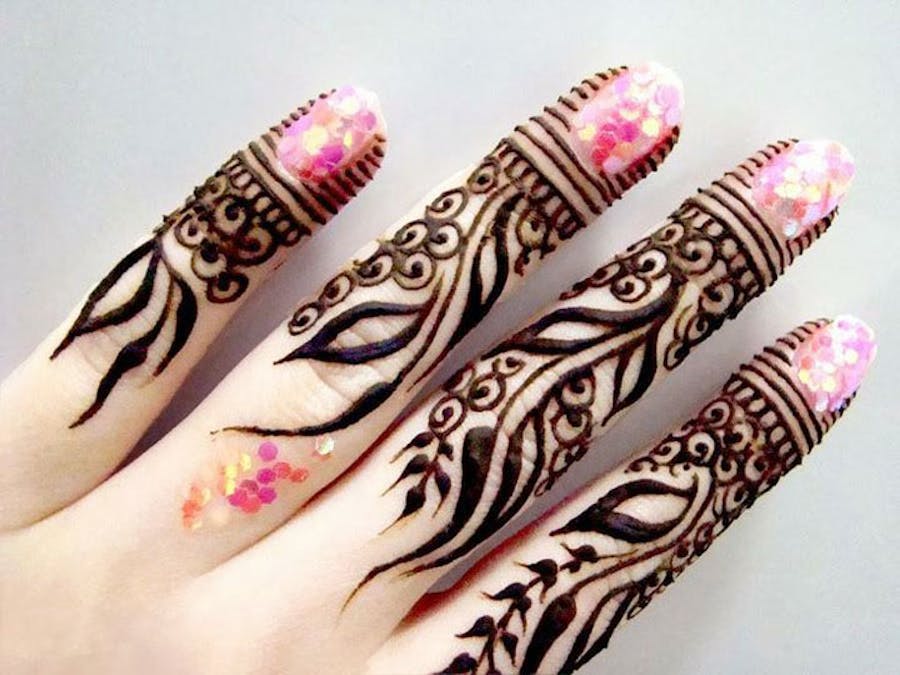 11. Beautiful Rose Finger Mehndi Design
If you love roses, then why not design your adorable hands with rose design motifs for your special day. The rose design is a fabulous hand mehndi design to grab the attention of your guests. The tiny rose motifs on fingers and a big rose in the center create the perfect blend.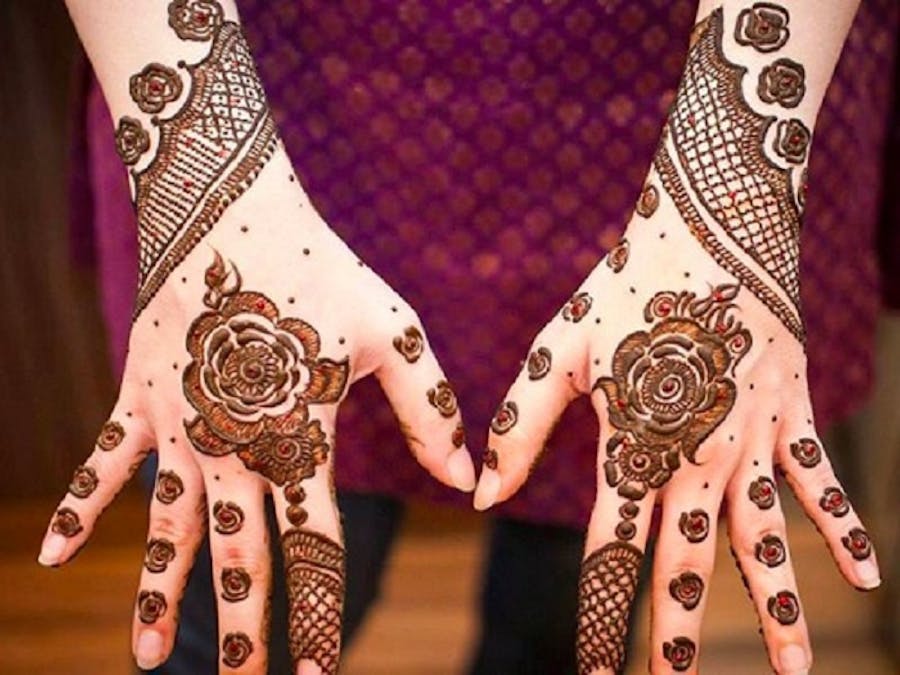 12. Latest White Mandala Mehndi Design
This new finger mehndi design can be the highlight of your pre-wedding ceremony. The white motifs drawn on the bride's hands are becoming a fashionable mehndi design these days. To make this mehndi design appealing and attractive, you can add white or colorful stones to your hands.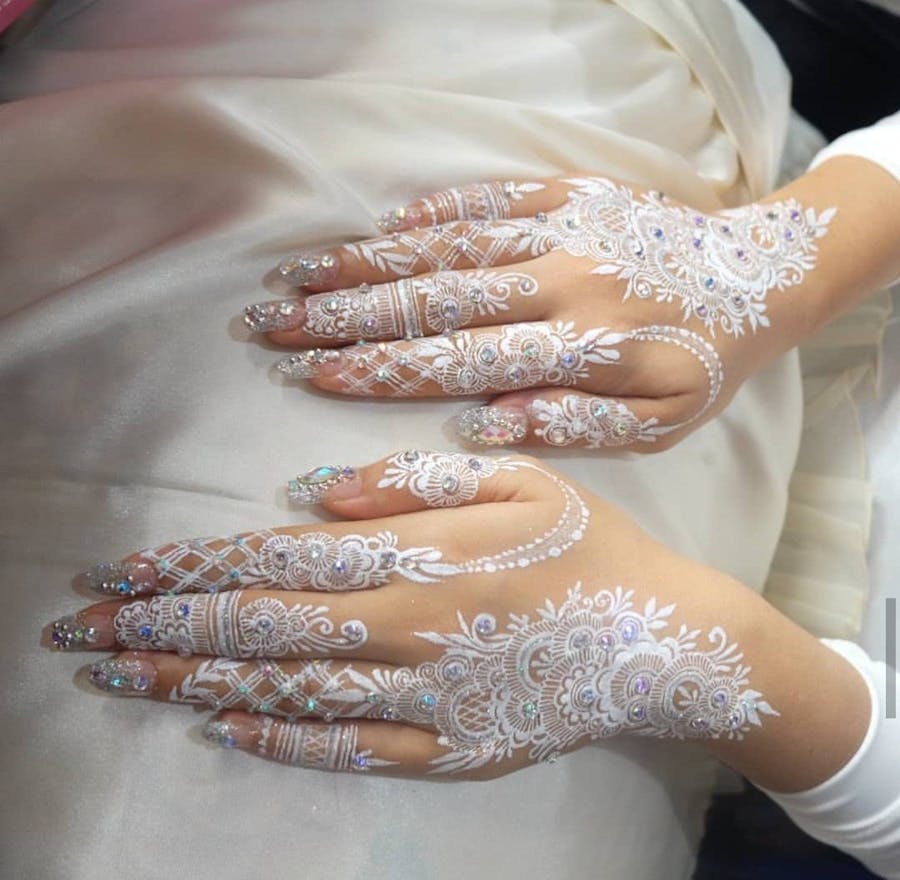 13. Spectacular Finger Mehndi Design
One more stunning design for fingers is the splendid and unique combination of lotus motifs and jaal design. This half-shaded henna design is stunningly beautiful and perfect to wear with your wedding lehenga.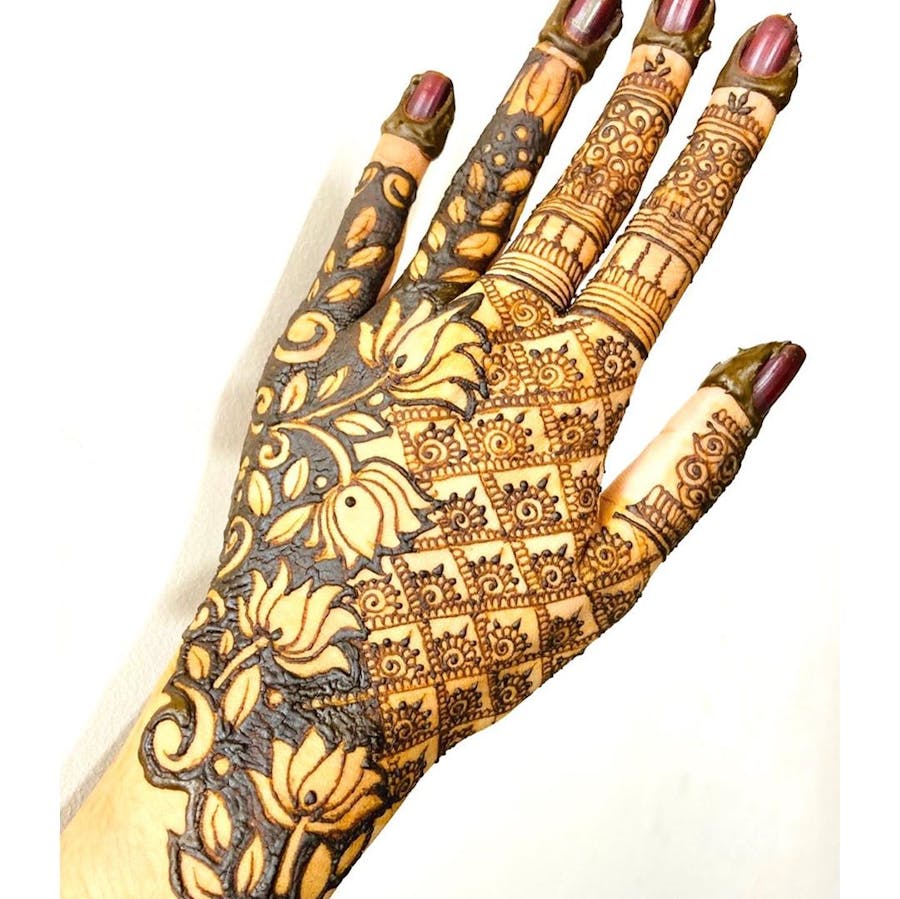 14. Gorgeous Floral Mehndi Design For Fingers
the floral mehndi design is the most trending henna design which is preferred for mehndi ceremony photoshoots in Kolkata. Let's admit the fact that this wonderful mehndi pattern is a total stunner.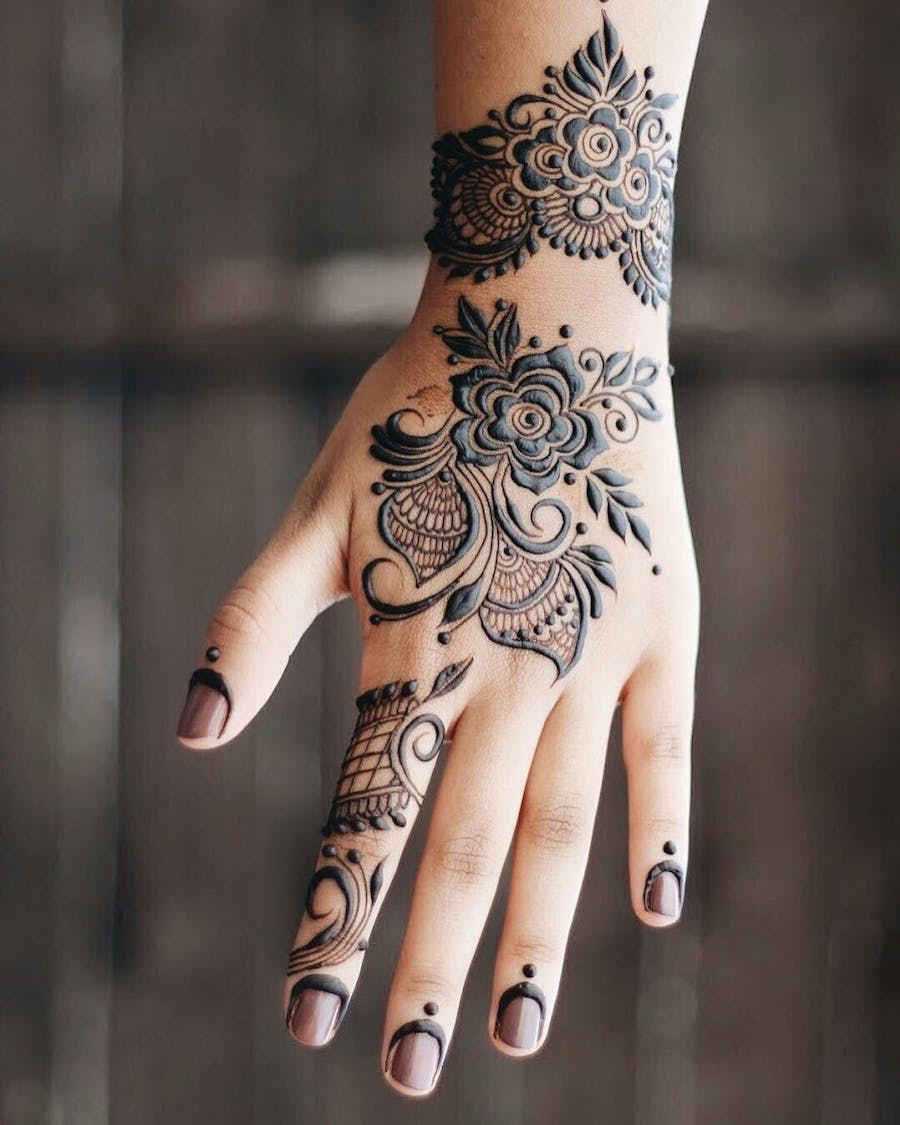 15. Criss-Cross Finger Mehndi Design
The one-side shaded criss-cross mehndi followed by floral design is gaining more popularity among young girls and brides. This ethnic henna design will draw instant attention to your gorgeous hands.