Importance Of Bengali Bride Mukut Designs
Be it the swanky red benarasi sarees, or the artsy bridal Kalka on the forehead, or the Bengali bride mukut designs. There is something discreet about Bong brides. And the best wedding photographer in Kolkata, Qpid India, has captured some of these Bong queens through their lenses. And in case you need to seek some Inspo about choosing the mukut design for your bridal look, this is just one of the apt places!
The topor or mukut of a Bengali bride is said to be a good luck charm for the bride. The Bengali bride mukut designs are symbolic of prosperity, good luck and happiness.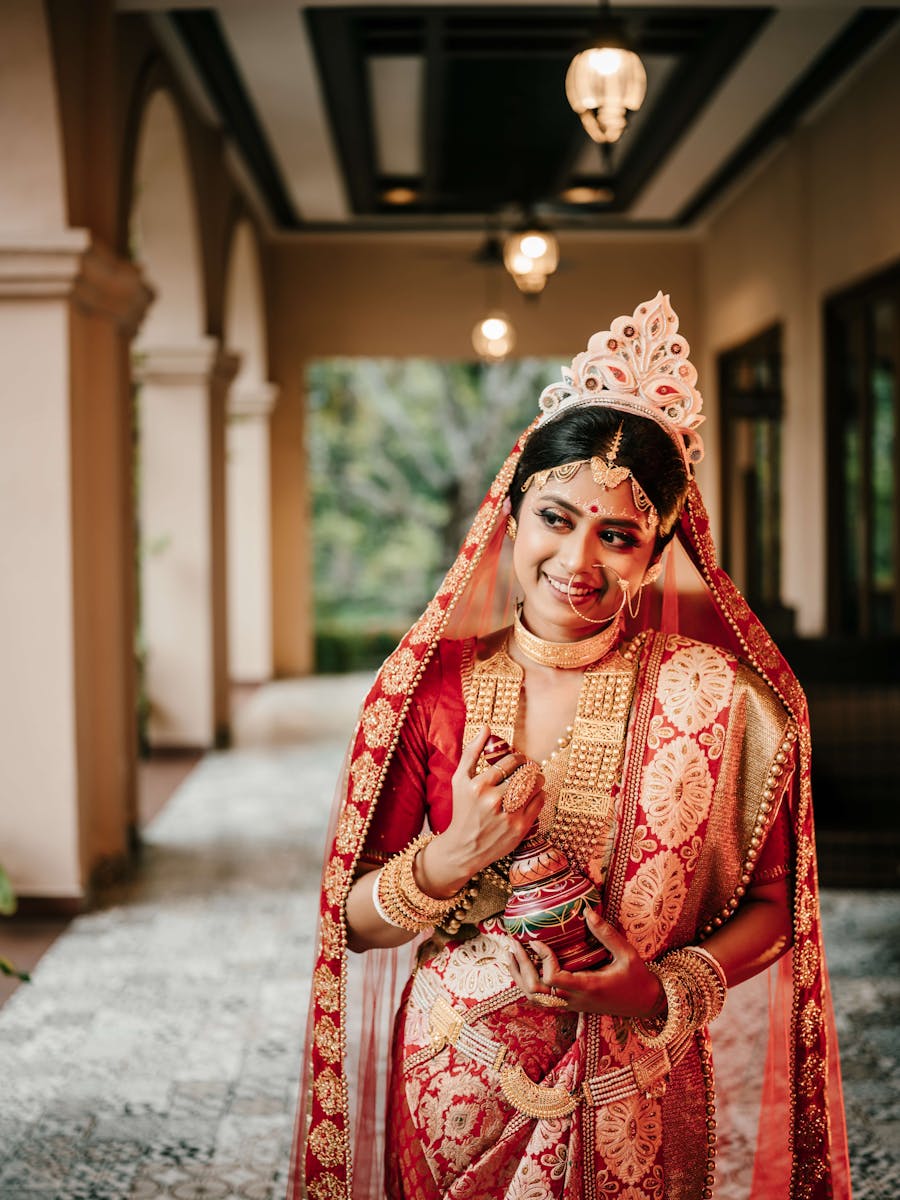 1. How About A Simple Daaker Bengali Bride Mukut Designs?
This simple dakar mukut or sholaar mukut is indeed a spectacular design with the simple Bengali bridal look here. The flower-like chakra in the centre with two peacock shaped structures is definitely just beautiful! The beautiful matha patti adds yet another dimension to the look.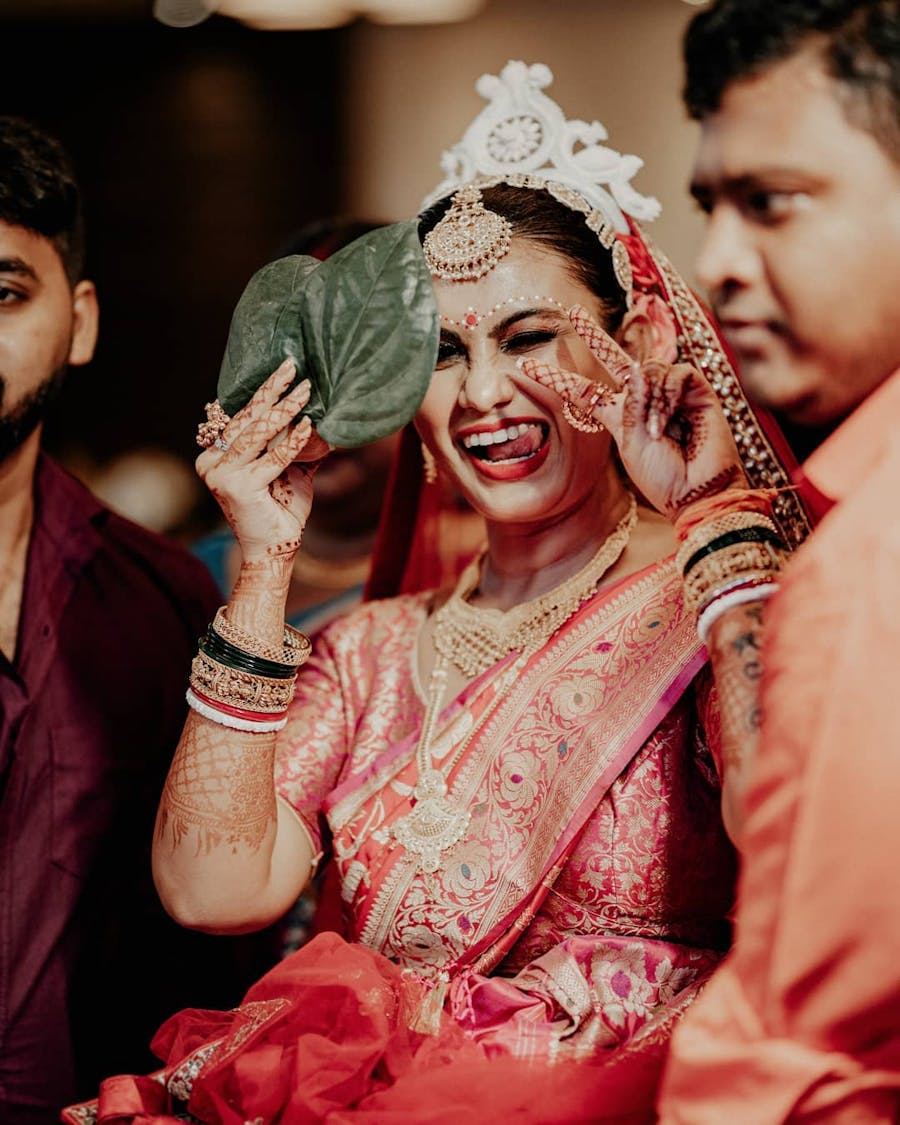 2. This Intricate White Sholar Mukut Is With Hints Of Red Is Certainly A Stunner
Just like the design here, if the white artsy mukut design gets a hint of quirk with the red colour, then this indeed looks mind-blowing. The lotus-like shape of the mukut and the cashew like motifs on the sides is adding to the aesthetic of the Bengali bride mukut.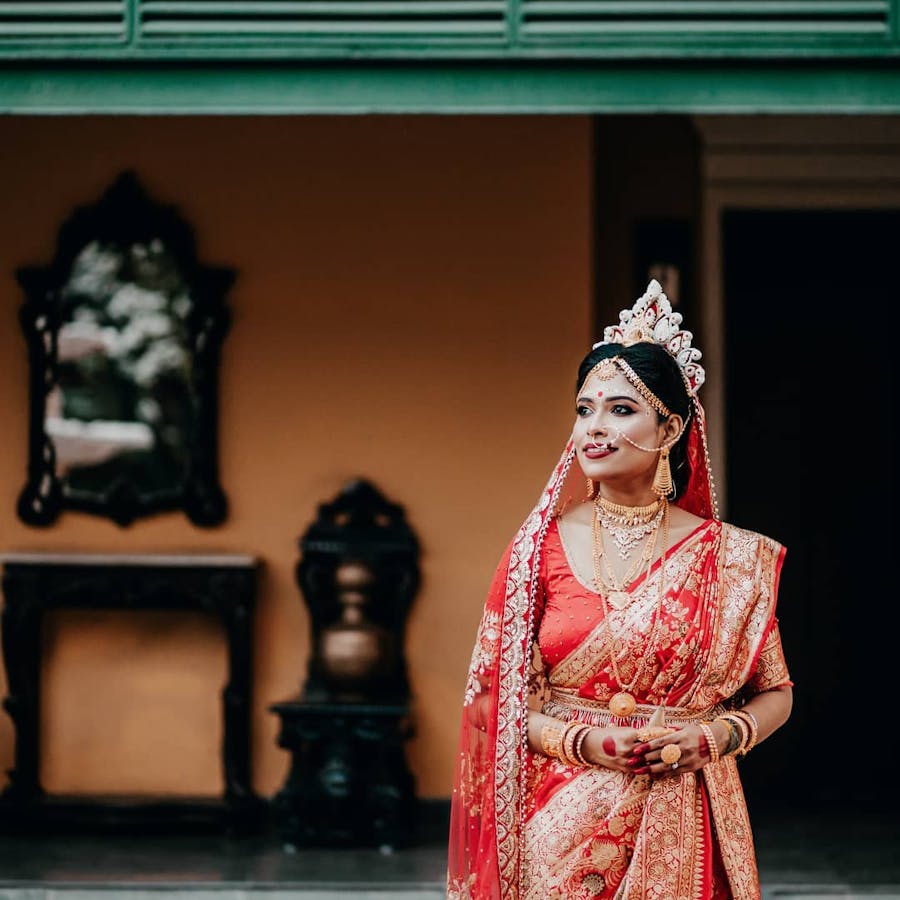 3. The OTT Topor With A Swabeki Butterfly Tiara Tikli Is Just Mind-blowing!
This artsy Bengali bride mukut designs with peacock like motif are yet another splendid capture of our wedding photography Bengali. The OTT Bong bridal look is further accentuated by the beautiful and swabeki butterfly tiara tikli design, which was a very popular design in the past.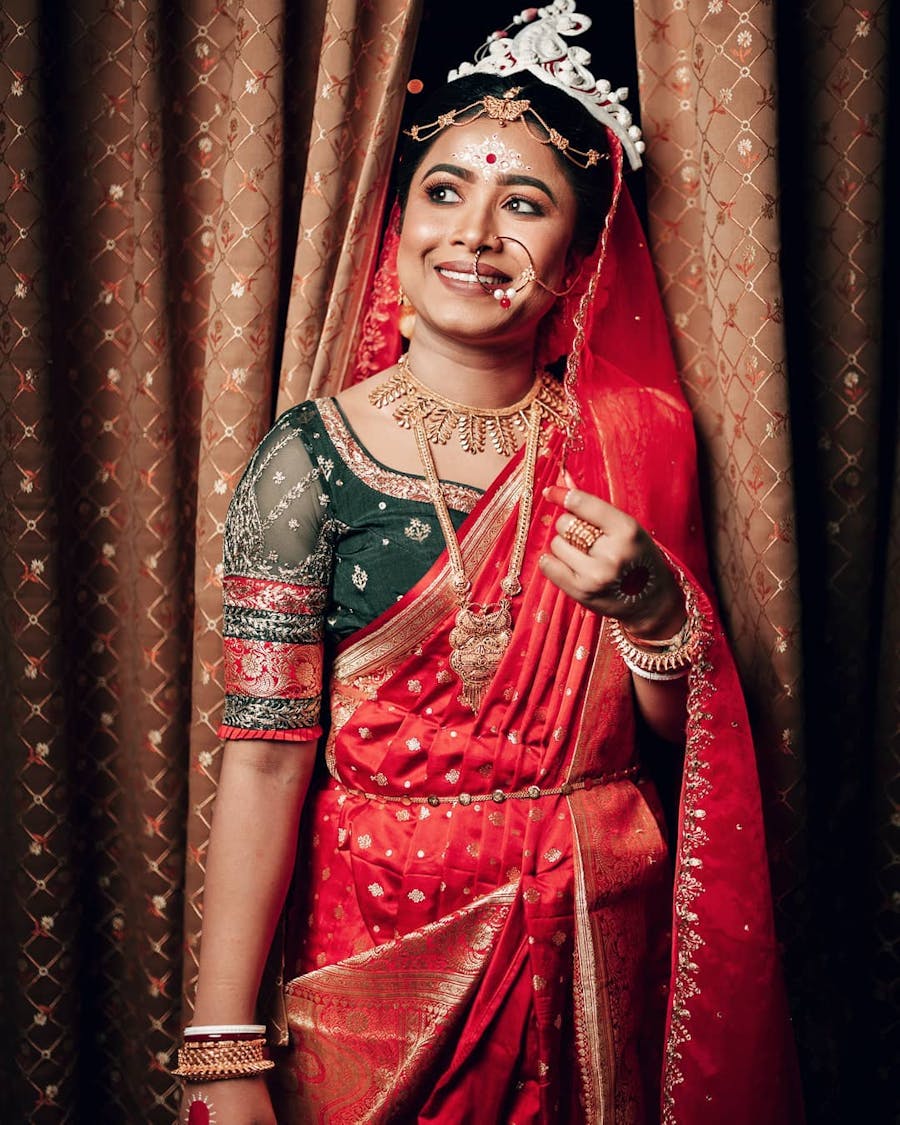 4. Give A Twist To Your Bengali Bride Mukut Designs With Some Faux Mogra Bud
Our bride here has gone indeed elaborate and fusiony with her Odia style Bengali Bride Mukut Designs. The faux mogra bud-like additions along the outer edge of the mukut, and the donut shape of the gear, which sits like a halo behind the head, are the speciality of this particular style of mukut.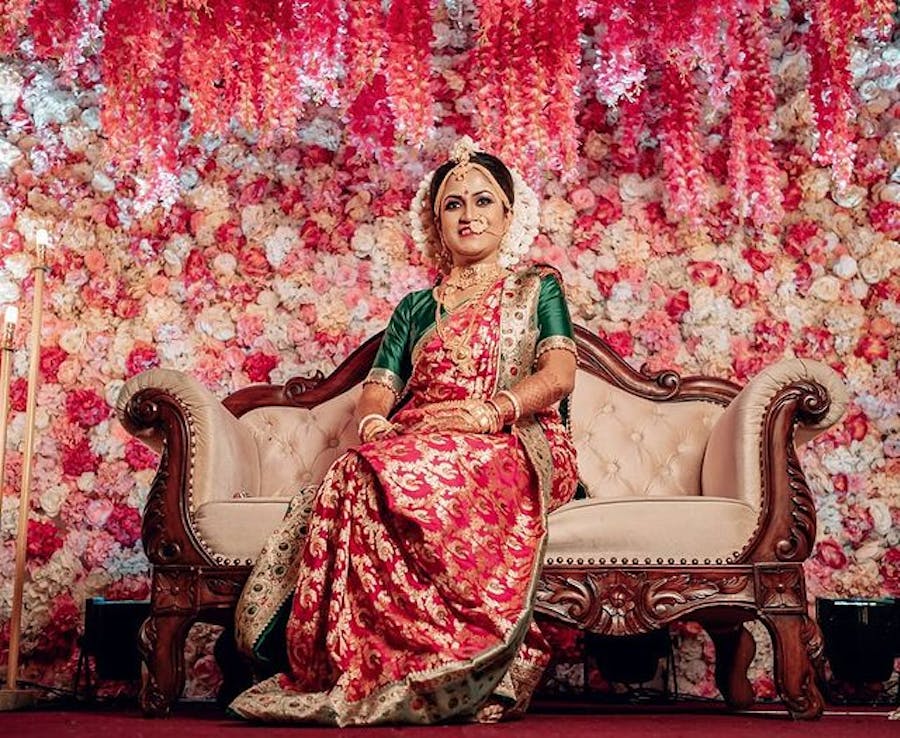 5. This Sweet Beautiful Bride Is Looking Even Sweeter With Her Kolka Style Mukut
Our beautiful bride here has also rocked the traditional Bengali bride mukut look with her intricately designed long mukut design. The beautiful Bengali Bride mukut design is of a beautiful kalka art and almost resembles a dancing peacock. Doesn't it?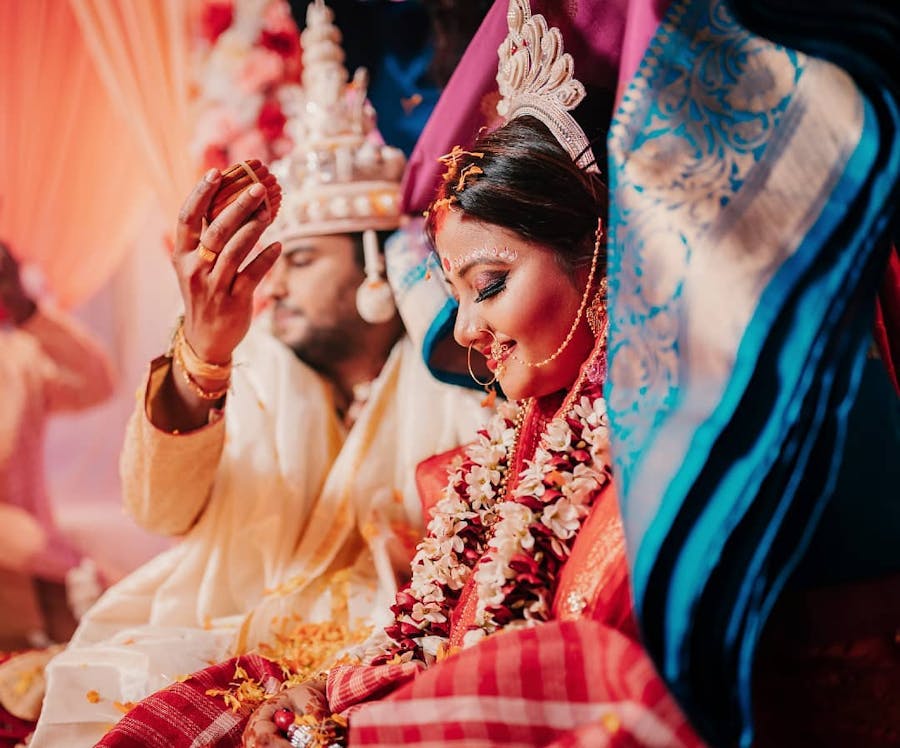 6. A Royal Daaker Topor For Our Queenly Bride!
Our beautiful bride here looks no less than a queen in her traditional Bengali look. The classic red saree and green blouse, the taant veil, and some beautiful Bengali traditional jewellery. The main centre of attraction of her look is the red and white mukut she is wearing.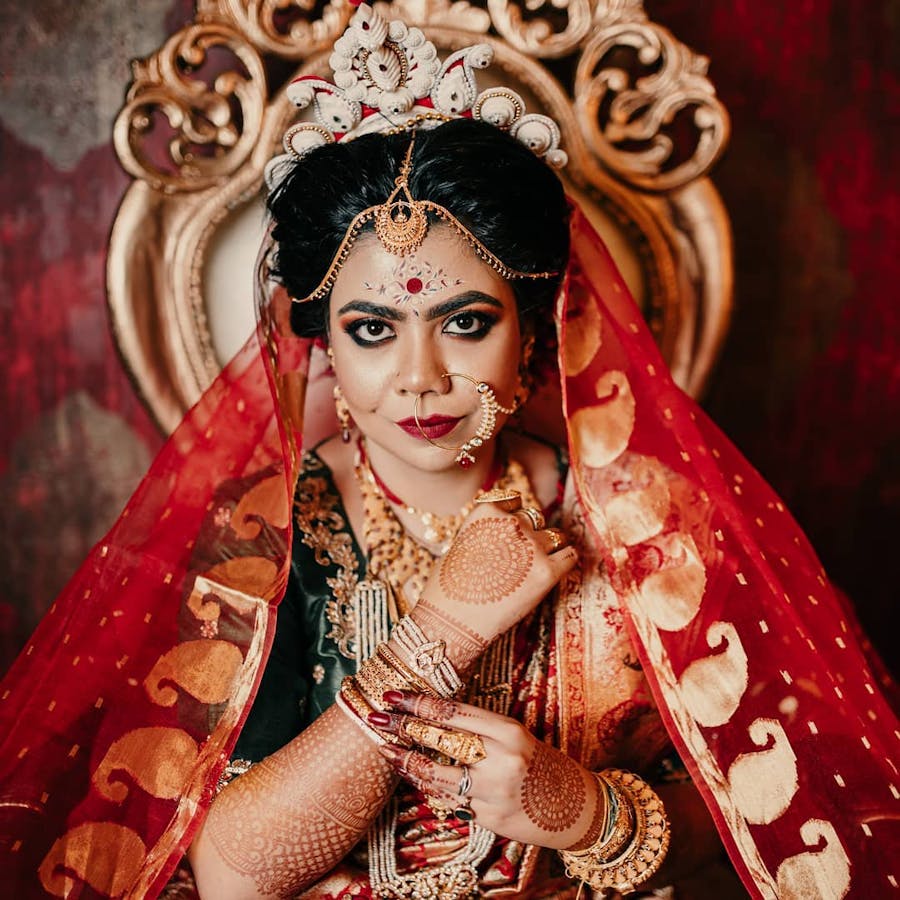 7. A Little Bengali Bride Mukut Designs With A Feather On Top!
Our beautiful bride here has done her majestic look with a heavy zardosi saree, and rich stone and gold jewellery. The biggest point of awe to her look is the double mukut she is wearing. One golden and the sholaar mukut behind it. The feather at the tip is just like the cherry on the top of the Bengali bride mukut designs.
8. Yet Another Regal And Chique Bengali Bride Mukut Designs
Our bride here has perfectly chosen her all-white Bengali bride mukut designs with small stone details. The mono-colour saree and the minimalist jewellery all go perfectly with her choice.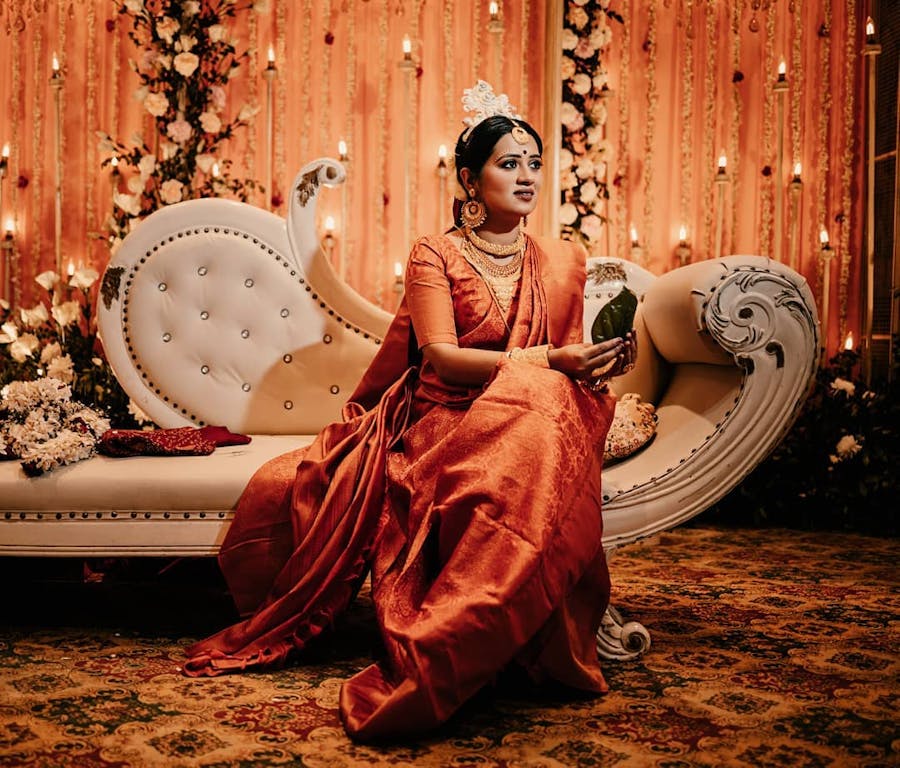 9. And Elaborate Topor With A Simple Outfit
And how about the elaborate regal daker mukut our bride here is wearing with her simplistic red and white benarasi look? A perfect amalgamation of simple and sophisticated.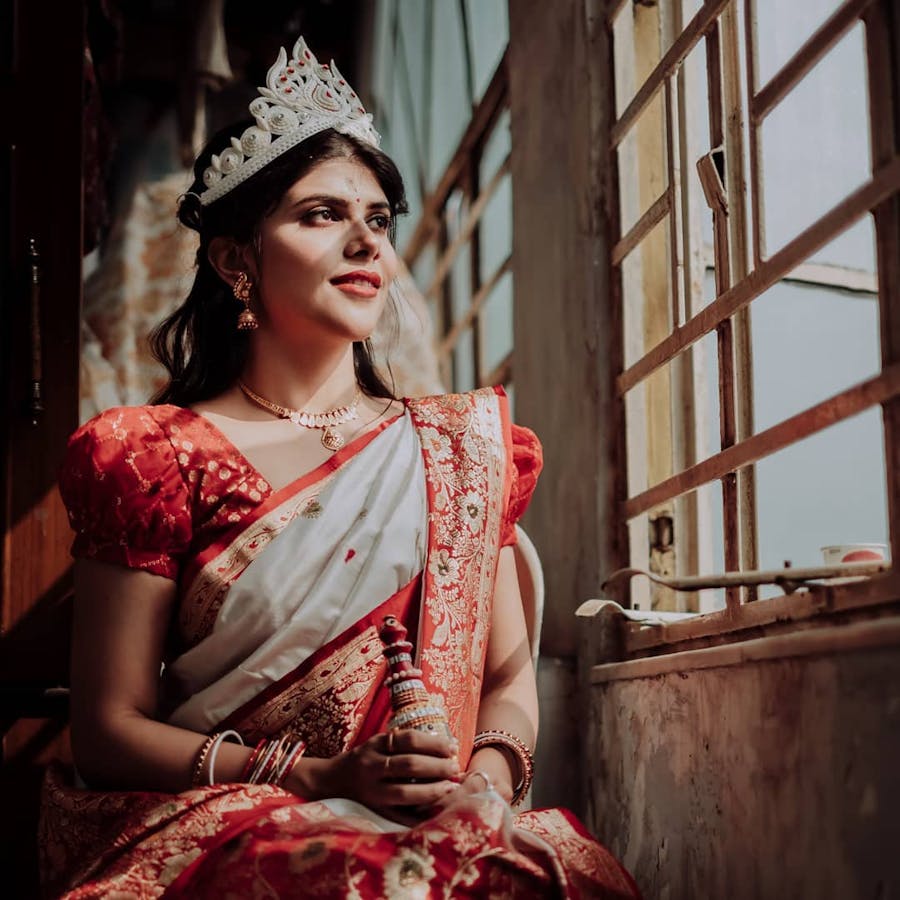 10. Our Bride Went For Crown-like Bengali Bride Mukut Designs For Her Bridal Ootd!
Isn't she glowing with happiness and excitement already for the new life she is stepping into? And no doubt she must be feeling like a goddess with her beautiful outfit and exclusive Bengali bride mukut designs.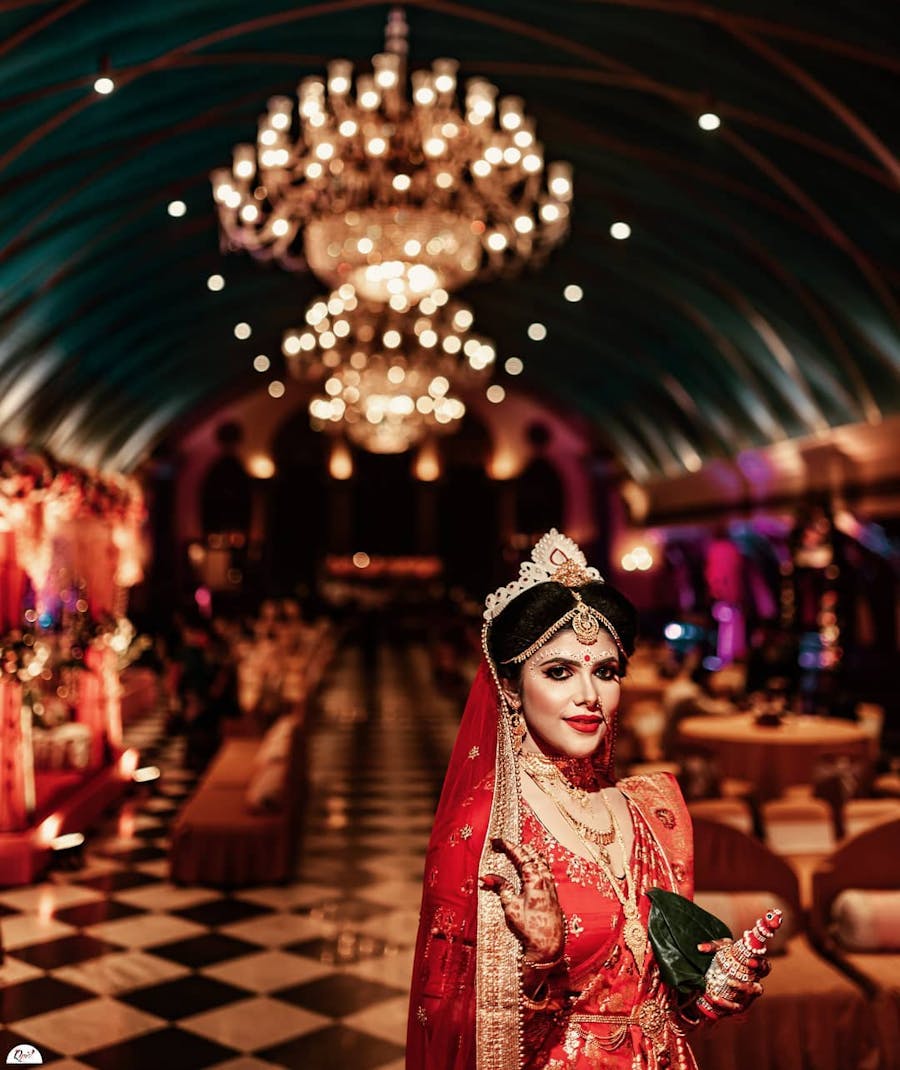 11. The Bride Here Looks No Less Than A Living Lakshmi Pratima With Her Mukut And Outfit
This beauty here is spreading the vibes of her exalted glory with her beautiful get-up. The temple-like Bengali bride mukut designs, and the beautiful bridal jewellery she is looking no less than a living embodiment of Goddess Lakshmi.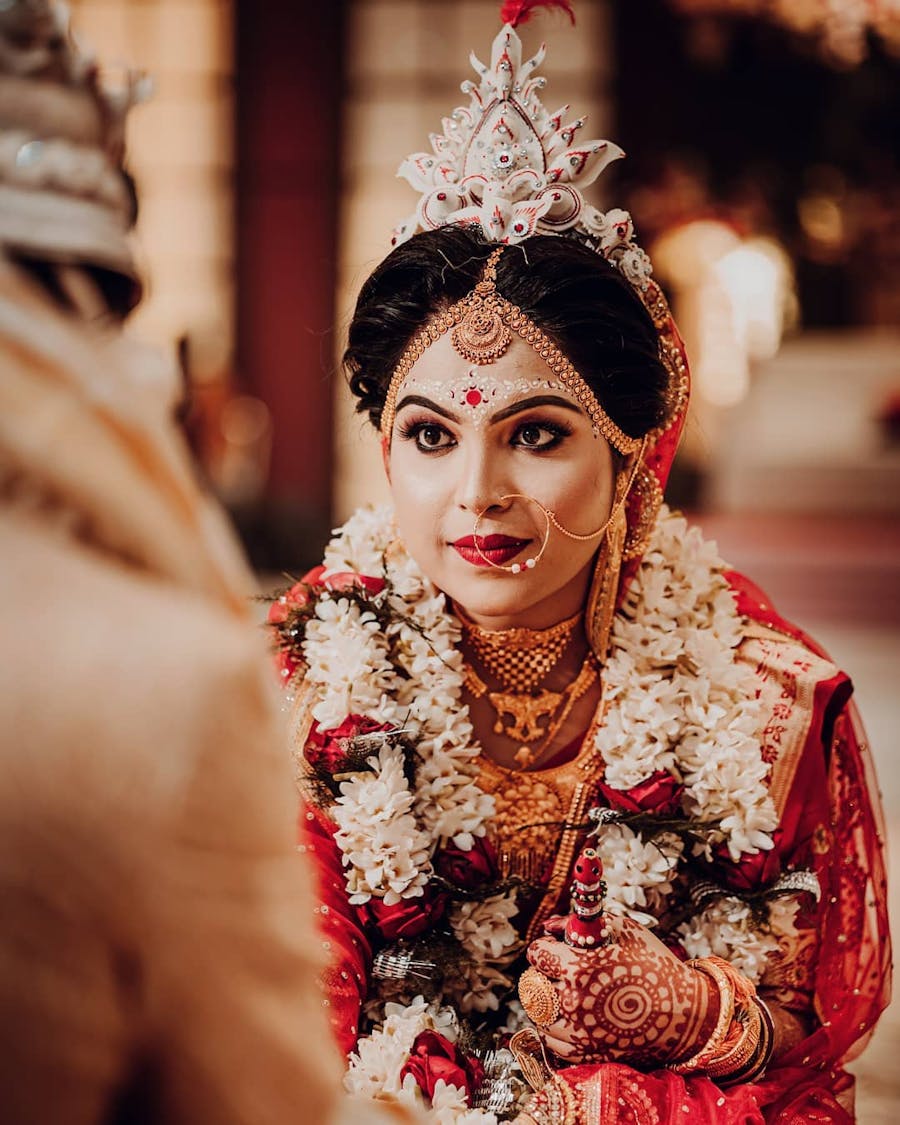 12. A Simple Bengali Bride Mukut Designs For Our Minimalist Beauty
Our simplistic bride here has perfectly paired her look with a simple white triangular tiara make out of traditional shola. The minute silver foil details are highlighting the details.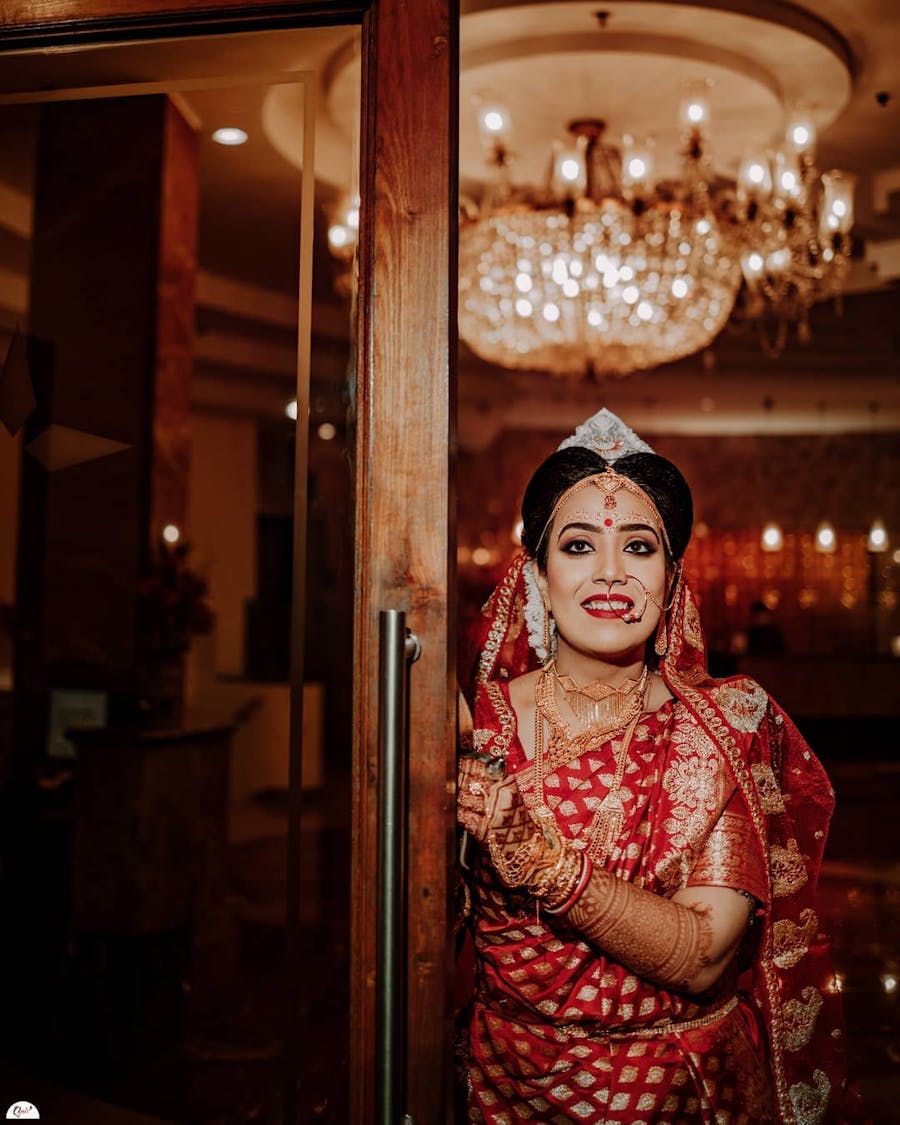 13. A Chique And Elegant Golden Tiara
Yet another glorifying Bengali bride mukut designs in gold. Our dulhaniya here has chosen to wear a golden tiara as her headgear for her wedding!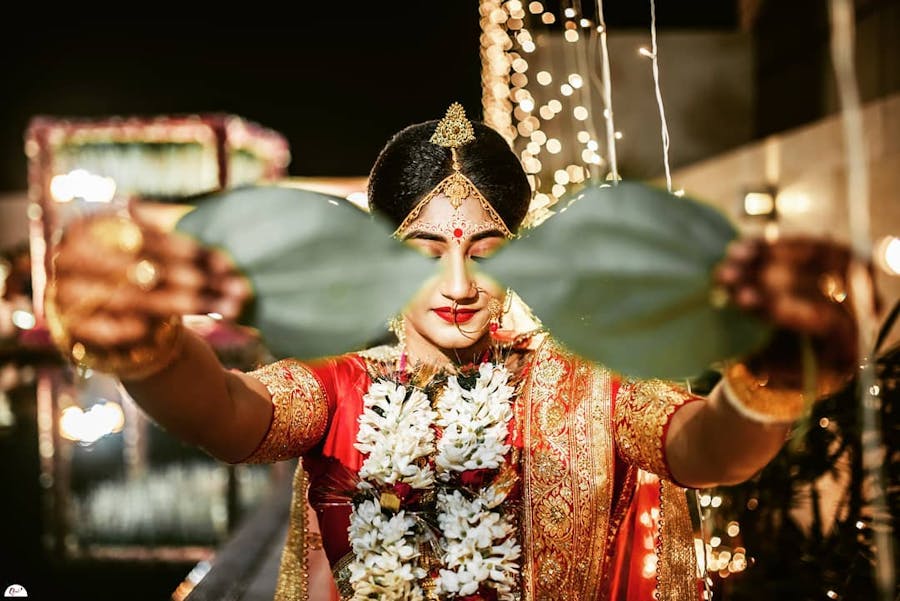 14. Yet Another OTT Bengali Bride Mukut Designs For Our Desi Dulhaniya
Our Desi Bodhu here has gone for a huge and intricate sholaar mukut with her very simple and sophisticated outfit. The classic Vermillion saree look and minimal jewellery are perfectly complimented by her OTT Bengali bride mukut designs.