A symbol of love and union of two souls, a mangalsutra is a traditional piece of bridal jewelry. It is a sacred thread that symbolizes a married woman. This auspicious jewelry has a divine significance in Indian weddings. On the wedding day, a groom ties a mangalsutra around the bride's neck as a part of a holy ritual. After the mangalsutra is tied, the couple gets committed to a loving relationship that will last forever until their last breath.
It is the most prized possession of a married woman. With the changing times, mangalsutra designs get updated and today we can see multiple mangalsutra designs around us. From traditional gold to elegant diamond you will get multiple options for choosing an ideal design for your wedding.
If you are going to be a bride-to-be, then you must choose an alluring and stylish mangalsutra to flaunt your bridal look in Bengali wedding photography. Still, wondering how to pick the best mangalsutra design which resonates with your style and wedding outfit? Read this guide on 12 amazing and trending bridal mangalsutra designs that are perfect for traditional as well as millennial brides.
 1. Elegant Diamond Mangalsutra
There is something so graceful and beautiful about this solitaire diamond mangalsutra. If you are looking for a simple and elegant option then this small diamond pendant mangalsutra will be the best choice. This diamond mangalsutra goes well with both traditional and western outfits. So, if you are planning to opt for a minimal bride look then this price-less design is worthy of breathtaking bridal jewelry.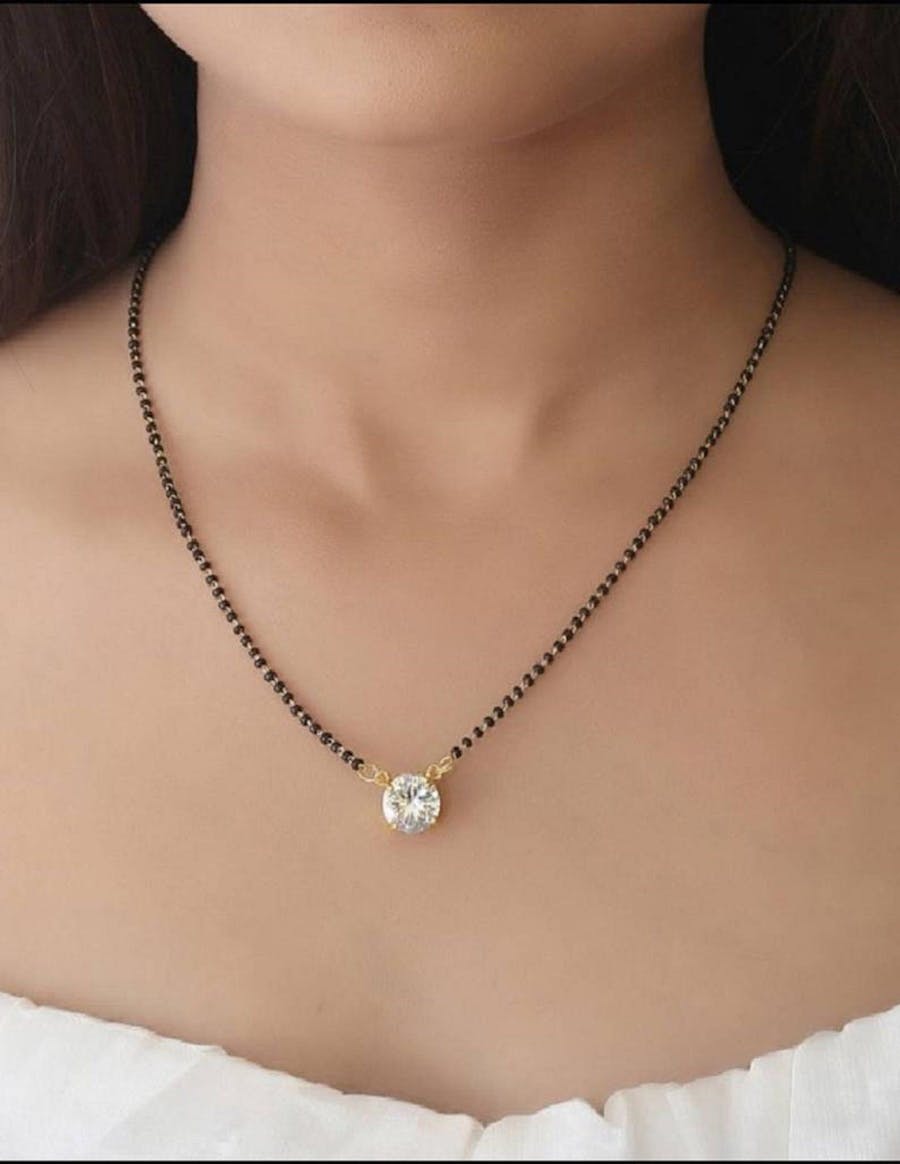 Recommended: Gorgeous Mukut Designs For Bengali Bride 2021
2. Modern Floral Mangalsutra
Take a minute to admire the beauty of this sparkling floral mangalsutra. Two small flowers in the sacred thread look stunning. This impressive floral design made of gold and diamond looks more glamorous with a bridal lehenga or any ethnic wear. You can also wear this beautiful pendant with any western outfit. Make sure to capture a dramatic bridal pose with this sophisticated and classy floral mangalsutra by hiring a professional and passionate wedding photographer in Kolkata like Qpid India.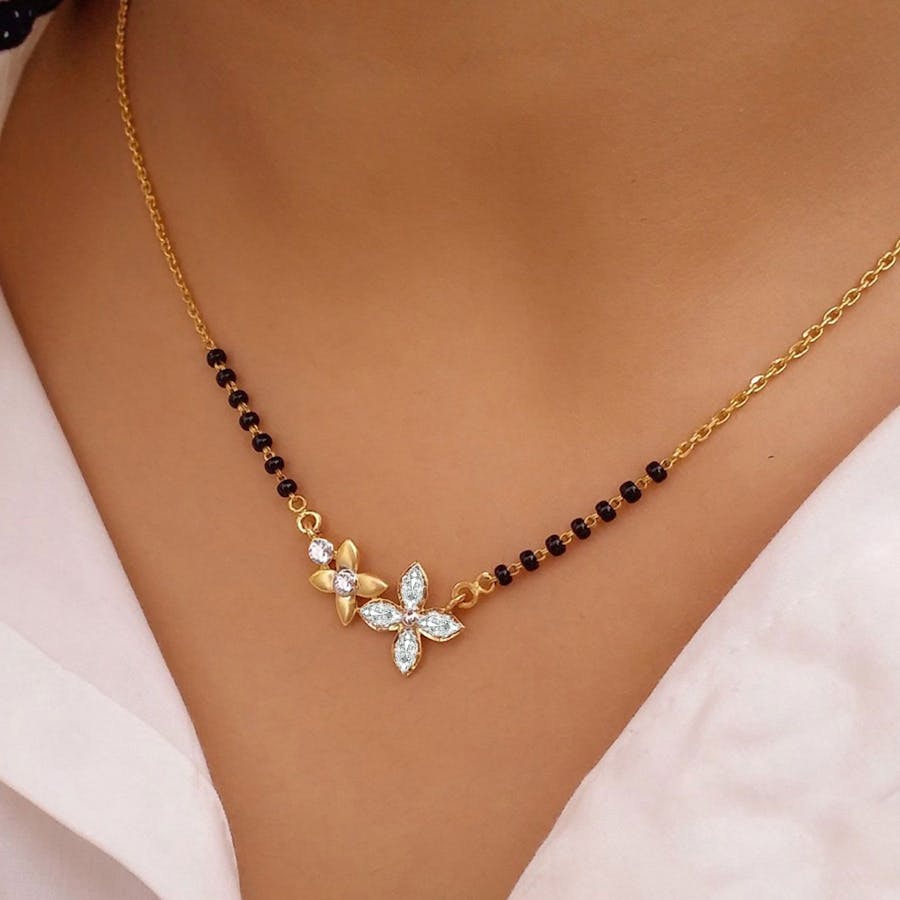 Must Read: 12 Best Bindi Design Ideas For Bengali Bride
3. Stylish Drop Mangalsutra
If you are looking for a unique and unconventional design then here is a perfect one for you. This gold tassel mangalsutra looking like a water drop is an extremely gorgeous one to wear at a wedding event. This delicate golden chain is a unique bridal jewellery design that you need for the fresh beginning of your life. Moreover, this artistically designed mangalsutra will be perfect for a millennial bride who craves style and glamour.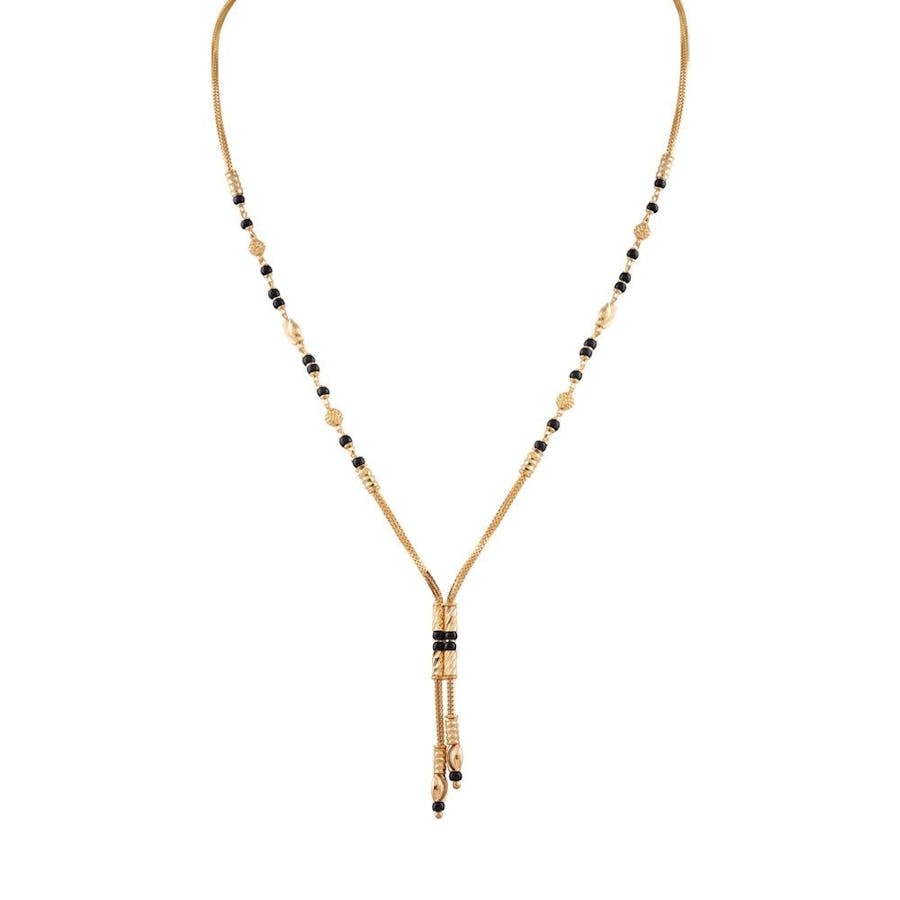 Also Read: 6 Stunning Bengali Bride Hairstyle Ideas
4. Evergreen Gold Chain Mangalsutra
Who wouldn't like a glittering gold mangalsutra design with intricate cuts and beautiful shine? This traditional gold mangalsutra blends with your ethnic outfit and makes it more extravagant according to Ayurveda a gold mangalsutra has strong healing power and also boosts up your immune system with its cosmic waves. So, will you like to try this sassy touch of gold with natural healing powers?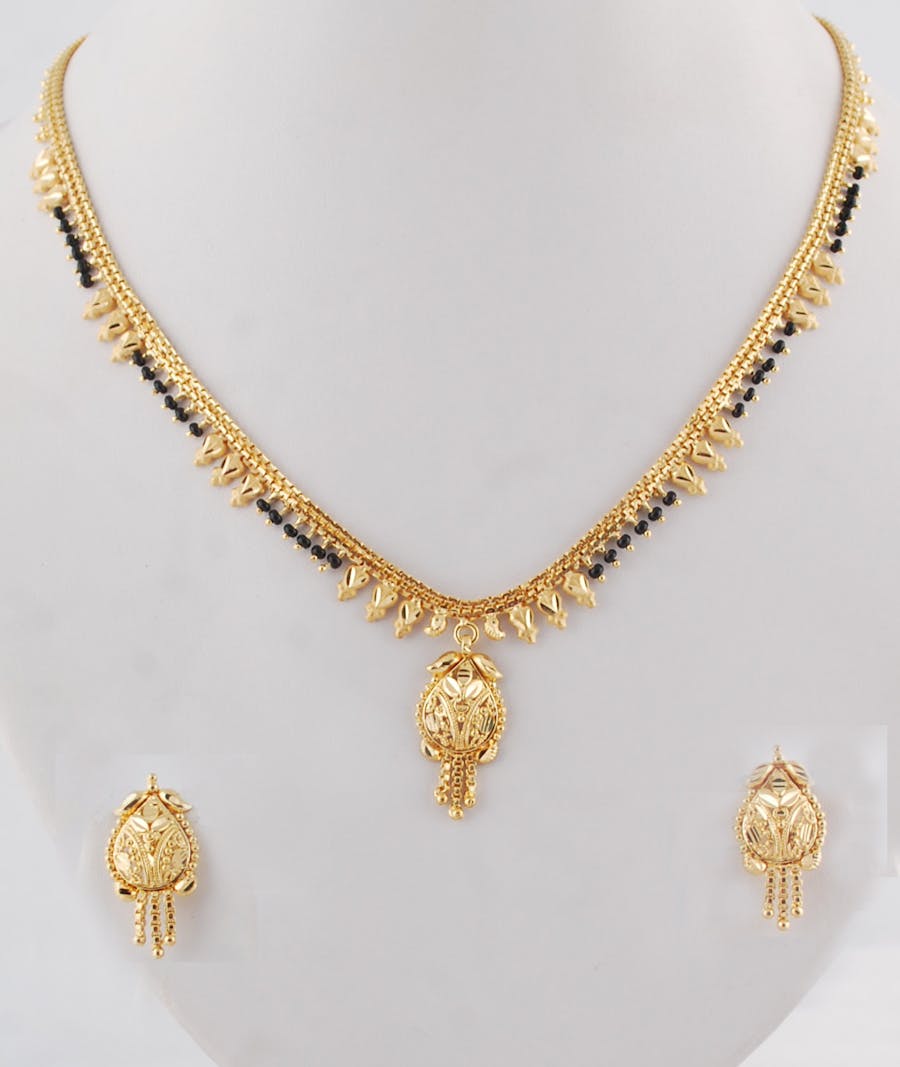 5. Unique Pair Of Gold & Diamond Mangalsutra
Now, this is something super trendy mangalsutra designs and graceful. If you are a die heart fan of gold and diamond both then this will be an ideal option for you. This delicate mangalsutra design for bride with a gold and diamond pendant looks stunningly beautiful. This will be a great option for those girls who want their mangalsutra to be a timeless piece of magnificent jewelry.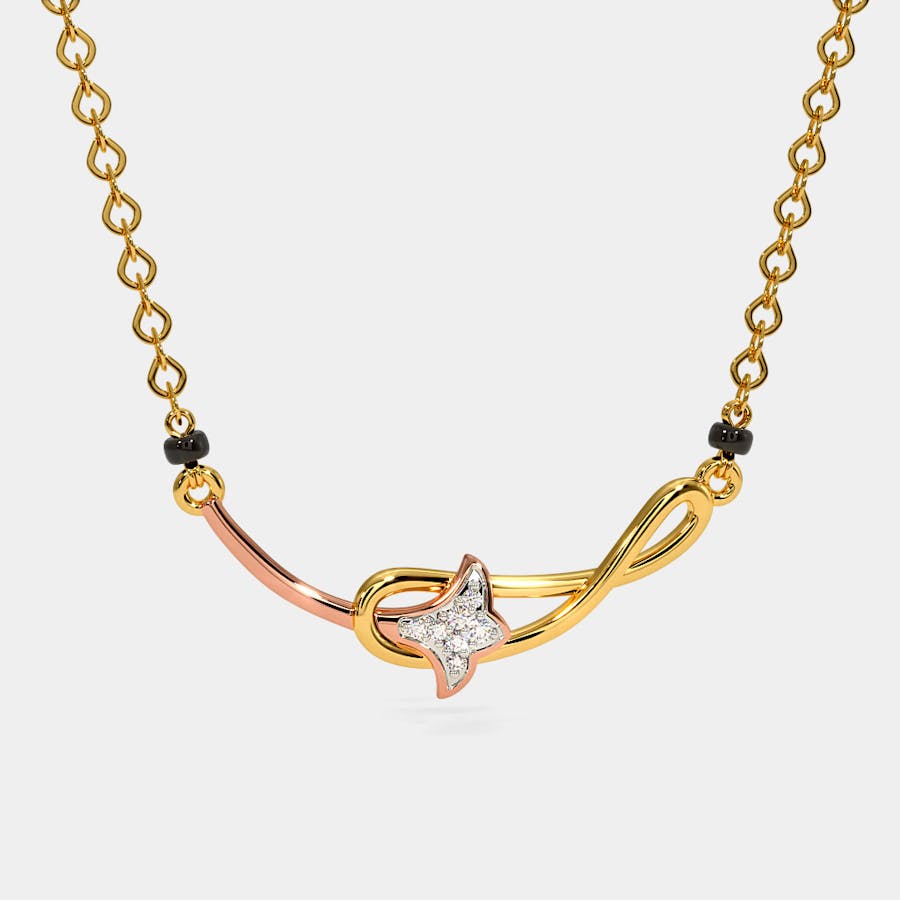 6. Symbol Of Love – Heart Shape
Wanna show your love to your better half? What can be a more beautiful option than a heart shape mangalsutra. The golden diamond mixture pendant with a blue gemstone heart is a hint of the modern design that you are looking for.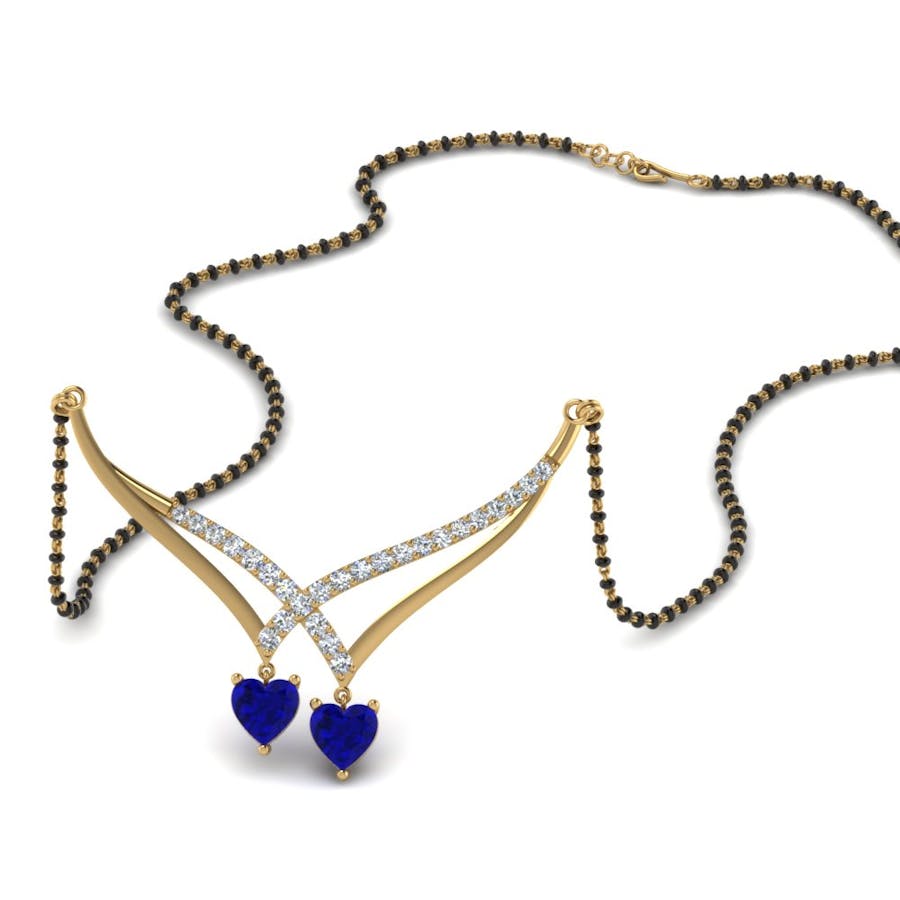 7. Chand-Bali Mangalsutra
If you are looking for a traditional and glamorous option in mangalsutra then you can try the Chand-Bali design. This gold multi-stringed mangalsutra for new bride with a beautiful blend of pearl and gold is simply an exceptional beauty. This glamorous moon-shaped pendant can be a show-stealer in your wedding.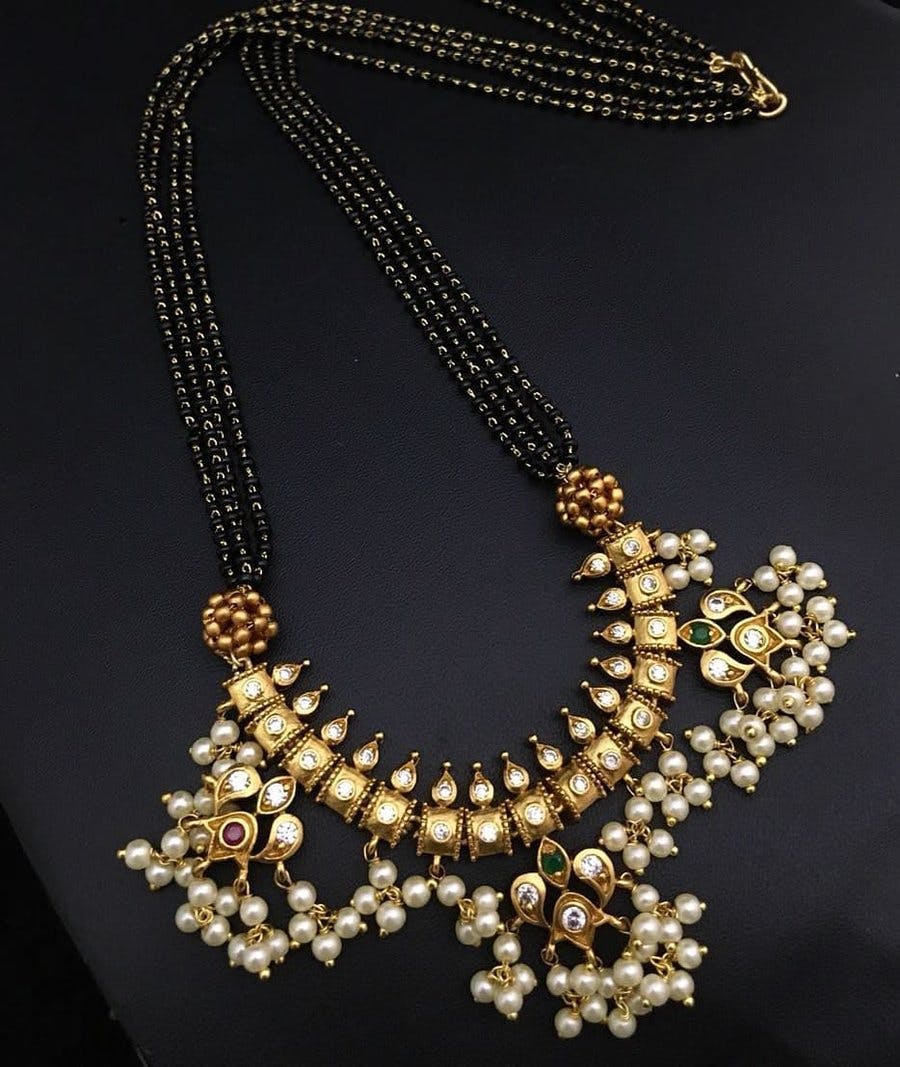 8. Unmatched Beauty Of Leaf Mangalsutra
Looking for a sophisticated piece of jewelry? This leafy pattern mangalsutra attached with a delicate chain is a traditional mangalsutra design that looks unique and soothing to the eyes. You can also wear it daily. This gold and diamond pendant of leafy mangalsutra can add all the sparkle you need to shine on your wedding day.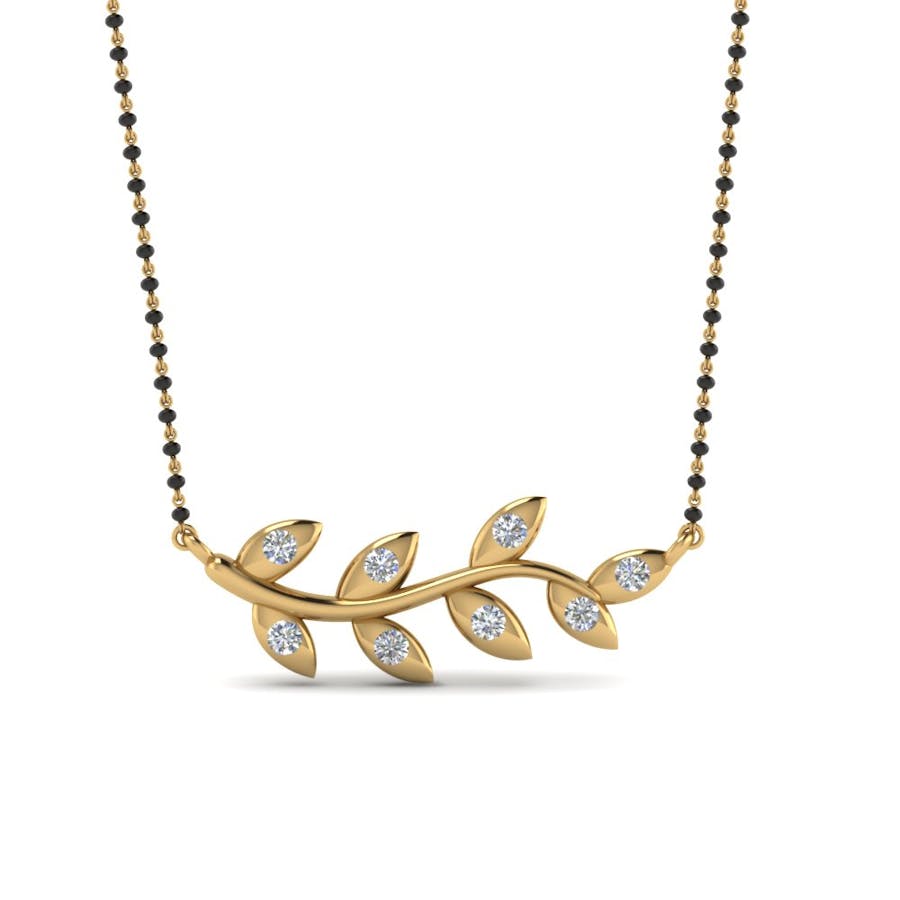 9. Unique Bracelet Mangalsutra
A newcomer in the bridal jewelry market, this bracelet mangalsutra has blown our minds away. This single diamond pendant in the bracelet is the latest trend for a simple and unconventional style of wearing a modern mangalsutra. It can be a great substitute for a regular bracelet.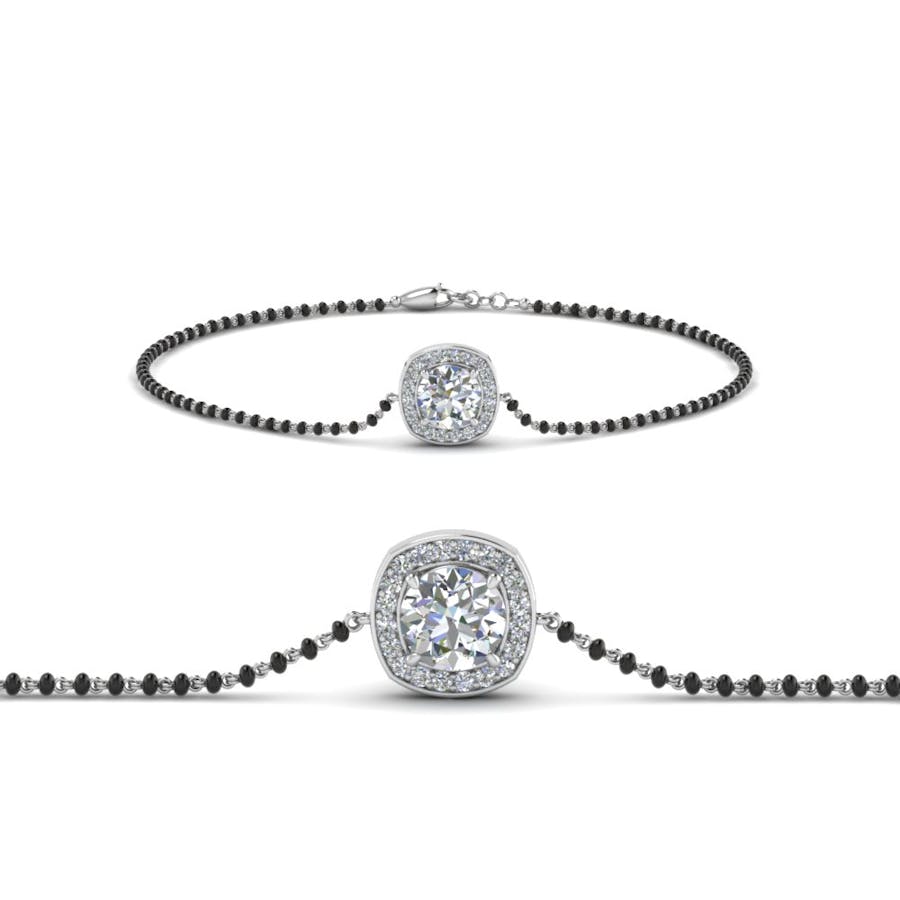 10. Timeless Collection Of Pearl Mangalsutra
Pearl jewelry adds a charismatic look and never goes out of the trend. The glimmering white pearls in a mangalsutra provide a graceful and elegant look to the bride. This contemporary mangalsutra is a perfect blend of traditional and modish that suits better on a quintessential bride.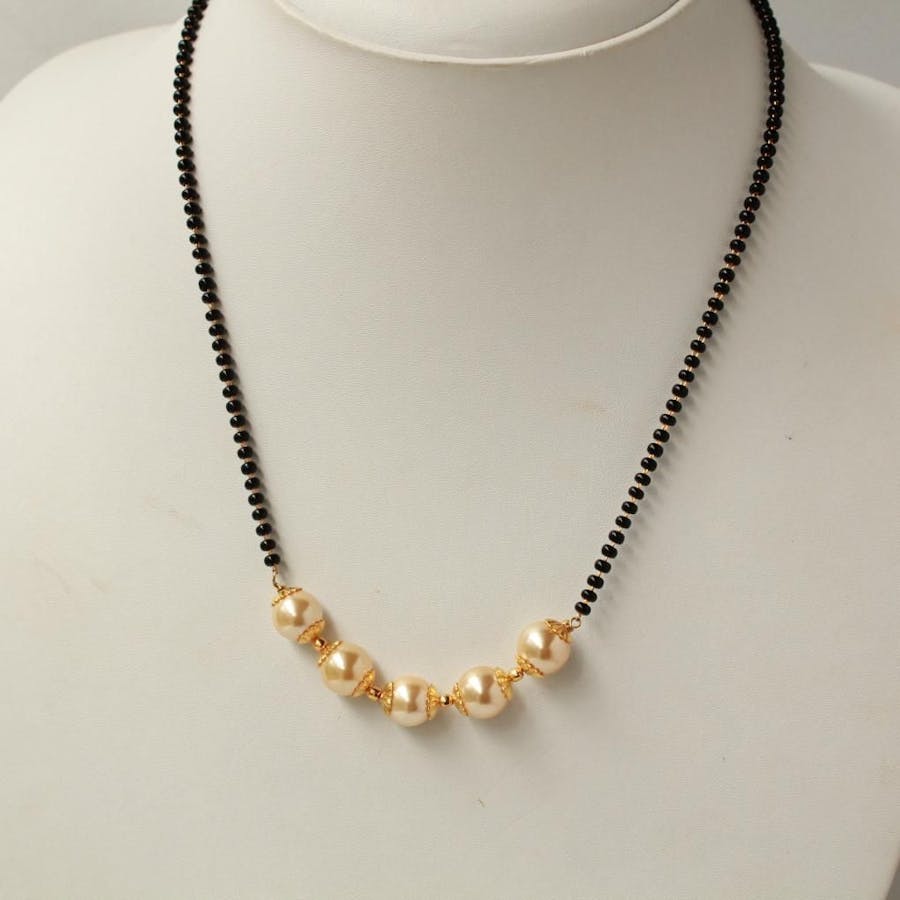 11. Trending Zodiac Sign Mangalsutra
Have you noticed Sonam Kapoor in her post-wedding photos wearing a gorgeous zodiac sign mangalsutra? What an excellent choice! Incorporate your religious belief in your precious jewelry by customizing it with your and your partner's zodiac sign. This new concept of revealing your religious belief is unique and also adds charm to your wedding look. This latest bridal mangalsutra design is a wise choice to grab the attention of your guests.
12. Gorgeous Meenakari Mangalsutra
Now check out this stunning meenakari work done on this double-stringed mangalsutra. The splash of color and intricate design of this mangalsutra complements every ethnic outfit. These colorful highlights in a golden pendant leave everyone smitten at first glance.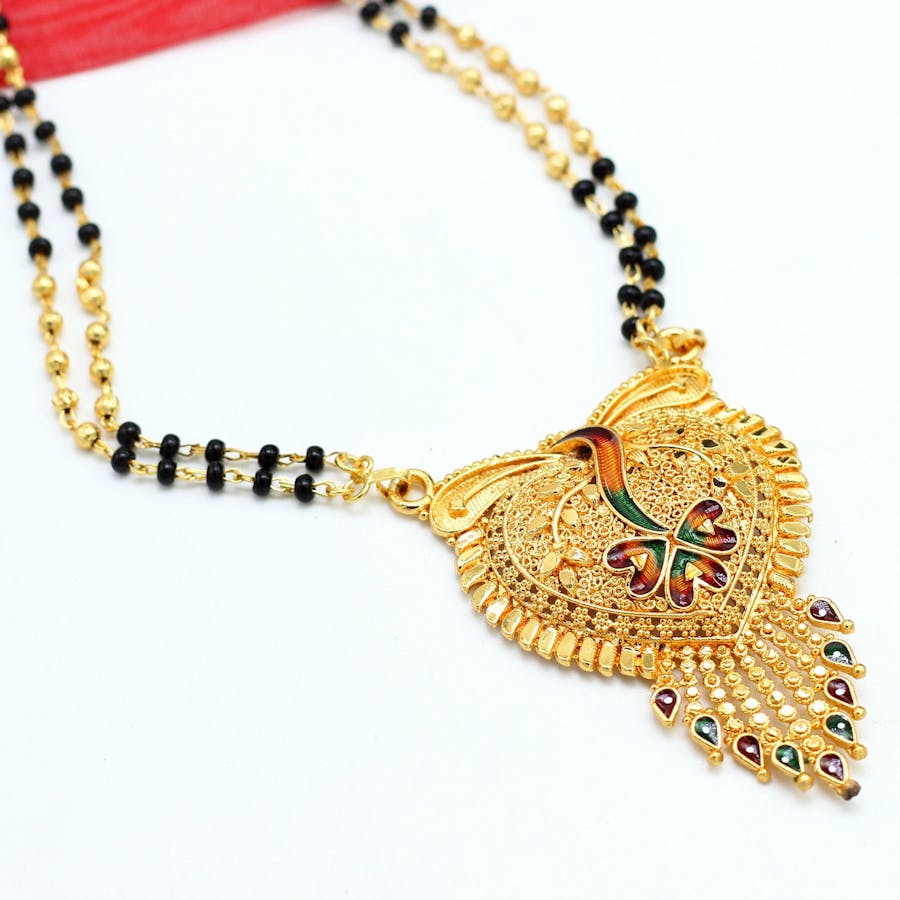 So, these are some stringing mangalsutra design that makes your wedding look more beautiful. You can choose anyone out of them that matches your style.