India is the land of traditions and festivals, one such great traditional festival of India is marriage. You can notice diversity not only in our cultures but also in wedding elements. Be it in wedding culture, wedding dresses or in jewellery. Today we are going to tell you about one of the most famous and gorgeous bridal jewellery "Nath or Nose Rings". Indian brides wear this jewellery on their wedding day that offers them a magnetic look.
Nath has some cultural & traditional significance in Indian weddings. Hindu brides put on nose rings at their D-day in the honor of Devi Parvati who is also known as the goddess of marriage. It is the symbol of a married woman. Nowadays Indian brides are accentuating their bridal look by experimenting with different styles of Nath designs. You can also get that gorgeous bride look by opting for a stylish nose ring that perfectly suits the traditional wedding ambience. Keep scrolling down to know about the 13 latest nath designs for bride that will rock your bridal look. So, Let's begin this glowing journey with some elegant nose rings design listed by wedding photographer in kolkata.
1. Graceful Shikarpuri Nath Designs
When you talk about a Punjabi bridal look then you need to also mention the "Sikharpuri Nath" which is very popular among Punjabi brides. This regal nose ring is made up of curve rings of different sizes which is pinned into the hair with the help of a decorated chain that also follows the same pattern as the curve rings have. Wearing this nose ring with a Kundan necklace or gold jewellery will provide you with an enchanting look.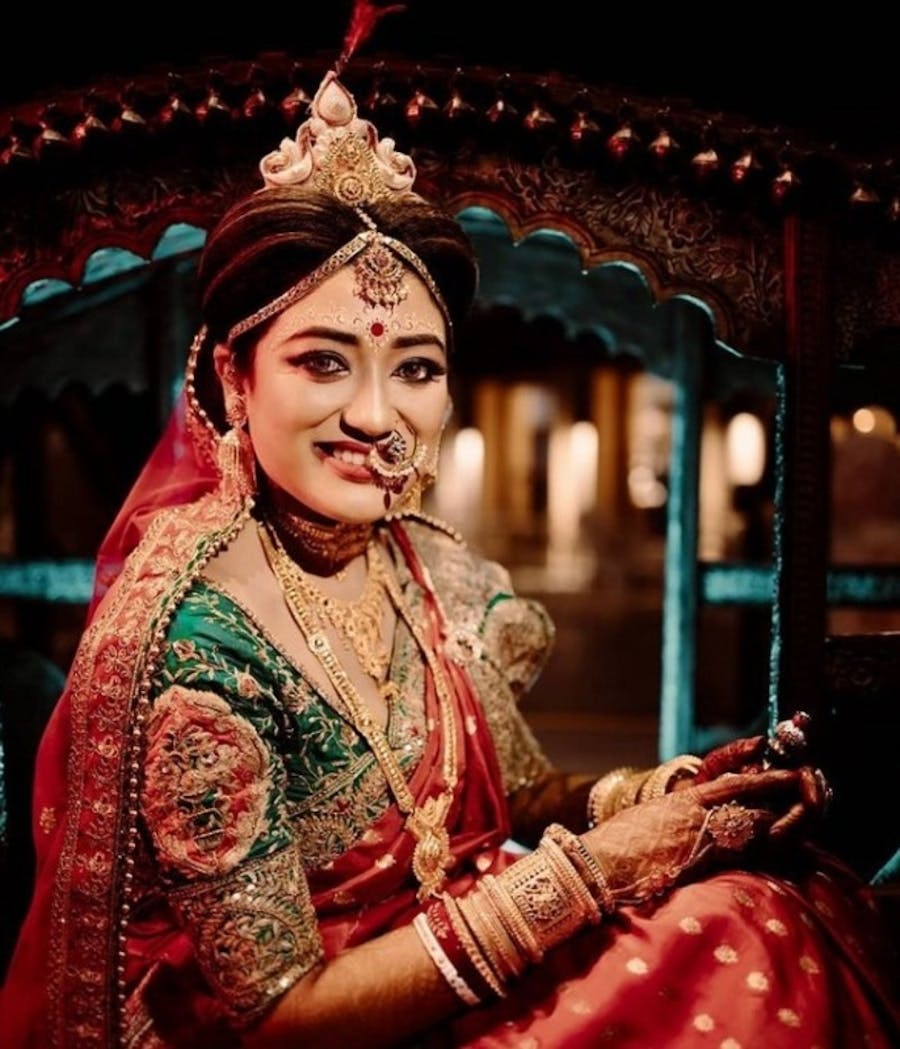 Recommended: Top 12 Bengali Style Bridal Mehndi Design Ideas
2. Elegance Of Pearled Nath
We must take a minute to admire the beauty of this simplistic pearl nose ring. This bridal nose ring is too light to put on your nose, which makes it a piece of comfortable jewellery to wear. Along with that, this pearl embedded nose ring looks extremely beautiful with any kind of ethnic wear.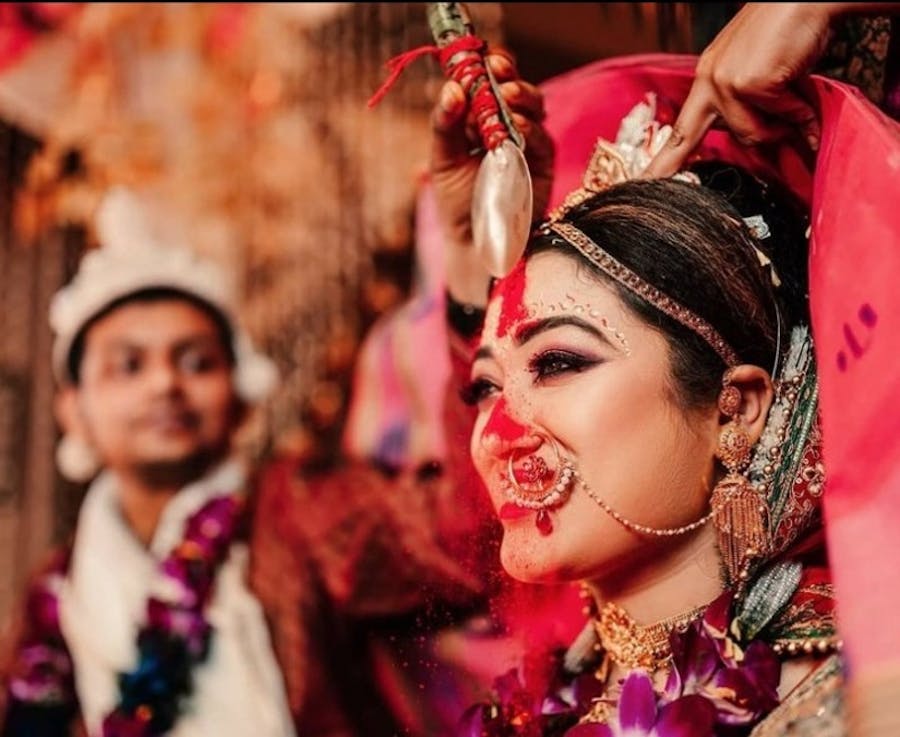 Must Read: Trending Bengali Bridal Lehenga Design 2021
3. Beautiful Marathi Nath Designs
Some brides love to celebrate their special way in a traditional manner. And it's actually good to respect our culture and rituals. Inlaid with colorful stones and made up of gold, this Maharashtrian bridal nath design is a worth try. Often worn by Indian celebrities on their wedding day, this cashew-shaped nose ring embraces the natural glow of your bridal look.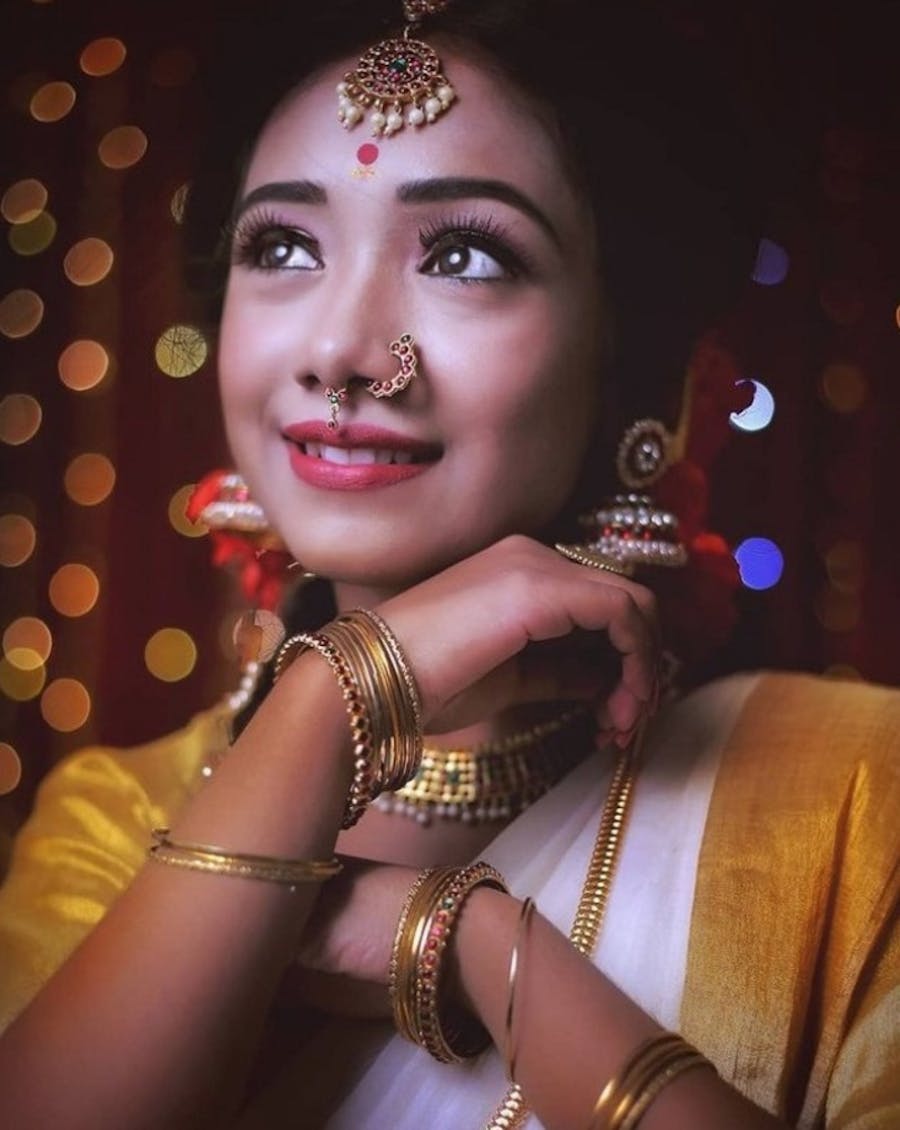 4. Subtle Combination Of Pearl And Ghungroos
Looking for something different and beautiful? Then try this gorgeous Nath to get the flawless bridal look. the combination of pearl and ghungroos can never go wrong. Worn with traditional gold jewellery this classic nose ring will bring out all your appealing features.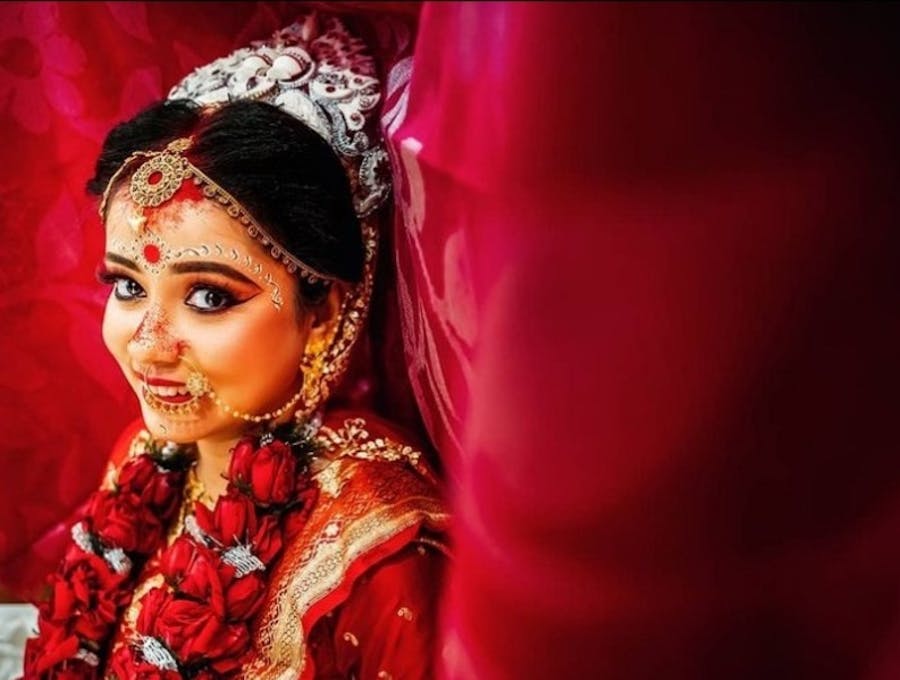 5. Contemporary Stone-Studded Nose Rings
Wants to ace your royal look? How about this glorious oversized stone nath? This piece of nose jewellery will provide a larger-than-life dramatic effect to your wedding photos. Adding stunning nath bridal jewelry like this will make you stand out.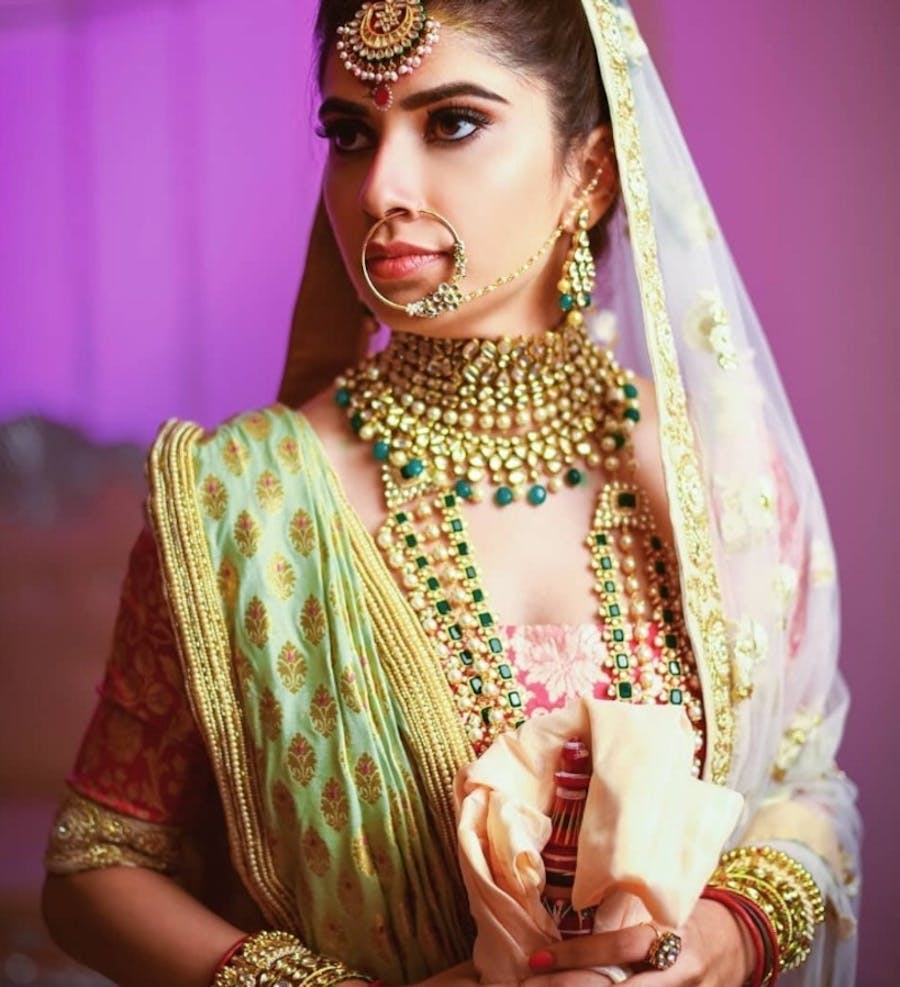 6. Simplicity Of Extra Large Gold Nath
An oversized round nath is perfect for those brides who are looking for a simple yet elegant option to enhance their bridal glow. This gold nath simple design when paired with smokey eye makeup and red lips turns out as a captivating charisma.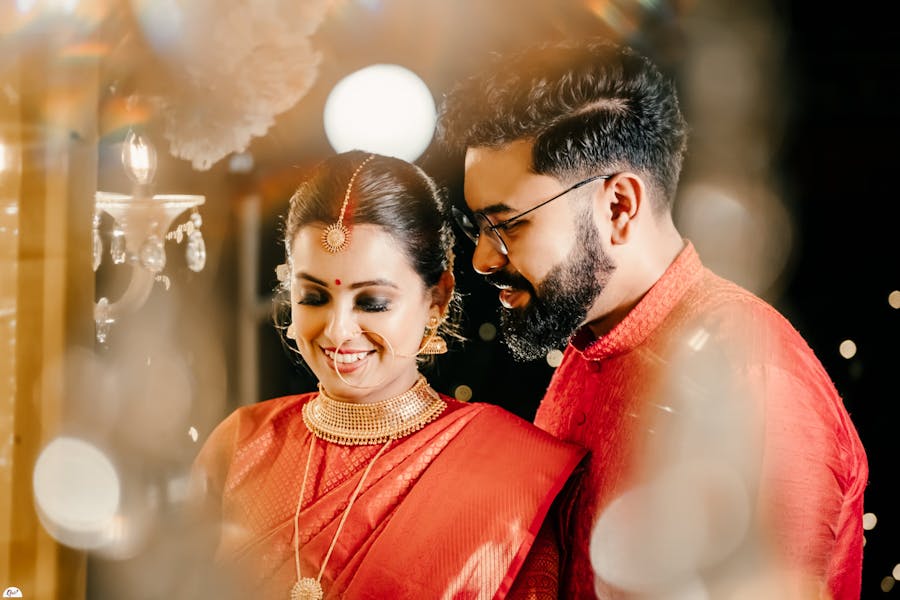 7. Traditional Gold Rings With Lace
Ditch the heavy nose rings and opts for a light weighted simple nose ring with a supportive chain. This gold nath designs for bridal beauty is one of the prevalent preferences for traditional Bengali wedding photography. This elegant Nath is a good option to steal the attention of your show.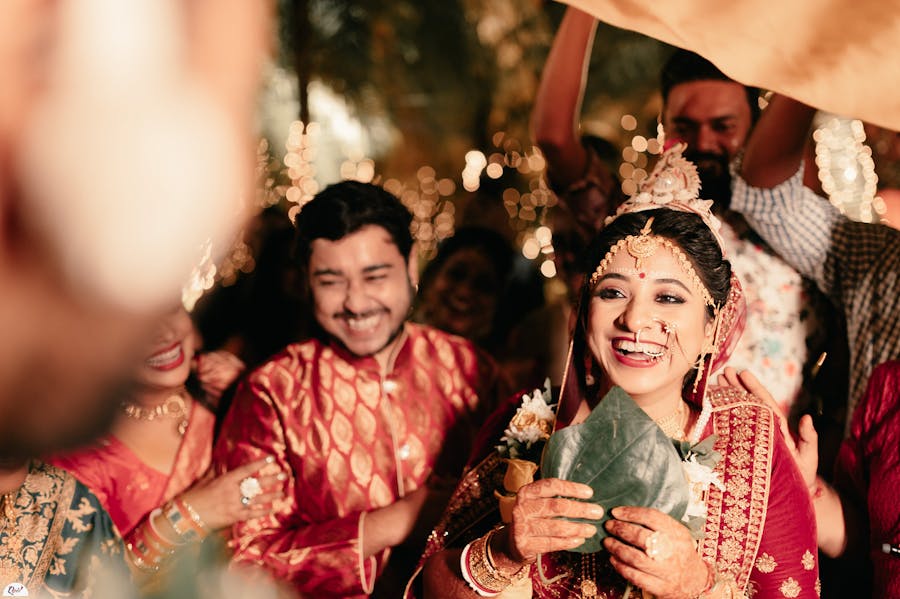 8. Extravagant Floral Nath Designs
Floral nath adds a charming and quirky appearance to your bridal look. every bride prefers to wear this dainty and mesmerizing floral nath. Unleashing the power of multi-colored floral nath and pearl embedded lace that will surely make you feel like a real princess.
9. Miraculous Beauty Of Kundan Nath
Isn't this bride looking extremely glamorous in this statement jewellery? The mesmerizing fusion of gold, gemstones and pearls in this nose ring will surely grasp your guests' entire attention to this iconic piece of jewellery.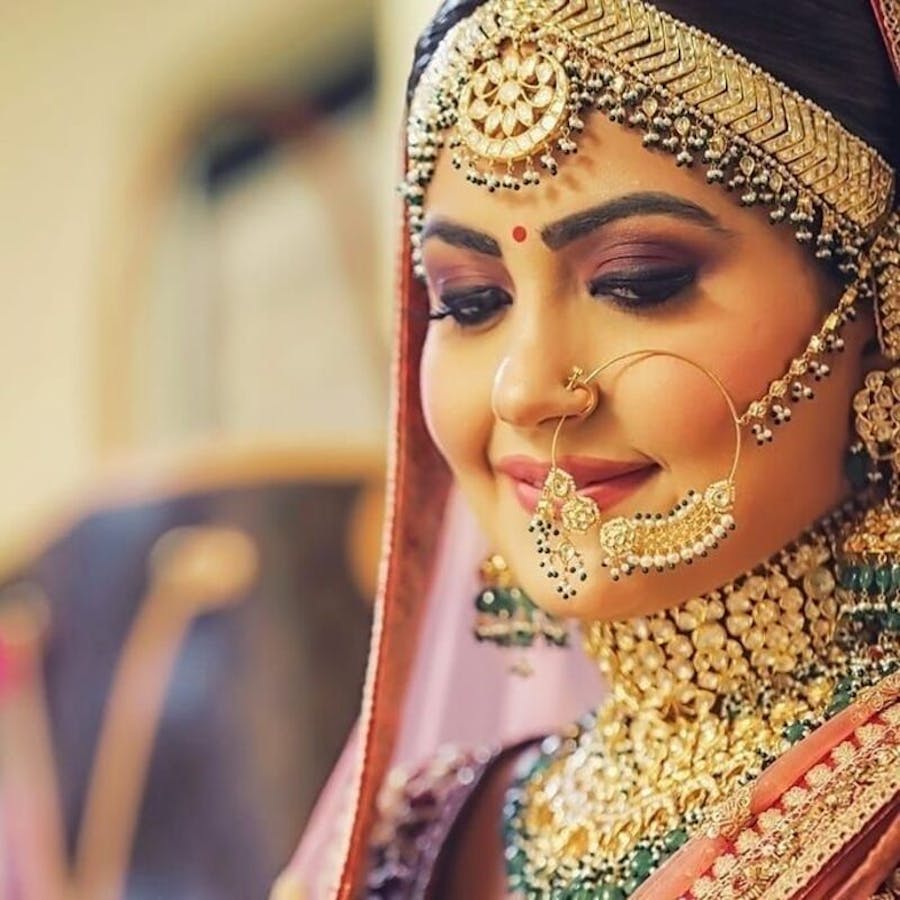 10. Sparkling Elegance Of Diamond Nath
Who doesn't loves diamond? Every bride dreams of wearing diamond jewellery to give a regal touch to her bridal look. the diamond designer bridal nath not only exemplifies your class but also offers a sophisticated and graceful look.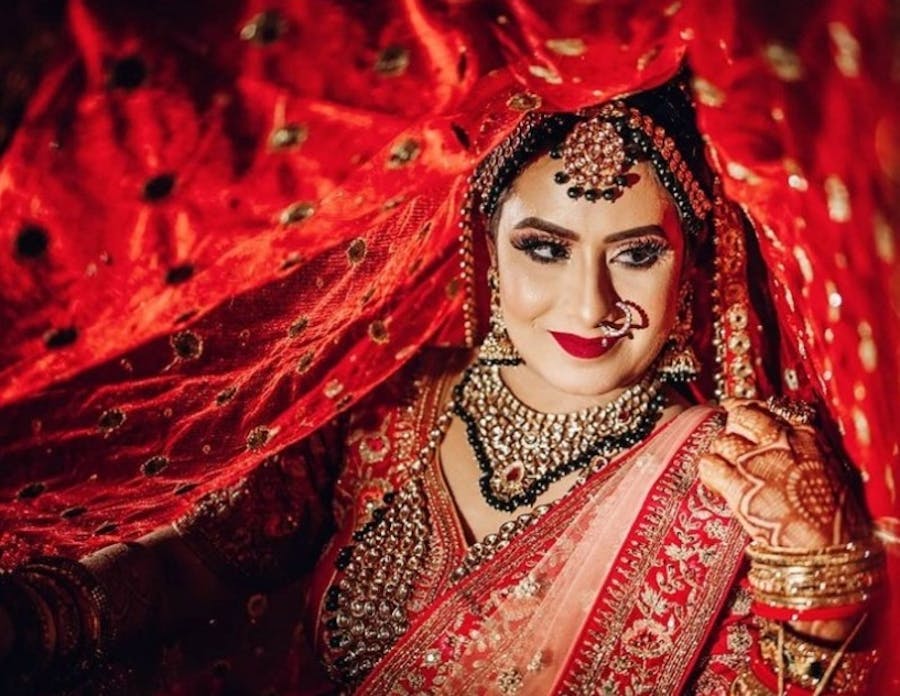 11. Minimal Nath For Bong Brides
This smiling bride wearing a wedding gold nath design is the epitome of eternal beauty. These pearl-embedded gold naths are a pure example of simplicity and elegance. Let your gold nath do all the talk about your breathtaking look.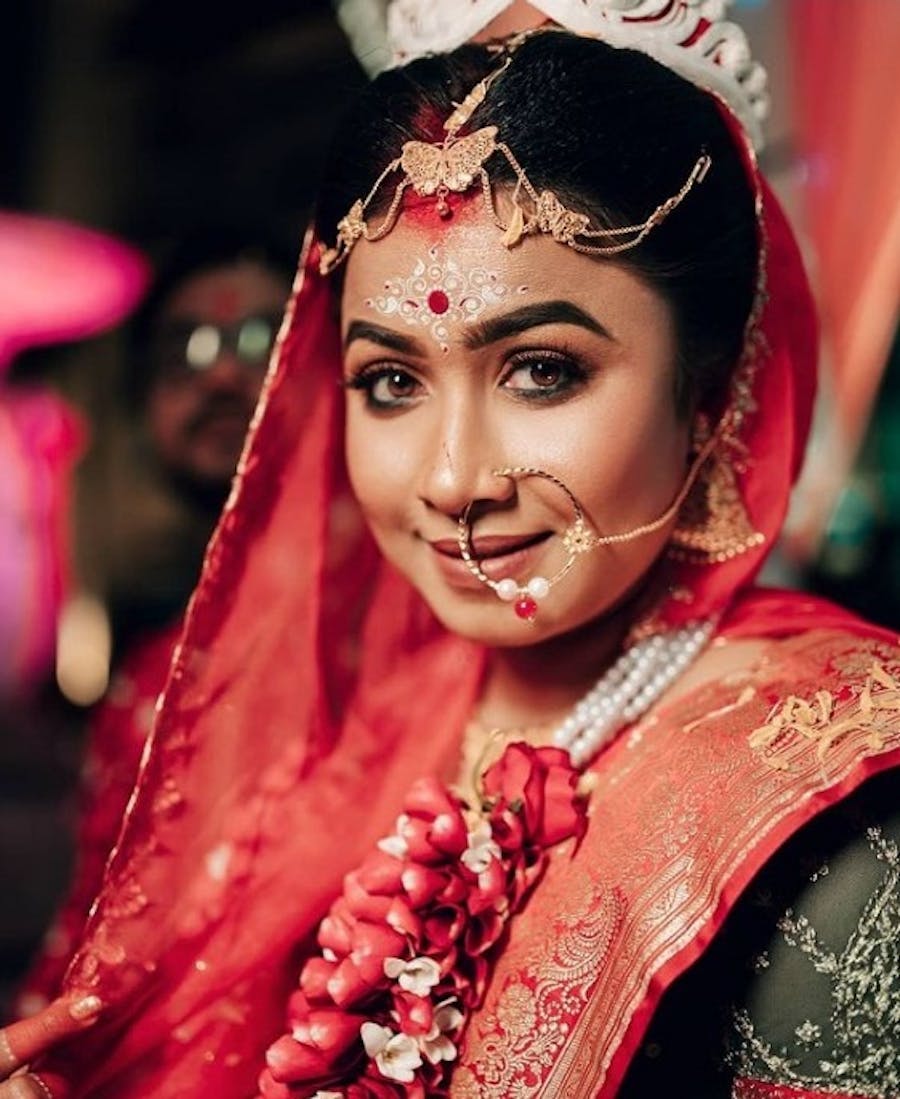 12. Dramatic Nose Ring For Royal Brides
This stunning piece of jewellery can give you an instant royal feel. Its style and appearance are truly remarkable. The black and white beads and the use of beautiful stones provide it with an alluring effect. Putting this impressive nath on your nose can truly bring out your bridal glow.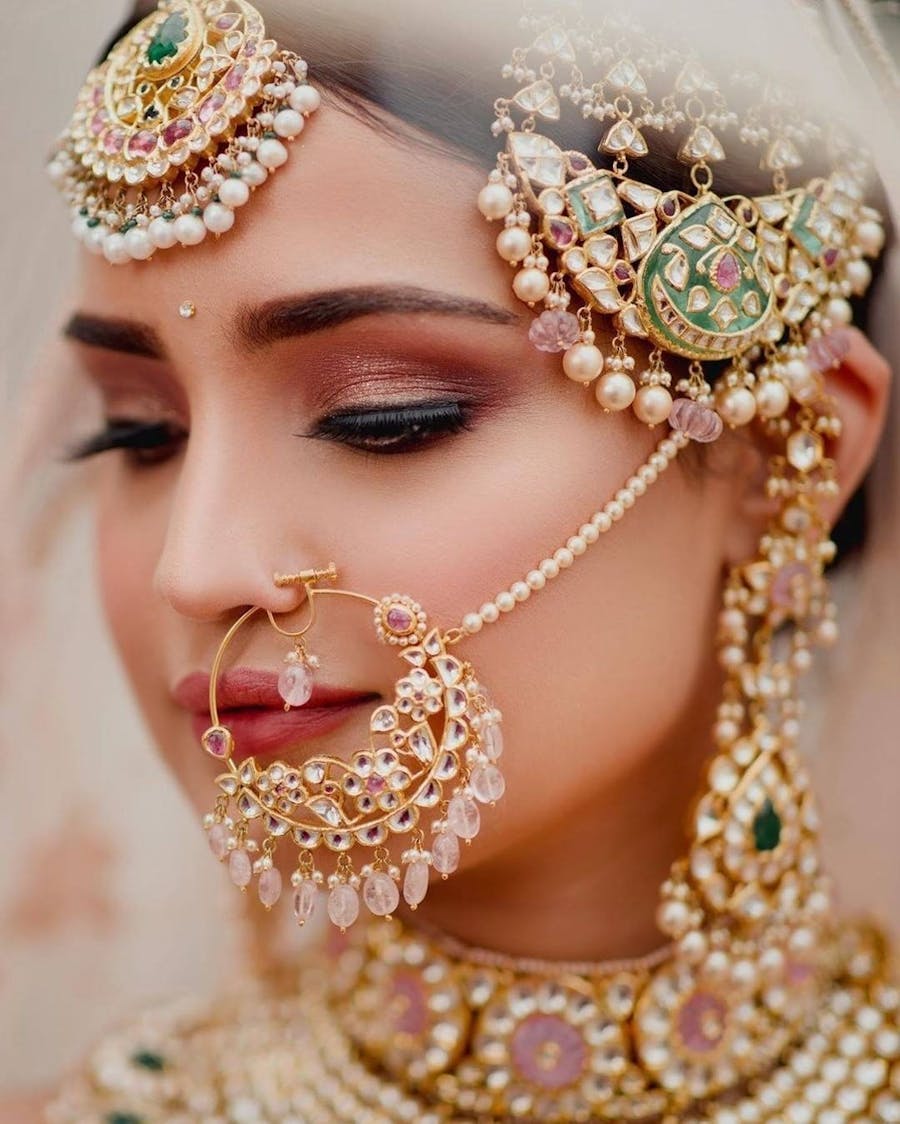 13. Sparkling Laung Of Punjab
Ending this amazing list on nose stud, known as laung in Punjab province. This tiny nose ring is adorned with precious gemstones and attached with an alluring latkan. This sparkling nose ring is for those who prefer to shine in simplicity.