A hairstyle is a reflection of your personality. It is the most noticeable part of your bridal look. A good hairstyle can even complement your simplistic look. from classic buns to stylish braids you will get endless pictures of beautiful hairstyles in the portfolio of a Bengali wedding photographer brides are opting for trendy and unconventional hairstyles leaving the traditional one behind. No matter what kind of outfit and jewelry you are wearing, you can pick a style that suits your personality. The mehndi ceremony lasts for long hours. Thus, you need to pick a hairstyle that is easy to handle. A comfortable hairstyle also allows you to be ready for a couple of shots clicked during your mehndi event. Every bride has their own choices while choosing a perfect hairstyle for their special day. If you are looking for a mehndi hairstyle that will be a visual treat to the eyes, then you have come to the correct place. We have listed all the latest and trending hairstyles for mehndi that will make your bridal look a perfect one.
1. Keep It Simple With Open Haircurls
Not all brides like to opt for a stylish bun or bread when it comes to hairstyling. For brides who want to stay simple and elegant then you can opt for an open hair look. You can look pretty simple by keeping the lower portion of your hair open and the middle portion tied in a rose braid. The soft curls of this beautiful hairstyle provide you with a magical look.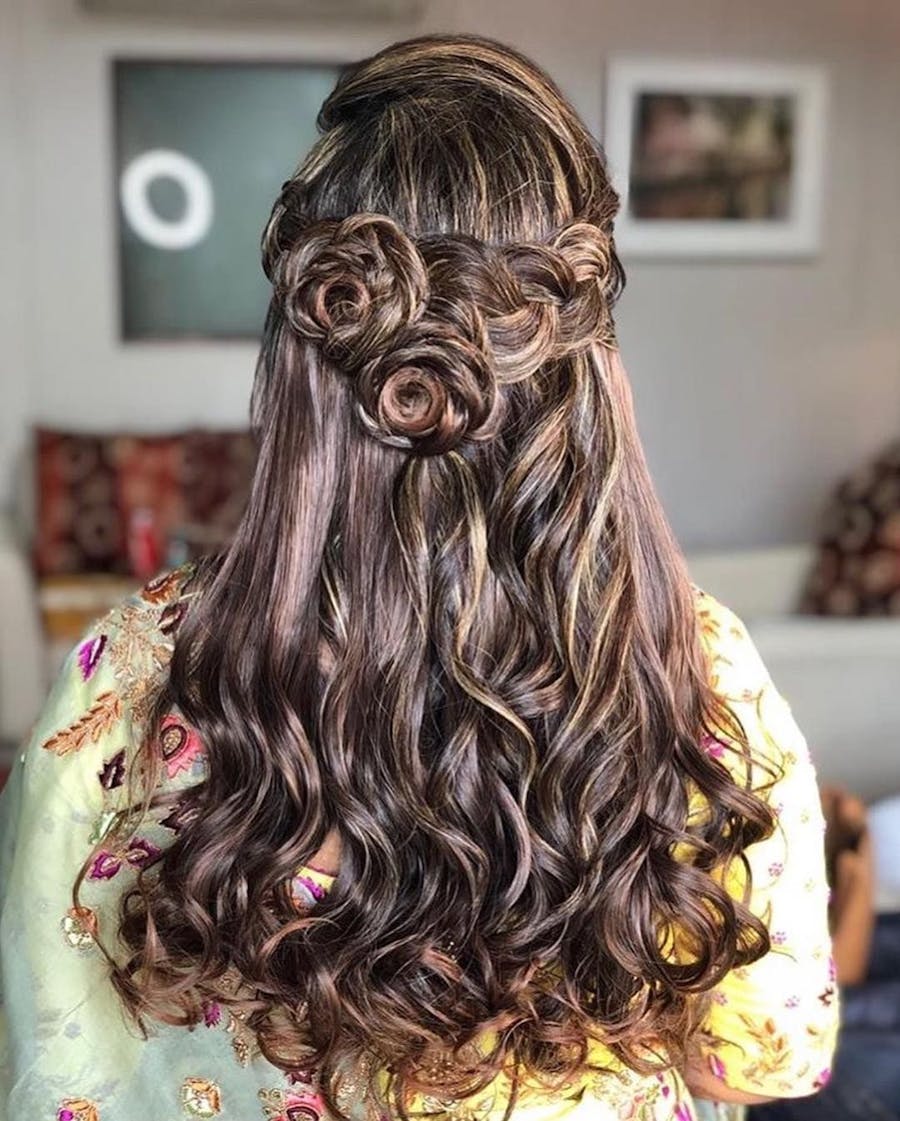 Recommended: Top 12 Bengali Style Bridal Mehndi Design Ideas
2. Twisted Braids With A Touch Of Flower
Twist your hair into two thick braids coming from each side and tie them in the middle portion. Leave the remaining hairs open and accessories the braids with mini flowers to get an esthetic look. This stunning hairstyle look will have all the wedding guests gasping with awe when they look at you.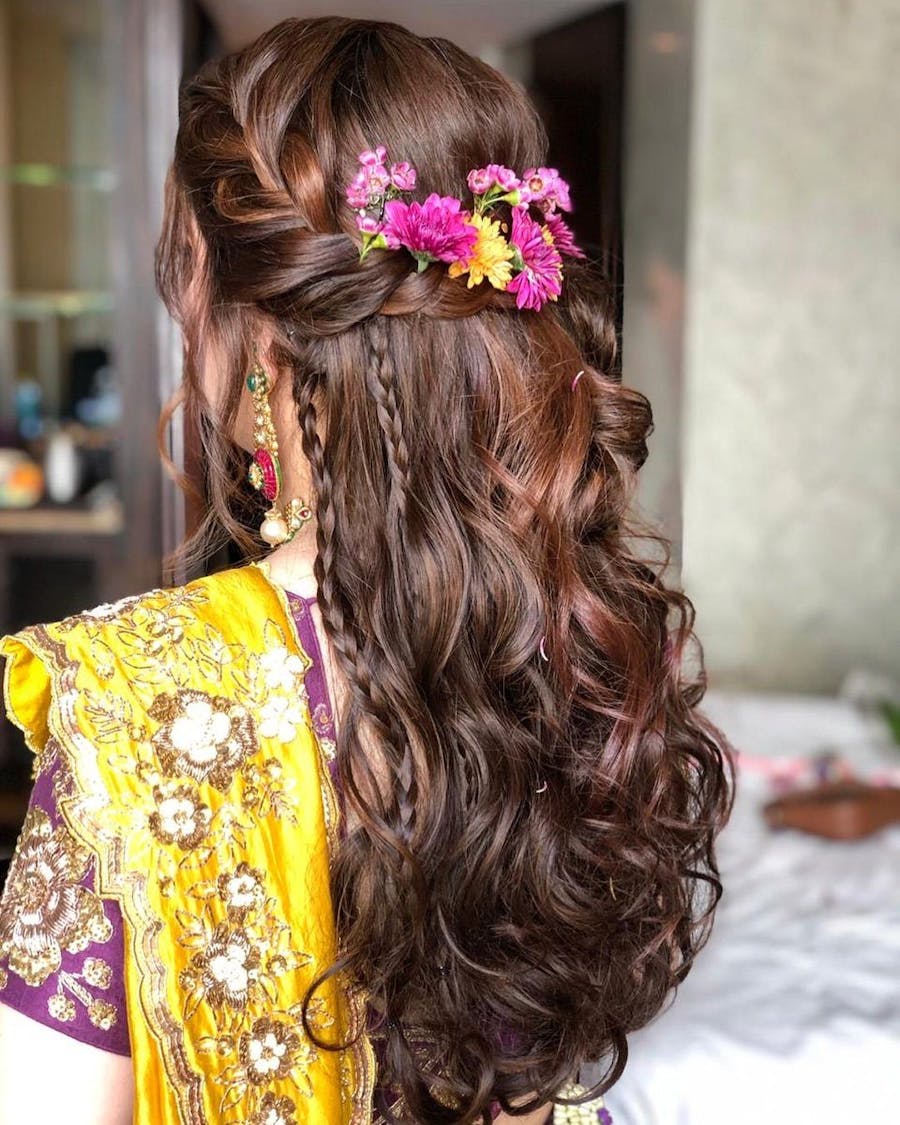 Must Read: 13+ Gorgeous Mehendi Outfits For Brides In 2022
3. Fishtail Braid – A Magical Saga
One of the most beautiful and popular hair style in braids is the curly fishtail braid. You can accessorize this mermaid-inspired hairstyle with some pretty flowers or hair accessories to get a magical look. This trendy hairstyle looks absolutely captivating on a bridal lehenga.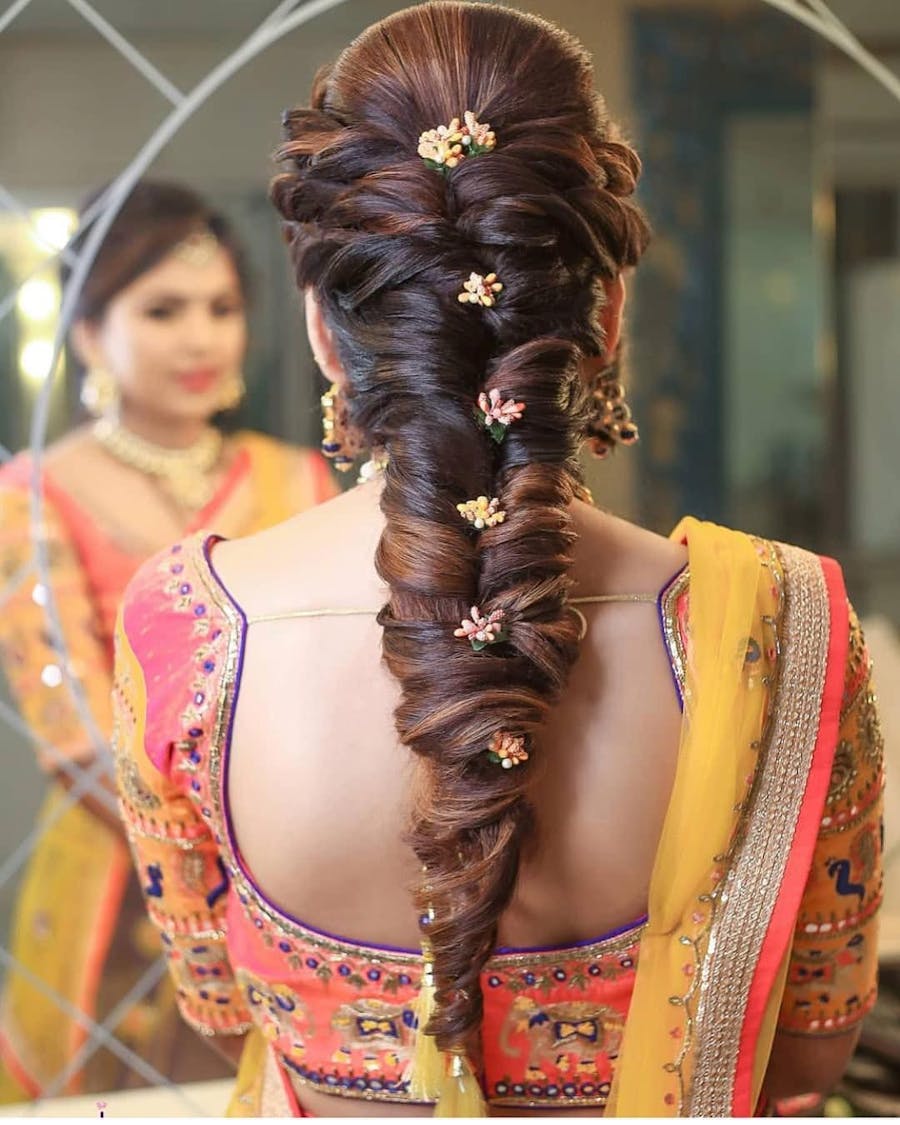 Must Read: 15 Most Adorable Finger Mehndi Designs For 2022
4. Classic Look Of A Low Bun
What can be more graceful than this classic lower bun? This simply tied lower bun at the back of the neck is the epitome of charm. Adding some baby breath and contrasting flowers with your ethnic outfit in the bun will provide you with all those dreamy vibes for your mehndi ceremony. We have captured many gorgeous brides in this majestic bun while shooting for wedding photography in Kolkata.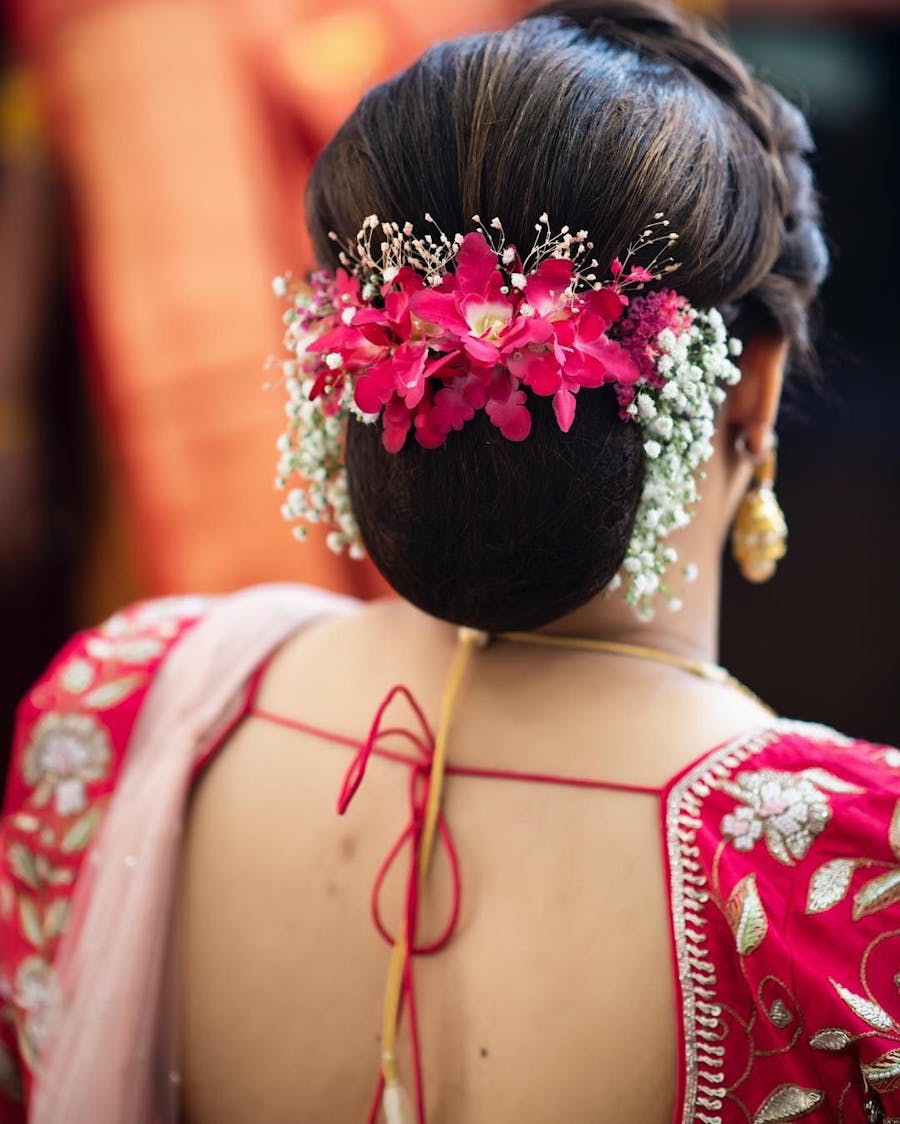 5. An Eye-Catchy Sight Of Voluminous Bun
Wondering how to glam your mehndi look. A voluminous bun adorned with red roses on one side probably can help you to be the most gorgeous bride. This super stylish bun with endless curls is a dramatic mehndi hair style for bride that complements your grand pre-wedding events outfit.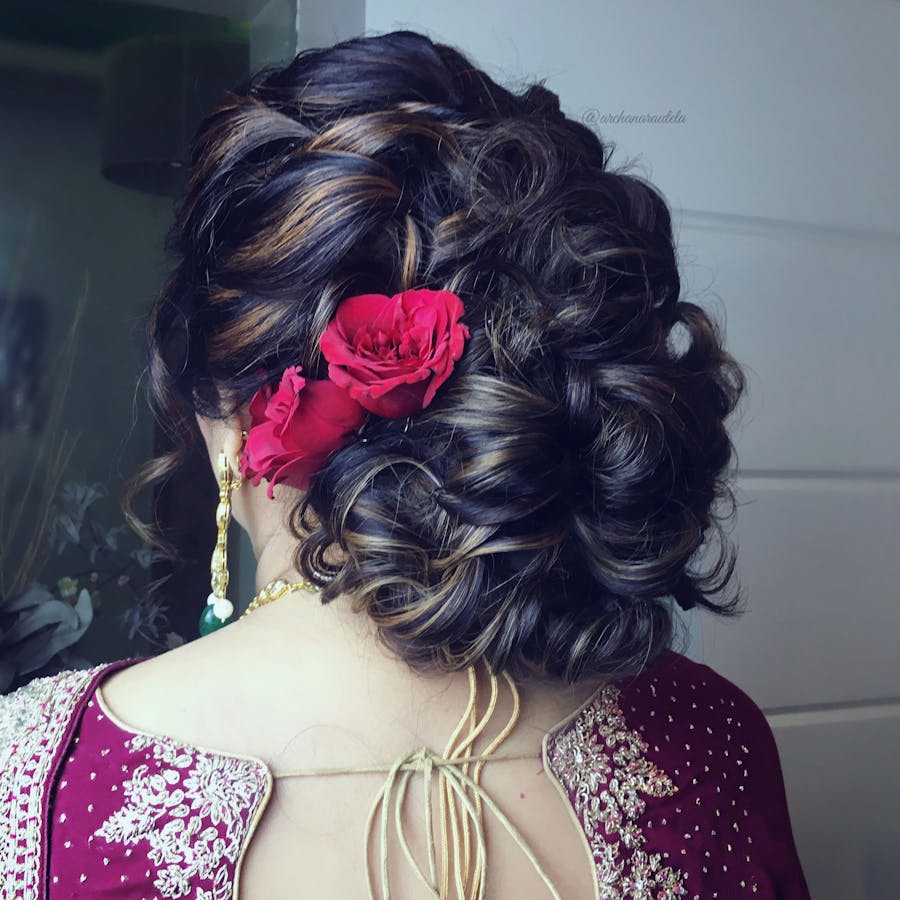 6. Sparkling Tiara On A Graceful Bun
This eye-catchy bun adorned with a graceful tiara can transform your bridal look into a goddess. The classy hair attachment like a diamond tiara is a perfect choice for brides who needs a vintage look at their mehndi ceremony. You can experiment with this look if you have lengthy hair.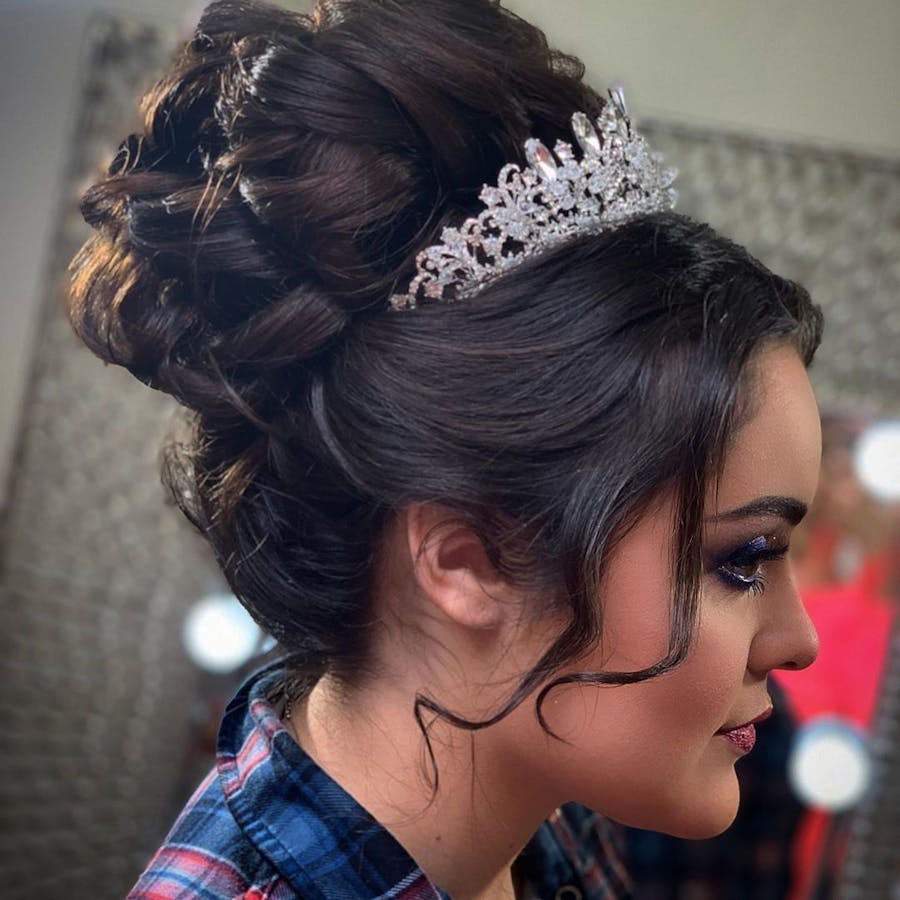 7. Wavy Pony Tail With Loose Curls
This is another dazzling hairstyle for women looking for a minimalistic look. ponytails are the basic hairstyles that girls prefer to tie while working. But most girls are unaware of the fact that this easy bridal hair styles are also a great choice for bridal hairstyles. The ultra-flattering look of this wavy tail makes a unique style statement.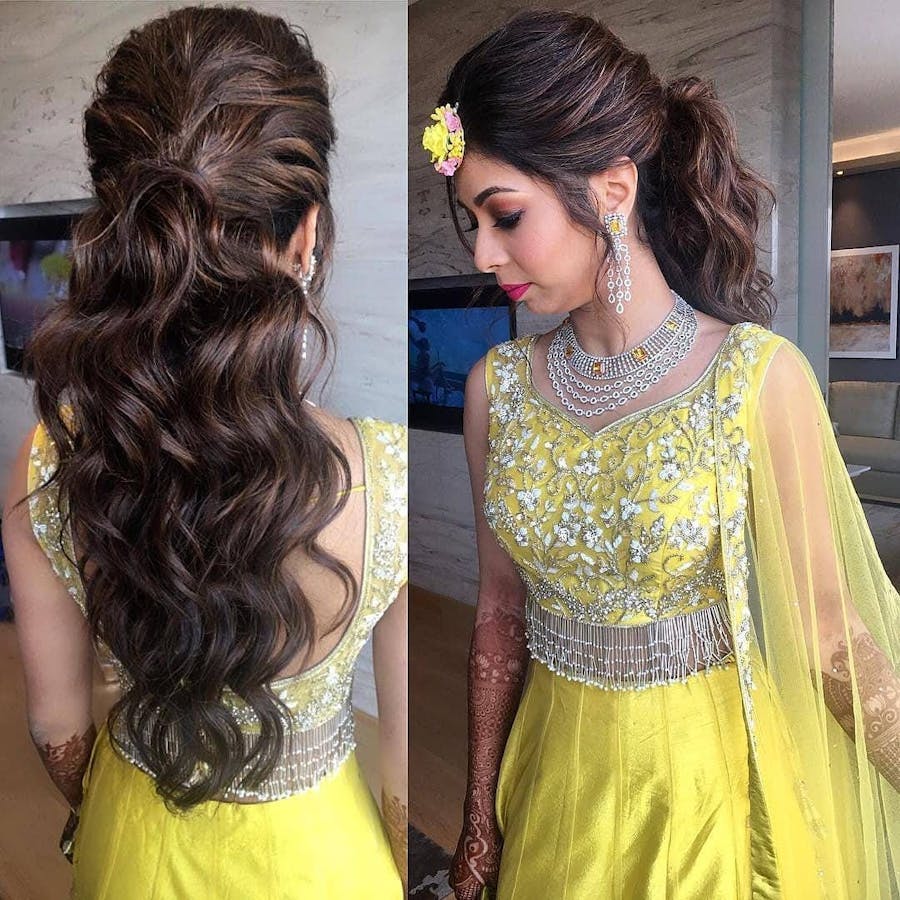 8. Fancy Cascade Hairstyle
If you've always dreamt of a fairy-tale princess look for your wedding, then the cascade hairstyle adorned with a baby breath wreath is an ideal option for you. This latest bridal hairstyle can add a touch of romance and elegance to your mehndi look.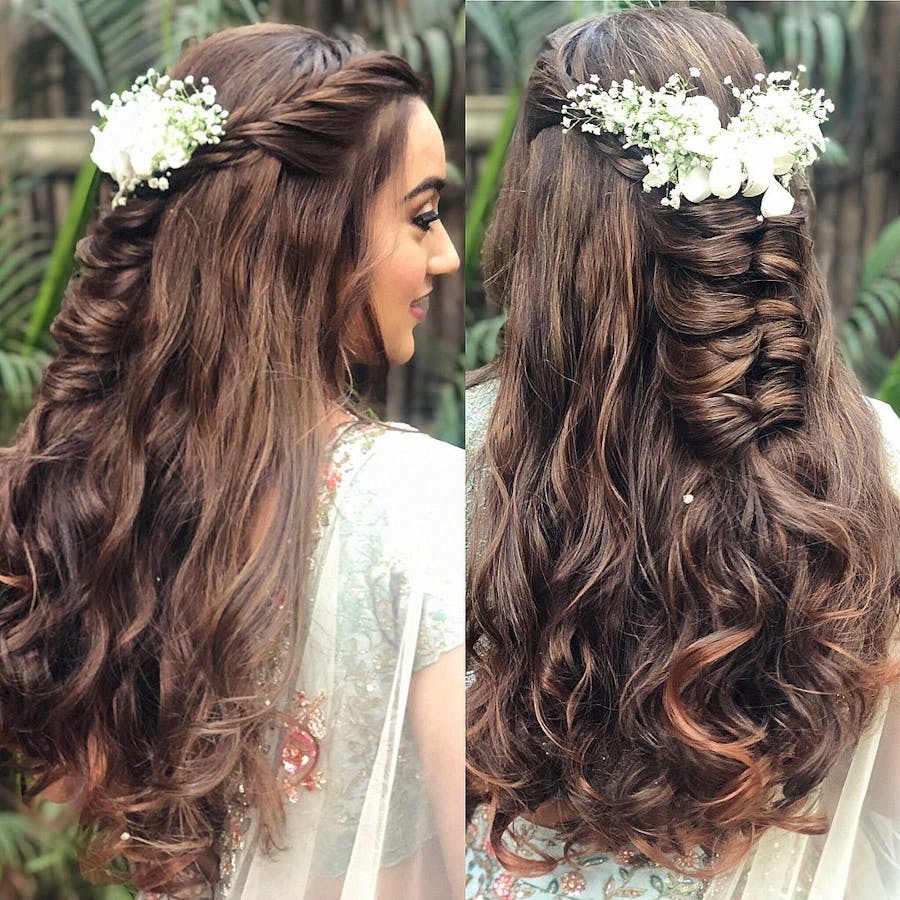 9. Puffed Hairstyle With A Simplistic Approach
This puff hairstyle can amazingly transform your entire look. We are overwhelmed by the beauty of this stunning hairstyle. Don't you think this is one of the coolest bridal open hairstyles on this list? It will perfectly go with a vibrant hue bridal lehenga and set of Kundan jewelry.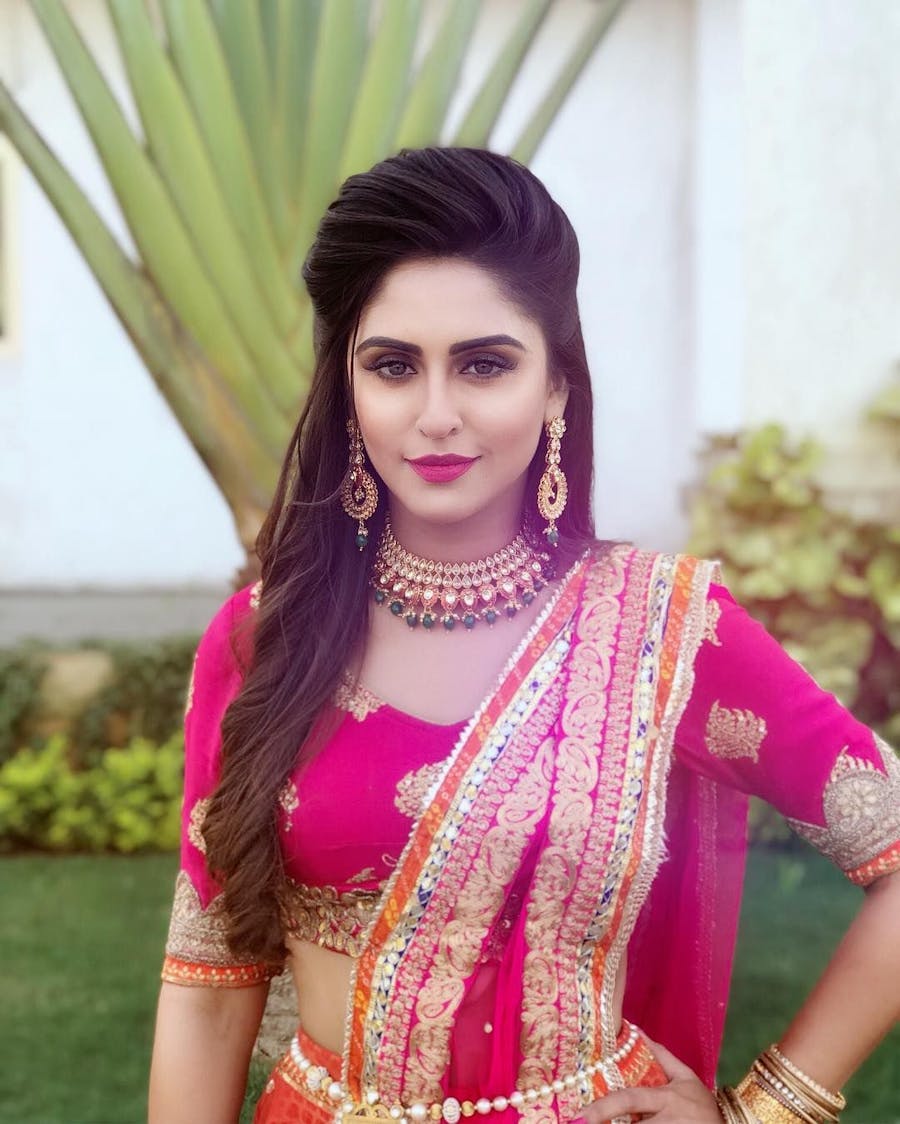 10. Floral Bun With Blue Touch
The twisted swirls are making this hairstyle no less than a beautiful flower. We have seen many brides putting multiple roses into their buns. But here the hairstylist has played a creative game and gave her bun the shape of a flower. The blue flowers on her bun is providing a dreamy look. this flower bun for the bride is the classic way to jazz up your mehndi look.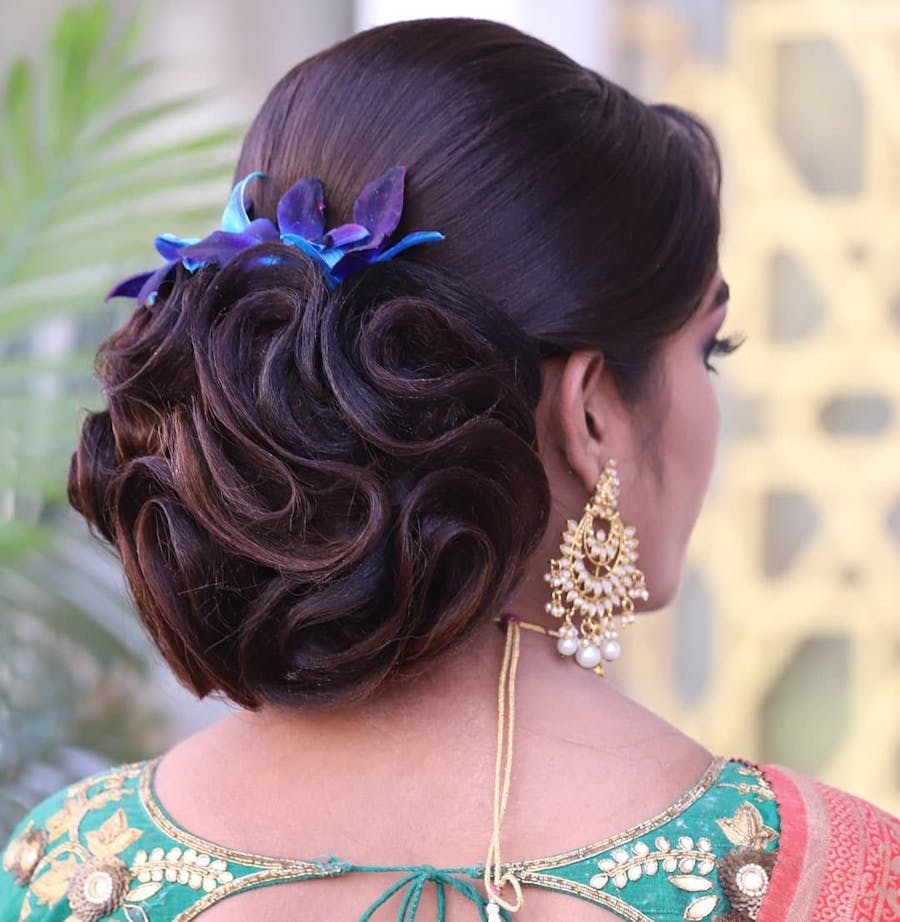 11. Long Braid With Hair Ornaments
We are sure that you've noticed this traditional hairstyle in south-Indian weddings. A single braid accessorized with floral wreath and hair ornaments can make you look like a divine figure. These bridal hairstyles for mehndi look best with a silk saree.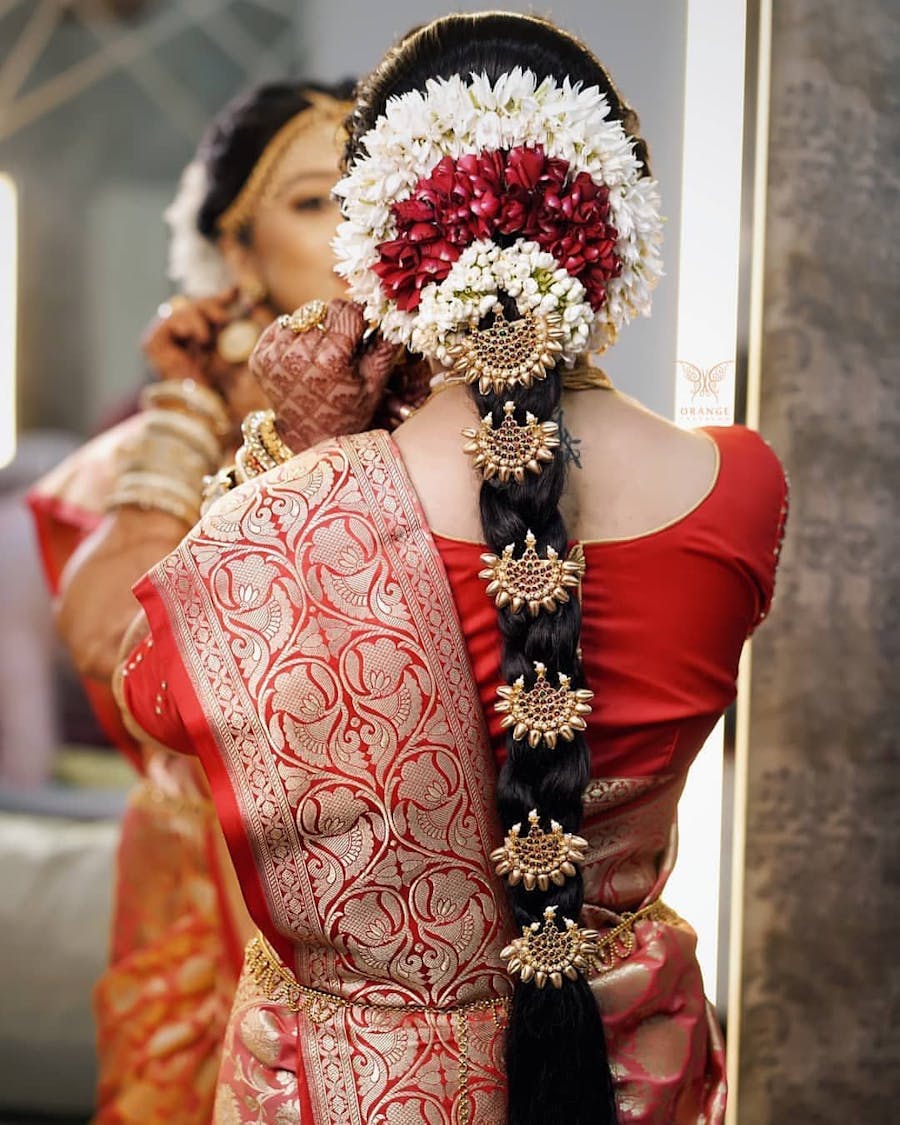 12. Elegant Open Hairstyle
Take inspiration from Deepika Padukone who has stunned us by her eternal beauty. The sleek hair parted in the middle is an easy and best hairstyles for women. This mehndi ceremony hairstyle is a fascinating way to enhance your beauty.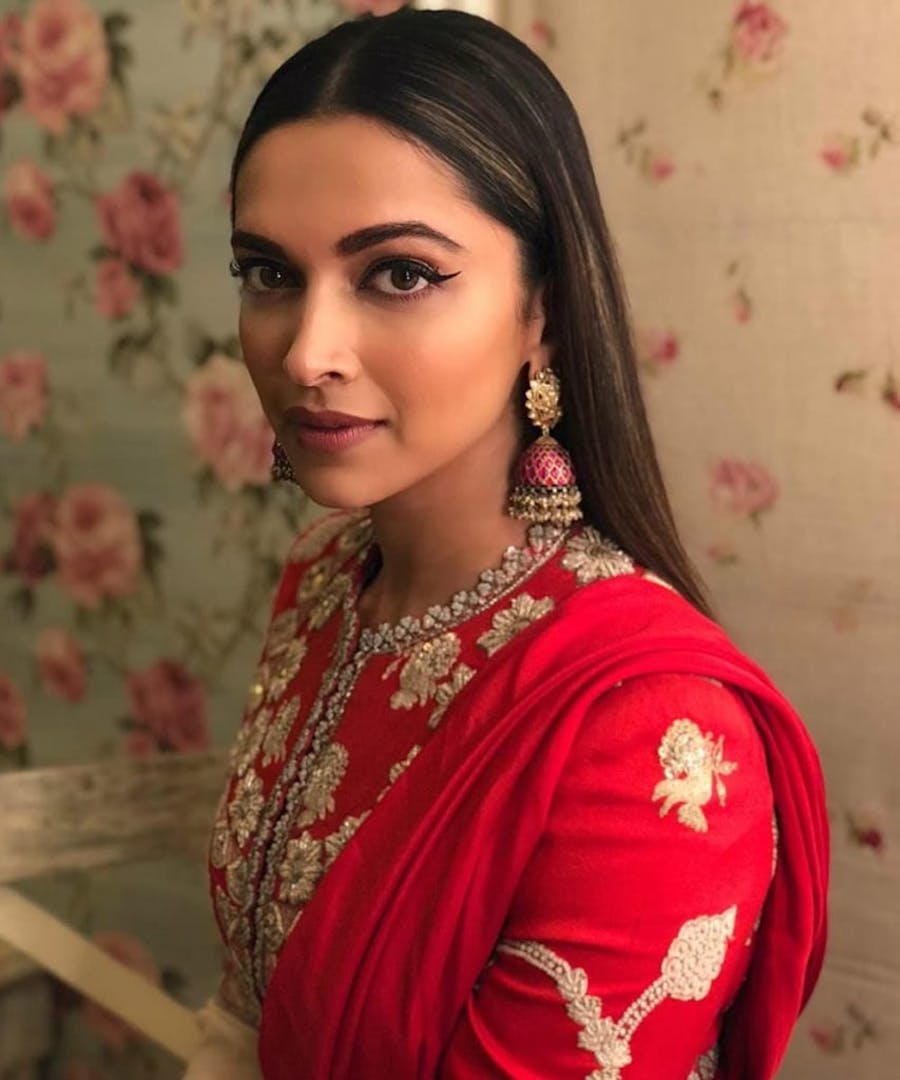 13. A Stylish Approach With A Swirl Bun
The beautiful swirl bun with a roses wreath is a charming hairstyle that can steal the show. Totally love the way the bride has adorned her bun with golden hair accessories to contrast her bridal lehenga and golden shade curls.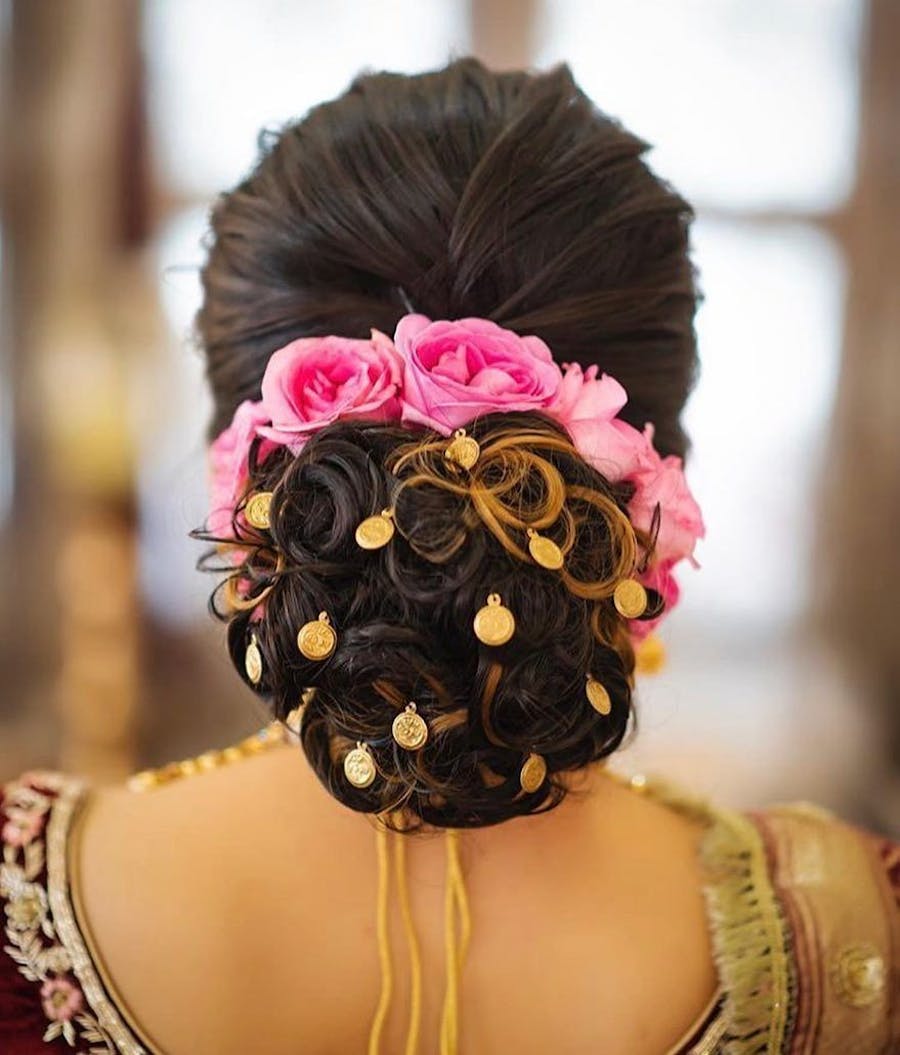 14. Bridal Bun With Messy Curls
Messy, gorgeous, and the prettiest bun one can have on their mehndi function. This new bridal hairstyle with a stylish floral accessory adds a beautiful twist to your look.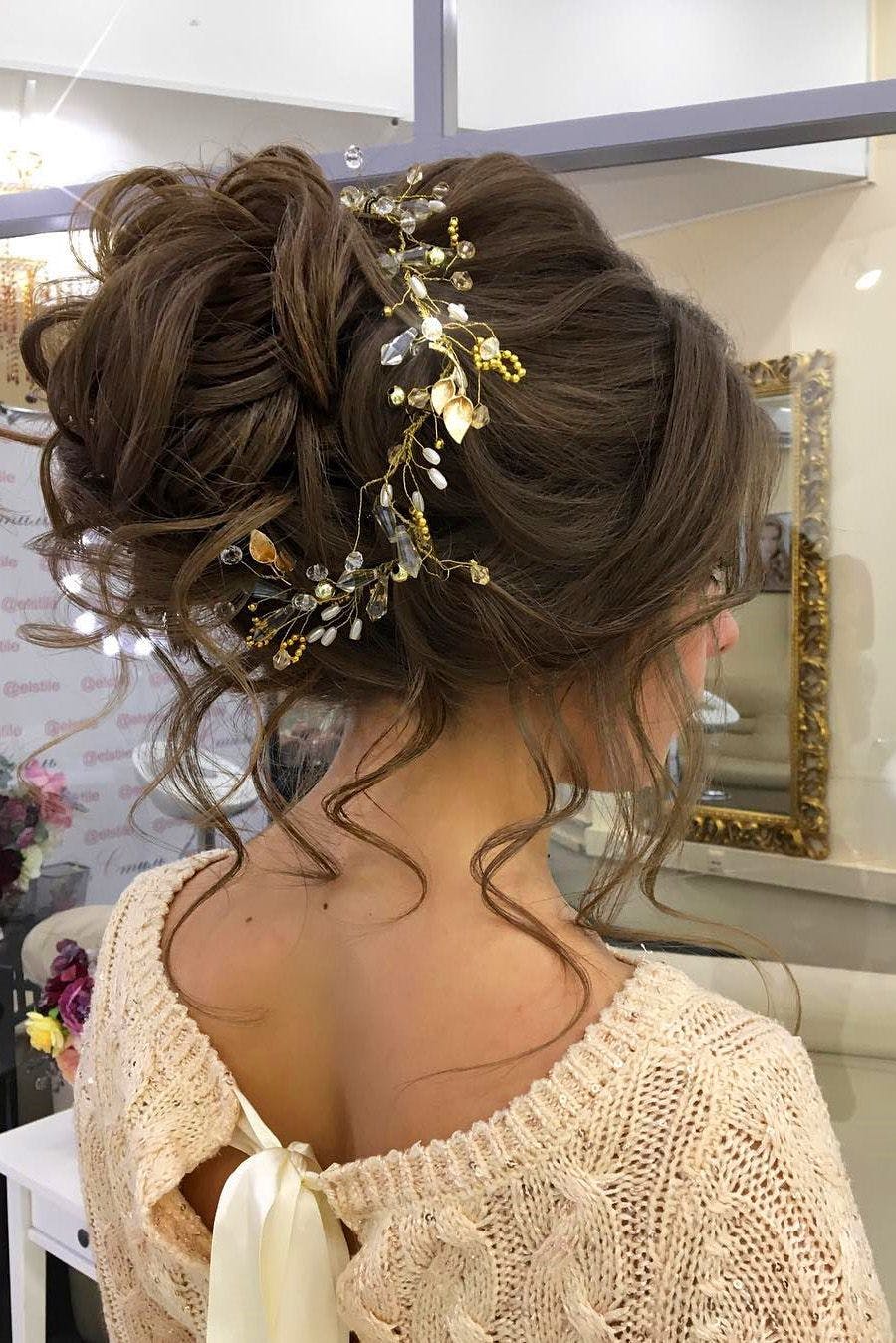 15. Crown Braid – Live Like Princess
How to turn your classic hairstyle into the most stunning one? The answer is simple. Try experimenting with a cascade hairstyle to get a beautiful wavy texture in your hair. The braid designed in a crown shape offers you the most mesmerizing look which can be a good choice for a memorable pre-wedding photoshoot.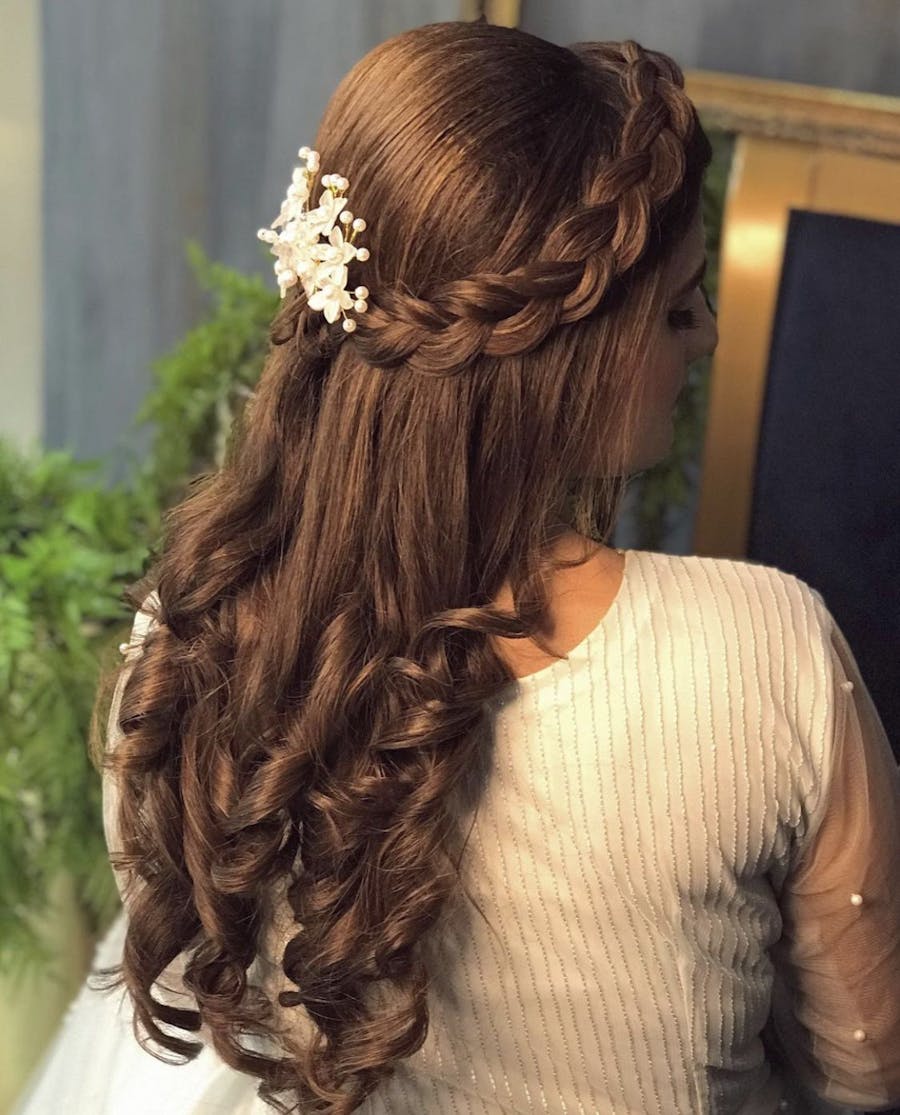 Here we end this beautiful list of best hairstyles for mehndi. Let us know which of these hairstyles inspired you the most for your mehndi ceremony.