Wedding celebrations always evoke strong emotions and memories. Some might not know that a mehndi ceremony is equally important for the bride and groom. The beautiful designs of henna symbolize eternal love and loyalty toward each other. In true words, a mehndi ceremony is a celebration of a blissful union of two souls. The mehndi design of every groom can be as individual as their personality. Some might prefer to paint their full hand with elaborate mehndi patterns. While other grooms inscribe their wives' names on hand. Being a popular wedding photographer in kolkata we got several chances to capture the mehndi portraits of grooms. Grooms are leaving no stone unturned to make their mehndi ceremony a jovial celebration. Mehndi designs can be traditional, or modern depending on the choices of the groom. These mehndi designs complement the stunning attire of men very well.
Are still wondering which groom mehndi design to choose? Then here are a couple of ideas to make your task easier.
1. When You Want To Add A Twist Of Creativity In Traditional Style
Get those religious motifs inked on your palm to add a traditional touch to the wedding. This traditional motif of Lord Ganesha drawn on hands has caught our attention at the first sight. This wonderful royal groom mehndi design is perfect to celebrate a traditional event.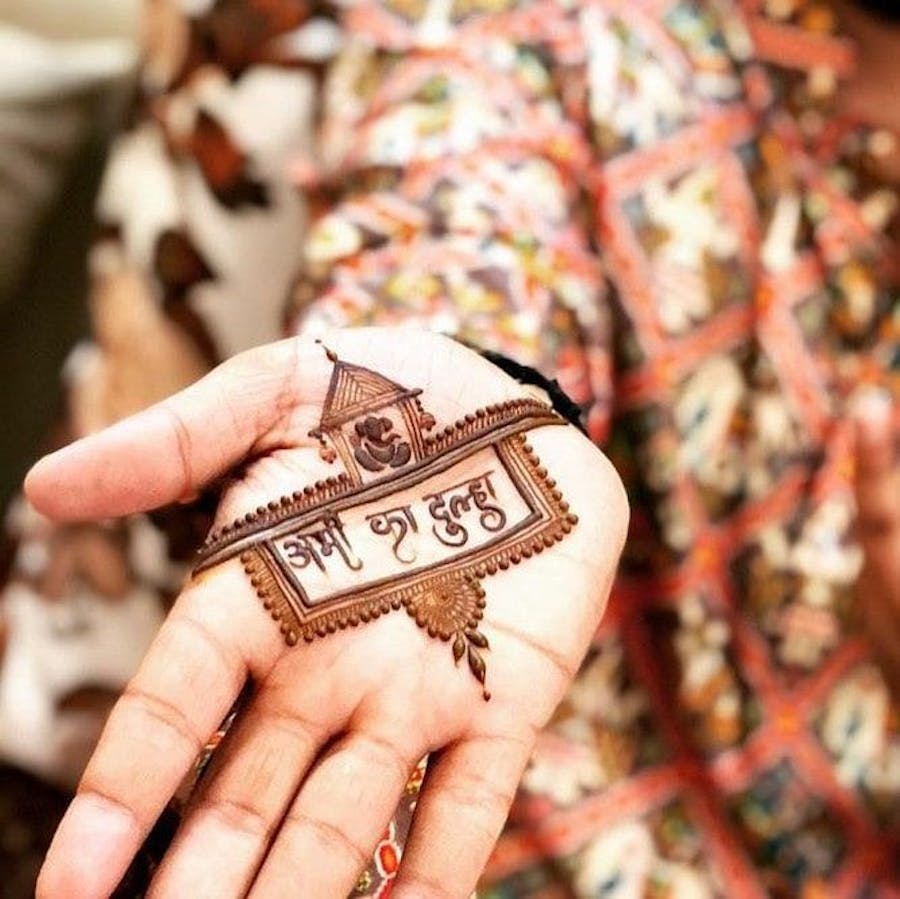 Recommended: 15+ Dashing Groom Dress Ideas For Engagement Ceremony
2. The Circular Motifs Are Always The Rockstar Of Mehndi Event
The mandala mehndi design has been often captured by the photographer in kolkata for wedding albums. Most Grooms choose this gorgeous mehndi design for a minimal yet dashing look. The circular pattern and dots of this henna design leave a great impact if worn with ethnic clothes. A Bold mandala design adds simple elegance to your desi dulha look.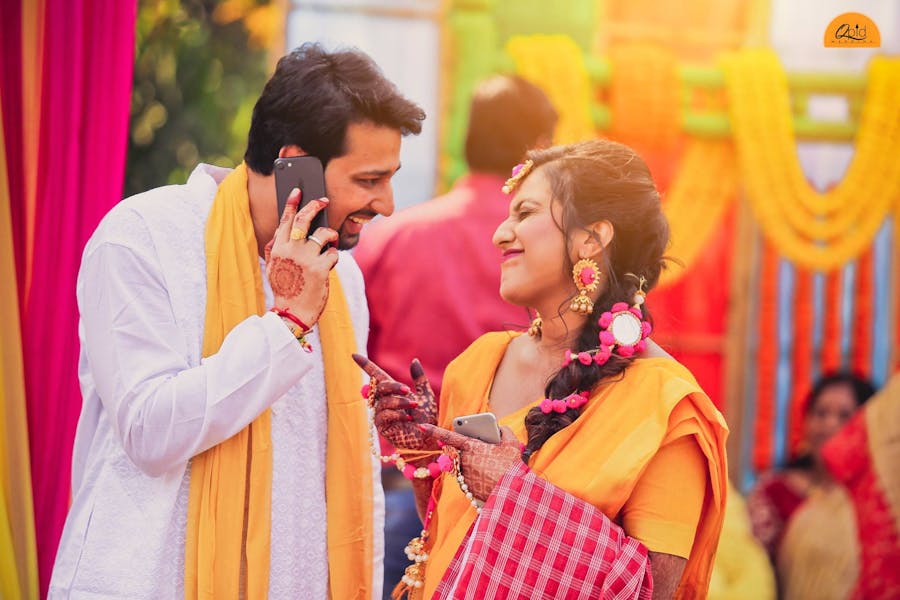 Must Read: Trending Pre Wedding Shoot Dresses For Couples
3. Leave Her Mesmerized With Stunning Meshwork Groom Mehndi Design
This royal groom can give some serious competition to his darling bride in fashion and style. The beauty of his classic sherwani is amped up with the stunning jaal mehndi pattern on her hand. The intricate jaal all over his hands is the main attraction of his wedding look.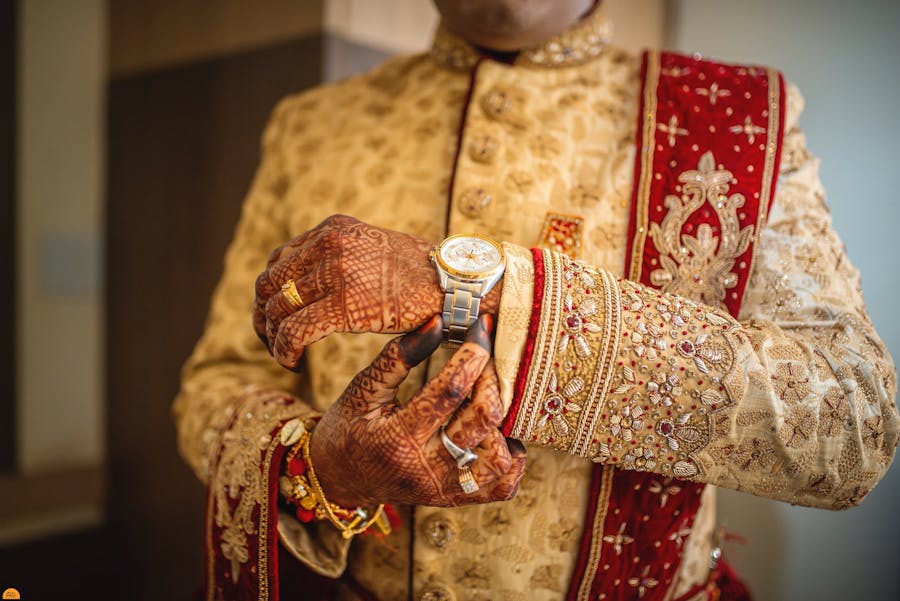 See More: Top 13 Stylish Mehendi Dresses For Grooms – Qpidindia
4. When You Want To Add A Classy Touch In Your Wedding Look, Then Go For The Psisleys
Paisleys are the old-world charm that looks magical on every hand. These are the most classic groom mehndi designs for wedding that can provide you with an offbeat look. We love the bold strokes of this mehndi design that is adding a spectacular vibe to his dashing personality.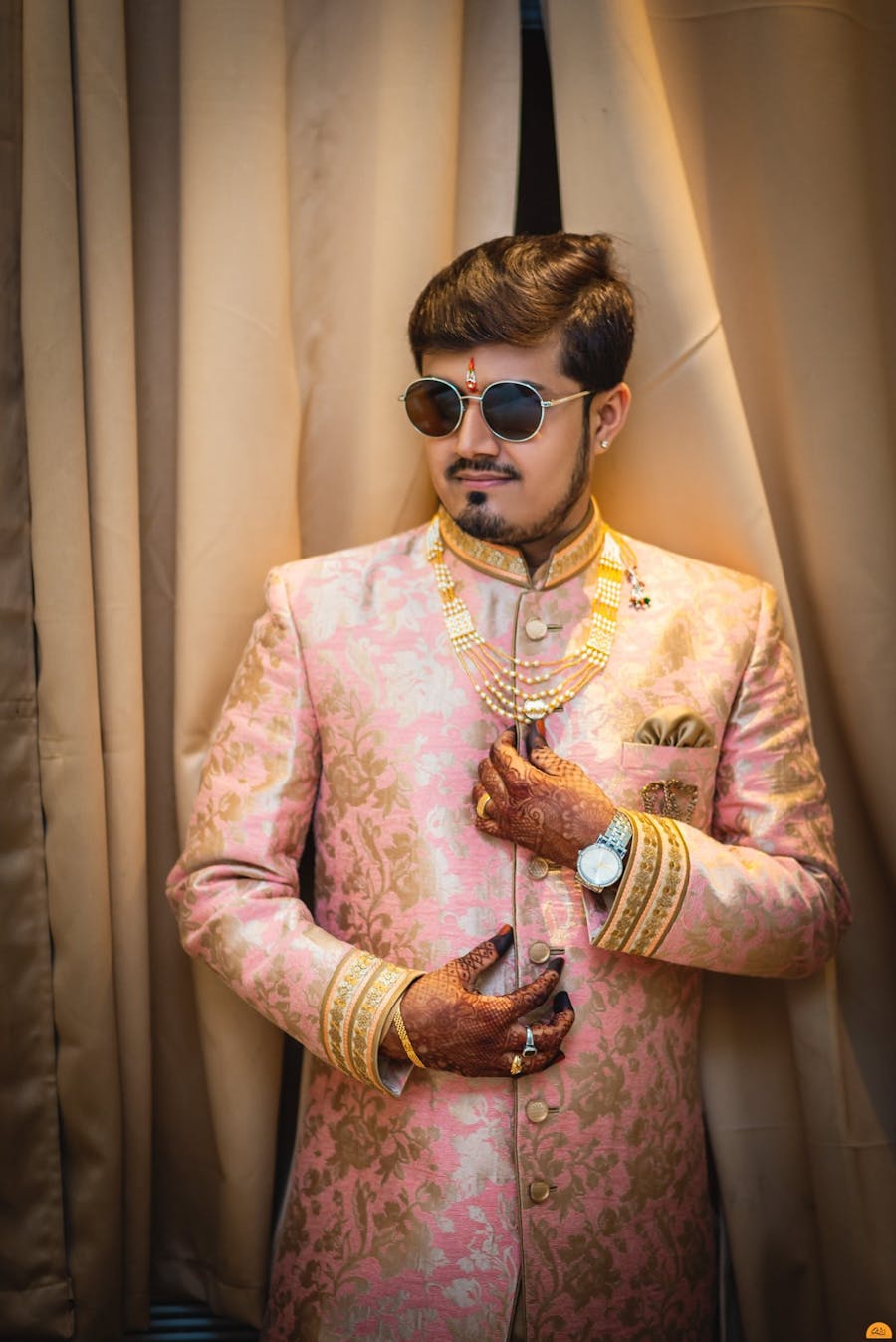 5. For The Groom Who is Deeply In Love
Personalization is the latest fashion trend that is taking the internet by storm. A personalized mehandi for groom is the most loved henna design by bride and groom both. This groom has painted the name of his bride on his palm. The beautiful calligraphy done using henna is telling us a beautiful story of love.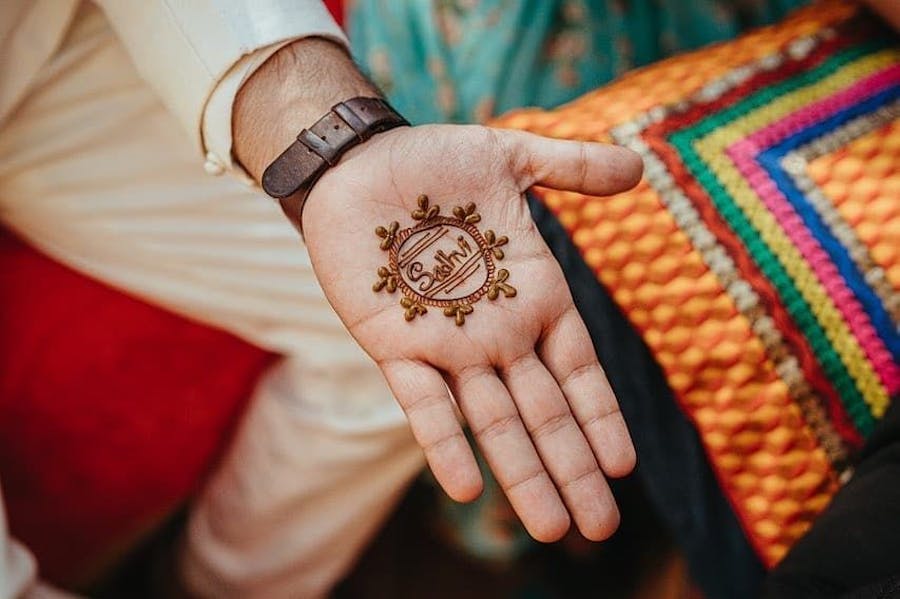 6. Loving How This Groom Has Made A Statement With Simplistic Design
If you are one of those grooms who believes less is more then you must choose a simple groom mehandi design. Sometimes a simple motif can also do great wonders! A single flower drawn in the middle of the palm looks beautiful in your minimal groom look. It defines your personality and makes you the super charming groom.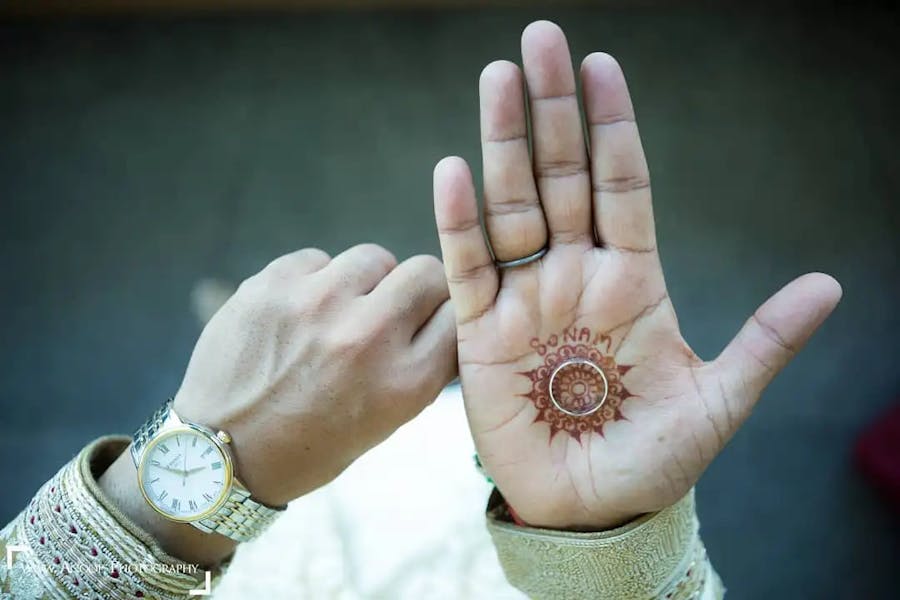 7. Break All The Stereotypes With A Full Hand Groom Mehndi Design
A full-hand mehndi design for groom is a perfect option to flaunt the artwork. It is for all those grooms who love to embrace the tradition with gusto. A full-hand mehndi design looks impeccable with a royal sherwani or Achkan. This mehndi design is always an eye-pleaser that celebrates festivity at its fullest.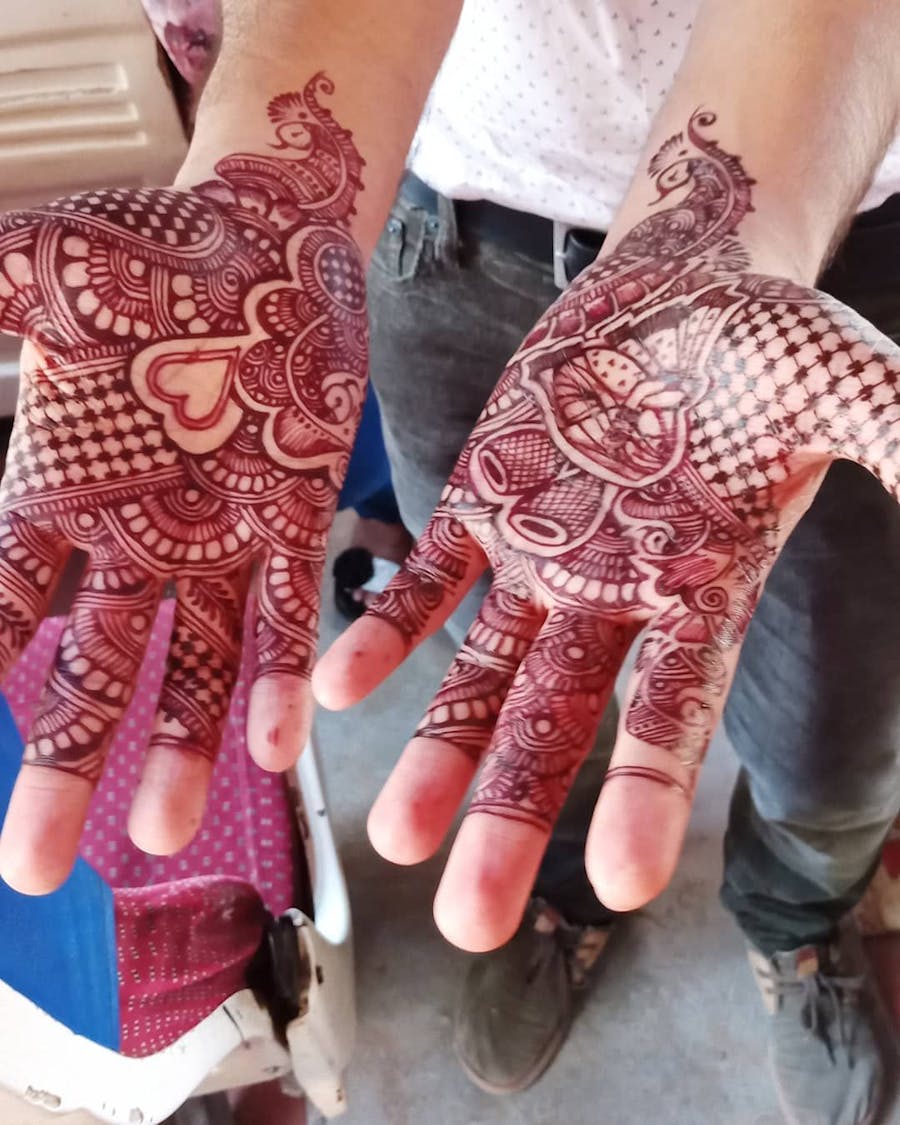 8. When You Are A Huge Fan Of Super Heroes
We just can't stop crushing over this offbeat mehndi design! This charming groom has stolen the limelight of his wedding event with a super unique motif. He has drawn the logo of batman and avengers on both his hands. It clearly defines that he loves fictional characters and comic stories. You can also try such unique ideas to celebrate a memorable mehndi ceremony.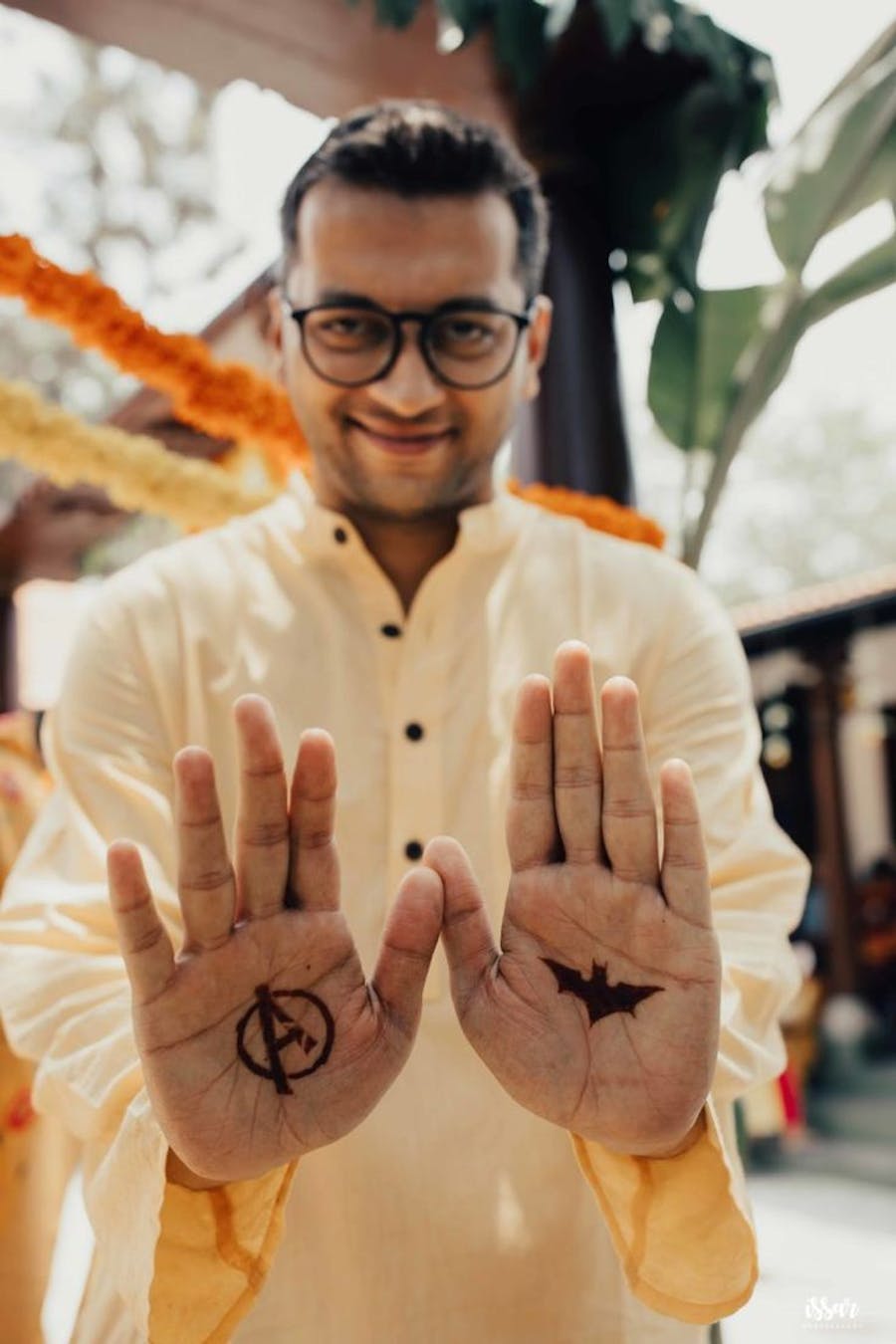 9. An Intricate Mehndi Design For The Artistic Guy
An intricate groom mehndi designs for hands is a perfect way to begin the new journey. The intricate floral design adds an elegant touch to your mehndi ceremony look. This beautiful artwork will let you steal the show with your charm. The designer and bold strokes all over the hands give you a stylish look.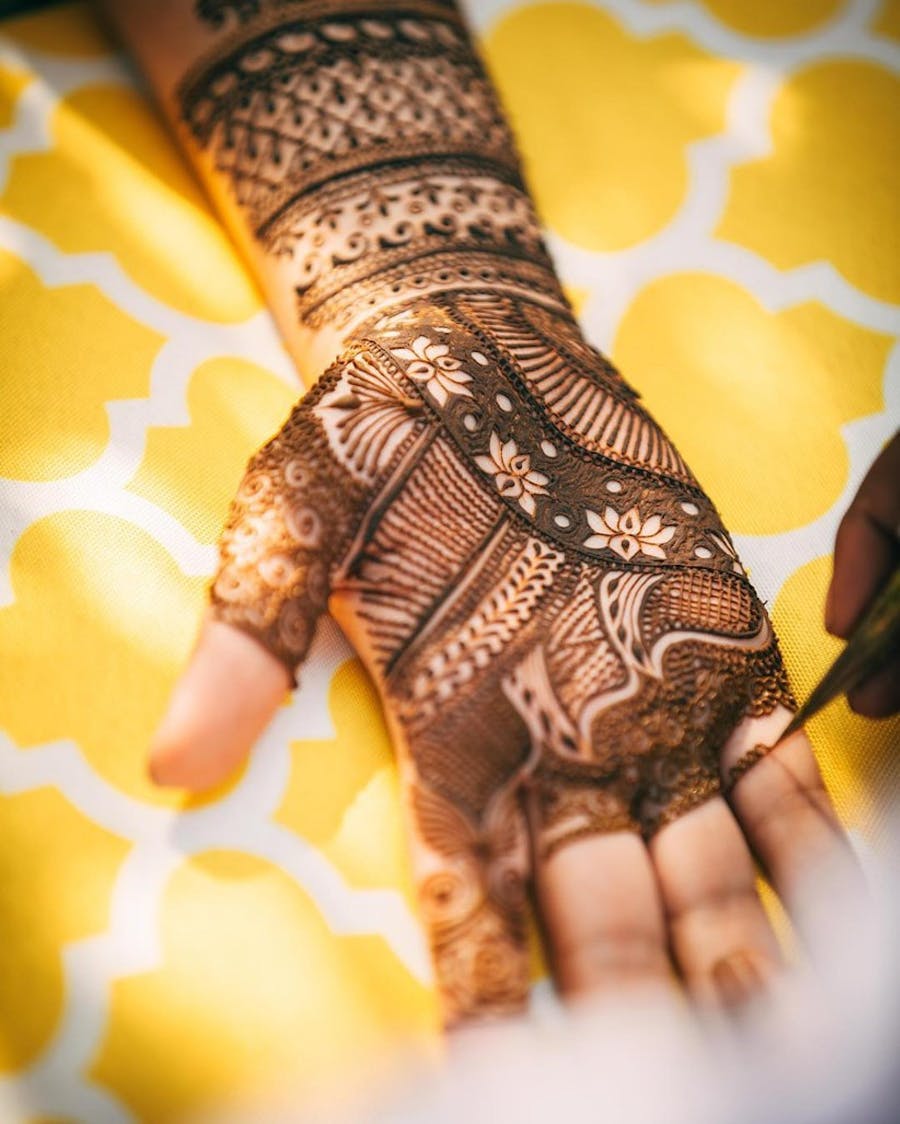 10. The Dulha–Dulhan Motifs Can Never Go Out Of The Style
There is nothing as special as the dulha-dulhan mehndi motifs. This is the most spectacular dulha mehndi design that you can choose for your special event. This kind of groom's mehndi design looks splendid with pastel groom outfits. This mehndi design can take your relationship go a notch higher with its elegance and style.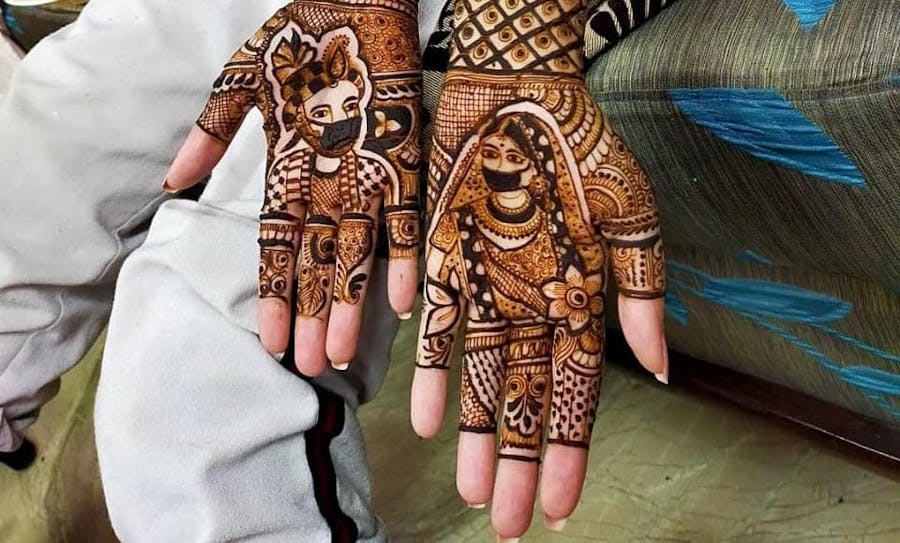 11. Draw The Symbol Of Love To Reveal Your Romantic Side
This swoon-worthy mehndi design is touching our hearts for its splendid beauty. The heart is the romantic motif that can help you to express your inner emotions. Guys nowadays are finding unique ideas to express their love for their brides. It will reflect your happiness and love feelings in a single frame.
12. When Your Wedding Hashtag Says All About The Event
Wedding hashtags are one of the most simple groom mehndi design. Inscribing your partner's name and wedding date on hand is a beautiful way to announce your big day. It allows you to show your love for the person you plan to spend the rest of your life with.