The Mehndi Ceremony is one of the most important, fun, and lively events before an Indian wedding. Every girl wants to remember the special and important parts of her marriage for the rest of her life. Fine Art Production takes a lot of fun, high-quality wedding photos, pictures of the bride, and photos of the groom. Our best wedding photographer in kolkata will also suggest Mehndi Photoshoot Ideas that are currently popular and that every bride will want to include in her wedding book.
 Recommended: Top 13 Trending Foot Mehndi Design Ideas In 2023
1. Smiling Bride Mehndi Pose:
This one doesn't need to be said, and it's a sure thing to happen. How could a happy bride not smile when she looks at the red-tinted designs carefully drawn on her hands before the big day? All you have to do is ensure the bride's face shows pure happiness.
You can also take shots of the mehndi in different stages before, after, and during! Any picture could look better if the bride were smiling brightly. This is the best Mehndi Photoshoot Ideas to show her happiness about starting a new part of her life.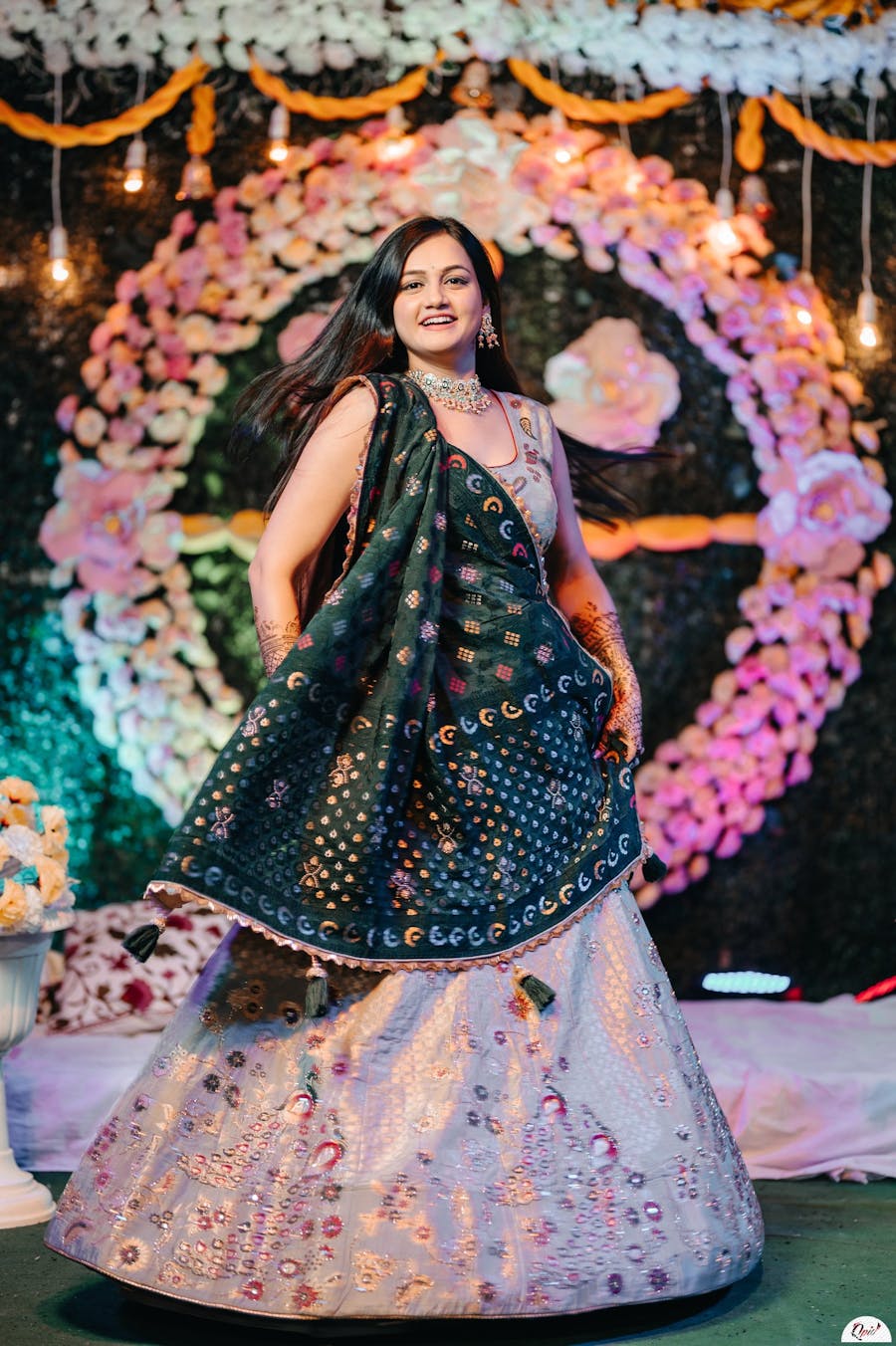 Must Read: Top 25 Bengali Wedding Photography Poses Ideas You Need To Know
2. Flaunting Pose:
Own it, work at it, and show it off! This should be your guiding thought. Your henna drawings need a good stretch. Pick a picture from Pinterest, get your photographer in kolkata for wedding or maid of honor involved, and take the perfect picture of your beautifully made hands! Bengali wedding photo shoot is very popular.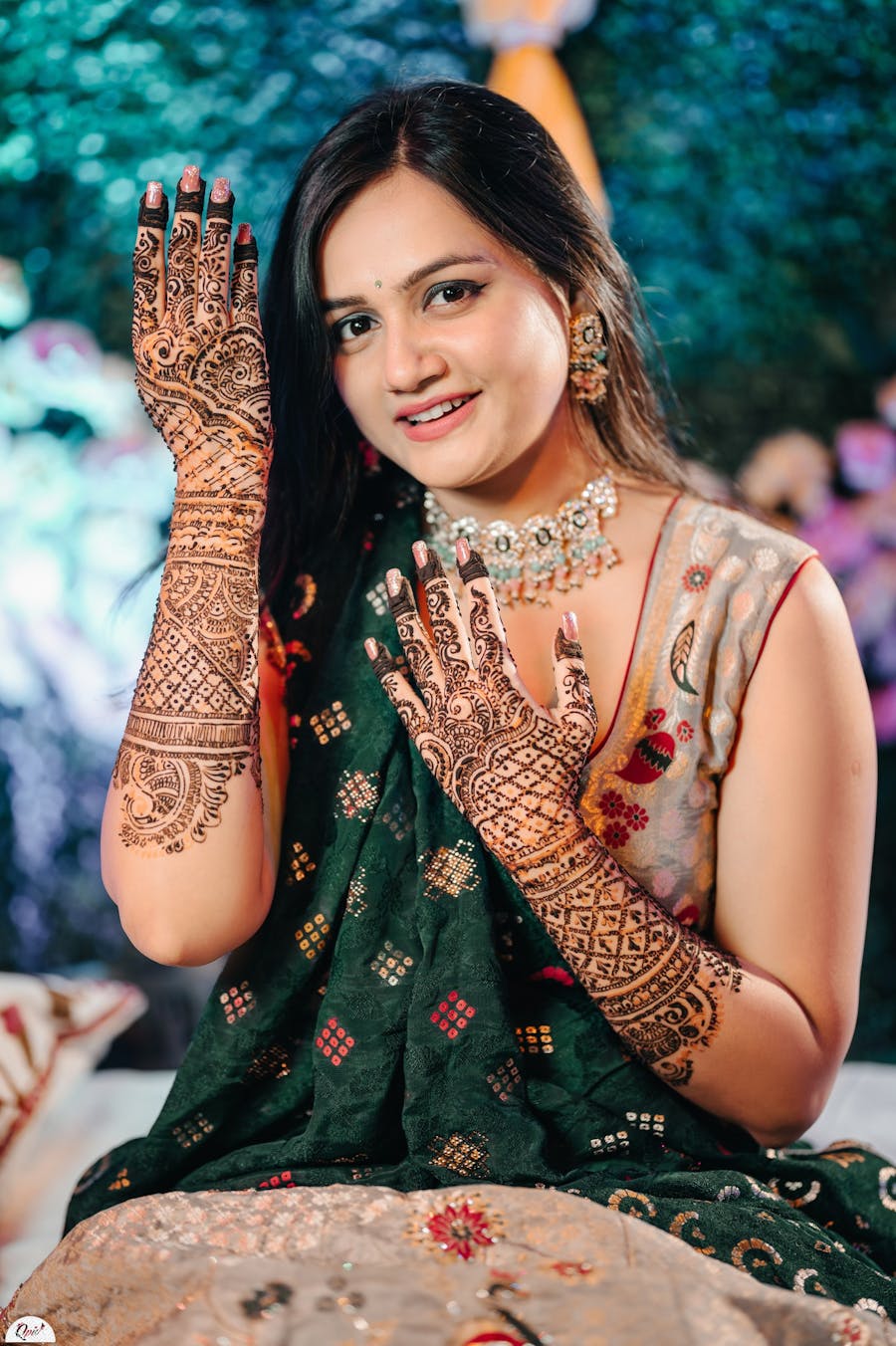 Check More: 8 Most Beautiful And Gorgeous Bridal Matha Patti Designs [2023]
3. Couple Pose:
Taking pictures of the happy pair during the wedding ceremony is a must. The best poses for a mehndi event are ones that make you feel mesmerized at first glance, and when the groom kisses the bride in a romantic pose like that, it's one of the most memorable moments. Grab your partner and look cool or cute because it's time for a picture! Couple photoshoot ideas is mandatory for a weeding.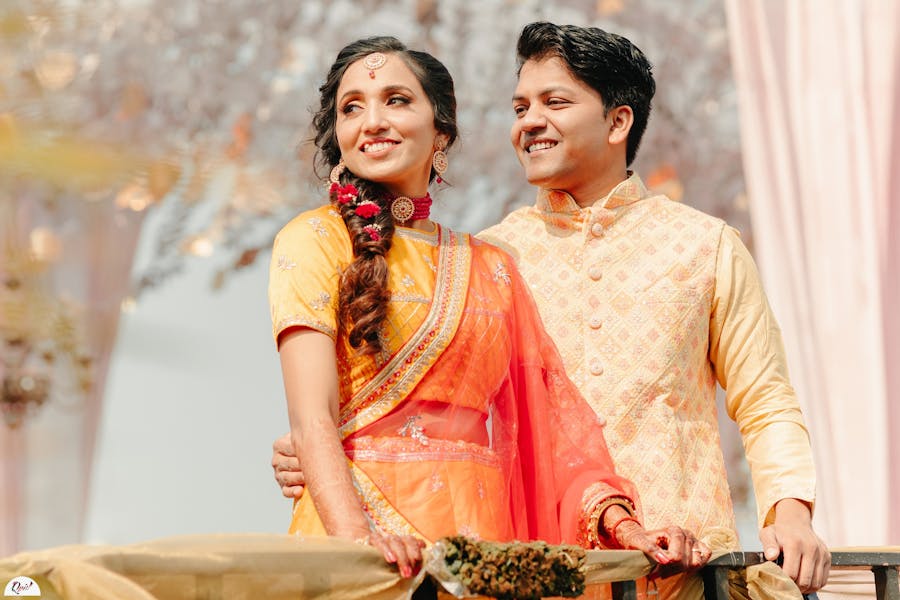 4. Mehndi Pose, Close-Up Shot:
A close-up shot best shows how much you love and are happy about your Dulhan. During the Mehndi Ceremony, you can get a great picture of the beautiful dulha and dulhan up close.
A picture of the bride showing off her cute henna tattoos is precious. A close-up of the bride or groom is one of the most interesting things about wedding photos. During her Mehndi photoshoot, every bride should take advantage of the chance to show off the detailed Mehndi designs on her hands in a close-up wedding picture.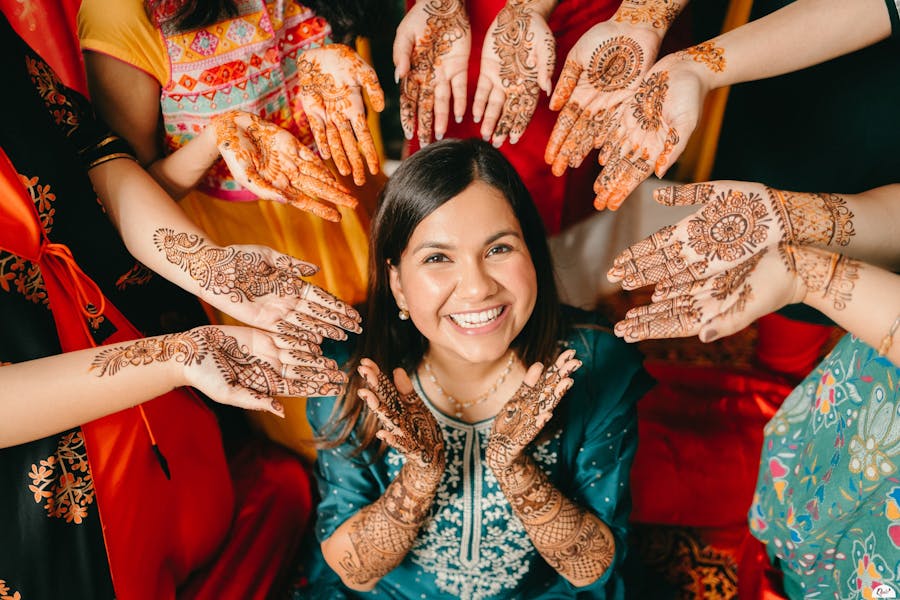 5. Taking a Chance When Making Mehndi:
At the Mehndi Ceremony, elaborate henna art designs are usually drawn on the bride's hands and photographed. The best ways to take pictures of henna being put on the hands of brides.
The beautiful henna drawings on the bride's hand make for great mehndi design photos that will last a lifetime. Have a beautiful set of pictures that show the process of mehndi from different views and times.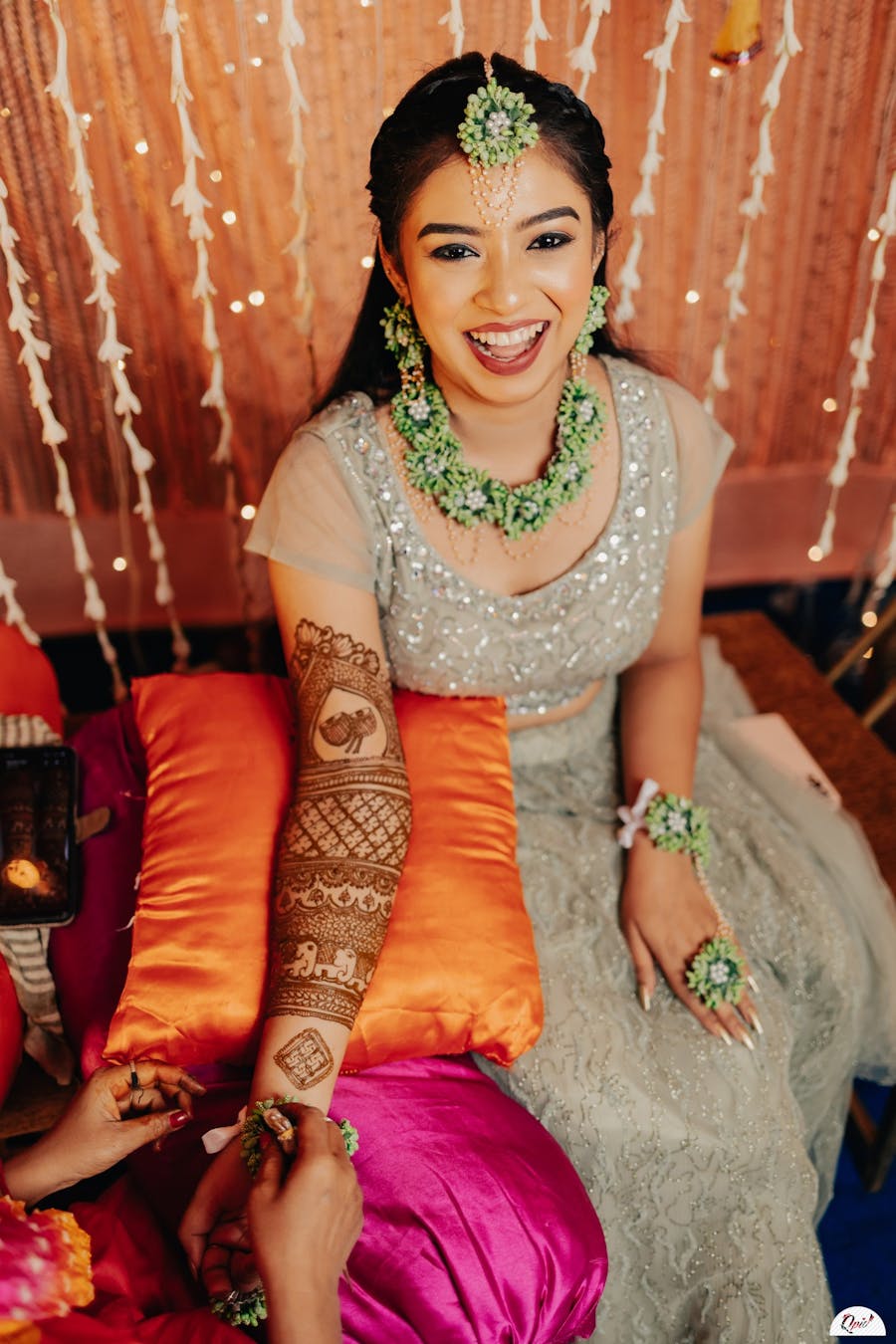 6. Freestyle Pose:
With a freestyle mehndi pose, you can let your creativity run at its best. Choose a Mehndi Photoshoot Ideas that looks good, and flex those red-stained hands! You are free to make it a picture that shows off not only the henna but also you; choose a pose.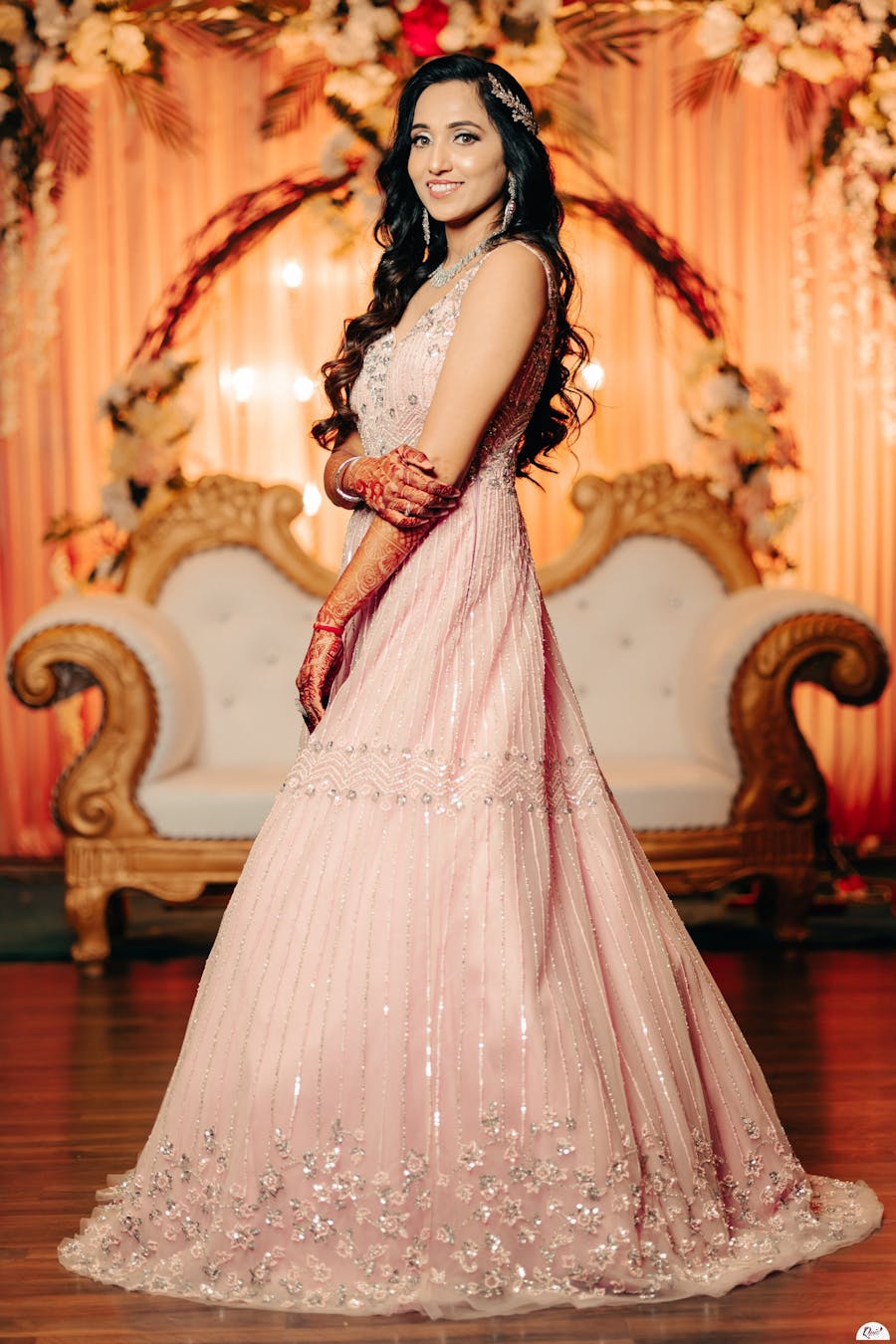 7. The Mehndi Party with Friends:
Get everyone together because it's time to take a picture! With family and friends, it's easier to have a wedding. The good times start when your best friends gather around you at your wedding.
Because of this, you need a Mehndi pose like this to freeze the sweetness of your friendship in time. A picture of you and your girls at your wedding getting mehndi for the next event is an absolute must-have for your wedding album.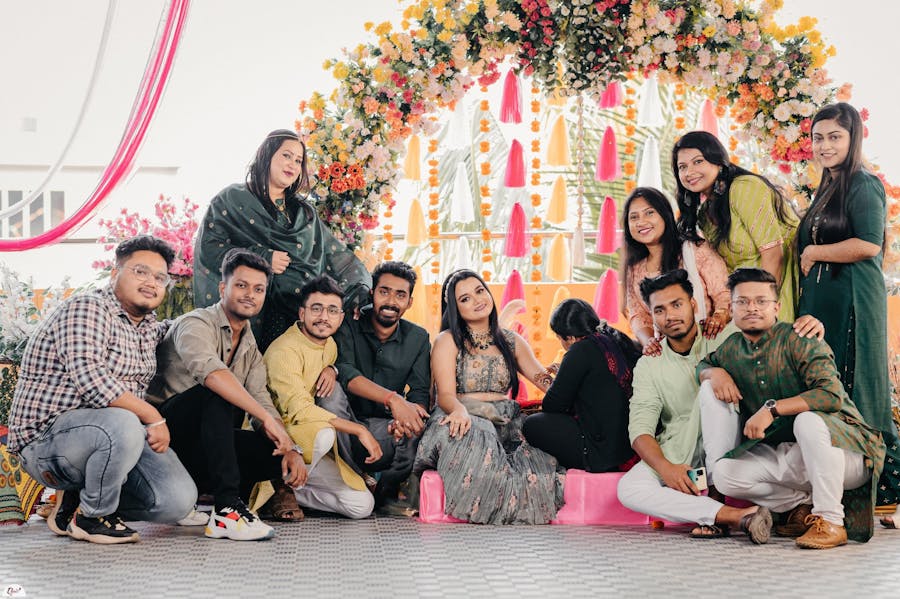 8. Putting Mehndi on Your Feet to Show Off:
During the Mehndi Ceremony, henna artists put tattoos on your hands and feet, which deserve their attention and can't be ignored.
This special henna pose for brides lets you show off the beautiful pattern on your feet in mehendi photos. We love how simple it is to photograph a bride with Mehndi on her hands and feet.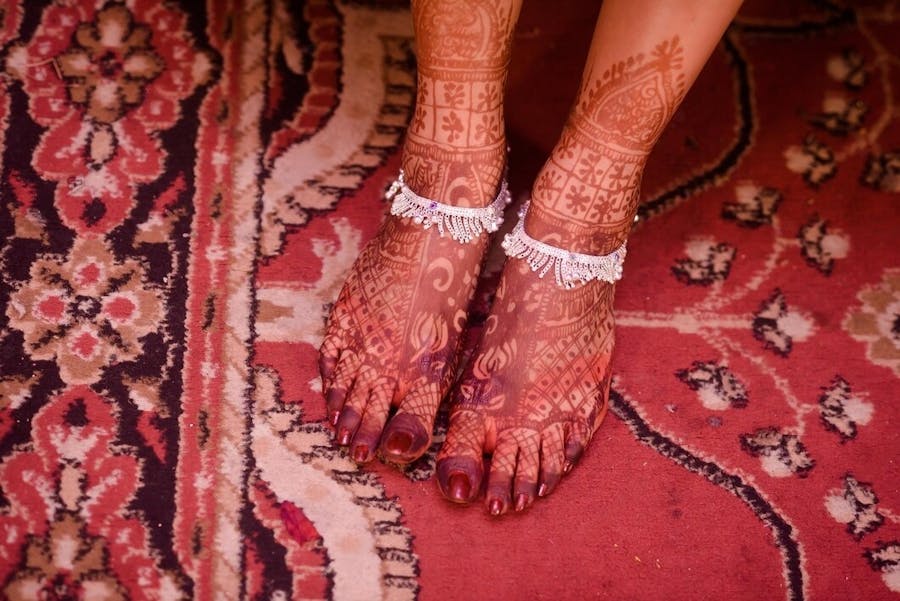 9. Flower Frame in Hand:
This is, without question, one of the most interesting poses you can take at a mehndi party. You can also hold a flowery frame in your hands and strike a henna pose. Here's yet another choice.
The wedding book you make will look great with photos taken in such unique and creative places. This will also help you show off your beautiful bridal lehenga and mehndi pattern in the picture.
In the photos, the bright flower jewelry you are wearing brings out the beauty of the picture of mehndi design you have done. This beautiful picture is the best way to show off your Mehndi and keep a lovely memory of the experience.
A bridal portrait is only complete with bright floral jewelry, and doing so draws attention to the detailed henna art design on the bride.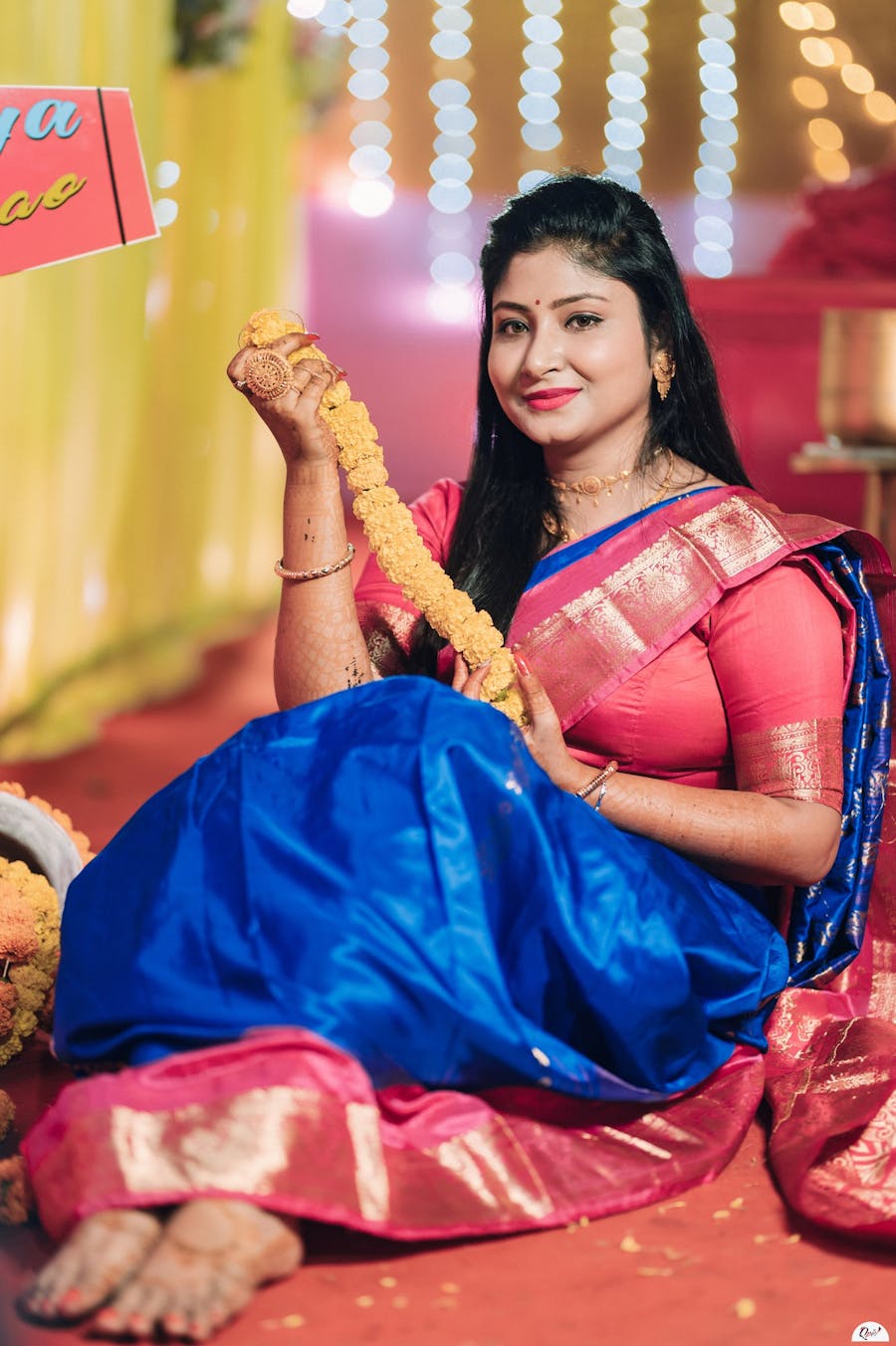 10. Holding your niece or nephew:
Remember to include the cutest and youngest in your family, like your sister and nephew, in the bridal mehndi photoshoot. The cuteness and sweetness of these kids will add a charming new twist to the story of your wedding.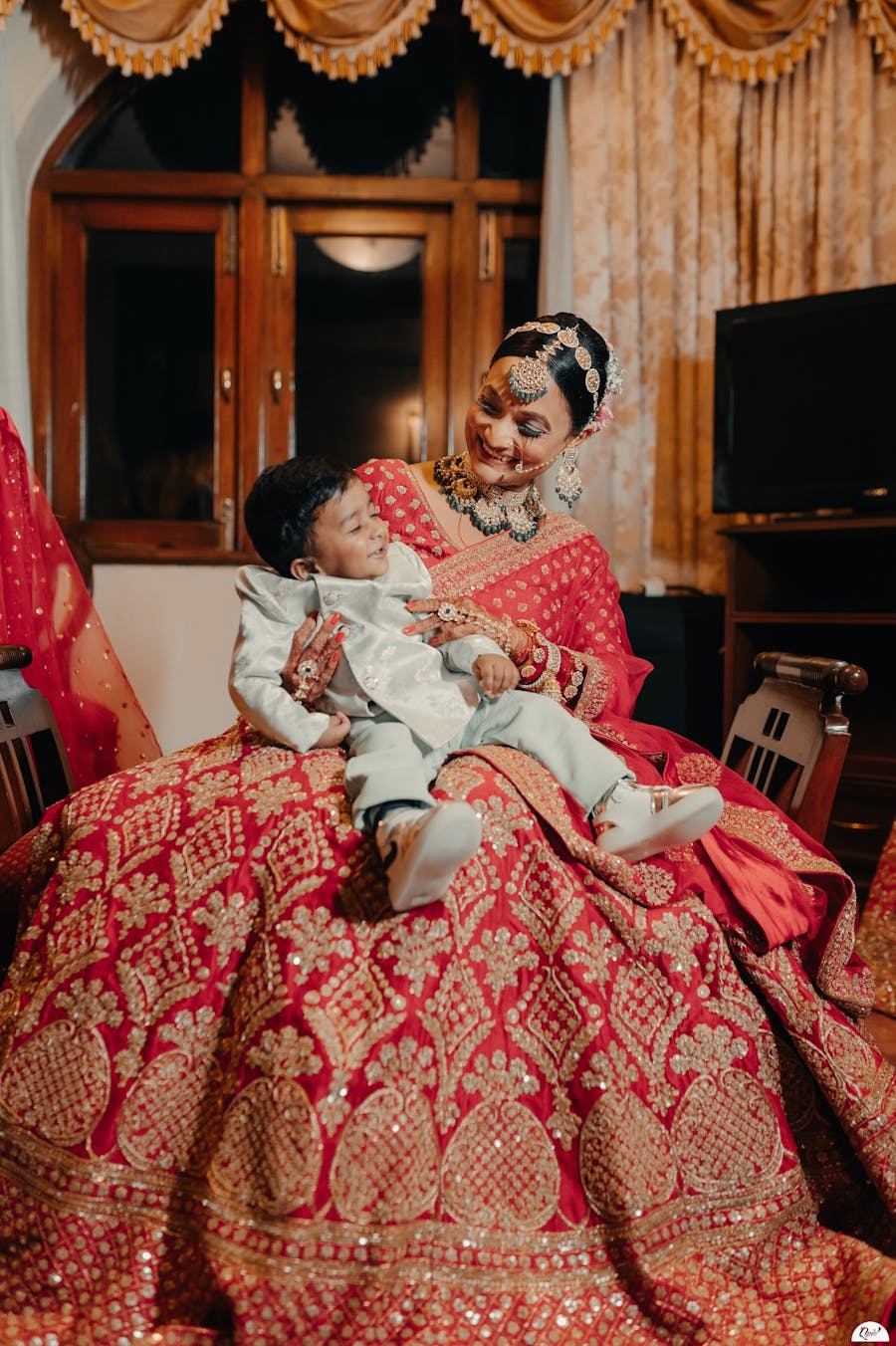 11. Standing with the bridesmaid:
You can't, won't, or shouldn't live without this. Wrap your arms around each other and give your best smile. Taking a picture with your girl is a standard part of a wedding mehndi photoshoot, and it will make you smile ten years from now when you're going through your photos and feeling nostalgic.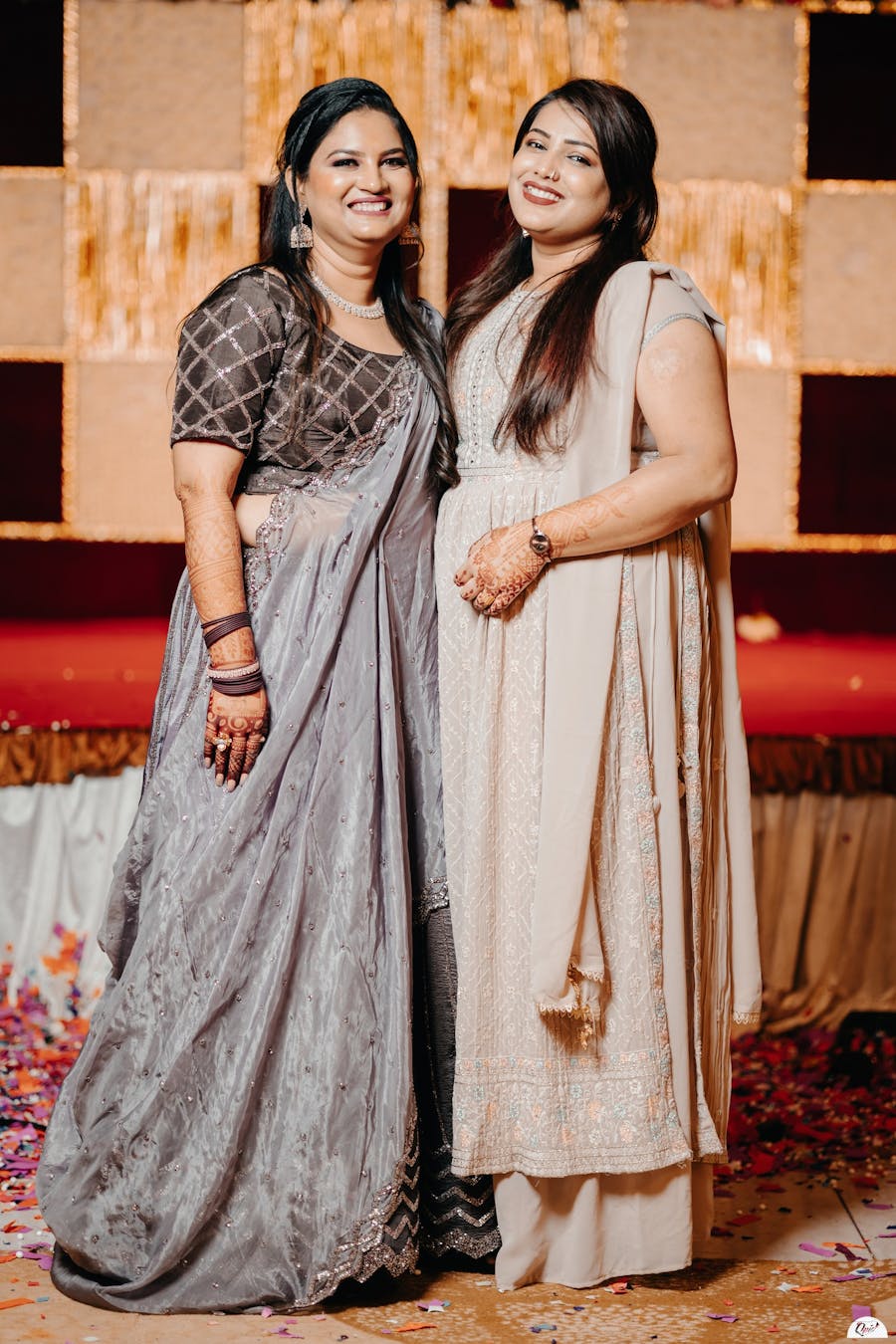 12. Face Covered:
Covering your face, which shows off and draws attention to the details of the mehndi, is another popular style that will always retain appeal. Cover up half or all of your face and let the camera do it. Mehndi design is very important in wedding couple photo shoot.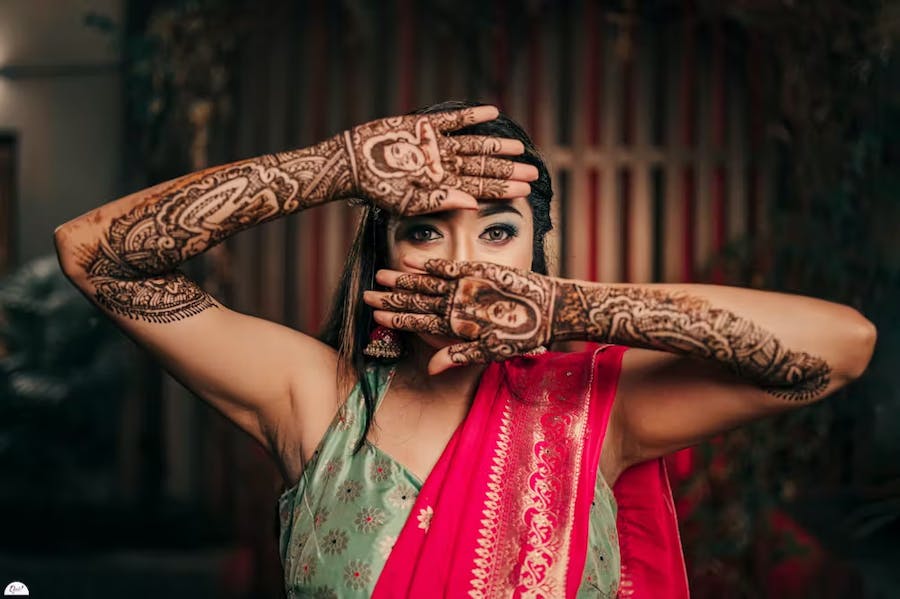 13. Mehndi Shot from a low angle:
Please take a picture of your henna from a low angle to show it off interestingly and professionally. By doing this, you can take a picture of your mehndi creation's beautiful and delicate details. The bride's mehndi is lovely, and this is a clever way to show it off. Try this new point of view and see if it makes you improves your bridal mehndi photo.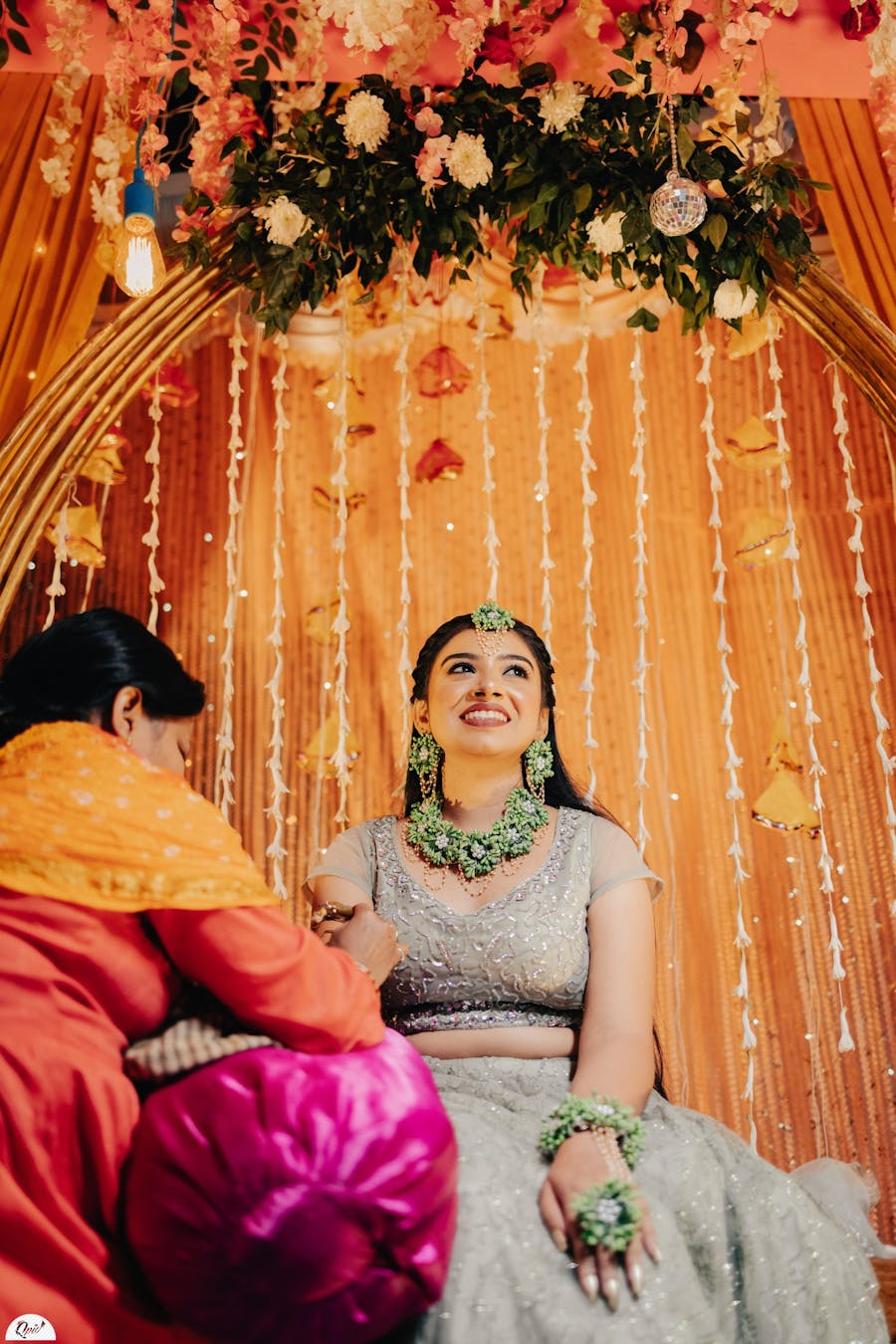 Conclusion:
Mehndi photoshoots are now a big part of Indian weddings, especially for girls. With the rise of social media and the desire to document every aspect of wedding celebrations, girls want their Mehndi photoshoots to stand out in a good way.