Importance of Mehndi Ceremony in Bengali Weddings
Ever wonder what Mehendi actually is? Well, know the facts for real. Mehendi is a paste of powdered henna leaves which are dried and water (mostly) and few other elements to enrich the results. It stains a usually cherry-red to brown color but this can vary with time left on and a range of other factors. Coffee, lemon, tea, and essential oils are usually added for more texture, smell, or to help get better Mehndi Stains. Applying Mehendi holds very cultural, sentimental, and social importance. Originated in Egypt, Henna was later brought to India and other eastern countries by traders. It is believed that Egyptians used Mehendi to tint their hairs and nails and also paint on their hands. It is a popular form of art that requires a hell of a lot of creativity and is recognized all around the globe. Bengal is popular for its way of life, aesthetics, innovativeness, and writing. Craftsmen from Bengal are famous for their inventive work in workmanship and paint everywhere throughout the globe. Mehndi has turned out to be mainstream among Bengali young ladies, especially in bengali weddings. If it's a festive season, a wedding, or any religious event, get your hands painted with Mehendi art but before doing have a look at these different types of Bengali Mehendi designs for brides.
Tip: Hire Best wedding photographer in Kolkata for your mehndi ceremony.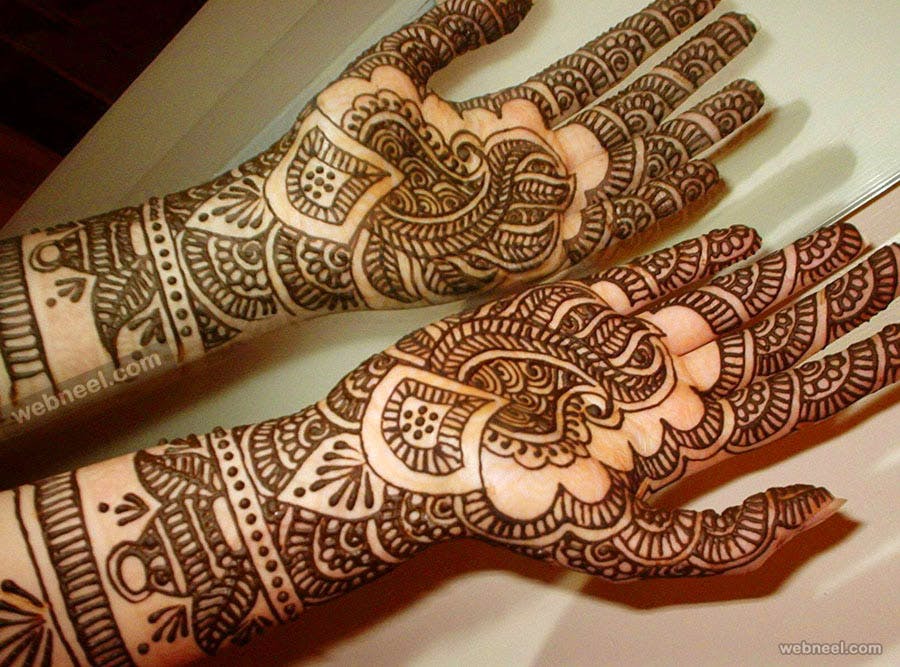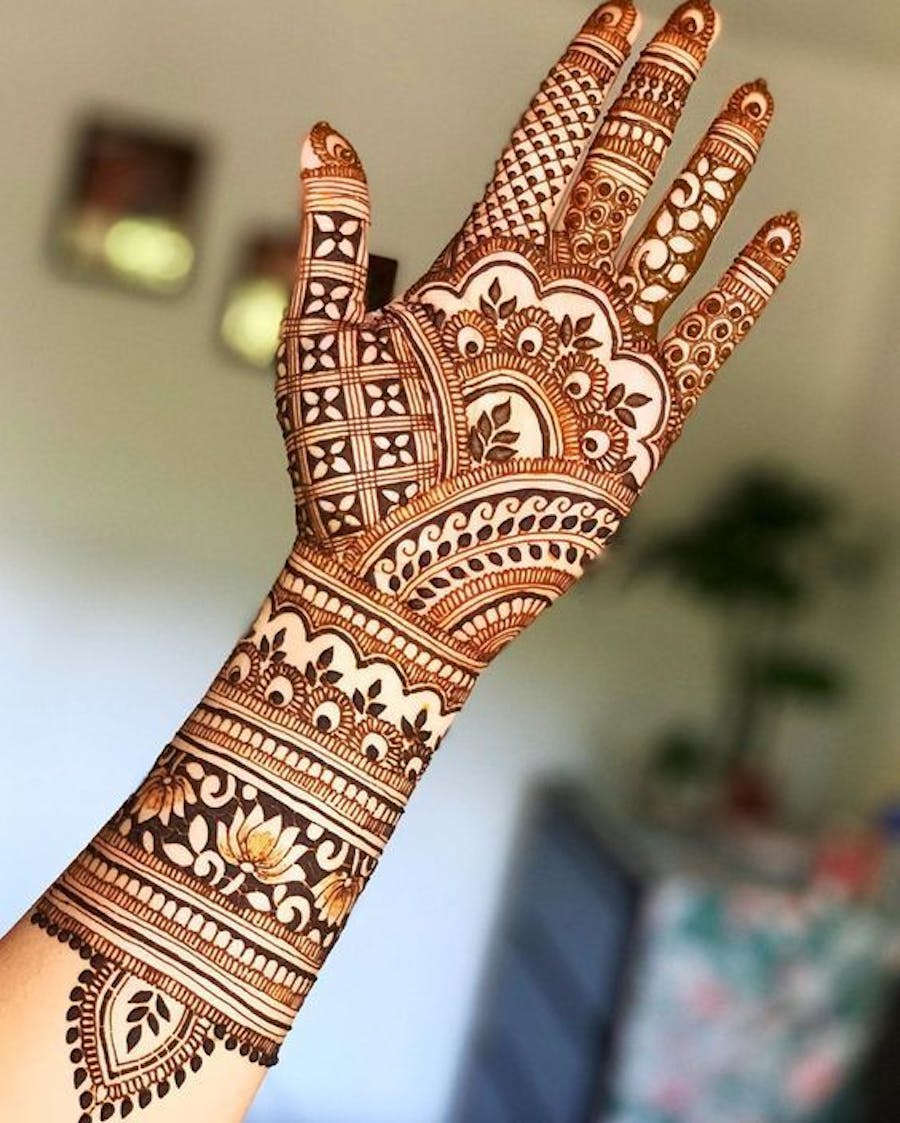 1. Indian Mehndi Design
Without being biased, we can all agree to the fact that the design of this particular style is incomparable to others. The detailing of this design is so elaborated that every element holds a significant meaning. Indian mehndi designs feature beautiful art inspired by earth, nature, and emotions. These designs are popular during traditional celebrations like Diwali, Karva Chauth, and especially at weddings for the bride. Birds, animals, sun, Kalash, bride and groom figures are featured quite often in Indian wedding Mehndi designs. The designs are not only painted on hands but also legs. Indian Mehndi design is also known as Bridal Mehndi design because this design is majorly used in a wedding for brides.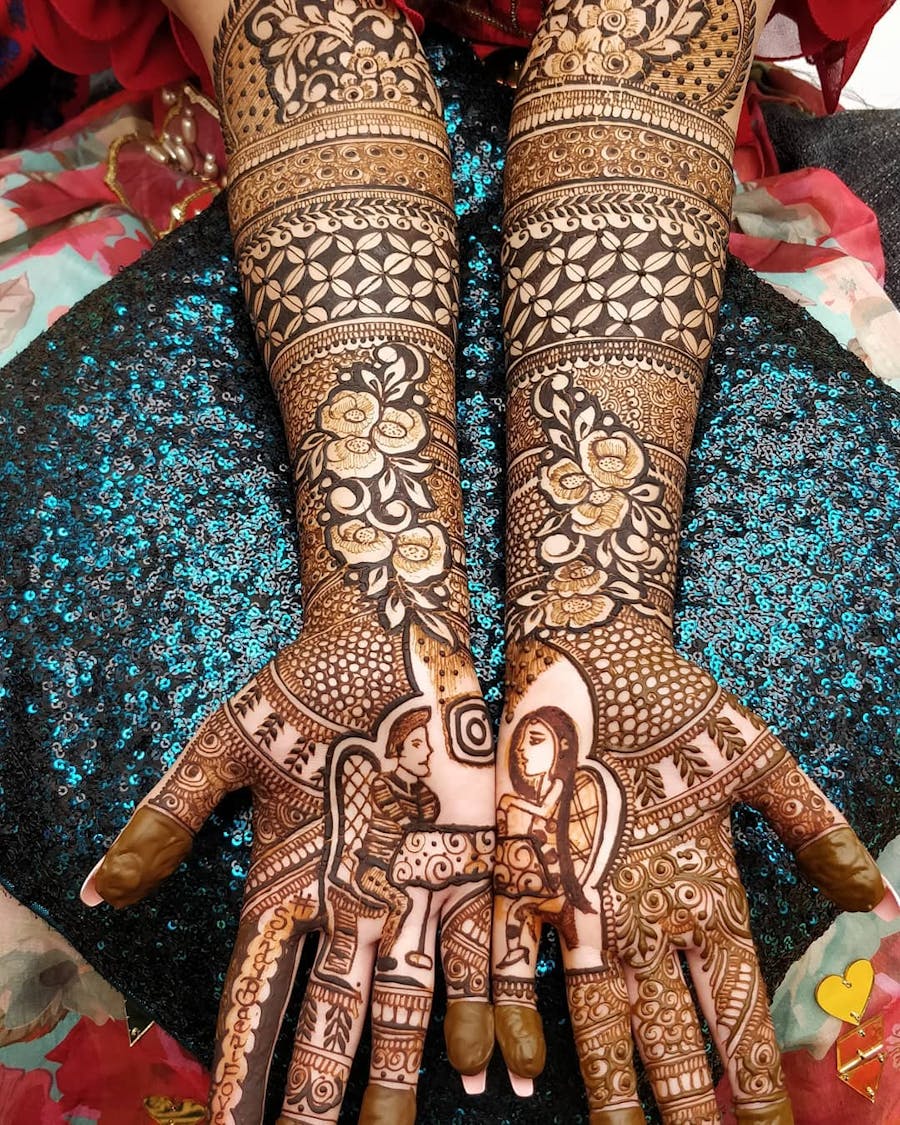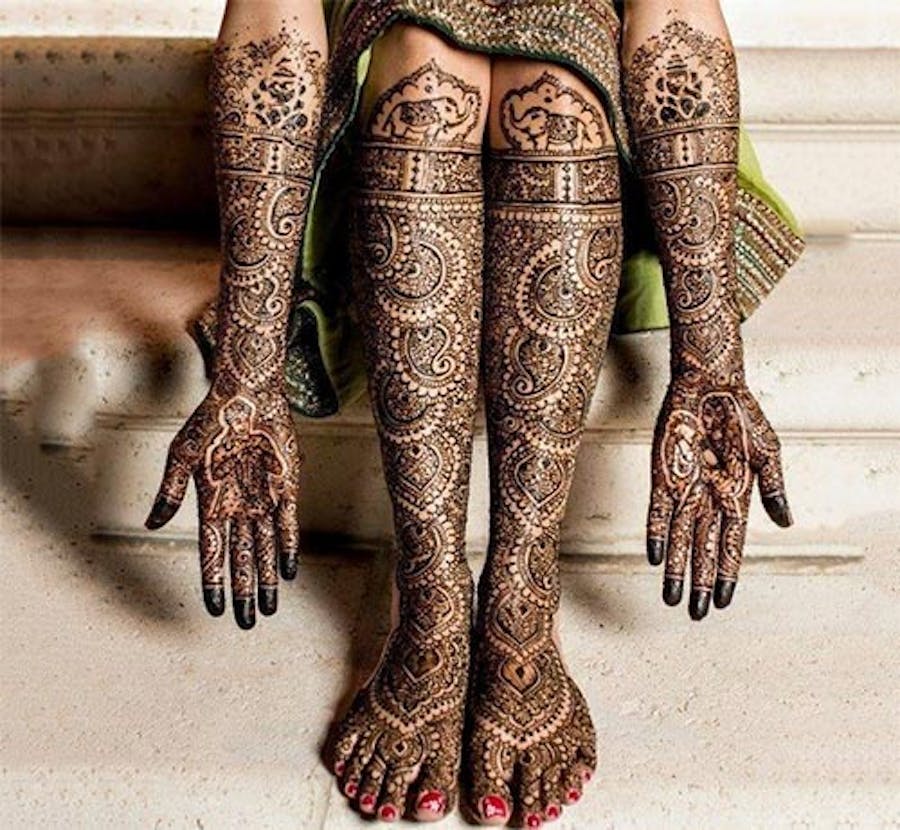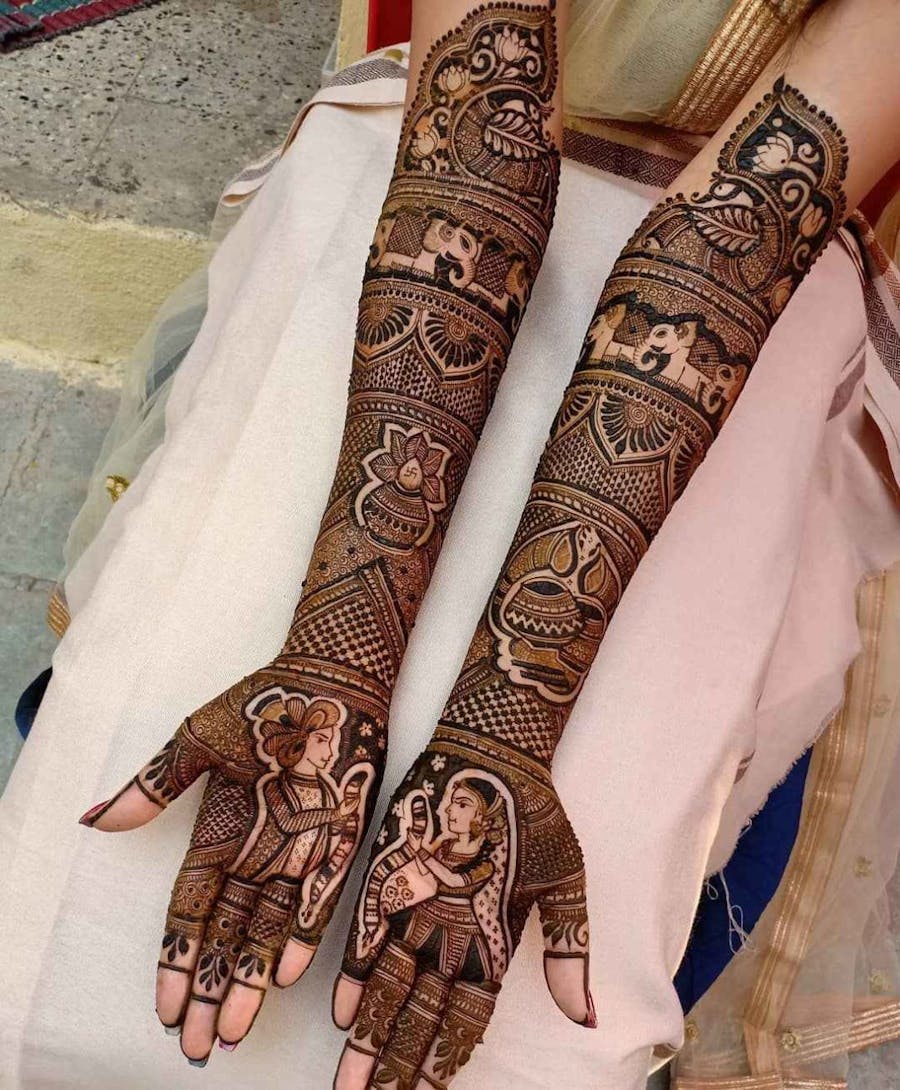 2. Arabic Mehndi Design
As the name suggests, originated from the Arab world, this Mehendi design is totally different from the Indian Mehendi design. Arabic Mehendi designs which are more spread out, largely feature cashew patterns and a lot of shading. It is also referred to as the Mughlai Mehndi design. The design usually starts from the index finger and continues to the elbow.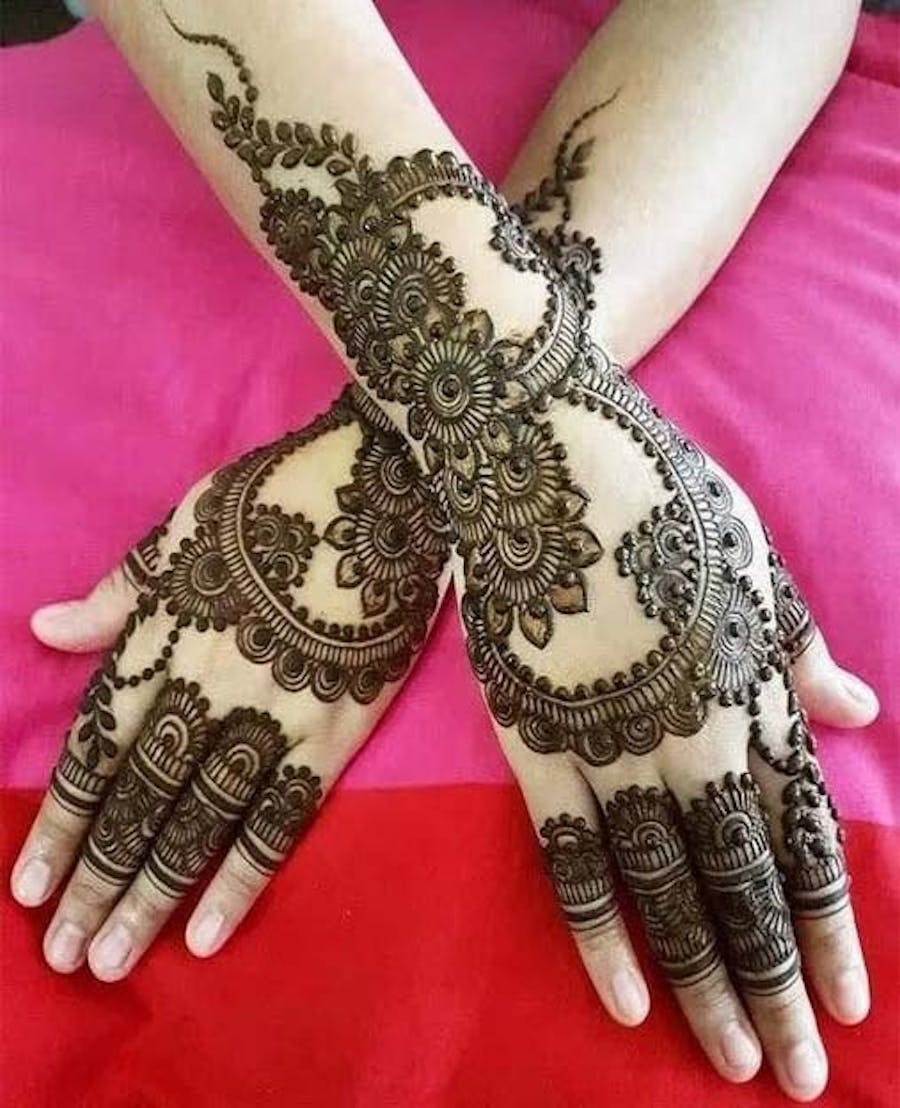 3. Indo- Arabic Mehndi Design
Mehndi is also a symbol of unity, as it unites several cultures and ethnicities through the beautiful strains of Henna. The Indo Arabic Mehndi designs for hands are pretty good examples of fusion. It is usually just worn as a style statement and is far from what traditional Mehndi designs are like. This Mehndi design is quite spaced out and features modern patterns along with traditional Indian designs. This type of design is popular in the west by Bollywood songs and movies. This also one of the popular Bengali Mehendi designs that Bengali brides opt for.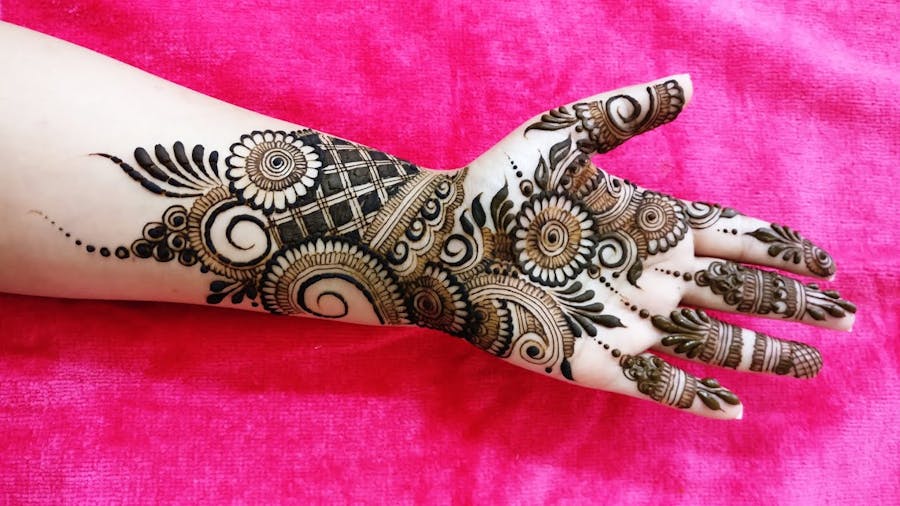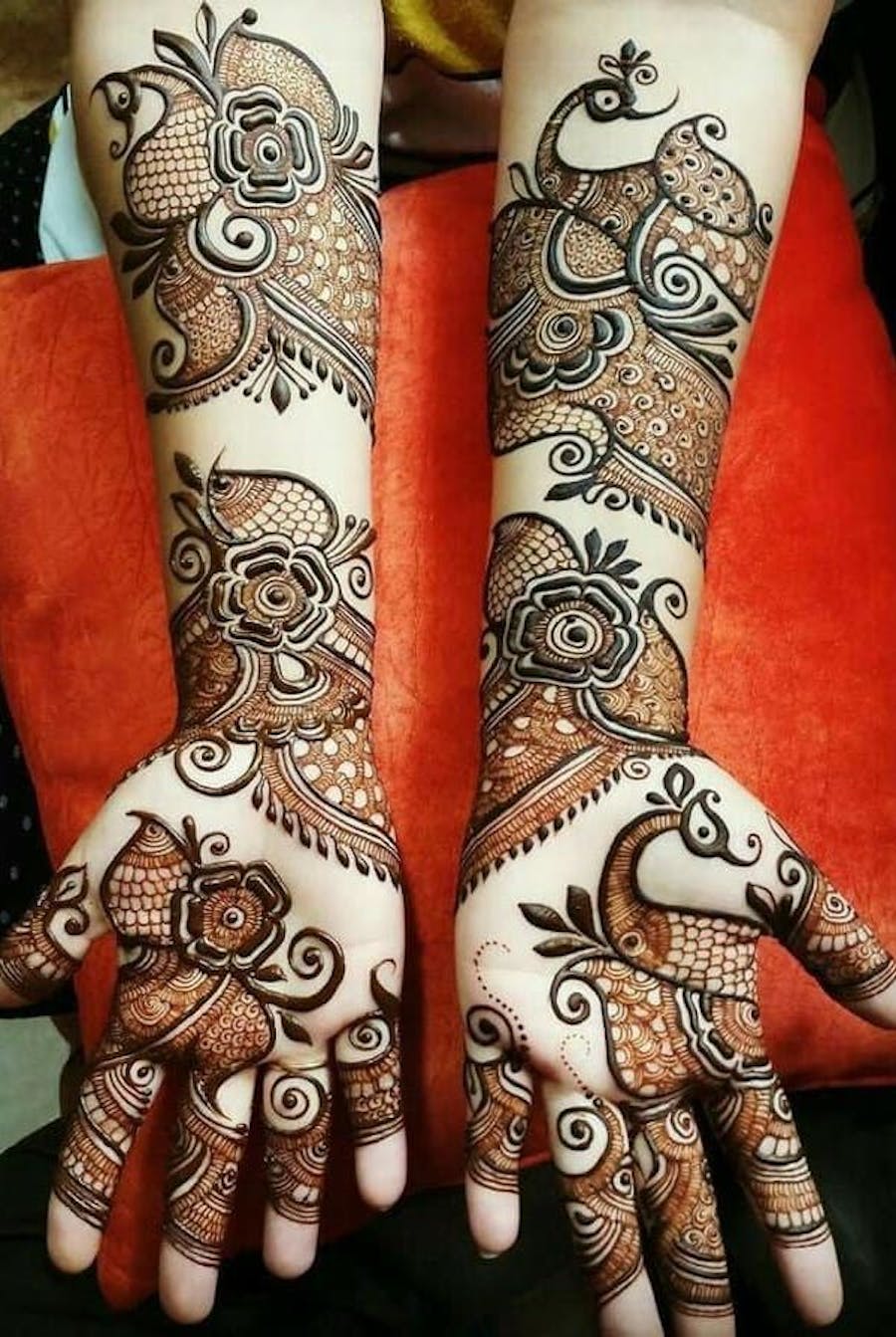 4. Pakistani Mehndi Design
Pakistani Mehendi is kind of similar to that of Indian Mehendi Designs because of its detailing. This particular design does not feature traditional Hindu elements like Bride, Groom, and Kalash. So in Pakistani Mehndi design, the designs include Domes, Flowers, and Leaf-like patterns. Like Indian mehndi, Pakistani mehndi design features mandala patterns too and is also influenced by the Arabic Mehndi design. The designs of the Pakistani Mehendi are also very intricate and look flawless on their hands. They require a lot of patience to draw.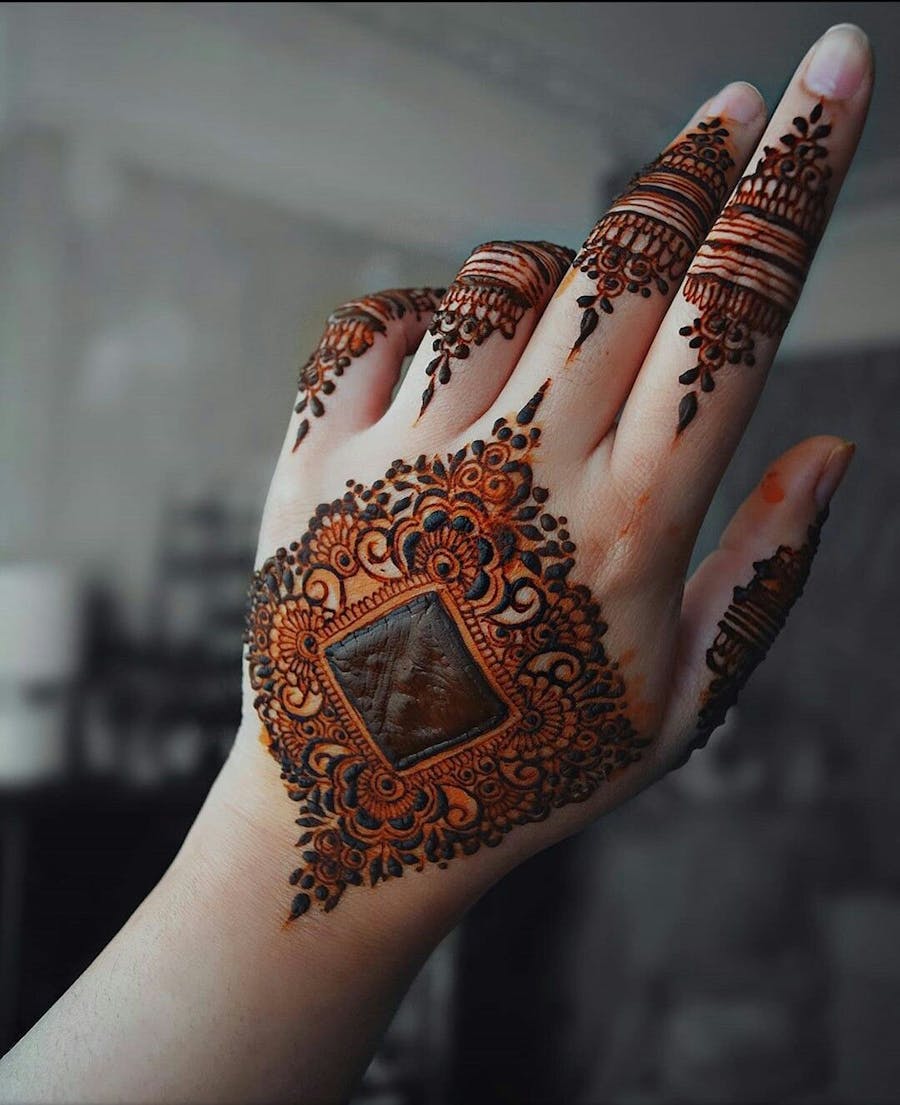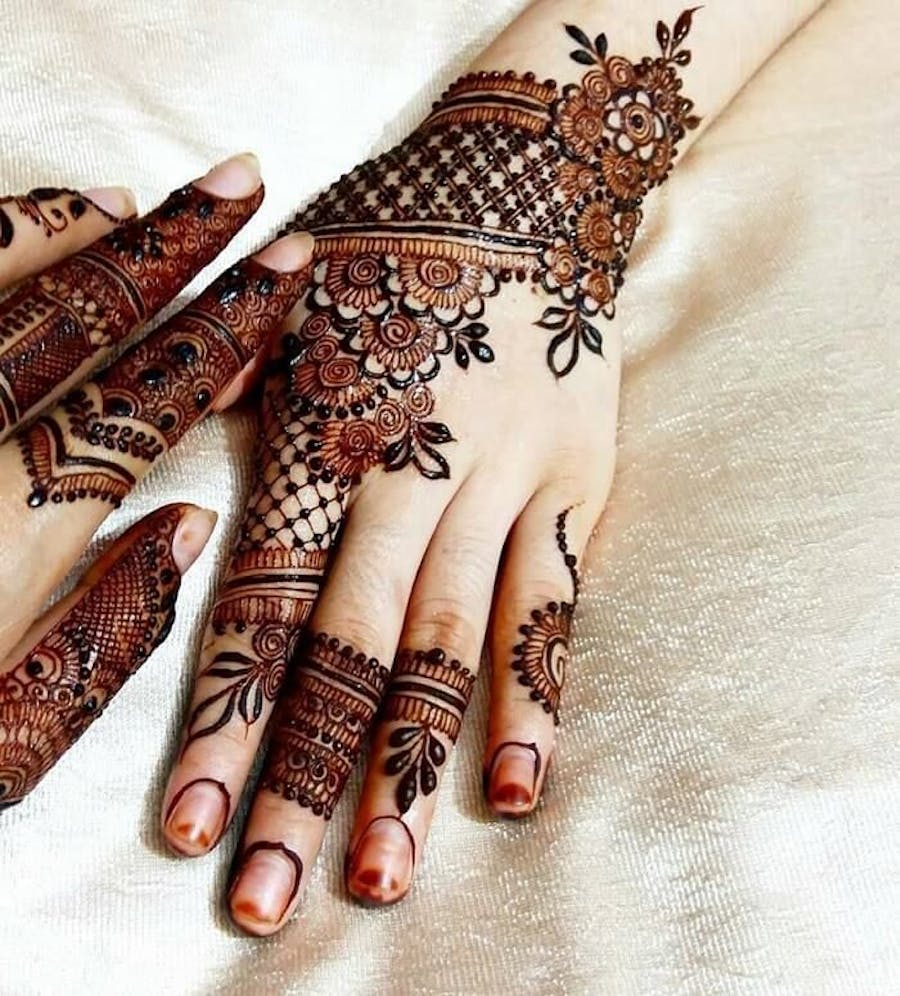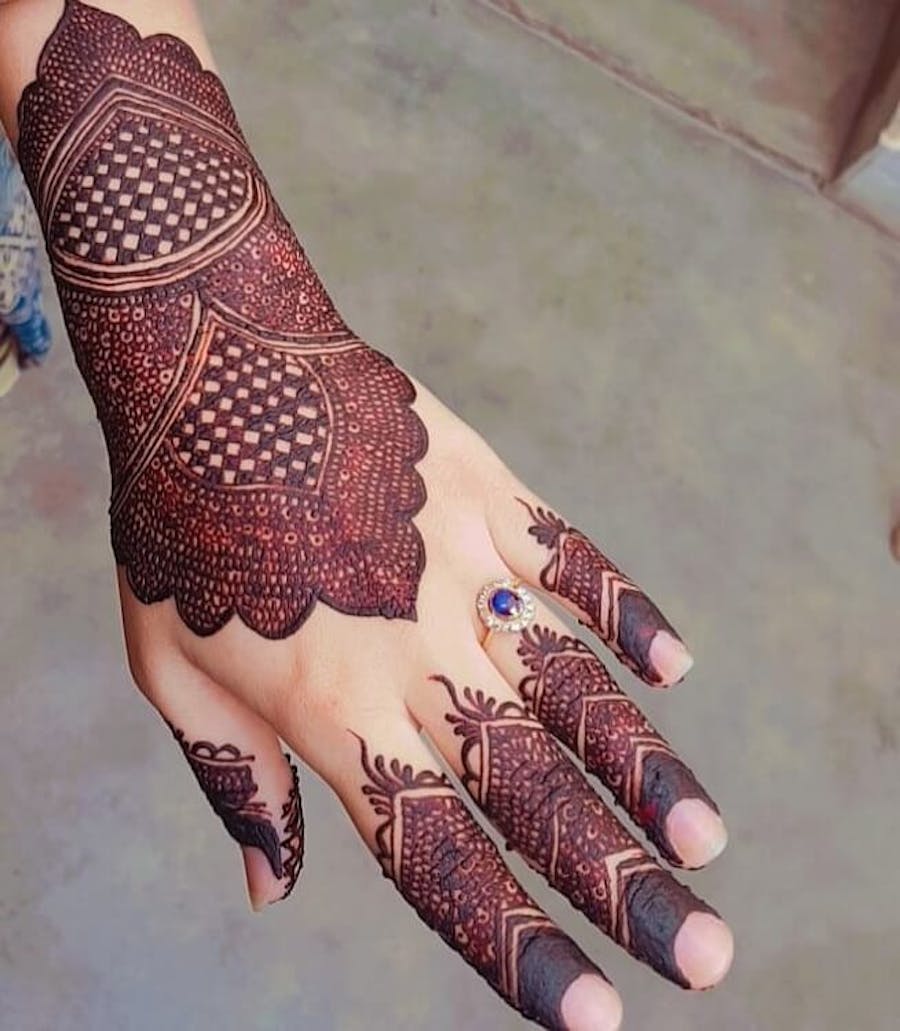 5. Traditional Alta Mehndi Design
Alta is a red dye that is applied to the hands and feet. This mehndi design is made with the traditional Alta used mostly in Bangladesh and in the Eastern states of India like in West Bengal, Bihar, Rajasthan, and Odisha. This design is a holy symbol for married life. Alta design is usually made in a circular form on the center of the palm and the fingertips. In the case of legs, the circle is made on the middle of the feet, the circumference of the feet is also filled, and the same on the fingertips. This style of design is also used in some classical dance forms.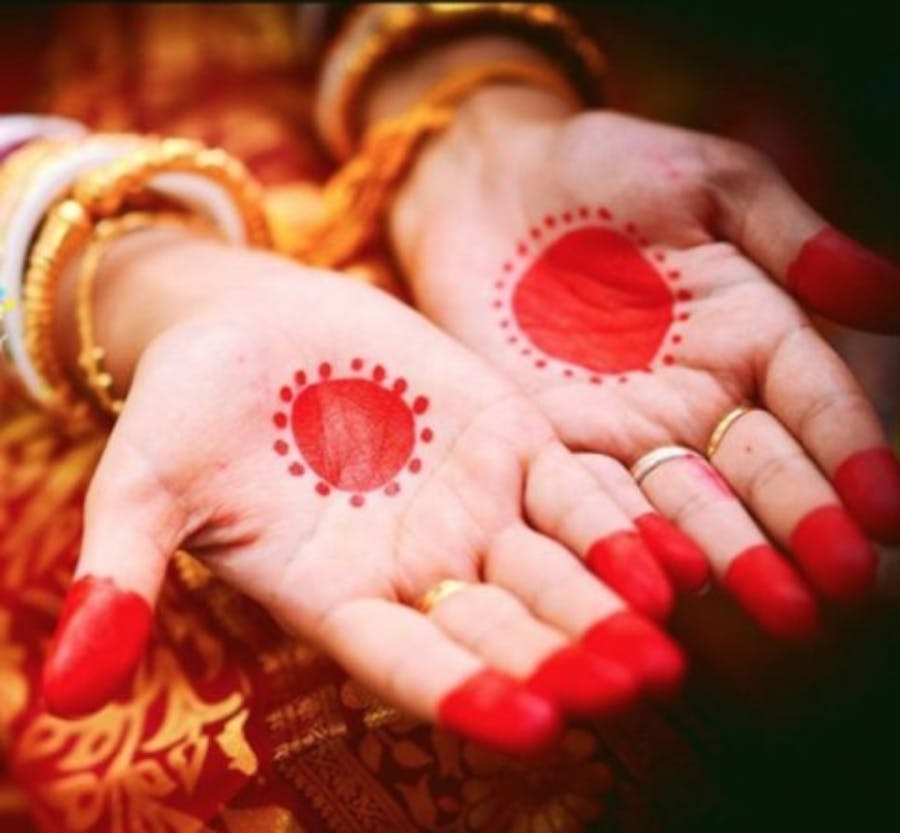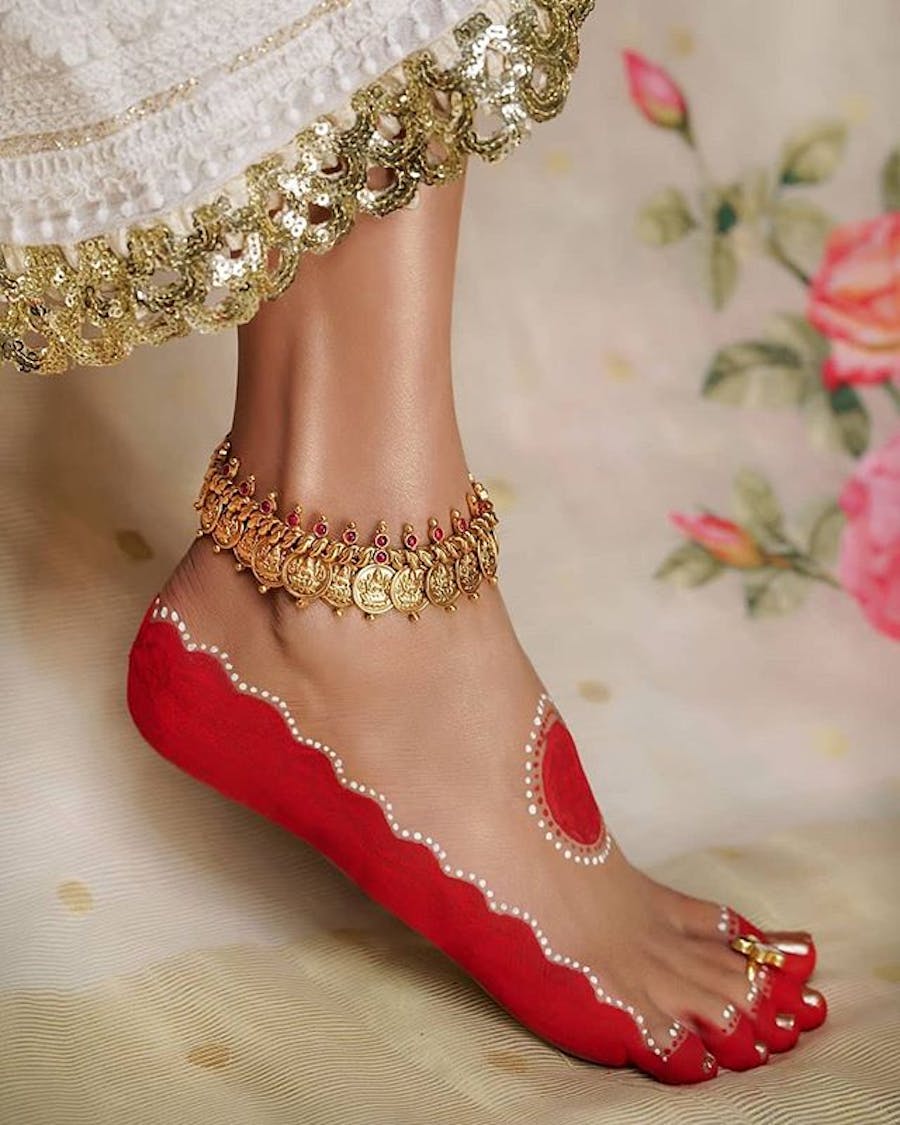 6. Punjabi Mehndi Design
Punjabi Mehndi designs glorify the culture and heritage of Punjab and are unique in their own style. Punjabi Mehndi is known for using a large number of colors and glitters in the Mehndi design. Circular shapes can offer a new dimension to the Mehndi design. Circles and spirals are used to create loops and even more designs. These are the aspects that are common in Punjabi Mehndi. This style of Mehendi is adorned by Bengali brides who like huge yet sophisticated designs.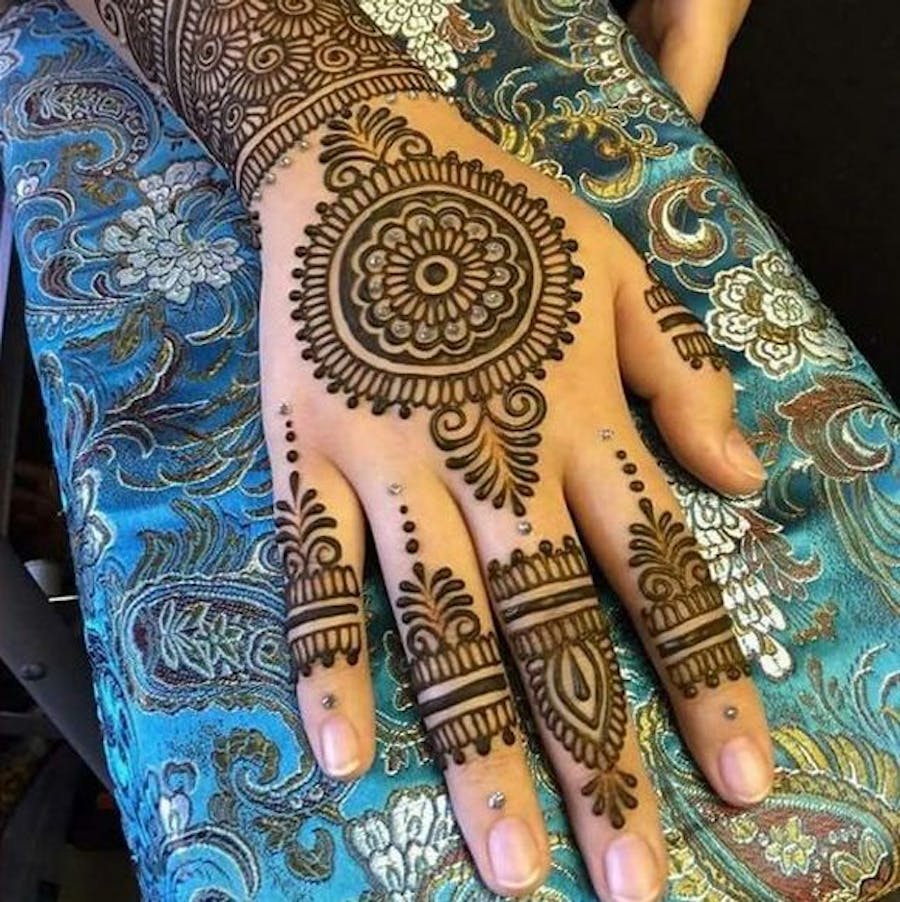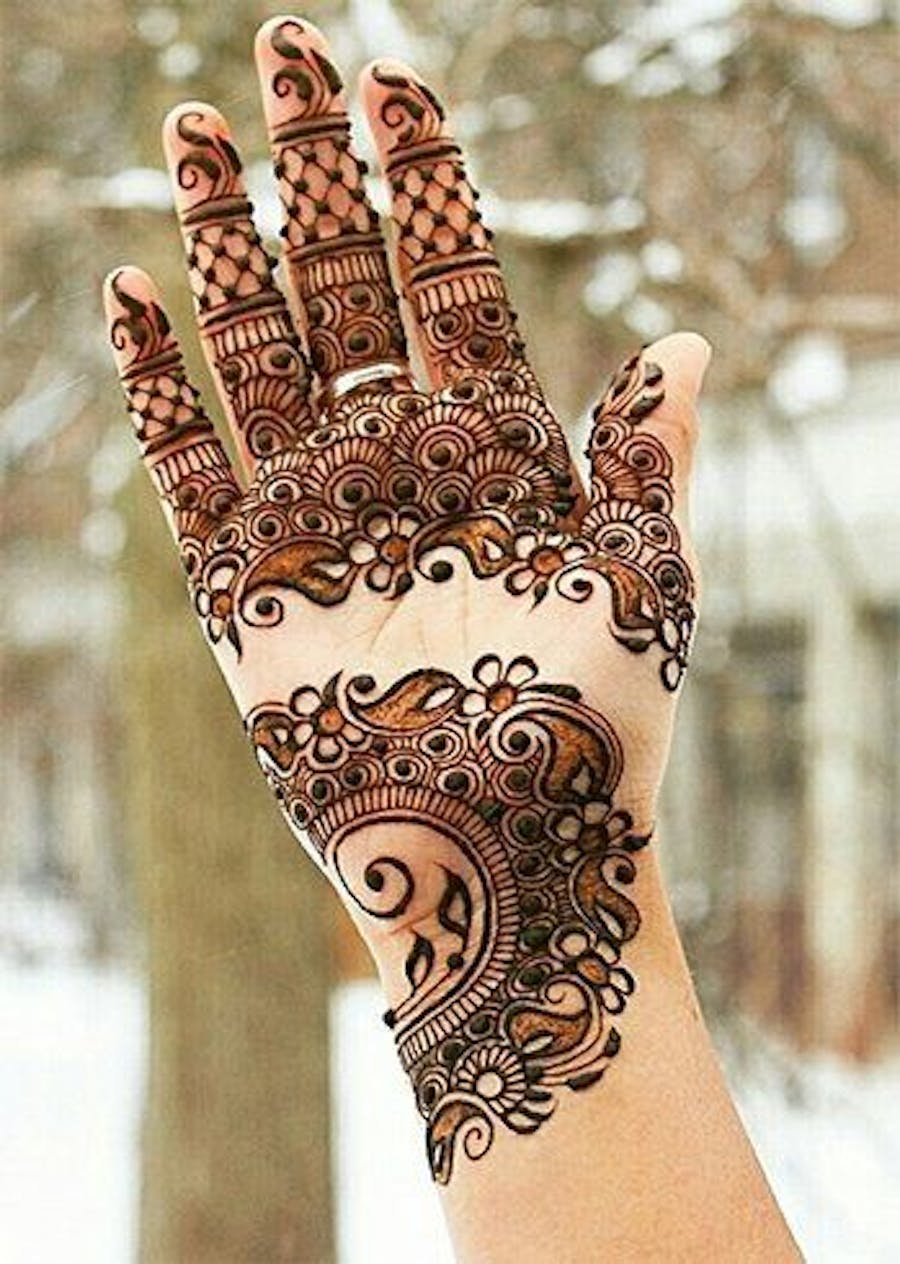 7. Criss- Cross Bengali Mehndi Style
This one of the most popular Bengali mehndi designs that are made usually in a criss-cross pattern and also with leafy designs on the lines. the patterns give the design a very glorious look that goes appropriately with a Bengali bridal look. The upper part of the hand looks filled up with the designs and that makes it so attractive.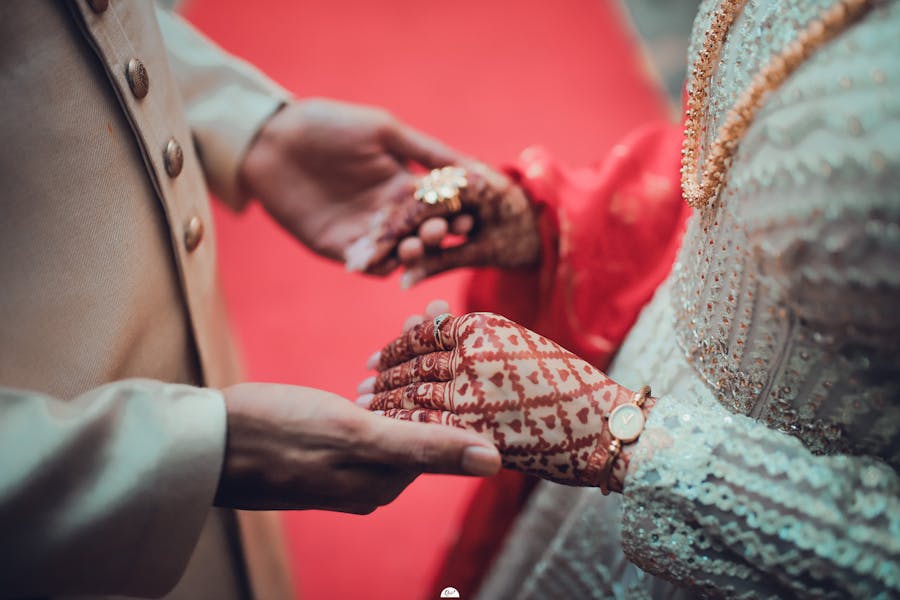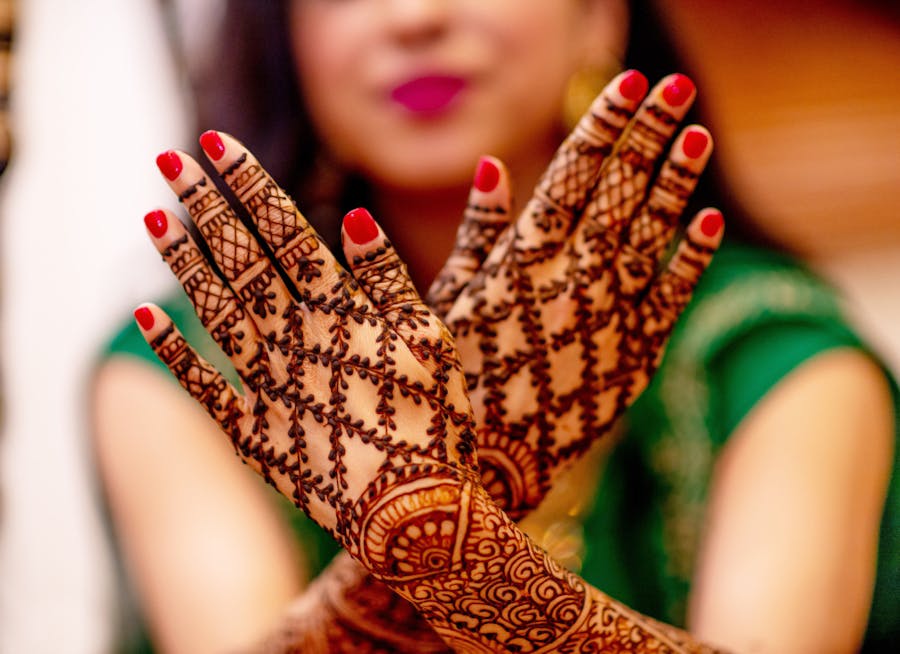 8. Gujrati Mehndi Designs
Designed very closely and in a cluttered manner with unique floral and peacock designs and the wrist bangle design which makes it look so much graceful. There are shades, weave patterns, peacock feather patterns as well as floral patterns and it looks beautiful. This Mehndi design is quite spaced out and features modern patterns along with traditional Indian designs. This type of designs is popular amongst Bengali brides.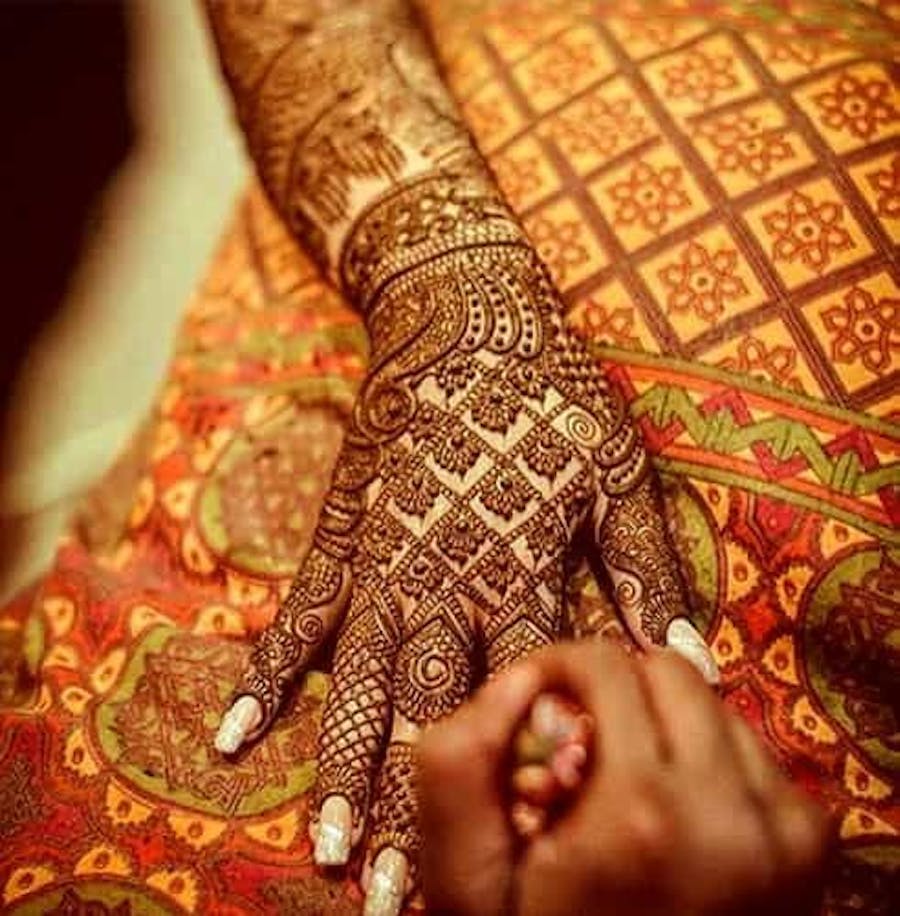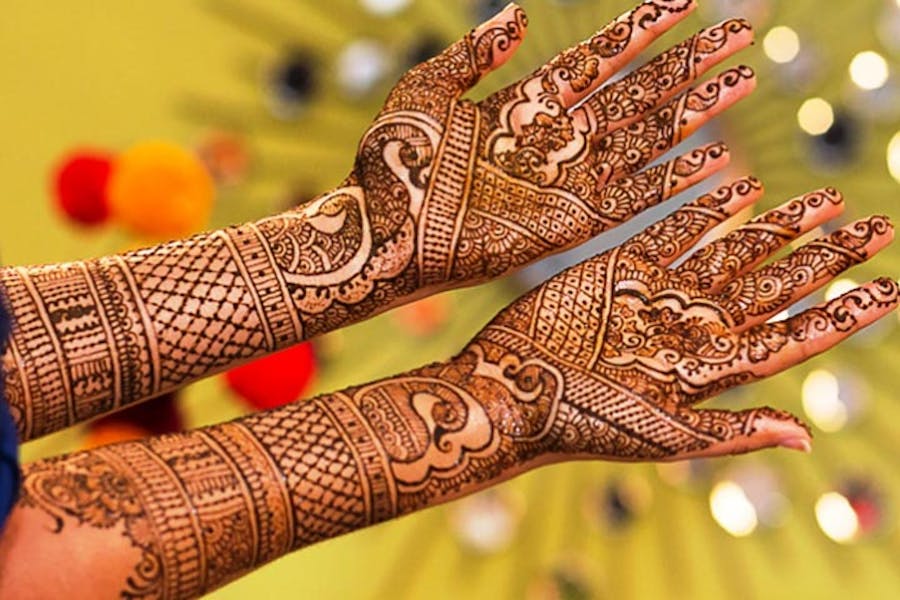 9. Rhombus or Moroccan Style Mehndi
Diamond shapes, in particular, are a prominent feature of the Moroccan design and they are not too elaborate but extremely beautiful without a doubt. This type of Mehndi design is inspired by traditional tribal symbols and patterns. Moroccan Mehndi designs look unique because of their zigzag lines, geometric curves, and quirky designs and it is more like tribal western tattoo art. While giving a shady texture and a floral pattern in the center, the designs are made by creating Rhombus everywhere.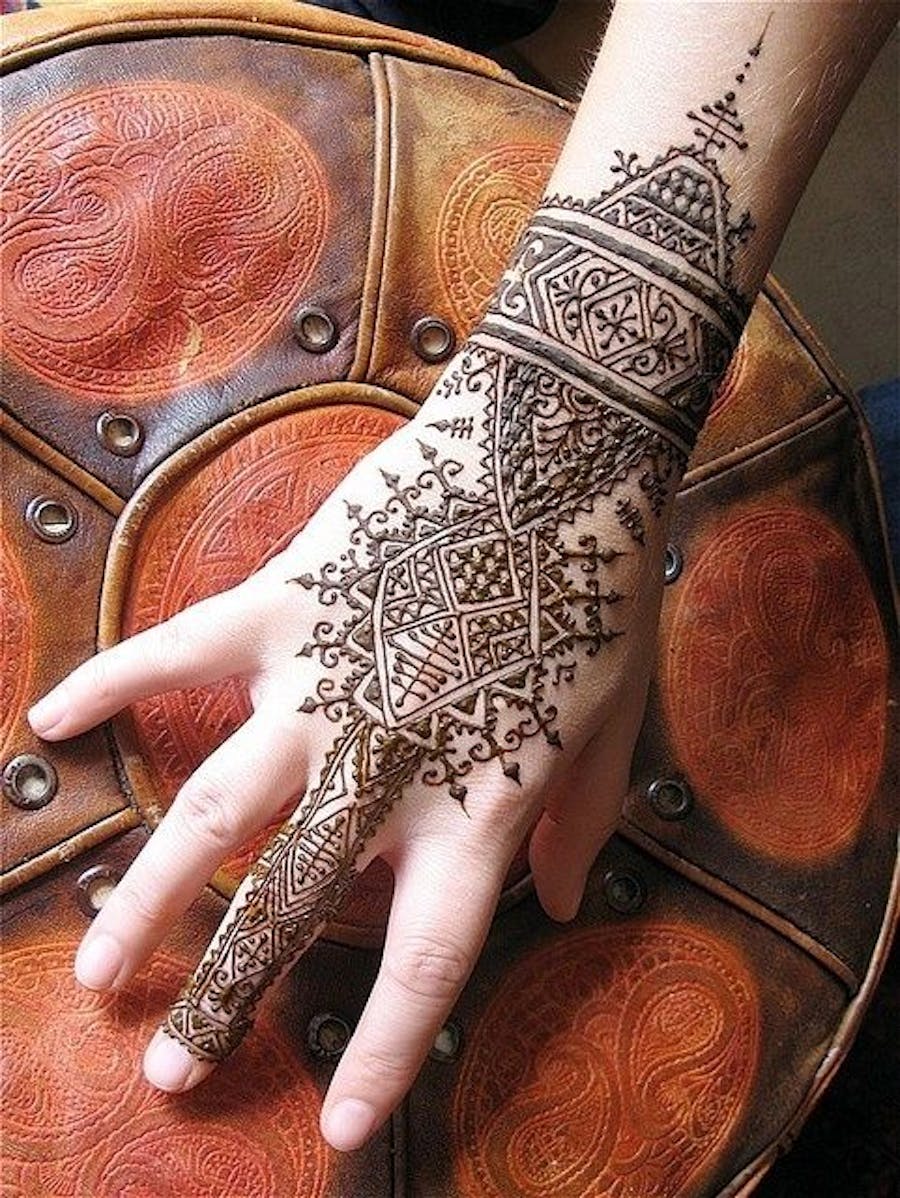 10. Rounds and Patterns Bengali Mehndi Design
Almost similar to that of the Gujrati style, the design mostly includes rounds, circles, and patterns which look beautiful on a Bengali bridal hand. It incorporates round on the center of the palm with fine inherent patterns on the two sides covering the upper piece of the hand and the fingers. The thumb and fingers are deliberately embellished with the flower pattern. Bengali girls and women also love and adorn this type of mehndi design. Glittery nails complement the design totally.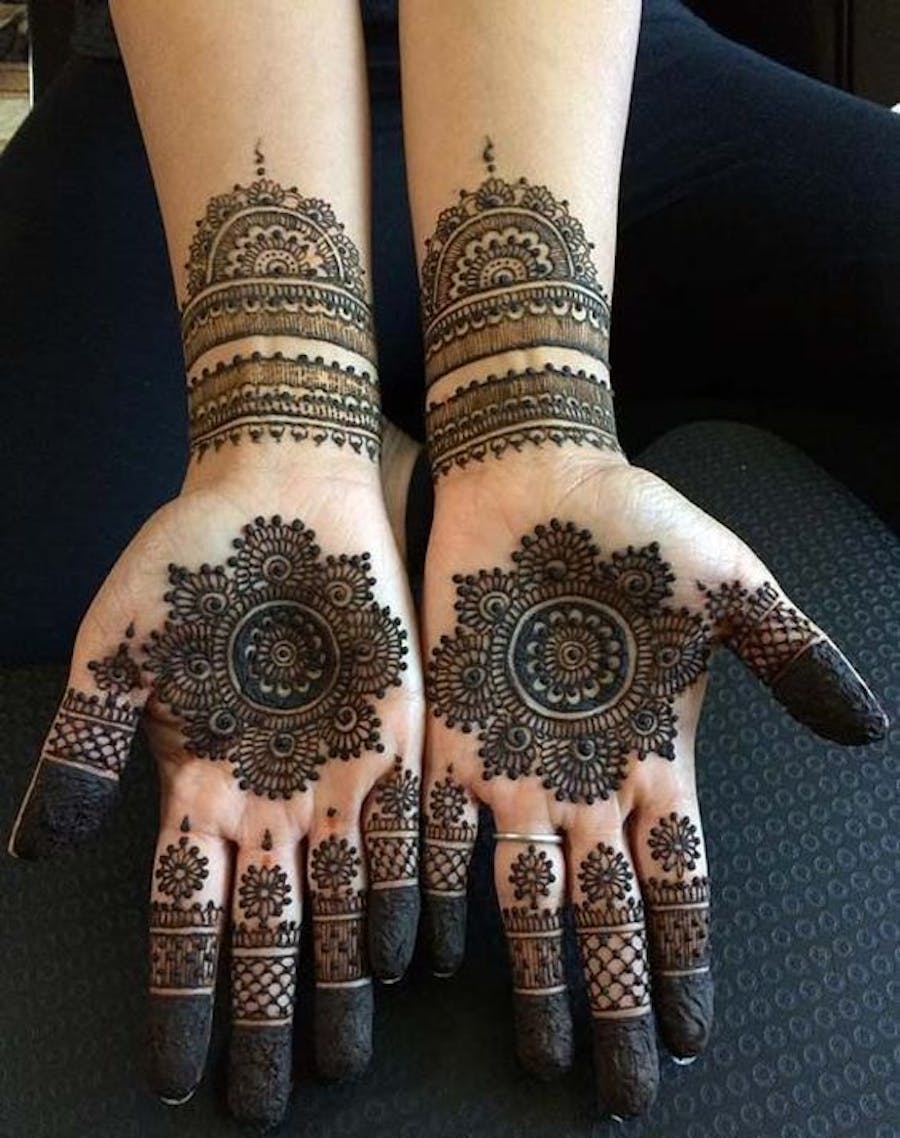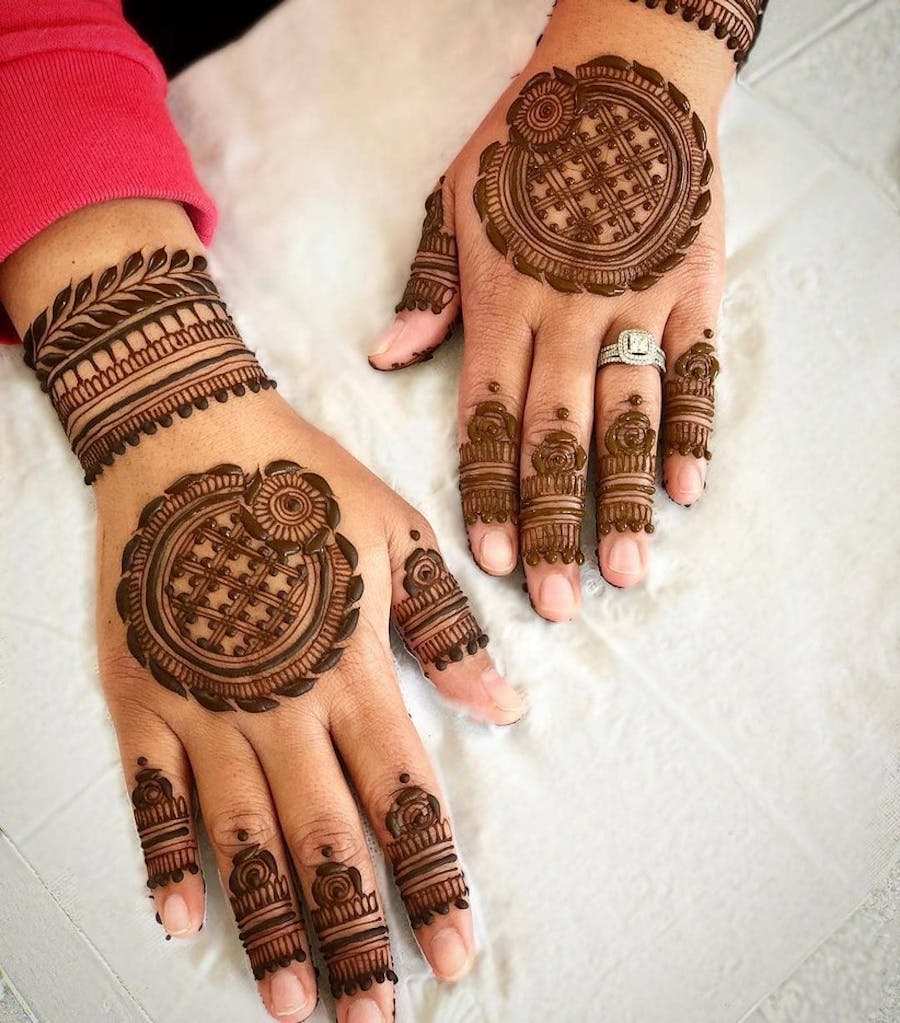 11. Bengali Bridal Mehndi Design
For all the Bengali Wedding Rituals, Mehndi plays a significant role since it is the symbol of a happy married life and a loving husband. It's a marvelous mehndi design where both the hands are covered, with fine and thin lines and curves and the designs are usually very vibrant and intricate. On the two hands, you can see enormous blooms at the focal point of the arm rear and bends with little lines.