Having navigated through several challenging years out of our comfort zones, we wanted our wedding celebration to be a grand affair, celebrating our love and journey together. So here is a detailed guide on how we virtually planned our wedding at Kolkata from London.
How it all began....
Our love story has been surreal. Schoolmates turned friends, turned best friends, turned soulmates. It has been an incredible journey for the two of us.
Spanning over a decade. Every moment spent together has been very special to us irrespective of the highs and lows that life has taken us through.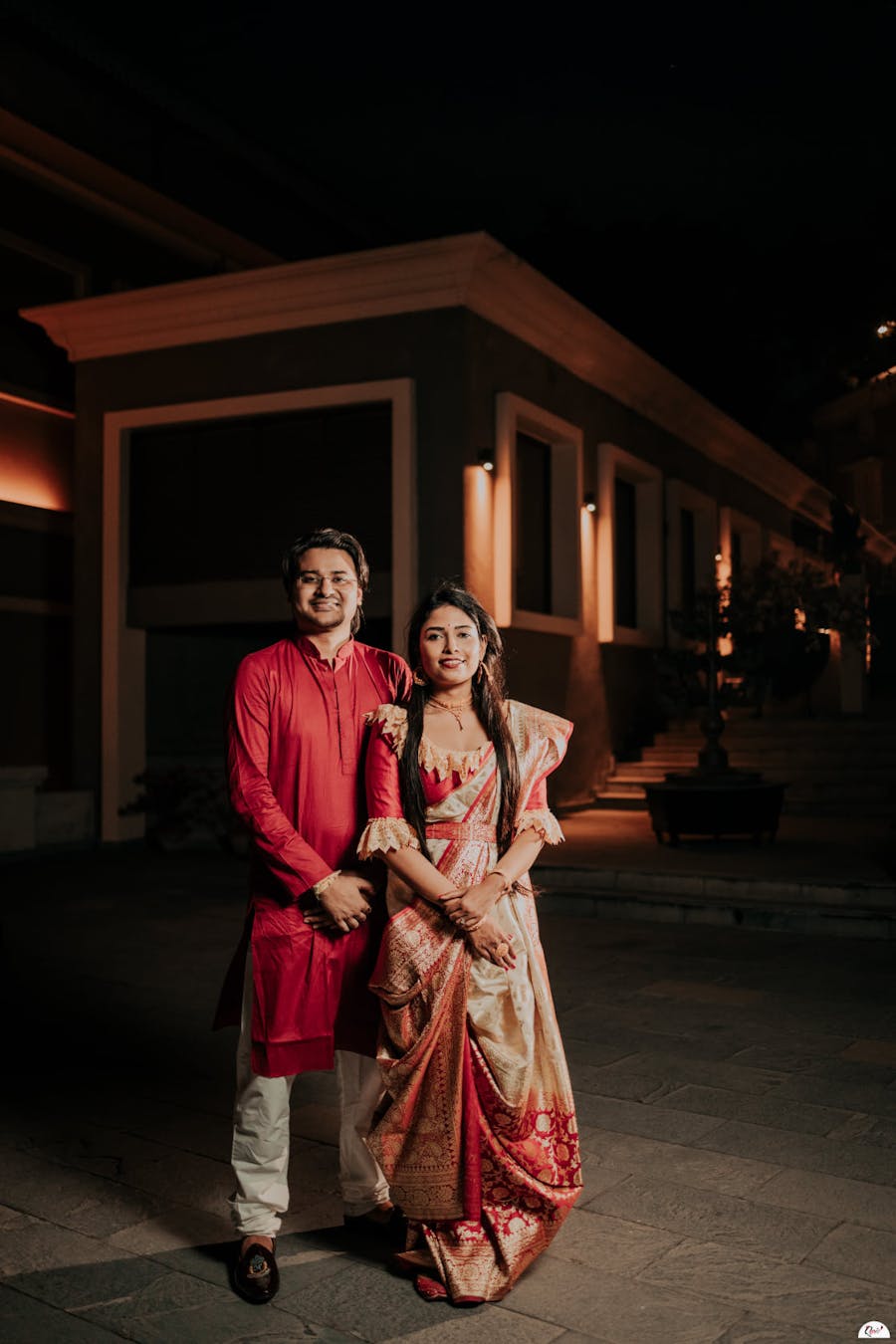 Our fairy tale.....
Often people have asked me about how we kept going for so long especially with the last 7 years of this relationship being a long-distance one. Well, my answer to that would be "Even today when I board a flight to meet him (for the umpteenth time), I still have that little girl inside me who is all excited with butterflies in her stomach" How can you possibly get enough of a person who has never let you down, has always held your back, accepted you in every way possible, respected you for who you are and unconditionally loved you to the core. It is incredibly rare to find someone with whom one can connect so deeply at so many levels. And that's probably what you call Magic.
This is our Fairy tale. And no matter how cliched this phrase may appear today but the two of us have been blessed to experience its essence in the truest form in our own lives "Once in a while, in the middle of an ordinary life, love gives us a fairy tale"
Plotting the Saga...
Having navigated through several challenging years out of our comfort zones, we wanted our wedding celebration to be a grand affair, celebrating our love and journey together.
Our wedding was to take place in our hometown Kolkata (also the city where we met) but neither of us stayed in the city when wedding planning started. In fact, we were in a different country altogether, UK. Planning the wedding virtually from London was quite a challenge amidst COVID volatilities. Initially, we perceived it to be an uphill task, but eventually got into the mojo and loved the flexibility online offered in terms of co-creating designs, themes. Also, special thanks to my Mother who executed the plans to perfection.
I feel so blessed to have been able to bring together all of this mostly virtually while being thousands of miles away in London amidst unpredictable COVID waves with loads of crazy Bridezilla moments. But needless to say, I thoroughly enjoyed the entire process and made countless memories. I am super thankful to all the vendor teams who worked hard and made our dream wedding a reality. A special mention to my super creative Mom and Debaditya for being so invested with me in the aesthetical part of the wedding planning.
As the bride, I was super excited about the entire wedding planning process. Mostly a Bridezilla, I wanted to be involved in every bit of the decision-making process.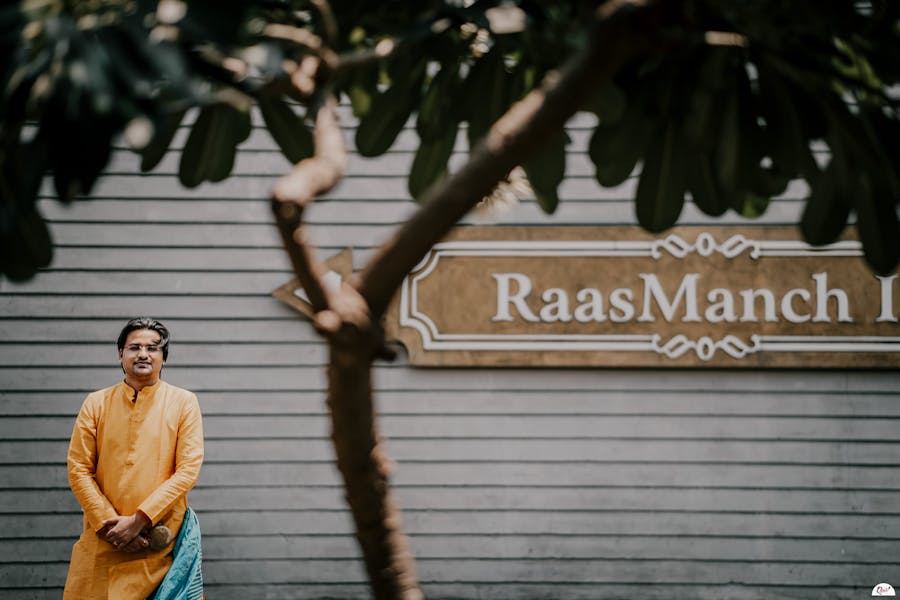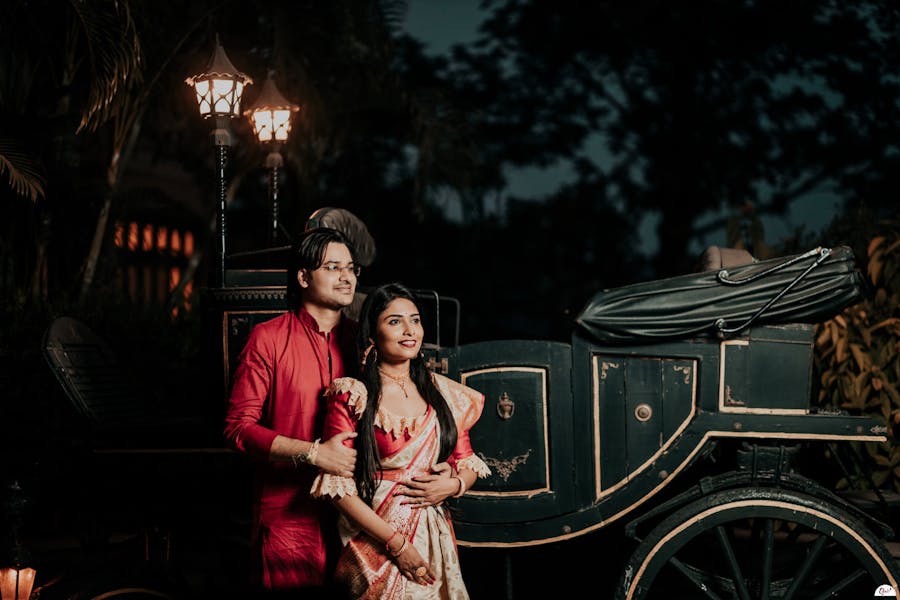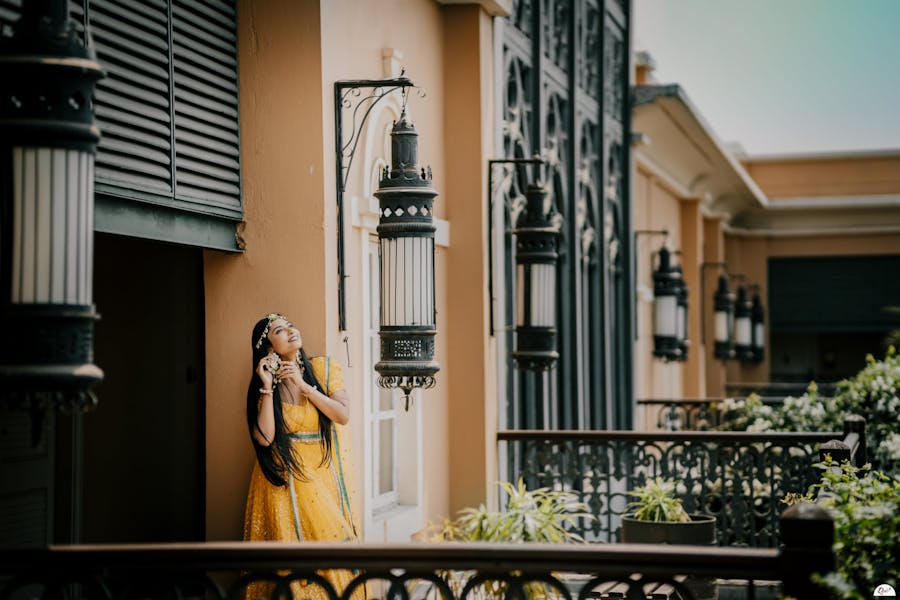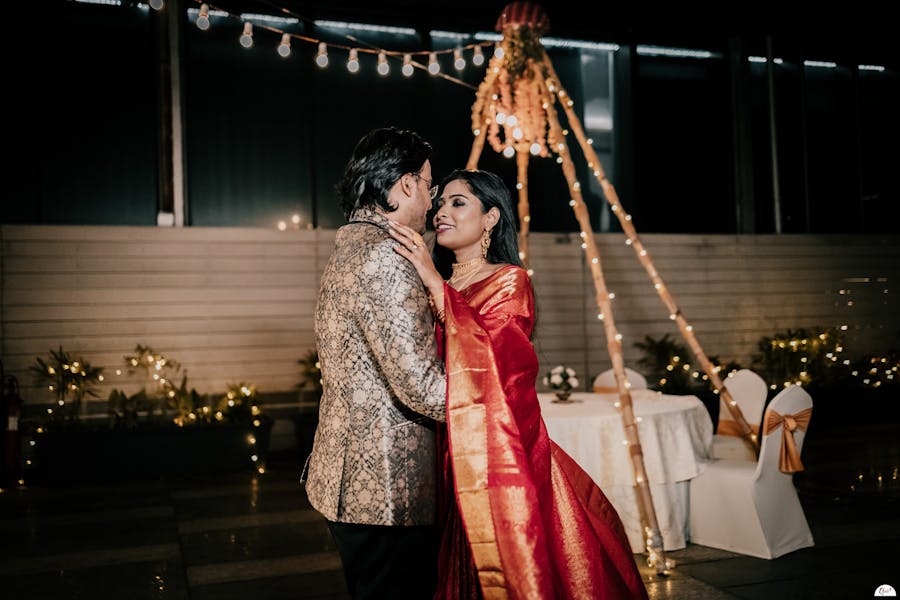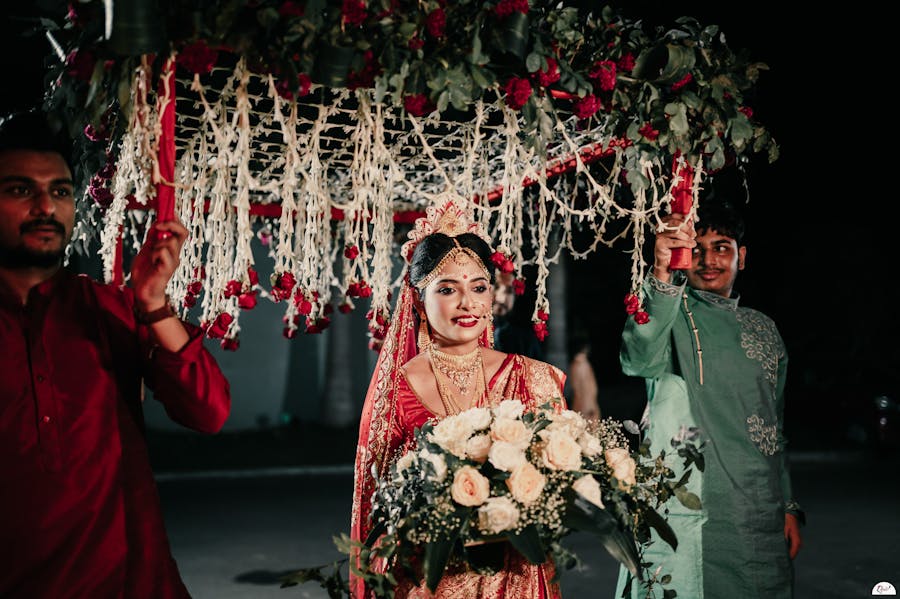 Gearing up for THE Day!
I had always dreamt of wearing something unique for my wedding day which would echo my personality. Eventually, I realized that I wanted to design my Wedding day look instead of opting for any brand. However, I needed help with the execution of my imagination. While researching extensively, I discovered an amazing boutique in Delhi that allowed co-create designs on fabrics. I shared my sketches, some previously saved online inspirations, and kept being involved closely with the amazing weavers and tailors offered by the boutique.
My wedding outfit broadly consisted of 3 key elements: saree, blouse, and veil. When all my imagination was beautifully translated into reality, I was absolutely amazed Felt so thankful, about been able to execute my dream pet project. The fact that I adorned what I had imagined to the tee, made me feel very special on the wedding day.
For the remaining events, I leaned on flagship stores and brands to buy the outfits. I wanted to keep a good mix of sarees and lehengas across the celebrations, to add versatility. I was also having an eclectic colour palette and experimented with various saree draping styles to keep my looks fresh and chic.
Aiburobhaat: I wore a red and white Benarasi draped in a quintessential bong
Jewellery: style with traditional gold jewellery
Haldi: Yellow lehenga with seas shell jewellery
Wedding Day: I wore a classic red Benarasi with intricate Meenakari details and elaborate golden Zari. To complete the look, opted for a beautiful red veil with floral motifs to complement the saree.
Bou Bhaat: To add a fun pop colour, opted for a purple and green Kanjivaram saree with bespoke floral jewellery.
Reception Night: A glam magenta pink Kanjivaram silk saree with golden Zari. Kept the hair and makeup sleek to overall add an edgy touch to the look
Groom's outfits & styling: Why should Brides have all the fun?
Debaditya experimented with some unique elements through his wedding looks. The key highlights were
1. Opting for a Funky Turquoise Dhoti for Haldi (a marked departure from usual beige/ maroon opted by men)
2. Embroidered red sherwani for the wedding
3. Bespoke unique blazer made of handwoven brocade fabric for the Reception night
Recommended Read: 15 Best Places for your Wedding Shopping in Kolkata
With regards to accessories, I primarily chose intricate gold jewellery for the main events. Some of these jewellery pieces have been passed on in the family by generations, making them very special. While some others, we shopped to suit the modern taste. Apart from the gold jewellery, I also added floral and seashells to some of the day events to add some element of zing.
We tried to keep the essence of Bengali traditions as the core of our wedding celebrations but also incorporated tweaks to add fun, modern elements to the events.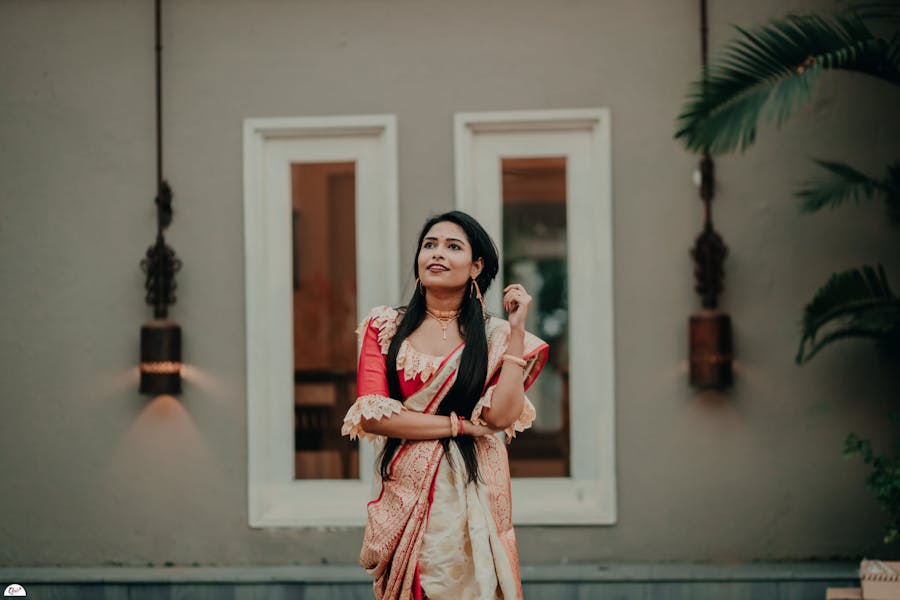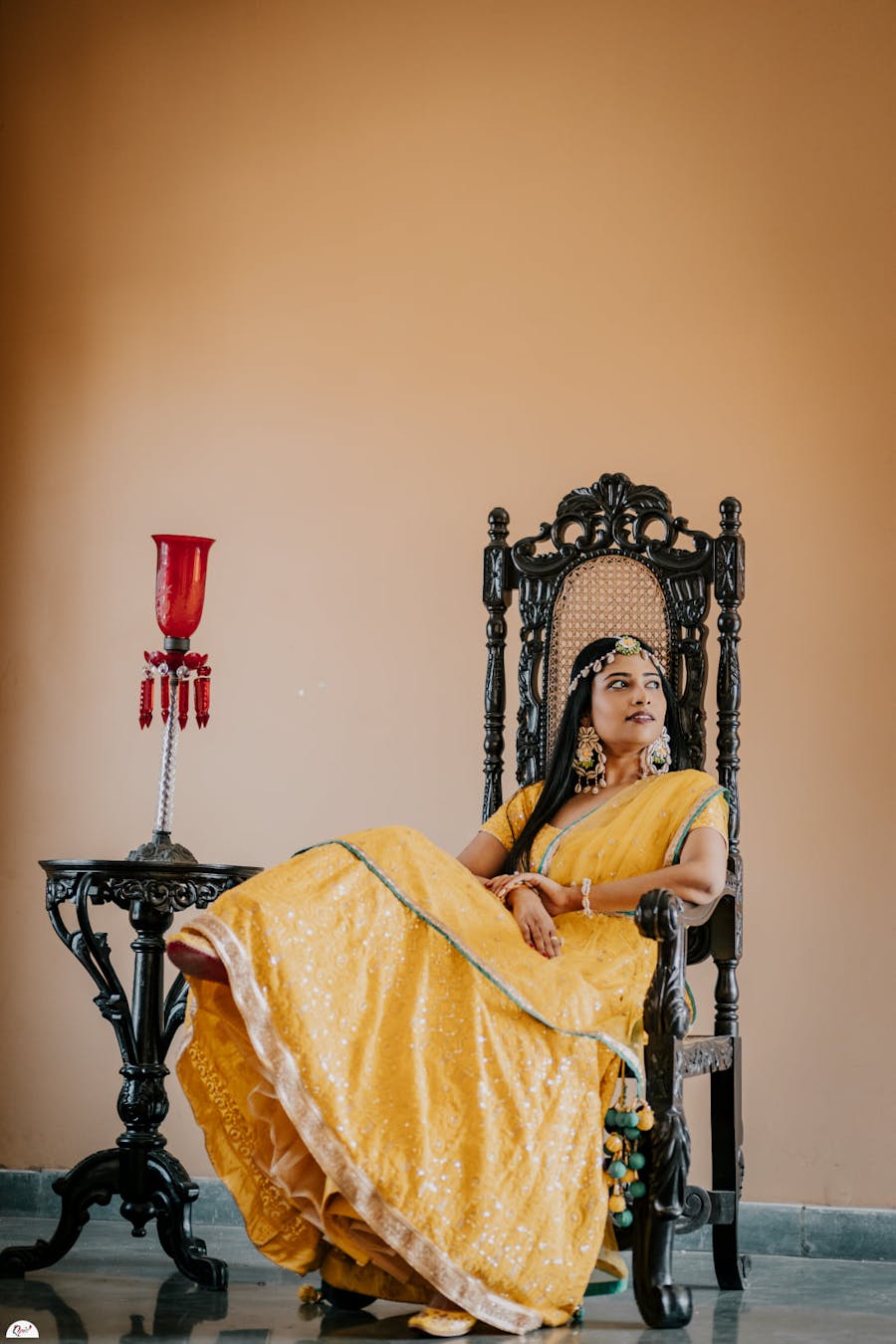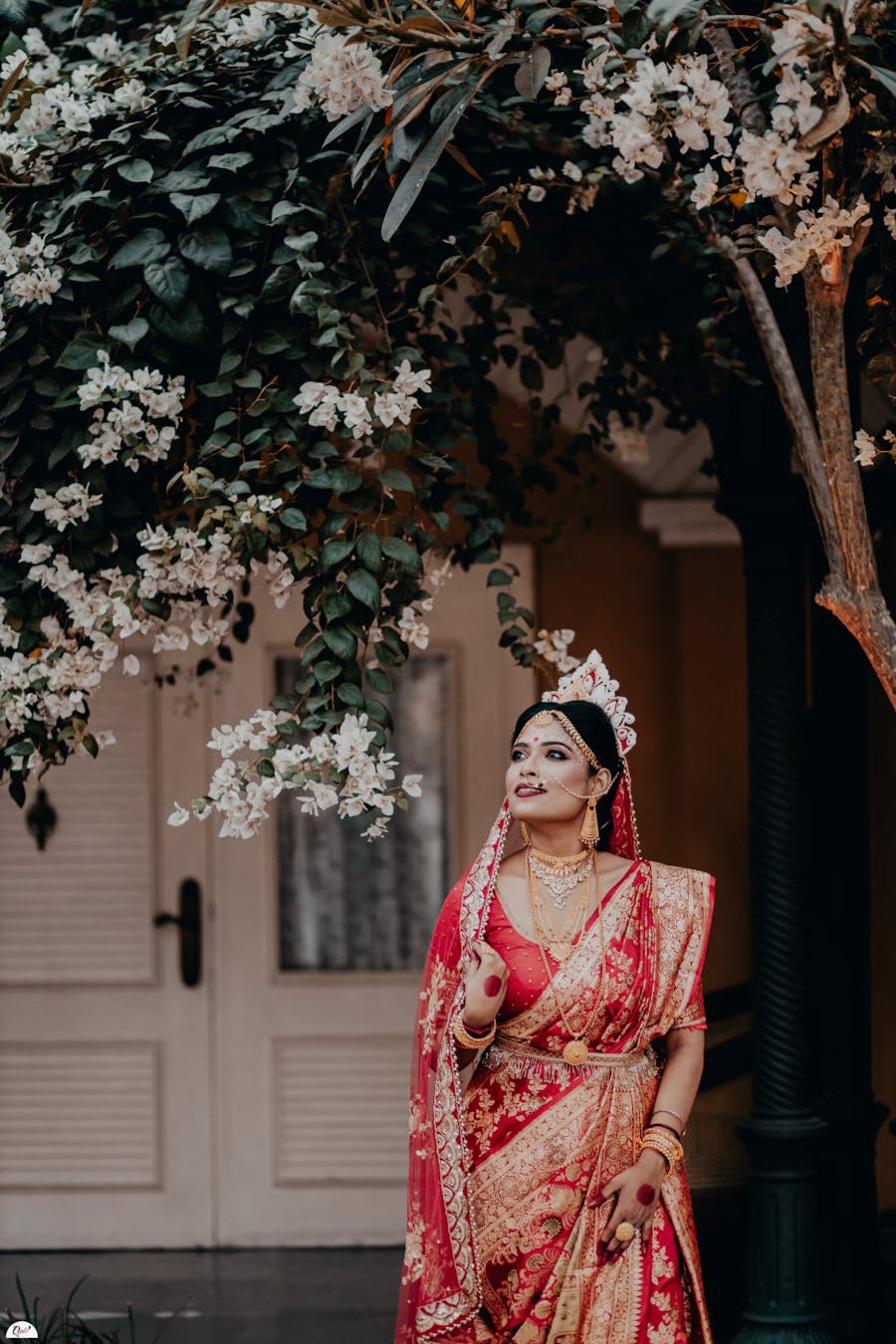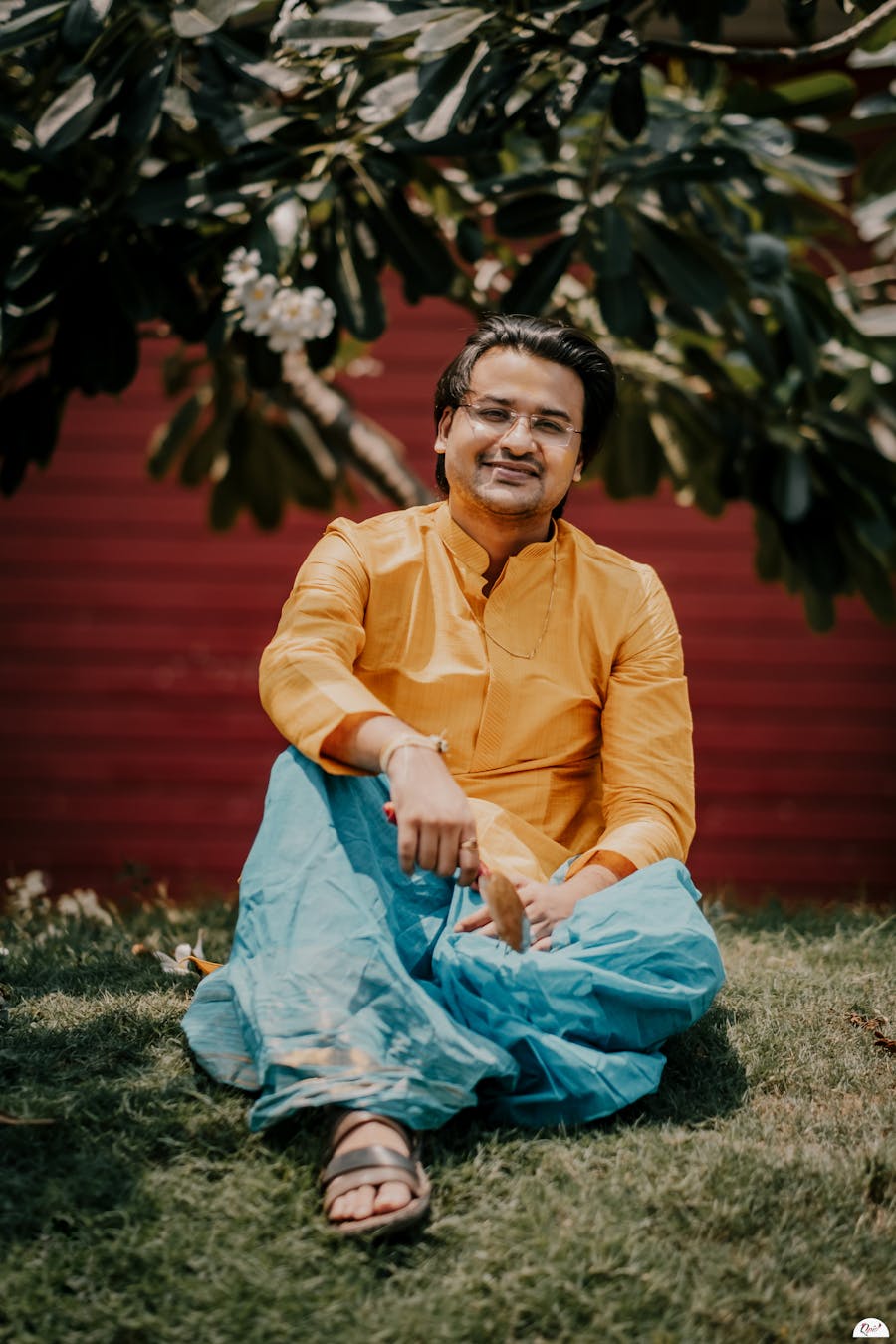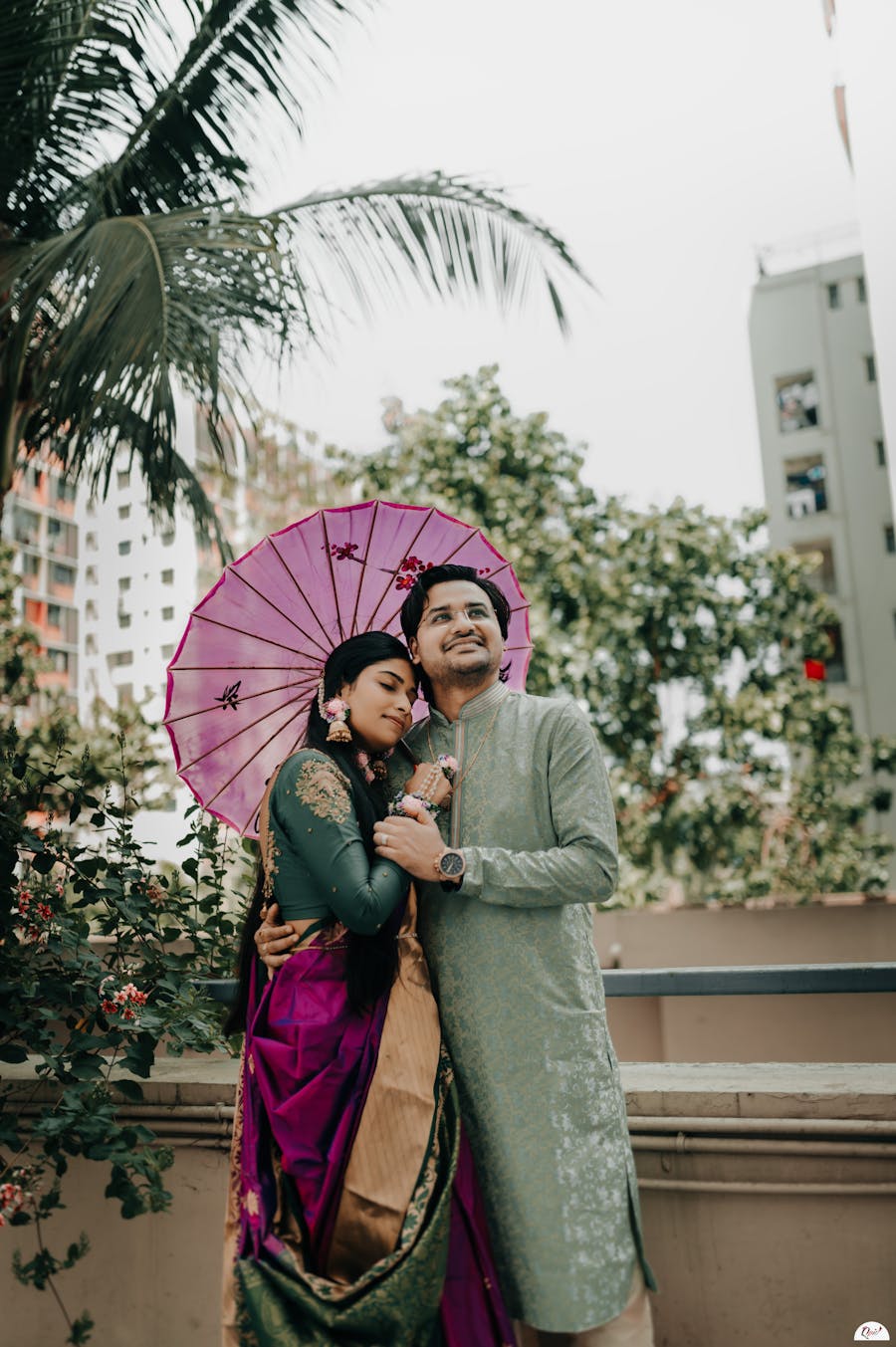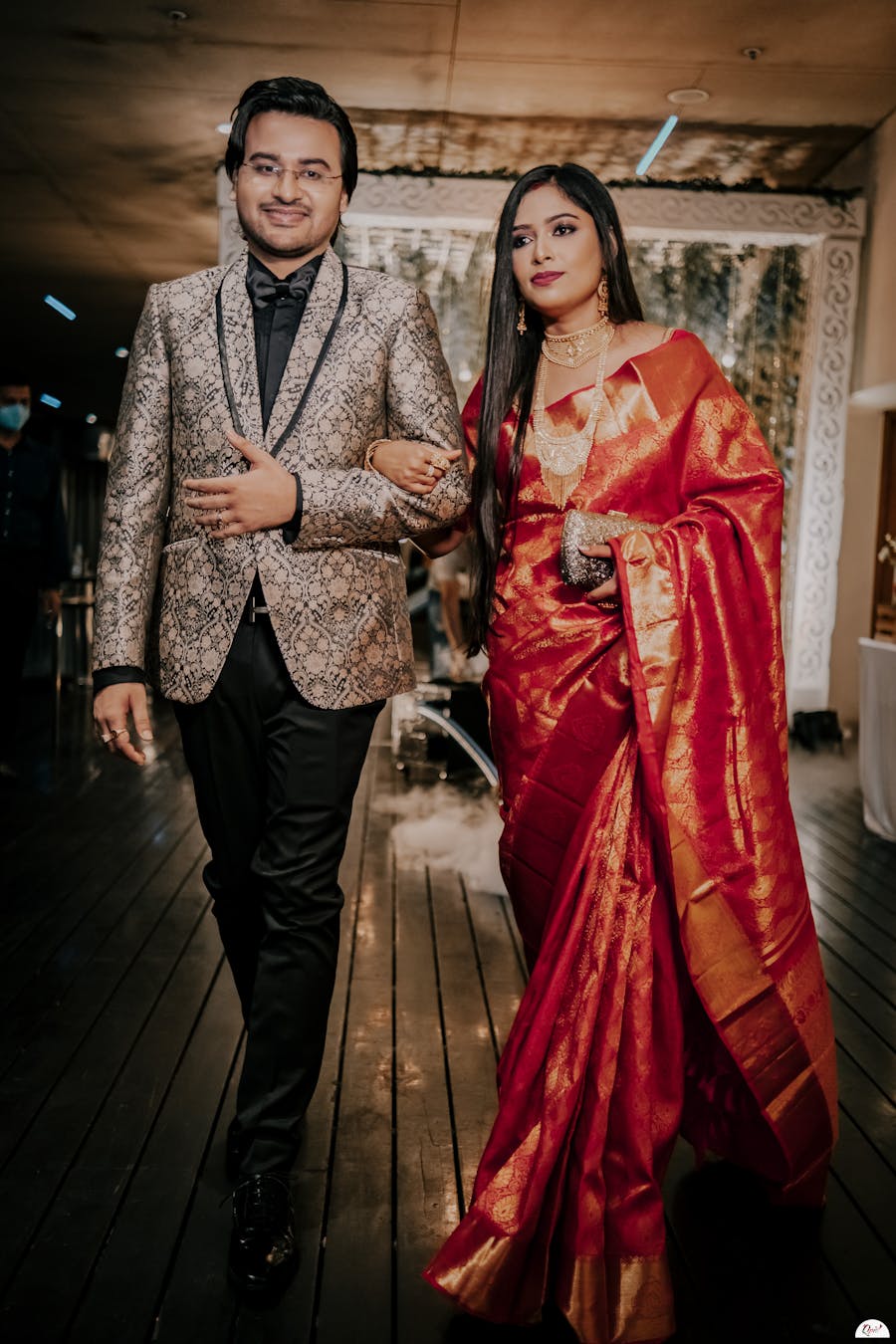 Venue & Decor
Being a Bong Girl, I always envisioned my wedding day to be full of Bangaliana and Regal Raajbari feels. Raajkutir was the perfect sprawling Boutique Hotel (nestled within Swabhumi) which gave the right vibe of rich Bengali heritage, old-world charm, elegance, and sophistication. Debaditya and I also have several fond memories from our dating days (circa 2012-14) in and around Swabhumi campus which also made this venue very special for us. To bring our dream wedding day to life, it was also very pivotal to have the right decor in place which would enhance the beauty of the venue and define the mood.
After several meetings with Raajkutir's Decor team, countless yay nay moments, we finally managed to carve out the perfect decor for The Big Day. While the Chandeliers, Floral Backdrops, Stage added of overall vibrant grandeur, other intricate elements like the Traditional Bangali Haath Pakha (hand held fan), Wedding Bells, Rustic Brass Lanterns, thoughtful color palettes added to the overall finesse. Also, I wanted our Mandap to be tweaked a bit from the usual Bengali wedding set up in which the Bride, Groom, Parents, Priest sit on pidis (ground level wooden plates) while performing the Puja rituals. For comfort as well as aesthetics, I replaced pidis with low-rise chairs to complete the Mandap decor. We wanted a distinctly different vibe for the Reception Evening from the previous two. We were looking for something Fun and Chic.
While scouting for venue options, Taj Vivanta stood out beautifully from the rest. It offered us a unique venue which was a combination of 3 areas: a Pool Deck, an Open Air Terrace, and a Banquet. The variation amongst these 3 spaces clubbed in one got us super excited. We could now explore abundantly with décor ideas, both for indoor as well as outdoor setup.
After several iterations of exploring decor options, we zeroed down on a Bohemian-inspired theme. This meant earthy color palettes, wooden textures, warm lights, and pretty floral arches.
On the day of the event when all of this came together, we were absolutely lost for words. Everything looked Dreamy, Wispy, and Magical. Also, we were blessed with beautiful breezy weather which made our rooftop terrace and pool deck plan come alive beautifully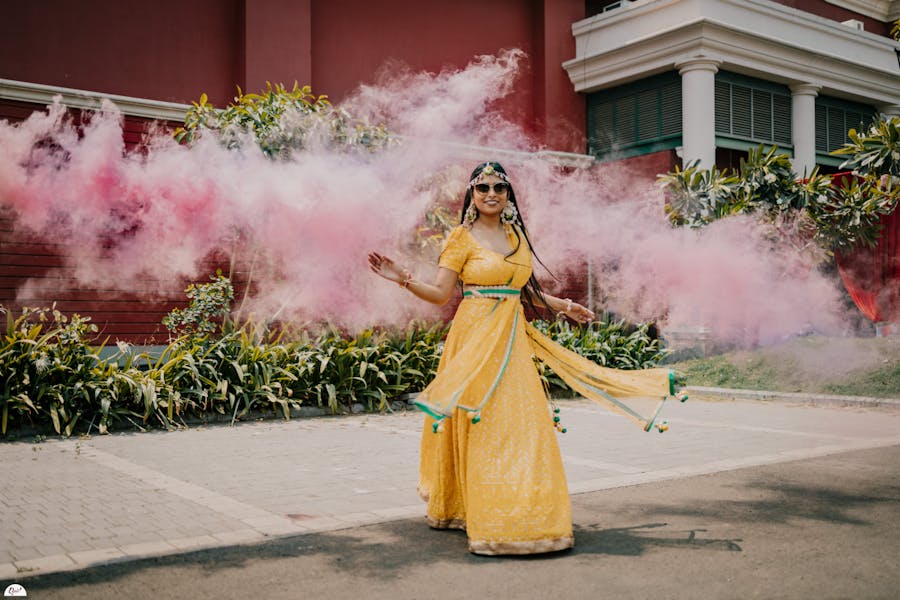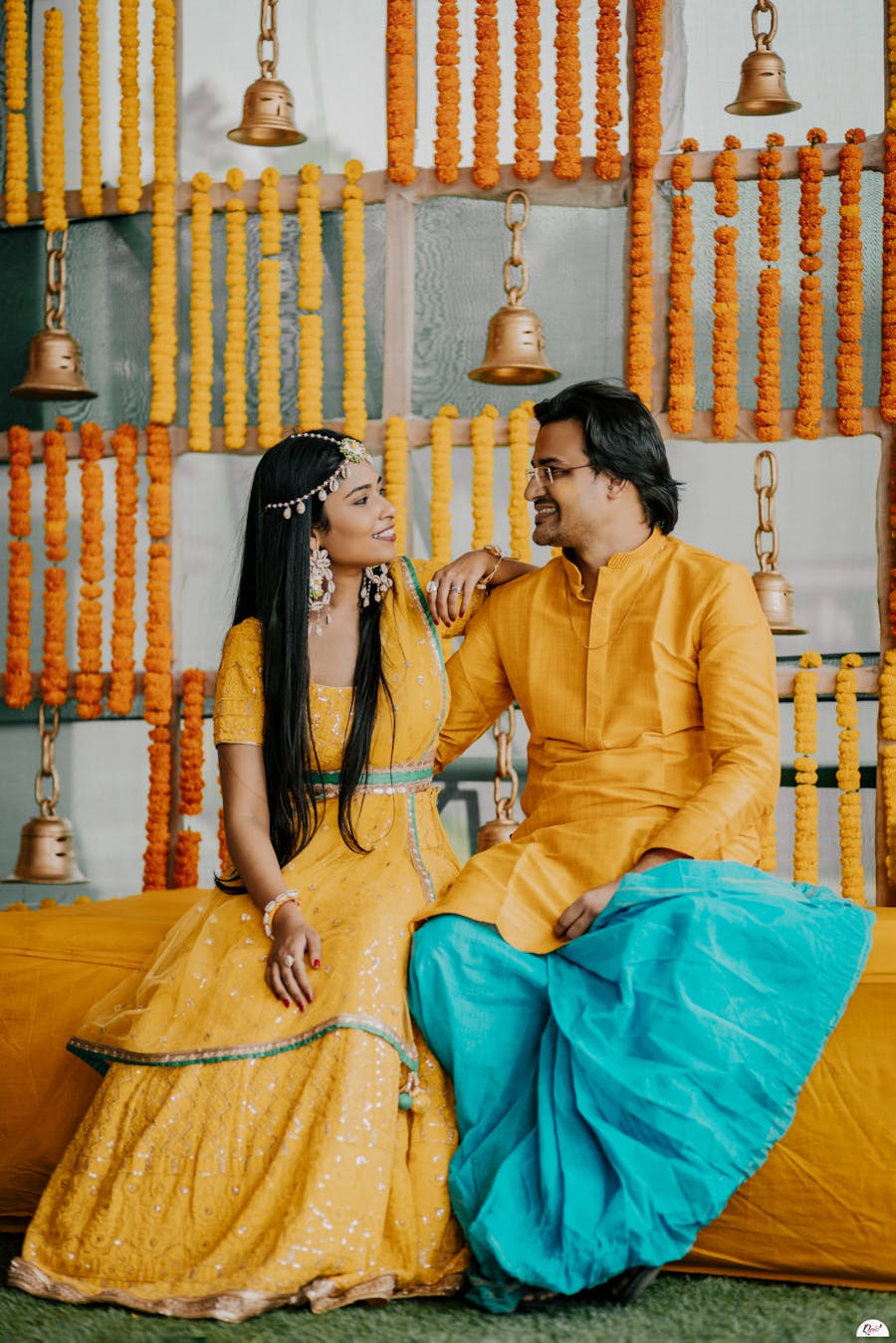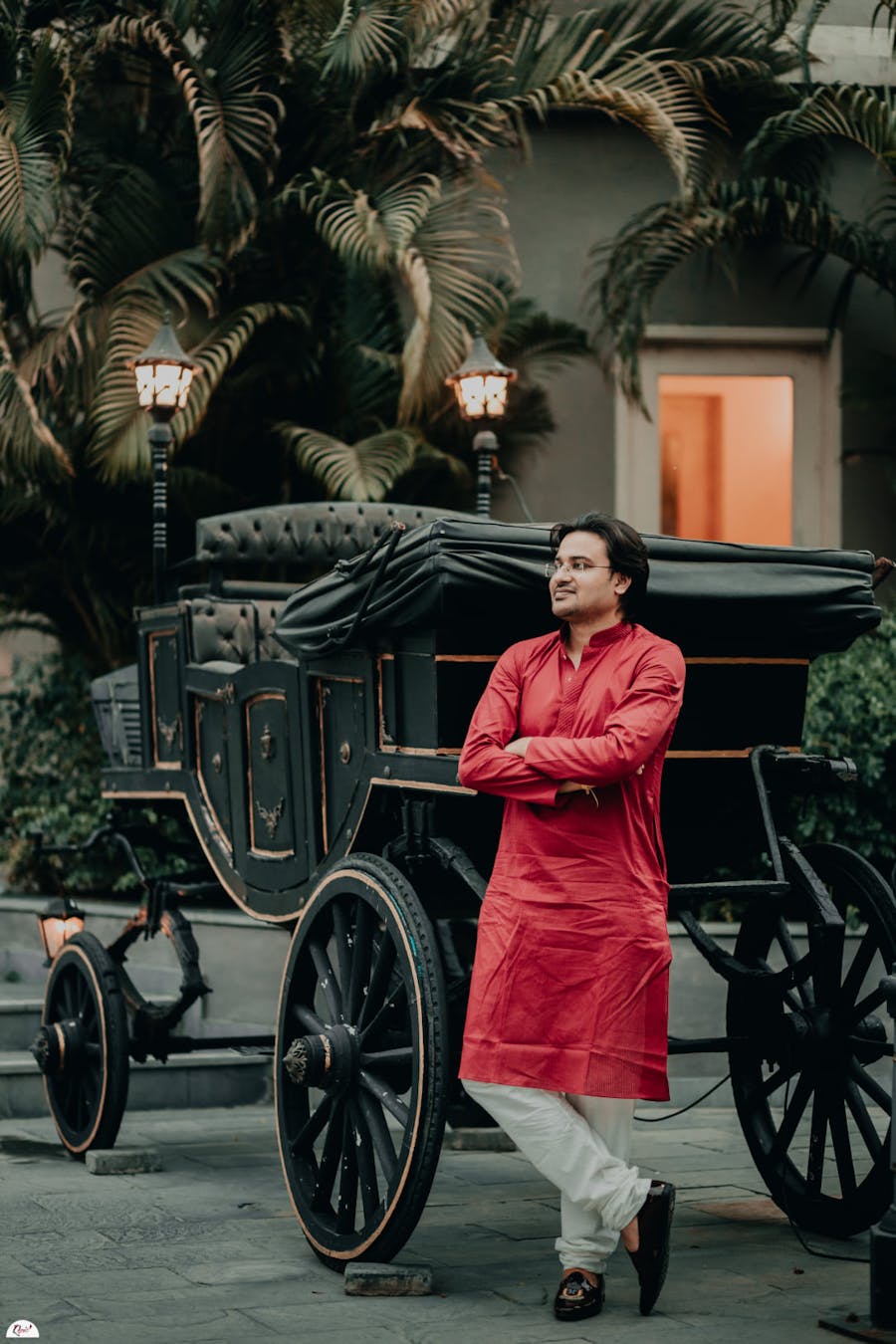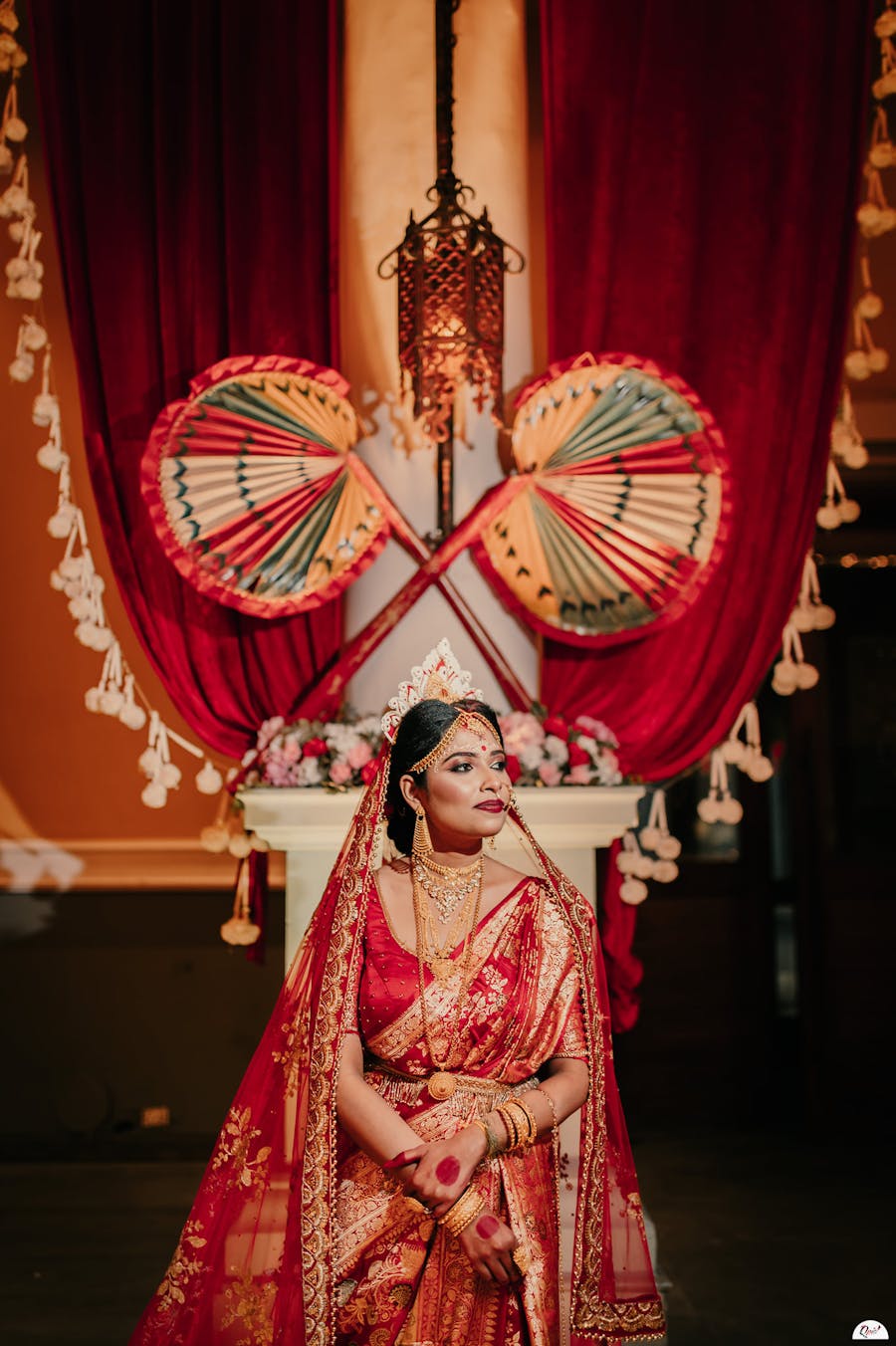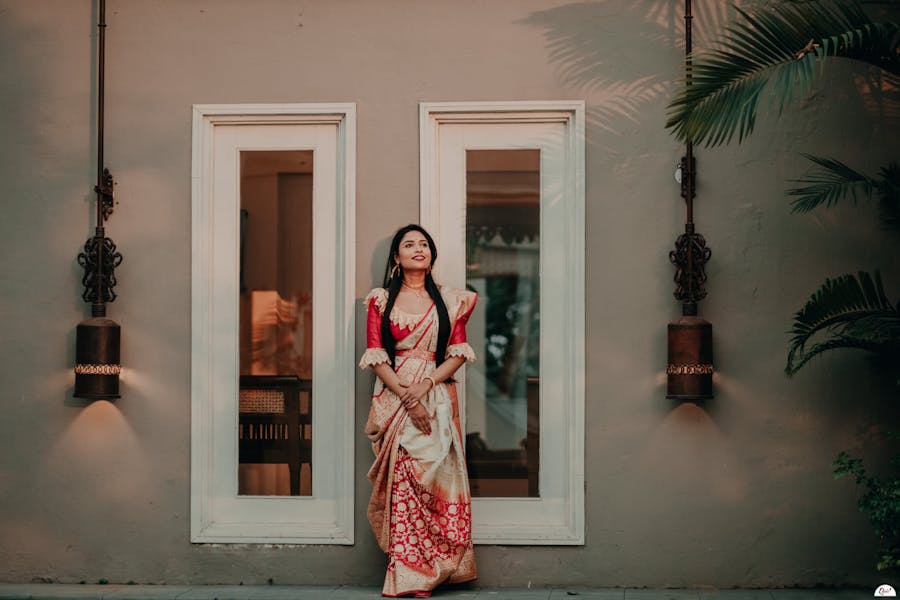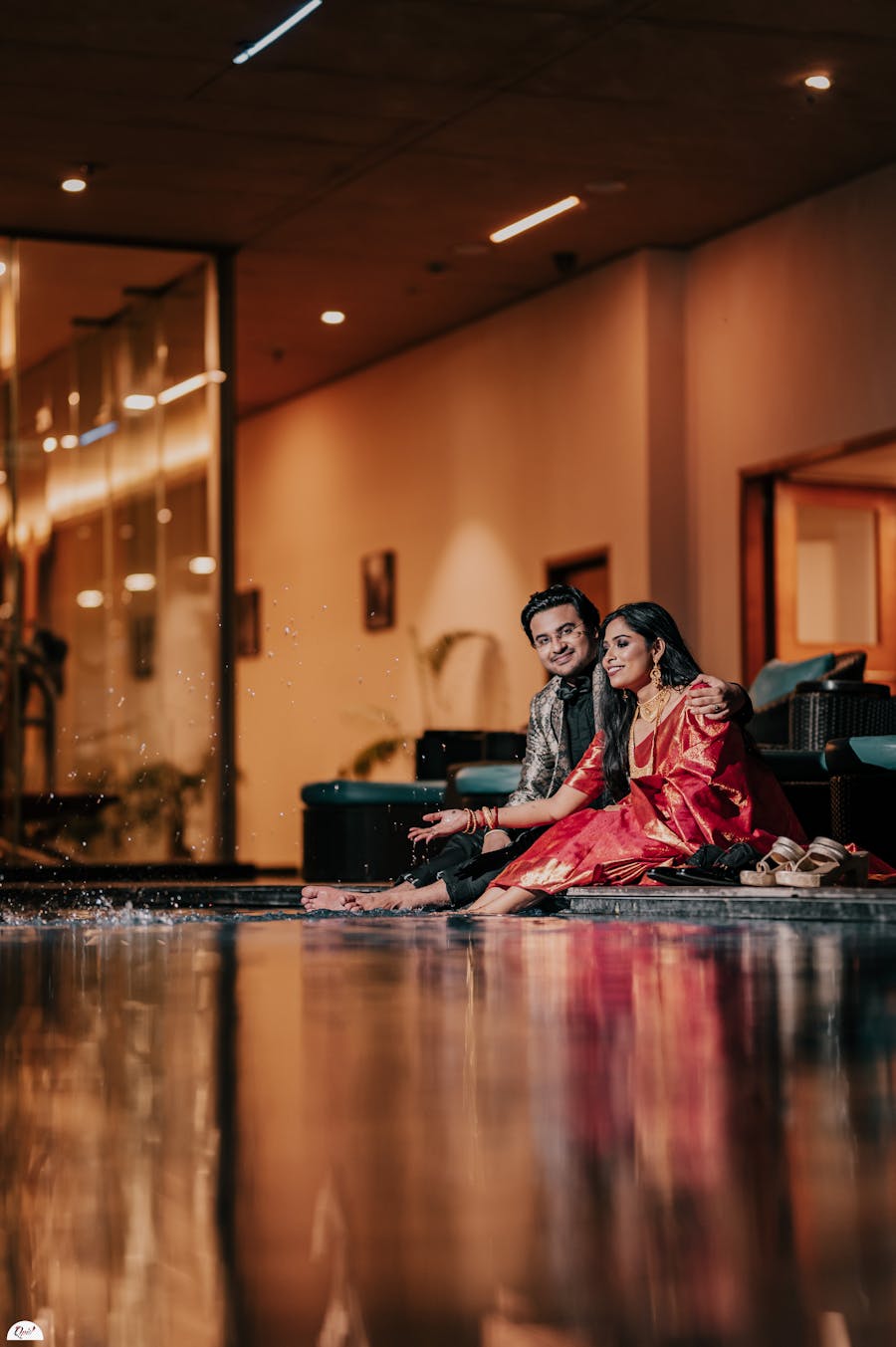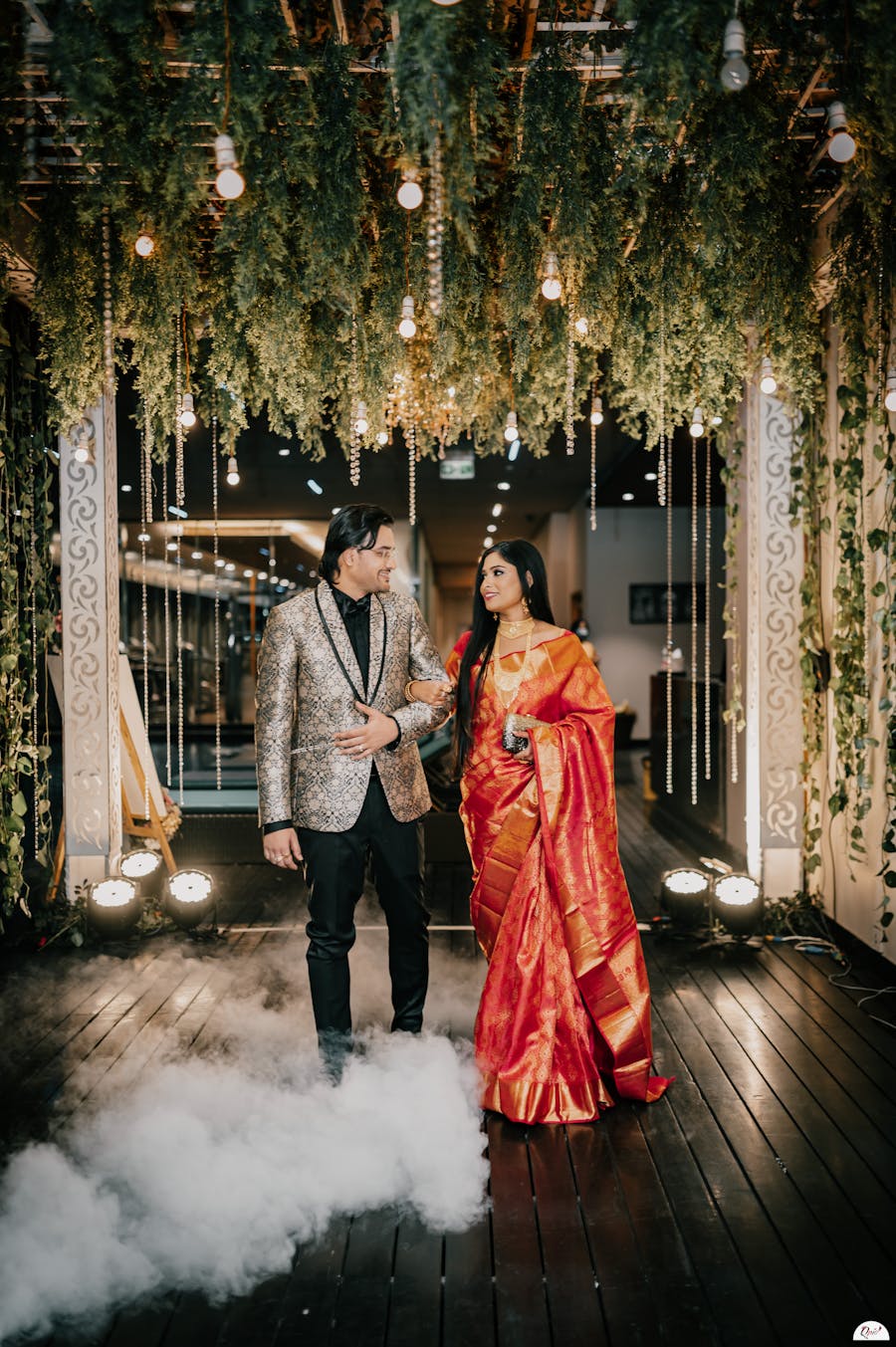 Flowers
I love flowers, specially handpicked ones. Our wedding had several of those.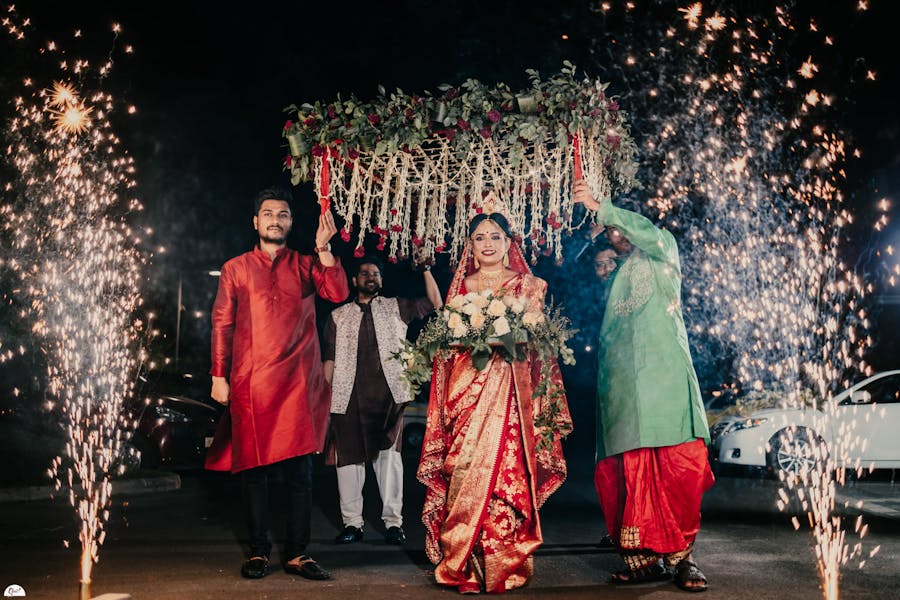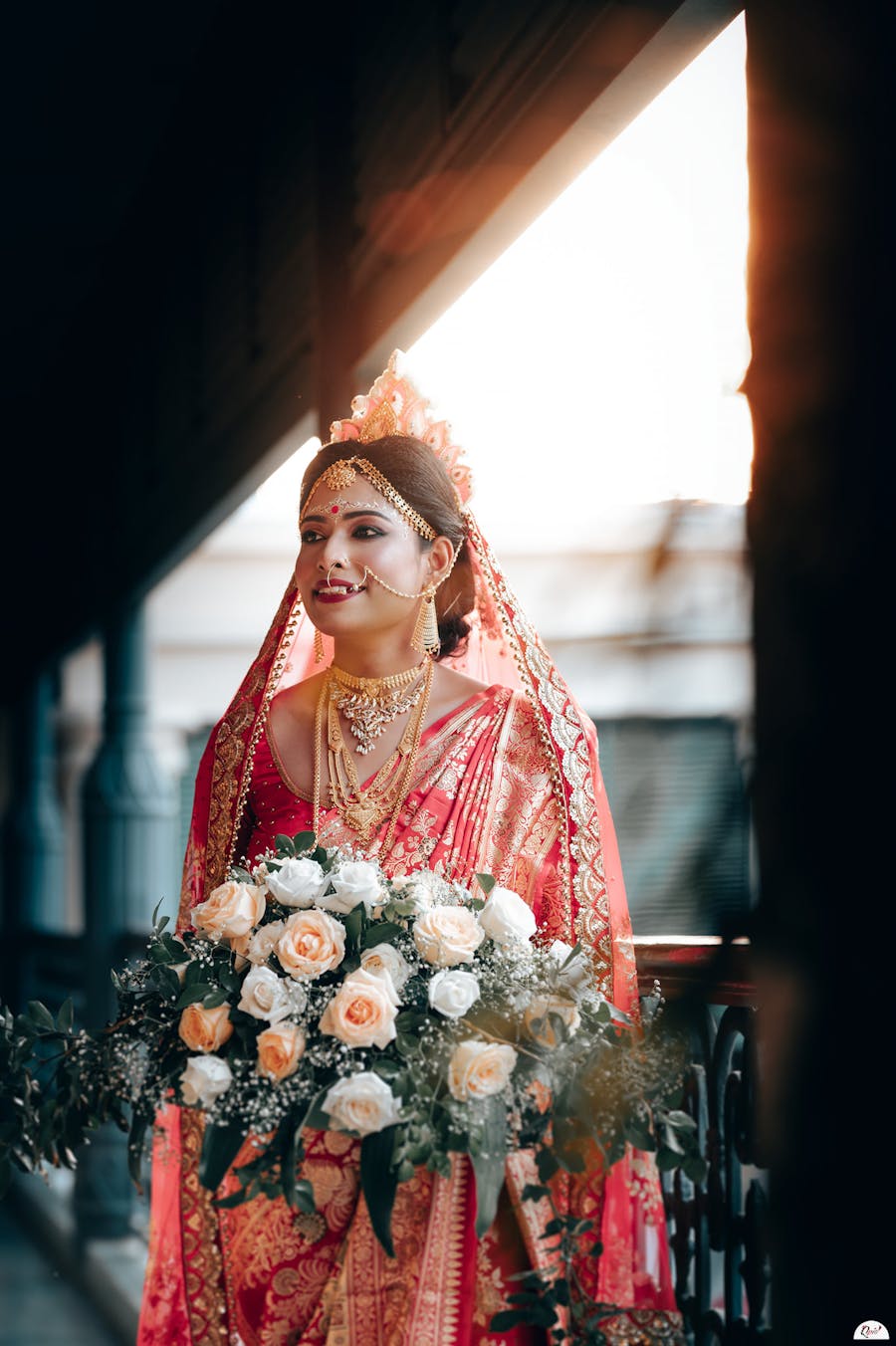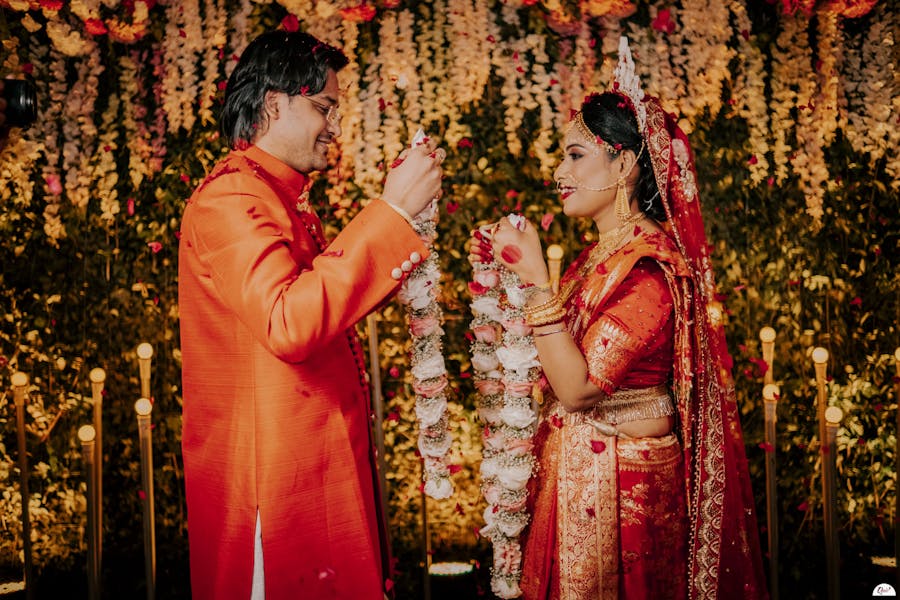 Photography
For us, photography was integral part of capturing the wedding memories which would last us a lifetime. Initially the search for the right photography team seemed a challenge. Then with the help of Instagram, we discovered Qpid and also coincidentally were able to reference back their amazing work with an old friend. Qpid's team did an amazing job with immense passion and perfection.