Every Wedding ceremony follows some blessing rituals to complete, A wedding photographer involves to capture that moment, especially the Haldi photoshoot, and make those memories for a lifetime. Haldi Ceremony is one of the most important Rituals in Bengali weddings.
Wedding Haldi ceremony, significations of Haldi and the history of Haldi ceremony in a wedding in Kolkata
Apart from this so-called modern generation if we look back to the past this occasion is an intimate affair celebrated during the day, with only close family members and friends taking part in the ritual with lots of music and giggles. Turmeric is extremely good for the skin. It gives the skin a healthy glow and ensures the bride and the groom look fresh during the most important occasion of their lives. The makeover wasn't a regular or popular ingredient of weddings before. Thus also the beautification property of Haldi turns out to make the Haldi ceremony an important ritual in Indian weddings. And also at those times, couples couldn't get much opportunity to have time with each other before marriage.
The Haldi being brought from the groom's house after completing their ritual to ornate the bride with it becomes the first metaphorical touch of each other. The feeling of accepting each other with the medium of the touch of Haldi was the first emotional build-up of a new bonding. In wedding photography in kolkata we prefer to shoot the haldi look mostly as this haldi ceremony performed in the morning. Also a fresh and beautiful light we can capture throughout this event both bride and groom haldi. Gaye holud represents our Bengali culture. Gaye holud photoshoot plays a big role in a wedding photographer in kolkata.
Haldi Photoshoot In Bengali Weddings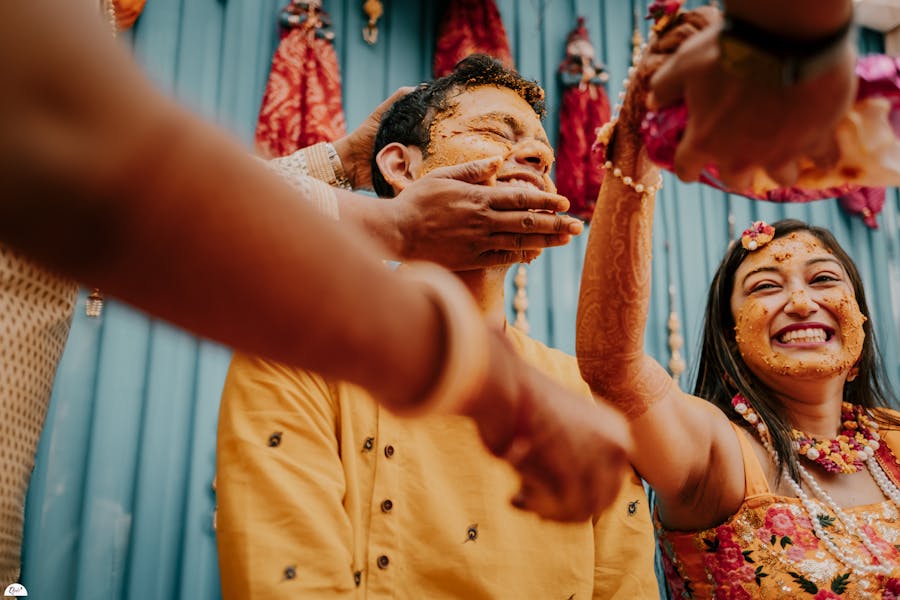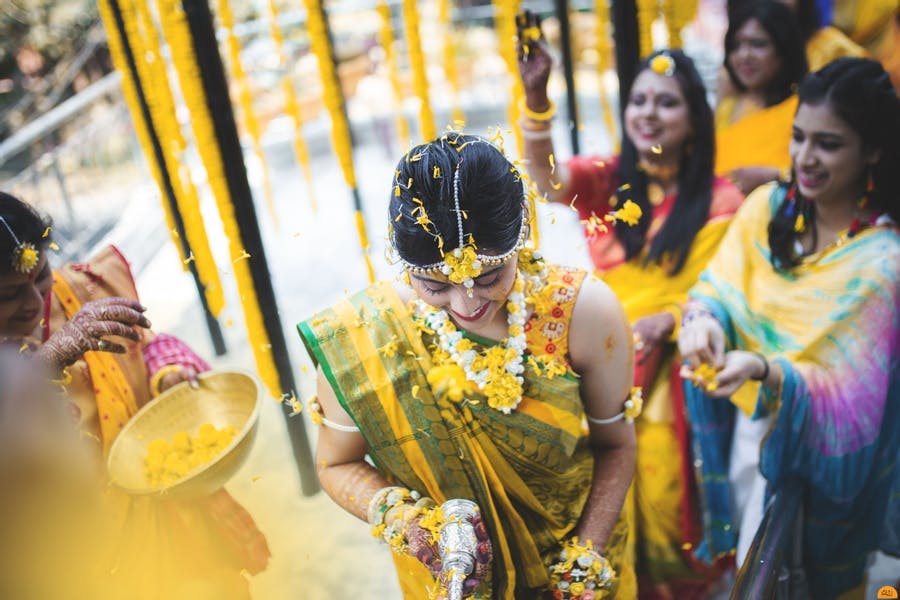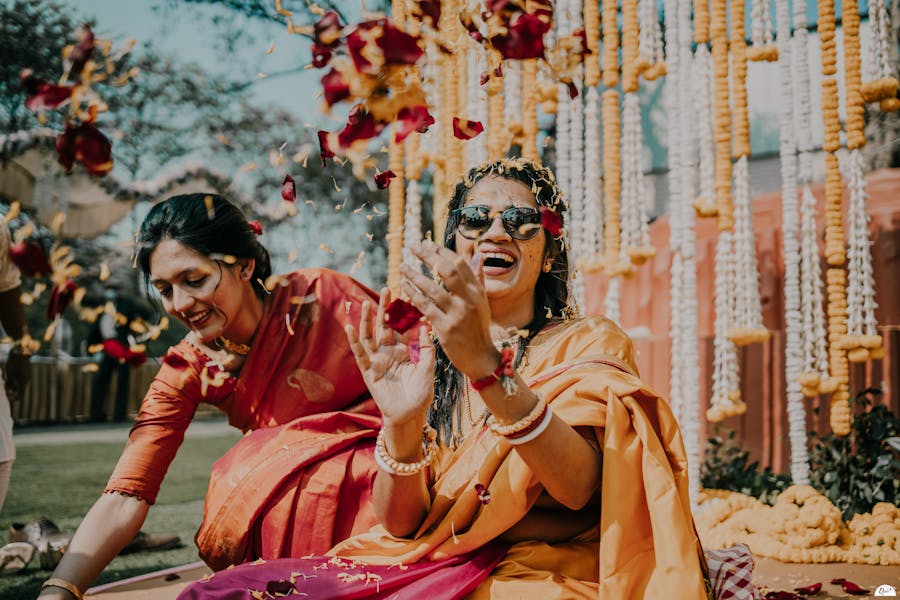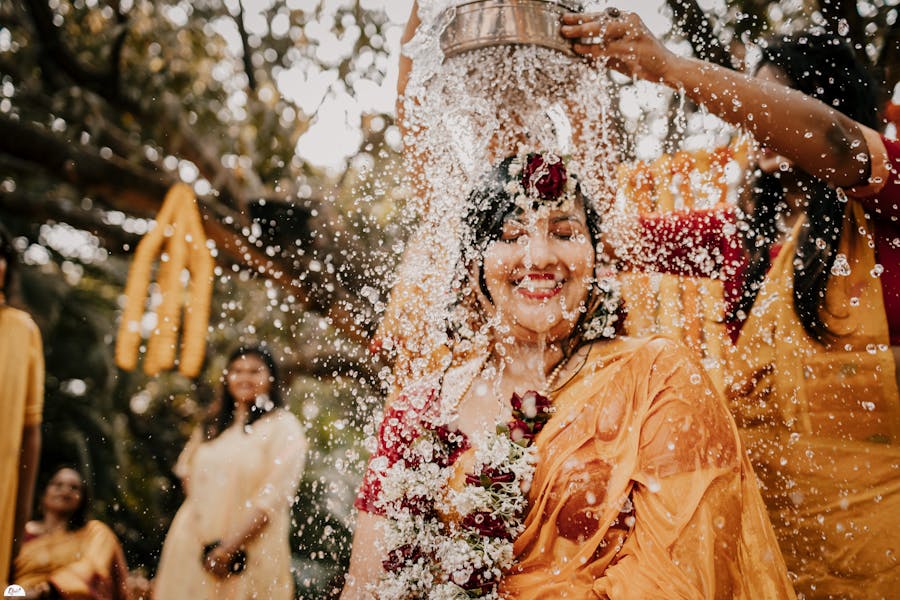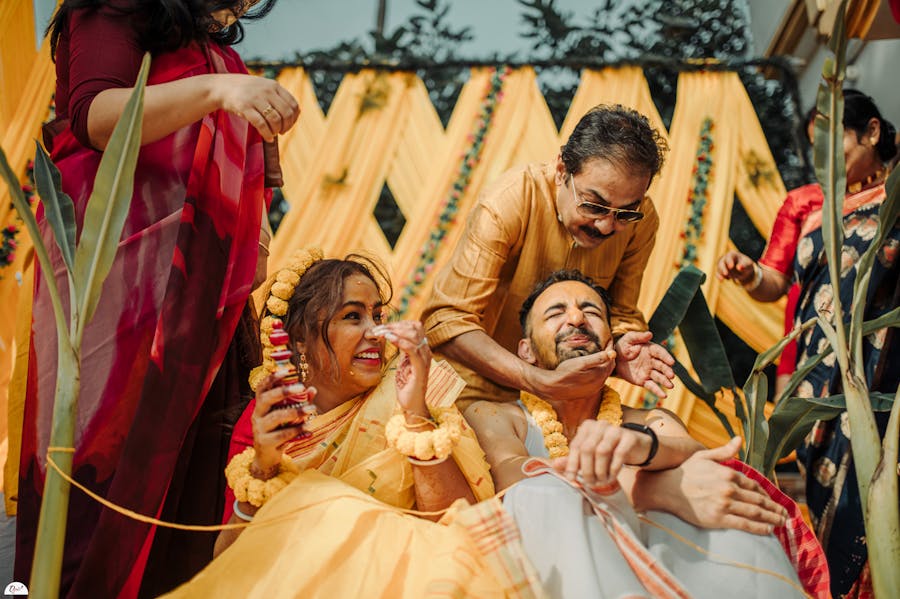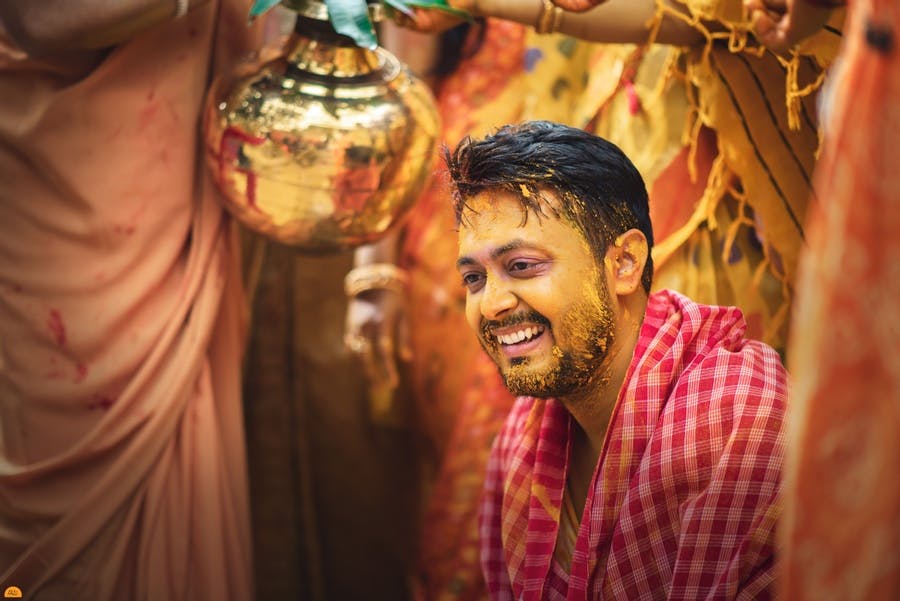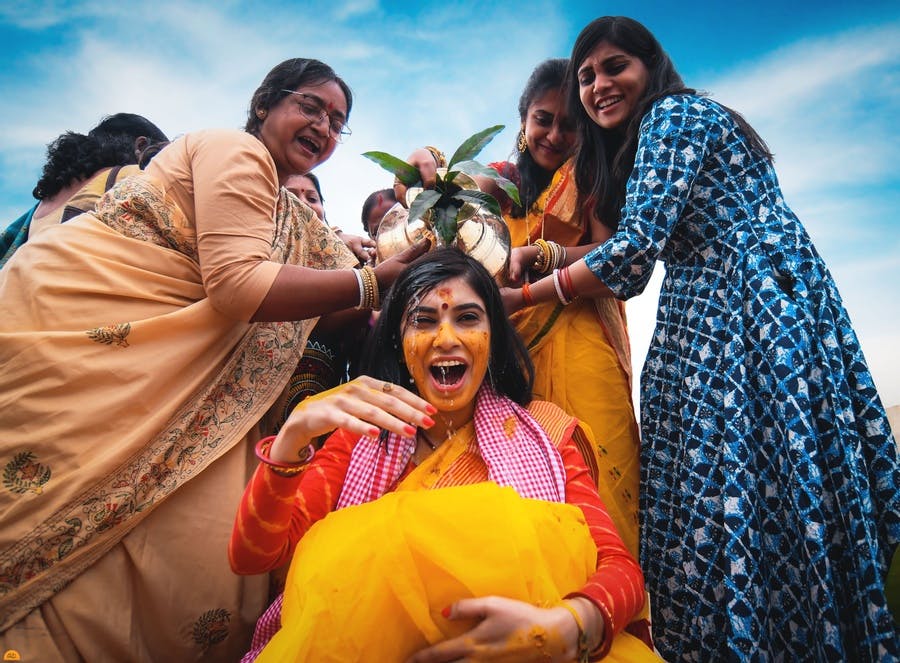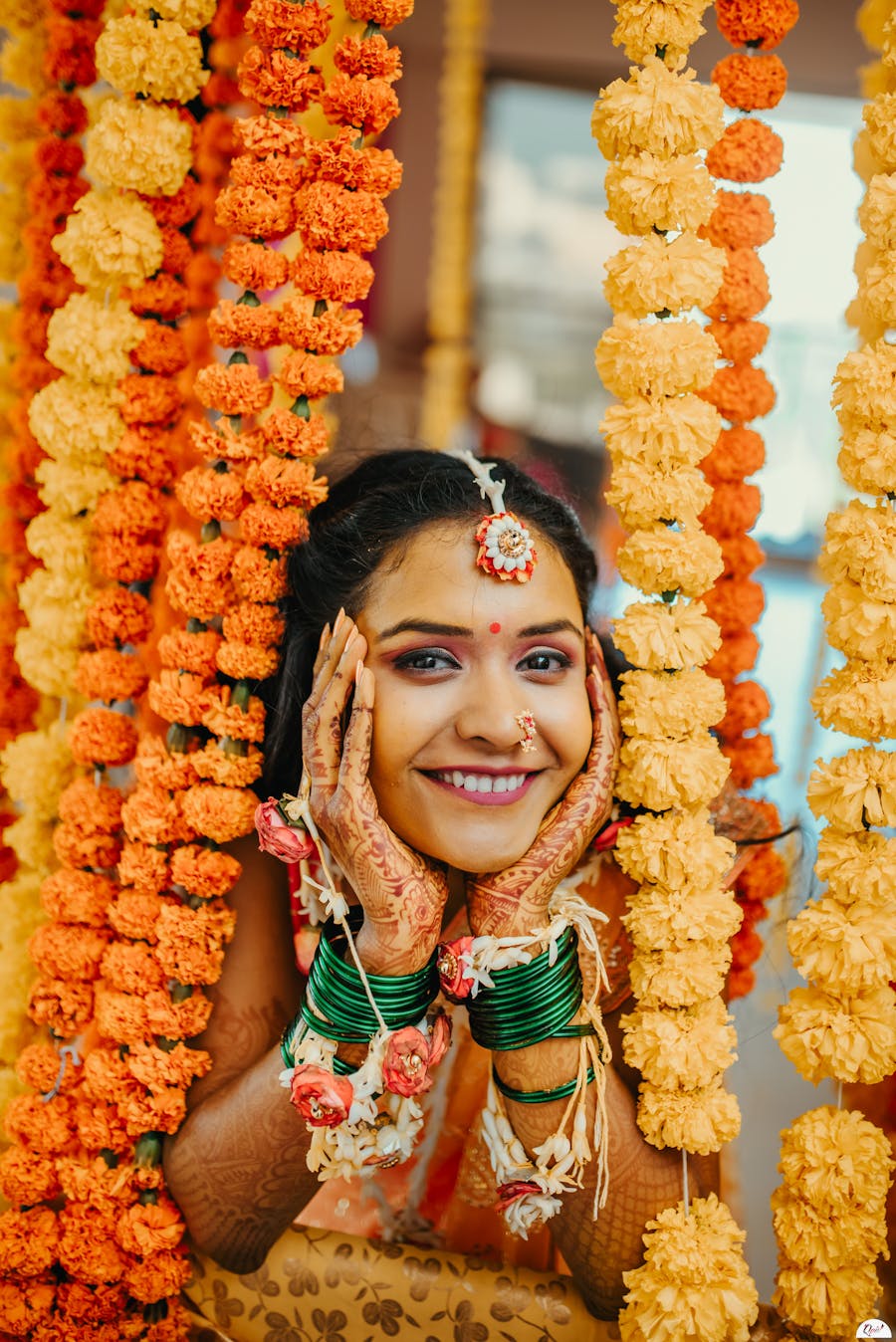 Haldi wedding ceremony emotions and haldi rituals
Close ones gather and decorate all over with mango leaves, prepare them for the ritual by placing them to sit in front, covering them with beutal leaves, coconut, and supari, and then the ritual starts with some traditional rules before applying turmeric paste to them. The bride-groom is given an iron dagger covered with a piece of cloth dipped in haldi, the point of which is pricked into a lemon.
This is done with the belief that till the marriage ceremonies are over that acts as a charm, no ghost takes possession of the groom or the bride and to prevent any witchcraft or sorcery being done to either of them. Family and friends who enjoyed this haldi ceremony with the bride and groom are the most value-adding part of wedding photography in Kolkata. Our wedding photographer's responsibility to keep capture those memorable wedding emotions and make them memories for a lifetime. In Kolkata, wedding photography is very important especially the haldi photoshoot.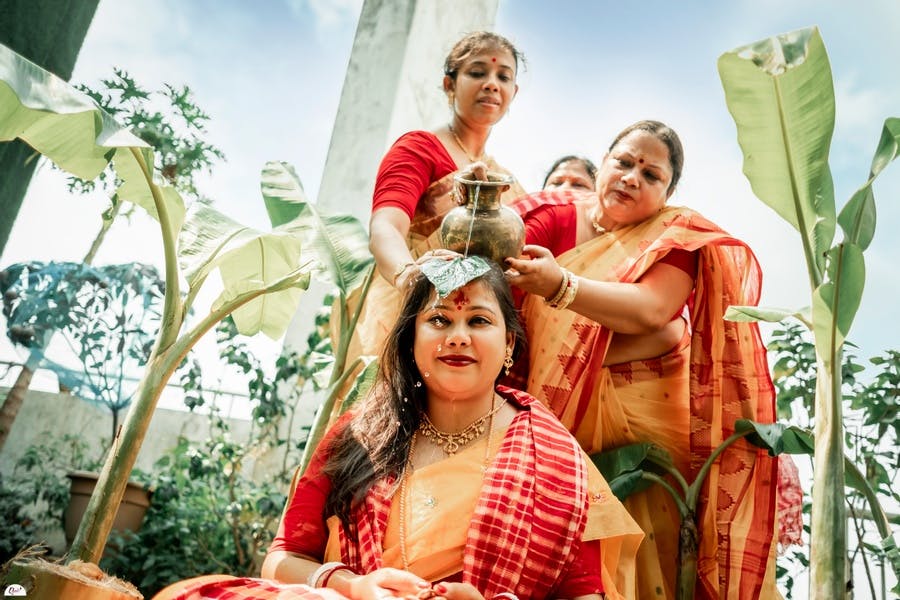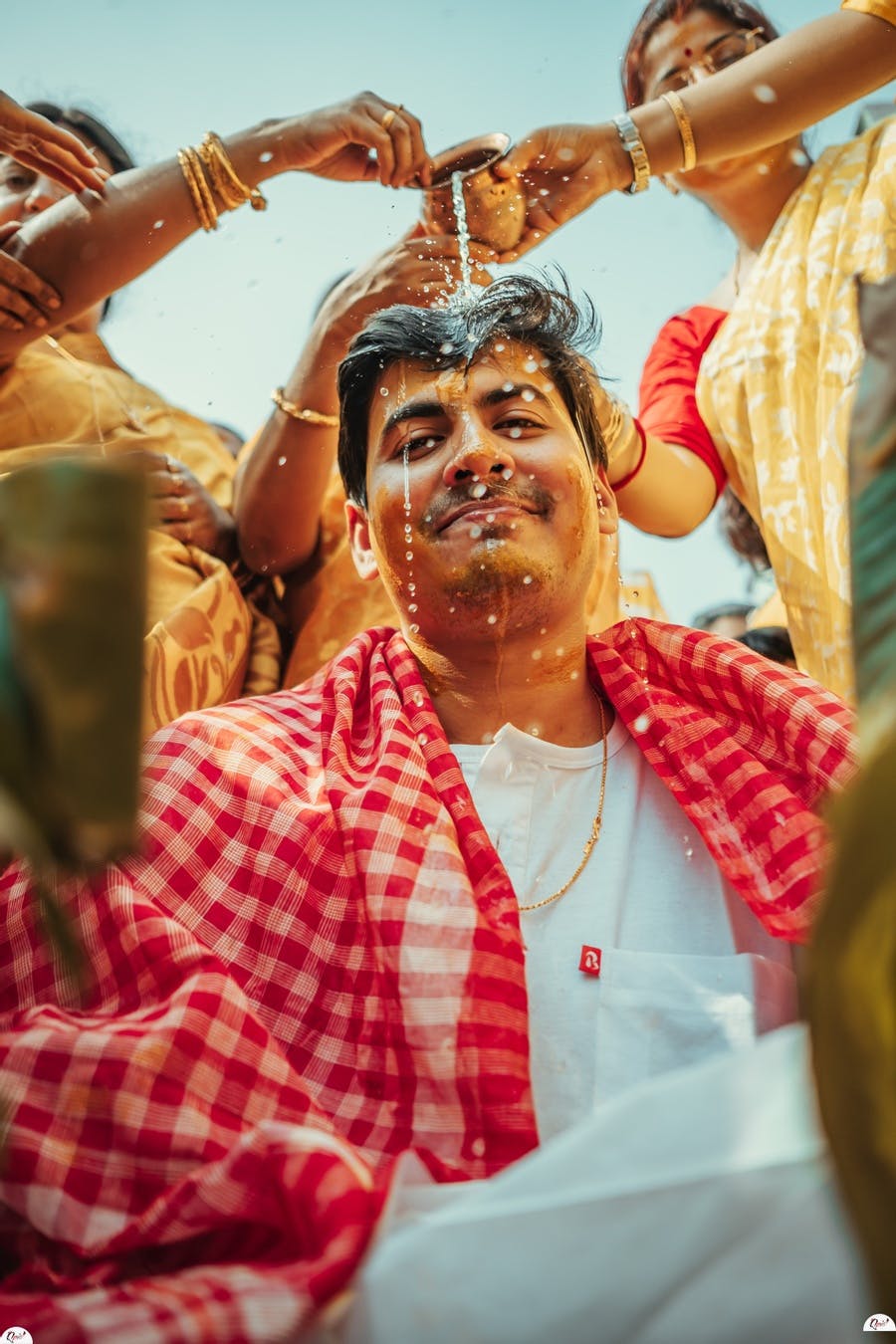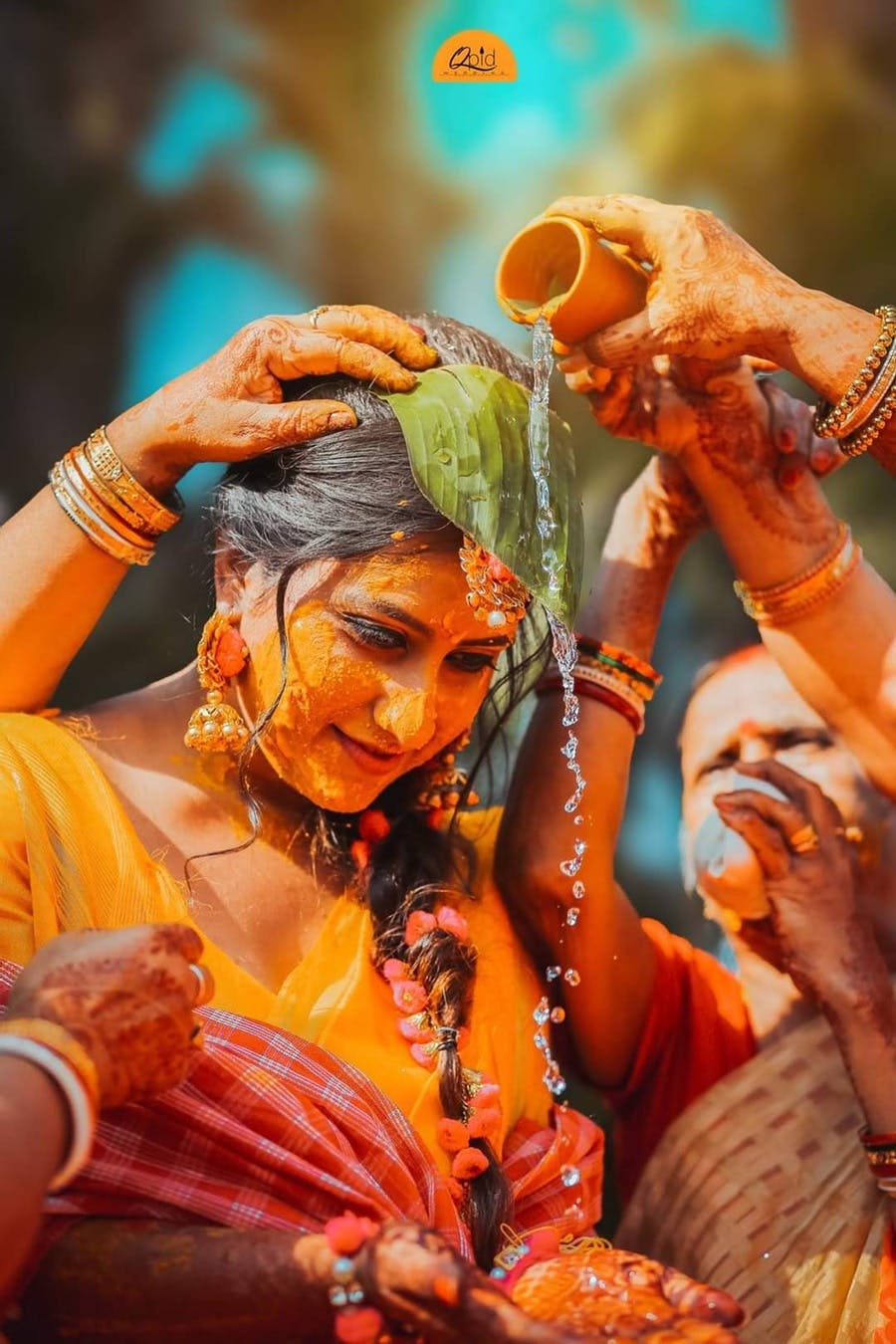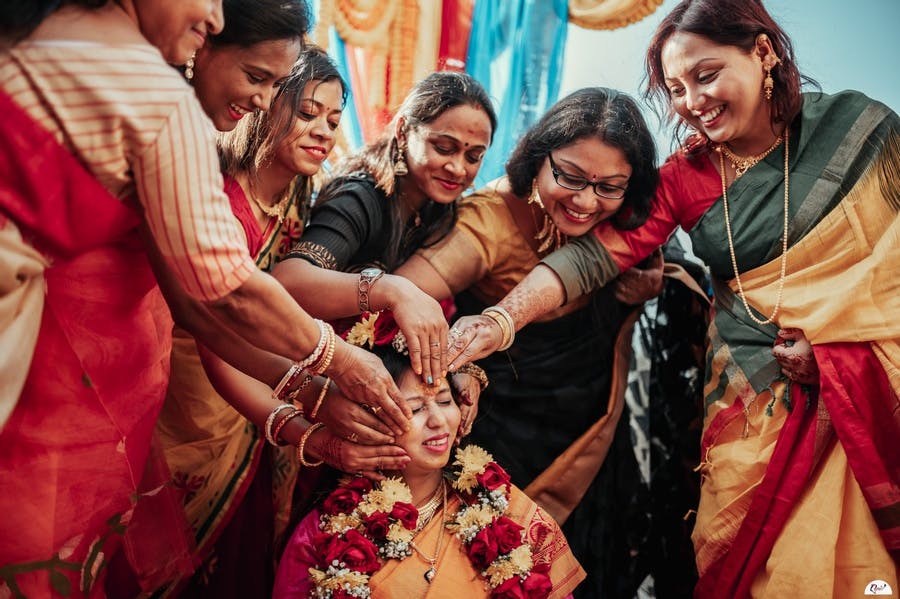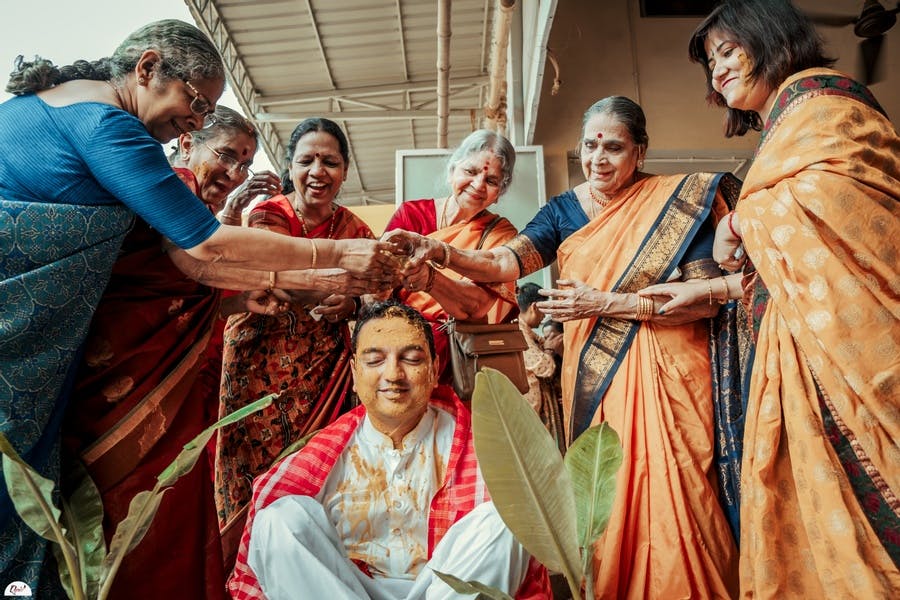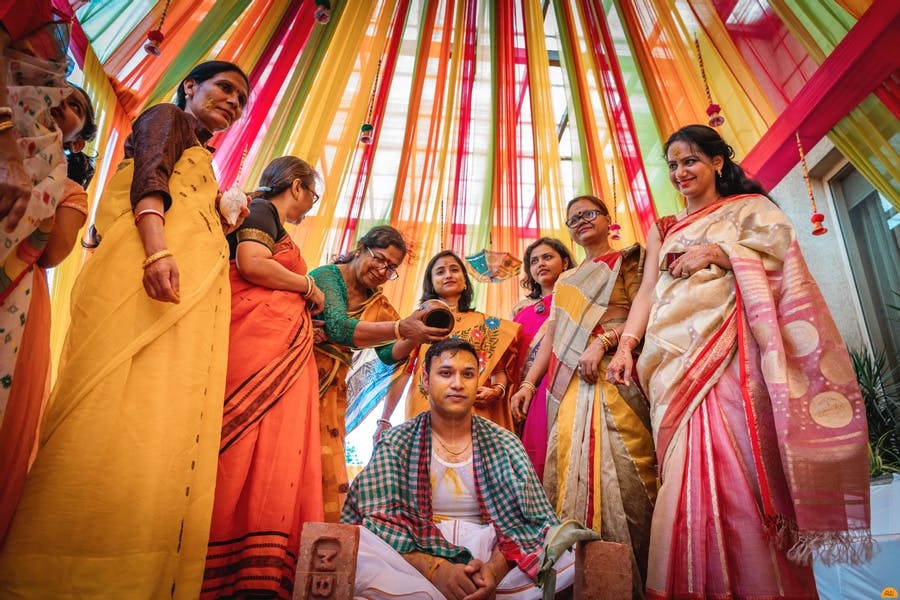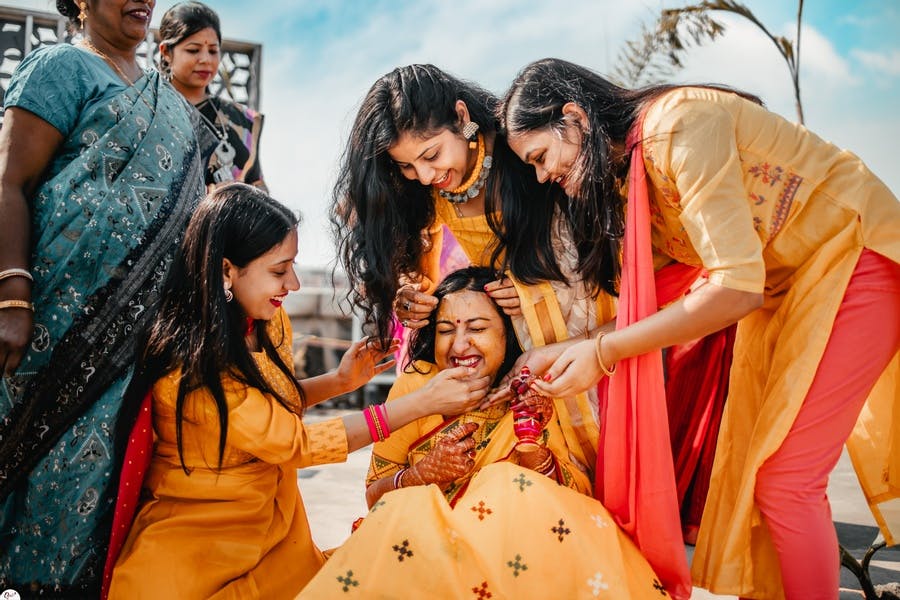 Bengali Wedding in Kolkata - Haldi rituals
After this 'Jargran' takes place which is performed by 'Vaghya-Murli'. An iron chain is to be broken by taking the name of God 'Khandoba', who 'enters' the body of 'Vaghya' and in this state of 'possession' he utters the name of 'Khandoba' three times. Each time he tries to break the chain, and at the last attempt however the chain generally gives way. This act of breaking the chain is considered as a blessing given by God to the bridal couple and such a union is held to be auspicious. In Bengali wedding rituals are been followed from the past and try to keep things simple.
So in a traditional way of wedding photography should involve more in wedding rituals to cover all it and make it beautiful for life long. Wedding photographers in kolkata love to capture all the haldi rituals one by one after that we Qpid try to capture some portrait shoots for our bride and groom meaningfully to give the ritual more realistic looks. Qpid event photography always believes in the real emotions of a wedding to make it memorable for the future.