Haldi ceremony officially kickstarts the pre-wedding functions of Indian weddings. As soon as the auspicious haldi is applied to the bride-to-be, the joy and happiness of the wedding begin. In India, Haldi is considered not only a spice but also treated as a cleanser or purifying agent to bring a glow to the bride's skin. If you want to look "super gorgeous" in your haldi function, then you need to follow the latest trend of jewelry and bridal accessories. Getting the diva look on your pre-wedding functions is not a difficult task anymore. We, the best wedding photographer in kolkata have made your search much easier by sharing a helpful guide on all possible types of haldi ceremony jewelery that will make you look like an eternal beauty.
1. Pink And White Floral Jewelry
Decorating a bride with jewelry in her marriage is an Indian custom that increases her beauty. But now floral jewelry is gaining immense popularity in Indian weddings. One such trending bridal jewellery is artificial floral jewellery. Look at this pretty bride wearing a beautiful set of pink and white artificial jewelry that is contrasting very well with her bridal outfit. Isn't she looking for a gorgeous bride in her haldi ceremony?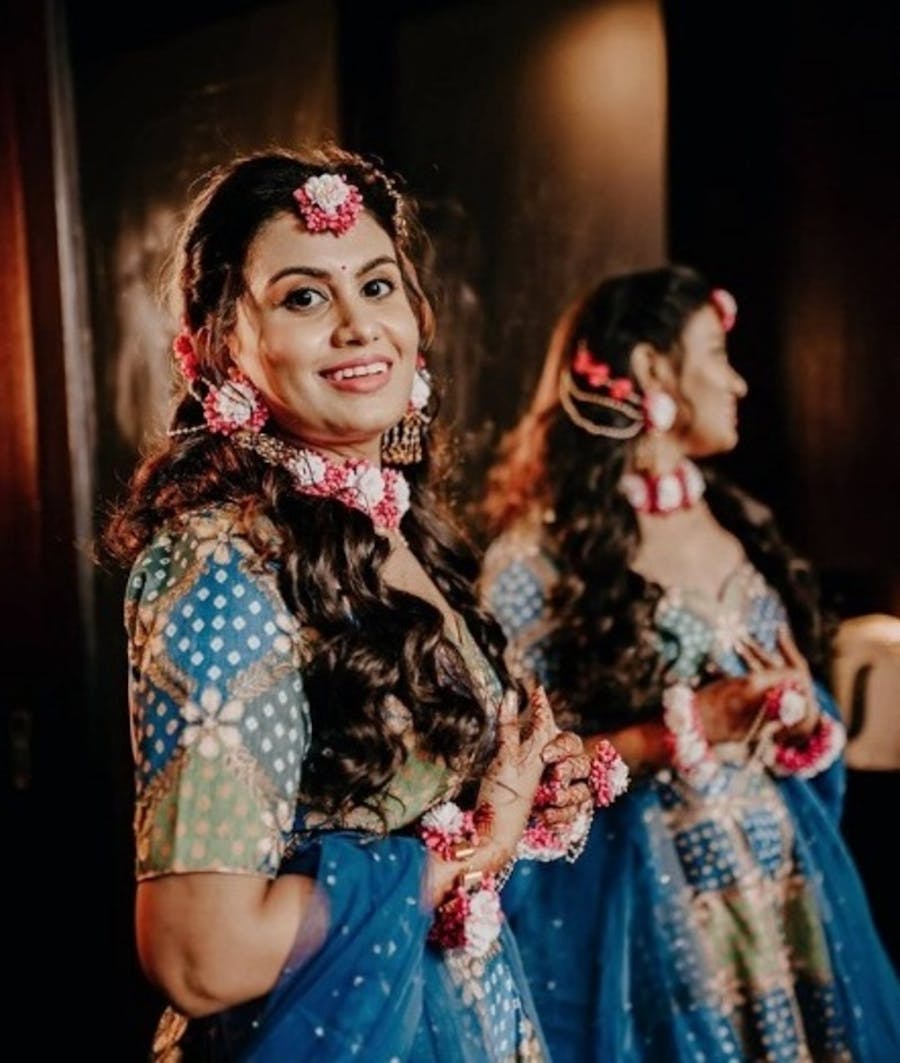 2. Appealing Pair Of Floral And Beads Jewellery
If you want to achieve the chic bride look, then don't miss this amazing fusion of beads and floral bridal jewelry designs. From the adorable tiara to her exclusive bangles all jewelry is an haldi-inspiration for brides. Her brighter than sunshine jewelry goes very well with her beautiful yellow saree.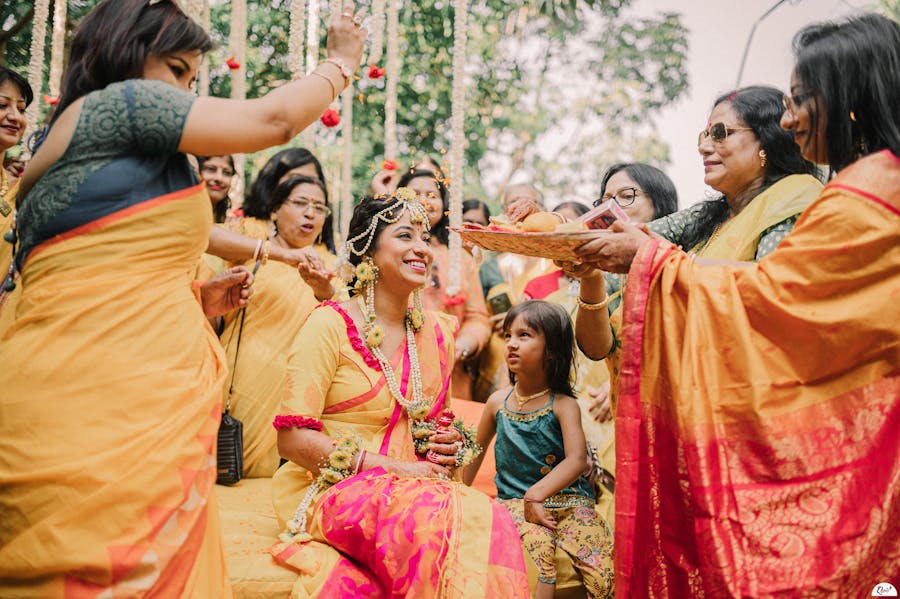 3. An Elegant Set Of Gold Ornaments
This enthralling set of gold jewelry is an evergreen bridal jewellery for haldi function. This traditional jewelry set gives you a queen-like feeling. Gold jewelry also signifies wealth and prosperity. Thus if you want the regal vibes in your pre-wedding ceremony then you should definitely go with it.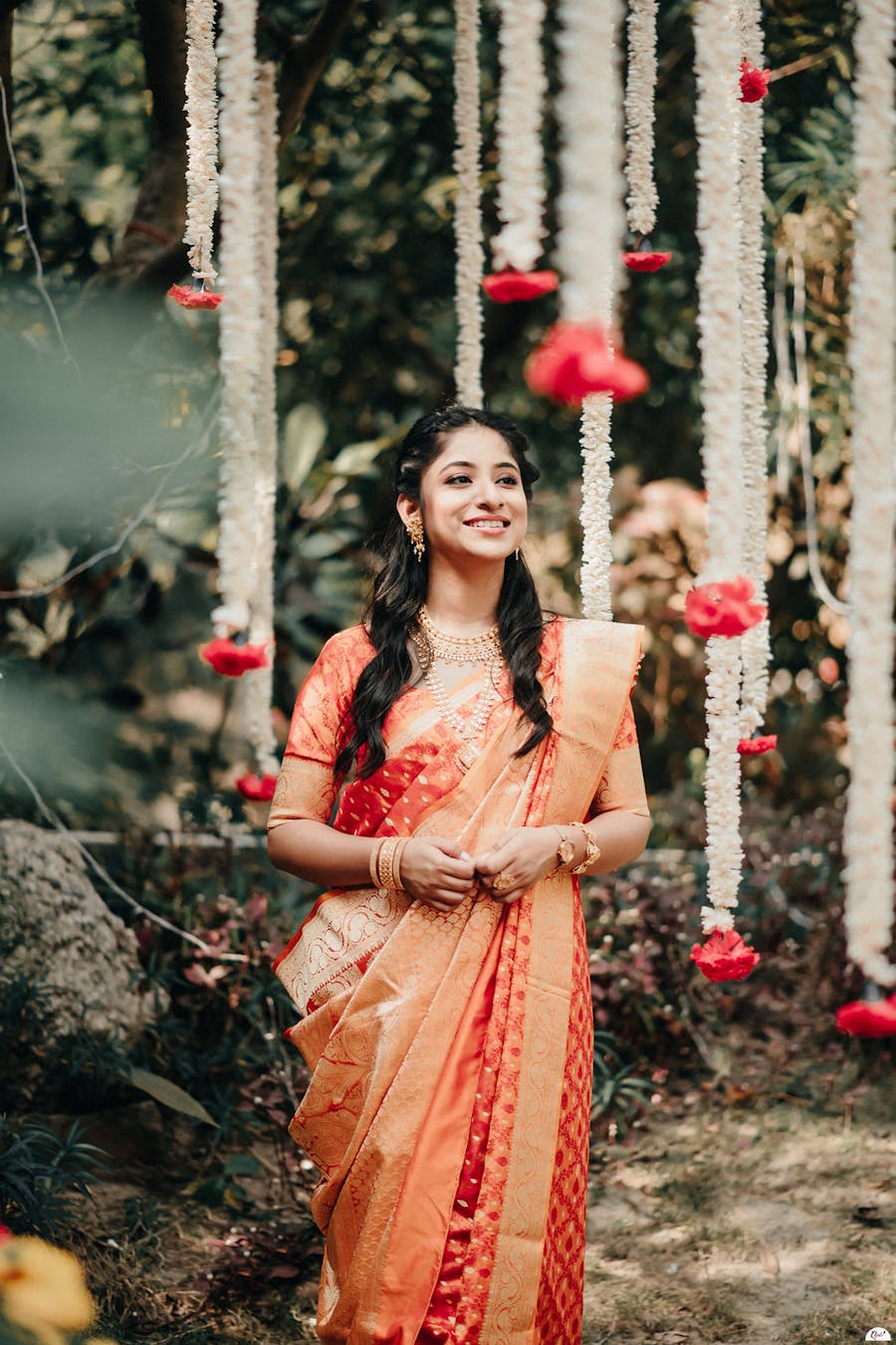 4. Multi-Colored Floral Jewelry
Multi-color floral jewelry adds more fun and beauty to the Haldi look. Instead of choosing a single shade in flowers, you can opt for a gorgeous haldi artificial jewellery set that has a mix of vibrant hues. Make sure to choose a contrasting lehenga with this jewelry to enhance your haldi look.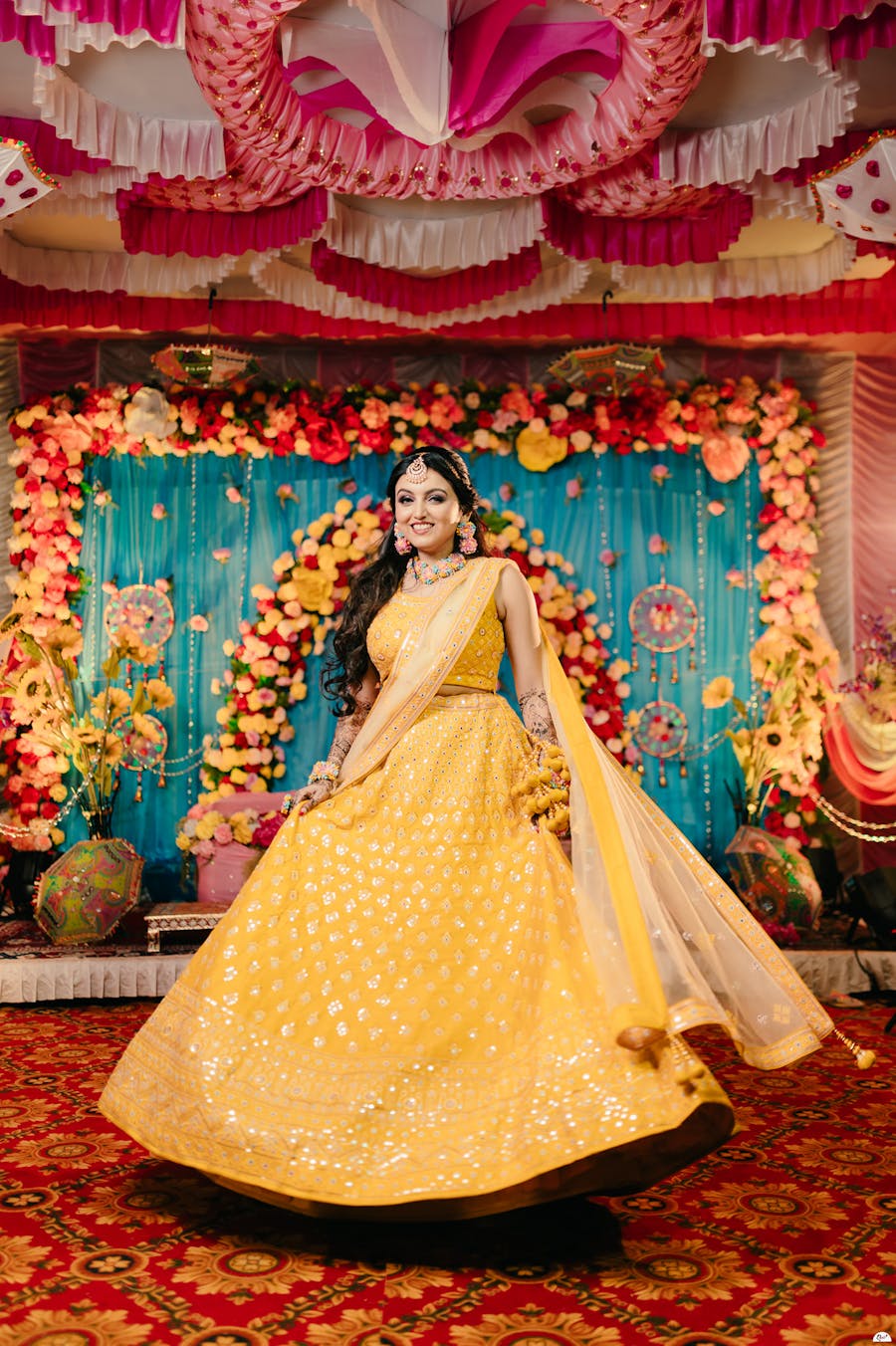 5. Contrasting Jewellery With Bridal Lehenga
We just can't take our eyes off this radiant bride wearing coordinated jewelry and lehenga. This wedding haldi jewellery is adding a special charm to her look. Her stunning lehenga and contrasting jewelry is the trending style these days. It adds an extravagant feel to your look.
6. DIY Floral Jewelry
These days brides are looking for more unique and creative options to experiment with their bridal look. Modern brides are replacing floral jewelry with handmade and creative floral jewelry. The DIY flower haldi jewellery is crafted beautifully with stones, ribbons, beads, and flowers. We love how these vibrant hues bangles, finger rings, and earrings are providing this bride a graceful look.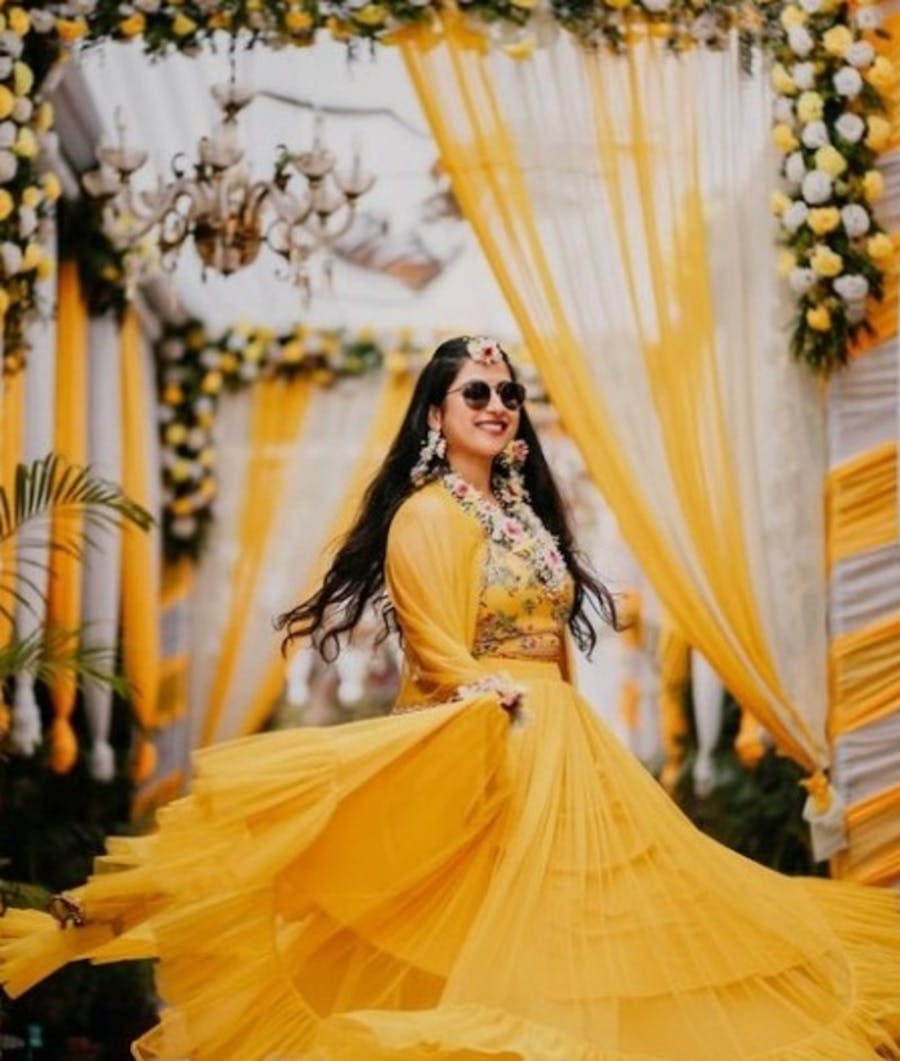 7. Floral Nath And Tiara
Keeping it minimal and elegant, this bride looks absolutely gorgeous in her haldi look. The beautiful combination of pink and white floral jewels is perfect for unconventional brides. A floral Nath and tiara in all floral and beads is a major crush of many young brides.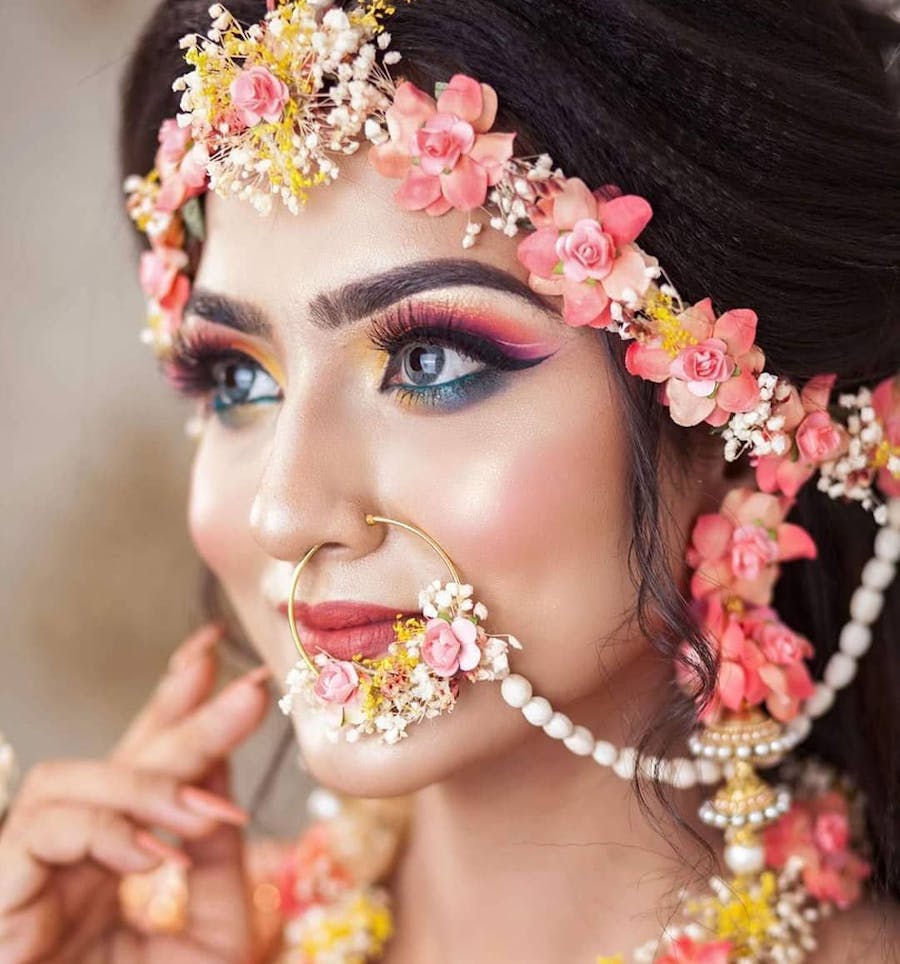 8. Don't Miss The Stunning Floral Ratanchur
Another marvelous floral jewellery for haldi ceremony is an overwhelming floral Ratanchur. This is a most beautiful flower jewelry piece that accentuates the beauty of your hands. This floral Ratanchur covers your palm and wrist with dainty flowers and makes you ready for an insta-worthy post.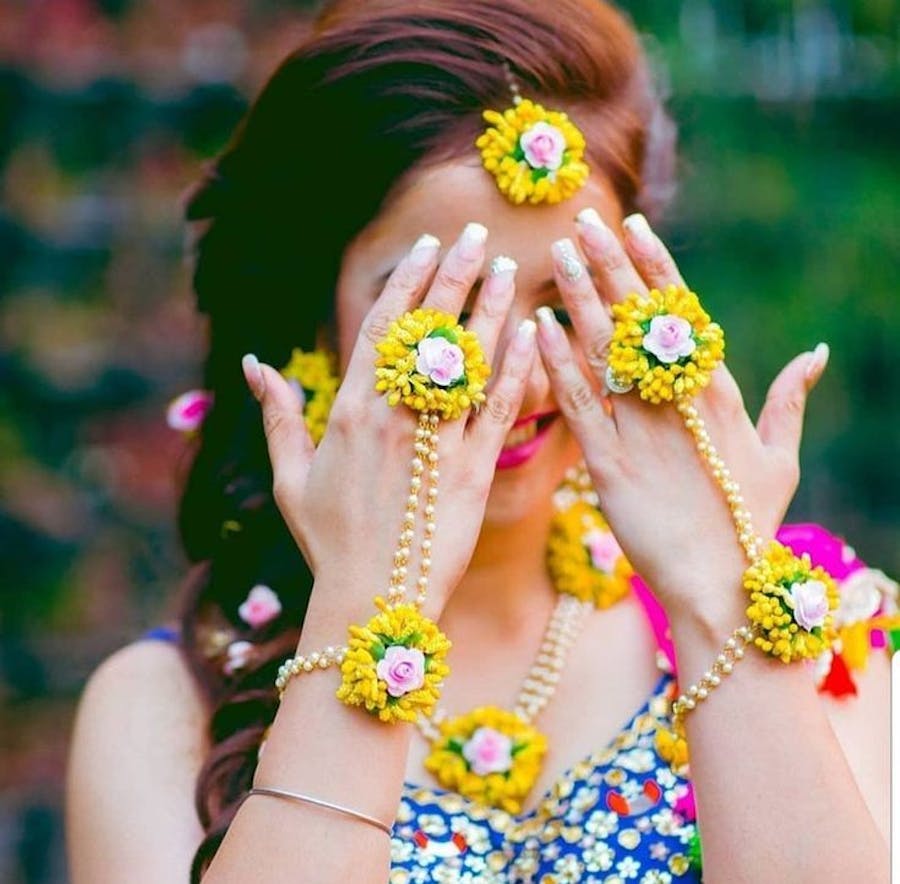 9. Mesmerizing Beauty Of Floral Anklets
Wearing a silver anklet in a pre-wedding ceremony has become an outdated fashion now. Floral anklets have become the new bridal fashion statement. Here the bride has perfectly matched her yellow floral anklets with the haldi theme. These unique and light-weighted anklets are one of the most demanding jewellery for haldi ceremony brides are looking for.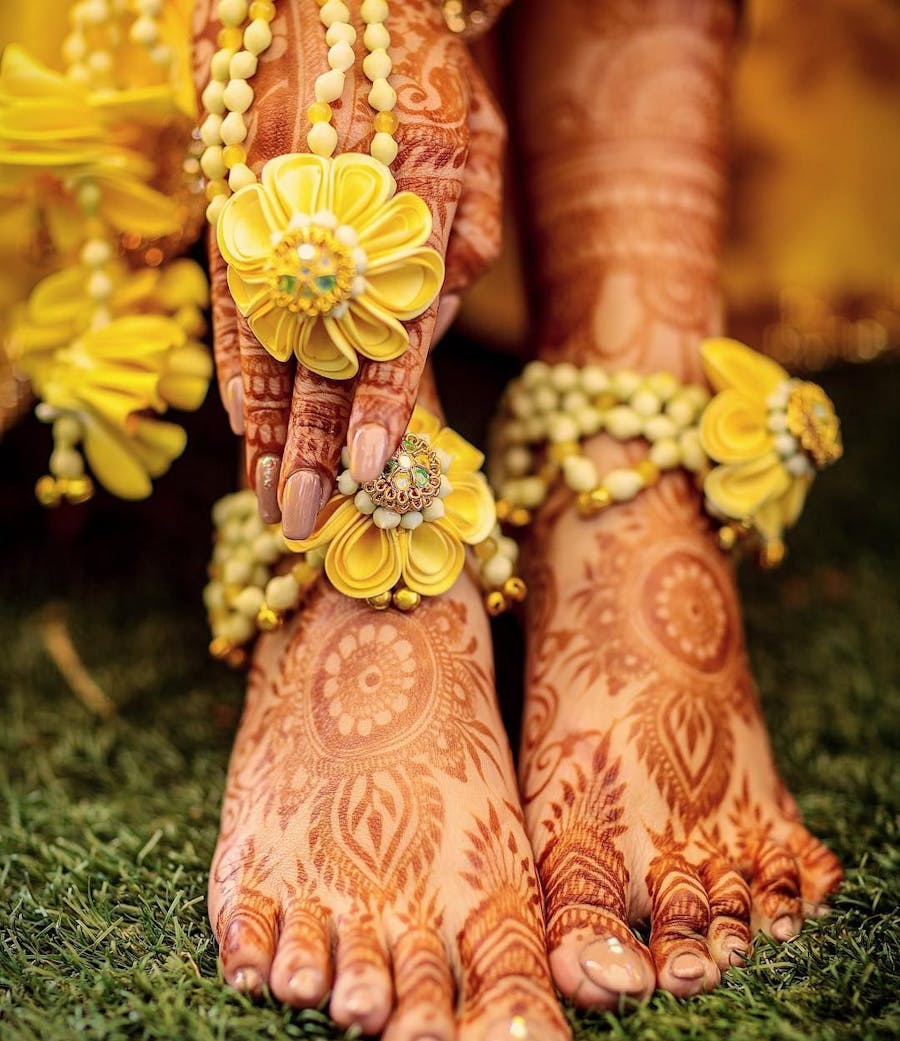 10. Stylish And Vibrant Gotta Patti Jewellery Set
If you don't want to go with floral jewellery, then we have another classy option for you. Gotta Patti jewellery adorned with small beads pearls and ghungroo is also in trend these days. These trending haldi jewellery designs are surely an inspiration for all brides-to-be. This fantastic piece of jewelry acts as a game-changer in achieving a stylish bridal look.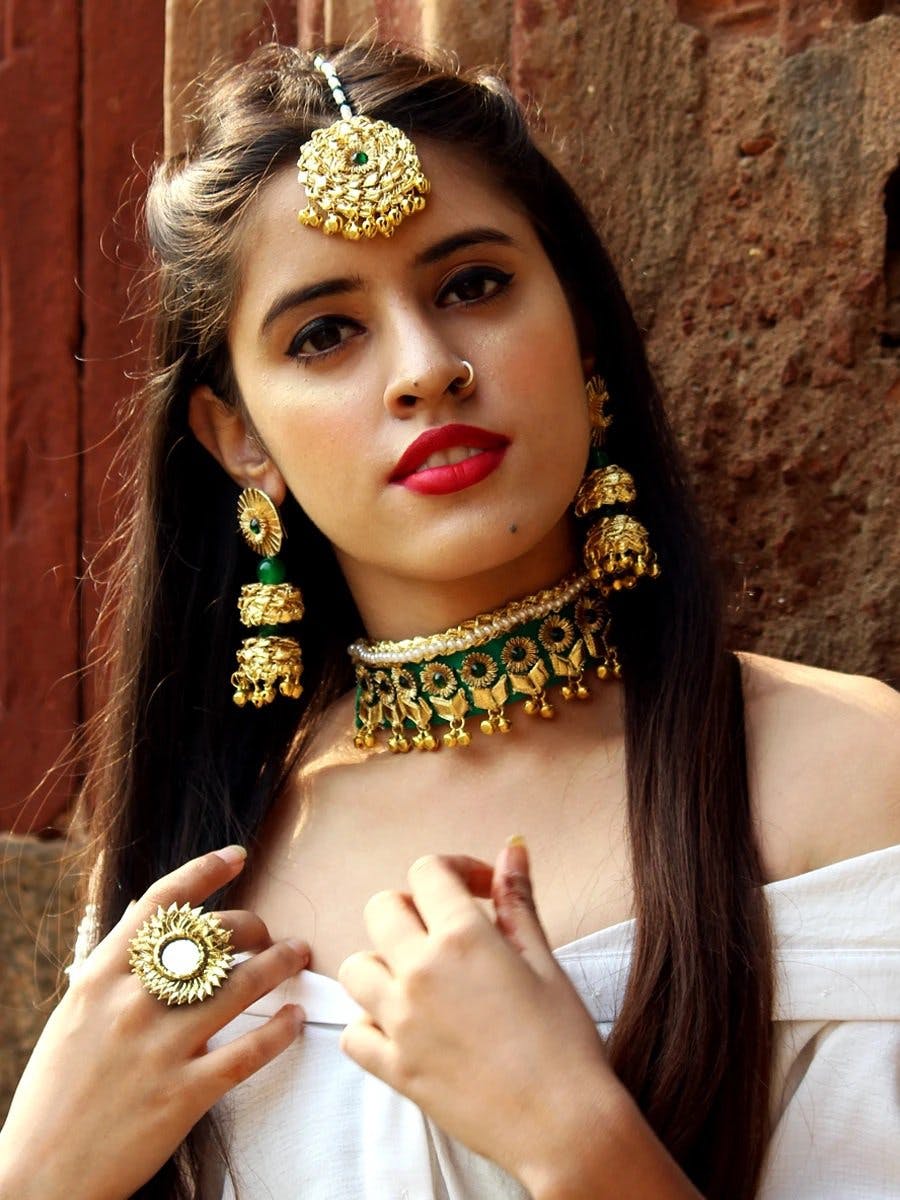 11. Graceful Seashells Tiara And Earrings
Well, this is one of the breathtaking haldi bridal jewellery sets. The gorgeous Tiara and round earrings adorned with seashells are winning our hearts. This jaw-dropping bridal look has a refreshing feel. Make it your own fashion statement for haldi ceremony.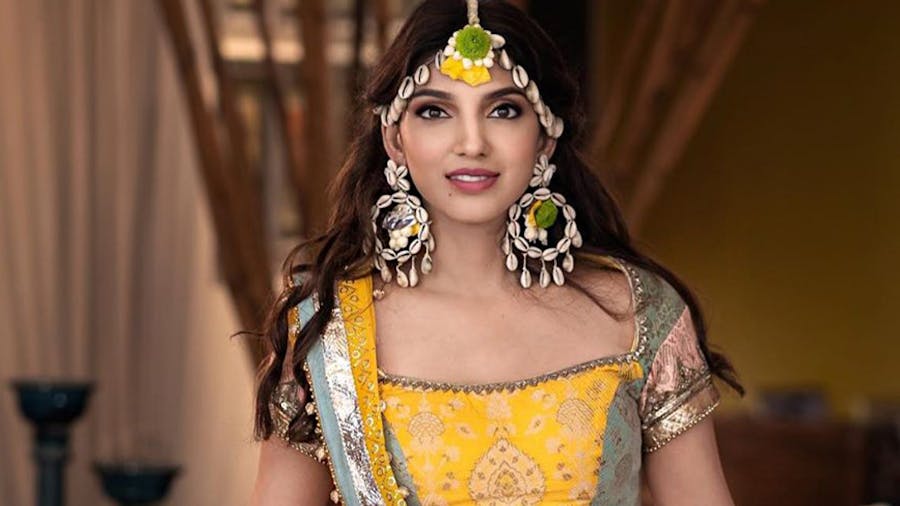 12. Intriguing Kundan Jewellery
Another eye-catchy piece of jewelry to achieve a queen-like look is the Kundan jewelry. The intricate Meena work and semi-precious stones make it the top favorite jewelry amongst young brides. The stunning necklace adorned with green beads and precious stones looks really grand. This regal necklace is something that would compliment all kinds of ethnic wear.
13. Charming Floral Latkan With Matching Outfit
An excellent piece of jewellery meant for elegant brides. Floral latkan or Punjabi Kallera is a dangling ornament that is attached with floral bracelets. This haldi ceremony floral jewellery has huge lengths and looks ravishingly beautiful in the hands of brides. This eye-pleasing jewelry will surely add a decent charm to your look.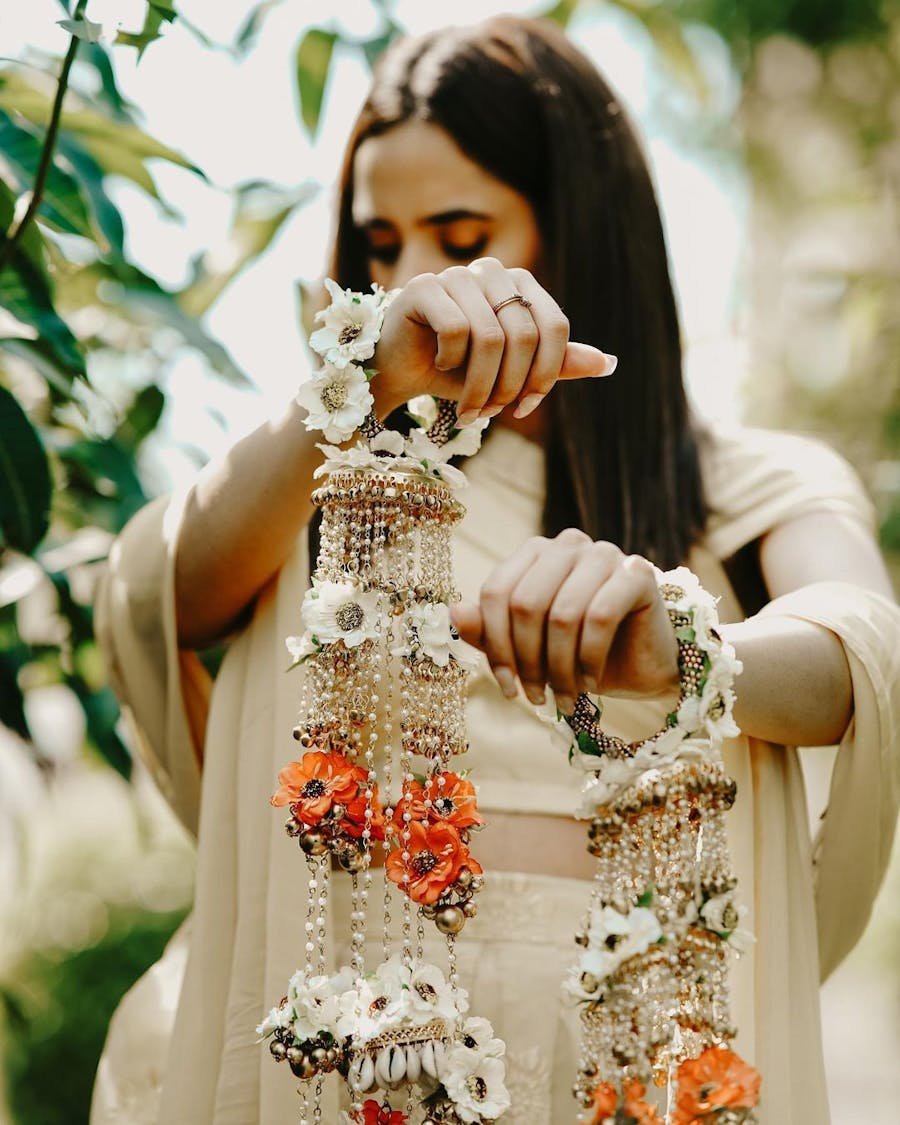 So, we hope these Haldi ceremony jewellery ideas will inspire you to choose stylishly and trending jewelry to glam your bridal look. If you want to capture your captivating bridal look in a wonderful wedding album through Bengali wedding photography, then go for one of the best wedding photographer in Kolkata. We here at Qpid India focus on creating wedding memories that you will always love to cherish. Our photographers create vibrant, unique, and expressive photos that leave a big impression on everyone's minds.