Many couples have their first professional photo taken together during the engagement photo. Show your clients how you laugh, hold, and converse with one another to give them a glimpse into what their love looks like on the outside. Wedding photographer in Kolkata is best for engagement photo shoot.
The first step in taking great engagement photo shoot poses Indian is making your clients comfortable in front of the camera. Tell them their only job is to pay as much attention to each other as possible. You'll give them any advice they need to ensure their engagement photos turn out great. Photoshoot for engagement is important because it is a great moment in life.                             
Best Photos for an Engagement:
In engagement photo shoot poses Indian, Here are some creative ideas for pre-wedding photo shoots and engagement photos that will work for any client. Add your clever photographer twist, and remember to have fun! Your clients will be grateful that you made them look great.
 1. Hold Hands:
Engagement photo shoot poses Indian holding hands are a great icebreaker for customers who may be anxious at the beginning of a photo shoot. The couple can walk with their hands together, stand still with their fingers intertwined, or turn their handhold into a fun little twirl! As a photographer, you can take close-up pictures of your client's hands, especially if they are wearing engagement rings.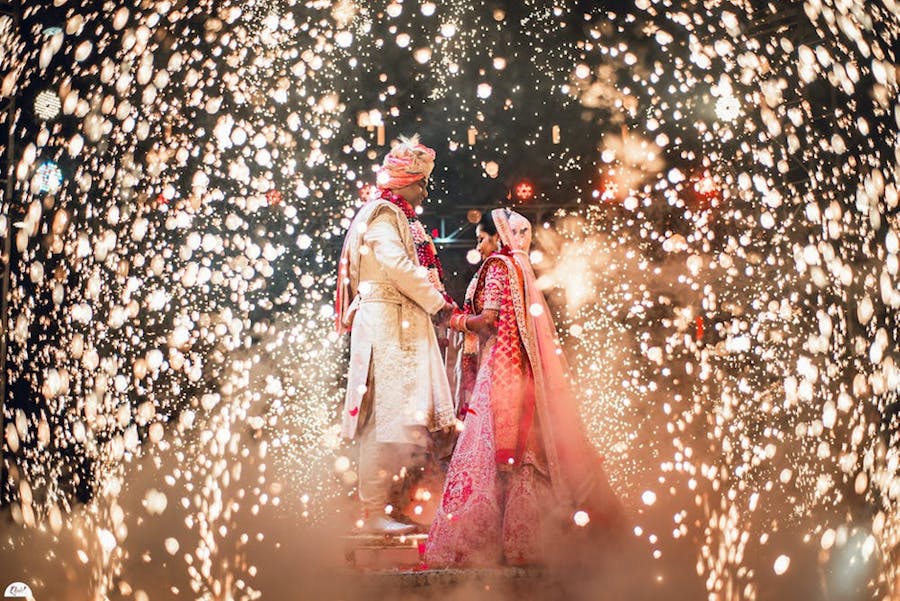 2. Nose to Nose and Head to Head:
Set a foundation pose by telling the couple to stand nose-to-nose or forehead-to-forehead with each other. This will bring them close and help them connect. They'll react with everything from quiet romance to big belly laughs, allowing you to take some of their favourite engagement photos. For an engagement photoshoot, contact a photographer in Kolkata for wedding.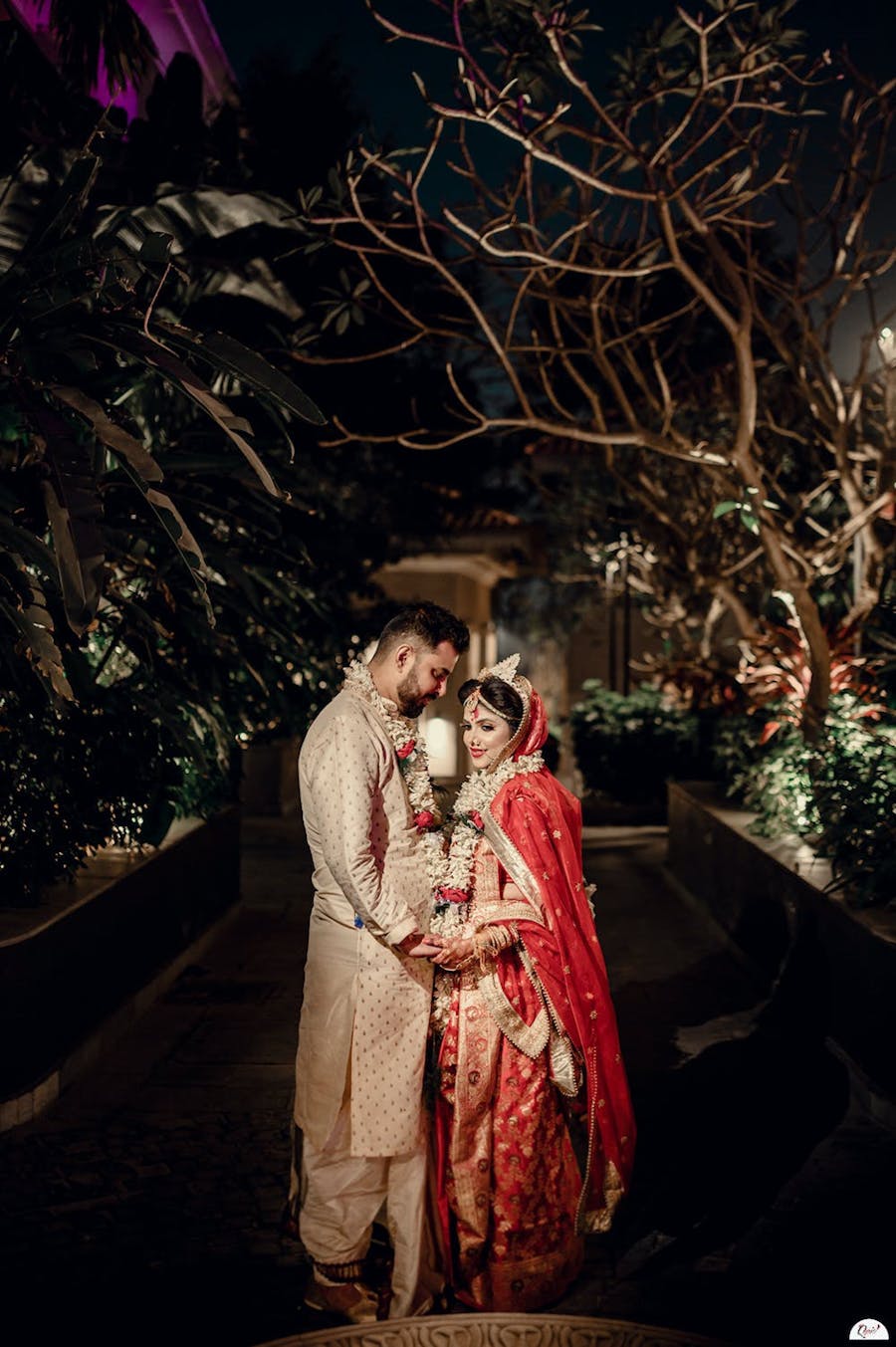 Read More: 13+ Stylish & Trendy Haldi Poses Ideas For Bride
3. From the Back:
This pose is one of the easiest ways to keep your clients close to each other while still being able to see both of their faces.
Ask the shorter person to stand or sit with their back to their partner's chest. If you and your partner are about the same height, use a staircase so that the person in the back sits one step higher.
Help the person in the back wrap their arms around their partner. You can make many different photos with this pose by switching lenses, changing your angle, and making small changes to how your clients stand.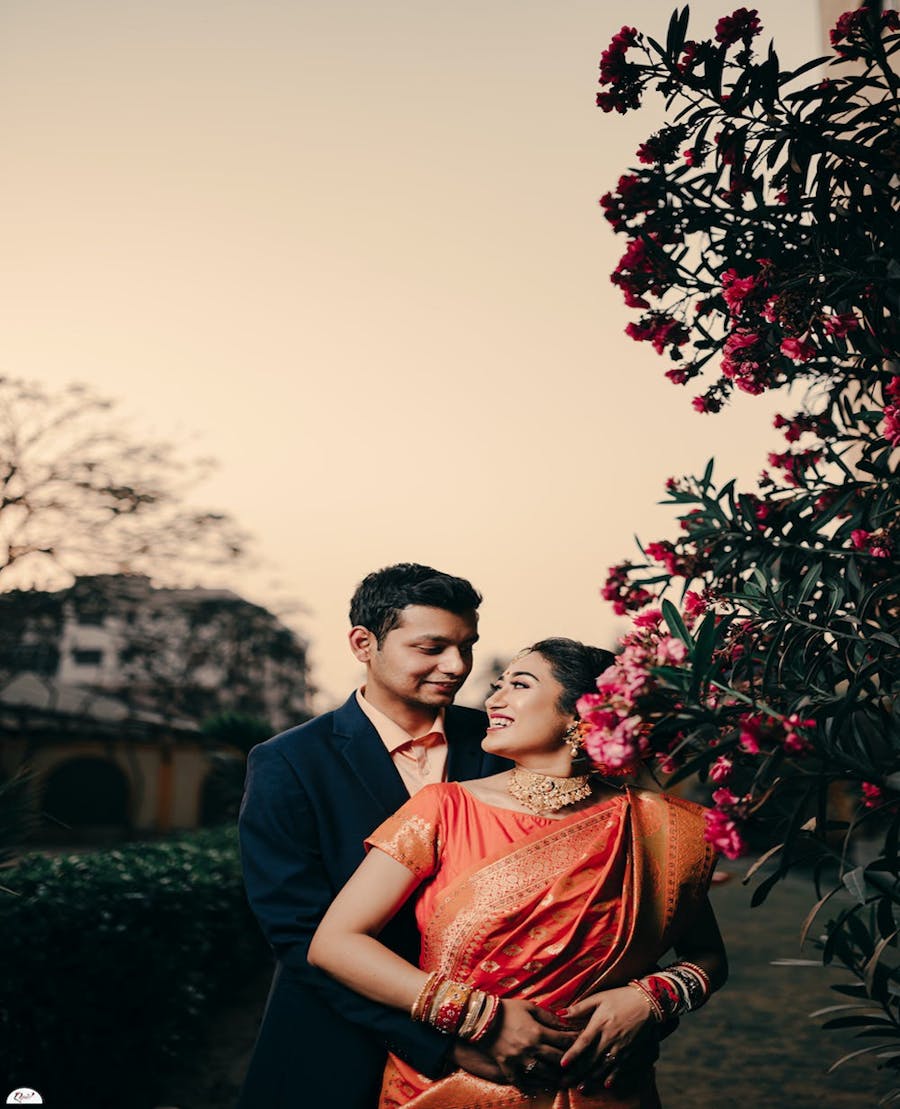 Also Read: 15 Creative Poses Ideas With Dupatta For Bride
4. Side-by-Side:
One of the most natural ways for a couple to pose is to stand beside each other. Let them feel what it will be like to stand next to each other on their wedding day. Ask the couple to hold hands and turn their bodies toward the camera while they look at each other. This shoot you can try engagement photo ideas beach.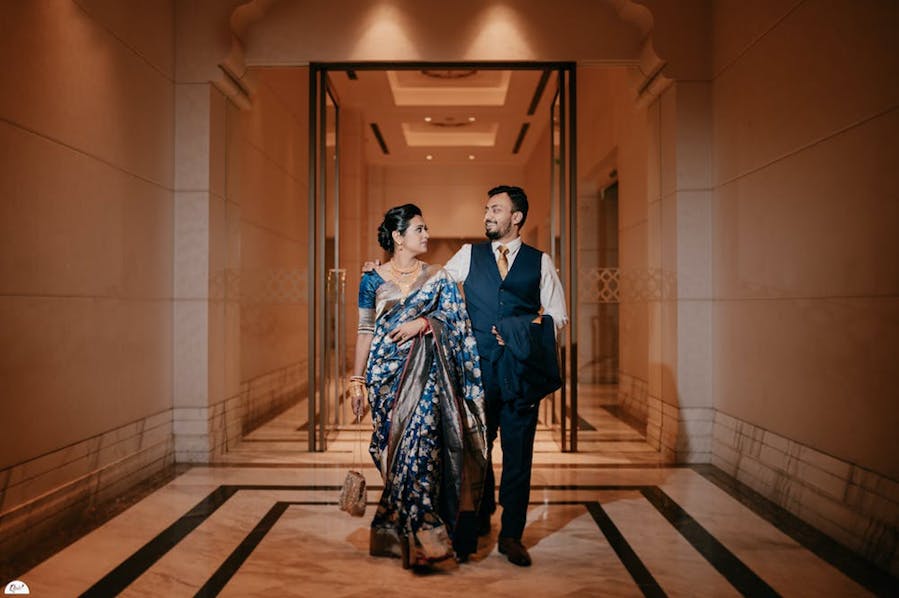 5. Gentle Kiss:
If your couple is going to kiss, tell them to "kiss lightly" so you don't end up with photos that aren't safe for work. If your customers are still not getting the point across, urge them to "kiss like your granny is watching!" That should help them calm down enough to take nice shots of one other without getting too emotional. If the kiss still feels too close, suggest that the couple kiss instead on the forehead, cheek, nose, or hands. Even when the kiss is over, you should still keep shooting. Some of the most romantic things happen when two people are almost kissing but not quite. It is an engagement photoshoot ideas.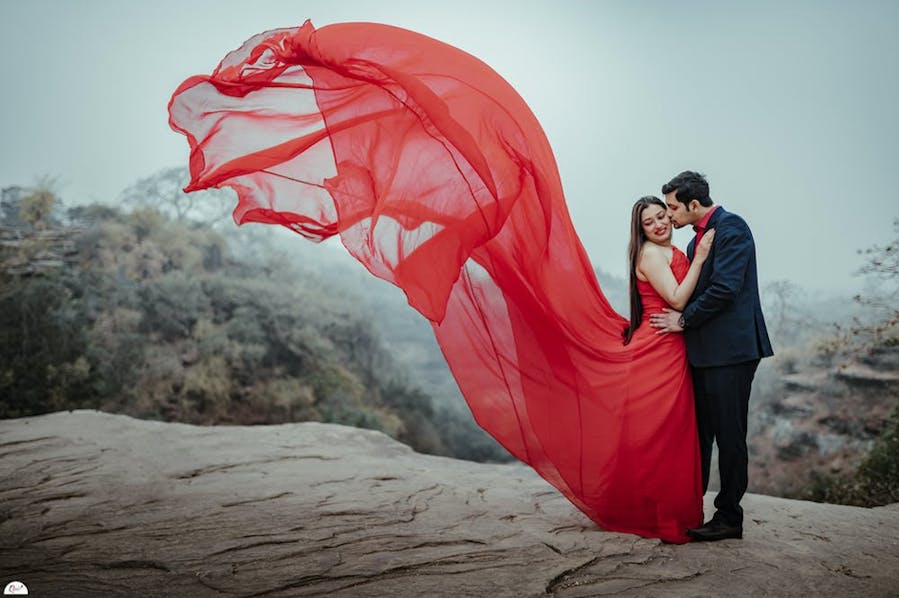 6. Make The Dip:
This cute couple's pose is another way for a wedding photographer to get a picture of two people kissing. For this engagement picture, tell one person to wrap his arms around his fiancé's waist. She'll have to put one hand on the back of his neck and the other on his chest. When she throws her head back, that's your cue to take a picture. They could also kiss or dance around to end the pose. This makes the carriage a lot more romantic!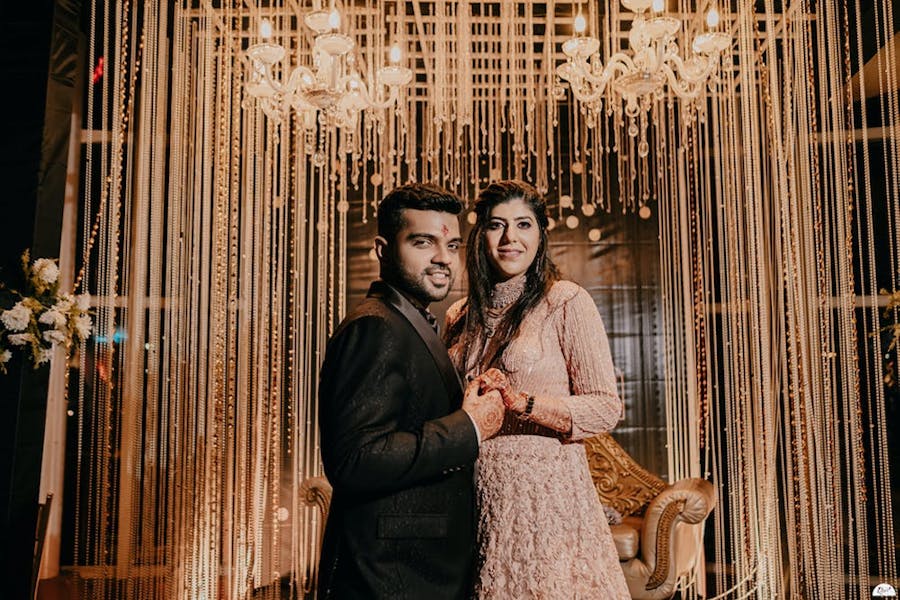 7. The Ring Shots:
Couples who are committed to one another typically own many engagement rings. Sometimes, each partner will have an engagement ring or a personal token like a necklace or bracelet. Find out what signs of love your couple is wearing, and document those treasures with the same care you'll use to demonstrate their passion in the engagement photo shoot. Engagement ring photoshoot ideas are one of best for engagement.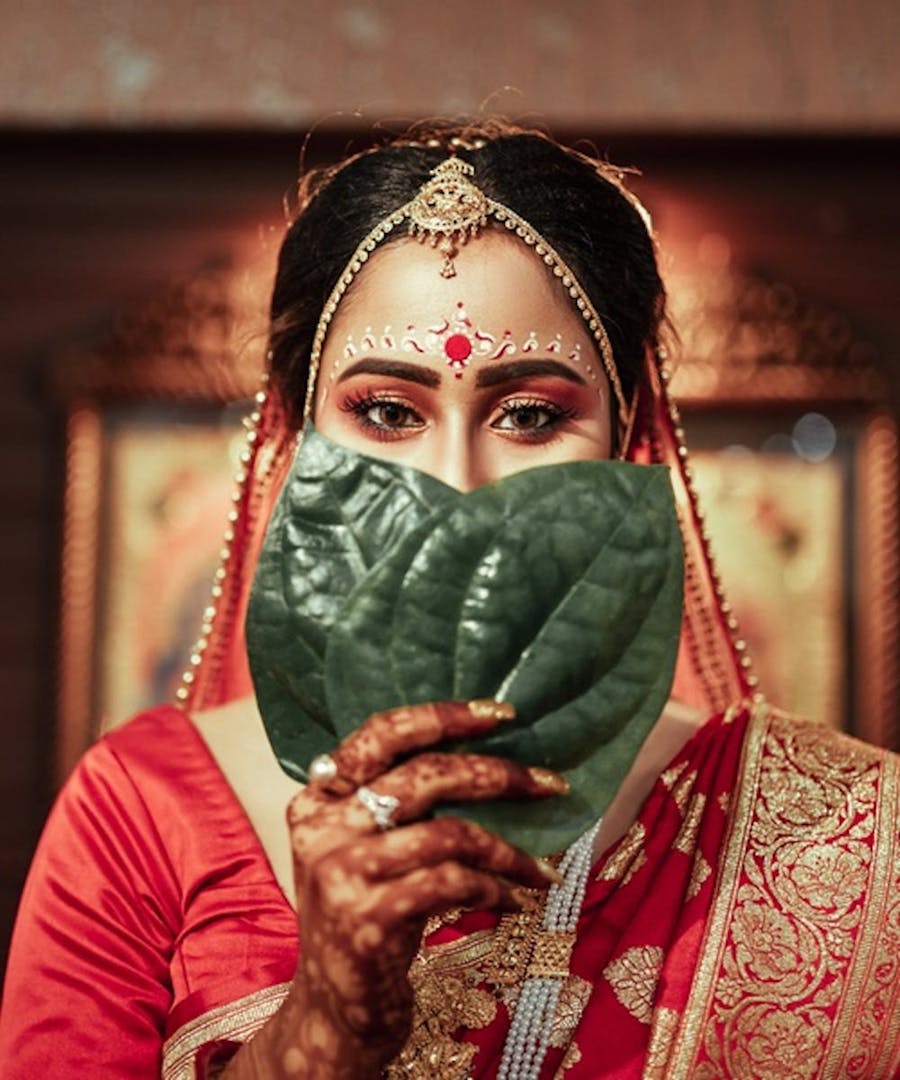 8. Wide-Angle:
When working with a couple for the first time, starting from a distance and moving closer over time can be helpful. Wide-angle shots use the "small person, big landscape" trend to show the beauty of the place and the connection between the people in the photo. This is one of the engagement couple photoshoot ideas.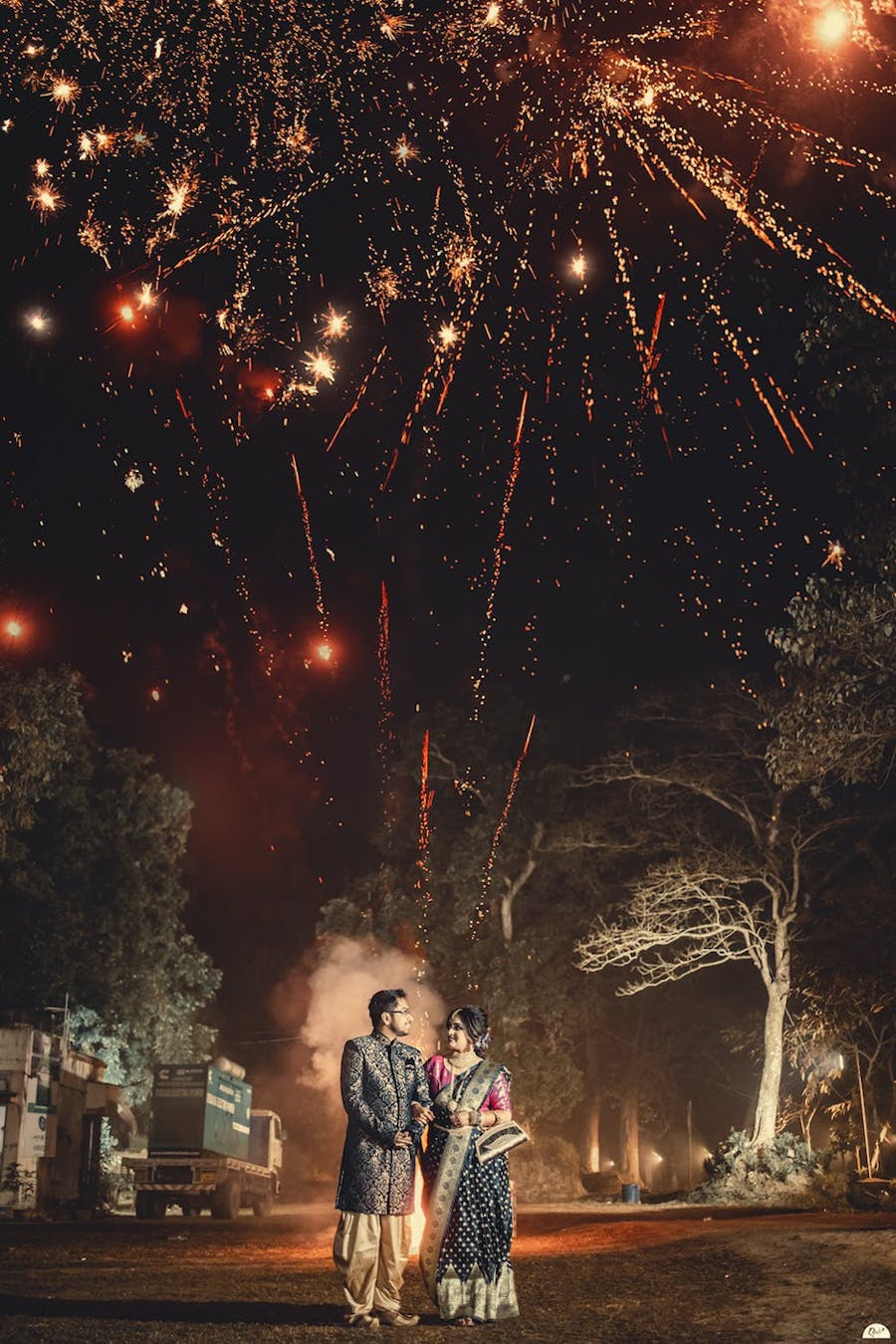 9. At Home, Real Moments:
In addition to a formal portrait session, you might want to set up a lifestyle shoot where you can take pictures of the couple doing what they do daily. For these pictures, it's important to blend into the background and let the couple do what they normally do, like joke around or make coffee together. This is candid photography for engagement.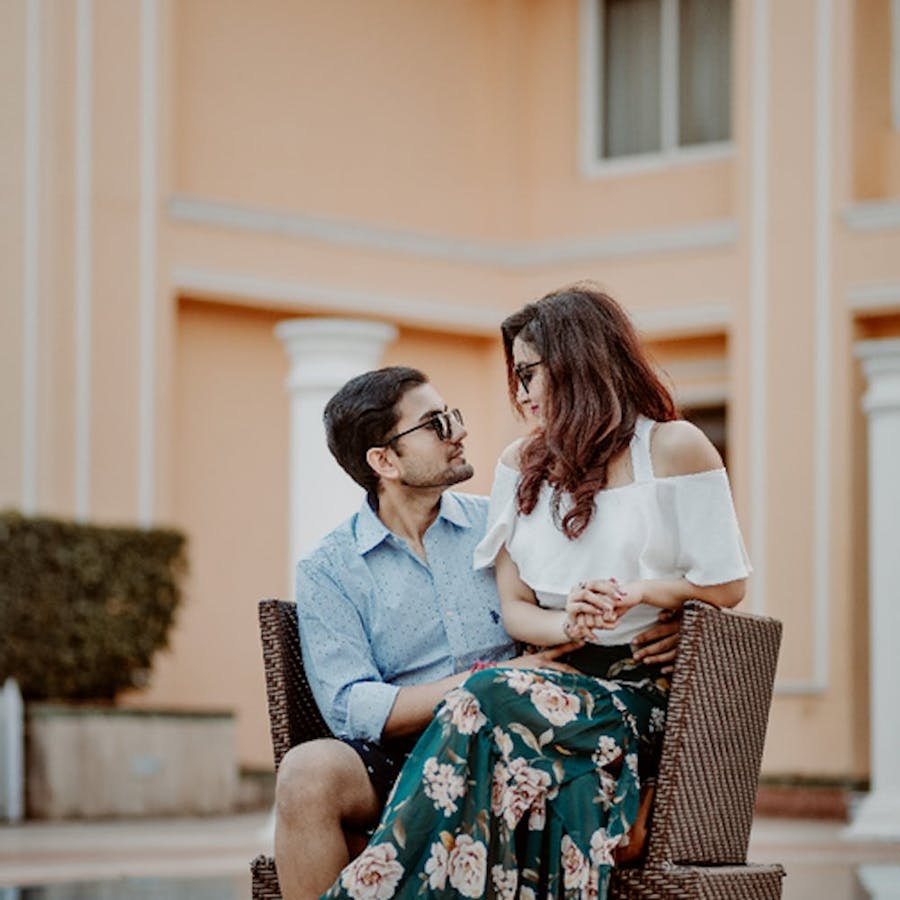 10. Running:
Stand away from the couple and tell them to run towards you. Stay open to surprises. Flying hair and unplanned giggles will bring your photos to life. Remember to turn on burst mode, so you don't miss any movement or gestures. These engagement photoshoot poses are really great.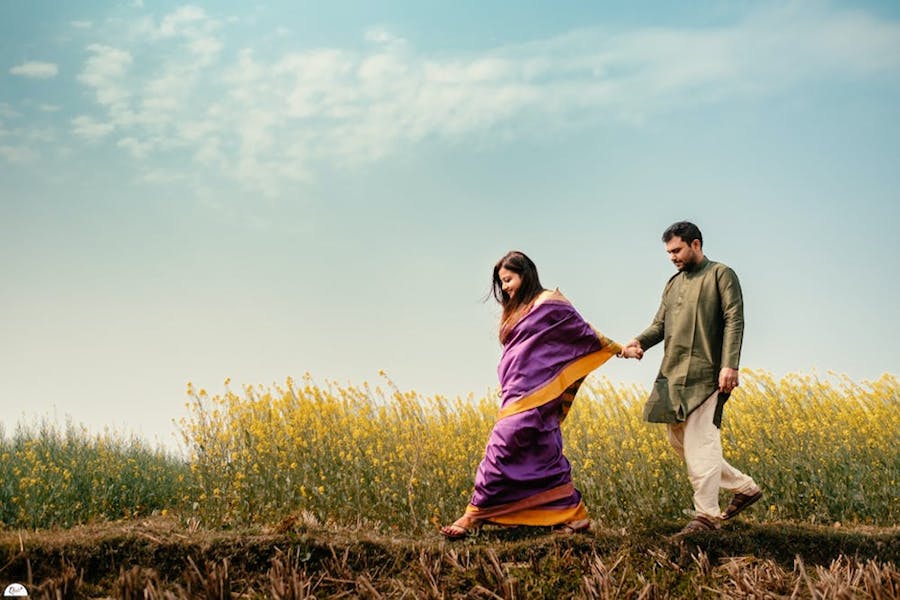 11. Leaning:
Ask one person to put their head on the shoulder or lap of their partner. When your models are on location, they can lean against something else, like a big rock or a beautiful building, for a casual, laid-back pose.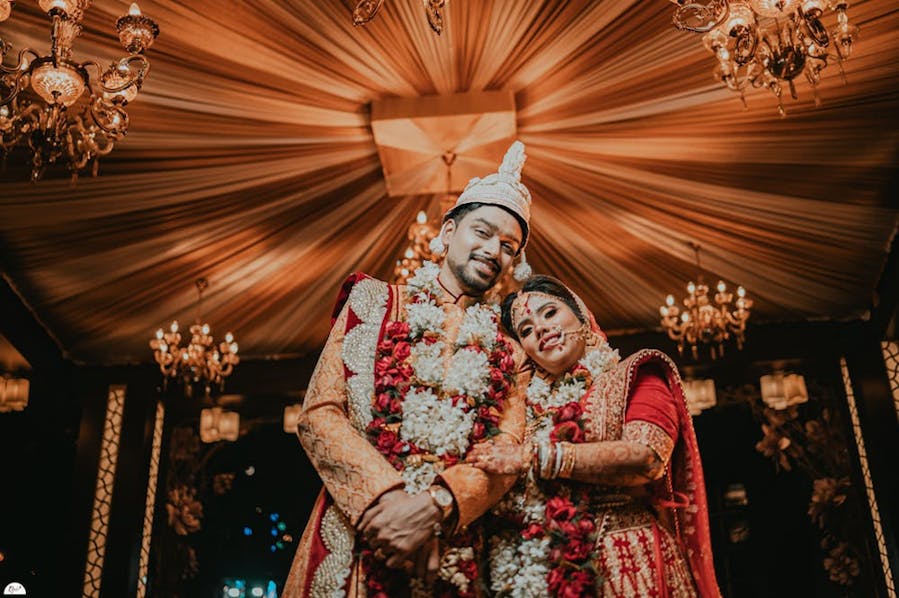 12. Framed:
Engagement photoshoot Indian helps you give your pictures more depth by putting details in the foreground. Your couple can be "framed" by a tree branch, flower blossoms, or an architectural element. This draws attention to their connection while also adding visual interest.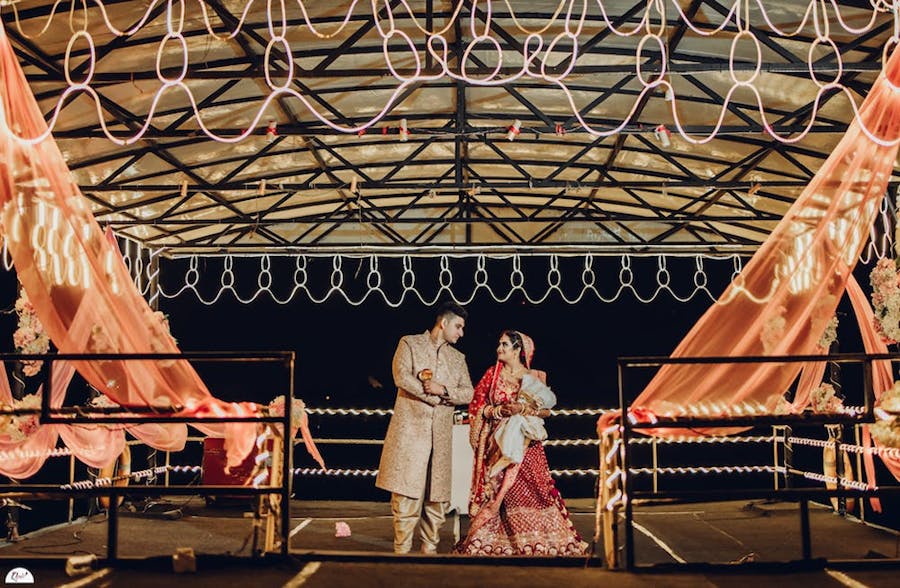 13. A Gorgeous View:
If you're taking pictures at a place important to the couple or you've gone out of your way to find a beautiful view, show it off in some of your photos.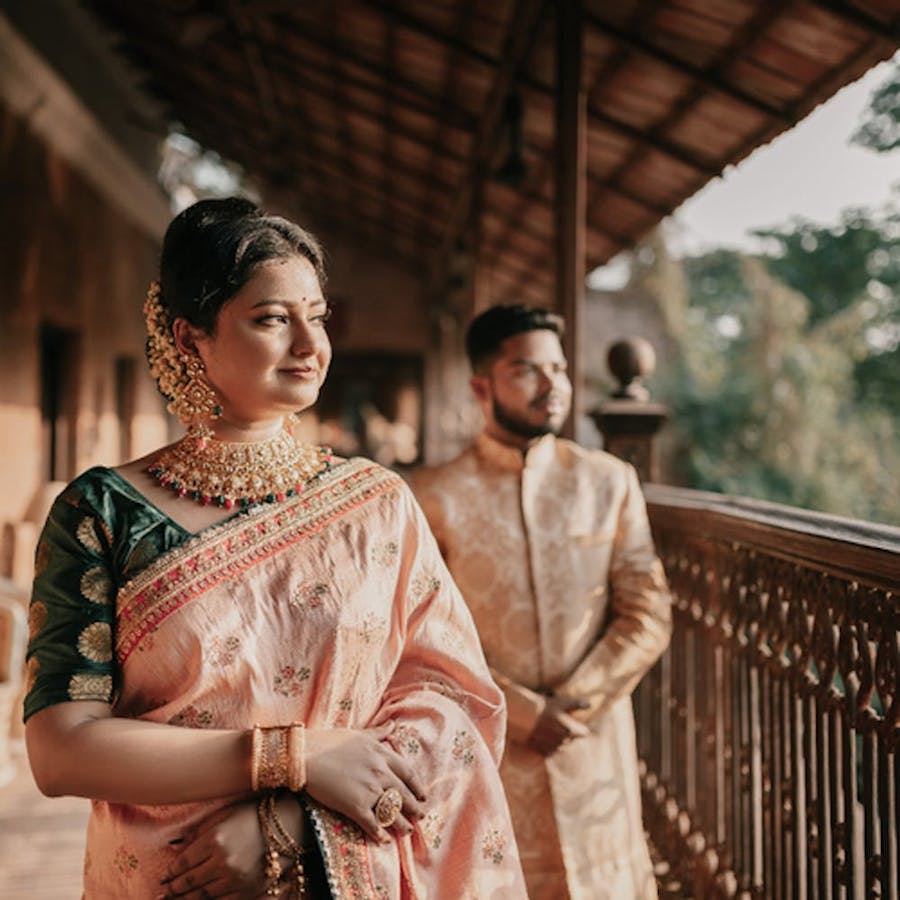 14. Shots From Above:
Engagement photoshoot poses Indian photoshoots choose to have drone photos taken at their engagement, so you should go the extra mile and take your traditional poses from above.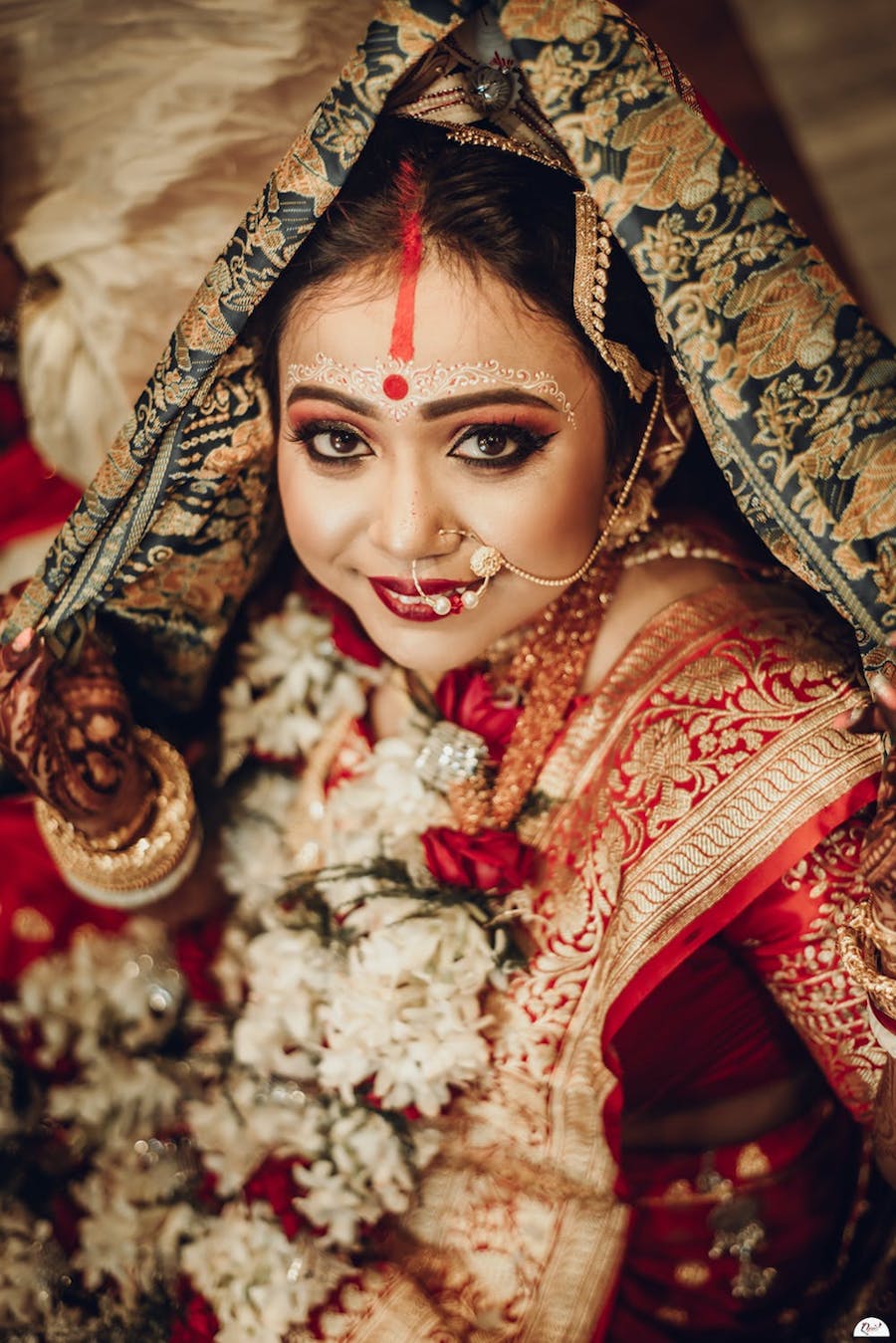 Conclusion:
The best engagement photo shoot ideas for engagement photos come when you start with some basic shots and then build on the couple's vibes. Put the couple in engagement photo shoot poses Indian. But remember to let them move around. Whether your clients want their engagement sessions to be romantic or fun, what matters most is that you capture all the beautiful and natural moments that they can remember forever.