Haldi Ceremony is a beautiful wedding tradition that has been practiced for centuries. This auspicious event is celebrated to cleanse the body and soul of couples before tying the knot. This joyous ceremony takes place a day before the wedding. With the evolving time, this traditional custom has grown to become a fun-filled event. This lively event brings all family come together and enjoy the couple's wedding. Yellow painted faces, vibrant Haldi setup, and fun-filled moments make Haldi photography amazing. You can look for the best wedding photographer in kolkata who can create a lovely wedding story by capturing the emotions through the lens. A good photographer can capture the couple's chemistry, the joy of the guests, and happy and sad emotions in a click. But a good Haldi pose is important to get some unique and funny images of this vibrant ritual.
Are you a bride-to-be who wants to make a wedding album full of beautiful emotions? Then these bridal haldi poses are perfect for you. Read on to know more about the best poses for your Haldi photoshoot.
1. Haldi Pose With Mirror
We can't stop adoring the breathtaking beauty of this bridal pose! This bride standing in front of a glass pane is looking beautiful. This type of mirror reflection of the bride looks magical as a bridal picture. This picturesque shot taken on her Haldi day adds a touch of drama to the Haldi photography.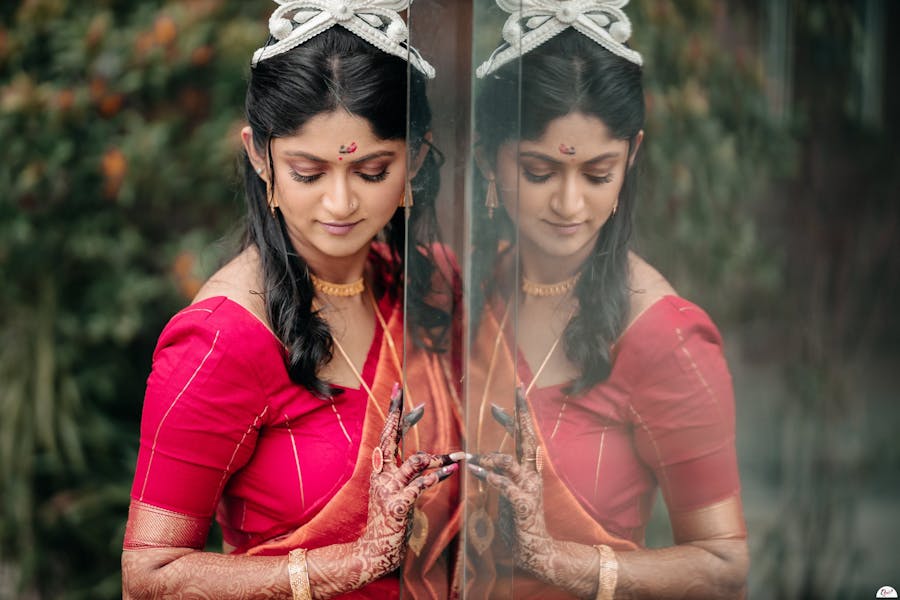 Recommended: 13+ Trending Jewellery For Haldi Ceremony
2. Flower Shower Bridal Haldi Poses
Flower showers make great Haldi photos that deserve to be in your wedding album. Flower shower photos of the Haldi ceremony are making a loud noise these days. The blissful moment of showering delicate petals on the bride looks so beautiful.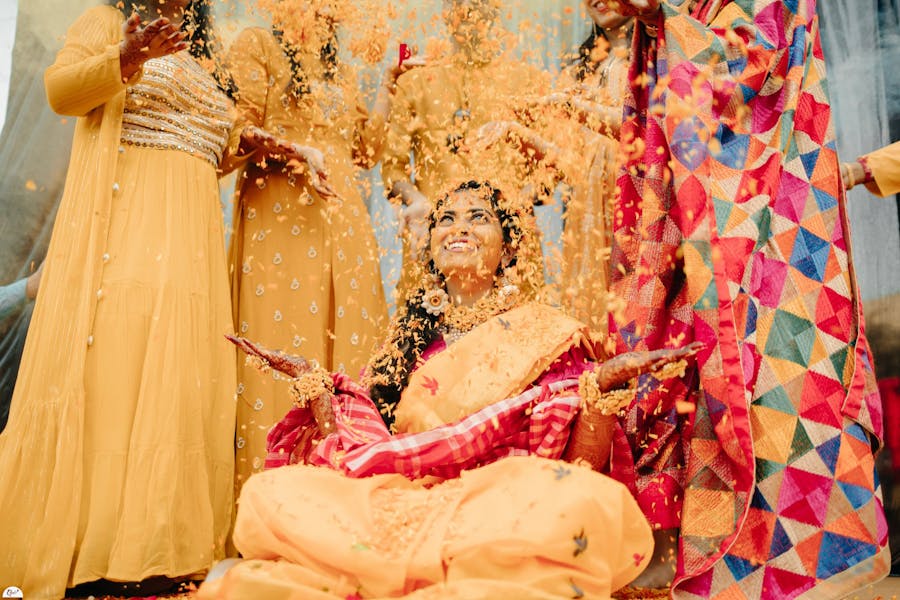 Also Check: 15 Stunning Gaye Holud Look Of Bengali Bride
3. Haldi Pose With Kids
This bride's niece in a matching outfit is enhancing the beauty of the Haldi picture. Little kids can add a fun-filled vibe to your traditional event. They can add a cute angle to your pre-wedding photos. Such a wonderful moment filled with love and joy makes candid bengali wedding photography more beautiful.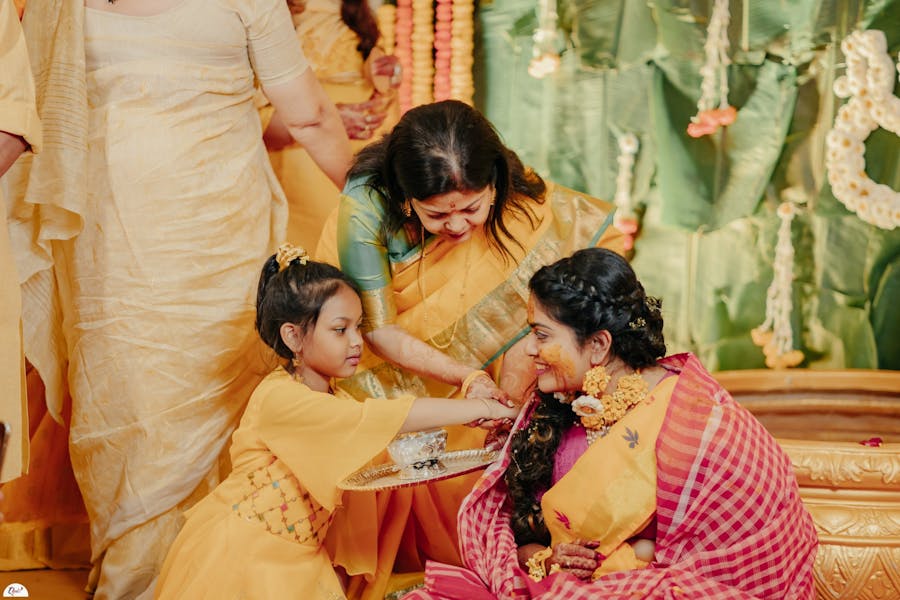 See More: Top 13 Breathtaking Velvet Bridal lehenga Designs Of 2022
4. Emotional Haldi Pose With Mother
A Haldi photoshoot with parents is necessary to complete your wedding album. Clicking emotional pictures with your parents can give you the sweetest memories. This heart-touching picture is representing the love between the mother and her daughter. You can also click such haldi poses with your parents to collect some beautiful memories of life.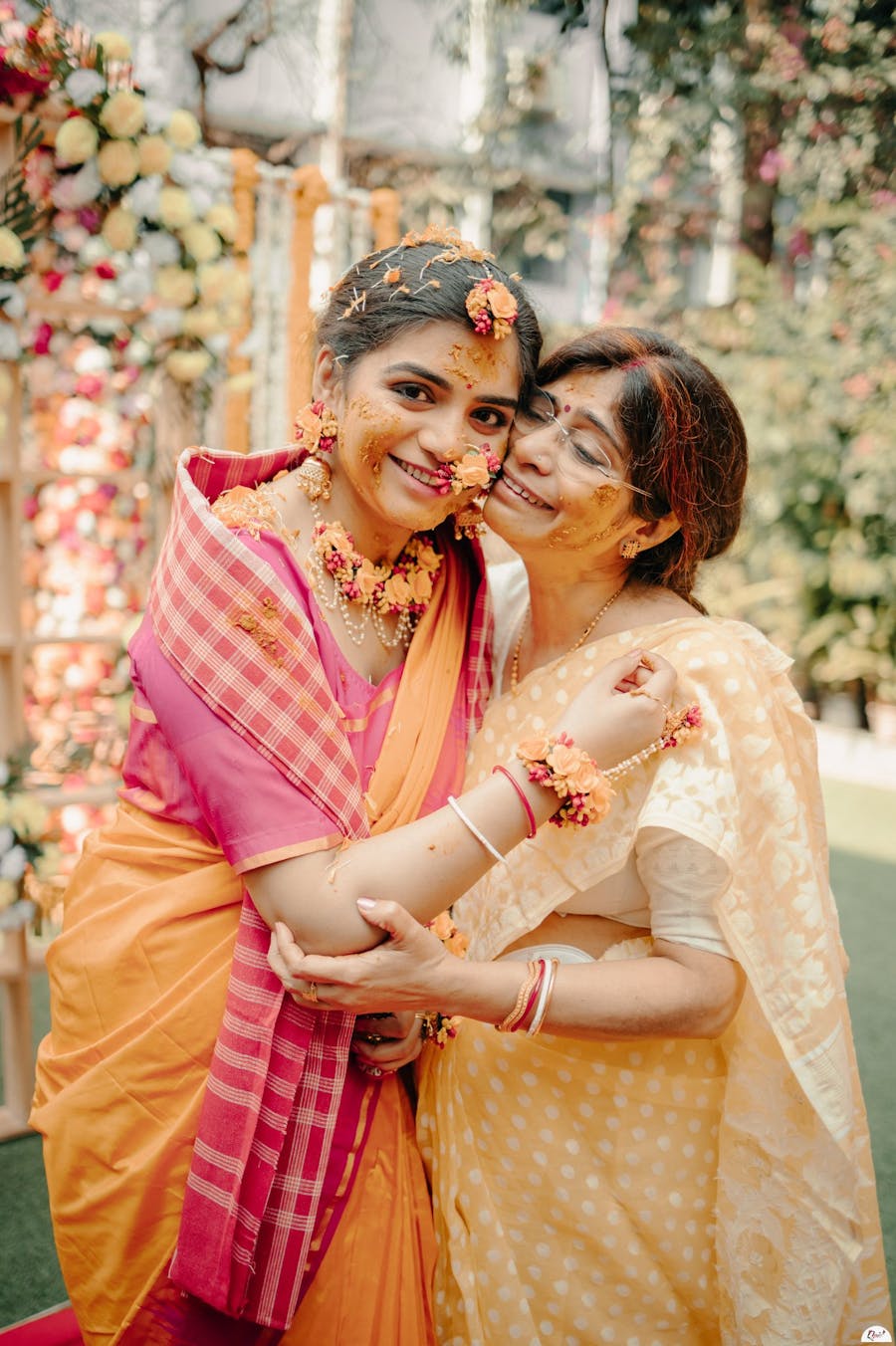 5. An Adorable Couple Haldi Pose
A splendid shot of a couple with yellow faces can give you some romantic couple potraits of Haldi. The golden hour of this couple's photoshoot is looking magical. The flower showers on this cute couple by family persons have made it a dramatic portrait.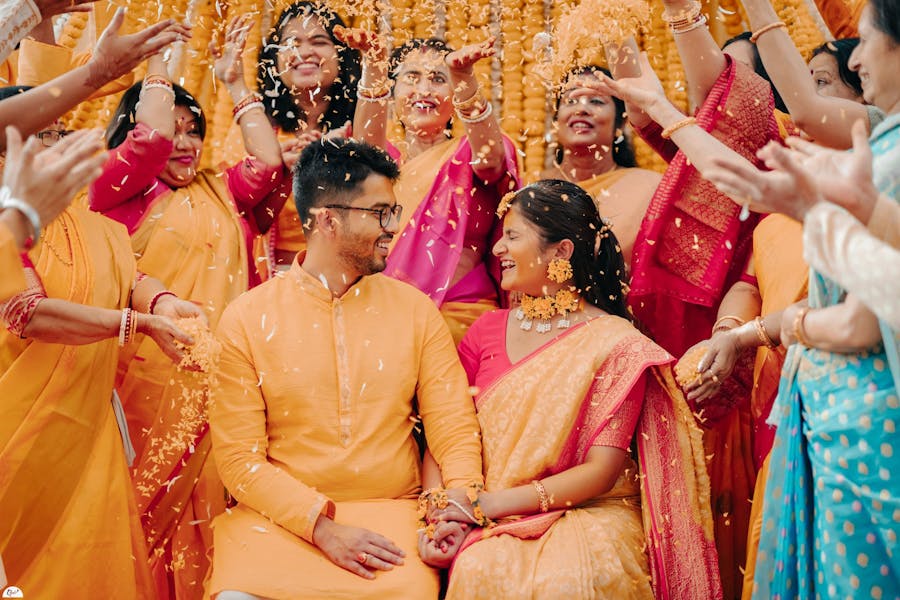 6. Unique Bridal Haldi Poses
This pretty bride relaxing on the chair is inspiring us for an unusual Haldi pose. She has posed in a very calm and peaceful environment. Such wedding photoshoot ideas show your creative side to everyone.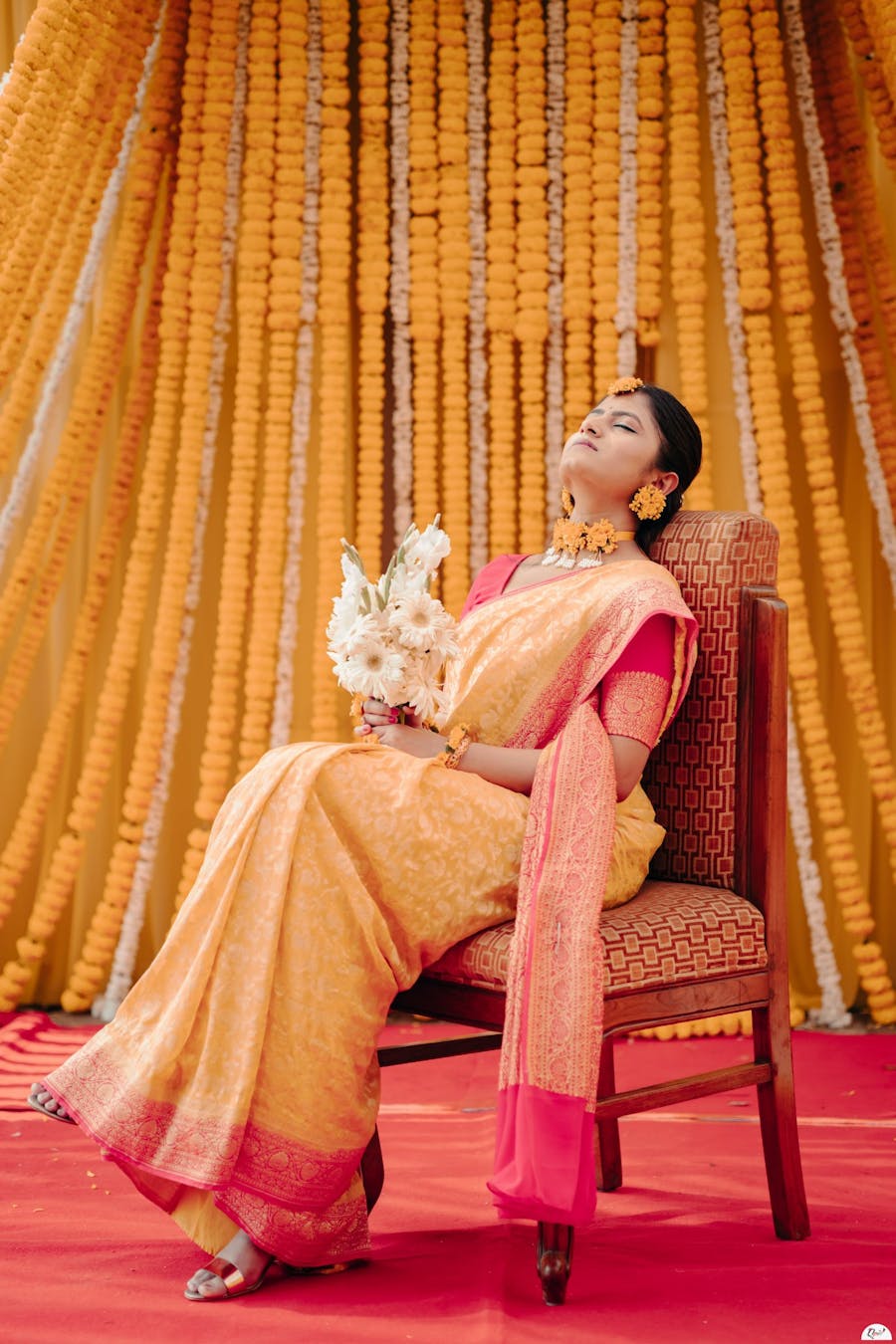 7. Couple Haldi Photo Pose On Swing
A floral swing is the most romantic element that can portray your love story very well. This adorable couple posing on a swing is looking like a real prince and princess. A marigold-wrapped swing is a perfect prop for a vibrant Haldi photoshoot. You can choose ethnic wear like a traditional saree or lehenga to reveal your ethnicity.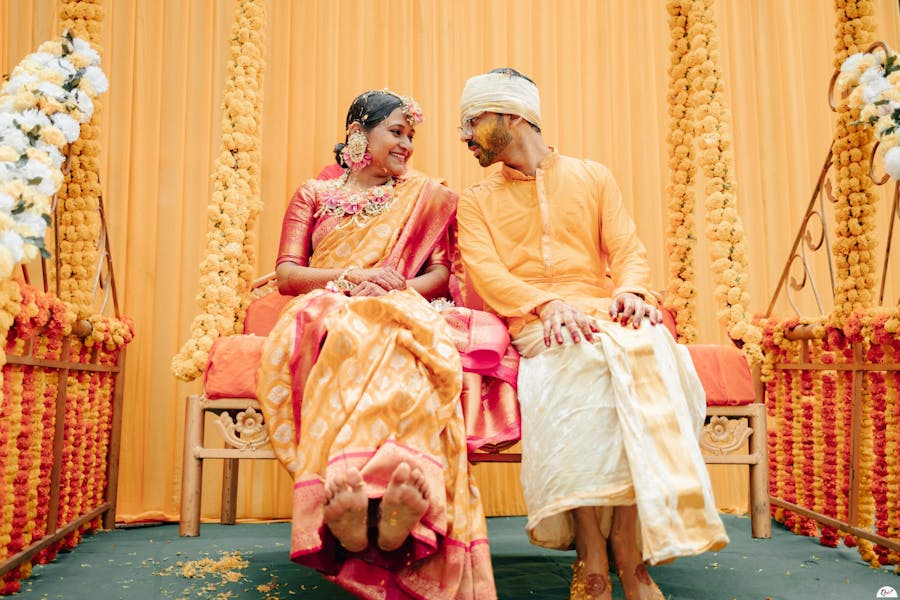 8. Haldi Poses With friends
Your friends are more excited than you to celebrate your wedding festivity. Your friends will never let you down to make your wedding function a grand fiesta. This couple has clicked haldi pictures with friends to make fun-filled memories. They have taken wedding sign boards in their hands to infuse a fun element in their Haldi photoshoot.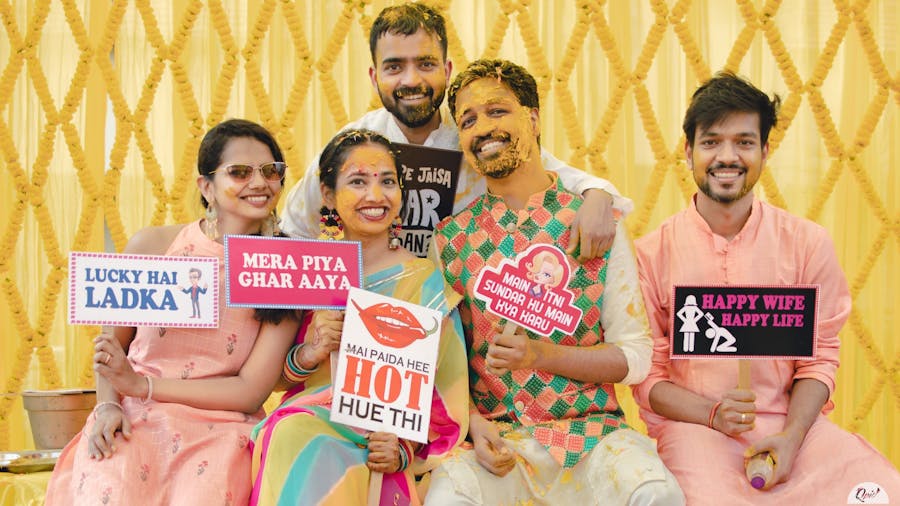 9. Grand Masti Bridal Pose For Haldi
Gone are those days when brides opted for a coy pose. Nowadays, brides get clicked in funny and quirky poses for haldi function. This quintessential bride has rocked her wedding photography by shaking her on Haldi. You can also experiment with such exciting poses to create a wonderful memory.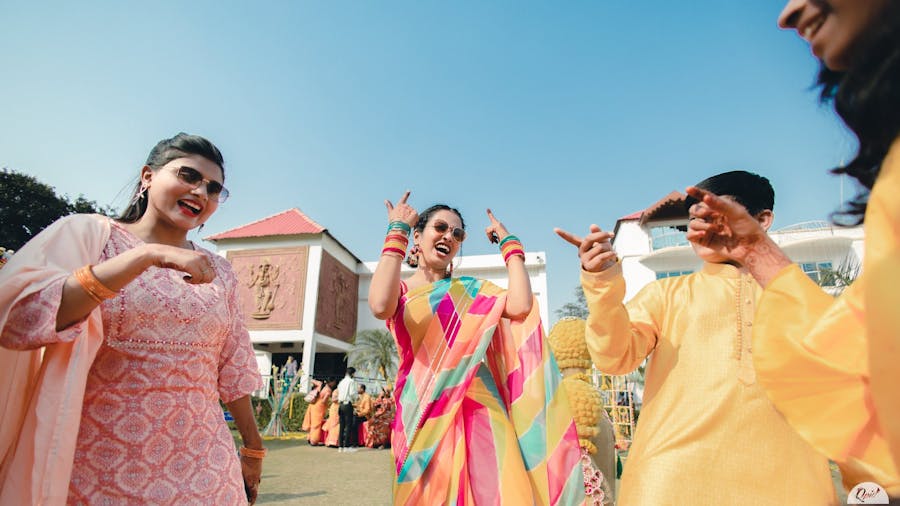 10. High Angular Haldi Ceremony Poses
This high angular bridal pose is simple yet adorable in every term. Her cute smile and bridal glow are adding more beauty to this haldi portrait. The mehndi design of hands all around her face is highlighting her beauty and elegance in true words.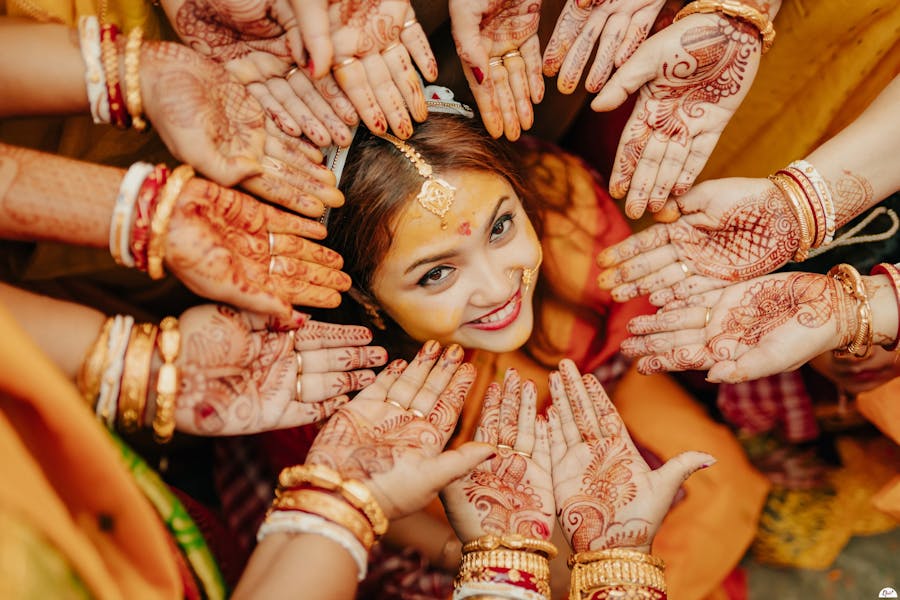 11. Haldi Pose With A Bhangra Dance
Now, this is one of the most popular ways to get yourself clicked with your beau. An energetic bhangra pose can give you some amazing haldi pictures. These wedding pictures will always bring a smile to your face. This kind of haldi ceremony photo poses is easy to perform and looks awesome in your wedding album.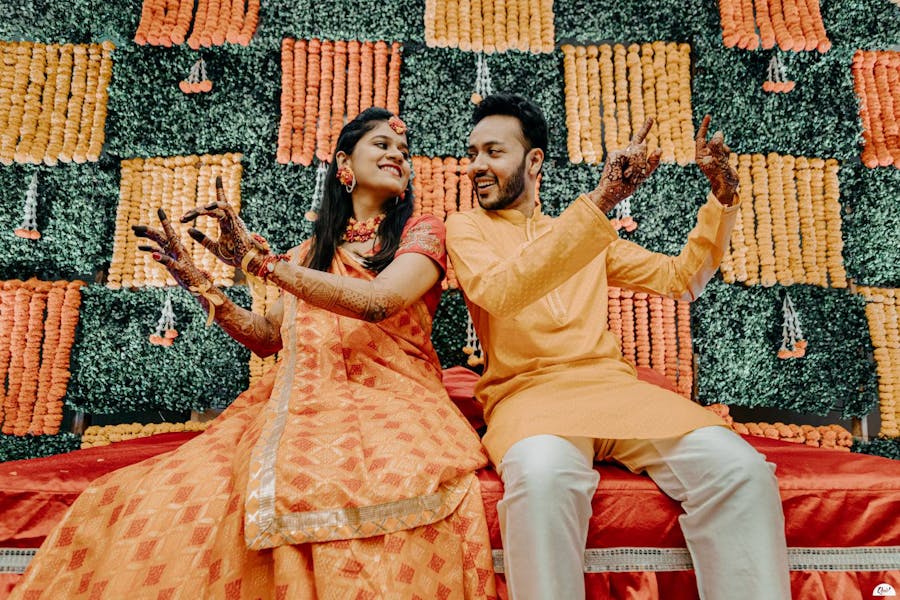 12. Fun-Filled Water Shower Haldi Poses
Such a lovely moment to enjoy! This gorgeous bride is having a splash of Haldi water on her special occasion. This candid moment can produce some eye-pleasing Haldi portraits. Make it more memorable by including your family members in the photoshoot.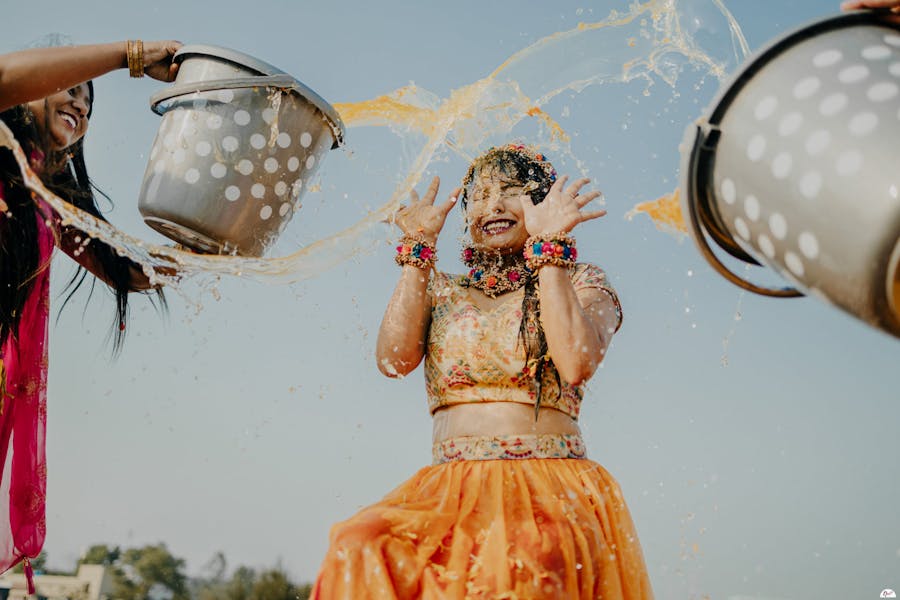 13. Dramatic Haldi Poses With Brides Maids
We can't explain the immortal connection between the bride and her bridesmaids in words. From sharing the small secrets to supporting you with big decisions your girls are an important part of your life. This bride has proved this statement true with her stunning haldi pose. She has given an elegant back pose along with her bridesmaids to make it a dramatic portrait.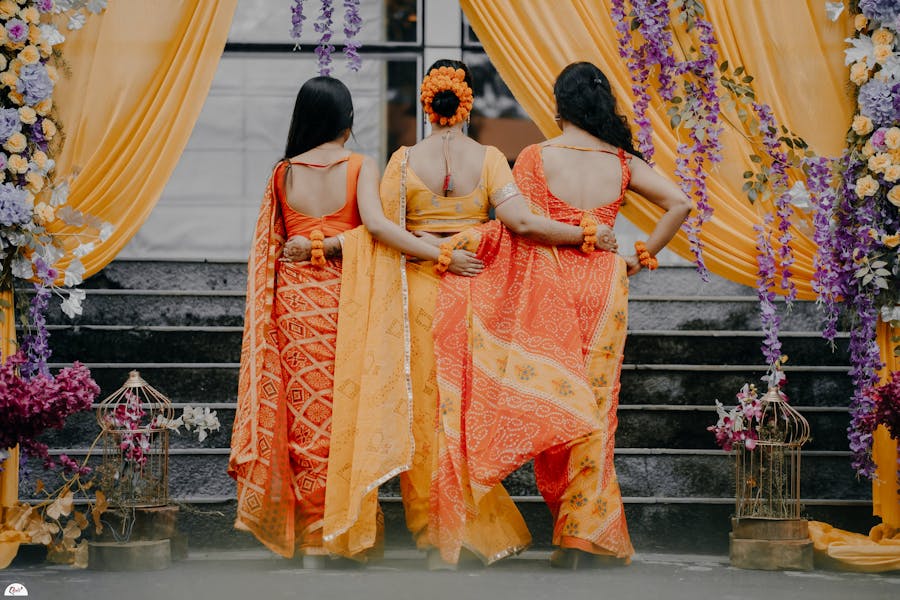 14. Stylish Photo Poses For Bride
Who says that a bride should only pose with her veil. This millennial bride has broken all the stereotypes with her swag and style. Her bindas attitude and funky sunglasses are making us go gaga over her style.