The best choice for wedding wear for brides is a designer lehenga or saree. Yet, you will get various options in bridal outfits today. A bridal blouse is a stunning top that completes your wedding outfit. You need to find a matching blouse along with your saree or lehenga to get a perfect wedding look. Exquisite embroidery and eye-catchy designs make a bridal blouse a real head-turning outfit. The neckline of the bridal blouse is the first thing that catches a person's eye. The neckline can be anything from a soft "V" – neck to a boat neck or a deep plunging "U" – neck. An attractive blouse design highlights the best feature of your wedding outfit. But one must always choose a blouse design that fits your body type. A unique bridal blouse design can take your wedding attire to a new level. It can provide you with the most glamorous look.
So, if you have been looking for a bridal blouse design, then you are at the right place. We have compiled a list of the most stunning Bengali bridal blouse designs, to help you get the perfect bridal look.
1. Simple Round Neck Blouse In Red Color Are A Real Classic
Let us start this interesting blog with one of the classic blouse designs. The beauty of a round-neck blouse lies in its simplicity. This is why it can be often seen in a portfolio of bengali wedding photography.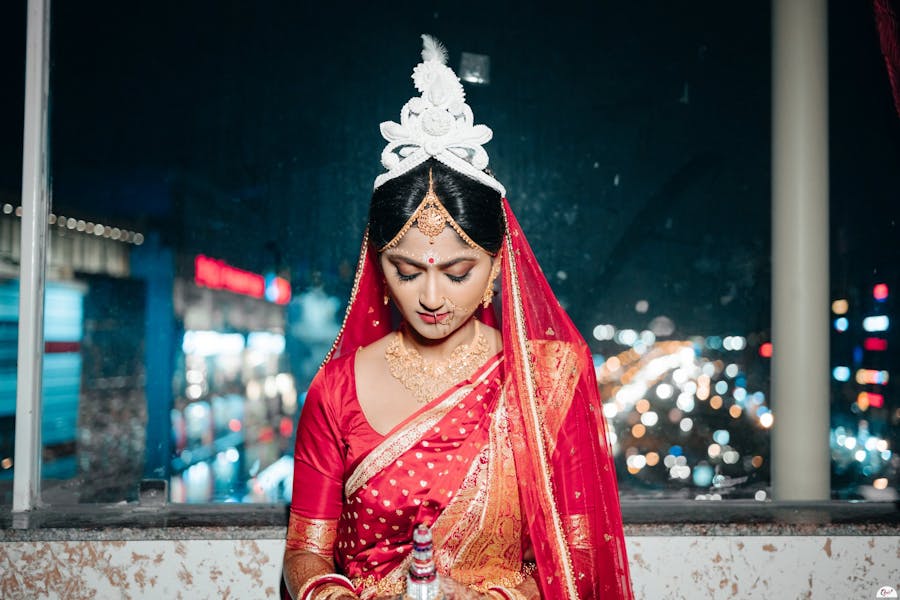 Recommended: Bengali Wedding Photography Poses Ideas You Need To Know
2. Super Attractive Zardosi Blouse Are Perfect For Any Wedding Function
A zardosi blouse is an evergreen outfit that is famous for its intricate design. This super fashionable blouse is sure to make you, look jaw-dropping gorgeous bride.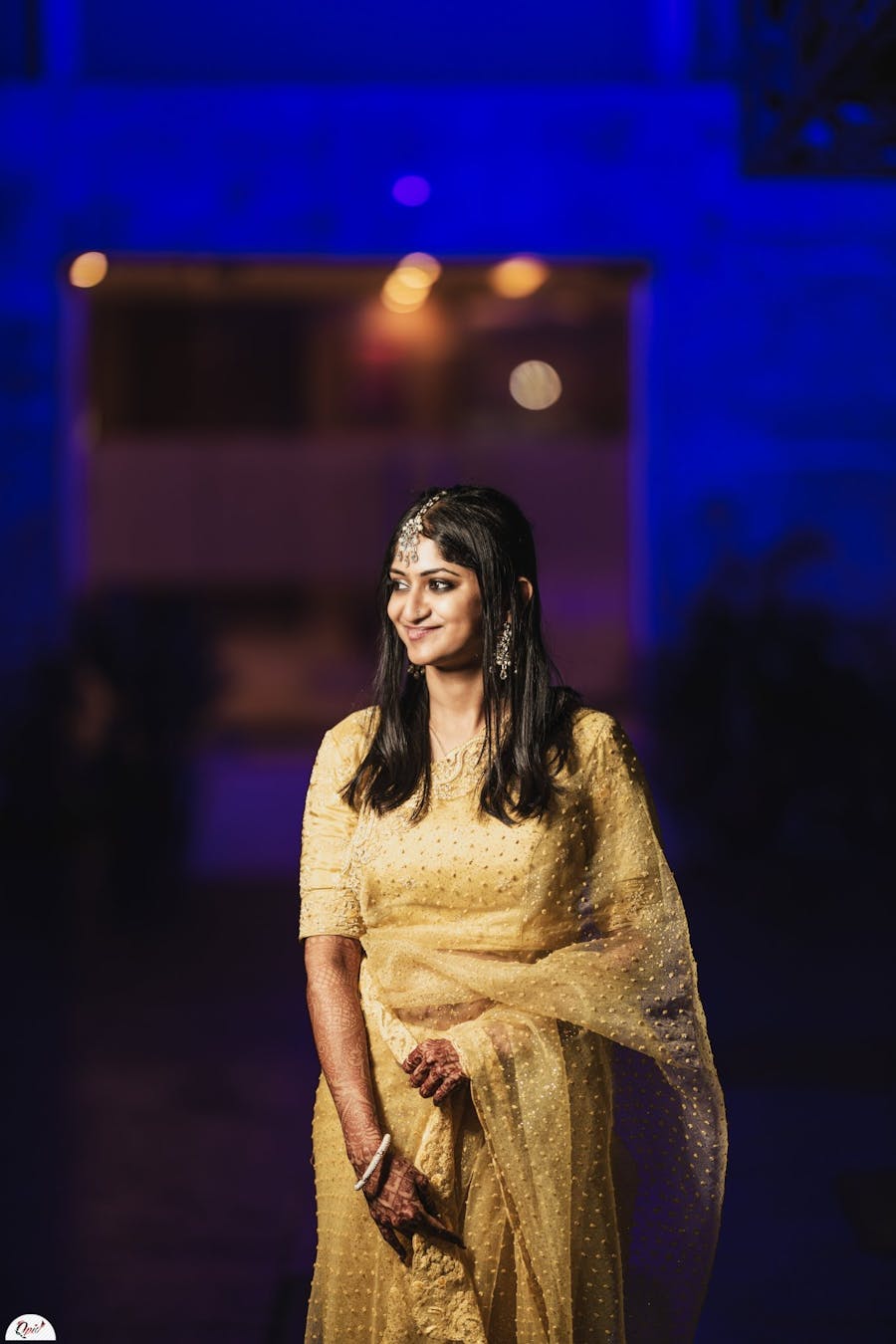 Must Read: Amazing Bridal Eye Makeup Ideas You Just Can't Miss
3. Vintage Charm Of A Puff Shoulder Blouse
A Puff sleeve blouse adds an extra element of elegance to your look. This wonderful blouse design looks pure feminine and pretty. The main attraction of this bridal top lies in its puffed sleeves. In Short, it can cast a magical spell on your bridal look.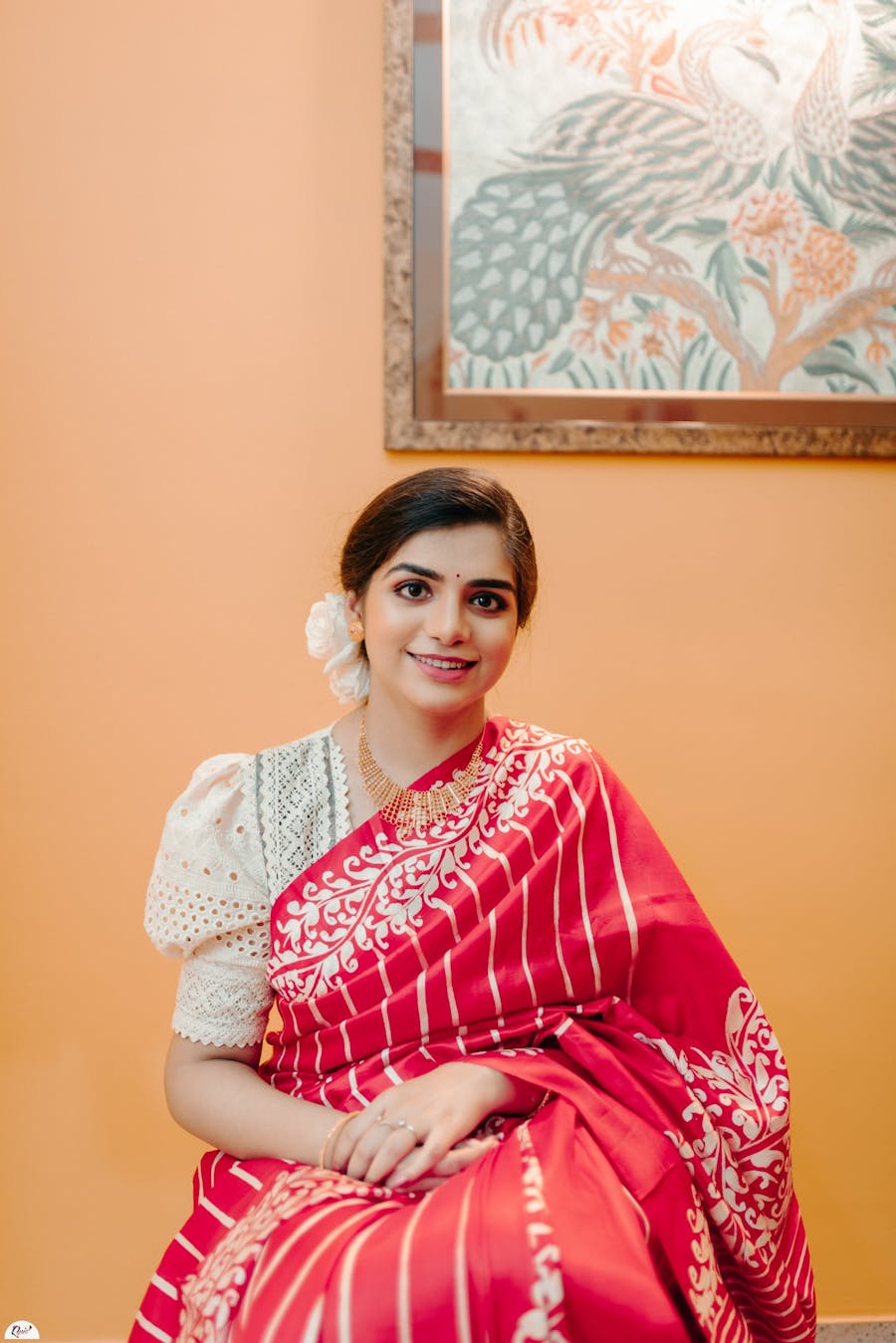 4. Sleeveless Blouse Are A First Choice Of Modern Brides
What can be a better option than a sleeveless blouse to beat the heat of the summer season, right? Having no sleeves on the blouse also adds an extra element of boldness and style to your personality. Make your wedding look like an ever-lasting memory by hiring the best wedding photographer in kolkata.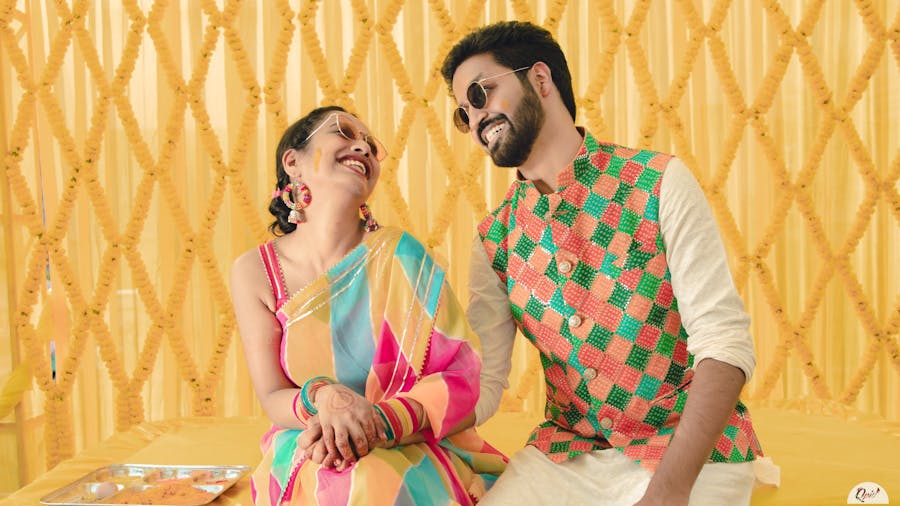 5. An Offbeat Blouse Design With Floral Embroidery
If you get tired of searching for an off-beat blouse design, this one will come to your rescue. A floral embroidered blouse with a diagonal cut at the front is a wonderful blouse design. It looks quite scintillating with a statement necklace.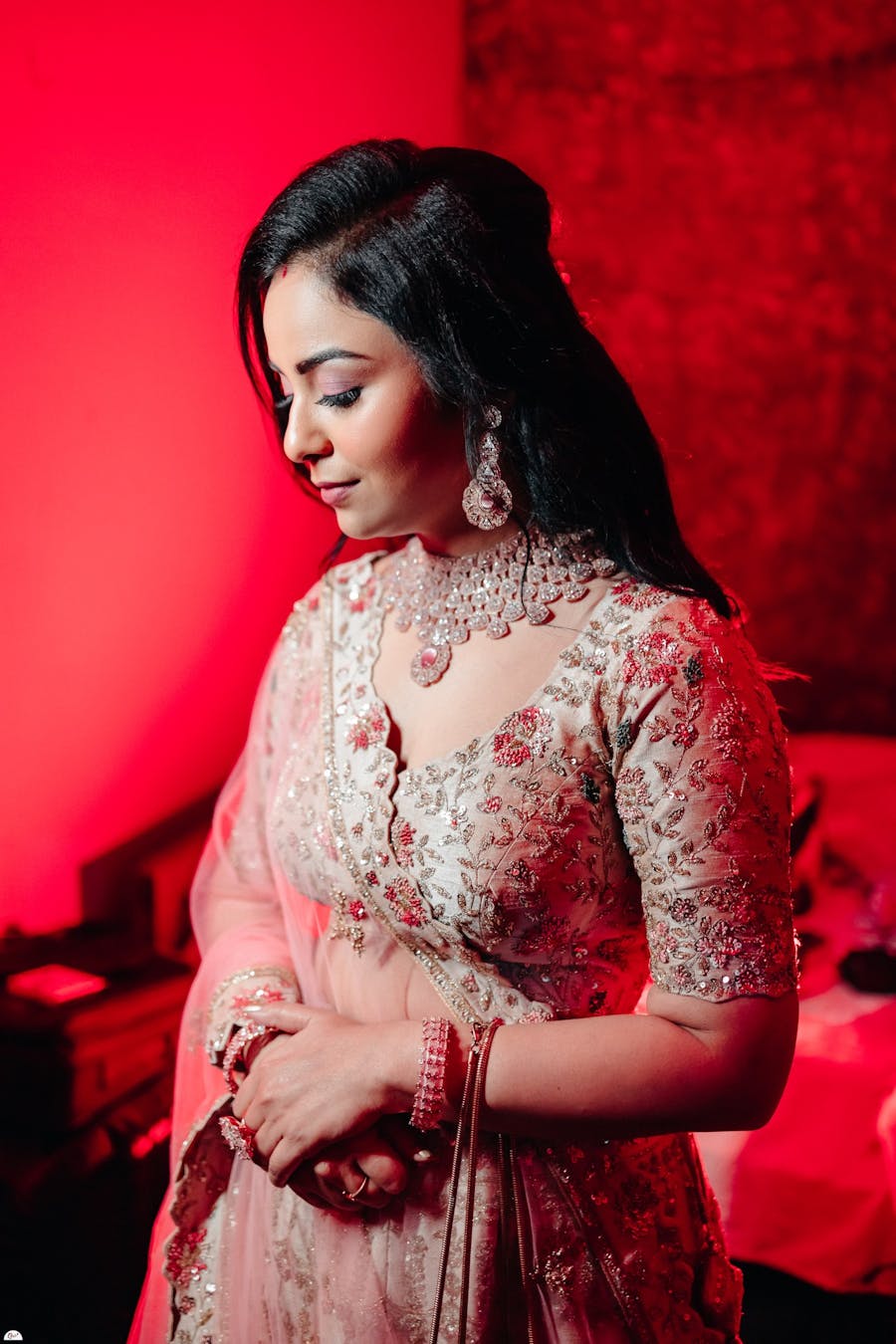 6. Printed Bengali Bridal Blouse Designs Looks Nice With Cotton Saree
A printed blouse design works well with all ethnic outfits. We are stunned by the simplicity of this bride. She kept it all minimal by pairing her cotton saree with a floral print blouse. Isn't she looking super gorgeous in her pre-wedding look?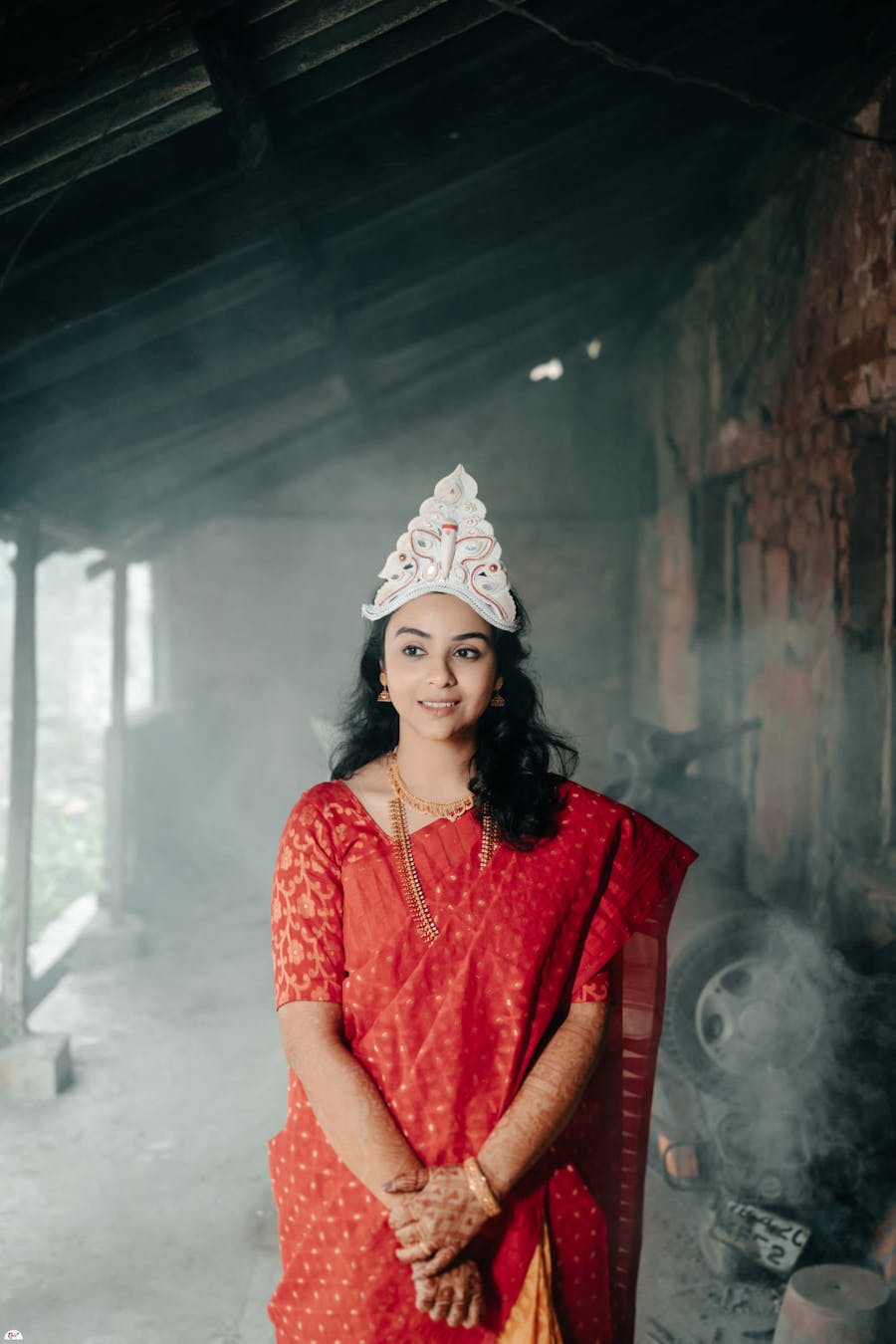 7. A Classy And Elegant Velvet Blouse
Wearing a velvet outfit is the latest trend in Bengali weddings. A velvet blouse design for a Bengali wedding is a sophisticated choice. Look at this black velvet blouse that this bride has adorned with her gorgeous rustic saree. A velvet blouse design can take the bridal look a notch higher without much effort.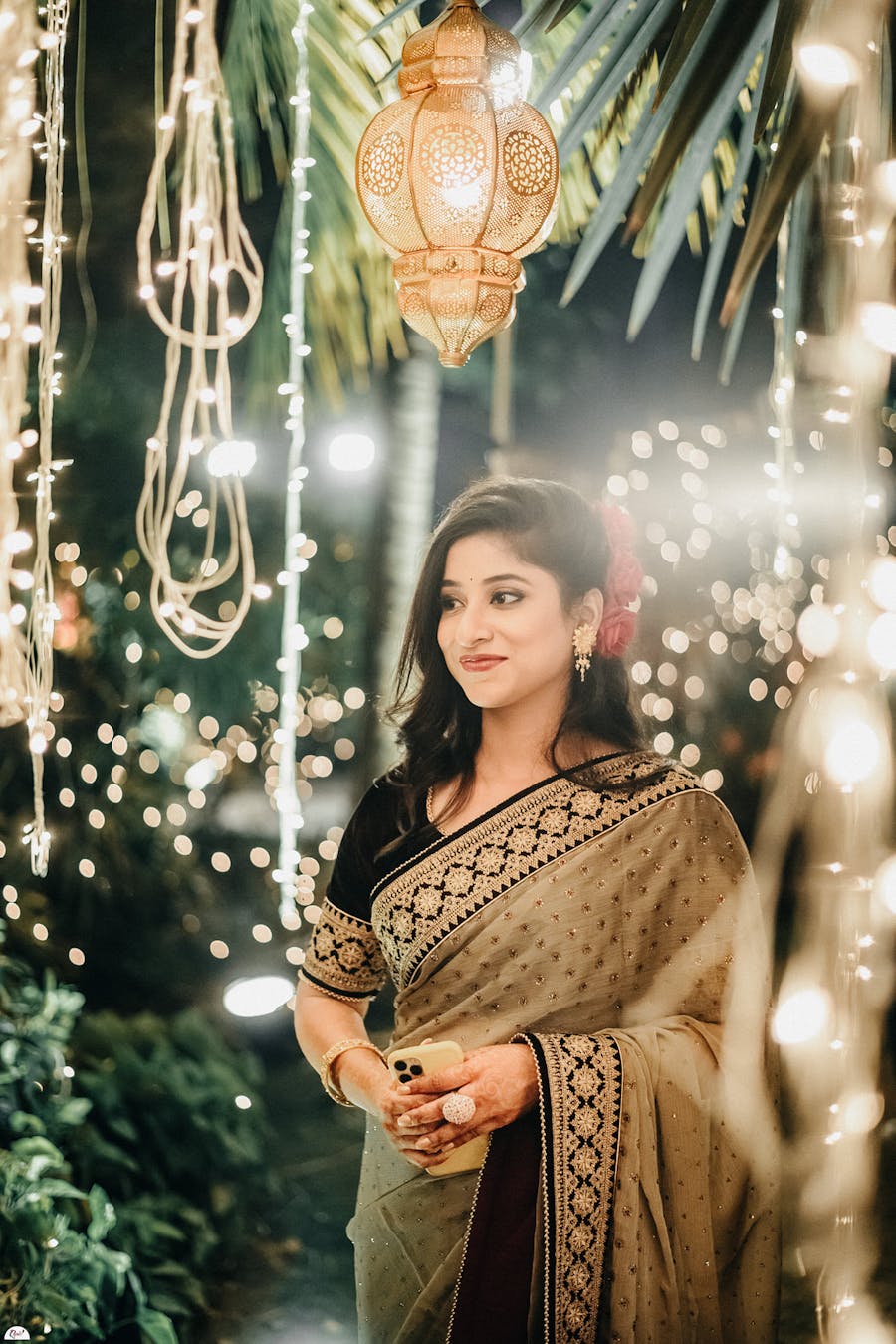 8. Metallic Shade Blouse Are Perfect For Post Wedding Look
Loving this sheer glitter golden blouse with a metallic saree! A golden blouse exudes a royal vibe and gives you a glamorous look at your wedding events. You can pair it with a statement necklace to add a sensual touch to your traditional look.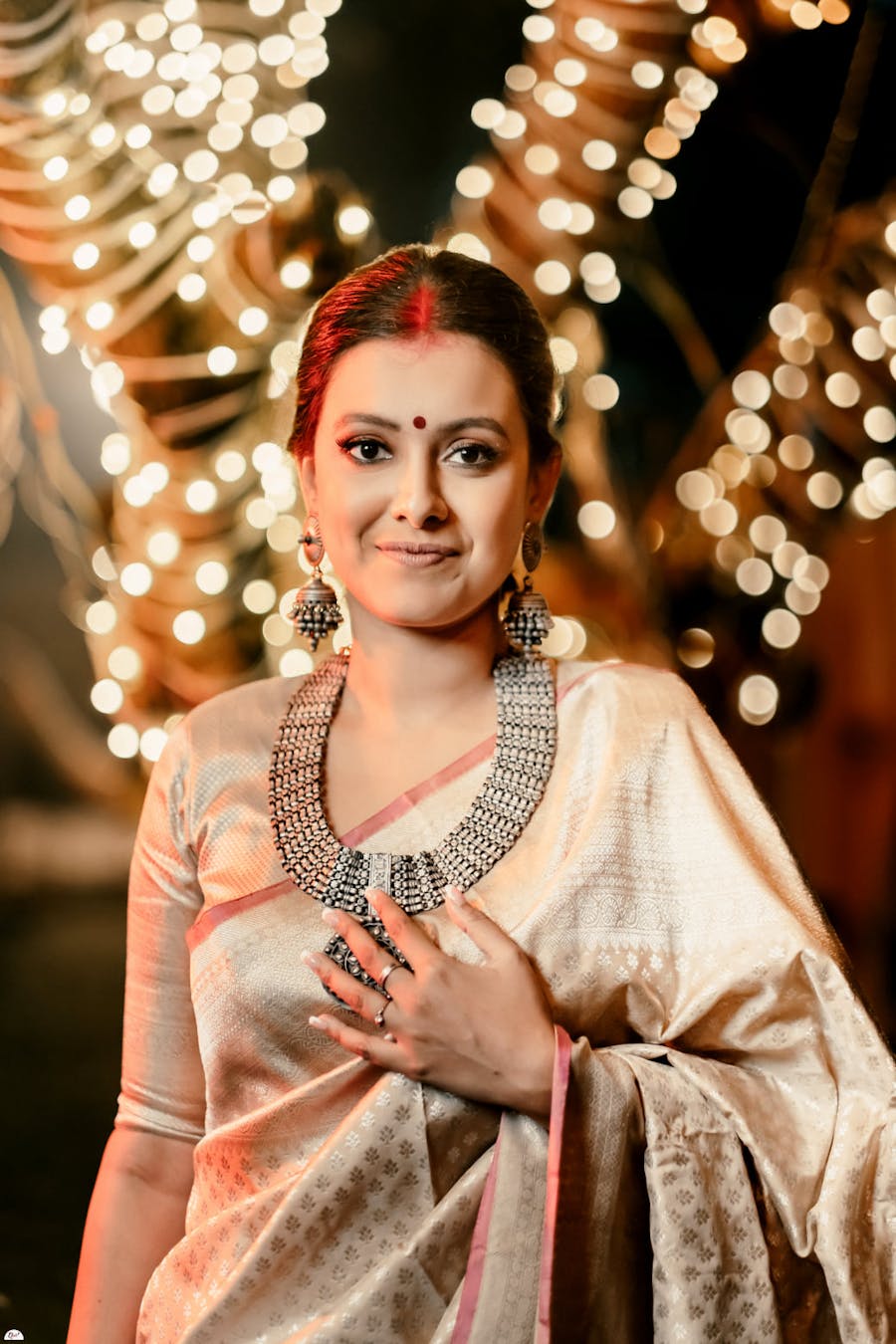 9. Fully Embroidered Bengali Bridal Blouse Designs To Amp Up Your Wedding Look
An embroidered blouse looks breathtaking with an exquisite bridal lehenga. The intricate detailing of these blouses enhances the entire look of your outfit. Its handwoven embroidery on the sleeve makes it a perfect wedding attire for brides.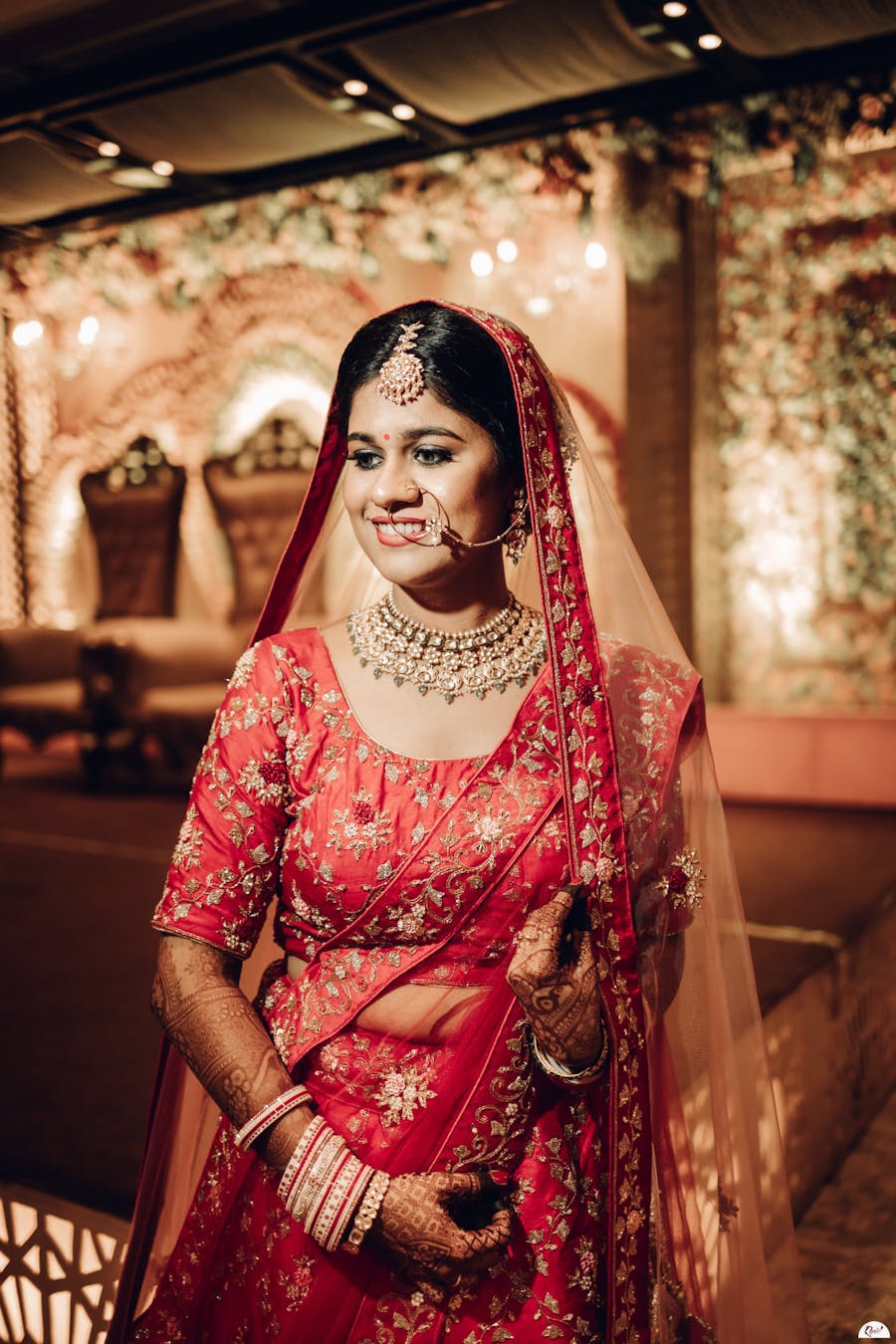 10. Pastel Hued Blouse With Exquisite Embroidery
This super stylish pastel blouse with rich embroidery can add a unique charm to your look. Exquisite thread work on a pastel blouse is a stylish option for post-wedding outfits.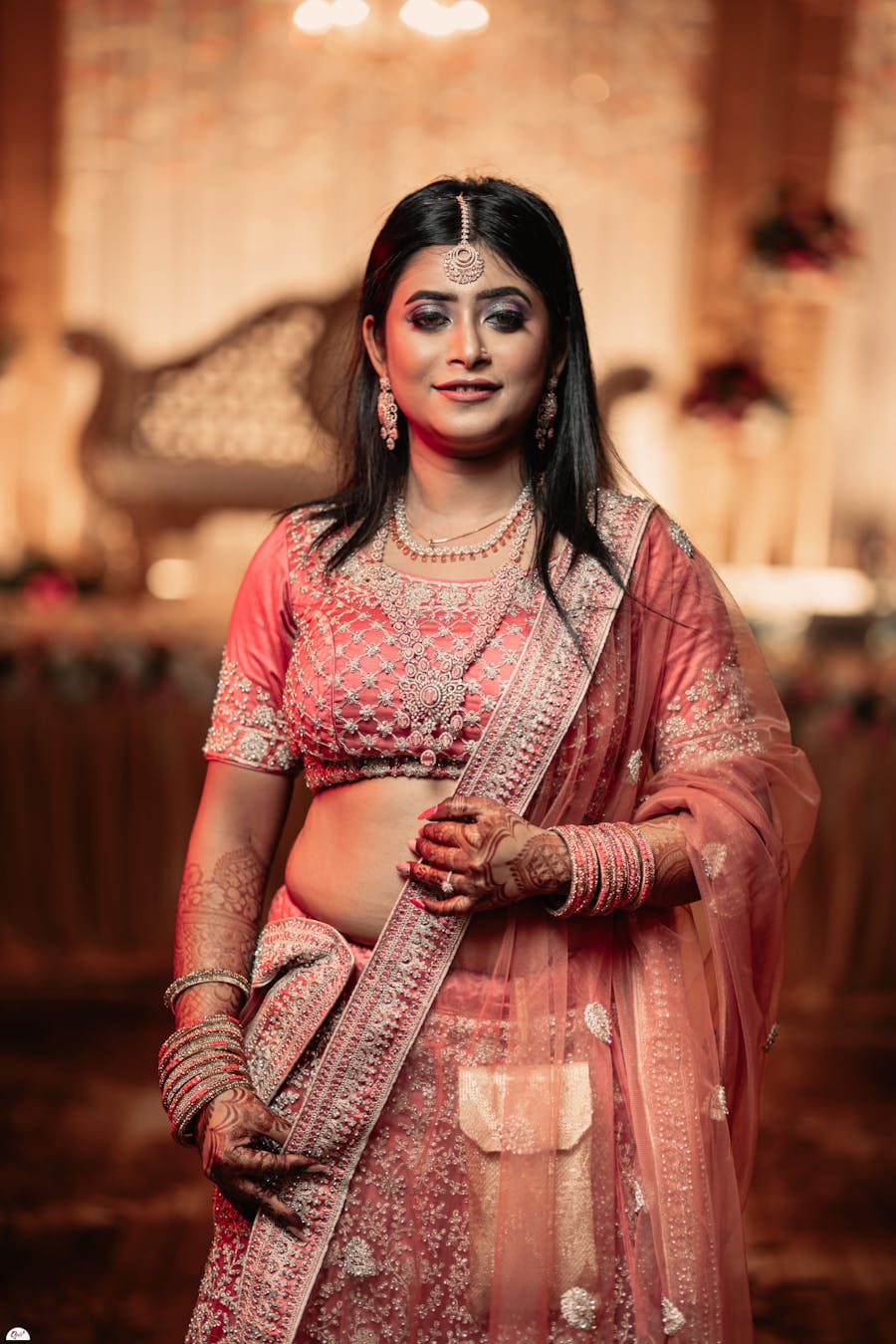 11. Deep "U" Neck Blouse For A Bold And Sassy Look
As the name suggests, a deep "U" neck blouse is a classic and bold design for Bengali brides. It can never go wrong with traditional outfits. This deep "U" red blouse designs for weddings can help you to achieve the tag of a show stunner bride.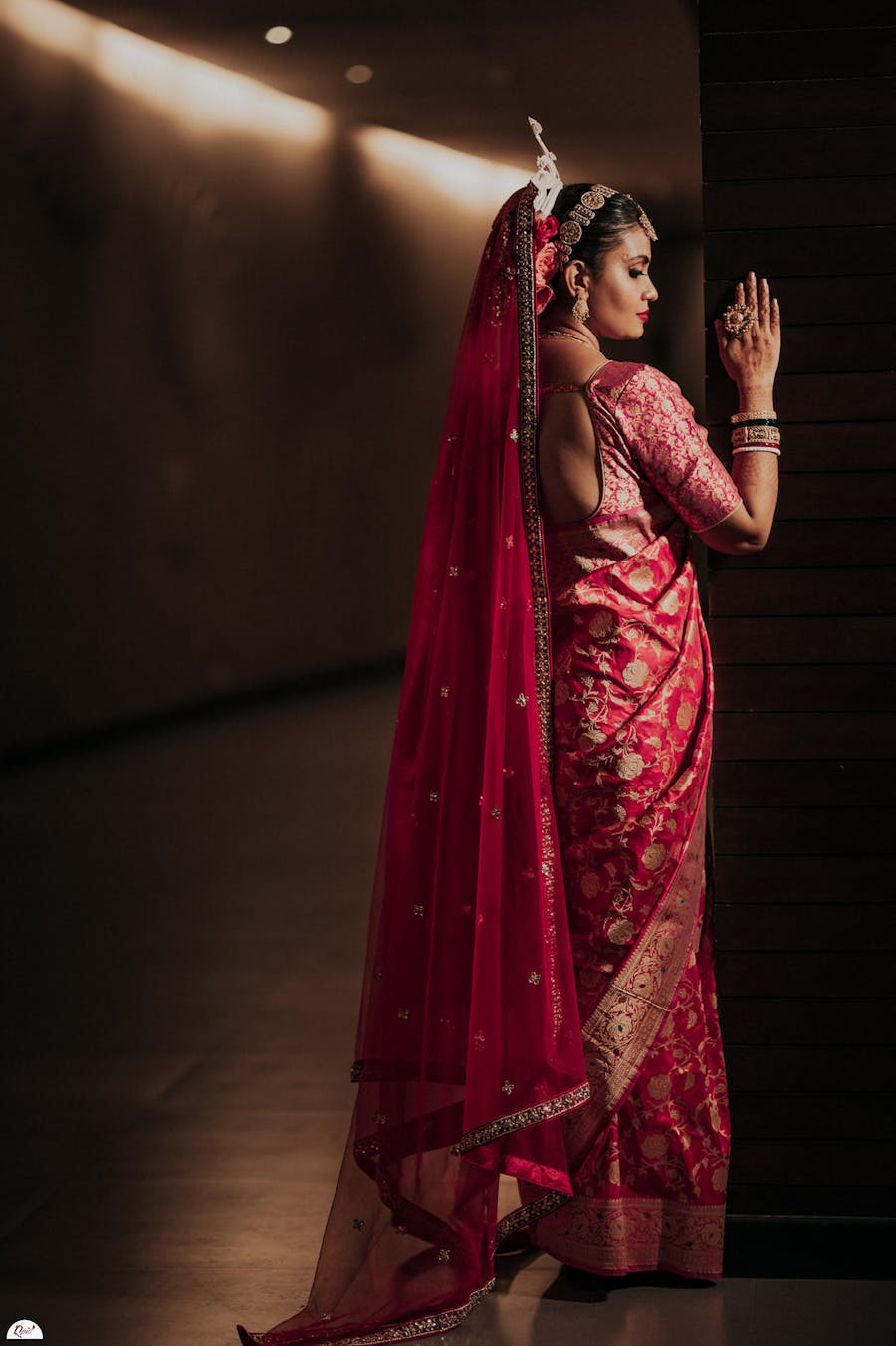 12. Laced Blouse With A Classic Elegance
The off-white lace of the blouse matches this bride's saree very well. This laced blouse is a new bridal blouse design with a traditional and feminine touch. The "U" neckline of this stunning blouse adds a modern twist to the traditional outfit.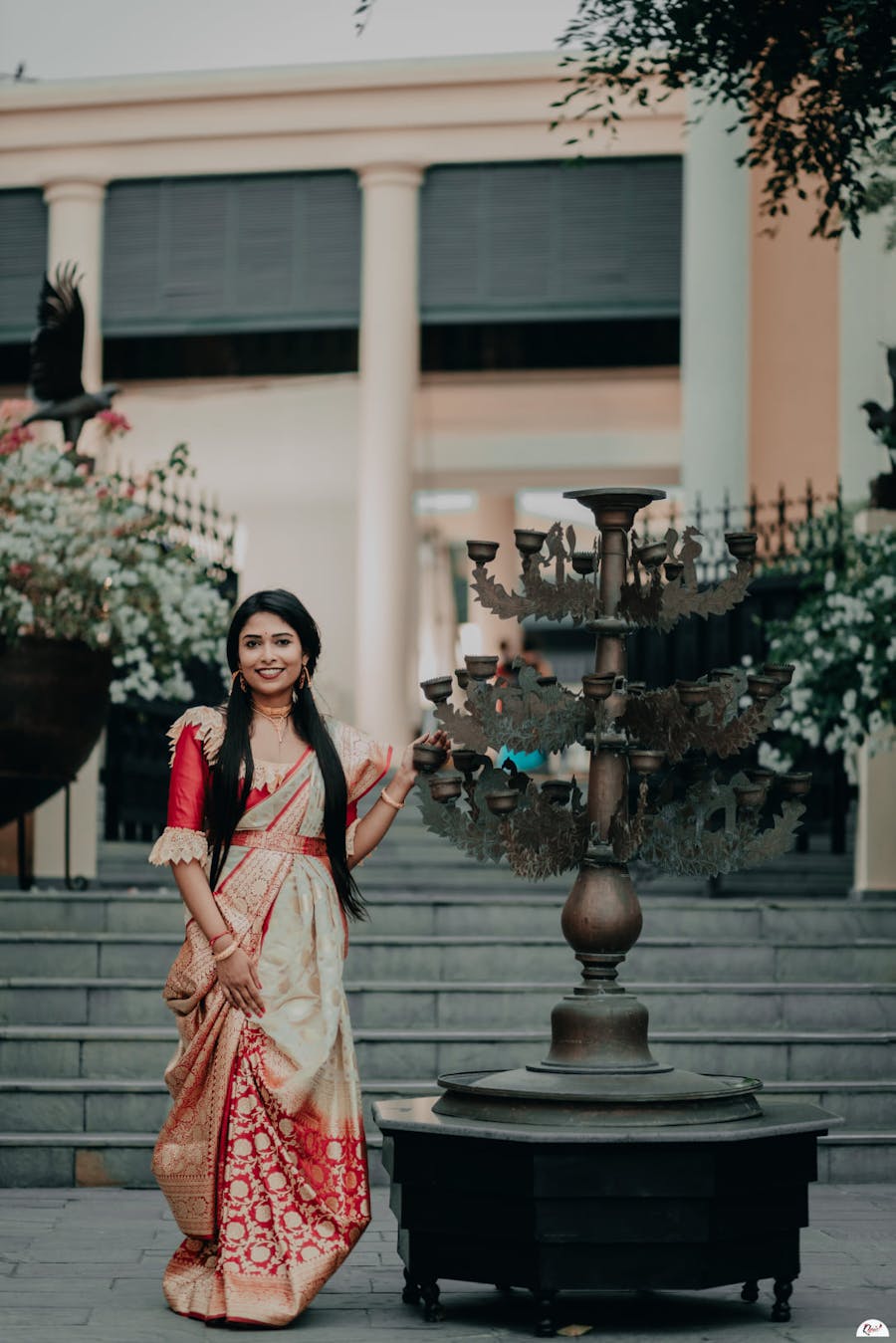 13. An Alluring Gae Holud Blouse With Rose Embroidery Look
If your saree contains floral embroidery then you must add this off-beat blouse to your wardrobe. The rose-like border of this beautiful blouse is stealing the show. Such vibrant embroidery bridal blouse designs are perfect for the Haldi ceremony outfit.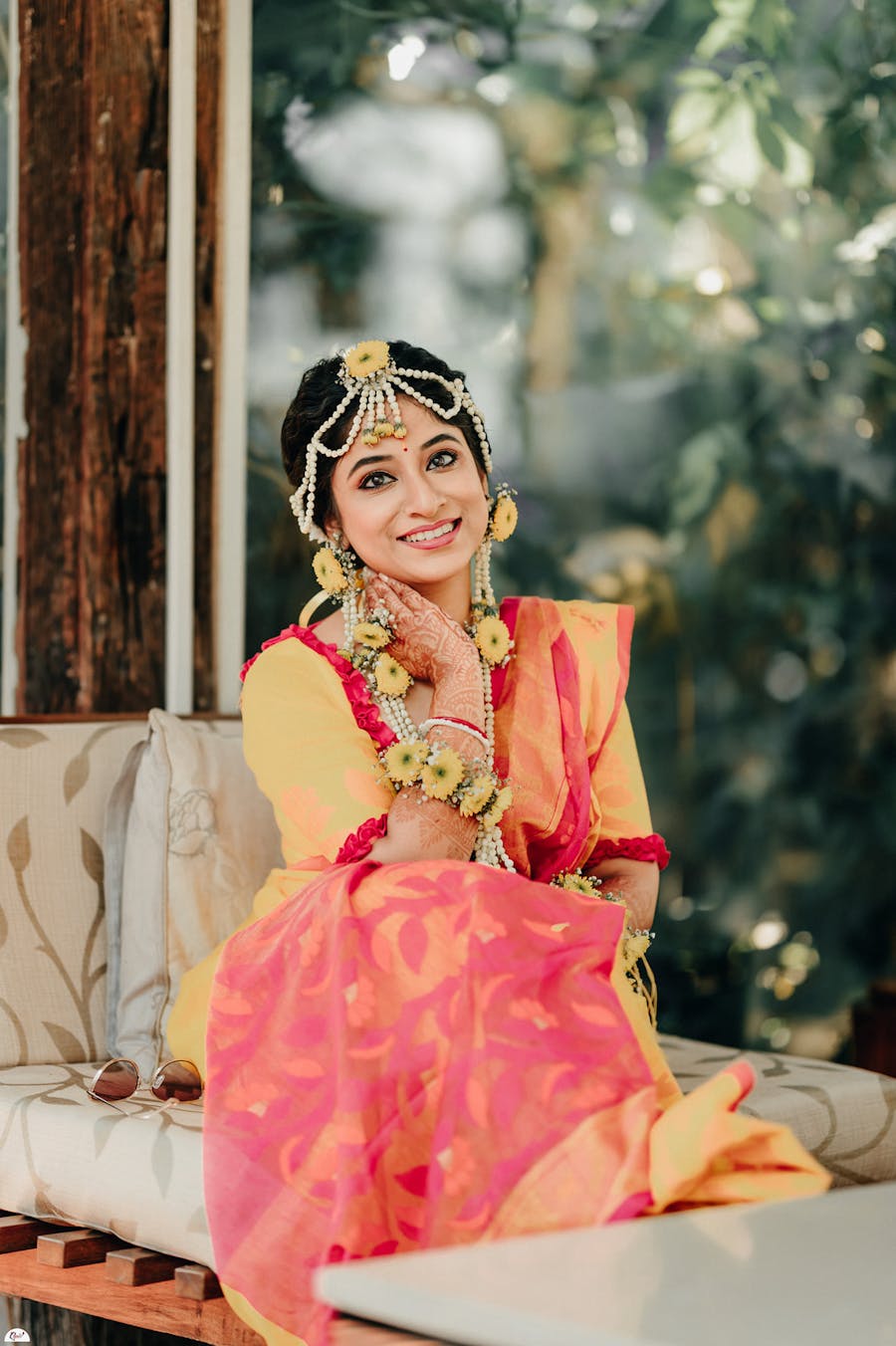 14. Net Sleeve Traditional Blouse Designs For An Extraordinary Look
A net sleeve blouse looks good with almost all kinds of traditional silk sarees. This is a popular bengali wedding banarasi blouse design that can make you stand out in the scene.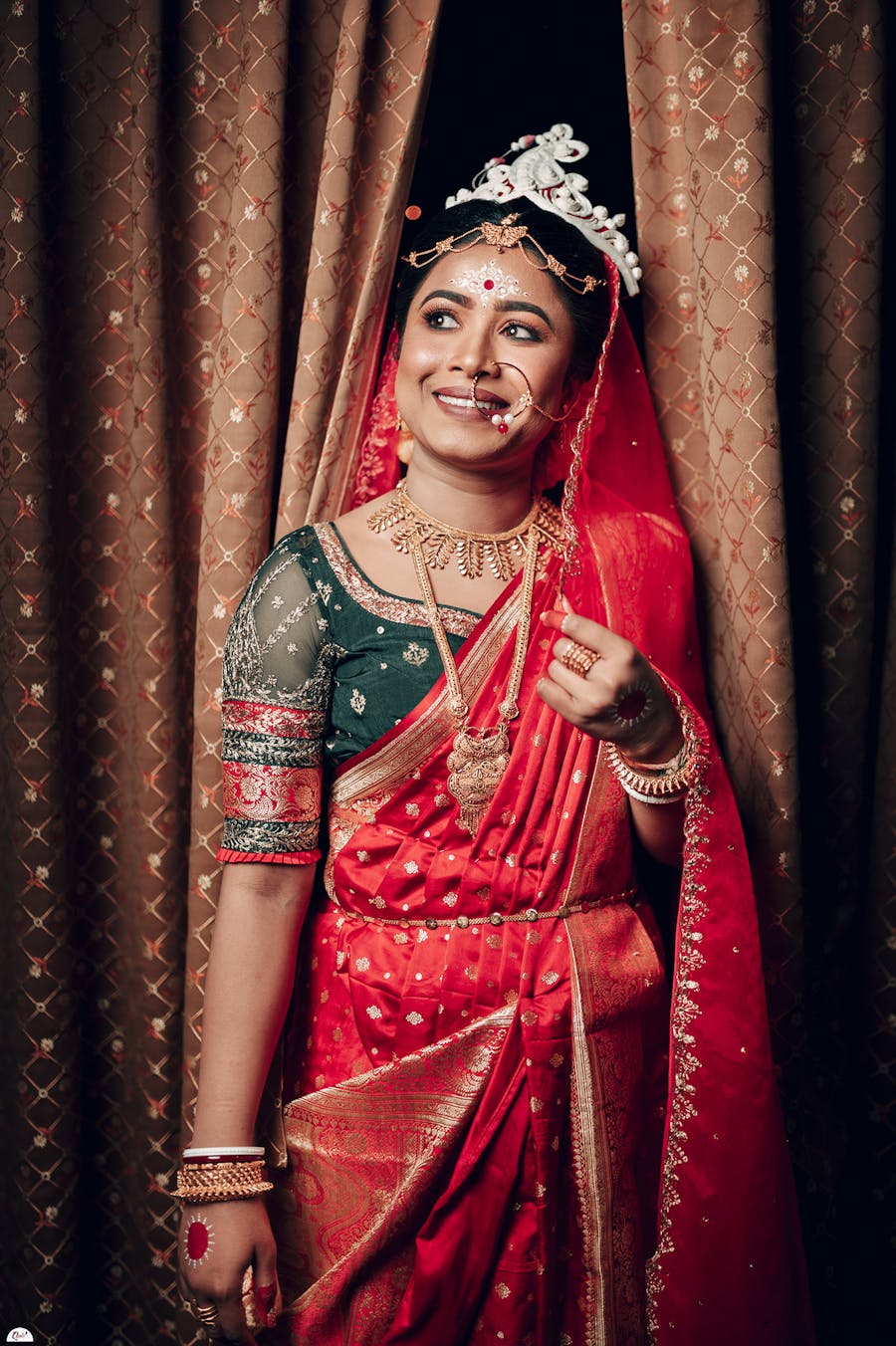 15.  A Wedding Ritual Blouse That Will Be A Head Turner
If you are looking for an outstanding blouse design then this one is sure to grab your attention. Wedding rituals printed on the blouse are an ultimate blend of modernity and culture. This blouse is one of the latest bridal blouse designs that can make you a drop-dead gorgeous bride.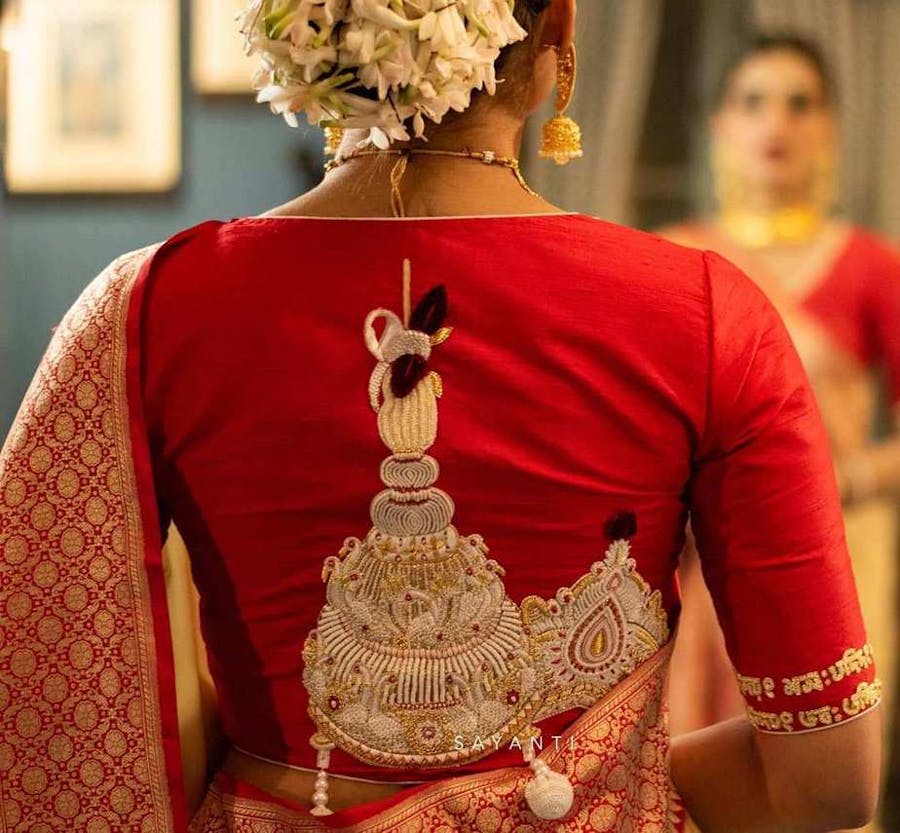 16. An Asymmetrical Bell Sleeves Blouse
Bell sleeves blouses are for all those brides who love to add a little drama to their outfits. Its ruffle edges give you an ultra-modern look. You can pair this super fashionable blouse with a Banarasi or Kanjivaram saree.