Why is Darjeeling called "The Queen of the Hills"? And the reason is that Darjeeling has gorgeous mountains, hills, lakes, lots of greenery, and nice weather. It is in the northern part of the Indian state of West Bengal. It is 2127 meters above sea level. There are a lot of interesting places to see in Darjeeling. There are also beautiful places to have a Pre-Wedding Photoshoot in Darjeeling.
Aside from all this, Darjeeling is a beautiful place that would be great for a sweet best location for pre wedding shoot. There are a lot of places where you can have a quiet pre-wedding photo shoot with a nice background. So, if you want a beautiful pre-wedding shoot, you should come here at least once.
Darjeeling Himalayan Railway:
The narrow-gauge Darjeeling Himalayan Railway nicknamed the "toy train," runs between New Jalpaiguri and Darjeeling in West Bengal. Along the route this Toy Train takes, many interesting things exist. You can have your Pre-Wedding Photoshoot in Darjeeling here. The Toy Train is just a beautiful sight. You can have your pre wedding photos taken on the train, at the train's gate, or near the track where the train is coming (but not on the way itself). There is a lot of greenery around the track, and white smoke is coming out of the engine. This will make your shot look even better. After Darjeeling pre wedding photoshoot locations in Kolkata is best.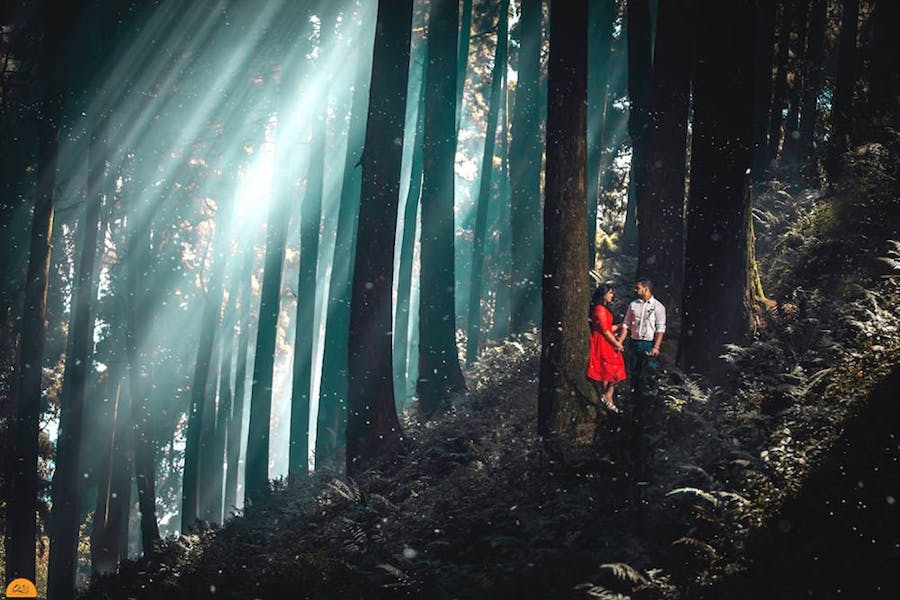 Tiger Hill:
Tiger Hill is known for its beautiful views from the top of the hills, especially at sunrise. It is completely covered in snow, and when the sun shines, nothing is more beautiful than this scene. Tiger Hill, the highest point in Darjeeling, is a must-see. At a height of 2,590 metres, it looks out over the Eastern Himalayan Mountain ranges with its snow-capped peaks. On a sunny morning, Tiger Hill is one of only two places in India where you can see the full view between Mount Everest and Khangchendzonga, including peaks like the Kabru, Rathong, and Kokhtang. You can hire best pre wedding photographer in Kolkata for your wedding. So, this could be a great spot for a pre wedding photoshoot. With this view, any pose that makes you look sweet will look good. Just go to this place, and you'll surely find it interesting.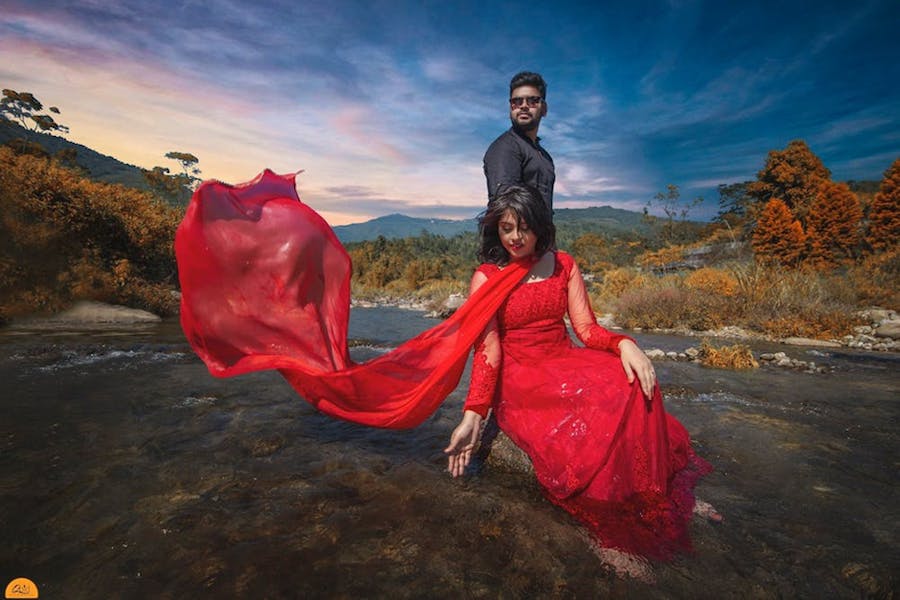 Rock Garden:
The Rock Garden in Darjeeling is a famous place for tourists to visit. It is full of carefully placed rocks and lush plants and shrubs. It's a great place to have a picnic and one of the most famous places in Darjeeling. As the name suggests, the seats in Rock Garden are made by cutting rocks into benches. The flowers in the yard are also very pretty. The waterfall is the garden's main attraction. It looks beautiful and is the best place for a pre-wedding photo shoot. Best wedding photographer in Kolkata gives you a best memory. Falls are beautiful, but when it rains, they look amazing. So, you can go there if you need a scene with a waterfall.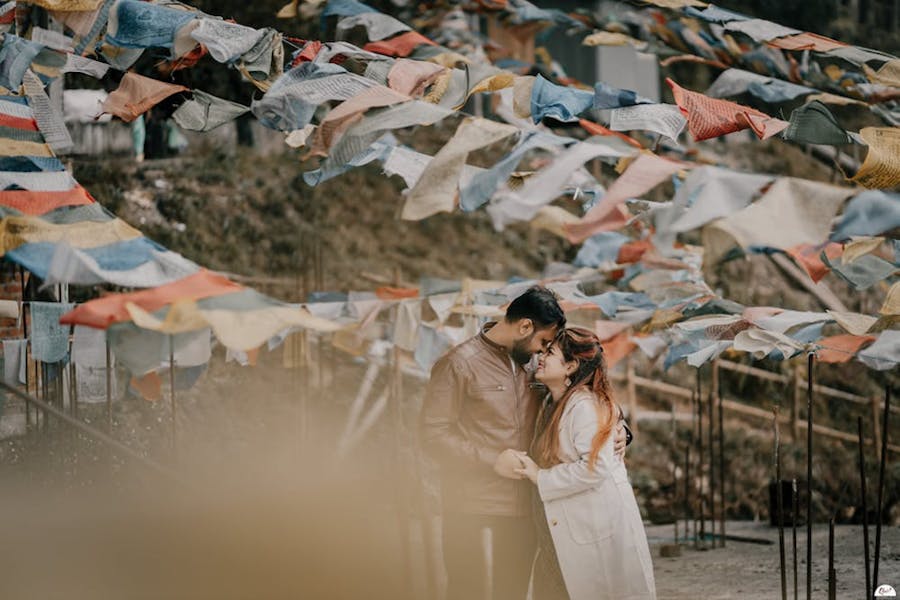 Nightingale Park:
When it was a private garden, this park was known as "The Shrubbery."It was closed to the public while being fixed but returned in 2011. It has a beautiful figure of Lord Shiva that is lit up with colourful lights and has a fountain that plays music, which makes for a divinely beautiful scene. This beautiful park has a lot of trees and grass, which makes it a good place for a pre wedding photoshoot location. Nightingale Park is a beautiful garden in the mesmerising hill town of Darjeeling. It is higher and has a great view of the area, including the majestic Mount Kanchenjunga. In the early morning, when the mist is moving through the alpine trees of the park, and the sound of prayers from the monastery is in the air, the park looks so beautiful. The park contains a melodious pond, a large Shiva statue, and beauty. Pre wedding photography is very important.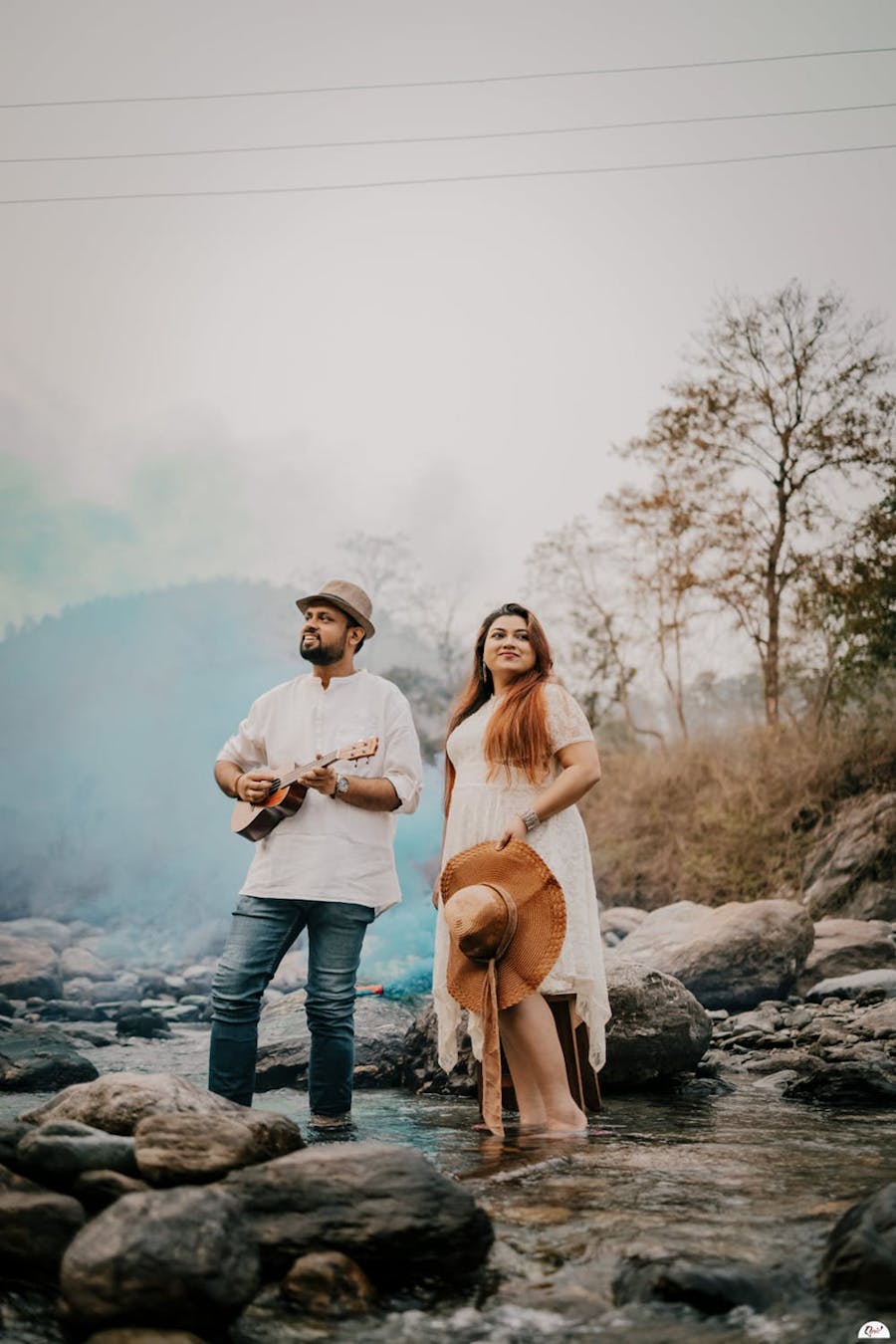 Sandakphu Park:
With a height of 11,941 feet, it is the tallest peak in West Bengal. It looks stunning early in the morning, before sunrise, and during dawn. On Sandakphu Peak, now is a great time for the couple pre wedding photoshoot. You can easily drive to the top, but you can also walk there. Sandakphu serves as a mountain in Nepal and is referred to as the "mountain of the poisonous plants" because of the profusion of Himalayan Cobra Lilies. But it is great for people who love nature, so you can have your lovely Pre-Wedding Photoshoot in Darjeeling Sandakphu Park.
Happy Valley Tea Estate:
After Steinthal Tea Farm, Happy Valley Tea Estate is the second oldest tea farm in Darjeeling. It's a beautiful Tea Garden for a pre-wedding photo shoot. It's the main thing to see in Darjeeling so it might be the best place for pre wedding shoot. Like in the picture, you can see the best pose from a bird's-eye view. It's time to enjoy the huge tea plantation that covers 440 acres. The peaceful beauty of this happy Tea Estate will make you feel like a new person. One of the most breathtaking locations in Darjeeling for spiritual connection is Happy Valley Tea Estate. It has plants that are more than 150 years old, which will make you laugh.
Batasia Loop: 
At Batasia Loop, where the Darjeeling Toy Train goes around the open-air Gorkha War Memorial, there is a famous intersection called Batasia Loop. People visit the memorial park because it has beautiful grounds and a great view of the hills. Batasia Loop is Darjeeling's most charming train track. The Batasia Loop is a green road for toy trains meant to make the Darjeeling Himalayan Railway less steep. Batasia Loop rises from a green field of mountain plants and has a view of the snow-covered peaks of Kanchenjunga on one side. It looks out on something like a park in the middle of the Loop. This could be a beautiful destination pre wedding shoot in Darjeeling.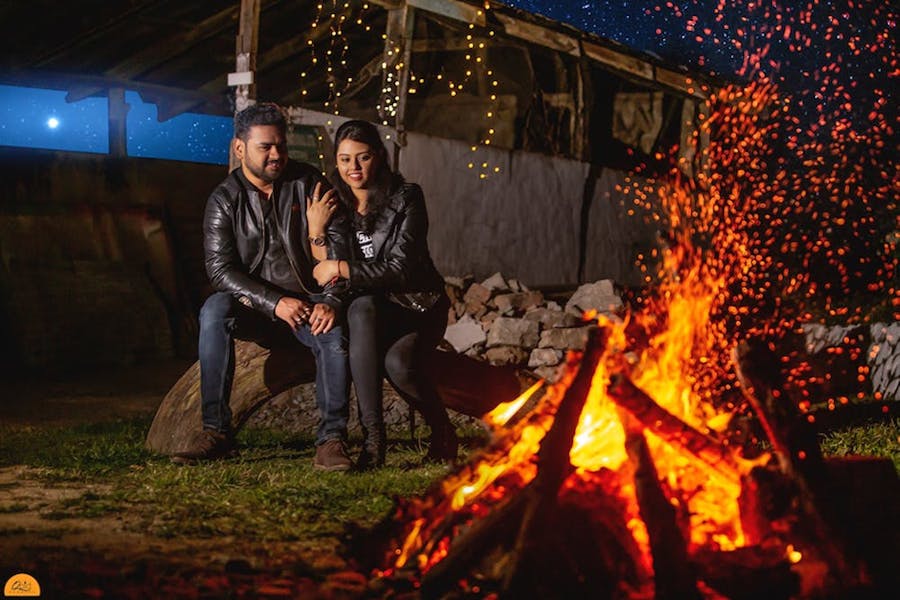 Conclusion:
In above we discuss about best places for pre wedding shoot. If you want a beautiful couple pre wedding shoot in Darjeeling, you can come here from October to February, when the weather is excellent. Also, you can come here from March to June because it stays cool. The hottest it will get is 25 degrees Celsius. But try not to have a pre-wedding shoot here between July and September when it rains a lot. It would be a mess to have a pre-wedding shoot in the rain. So, these are some of the best places in Darjeeling for a beautiful pre-wedding photo shoot. Here, you'll find the best place to shoot and the best weather, and you can also eat some delicious food. Make sure you go to these places for a beautiful pre wedding pictures In Darjeeling.