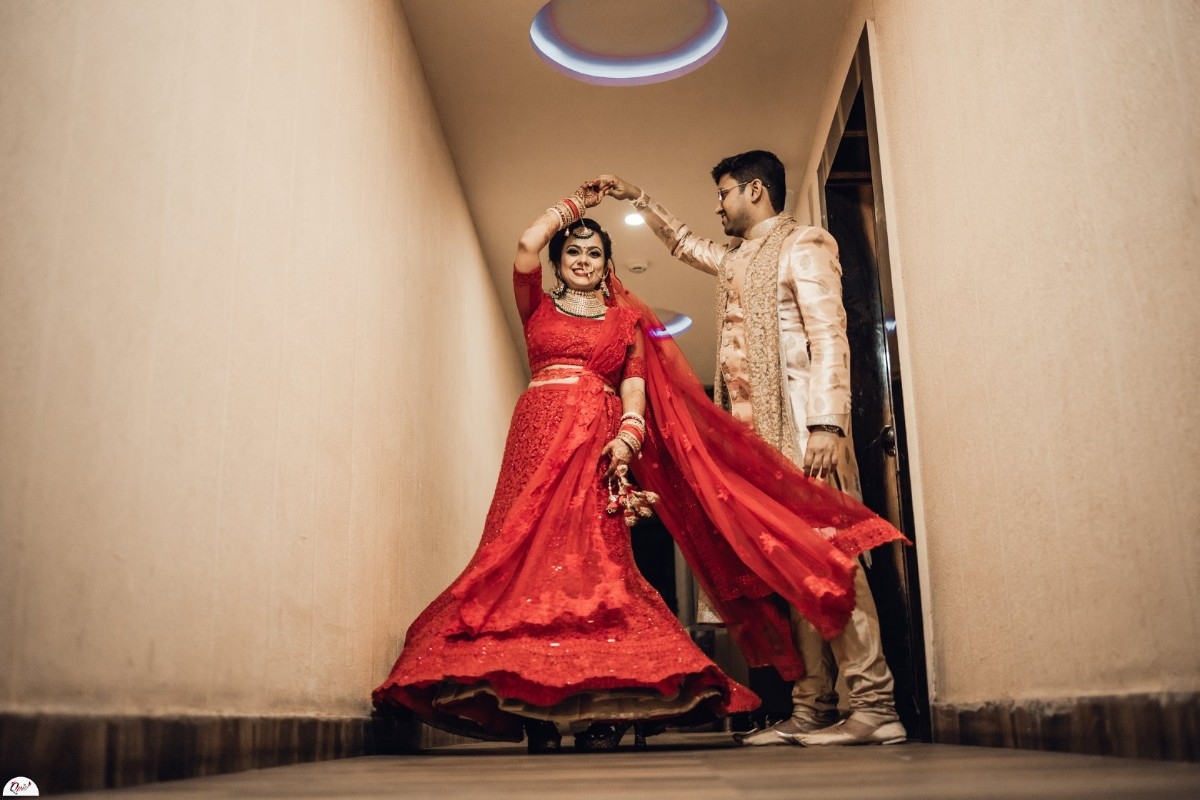 Madhumita & Sourabh
Shadow of Love
It was 10th of December when we had this unforgettable experience during the shoot for this wedding story. It was in Assam during the protest period for CAA and NRC all around there. You might feel their love story going through this album playback but let us take you to the journey of thrill with the behind the scenes of this wedding story.
Mehendi
As it was an outstation shoot for us we, almost 5 to 6 of our team members were packed ready with our instruments, cameras and luggage, arrived at the airport while other team members were there too for their destinations of shoot locations. So it was a lot of fun for the beginning of the journey, having our 14to15 members there together. Then we, with our groom and their family arrived towards our flight according to our times and landed at Assam airport shortly after. The Assam airport interior was totally different and was of very small in scale but so beautiful equally. We came to know that hardly 1 or 2 flights land there in a day and the area was under army camps, resulting in so many regulations being followed there and it was all so good. From the hallway of exit there we were welcomed very warmly by the bride's father there. He was too humble and honored everyone with an "uttarani'' and it was very exciting for us to start with. And also according to the bride's father's requirement we did a photoshoot and cinematography of the groom being welcomed by the bride's father there. Later after all these warm moments we were taken to the location in a car arranged by the groom's father. Well, the story wasn't really that smooth from here. During the journey from the airport our car was stopped in the middle of the road and many people gathered to prevent us from moving forward anymore. During that time we witnessed many other cars in front of us were burning. The people around were shouting on us and didn't let us say or do anything. Already they were moving forward to kill us and burn our car too and we were helplessly sitting there like it was our last shoot for this life or maybe even doubtfully we'll be able to do any. It was winter and we were sweating inside with our lives in our hand. But thankfully the bride's father was an ex-military man there, who stood outside of the car with 5 to 6 of his men with him and talked to the political party leaders present there, which was almost 1 to 1.5 hour of chatter and finally they let us go.
Anyway, we safely reached a hotel where they dropped us with the groom and his family at almost 1 of noon and advised us to stay there and rest; and strictly restricted us from going outside anymore by ourselves for our own safety as the environment wasn't anymore safe out there. They told us that they will come and pick us up at 5pm for the Mehandi ceremony. We got room and got fresh and had lunch. Meanwhile of taking rest we got a call that a car has been arranged for us and so we arrived with it to our shooting destination. The house was very neat and nicely stated in the middle of a big floral garden which was well decorated. We had some real fun while shooting the Mehandi events and everyone there treated us so heartily.
After this session was over we had to go to a nearby pond for a Bengali ritual and the problem was the road was totally dark with no single light in the street. We took almost 8 to 9 mobile flashes to put light for the shot and a 'hajak' was only there which we utilized to put light from the back and somehow we managed some splendid shots there and got back. Some dramatic function with lots of music and dancing covered the whole evening mood and we were done for that day and got back with plenty of good shots and videos in hand.
Gaye Holud
The next morning our scheduled time was 4 in the morning. We were almost sleepless that whole night after hearing this. But this was because of a very valid reason; and that's because of the NRC protest disaster, no one was allowed to get out after 6 in the morning and it was like a lockdown everywhere there. Respectively according to the mentioned time their car arrived and 3 of our team were taken to that venue back again and the rest of them stayed there for the groom and his families. It was so dark outside as it's dawn and the temperature there was so low, at least 4 to 5 degrees below than what we get at Kolkata during that time. We somehow managed to gather ourselves in a place there with our equipment as it was already so crowded inside. Bride's father was so kind he repeatedly asked us to manage for a little time to have a better place and we felt and knew how helpless he was there but we really did have no much problem. We were told that rituals will start from 5.30 so we decided to roam around there for a while as we were already feeling a little sleepy lately and wanted to have some refreshment. Considering all the risks we walked around for almost 2km and as expected we couldn't even find one single tea shop open. On the way we met some regular locals there and asked them whether there is any tea garden nearby, as we all have heard of famous tea gardens in Assam, and so they directed us towards a nearby one. We approached there with excitement and the view there was literally worth the entire journey. We were tremendously excited to have some of our shoots there as it was really a good place for us to explore for good captures. We were so lost in that beauty that we weren't aware of time and one of the workers of the garden there told us not to stay there any longer to avoid any risk. Soon after that almost after spending 1.5hour we reached back to the venue. Rituals took a bit more hours to start and we were almost exhausted because of lack of enough sleep. We planned to talk to the bride's father about having a little shoot at the tea garden but he strictly dropped this idea because of risks. But we still eagerly wanted to make this shoot shine on this album so we eventually approached the bride, her sister and also to her uncle and everyone replied the same as her father. Then again we reached to her uncle and told him that we are from Kolkata and this kind of backdrop we can never have, and this can be an icon as her hometown in the album and we won't take more than 5minutes and so on.. and finally he agreed to let us go but only in one condition not to tell her father though unfortunately we had to face him on the way out and told him; and thankfully he agreed with bride's uncle and we were repeatedly requested not to take much time and get back safe and we too assured him the same. We were behind the two bikes with two locals and the bride was in the car and the time we reached the location fog was almost all gone and we clicked some amazing satisfactory lavish shots out there and got back within maximum 5 to 7 minutes safely and happily. And after all these finally the Gaye holud ceremony began and it was all so good. We suggested taking the pink backdrop for this event with a floral wall but no flower shop was open but still it was all so good and we really did enjoy back there shooting the giggling moments every corner of the garden.
Later when this occasion was over we asked if we could get back to our hotel but we were told it's not possible now because the car we can go in can't take the road as a bus was already burnt on fire some moment before. We were extremely tired and stuck. Meanwhile after lunch we contacted our other part of the team at the hotel to know their situation and got to know that they'll arrive with the groom within 4 in the afternoon at our venue. Surprisingly while taking rest, it happened the same, the groom arrived right at 4 in the afternoon and all the formalities began and we waited for the marriage to start till evening when the groom again took an entry. Then we reached the bride in her room for bridal shots and she told us that her makeup artists have informed her that they won't be able to come and the bride has decided to do her makeup on her own. This wasn't in plan though it was possible to shoot her during doing her own makeup but as she wasn't professional in it. She advised us to come later when everything is done and it will also help to save her time and so we agreed on that. Later when she let us in we couldn't plan much for her bridal as there was nothing much in that room except for one tubelight. We turned that off and used our ring light which we carried with us and had really some pretty amazing shots and we showed them to the bride and she also was happy with them and we agreed to proceed to the main wedding event after that.
Wedding
The main wedding event took place very usually and comfortably, every ritual including Saatpak, Sindoor daan, everything went on very smooth and all shots taken were pretty cool and it was almost done for that day which was almost 12 to 1 o'clock at night. Maybe not anymore surprising but expected that we can't go to the hotel back anymore now; our entire luggage was brought there and we have to leave in the morning from the venue itself. After taking a bit of a sit-back for a while we had to go for Vidai function at almost 2 to 3 in the night when we found some of our team were already exhausted and half slept or at least trying hard to sleep. Our client was feeling so uneasy and awkward for us every time, but we also were getting the point that there was nothing much they could do at that moment and they are doing the best they can. So some of us took the responsibility and went to record the Vidaai ceremony and packed up for that day. Then we were told a big SUV will come at 5 in the morning to pick us up and take us to the airport while our flight was 2 o'clock in the noon. Imagining that 8-9 hours to spend at the airport after 2 sleepless nights terrified us so much and made us half asleep to almost half-dead there.
Naturally the car came at the mentioned time and somehow we carried ourselves and our clients to the airport within almost 6.30. We had nothing much to do there except just waiting and looking at our watches. We felt time was hard to fly then but finally after 1 hour of delay our flight arrived at 3 and within 50 to 55minutes we reached Kolkata airport. The rest of our team, whom we met the first day at the airport, informed us that they will also be there at the airport after an hour and told us to wait. Then after they arrived and all met with our client and then the other two of our own team decided to go with the client for the groom's shoot to cover at Dhanbad. Ticket of Black Diamond was confirmed and the rest of us got back in a car at dhaba nearby to have lunch and long fun chatter together and somehow the day was over with a long night of rest.
Reception
The next morning at 7's Black Diamond we arrived at the groom's destination for Reception at almost 11. We got ourselves into a hotel at first then we reached at banquet for shooting. It was great and the bride was looking regal and stunning with excellent dressup and makeup. Had some true candid shots and plenty of various conceptual shots and everything went too smooth and we got back with a handful of gorgeous captures to process. This was way out of something called to be just an experience but it was one of our memorable life thrilling wedding stories we've ever covered. And also this much support from our client really got our back and it's the most valid reason we were able to complete our shoot and give everything for it. As a photographer we find the best part comes about our work is when we are gathering and with our teams and again tearing apart to different destinations and have no idea about when we can have each other back at same place again or not and this surprisingly gathering and visiting, having all our experiences chatters and laughters together at a dhaba or chai tapri; this particular moment gives us the reason and energy to work every day. It's like " we don't need any Barbeque Nation or KFC to have fun, a 5 rupees of cake and a cup of tea together between our work schedules makes us shoot for endless restless hours"; and this is what we live for, this emotion is the powerhouse of our energy every day. And not to mention the client's love and support is our everything and the top blessing for us that we are driving this journey for years and hoping to maintain this blessing forever.