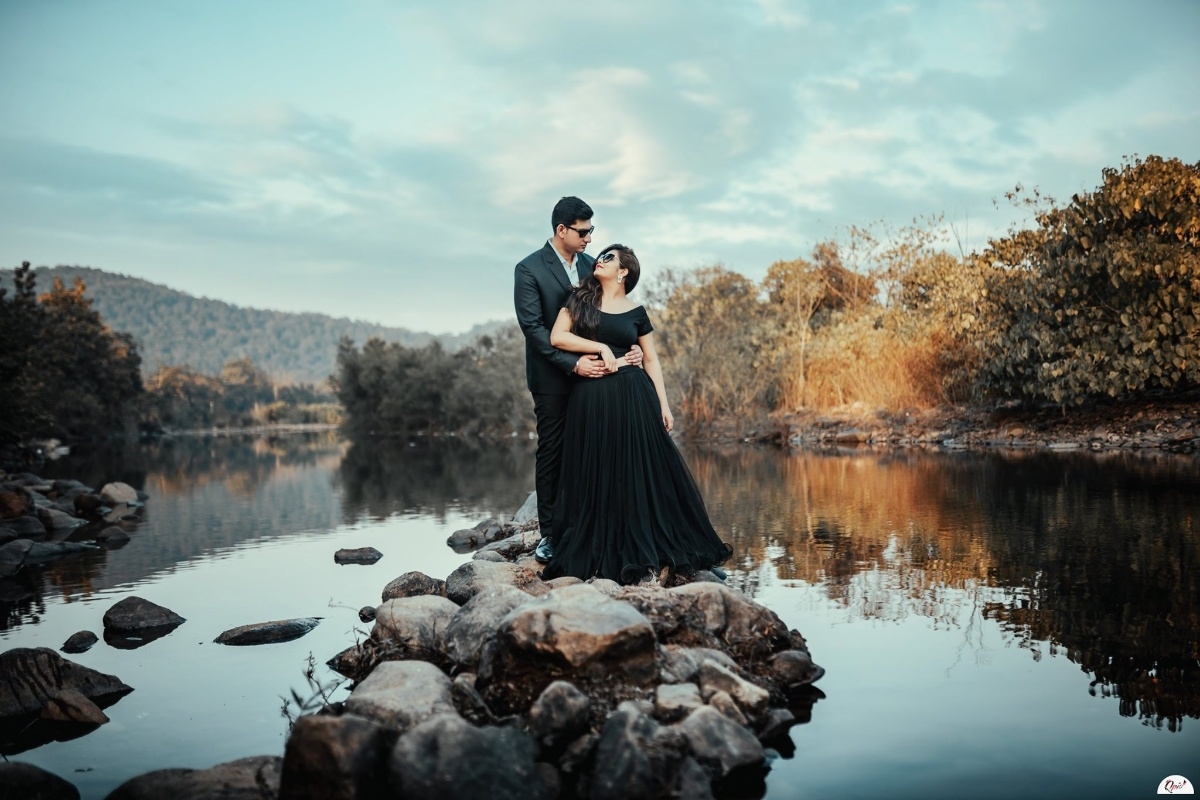 Avinandan & Smriti
Sakhi Hum
A wedding might be a lot pre-planned event and the outcome seems very charming but to make a wedding story successful as it's seen it takes a combination of lot of mixed emotions, efforts, sudden arrangements and countless unplanned scenarios behind the scene of every single event.
Gaye Holud
The first morning according to scheduled time we reached at their apartment in Tollygunge . There was not much of preparation till then so we got enough time in our hand to get some rest and prepare our all setups. It was really very hot that day and the gaye holud was so intimate with gathering of very few number of guests around; but equally too much of fun. Groom's friends there we so much fun while leg-pulling and making fun of him. So when they arrived for pouring water on him with small pot we suggested to take a big one and they literally did that and almost bathed him there totally. Laughters and giggles made environment very colorful all around there. It started from almost 11 in the morning and we packed everything up between 1'O clock and had a great lunch there.
Bridal Shots
And this is one of our most favourite ceremony taking place on screen. We wish we could detail it with every single moments we had there but words are too small to put these emotions into. Things started very exciting from the beginning when we got to know that our venue is Orchid Garden, the royal one; our team of almost 5-6 members was ready with all our equipment. Expectations lifted up as we previously had amazing experience with these love birds on pre-wedding. We were already started to look forward in planning and imagining about the bridal shoot, and other couple shoots to take place there taking that beauty of the venue behind as superb backdrop. As soon as we did arrive, scenarios turned out to be very different. We came to know that bride wasn't supposed to get out of her room before the groom with Baarat take their entry at the venue. After that we approached to bride in her room and tried convincing a lot about utilizing the venue out there to get the best pictures for her most special day but, due family regulations we had to blow this plan out. We both understood the situation and she suggested us to shoot her bridal totally in her room; where there was a total mess with makeover things and other stuffs, no proper background or any special thing to object or any mirror and her makeup was also almost done. We got bit nervous as this situation was almost totally out of our plan, but magically she did some amazing co-operation with us which was way more than we expected and we got really some splendid shots out of the blue. It was all so sudden and not to mention but so surprising that her energy got our lenses and our courage back on track. Her makeup artist was still there and we found that her guze scarf was there left for rest work. We utilized that opportunity and made some excellent portrait and bridal candid shot with these helps and we couldn't still believe how amazingly we made this possible and came out of the room after almost 30 to 45 mins with at least 14 to 15 stunning shots and as a wedding photographer we really were beyond too much satisfied with them and this couldn't even be possible without her unbelievable magical support.
Var mala
Meanwhile after the bridal session was over we got plenty of time in hand, so we went to contact the event manager to know about lighting planning in the hallway and elsewhere around the venue for baarat entry. Though we weren't given much accurate information about it but a brief idea from them did help our work a lot. Later after finishing this moment baarat finally had arrived; and one of our team was sent to cover that part of the ceremony. Everything was going on smoothly according plan made right there on spot and as it was an inter-cast marriage between Marwadi and Bengali culture we little much had a knowledge that rose petal will be used on stage decorated at orchid garden and so the event manager also said the same is gonna happen. Here comes the interesting part; when fireworks were started to fire, instead of rose petals paper cuts were in the air and we were so confused about whether to go to the manager and talk about this or capture right on moment whatever is there because leaving the place everything will be missed and so we did make the shots somehow but when the results came on screen it just blew our mind exceeding our expectation with such spectacular shots of that moment. Proceeding after this moment, both the bride and groom together gave us some random poses for us then they went back on stage for almost 1to 1.5hour to take shots with their family and friends.
Wedding
Time flew and it was almost 11 at night when they went towards mandap for mandatory rituals where two priests were sitting there for both cultural rituals to maintain and every shot were exceptionally amazing there.
After completion of rituals we approached to the couple requesting for shots there at ouside garden of Orchid Garden which were missed except for just varmala moment. But they were tired too at that moment so they suggested us to have dinner before there. And after some delicious dinner we got some marvelous couple shots as a perfect dessert for that day and we got back from there at almost 3 of the night.
For us, Qpidindia, the best Bengali wedding photographer this is the most beautiful and engaging wedding story we were a part of, and all of us gave our heart to work for this album to put it into evergreen of perfection.