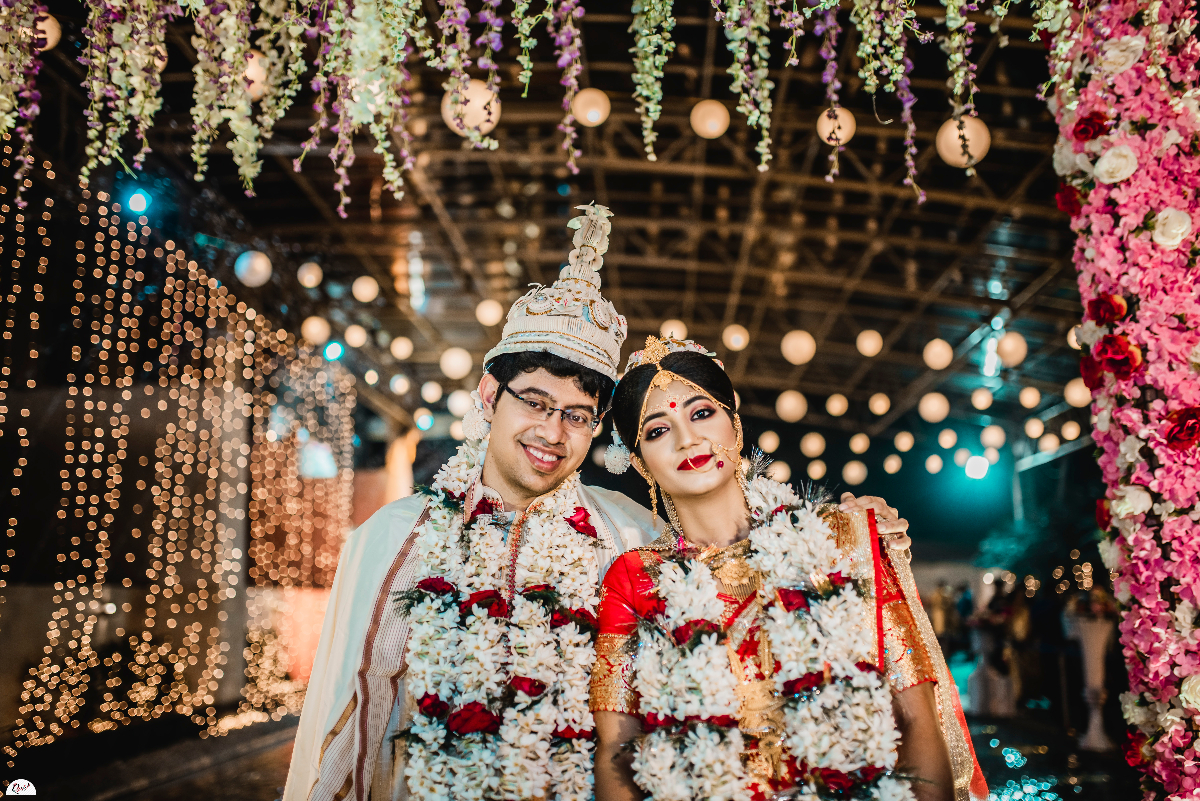 Alimpan & Deepshikha
Now We
Are you bored of studying and learning? Well, almost everyone is and trust us, we still do learn. There is no end to learning and gathering knowledge. No, but not school or college, we learn at our beloved work field. Interesting, isn't it? Well, we won't bore you with teaching but surely will give you an amazing experience of this through our journey with this story. Come with us in behind the scenes of this amazing new learning experience. Sit back, hold tight.
Best Wedding Video in Kolkata
Bengali weddings in Kolkata have beautiful, sometimes thrilling, mostly incredible stories of their journey worth celebrating and framing. Only the best Bengali wedding photography team, the best wedding videographer can frame true essence of any ongoing moment.
Gaye Holud
Story starts early morning at 8am onwards at groom's residence, which was near in between Barasat and Sodepur. Before this day we were already back from another wedding shoot at dawn and hardly got enough time in our hand to take some rest to recharge our own selves and our equipment. When we got ourselves together and finally reached our location we found the priest is besitten with the groom for Vridhi already. That particular place was very small in scale like almost 4ft3ft and we barely were able to manage some space to cover our shoot for that event with the guests around including. There was a canopy decorated like a pandal which was beautifully presentable but according to ritual it was the rule to sit following the east side. As it was very early in the morning the sun shined very brightly on east that time and shooting became little difficult as sunlight could not be prevented completely by the pandal but anyway we managed to take some good shots changing the angles and utilizing the negative impact of half light beams. The same ceremony at the bride's residence was also equal fun and got her amazing bridal portraits and so many candids with her families and friends. Each and every photo of her was like a story to tell, thanks to her superb poses.
After this event was over Gaye holud was about to start. Meanwhile, we approached the groom's family members including him to let them know that the place is not enough to shoot better photos and after consulting a bit we got a better spot for this ceremony and happily did our shoot there of the whole event. Shoot was over till noon and we packed up.
Bride went for her makeup and we were called after base makeup was ready. Getting ready moments with every detailed makeover shot was truly beautiful and exceptional and nothing was missed from that day.
Wedding
At the event of the wedding we arrived at the Pride Plaza and our client's was on 6th floor. As we got there we saw there was already another photographer team present who were hired by the bride's family. As a photographer we always know how hard it is to maintain our work stability every time as every moment is precious for once in a lifetime. And our work is to capture those moments very generously so that it never gets lost, without missing any single thing. So we tried to approach another team treating them as our colleague but sadly we didn't find enough response from them to our greeting. Even they had junior members who were not familiar with our light setup and styles, so as a matter of coordination we tried to help them out but again we found ourselves left out so we had to leave them and move to the other side of the corner changing other positions. A bit of struggle and cold clash were there but that didn't interfere much in our work and we happily got our opportunity to take awesome captures of every event that night. Beforehand we contacted the family members about the Schedules and positions for every event so even in a crowd in the grand venue we got plenty of space and plans with us for our shoot. Post the wedding session we approached our client for some singles and couple shoots. Another photography team was taking a recess break from work at that time for a while. Later they also came and were trying to take their positions so we stepped aside completing our work with satisfaction. Meanwhile one of their junior team members approached us with his camera after seeing our style and angles and asked for advice on how to improvise his shot. We also helped him happily and it was a pleasing moment for us that the same team who were having an argument with us during shoots now has befriended us for our behavior towards them without any clash or word against. At the end of the day it was all worth the fun and emotion we got there and undoubtedly with an excellent handful of shots we got back from the venue at almost 1.30 of night.
Reception
The very next morning we went for reception at the awesome grand venue, The Grace. We explored their venue very curiously as there were a lot of things and spots to learn new techniques and it was equally thrilling for us. We as usual took some pretty shots again that day and some awesome family candid emotional moments which were so glorifying to shine the album. We got back from our work that day with so many new learning and experiences in our work field. And the warm heartily treatment made our work so engaging all the time which helped a lot to make our work smoother, an unforgettable cooperation.
We put our knowledge in our work and there are some stories like this which gives us the experience to be more professional and learn more about our work which is always so very exciting and an important factor in a work field to keep the need of moving forward. These make our life worth living and we always hope you will give us that opportunity to reach the top one day with your help. And for that your love and support is the most important blessing we need. Keep loving us, stay tuned.