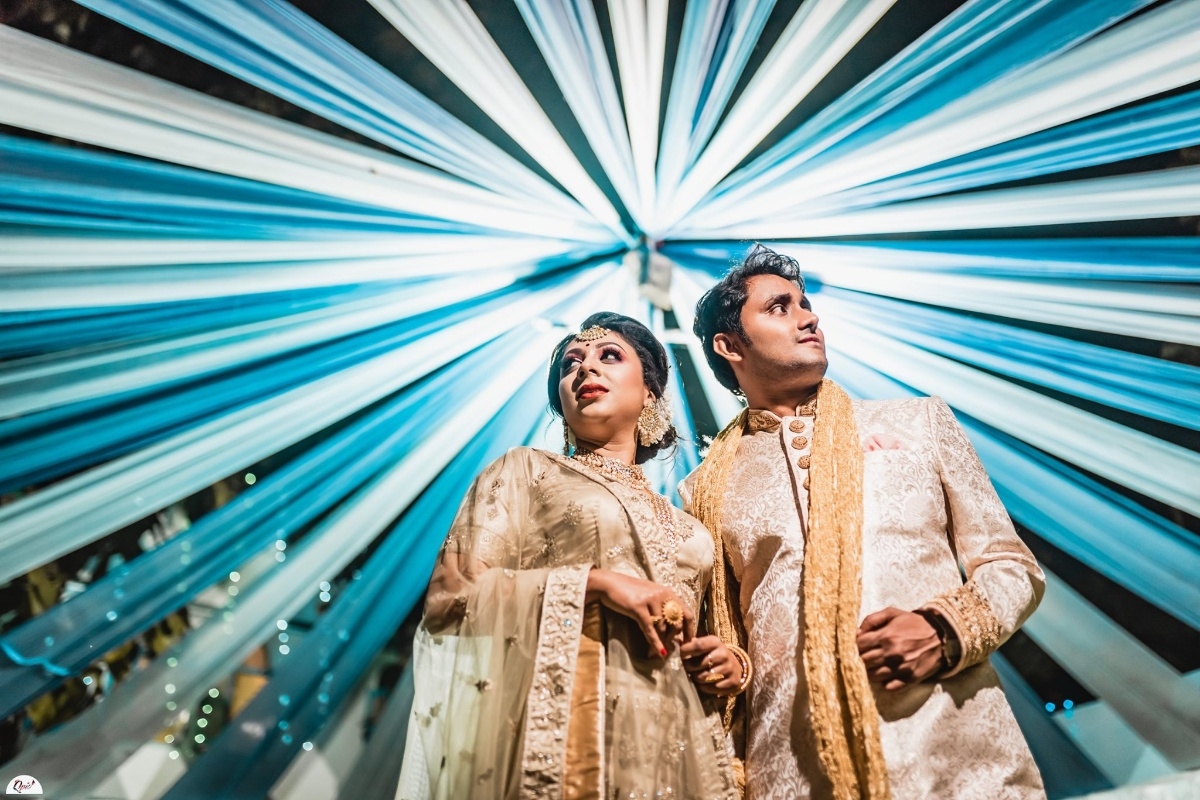 Abhishek & Sharmila
Jug Jiye
A crazy journey with this wedding story is worth remembering. Without sharing no happiness is real and so we are going to take you with us to the behind the scenes of this chapter from the very beginning.
Pre-Wedding
Every movie requires a trailer and our pre-wedding for these two love birds is like that same for their wedding story. It was the month of January, at Sonada in Darjeeling. To be very frank we had no pre-plan for this outstation shoot and so no fear of any failure in plans. We started our journey from Sealdah and met our couple there on our train, then from NJP we arranged a car and arrived at a hotel in Sonada. Sudden rain accompanied us on the way of our journey, which is very usual for hill stations.
Undoubtedly the location was astounding to have great shots. Not just outside, even some of our shoots we've covered in our hotel rooms also and our couple were extremely cooperative with us which was the biggest advantage. There was a story like one late night we couldn't be able to sleep due to so much cold and a little light disturbance outside and our couple was sleeping in the opposite room of ours. We pinged them up on whatsapp if they are awake and wish to have any shoot; and surprising us they literally responded and agreed. So, we advised them to come over to our room coated with whatever they can have nearby as the temperature that time was near 1 to 2 degrees. And you might notice a picture in the album of both hugging each other standing in a corner of the room with little dots of light as the backdrop. It was so pretty and was fun. The hills were mounted so gorgeous at the day with smokey cloudy sky. We found a bridge at almost 250ft down the way. It was so much of a risk to go there as it was already raining little and the weather was so much cold. Bride was hardly able to maintain her dressup in that cold breeze environment, though we had amazing and pretty romantic shots of them together there. On the hill stations many dogs roam around to protect and prevent lots of people from going to some forbidden places, and we found one like that one on our way there. Our couple bent down to him to give him a little pat on his head; we had some cute photos with him too. Then after exploring that place a little while we got back.
In the evening we had plans for shots in the famous Darjeeling mall. But it rained so heavily as soon as we arrived there. Without any rain cover with any of us we had no other choice but to wait there for a couple of minutes for rain to stop. Due to rain it again was becoming too cold, and we were wearing gloves over another glove and still freezing with teeth trembling. Around 9 of the night the rain finally stopped and the best part of this waiting was worthy because the mall was almost out of the crowd which became a great opportunity to explore all over there freely and shoot. It was so cold that we were feeling pity for our poor bride and so we decided to let them roam freely however they wish comfortably all by themselves without being bothered of having us around anymore; sit, drink, talk or walk anywhere they want and thus we managed to capture some momentary romantic candid shots of them and got back to hotel again. There was also a small hut you might find in the pictures where we did our shoot. There was no light and we had to carry those by ourselves and so many awesome moments we got there to be a part of.
Gaye Holud
That morning according to the scheduled time we arrived at the groom's house. We saw more than 70 people gathering and were waiting for us to have their shoot. They decorated their rooftop for this ceremony which was a small but quiet pretty place. The ceremony was totally very beautiful and with so many people around we were also excited to capture spectacular shots and the event was also equally so much of enjoyment. Later with some Vridhi ceremony shots we had to pack things up for the journey to Barrackpore, where the main wedding would take place.
Wedding
When we arrived there we saw it was Bhavan. A big décor. We couldn't have much chatter with our bride for bridals and we could not understand why. Later we came to know that she was a bit ill and suffering from a fever. Back of the Bhavan we found some good place to start our bridal and there wasn't much light but thankfully we carried some of them with us. Every ritual shot was so perfect and very cooperative with our lenses and specially got some really pretty images during Sindoor dan and many so on.
Reception
Reception took place at Burdwan and here had a terrible conflict with our time as our train was delayed almost 30-45 minutes and so we arrived late to the venue. As a very natural result we offended our client so much. One of the groom's friends came to us and had an awkward argument there and we were also so upset about it that because of us our client had to suffer. Groom came after and somehow managed the situation. Anyway after some time we went to the bride and this was the point we were totally moved with her words. She advised totally to ignore whatever they said to us and be ready with our shoot. This was so unexpected and appreciating for us from our client. We had little conversation afterwards about our shoot plans. We had an amazing shooting experience there. Their family, who previously were so very angry at us, they themselves so heartily greeted us and even offered us like, '' if you don't sit and eat with us, we won't too''. This was so melting and we were literally blended in their ceremony being their own member. Even they insisted us to stay with them for that night and arrive in the morning after having tiffin. We had an amazing handful of clips and shots with us and no other situation or word can describe our feeling that whole day any better. The next day at very dawn we packed our things up and we could not find any option to reach the station. No one was there at the venue, except some of the groom's friends. And the very same one who we had our argument with at first came to help us in that middle of the dark hour. He himself arranged a toto for us and insisted to even pay for us. This kind behavior from him was unforgettable when we were so helpless out there. We got back into our train to Kolkata with so many mixed emotions and adventure in our mind.
This was one of our very personal wedding stories we've been a part of and from pre-wedding to the end of every event we never felt apart from their emotions. They were amazed with our work and our pay off was nothing bigger than that. We carry this love with ourselves and this keeps us on track in every single day of our work.