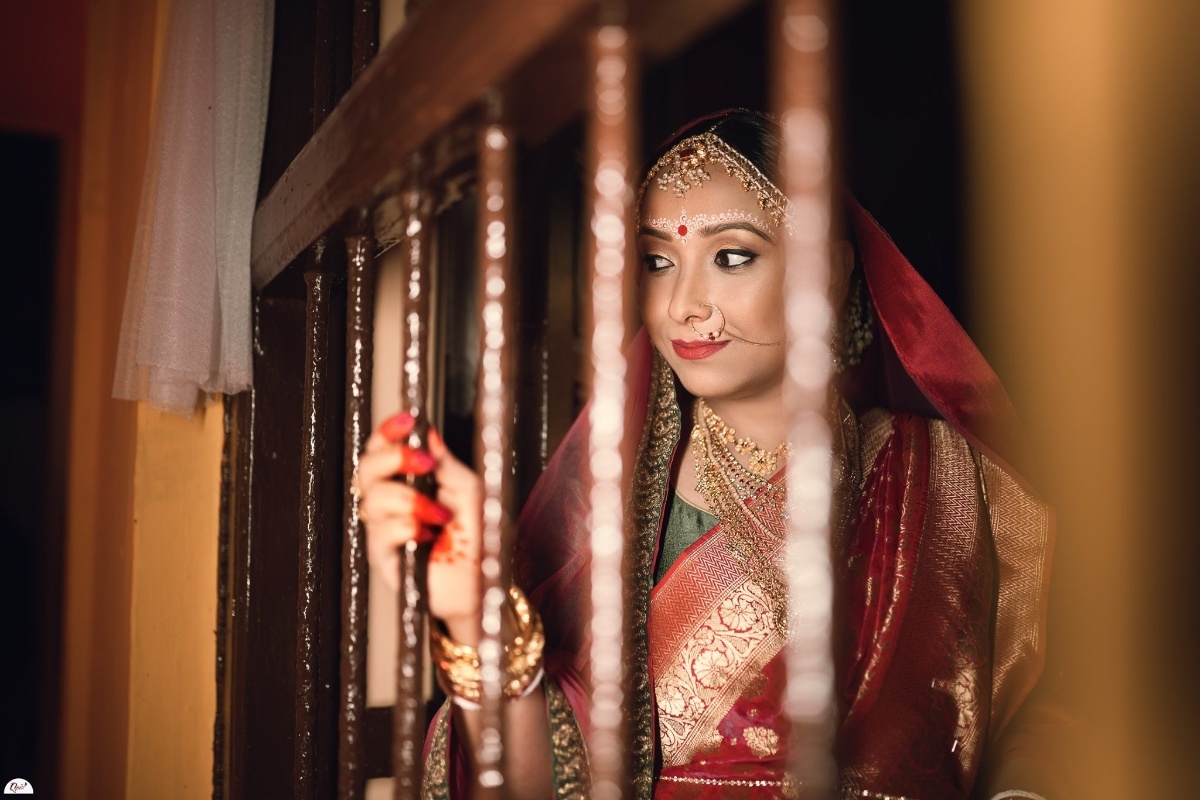 Our journey isn't always smooth or not always rough, but so isn't what life ? Ups and downs are the very confirmation that we are living in the right track of life. This wedding story is a combination of both with the cocktail of thrill and goosebumps; as little did when we heard of our venue will be the place where celebrities had their shoot for renowned web series "Shobdo Jobdo" from Hoichoi production. Yes! No kidding; just come with us and have a journey behind the scenes of this cinematic experience we've covered.
Gaye Holud
As mentioned time we arrived at the venue while it was getting decorated for upcoming gleaming moments. We witnessed our bride was so happy and merrily roaming around in the tranquility of her new beginning and having chatter with her guests. Their family was already so renowned in Kolkata and aristocratic equally complementing their ancestral house. We approached our beautiful bride for shots after the stage was ready. She went to get prepared and later joined us for her bridals. First she wasn't much comfortable assuming her photos might not be getting perfect but when we showed her our work she changed her mind in an instant and co-operated with every pose we advised her at that moment, with extreme excitement and happiness and no doubt we were happy to capture those beautiful smiles. Later after some mandatory shots of Gaye holud they pre-planned for a musical performance together and it went totally amazingly well and it was equally very much surprising for us. Entertainments were so much fun that we lost track of time there. After this event she went to have her makeup while during that moment we got time to have our lunch done and two of our team went with her to shoot her bridal makeup.
Wedding
After getting her back from the makeup studio, the groom arrived in his Mercedes. Every ritual following the groom entry and his welcome to Mala bodol and Sindoor daan we had covered some extravaganza shots and pretty romantic videos. It was very late at night, almost 2am when all the events were over. Post the wedding we proposed them for some couple shoot and as they were so tired and not being able to pose they hesitated at first. But when they checked out the pictures we took of them during events they instantly got their excitement back and gladly posed for every single shot we wished; this appreciation meant a lot to us. Shoot was over for that day and they warmly arranged for our accommodation that night there.
The next morning again we had our schedule for vidayi. Their family had a little puja arranged for them before this ritual and we all participated in that. This chapter was a little bit awkward. It was too late than expected time for this puja and we all were so hungry but not allowed to eat anything before this auspicious event. But things turned out differently as the puja was delayed too much and everyone present there were so much hungry that the rule was broken and everyone had their meal completed by then. Anyway time took more time, and unexpectedly and sadly we couldn't cover much in vidai moments as it became too dark when it all was over. It was very late in the evening then. After having a couple of shots of her welcoming and entering into new life and home we also bid them our goodbye for that day.
Reception
Next day at reception our schedule was at noon. We primarily moved to have some of our tremendous bridal shots there and guests started to arrive meanwhile in the venue respectively, of which also we did not miss any. Hall became full of crowd with giggling noises, chatter and joyous laughters all around. And we also maintained our videography and photography simultaneously in between as usual like a shadow. Post the reception again they got our lenses with charming poses for couple shoots and many with their friends and families; which all were extremely stunning and gorgeous. As a photographer we were so much satisfied with their understanding and collaboration with each of our advice and not to mention, how much they treated us like their own family which reflected in our every moment of work.
We ourselves had an achievement to shoot this wedding in such a filmy location imagining the moments we already got from the web-series while working. The place was used as a police station in there; and every corner of this wedding's moments were so ancestral and royal that we ourselves got into a moment of having a feeling like filming something so great. Resulting, every shot and videos were so much appreciated by our client and this is the love we always look for, in our clients' eyes when they witness the product we have worked so hard on. Keep on loving us to keep us engaged to amaze you all the time forever.